The Catholic Homeschool Conference (online) – My Talk and A Giveaway
If my email inbox is any indication, a lot of you are considering homeschooling. And, with information in hand, an enormous number of you are stepping forward! Homeschooling is booming!
Many of you had a trial run with Covid 19's help and found you enjoyed homeschooling and the extra push has given you confidence to step forward.
Some of you know (or suspect) that your school system won't be holding classes on site next year, so you plan on homeschooling for a bridge year in order to have the flexibility of setting your own curriculum and the opportunity to teach to the student rather than a set of plans.
Others of you seek homeschooling as an answer to the questions and concerns you have about education conveyed in schools in your area.
Parents, you are the primary educators of your children. Sometimes that means that we parents choose to delegate the duty of teaching to teachers in the school system while continuing to ensure we are responsible and involved in our child's education. This is a right answer. And sometimes that means that we take the reigns of responsibility and carry out the duties of educating our children at home – we home educate. This is also a right answer.
I'm excited to share in upcoming posts the reasons that homeschooling isn't school-at-home. A more appropriate and descriptive name for what we do is "home education" – education that is conveyed at home. Home education is rewarding, enriching, virtue building, and effective. Yep, you can homeschool preschool to high school and graduate a well adjusted, perfectly socialized, capable young person. Ask me how I know! Homeschooling can also be isolating, challenging, and uncertain! And that's one of the big reasons that we homeschoolers need to connect with other homeschoolers – to share, to encourage, and to walk alongside!
A lot of that sharing and encouraging happens during conference season! Each summer is usually full of local and regional conferences! This season of conferences looks different because very few people are traveling and that has had an impact on the ability to share and encourage within the homeschool community. One group has taken the challenge and found a solution!
For those of you new to home education, or immersed in the trenches of home education – whether you are a novice or a veteran – I have a treat to share with you!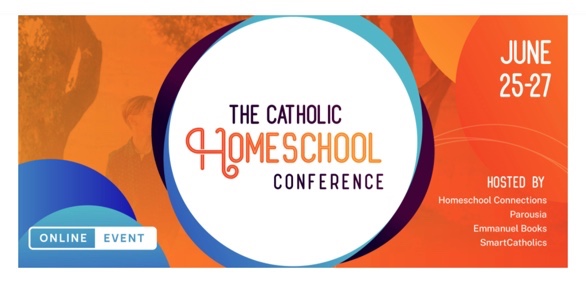 The Catholic Homeschool Conference is a 3-day online event full of speakers, inspiration, curriculum ideas, and a virtual "curriculum hall." The Conference takes place June 25 – 27. I'm excited to share that I'll be one of the (many) speakers participating in the conference! My talk topic:
Let Them Wonder! For many home educators, days are filled with the very practical – our plans, our booklists, surviving the toddler's needs and the teen's opinions, assessing students, grading tests. We can get caught in the movement of our day and forget that wisdom begins in wonder, and our days must have space for it! Wonder may be the most important thing you cultivate this upcoming year!
There will be almost 40 different speakers and almost 40 different talks which will be uploaded to the Conference website, and shared!
This conference is completely free!! Register (links below) and prepare to be inspired to live your faith and to joyfully live your responsibility to educate your children! Find refreshment while speakers share inspiration and practical tools that will help set your year up for success! No traveling. No child care. Just grab your favorite refreshing beverage, a notebook and pen, and join us from the comfort of your own home!
The Catholic Homeschool Conference has made this so easily accessible, but they've gone a step further and offered an additional level of accessibility that I think goes above and beyond, making this conference a part of your toolbox for the entire year! And I'm going to sweeten the deal a little more! Interested? Read on!
---
Right now, for the earlybird price of $47, you can purchase an all-access pass to the Conference! What does that mean? Your free pass gives you access to the conference and talks from June 25 – 27. And that's it. After June 27, your access is over. It's unlikely that you'll be able to view every talk, hear every encouragement and practical idea, and take full advantage of the vendor hall in 3 days! The talks that are being prepared for you are going to be meaty – replete with inspiration and practical ideas for you to apply! Right now, and through June 27, you can purchase an all-access pass for $47 – this pass gives you access to the conference talks and resources for a full year after the conference!
But that's not all!
If you purchase the all access VIP pass you also have access to me, and to the other speakers – after our talks – via the comment box on our speaker page!
Have you ever gone to a conference and been inspired, but you had questions as well? You were encouraged – but how does this apply in the practical corners of your day? And how could an idea be translated to fit your unique situation? I'm so excited to speak, but I'm even more excited that I'll be available to engage in conversations after the conference with those of you that hold the all-access pass!
---
Giveaway Ahead!
BUT WAIT!!! THAT'S NOT ALL!
If you purchase an all-access pass to The Catholic Homeschool Conference using my link (affiliate), you will automatically be entered in my…
*Set Your Homeschool Year Up For Success* Giveaway!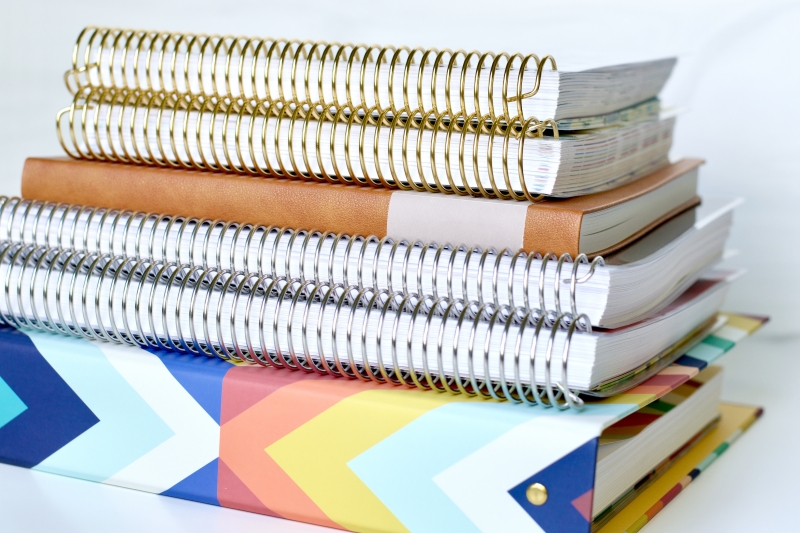 I will choose a winner (at random) from those that purchase an all access pass!! One winner will be chosen on July 6, after the conference, and will be contacted by me via email and will win:
Your choice of a brand new homeschool lesson planner:
30 minutes of planning one-on-one time with me! Yep! A new lesson planner is great, but maybe you'd like to walk through it with me, or maybe you'd like to ask questions – how do I plan my homeschool year? What are my tried and true tips for homeschool lesson planning? What are some pitfalls of planning? Ask me questions specific to your needs – have toddlers? teens? are you juggling a lot on the side? Me, too! Let's brainstorm! If you win – we'll agree on a time together and meet up for 30 minutes via Facetime or Zoom and we can talk about planning together!
So, for the early bird price of $47 you get a year of access to The Catholic Homeschool Conference, automatic entry in my giveaway with one winner choosing a lesson planner and planning accessories (value $60+), and 30 minute planning session with me!
The early bird price of $47 will only last through June 27. After June 27 the all access pass is $99! Grab a pass, enter my giveaway (giveaway ends July 6), and prepare to be inspired and encouraged toward a joyful year of home education!
This post contains affiliate links. I am grateful if you use my links to register for the conference and/or purchase a VIP pass. It costs you nothing to use my links, but I may earn a small income, and for that I am truly grateful!
Let me know – will I "see" you at The Catholic Homeschool Conference?