Anna Vance Paper Co Homeschool Planner | Review
Summer is a time I love to review products for you – it's a time to share so you can consider what might be the best tool for you – your life, your season, your family. I'm eager to write on some of the topics you've requested! But before I do, I have an exciting review to share with you! Anna, from the Anna Vance Paper Co, reached out to me personally and offered to send me some of her quality, highly customizable planner systems, and the thing that caught my attention was that Anna's planner systems are built to accommodate the Charlotte Mason home educator!
Briefly, Charlotte Mason was a 19th century educator that took the best of the past thousands of years of education (classical) and brought them forward with simple, effective methods. She shared her 20 principles of education and those principles have been a light, showing the way forward for so many of us applying her methods to our days! Her educational philosophy liberated generations from fill-the-bucket/check-the-box/anemic/cram-the-student type of educational systems which had become very popular at the turn of the 19th century with the beginning of the Industrial Revolution. Ms. Mason saw the great potential within each and every child, regardless of class status and wealth. She saw and valued each child as a person, made in the image of God. She saw that children were capable of grappling with big ideas and based her educational philosophy around ideas, not facts to be stuffed. As a Charlotte Mason home educator, and the daughter of a Charlotte Mason home educator, I can tell you that this philosophy of education yields some pretty rich fruit, and presses itself into homeschool days in ways that look deceptively simple, but are actually deep, rich, and rigorous. It's a method and philosophy that emerges quite differently than your average "curriculum in a box," and because of that, it looks different on paper while planning and assessing.
Enter Anna Vance Paper Co.
Anna and her family own, operate, and lovingly assemble everything offered at Anna Vance. The selections are simple and designed with the Charlotte Mason home educator in mind. When Anna reached out and offered to send me some of her beautiful products to review, I jumped at the chance, because I knew my CM home educators would appreciate seeing her planners and products! And I've got more good news! Anna and I are going to offer a giveaway for you on Instagram! Pop over there after reading through this review for a chance to win……
Disclaimer: None of the links to Anna Vance Paper Co. are affiliate links. The products were donated for this review, but there is no monetary compensation between Anna Vance and myself. There are a few affiliate links in this post that point to other companies. Those links cost you nothing, but I may earn a small commission if you use my links, and for that I am truly grateful!
I've got lots of products to review for you, so let's get started!
---
I don't know about you, but little touches mean a lot to me. So when I opened my box and found my planners charmingly packaged in brown paper, string, and a wax seal, I was smitten!! These kind of thoughtful details in packaging are appreciated! It's a personal touch! And who doesn't want to receive a "brown paper package tied up with string?"
---
Let's start with the Charlotte Mason Homeschool Planner!
For this review, I have:
I want to encourage you to look through all of the cover options at Anna Vance. Since the time I chose products for this review, Anna has added some beautiful custom covers from Rebecca at a humble place. The covers Rebecca created are so beautiful!!
One of the things I immediately fell in love with at Anna Vance are the binding options! Coil bound is a fantastic option and a great way to contain your planner! BUT! Ordering an unpunched planner gives you even more versatility options for your planning system – 3 hole punch or discbound punch your planner and insert it in your notebook or cover of choice. Then add papers, resources, quotes, rubrics, scope and sequence, pre-reading notes – your planner is as versatile as you need it to be!
Let's talk paper! The paper Anna Vance uses in all of the products is a carefully selected and unique brand of paper chosen specifically for its buttery soft feel and ability to take a variety of pen types! I'll share a pen test with you at the end of this post so that you can see how everything from pencil, ballpoint, gel, and permanent pens work with the unique Anna Vance paper – showing any shadowing and/or bleeding. Spoiler: this paper can take almost any pen you throw at it!
---
Coil Bound CM Homeschool Planner
The coil on the planner is a standard 4:1 pitch coil – the same pitch as the Erin Condren coils, meaning any 8.5 x 11 interchangeable cover you have will snap right onto the Anna Vance planner coil.
The coil is a heavy enough gauge to provide structure for your planner and the coil for the planner I have to review is 1″ diameter. The papers are snug on the 1″ coil.
Since Anna does offer an 18 month option, I decided to check with her to see if the 18 month planner comes coiled on a larger coil. Anna confirmed that if you order an 18 month coil bound planner, it will arrive on a 1.25″ coil.
The covers are laminated. They aren't the thickest laminate I've experienced, but they certainly are what I'd consider a thick laminate cover.
The planner I'm reviewing is a 12 month planner (but again, remember that there is an 18 month option).
Each planner begins with an introductory set of pages that shares some wonderful wisdom about planning in general, and how to use the Anna Vance planner.
A lovely vellum divider page sets the tone of this Charlotte Mason planner. It includes several inspiring CM quotes. My personal aesthetic style wishes this page had only one or two font styles (one serif, and one sans-serif), rather than each quote represented in a unique and different font, but I still find this page quite beautiful and I love how the transparent nature of the vellum allows the peachy-pink of the first divider section to peek through. The vellum is a high quality touch!!
I enjoy taking detailed pictures of every page of a planner product I'm reviewing for you, but this planner is so full of so many unique pages, that if I photographed and shared every single one, this post would never end. Thus, one or two basic pages are missing from the photographs here, and if there are 9 pages of the same thing, I don't include that. (I will indicate in the review if I omit a photograph of a page.) One of the first pages I excluded from photographing is the title page. Suffice to say, a title page is present.
The first group of pages are forward/future planning pages. There are a total of 5 pages in this group:
A 2020 mini calendar page on the left facing page, including federal holidays of 2020
A 2020 dates to remember page with a box for each month so you can designate events upcoming.
A 2021 mini calendar page on the next left facing page, including federal holidays of 2021
A 2021 dates to remember page with a box for each month so you can designate events upcoming.
And finally, a page with 24 boxes with the 12 months of 2022 and 2023 available for future-future planning.
I'm trying to envision if I would ever forward plan quite so far into the future – and I probably wouldn't. Life sweeps in and God's plans trump mine – that has happened often here over the years. For that reason, I confine my future planning to the academic months of the current school year. Perhaps some of you appreciate the copious amount of future planning you'd have in this planner? If you decided you didn't need them, the easy solution is to remove the extra pages! Simple!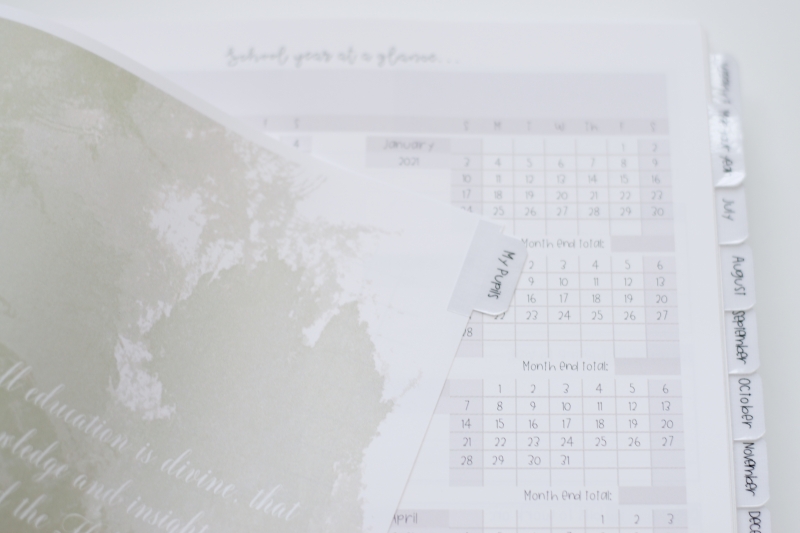 There are 2 tabbed sections before you get to the monthly tabbed sections. Speaking of, it's worth mentioning that the coiled planner is completely tabbed and the tabs are all laminated. That's an important feature in a planner that will see quite a bit of use over a year! (The unbound planner comes with a sheet of tabs so that you can attach them – more on that below.)
The first tabbed section is titled, "My Pupils" and the divider page has a watercolor wash with a Charlotte Mason quote. Turn the tabbed page and the left facing page is a ⅜" grid page and the right facing page includes a "School year at a glance" page.
Turn the page and there is a school year overview page with sections for you to record the child's thoughts on things like: what the child is excited to learn this year, how the child can be helpful to the family, new habits to work on, etc. Opposite this page is a fully lined page. Each of these pages includes a shaded box to include your child's name. Turn the next page and you'll find a page for you to record memories, accomplishments, and objectives for that child. (not pictured)
My planner has (3) full sets of these student sections. The number of student sections is determined by the number of children you note when ordering your planner from Anna Vance.
These student pages could be pre-populated with your children's names (as you'll see in the unbound planner I'll share with you below). I ordered this planner without names so you could see what that looks like (pictured above).
The next tabbed section is titled, "Map your year." This section takes up 9 full pages of the planner. The pages are gridded pages, with each box of the grid representing one day of the year. The first page begins with January 1, 2020. You will flip through 9 pages – on the final page, the calendar grid ends on December 31, 2022. I'm not entirely sure of the purpose of these pages. These pages could be used for attendance (but there are other pages that are intended to record attendance in the back of the planner). I believe the idea is to give you, the planner, flexibility to map out your year whenever your year should happen to start. And with this planner, you're covered through the end of 2022.
Because the grid rectangles are small, you'd need to abbreviate or use very small penmanship, but you could possibly designate your booklist schedule here. I might note that we'd begin reading Robin Hood on August 18 and designate when we plan to end the book (based on total page numbers and total number of days reading the book calculations). And you could continue with all of your books and reading. You might note term dates here, special field trips, ACT testing dates, etc.
The monthly tabbed sections begin behind this gorgeous watercolor wash divider page. You will have the option to choose your starting month – a great feature!! Not everyone runs on an August – June academic calendar! Or perhaps you're picking this planner up mid-year because the planning system you began your year with just didn't work – no problem – choose your start month and Anna Vance will build the planner to fit you!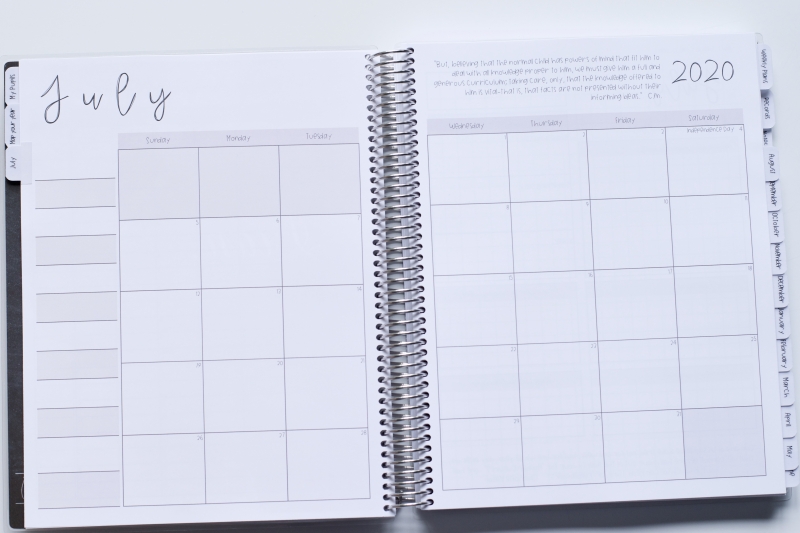 The tab turns to the dated monthly overview page. There is a column for notes, and generous spacing in the monthly sections to note big picture events for the month. The top right corner of each monthly spread includes a different CM quote.
The next two pages include a Mother Culture page which includes places to list your own reading list and things you'd like to learn about for the month. (What a fantastic feature!!) Opposite the Mother Culture page is another ⅜" gridded page. Map out your schoolroom organization, track your books, organize your supplies on paper, brainstorm challenges and goals. I love that Anna Vance includes a page for Mother Culture within the lesson planner!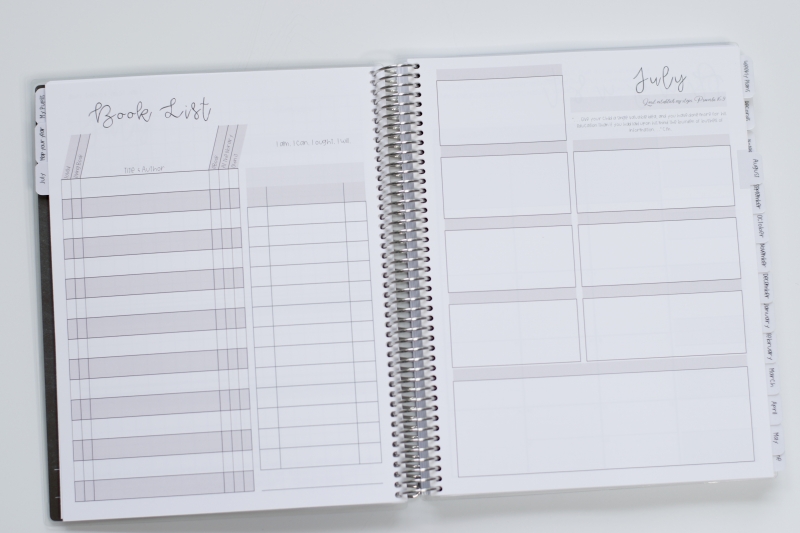 The next two pages include a booklist page for recording books read for the month. This would be a great place to record common, Morning Basket work. Opposite that is a general non-specific monthly page with boxes for containing ideas, goals, etc.
And on that page, you'll find the tab for the next month. Each monthly section includes a repeat of these 6 pages.
So, to be sure you're aware, the entire monthly section is together. It is comprised of (12) 6 page sets, and is located at the front of your planner.
The next big section is the weekly plans section. The weekly plans are not woven into the monthly sections; they all exist on their own in one big section of the planner. (Side note: if you order the unpunched/unbound version of this planner, you could move the weekly plans out of their own section, and place a set of weeks inside the corresponding monthly section.)
One of the truly unique aspects of the Anna Vance Homeschool Planners are the plethora of options to customize this planner to fit you and your family! Add your kids' names, choose your weekly layout, customize the functional pages in the back of the planner! Options!
Now, a quick word about options – having so many choices can be overwhelming, particularly if you're a new homeschooler and you're just not sure how to customize your planner. If that is you, friend, give yourself permission to choose something that may be good enough, not perfect! Spend a little time studying the site and the different options, and stay with me through this review – I'm going to try to walk you through all of the different options! Don't let decision paralysis be the reason you walk away from this extraordinary planner!
The weekly layout is really where the rubber meets the road in education! It's where our plans live, it's where we make notes, and indicate assessment. So, if there is one area that needs to flex a bit to fit the unique needs of different families, it is this section. And that's one of the reasons I love the Anna Vance planner so much – parents, you have the option to choose from 3 different layout styles in the weekly layout. (see examples above – click the picture, and then select, "view full size" to see a larger image with greater detail.)
My choice is always going to involve lines. As many lines as possible. Lines are life!
I am a huge fan of Layout 1! I can run my week vertically – listing the days of the week across the top. Or I can run my week horizontally – with my kids names or subjects across the top. One aspect I am very grateful for on these weekly pages is the minimal design. The page is a canvas for my plans, and I can lay my plans out in the way that makes the most sense for me!
Here is another detail that you might miss in just glancing at these pictures, but if you're a mom that is accustomed to spreading a feast of living ideas, you look for these kind of details – there are 8 lines in each block for recording plans! 8 lines!!!! That's the most I've ever seen included in any planner! Having 8 lines provides room for picture study, composer study, a nature study theme, dictation study time – all of the cornerstones of a CM education! AND there are 8 columns!! Again, that's the most I've ever seen and I've looked at a lot of lesson planners! If you're looking for a planner that allows you to map out setting their feet in a large room, this is it!
I chose 36 weeks worth of weekly pages, but here again, is another area for you to customize! Perhaps you are a year round homeschooler? Or you're a homeschooler who likes to capitalize on a little summer work? Or maybe, you'd like extra weekly pages for YOU to use while you're doing your planning over the summer? You can add options of 36, 42, 52, or 63 weeks worth of weekly planning pages to your planner!
Are you starting to see how the many options that Anna Vance offers can allow you to build a planner that is completely unique and is built to meet your day and your needs, not my day, not an arbitrary day – but a planner that is built by you and for you!
Here we are at the back of the planner in the records section. On the Anna Vance website, these pages are called, "Functional sheets." You have options here as well. Let's walk through them!
In the planner pictured on this post that I'm reviewing for you, I chose to "Include all functional sheets" in the drop down box so you could see what each of those sheets looks like. But I wanted to show you that you can select, "Personalize my sheets" and from there you can view all of the different functional sheets included in the Records section, note the number of sheets included in the back of your planner, and then choose the option to "Include" those functional sheets, or "Substitute for note pages" which means that in place of those sheets, you would have additional notes pages in the very back of your planner.
The first set of Functional Sheets are the Lessons at a glance. Your Lessons at a glance pages might look different from mine because these functional sheets will match the total number of weekly planning spreads you select from the drop down window when you build your planner (my planner reflects a 36 week year).
Each large section of rectangles at the top and bottom of the page represents 36 rectangles, while the middle section of rectangles on each page (there are 8 pages of 3 sections) has 42 rectangles. Use the middle section for classes or courses that run longer than 36 weeks.
Within each of the rectangle groupings you'll find individual rectangles labeled "week 1," "week 2," and so on. You would write in the shaded area above the rectangle grouping, "Language Arts," "Algebra 1," or "Nature Study." And then you could note individual lessons, book pages, etc. for the entire year.
There are 16 of the 36 week sections. There are 8 of the 42 week sections.
There are 10 Reading List pages for you to record your yearly books. The left checklist columns are labeled:
Read it
Loved it
Living Book
Then there is a large middle column to note book title and author. The right checklist column includes:
ebook (Oh my stars!!! This is so handy! If you have an ebook in your schedule you know it's easy to lose track of them! I love the ability to note whether an ebook is in the schedule!)
Library book
Own it
Seasonal Read
I, personally, would love to have the Reading List page as an independent printable! This one page would be so useful to record a year's booklist and file away for future reference!
There are 8 checklist pages to record grades, habits, chores, or anything else you'd like to assess.
The next set of functional sheets are another favorite of mine! It is not unusual to come across book or curriculum ideas during the year. And as we all know, there is only so much brain space available for recording and remembering those bits of information! Anna Vance provides 4 pages to jot down curriculum ideas for future years!
The 2 Connections pages provide a place to record names and addresses.
There are 2 pages to record Login Information. This can be a valuable place to record information for online classes or online subscriptions you might have.
There are two pages designated as tracker pages. I believe these pages are intended to track attendance – at least, that's how they seem set up to me! There are clear spaces to record monthy end total days, and a space to record school year total days. There are 4 total trackers – this is helpful because I've had my high school student off cycle from my other student before, so I kept separate attendance records. I like my attendance tracker close to the front of my planner for ease of reference; this might be another place to remind you that you do have the option to choose the unbound planner. The unbound planner allows you the freedom to move your pages around so that they're located where you might use them.
---
And this brings us to the very last section of the planner.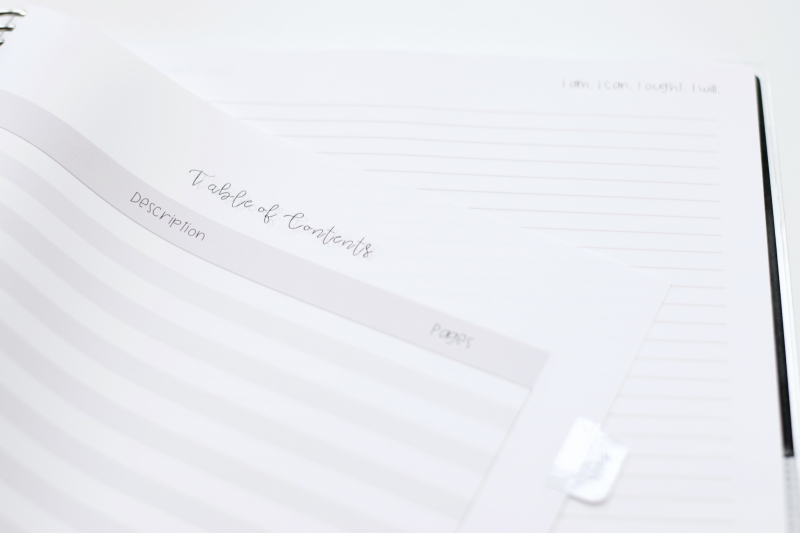 This section is tabbed, "Notes" and includes 2 pages for you to create a Table of Contents in order to index your notes through the year.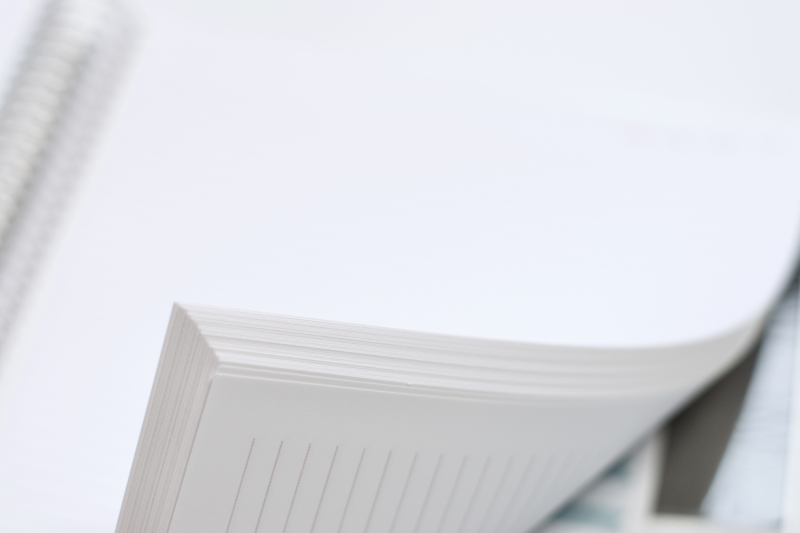 The notes pages are numbered at the bottom of each page, and include 80 total pages. You will have the option of selecting lined notes pages (pictured), or dot grid. (A reminder: if you choose to eliminate any of the functional sheets and instead include extra notes pages, this is where you will find those extra pages.)
Each planner includes a set of coiled in stickers. These are all functional stickers. It's worth noting that Anna Vance offers many different stickers available for individual purchase.
The back of the laminated cover includes a unique slit which creates a pocket folder for you.
Each Homeschool Planner kit includes the following accessories:
Two magnetic bookmarks
A full sticker sheet
A click in bookmark (pictured below – the bookmark is laminated and "clicks" or snaps onto the coils of your planner. It can be moved around your planner.)
And that's it! We've made it through the entire coiled planner! There were a lot of options to cover, and I hope walking through them was a help! Let's take a quick look at the unbound planner.
---
Unbound Homeschool Planner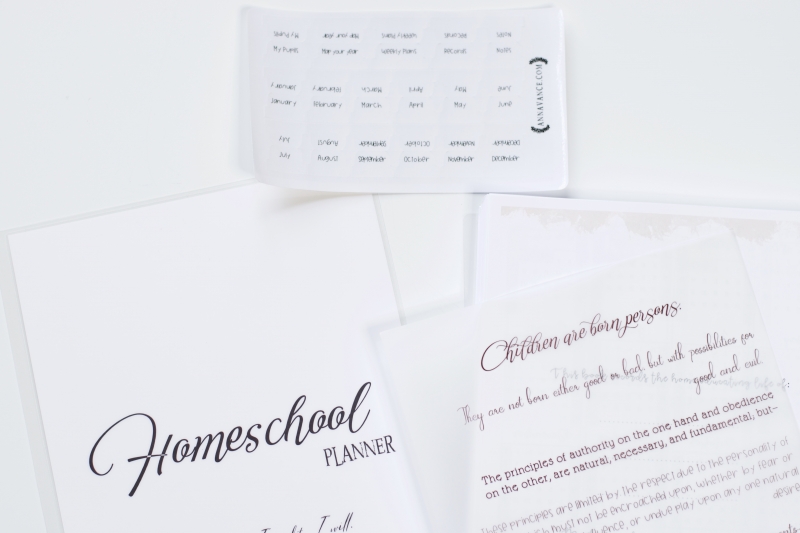 Each of the Anna Vance Homeschool planners offer two binding options: coiled and unbound. If you would prefer to rearrange the pages of your planner to fit your preferences, or you'd like the versatility of using a 3 ring notebook or a Discbound notebook, then you might want to choose the unbound option.
The planner arrives in the same packaging – brown paper package tied with string and stamped with wax. And this planner binding option offers you the same customization options in terms of your page build. It arrives completely unpunched and it is also untabbed.
The laminated tabs arrive with this planner on a separate sheet so you can install them yourself. While that may intimidate some, I think it adds to the versatility of this option!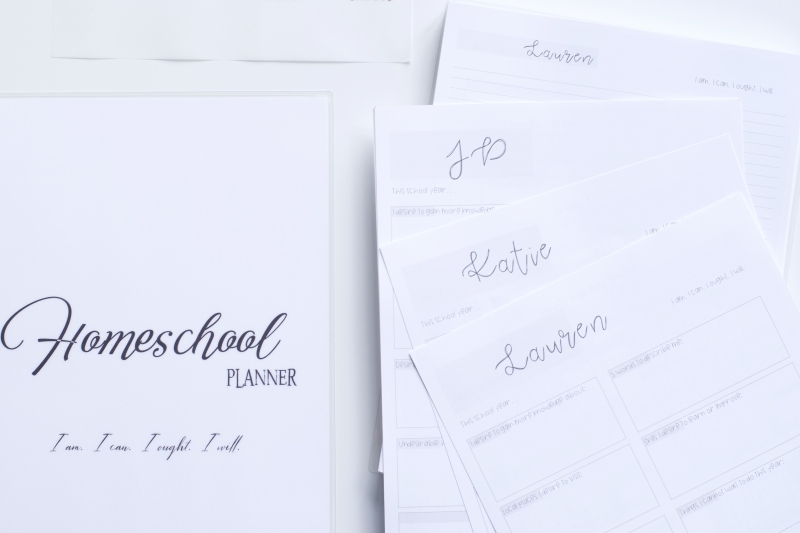 I promised (above) to show you the student pages with customization. In the coiled planner above the student pages were shown with no customization, however, if you add your children's names in the *student's names* field when you order, Anna Vance will pre-populate your children's names on the student pages (as shown above).
As we conclude the actual planner review, and before we jump into the accessories, it's important to note again that this planner is handmade. It's made by a homeschooling family for your homeschooling family. It is designed, printed, laminated, coil bound, and packaged – by the Vance family. Please keep in mind that your order will take 4-6 weeks to assemble before it ships.
---
Digital Downloads
Be sure to check out the many digital downloads offered at Anna Vance.
---
All the extras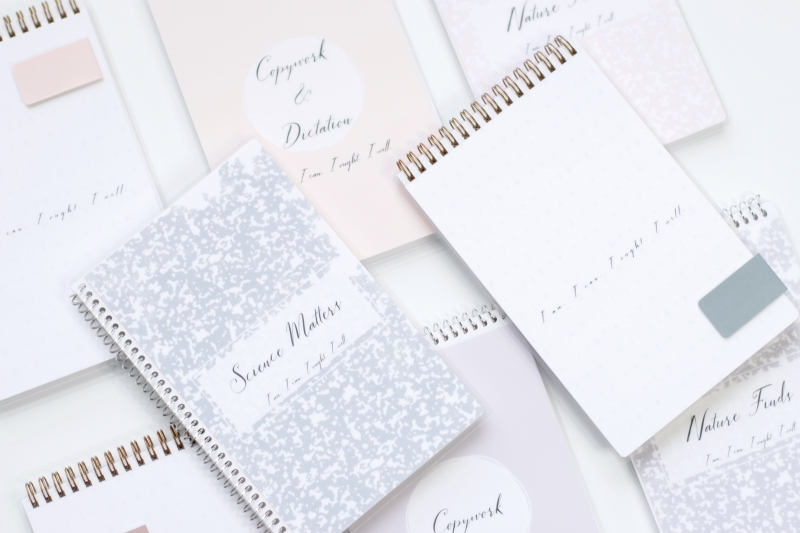 In addition to Homeschool Planners, Anna Vance offers some amazing notebooks that can be used for Notebook Keeping in the Charlotte Mason day! And I have to tell you that I have fallen in love with these notebooks because of the paper, the format, and the variations!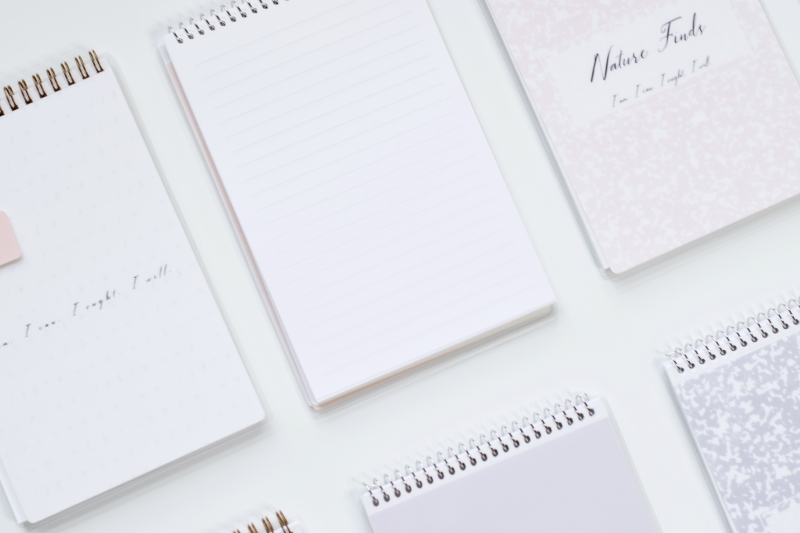 I chose the following notebooks to share with you, and to use with my children next year:
But there are so very many different journaling and notebook options – take some time to click around!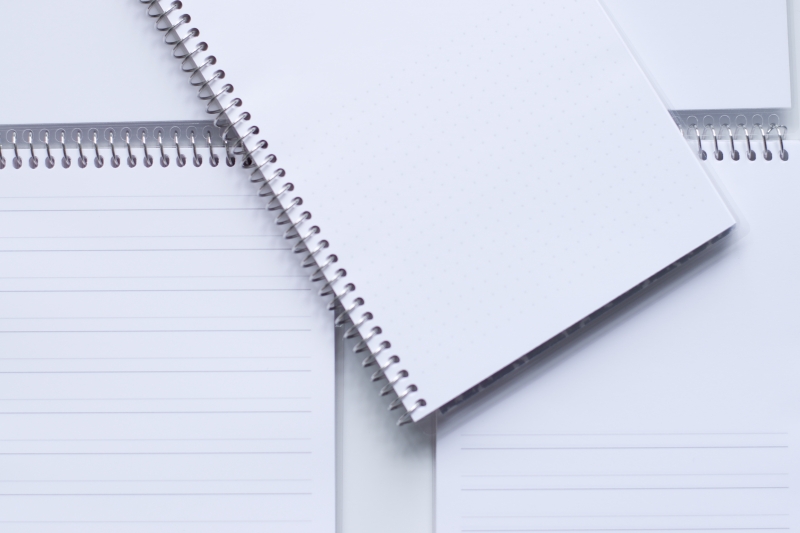 You may have to click on this photo (and the others here) to force my website to show you the high res version of this photo, and if you do, you'll see the full size version of these photos with all the detail that shows the many interior options to choose from!
You also have the option of choosing where your notebook is bound – top bound or side bound. As a mom of a lefty, I'm rejoicing!!! Left handed writers (and right handed writers for that matter) always trip over the coil if the notebook is bound on the side. And that's why anytime I had an option, I chose top bound!
The math notebooks offer the following grid size options:
The Rebekah Narration Journals offer the following interior options:
Kindergarten lines
Early writer lines
Wide ruled
College ruled
Dot grid
And the Ruth Journals offer the following interior options:
Kindergarten
Early writer
Dot grid
Wide ruled
College ruled
¾" grid
½" grid
¼" grid
Blank
One of the things I love about the Rebekah narration journal (pictured above) is the open blank space at the top of the page which is useful for illustrations, while the bottom half is available for notes and narrations. I set this journal up as a science notebook for my high school student.
One last extra I have to share with you are the bookmarks – both snap in and magnetic.
The magnetic bookmarks are strong enough to clip onto one page as a place holder, but they are not strong enough to gather a group of pages. Keep that in mind so you know that the purpose of the magnetic bookmark is only to hold a place.
---
Pen test
As promised – a pen test on the Anna Vance paper! The paper used in Anna Vance's products does not have any kind of tooth, so the pen glides across the page effortlessly. I used a variety of pens and pencils – gel, ballpoint, and permanent markers. And I'm impressed! The results:
First, a disclaimer – I have a very heavy hand! Please keep that in mind as you view these images!
There is very minor shadowing on all writing tools with the exception of the Pilot G2 (that writes in gold, and I think that's why it didn't shadow) and the pencils.
The gel pen ink dried quickly on the page.
The Tombow Twintone Medium point bled through in a couple of small spots, but I expected that. Medium point markers are saturated with pigment.
The paper under the permanent pens performed far better than I expected. Permanent pens usually bleed – period. The ink is highly pigmented and it seeps through the page. There is slight bleeding, which I expected, but far less than I expected. It's minimal, and absolutely nothing bled through to the page behind it.
I did pen test my brightest Zebra Mildliner highlighers (I apologize, I did that after I took the photo – ugh!!) but I wanted to share that they don't bleed through at all on this paper.
In short, I'd call this some of the highest quality paper I've written on.
---
As usual, these highly detailed reviews are lengthy. I do hope this was helpful though. In the saturated world of planners, quality and thoughtfulness count quite a bit! This planner hits both and exceeds in versatility and flexibility with the many ways to customize and build the planner.
My only request for the future – and it's purely aesthetic – would be a more uniform font through the planner. I love the script font on the notebooks because it's simple and lovely. I'd love to see that script carried uniformly through the products with an elegant sans-serif everywhere else. Again though – that's personal preference, and not a quibble with layout or quality of the planner!
Do keep in mind that this is a family run business! Anna and her husband design, print, cut, laminate, assemble, sew, and punch every single product you order – by hand!! They are a small shop with a big heart! If you'd like to support them, head over to AnnaVance.com!
---
Finally, before I go, Anna has very generously offered to team up with me and offer one of you a generous $75 gift certificate to her shop!!
The giveaway will be hosted on Instagram at my account, but you should be following Anna on Instagram, too. Follow the instructions on the giveaway to enter. (This giveaway is open internationally) Winner will be chosen at random! I'm so excited to share this amazing planner system with one of you!