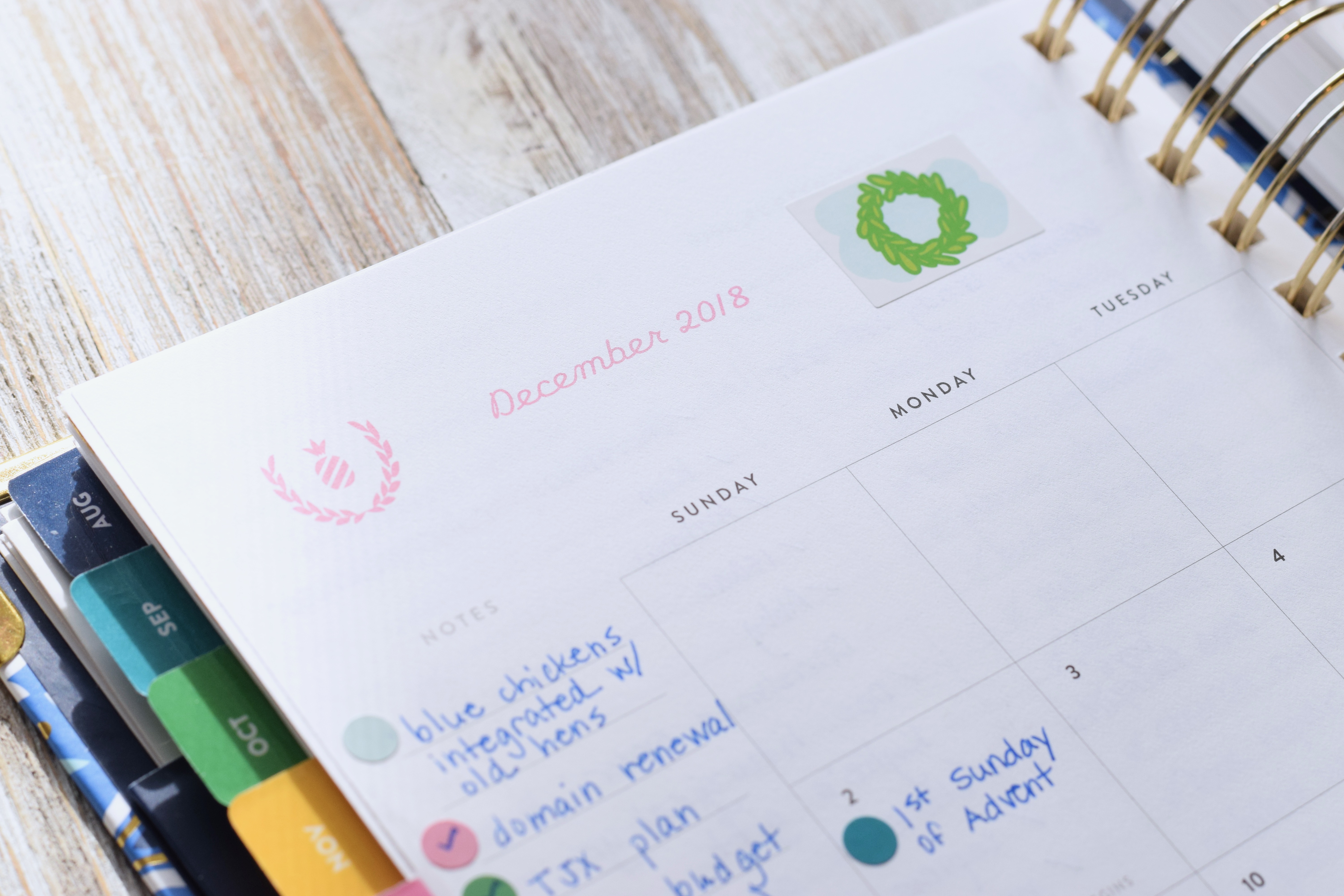 Can you believe another year has flown by? It seems I was just here…just sitting down to consider 2018 – our goals, plans, hopes, and prayers. And now, I'm sitting down to consider 2019.
So many wonderful things happened in 2018 – so many blessings to be thankful for. I find (and maybe you do, too) that the faster and more intense the pace, the less I may take time to sit down and be truly grateful for the many and diverse blessings that have come into our lives – some small, some large.
This blog of mine is a distinct blessing and it has been from day one. This February marks the 12 year anniversary of Wildflowers & Marbles. 12 years!! Some of you have been with me from the very beginning and I'm so grateful for each of you. The past couple of years this blog's reach has grown and I've found new joy in what is considered "micro-blogging" through my Instagram account. I've said it before, but I'd love to have you along there!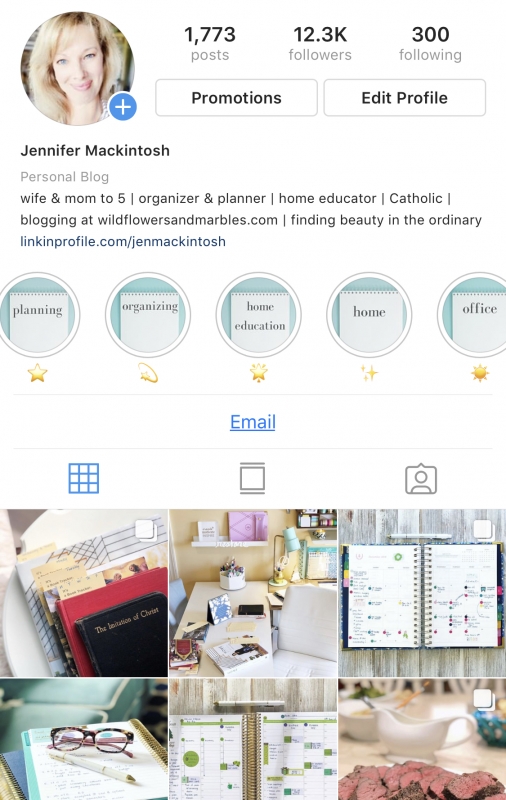 Micro-blogging is so fun and enjoyable, and by definition – small – and since my time has been spoken for in so many different ways for the past couple of years, micro-blogging through my Instagram has been a wonderful way for me to stay connected with each of you and continue sharing. Can I have rich conversations and share long, meaty posts on Instagram? Nope. And for awhile, that had to be ok. But as I wrap my head and heart around 2019, I feel a pull to be back here, sharing more in these digital spaces that I have nurtured all these years.
I look around online and there are so many websites and blogs that have taken ideas – some are ideas I have shared here over the years – and run with them. And they are beautiful spaces. So I had to ask myself if this little blog of mine was even relevant any more – I mean, my time is valuable and I don't want to waste my time or yours. In spite of my questioning and pulling back, this little space of mine continues to surprise me and draw your attention.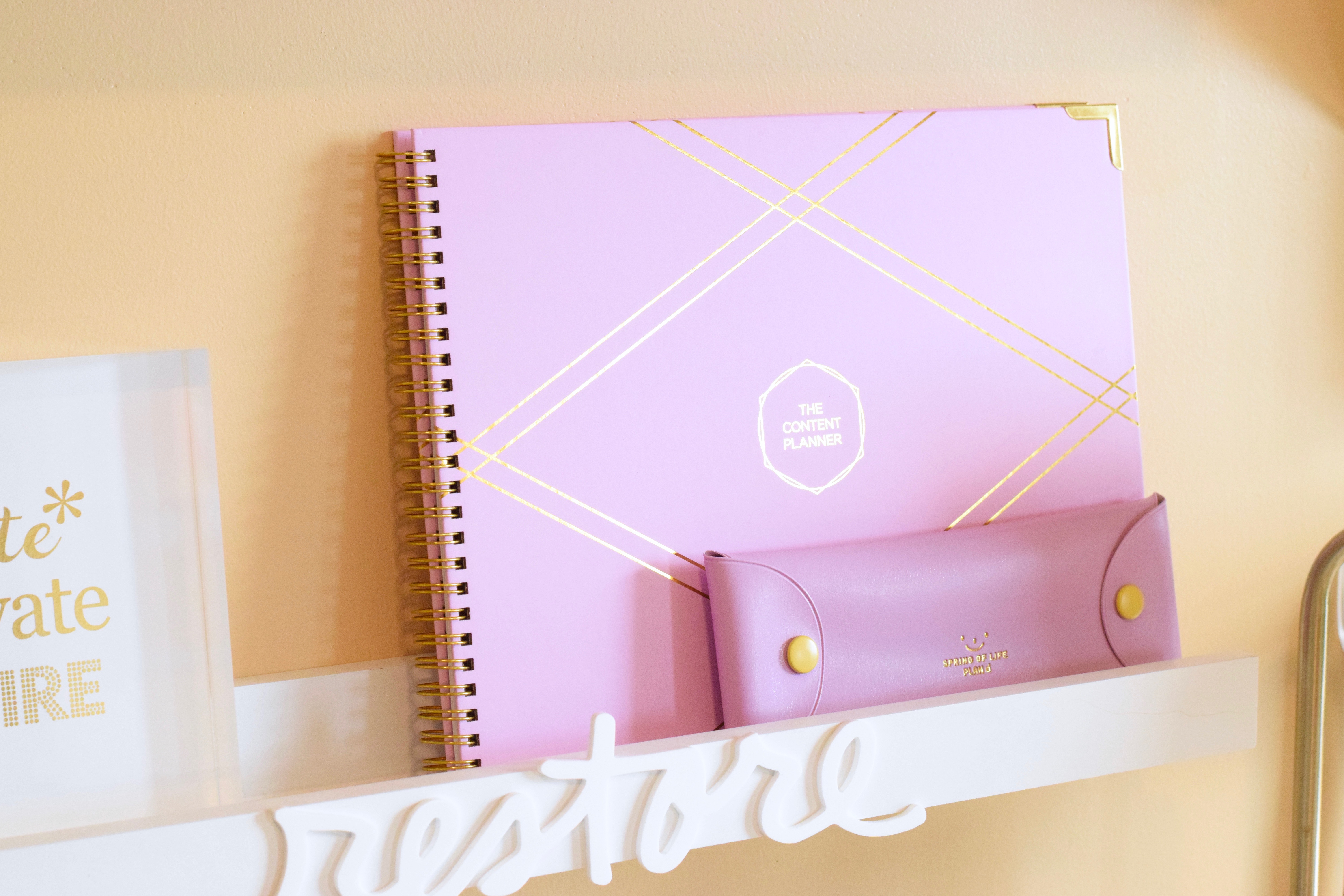 I still have so many things I want to share – about home education, planning and organizing, living our faith in all the different corners of our days, and the joy and wonder in finding the splendor that is tucked within all of the ordinary moments of my day.
To take my 2019 goal of re-engaging through my blog more seriously, I purchased The 2019 Content Planner to help me plan some of my post ideas across both Instagram and Wildflowers & Marbles and I just love it! (affiliate link) I looked at a few different options for planning content but finally chose this one. The layout is perfect for me! (I'd love to share more of The Content Planner in a review – especially for those of you also blogging – how I set mine up and how I'm using it this upcoming year. Interested?
So, acknowledging that every good thing here is merely a reflection of THE Good, True and Beautiful, and not really mine at all – let's continue. And we'll see where it goes. Together!
RESTORE
My word for the year of 2018 was RESTORE. I'm pretty sure I've shared before about the fact that I have never, ever "chosen a word." For some odd reason, I recoil when it comes to such practices. Maybe because I feel locked and cramped by choosing just one word. Maybe because it seems sentimental to me. I don't know why. But a word chose me for 2018 and it wouldn't let go – RESTORE. It felt humbling to accept it – so I did.
I've hinted in past posts about my Autoimmune Disease and I've shared some of the ways I live with it on Instagram, but I've never really come clean with all of you. (Ahem…I really need to finish my long-ish post.) Regardless. I do have an Autoimmune disease – Hashimoto's Disease. I was diagnosed shortly after the birth of our 4th child – 11 years ago.
It is a disease that affects the thyroid, which in turn affects…well…pretty much everything – from hair, nails, skin, digestive system, sense of balance, fatigue, inflamed nerves, headaches, memory issues, weight loss and gain, mood, and anything hormonal. The gist of the disease is that somewhere along the way, my immune system began to view my own healthy thyroid as a foreign body, and it began attacking it, as it is hardwired to do. Foreign thing in body = attack and destroy. Since the thyroid is a necessary organ in regulating hormones and metabolism, when it's off, EVERYTHING feels off. And recovery and restoration is no easy or simple matter. Though some are able to achieve remission, Hashimoto's is lifelong and usually results in the complete destruction of the thyroid as well as promoting other Autoimmune diseases. I wasn't willing to accept that as the end of my story. So my battle began…and continues.
We are fearfully and wonderfully made.
11 years ago, I presented with antibodies to the disease and was officially diagnosed but wasn't symptomatic. That changed in early 2017 and by late 2017 my immune system was in full attack mode – attacking my thyroid and causing a full inflammatory response in almost every other system in my body. I was a mess. I undertook some immediate measures to recover my health, and in 2018, my goal was simply to restore.
Anyone with Autoimmune can tell you that this journey is often one step forward, one step back and that has certainly been the case for me with many lessons along the way.
It's a cross, to be sure, but I refuse to allow it to define me or change my voice – so for many years I simply kept it to myself. Please understand: I was completely content with that. I have always preferred to keep some crosses and some joys distinctly to myself. But once the disease began wreaking some serious havoc in my life and after I finally (and painfully) connected all the symptom-dots that pointed to my Hashimoto's disease, I slowly began to open up about it. I was so blessed by the many others that shared their stories that I – very guarded – began to share mine, and since many of you have written to ask for more of my journey and the steps I've taken, I will continue sharing.
I'm still actively working on restoring my health and nowhere near a place that one could call "remission," but 2017 and 2018 taught me so much about the things that trigger my autoimmune response and the methods I can employ to soothe my irritated immune system – lessons I'm grateful for and small steps forward toward that idea: RESTORE.
January 2018
January marked my 25th anniversary! And it's also the month we found out that our oldest daughter was expecting! A joyful time for us as we celebrated that one of the fruits of our 25 years would now be a grandchild. Friends, I'm writing this as I look back, and I can tell you that this sweet grandchild is a blessing like no other. Not much can prepare you for how you will feel seeing your sweet little girl holding her sweet little girl.
February 2018
February brought an unexpected blessing and surprise: an invitation to attend the grand opening of the flagship Erin Condren store in Austin, TX!!
Several years ago, I started sharing my love for Erin Condren planners here on my blog. Ahem. A few of you noticed my reviews…and that got some attention. Through that I've had the opportunity to meet and enjoy some wonderful new friends and to celebrate a friend (Erin) whose hard work not only resulted in a fabulous planner and a booming and expanding paper and stationery business, but who lives and promotes the same idea of celebrating everyday/ordinary moments!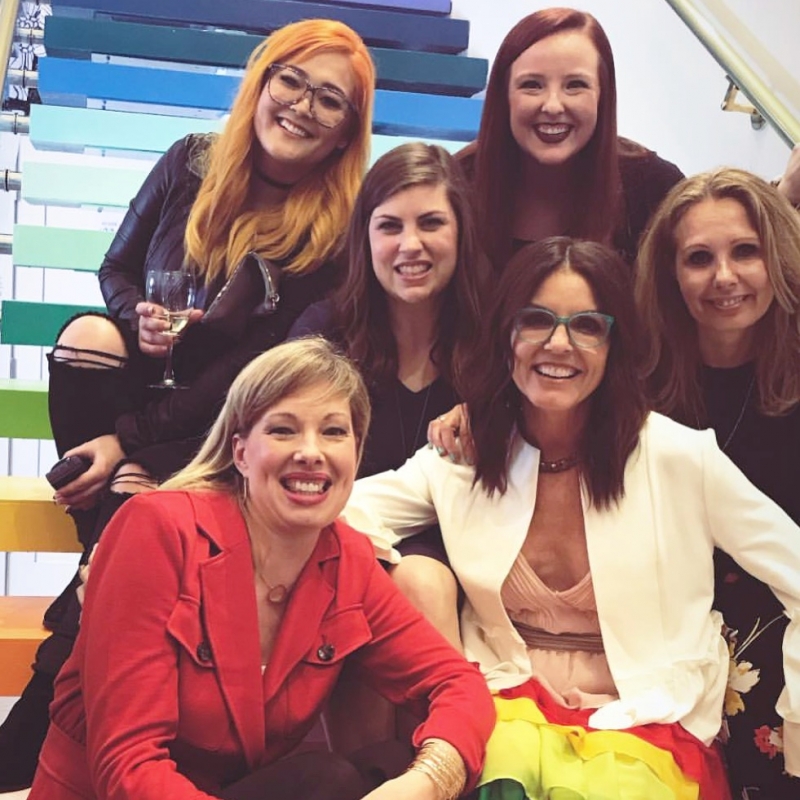 The blessing of that trip left me so grateful! It wasn't on my radar at all when we began the year – yet from that trip friendships have grown and deepened. True blessings. All because of my love of a planner.
March 2018
March is my birthday month, and if you know me at all you know how much I LOVE birthdays. I was 47 this past year. It seems like kind of a big number, but it doesn't bother me…yet. LOL!
Also in March, Rob and I identified some big goals for 2018 and refinancing our house, repairing a roof damaged by a recent storm, and repairing some foundation issues were at the top of our list. The thing is – these were big goals to walk forward, and the financial impact was huge, too. Stepping out in faith, we set the ball rolling forward for all of these in March. The moral of this story: just begin. Big goals are intimidating, and big goals on top of life can be paralyzing. Just begin. We managed to walk all 3 of these goals forward and complete them!
April 2018
April brought a little quiet into our lives. After (painfully pruning and then…) growing some different health and wellness habits and journaling them in my wellness log, I began to connect several of the dots that affected my health. I started uncovering a pattern of different foods that were acting as triggers for me – eating these specific foods always resulted in an immediate uptick in my symptoms. It's hard to eliminate comfort foods and there is a grieving process involved when you're letting go of foods that have become part of your family kitchen culture. I had to learn to replace a favorite comfort food with a similar non-reactive food. An example: cassava products – especially these chips – stepped in to fill my need to have something crunchy! (Check your local grocery stores – my Target and Publix stores have my favorite cassava chips at a much better price than Whole Foods or Amazon.)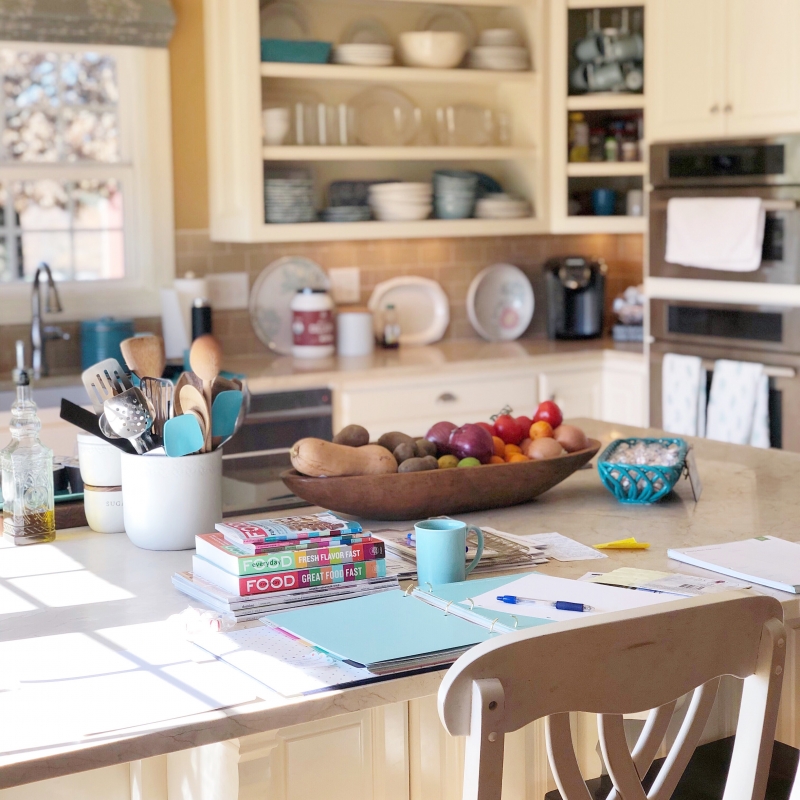 I know what you're going to ask: what were your food triggers so I can get rid of them too?But here's the thing about autoimmune, it's pretty individual. What triggers me may not trigger you. Suffice to say, it felt like a breakthrough to finally be understanding how I was reacting.
May 2018
May brought another unexpected invitation and trip to another planner event – this time a conference called "Go Wild Planner Conference." I'm not sure I knew what to expect, but y'all!! I've been planning my entire life: in steno books that I'd re-cover in scrapbook paper, in notepads, or whatever I could find. So, you can imagine my shock to discover that 1,300 other women were going to attend the GO Wild Planner Conference! It was a planner and paper lovers dream!
The Conference included speakers, events, and lots of free "swag" (much of which wouldn't even fit in my suitcase to fly home – so when I say lots…what I actually mean is a "great-balls-of-fire-lot-of free-planner-stuff")!! Again though, the fantastic part of the planner conference was reconnecting with friends – some of whom I'd met before, many of which I had only met "online."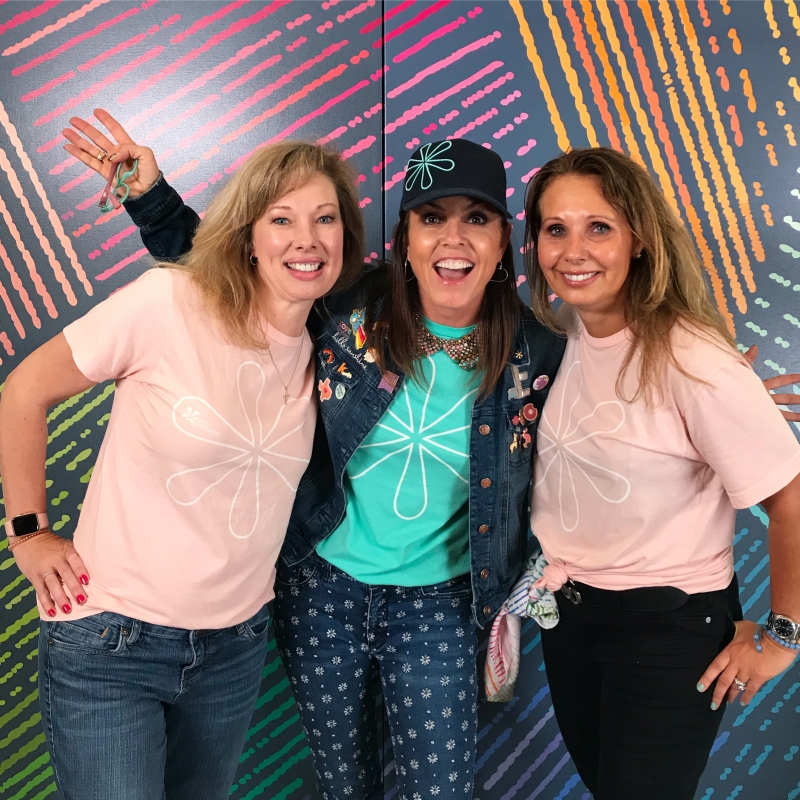 May also brought the close of another year of home education – our 16th year. I'm not sure I'd consider it one of our best years (some years are just magical, but they can't all be or we wouldn't be able to appreciate or motivate toward those years that really sing), but the kids each did well and moved forward. We spent most of the latter half of the school year preparing Mark and getting ready to transition him to his next phase of education after he graduates!
And May was the month we finally completed our foundation repairs! It felt amazing to close the cover on THAT book!
June 2018
The beginning of June found me traveling to the Minnesota Catholic Home Educators Conference. I love meeting all of you at conferences and sharing and encouraging and this conference was a delight that brought me in contact with so many new friends!
I got home from Minnesota, unpacked, and shifted gears to pack Rob, myself, and the four younger kids off to the beautiful island of Oahu, Hawaii!
Words just can't express to you how breathtaking Hawaii is!! First, I have to say that we couldn't have made this trip without the generosity of my brother in law, who let us stay with him in Honolulu. The gift of this trip was just amazing! Hawaii, I fell completely in love with you – from the rich turquoise oceans, to the lush tropical plant life, to the ever-present rainbow we found in every vista.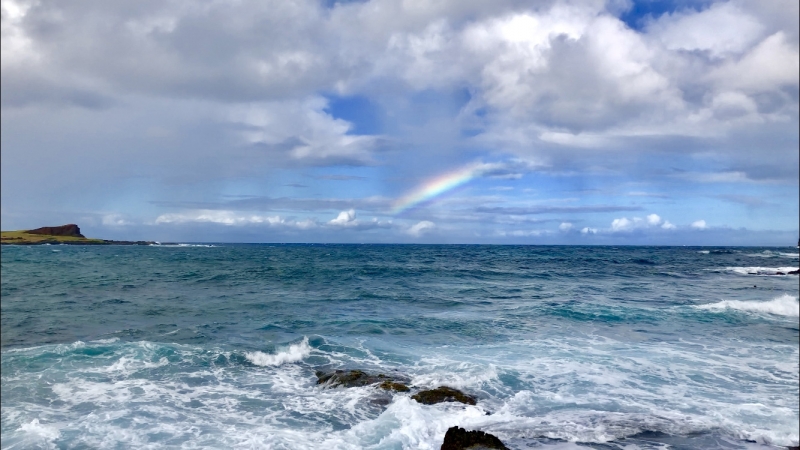 It's safe to say that I left Hawaii ready to go back! Mahalo, Hawaii!
July 2018
Once we were home from Hawaii it was time to unpack and get serious about planning for our upcoming year of homeschooling. I was planning for a Kindergartener, a 5th grade, an 8th grader, and a 12th grader. Each year, I take on one big project and this year, I was so excited to finally replace an old set of bookshelves with new bookshelves that were open and let in all the light I loved!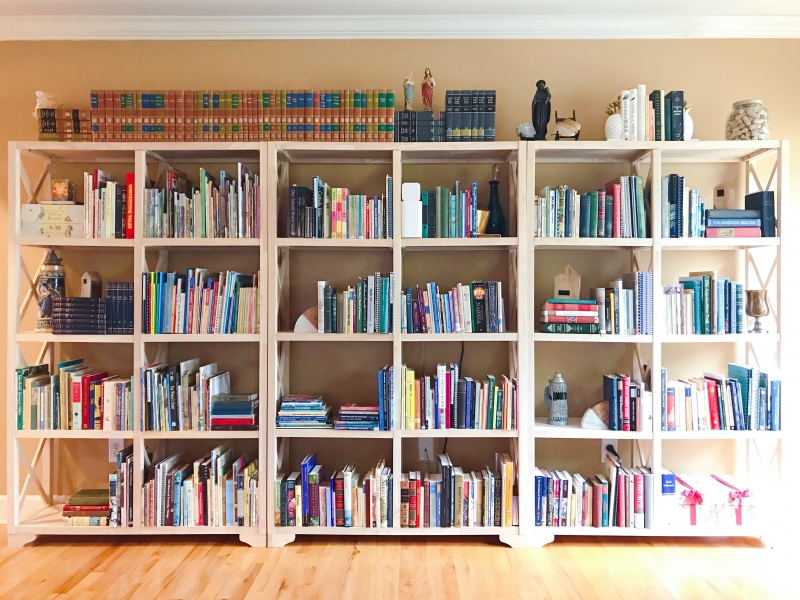 I purchased 3 sets of shelf room dividers from Target. I liked that these are all wood construction, light in color, and sturdy. Another feature I looked for was a very open shelf since these live in our north facing room which is typically very dark. I wanted everything as open as possible to let in as much light as possible. These shelves contain all of the books I use, shelved by year – from Preschool to 12th grade.
August 2018
August brought a new school year. With my pretty new school shelves in the living room, planning and scheduling our books was a joy! It felt good to plan out of refreshed and open spaces! But this year would look different than any of our other years. Though Mark was technically still homeschooling for his 12th grade year, he had already completed all 12 years' worth of books that I had planned for him. This meant that for Mark's entire senior year, he would dual enroll at our local community college (earning high school and college credit simultaneously) and work toward his goal of applying and entering the University of Alabama in the fall of 2019. (More on that below!) He attends college classes most days of the week and works outside the home on the other days. Which means that I really just have 3 kids in our homeschool this year – I'm on the downhill side, but still loving the time I can spend with these kids. The narrations and conversations of high schoolers is rich and such a window to their personality, but the earnest wonder of younger children opens my own eyes and grounds me. Each stage has such delights!
September 2018
September brought us Margaret Mary – our sweet grand-daughter! Words just can't express the joy and love I feel for this sweet one. Everyone said holding your grandchild is something special. Everyone was right.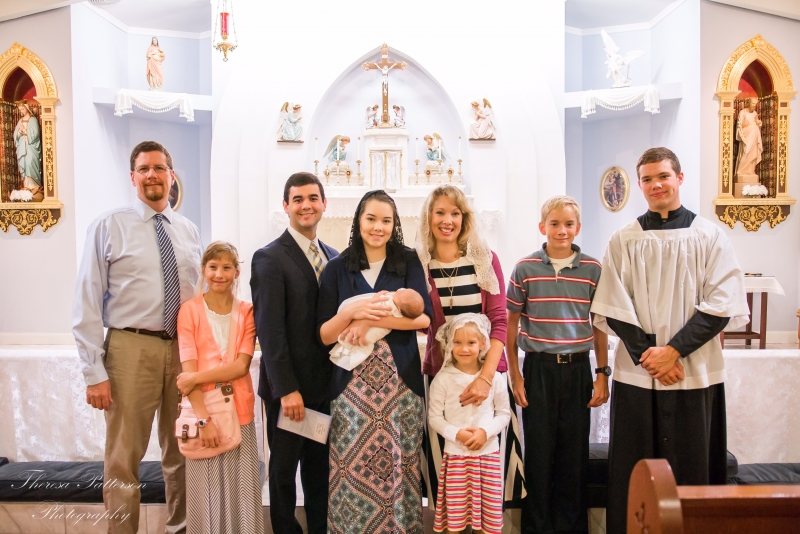 It is a grace filled moment when you see your sweet little girl (the one who grew up on the pages of this blog) holding her own sweet little girl. It's all a little magical, and yet, it is how I believe it is supposed to be. From the beginning. A beautiful connection that just continues from one generation to the next.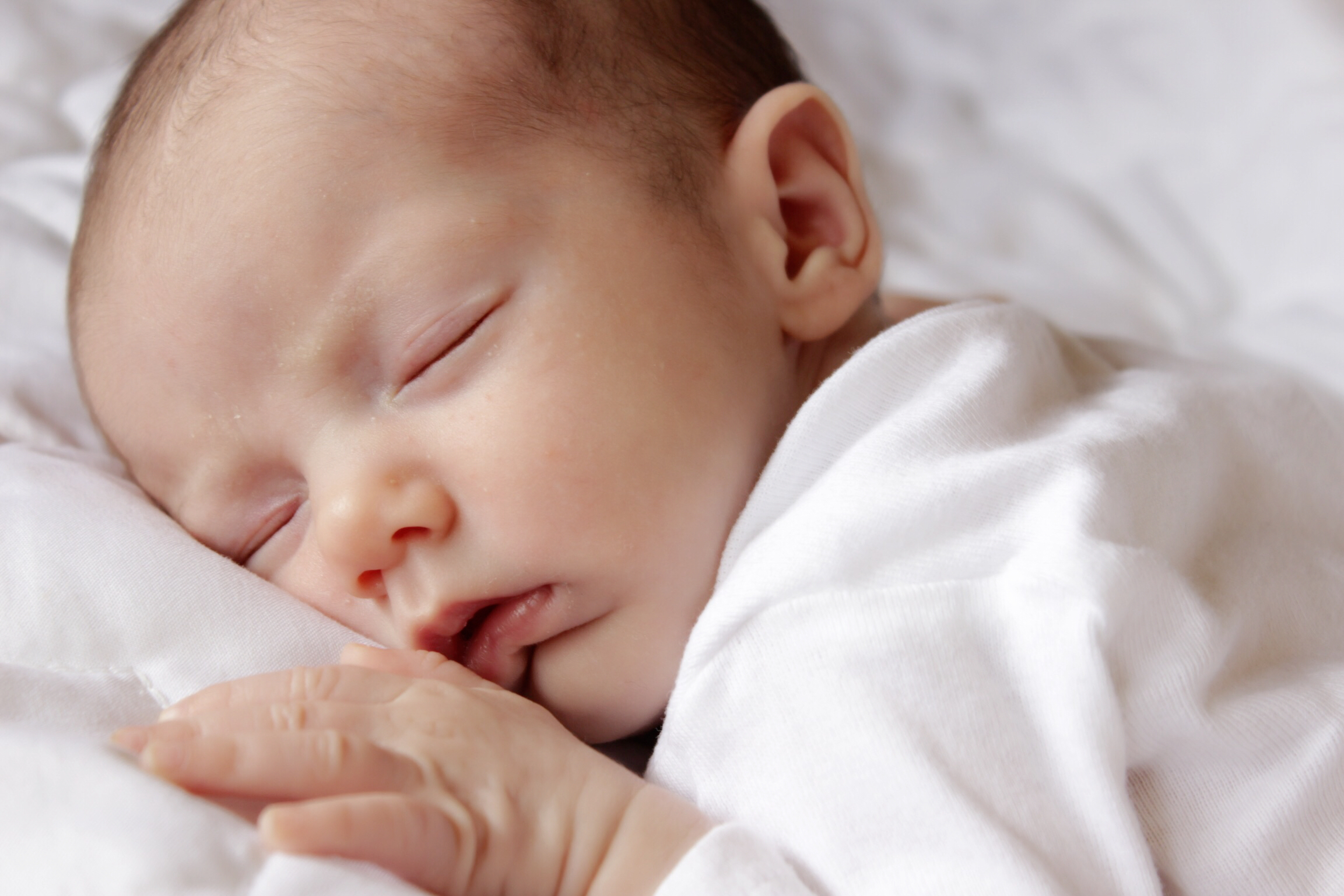 October 2018
After a summer full of travel and an early autumn anticipating sweet Maggie, we were ready for the coziness of autumnal days that kept us close to home. We spent days at our local pumpkin farm, playing with friends and enjoying all the fun past-times that are so full of wonder and excitement for children.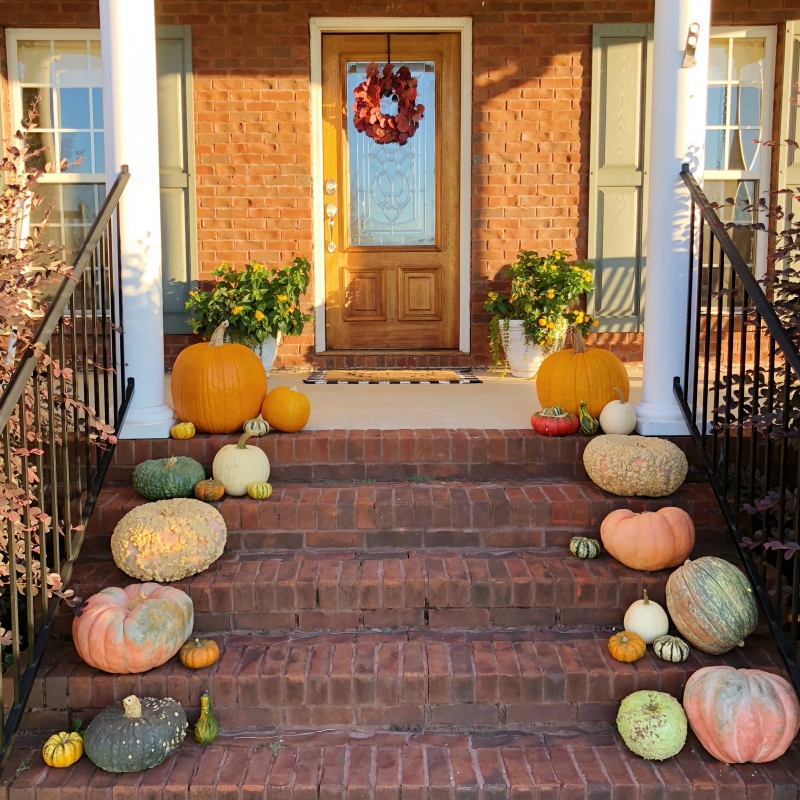 November 2018
November is always a full month anticipating Thanksgiving and family, but this November found me once again targeting aspects of my Autoimmune Disease. Remember – one step forward, one step back.
Partly because of my Autoimmune disease, and partly because my own agenda was just too full, I finally took some initiative and slid a few responsibilities off my plate. It was probably long overdue, but by the end of November my schedule felt lighter and I was able to give more attention where it was due and still have time for some much needed rest.
December 2018
By the time Christmas rolled around we heard the news from Mark's university of choice that he had been accepted and had earned a partial academic scholarship! Friends. For 12 years I've been writing here about home education, and for 17 years now I've been walking this journey. And all along I've been telling you that this beautiful, rich Charlotte Mason education that nurtures relationships between persons and ideas and builds the habit of attention – it is enough. It is more than enough. And now, I get to show you the fruit from two of my children that took two very different paths.
Sarah is living out her vocation as a wife and a mother and now raising her own children. I could not be more proud of her and how she has grown into the domestic arts, exercises creativity, and how much she loves that sweet little girl of hers! She is such a wonderful mommy! She is living the end goal of education, which is virtue. A mother could not want for more from her grown daughter.
And Mark, my tactile-sensitive, motor-skill delayed, mechanically-minded little fella is now bound for an engineering degree with a scholarship to his first choice university thanks to his liberal arts Charlotte Mason education!
Let me be clear: I get no credit for this – for any of this. All the credit goes to those fabulous living books and authors and to my children, who engaged every author and walked away richer having read each time a little wider, a little deeper.
Wrapping up
There has been so much more tucked in all the days of 2018 that I didn't list here; some have been sorrows, many are quiet, simple treasures. I'm grateful for every one.
The common thread in 2018 is the unplanned-for gift, which, I think, can be ironic for someone who loves planning as much as I do! But each gift has just made me more grateful – for the gift of faith primarily. Non Nobis! Not to us, O Lord, but to Thy Name give the glory! But also grateful for the gift of family, the gift of friendships, the gift of a wholehearted education, the gift of health.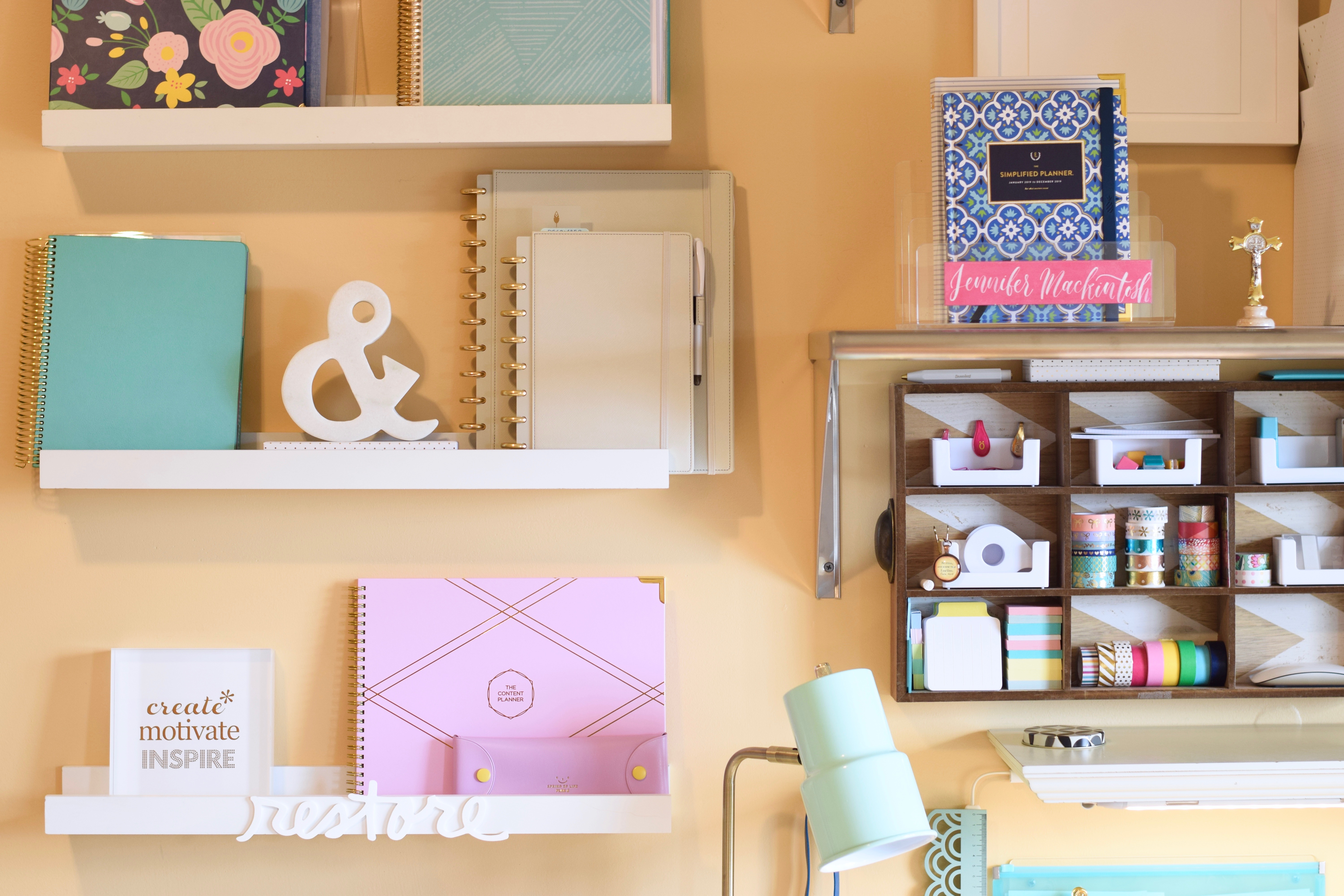 CREATE
I'm looking forward to being more creative in 2019 and I hope that extends to this little space. I'm certainly going to try!
What I hope you see here is not an orchestrated experience – the "cultivated feed" everyone refers to with such disdain. (Side note: I find cultivated feeds a delightful expression of beauty – an art form!) What I hope you find is simply a few of the extraordinary corners of my very ordinary days. It's all very real to me, but I hope in expressing the reality of our days we can be allowed to share those glimpses of beauty that rescue us from the disheartening mundane. I hope you will continue with me here and continue to uncover the beauty tucked within the ordinary.