Erin Condren 2020 Academic & Monthly Planner – Review
It's no secret by now that planning on paper is a way of organizing and taking care of myself, my family, and the many different things I juggle. My life is very full – joyfully so! I often hear, "I don't know how you do it all," and my honest answer is often, "I don't know either." I just keep putting one foot in front of the other, and taking care of the people, tasks, joys, and crosses in front of me. I'm learning to listen to that quiet, inner voice that tells me to slow down and choose the better part! I think this abundance can happen because I'm where God wants me. "I am come that they may have life, and may have it more abundantly." Outside of Him, none of this is possible; within His will, I can accomplish all things.
And if I'm being honest – all that I get done doesn't just happen somehow. Nothing happens by chance or because I randomly throw a few things together. Even abundance must be ordered and managed. And that's where paper comes in, and that's why I enjoy reviewing some of my favorite tools for you!
Before I begin this review, I need to thank the team at Erin Condren for sending these items to me so I could review them for you. Though the products were gifted, the opinions shared are mine alone. Additionally, the links shared in this post are affiliate links – they cost you nothing, but I may receive a small commission if you purchase through them – thank you! Those commissions help me maintain this blog and my content!
For years now I've shared my reviews of the Erin Condren Life Planner (that I use for all-the-things) and the Erin Condren Teacher Planner (that I use to manage our home education plans). One of the things I love about Erin Condren is that the company offers so many calendar types, designs, formats, and layouts to choose from. I shared about the Daily and Weekly Planners in this post. Today, I'm going to share about another addition – the Monthly Planner (formerly called The Deluxe Monthly Planner). I'm also going to share the new dated Academic Planner, a wonderful weekly planner for students or it could be a master planner for homeschooling parents with one student or young students. And finally, I have the new metallic deskpad to share! Let's get started!
---
Monthly Planner
Link to shop:
As mentioned earlier, the Deluxe Monthly Planner has a new, streamlined name – it's now called the Monthly Planner. The Monthly Planner launches on June 9, 2020. The base price for the Monthly Planner is $40. Here are the details for the monthly planner:
COILED MONTHLY PLANNER – link to shop

Available in 7 x 9 or 8.5 x 11 sizes
Available only in the Layers design theme
Choose from colorful or neutral colorway options
Coil Options:

Platinum
Gold (additional cost)
Rose Gold (additional cost)
Matte Black (additional cost)

4 different interior "guts" options

12 month (July 2020 – June 2021)
12 month (August 2020 – July 2021)
12 month (September 2020 – August 2021)
12 month (January 2021 – December 2021)

Add On options that are available:

Add 40 pages to the back of your Monthly planner ($5)
Add 80 pages to the back of your Monthly planner ($10)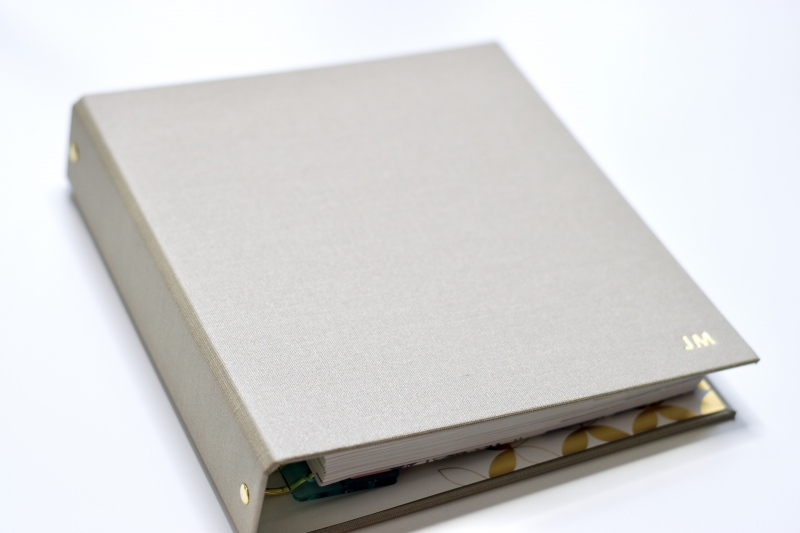 BINDER MONTHLY PLANNER – link to shop

Available in these binder designs:

Layers Colorful
Layers Neutral
Champagne (with a stay-clean coating)
Blush (while supplies last)
Sapphire (while supplies last)
Charcoal (while supplies last)
Kaleidoscope Colorful (while supplies last)
Kaleidoscope Neutral (while supplies last)

Binder is personalizable
Monthly Layout (interior guts) available in Layers Neutral or Layers Colorful design
All binders come with gold rings and hardware
1 interior "gut" option

18 months (July 2020 – Dec 2021)
Let's go through the Monthly Planner from beginning to end! I have the coiled version to show you, but the binder version comes in an identical order – however, the benefit of the binder guts is that you can arrange pages and sections, keeping or storing as much as you like! For you binder girls, this option provides ultimate flexibility. Don't forget the binder hole punch allows you to add your own papers, invitations, and memorabilia to your binder.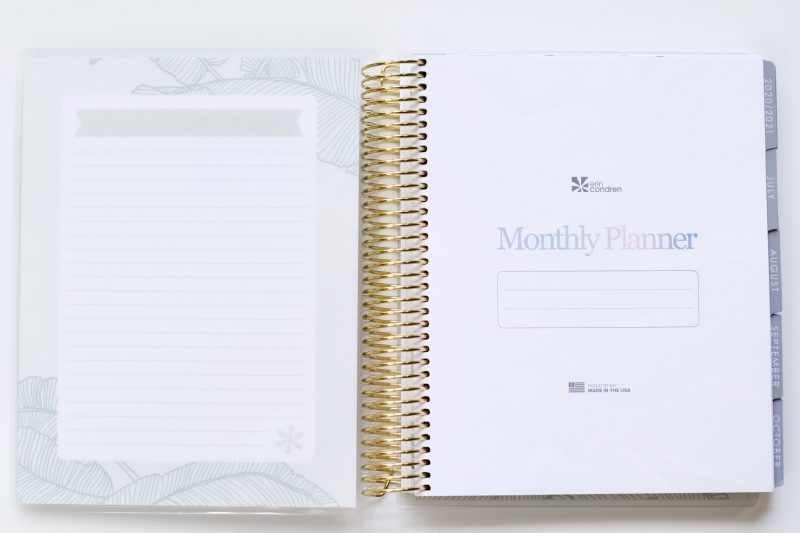 The title page always reflects the type of planner in your hands and includes a place for name/identification. While binder users can claim versatility in interior pages, coiled planners have the benefit of interchangeable covers! My cover is the gorgeous banana leaves cover, and I personalized my cover with "content planner" because that's how I use this Monthly Planner, to plan and organize my content. But – think outside the box, especially for this Monthly Planner – because it can help you manage so much!! Do you have a side hustle, a small business, a book club, a scouts group, a Youtube channel, blog – because these can all benefit from the organization in the Monthly Planner. And you can personalize it with your name, initials, planner purpose, or nothing at all!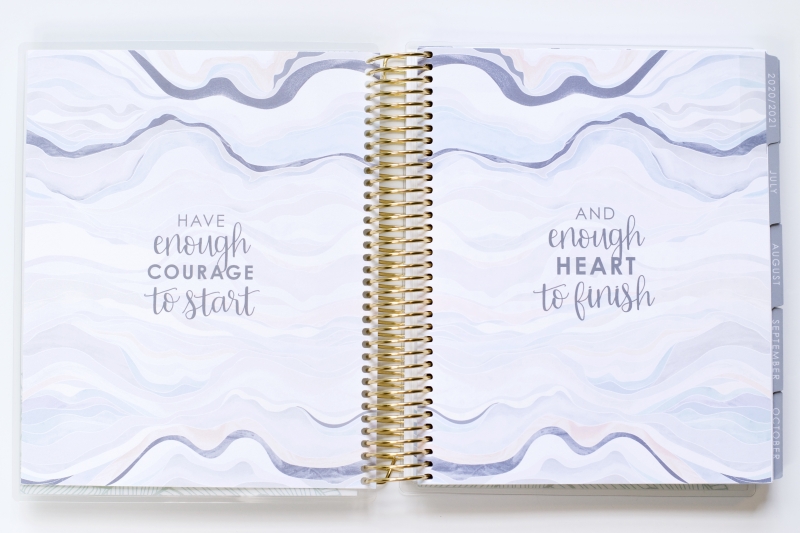 The beautiful Layers design theme provides the background for the motivational quote pages. The Monthly Planner in this review is in the neutral colorway. The neutral colorway has four soft colors that are used very sparingly and are repeated through the planner and you can see them in this quotes spread.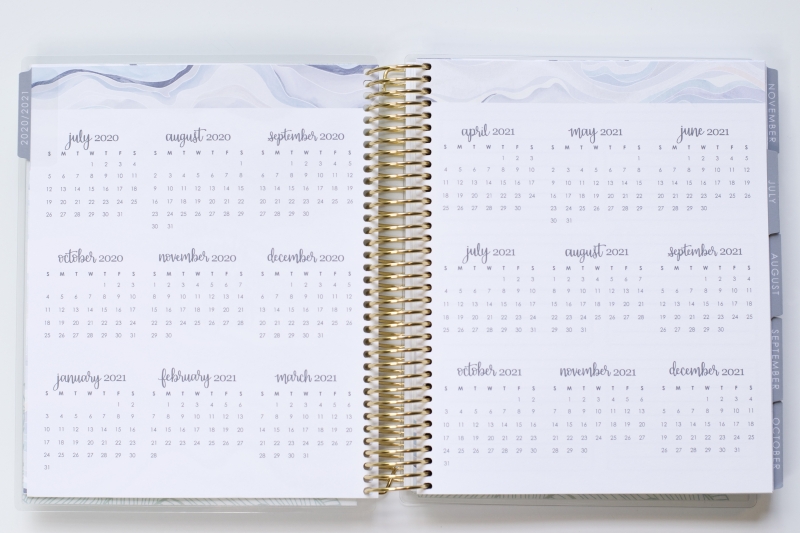 Next are the yearly overview pages which cover (in mini months) all of 2020 and 2021. Since I use my Monthly Planner for Content planning, I use transparent dots to designate special themed holidays, product launch dates (for reviews), and blog-specific billing dates (when my domain renews, when I pay my annual server fee, etc). I also enjoy noting my blog and social media stats at the beginning of a year, and at the end. It's a good way to see growth.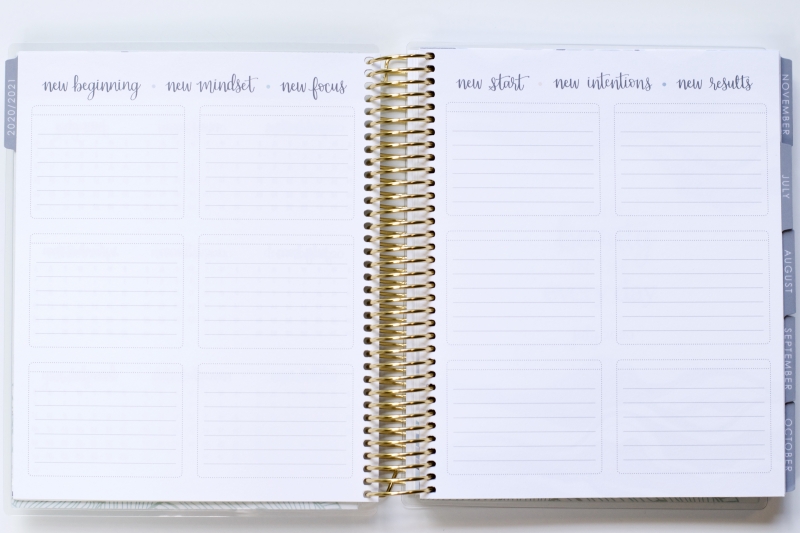 The next two pages in the Monthly Planner include 12 blank (lined) boxes. If you're familiar with the weekly LifePlanner layout at all, you probably recognize that all of these pages at the beginning of the planner are identical.
These early pages are meant to lay out goals for your year, and this 2 page spread with 12 boxes is a great place to list those goals. To continue my example of using the Monthly Planner as my Content Planner, I include goals I have that are specific to my Creative Content – technical issues I want to work on (waving at you ssl certificate), housekeeping goals, content goals, growth goals, any aesthetic work I want to do on my blog, photography goals, equipment or tools I'd like to purchase, income goals (if any), printables I want to offer, etc. This is a great spread to really consider and express your yearly vision, however you use the Monthly Planner!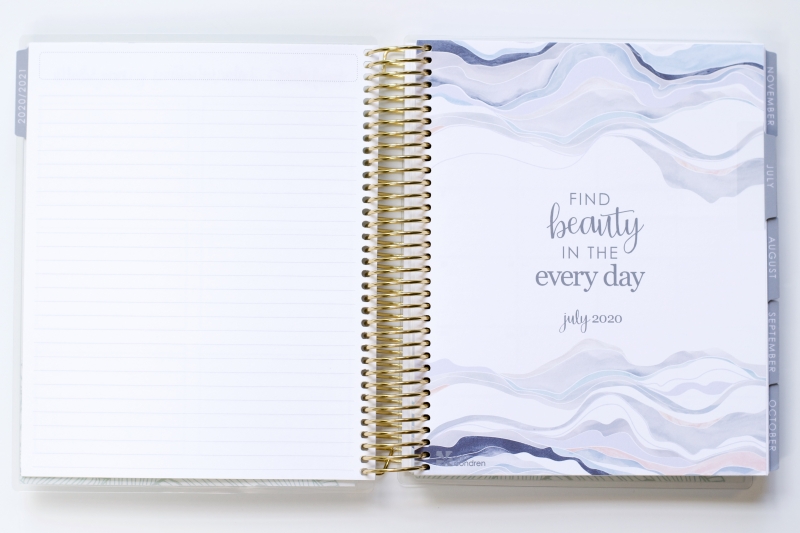 Now we're to the meat of the Monthly Planner. Preceding each month is a full lined page that can be used however you like!
Opposite the lined page is a layers design page with a quote, and attached to this page is a laminated tab. That tab now opens to…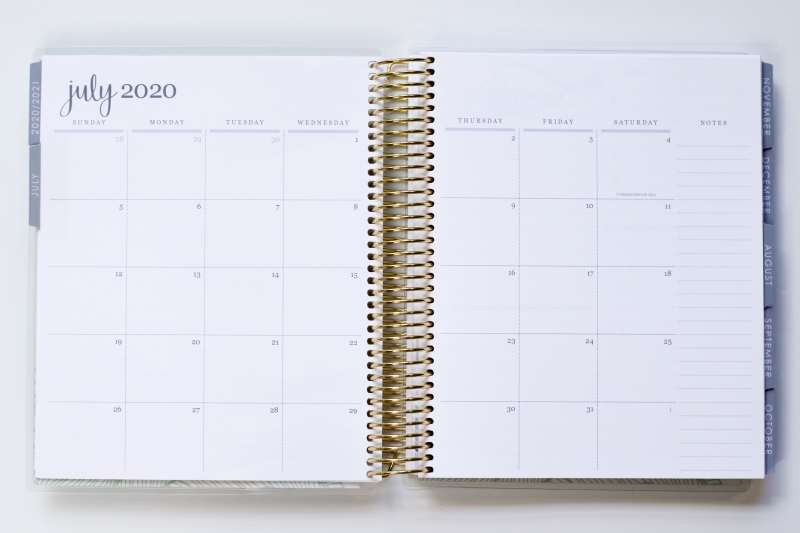 …the monthly view. This is a change from last year's planners. Last year, the tab opened to a productivity page, and customers overwhelmingly requested that it move back to open to the monthly page – and Erin Condren listens to her customers!
The Monthly Planner is a dated planner, and there is a generous notes column to the far right of the monthly calendar.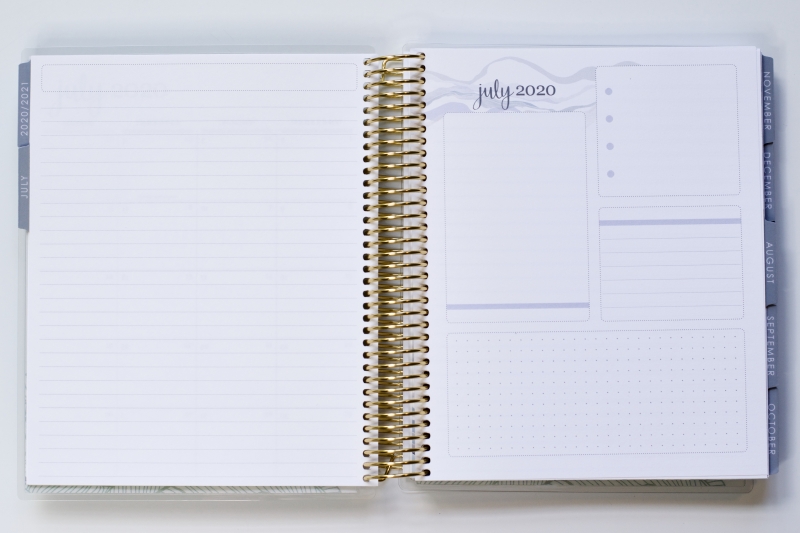 Following the monthly spread is a Productivity page. I love the changes to this year's productivity page! There are several different "container" styles and sizes, but they're all completely open-ended! Use these box containers in ways that work for you – whether you're using the Monthly Planner as your main planner, or as a planner that helps you manage a specific focus (like budgeting or content). Opposite the productivity page is a lined page to use in ways that fit your planning.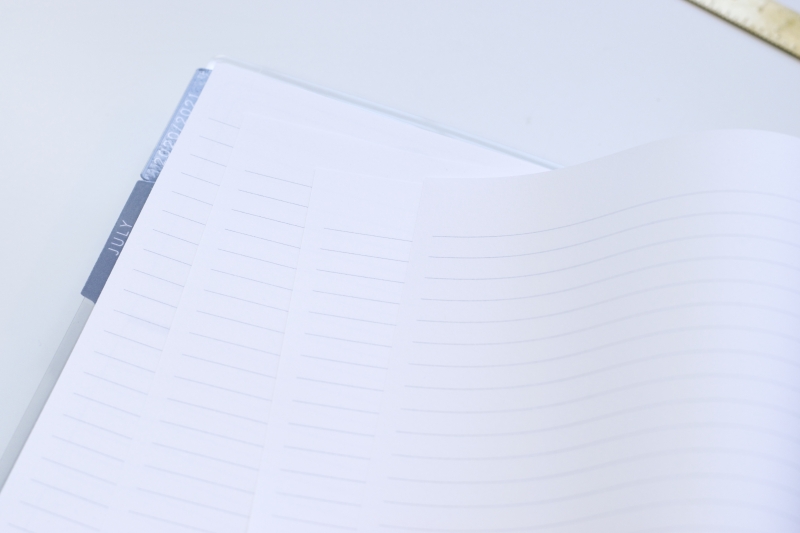 Behind the productivity page, there are 8 fully lined pages so that you can include monthly: support planning, meeting notes, task lists, monthly goals, organizing projects, and more.
To summarize – each month in the Monthly Planner includes:
A lined page before the month
A tabbed page – one side has the Layers Design and a quote, and the other side has…
A 2 page monthly calendar spread with a notes column
A full lined page
A Productivity Page
8 more full lined pages (for a total of 10 lined pages each month)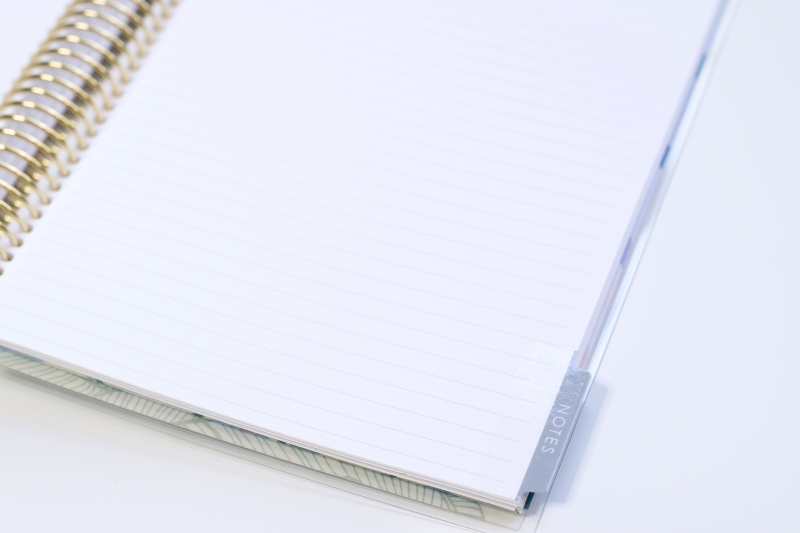 After all of the months in your monthly options, there is a notes section that has lined pages. Each Monthly Planner comes with 40 lined pages in the Notes section, however, when ordering, you will have the option to add 40 more lined notes pages ($5 additional charge), or 80 more lined notes pages ($10).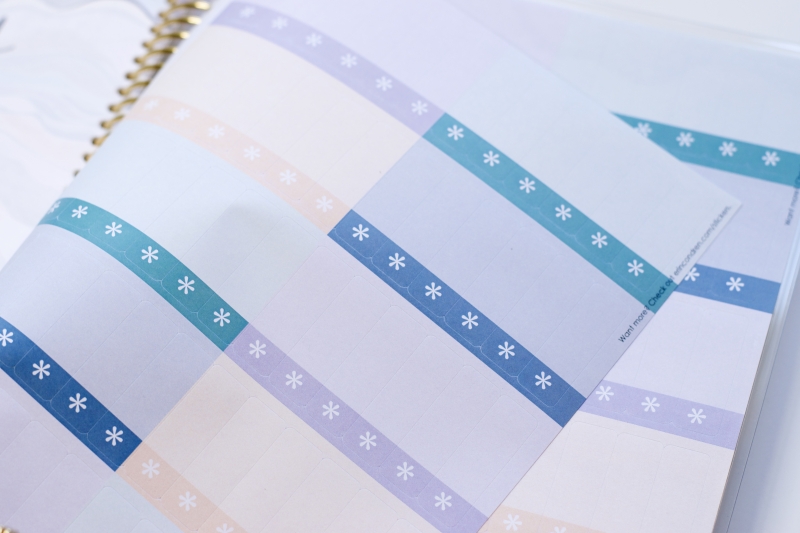 At the end of every single Erin Condren planner, there are always coiled in stickers, and the Monthly Planner is no exception. The Monthly Planner includes 2 full sheets of event stickers. These are great for adding topic headings to a lined page, for noting important events on the monthly calendar spread, etc.
My one nit-pick I have with these stickers would be the asterisk on the left side of the sticker. I would love it if the asterisk were removed so that all of the available writing space could be used!
The back of the Monthly Planner includes a coiled in pocket folder with pockets on both sides! These are fantastic for collecting invitations, receipts, event announcements, and extra stickers. (In case you're looking for the gold ruler in my posts, and tucked in the back pocket of my Monthly Planner, you can find it here.)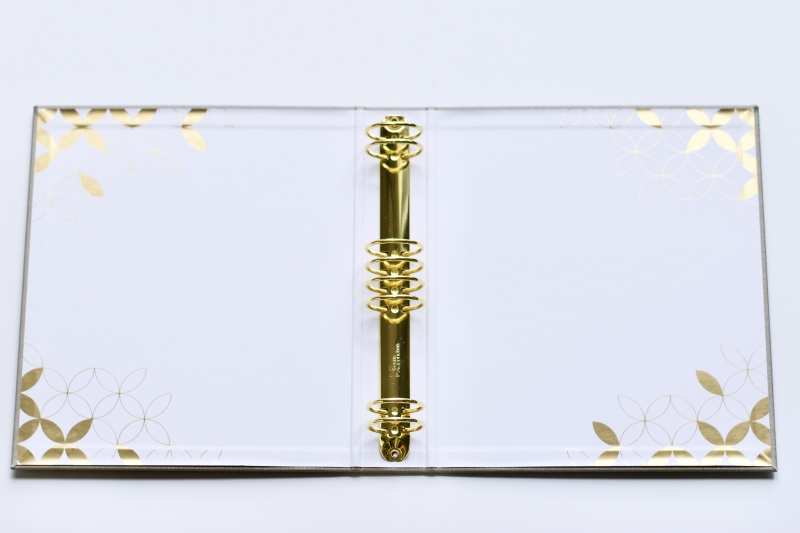 Remember, that you have the option of purchasing the Monthly Planner as a coiled planner, as well as a binder option. You can choose your binder (pictured above is the interior of the champagne binder) and you will receive an 18 month (July 2020 – Dec 2021) Monthly Planner interior punched for the binder. (The binder and Monthly Planner inserts are not available for purchase separately).
And that's it for the Erin Condren Monthly Planner! The Monthly Planner has many of the features of other Daily and Weekly LifePlanners – all the same quality Mohawk 80 lb paper, heavy duty coils, high quality thick laminate (interchangeable) covers, attention to details – and copious paper to plan out your month!
---
Academic Planner
Link to shop: Academic Planners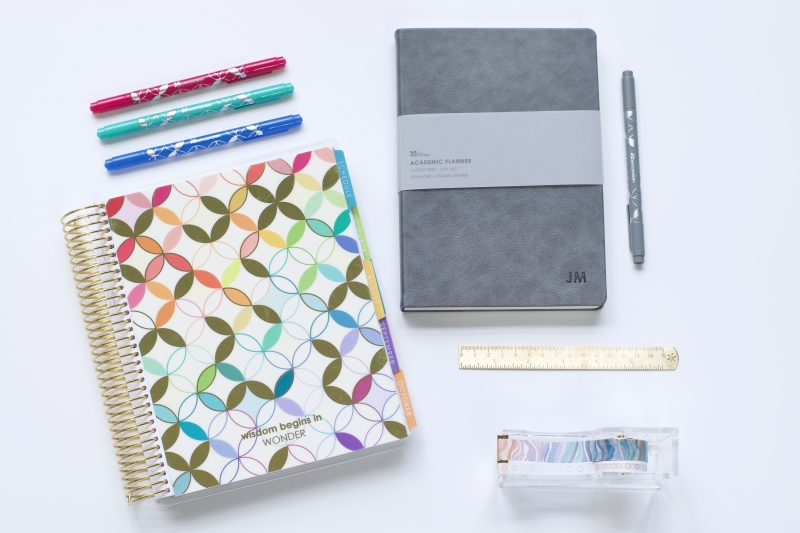 The Academic Planner will be added to the Erin Condren Planner Family Lineup on June 11. This planner is ideally suited for anyone in education – primary/high school student, college or graduate student, specialty skill instruction, teacher, professor, educational support, and even home educated students and home educators looking for a planner that is smaller than the Erin Condren Teacher Planner (the Academic planner is an ideal lesson planner if you only homeschool one student, or if you are homeschooling one to two children in K-2nd grade). Academic Planners are available in Coiled and Softbound options this year. Here are the details for the Academic Planner: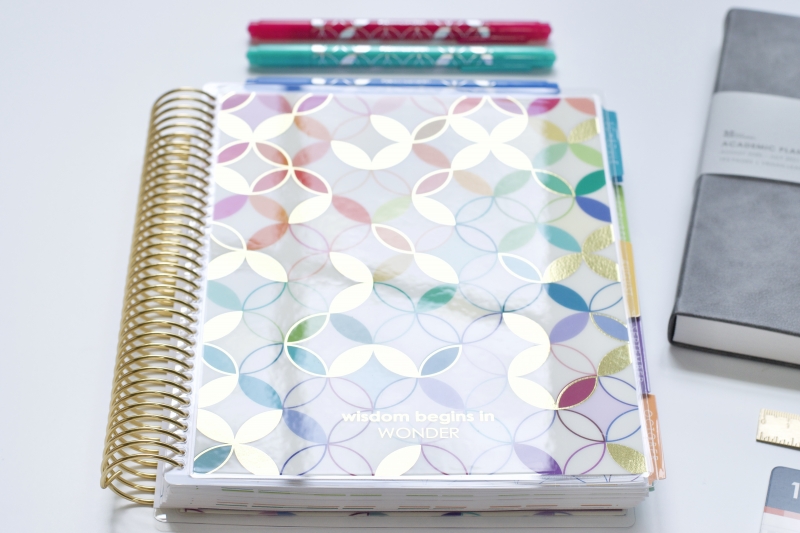 COILED ACADEMIC PLANNER

Base Price: $37
Available in 7 x 9 size
Interior is a beautiful Mid-Century Circle Design
Only available in colorful (no neutral academic planner option)
Coil options:

Platinum
Gold (additional cost)
Rose Gold (additional cost)
Matte Black (additional cost)

4 different interior "guts" options

12 month (August 2020 – July 2021)
12 month (September 2020 – August 2021)
12 month (January 2021 – December 2021)

Add-ons:

Lined Pages (additional cost)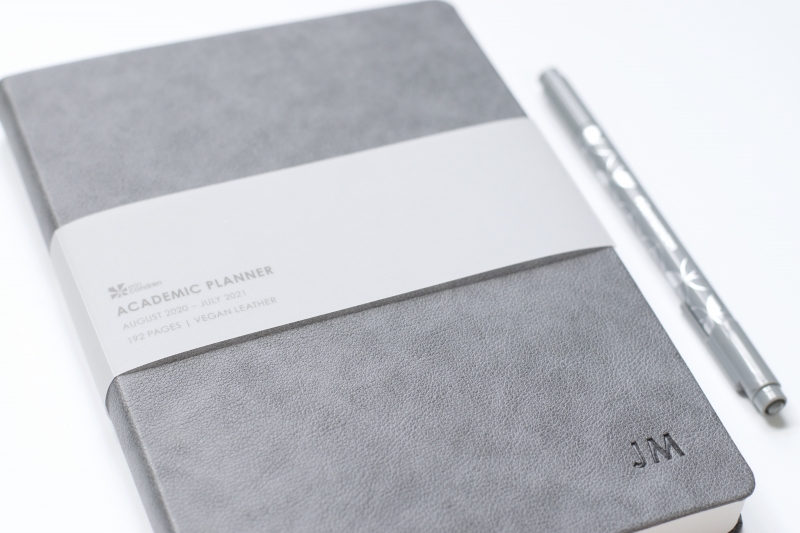 SOFTBOUND ACADEMIC PLANNER

Base Price: $30
Available in A5 size
Luxe, vegan leather covers
Personalizable with initials/imprint
4 softbound planner color options:

Rose Gold (Colorful Mid Century Circles interior design)
Peacock (Colorful Mid Century Circles interior design)
Camel (Focused Planner minimal layout)
Gray |pictured| (Focused Planner minimal layout)

Dated 17 month planner (August 2020 – December 2021)
The layout and page order follows the coiled Academic Planner
6 lined notes pages in the back of the planner.
2 attached satin ribbons to use as page markers.
We'll walk through the interior of the Coiled Academic Planner first, and then I'll show you the Gray/Focused Softbound interior in detail!
Coiled Academic Planner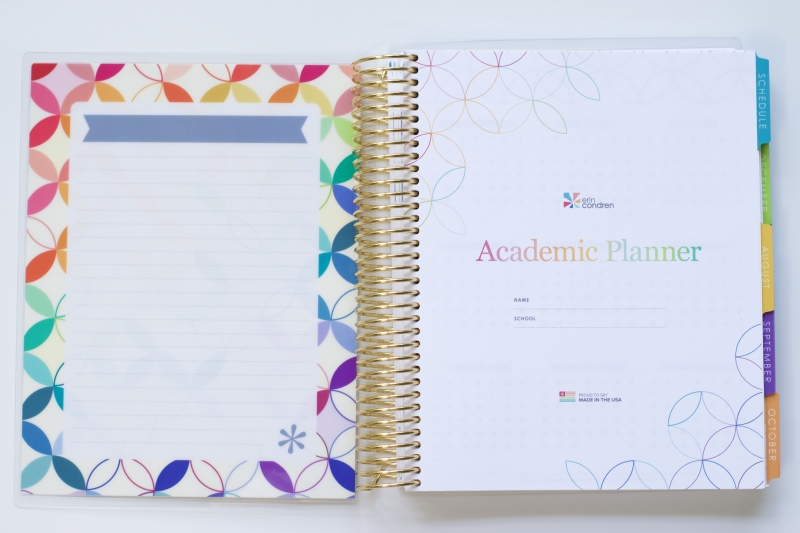 The title pages identifies this planner as an Academic Planner.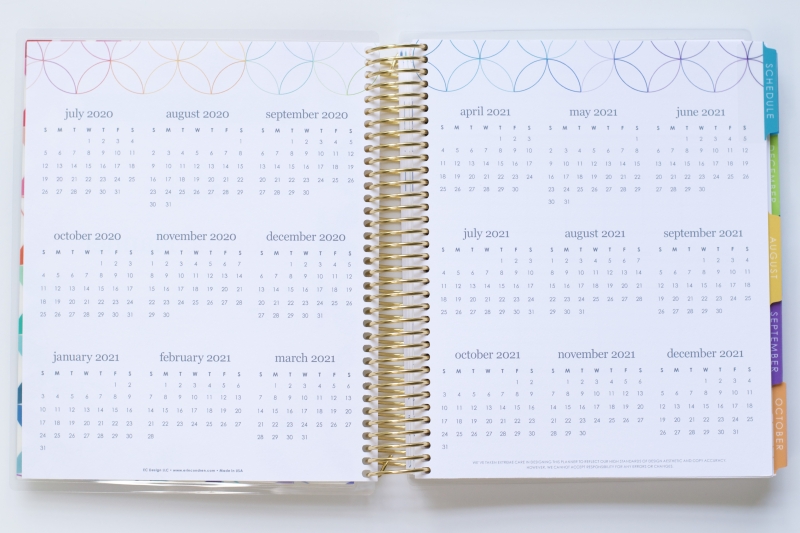 Be still my heart! These first pages give us the first hint at the beautiful Mid Century Circle design throughout this planner! The mini month pages are fantastic for providing a top down view of a year. Use a highlighter or transparent dots to identify important dates for the school year!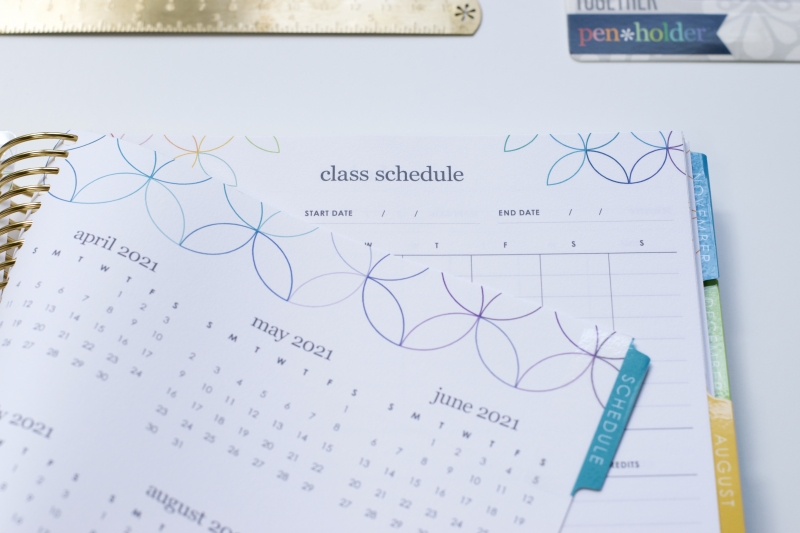 The first tabbed section is labeled "Schedule" and I love this section! The first two page spread has a lined page on one side, and a class schedule grid on the other side.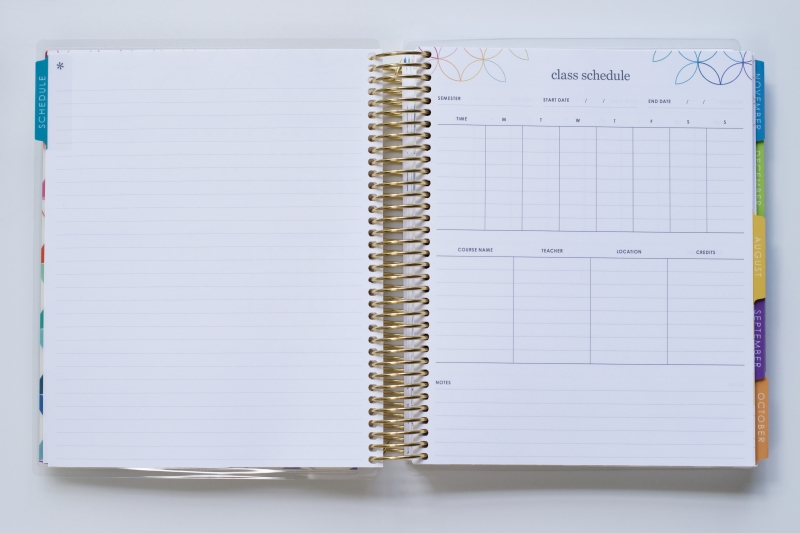 Flip the page and you have another lined page and another class schedule page. Each two page spread is meant for the two semesters in a year.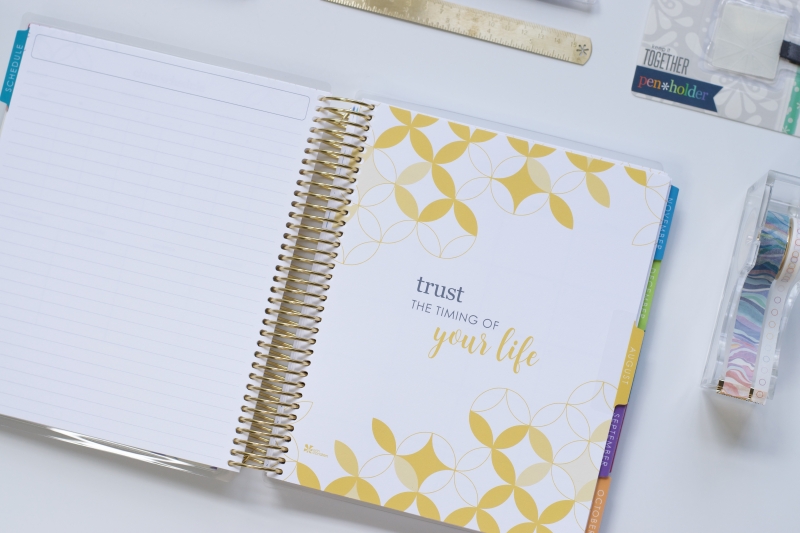 Turn the page and the monthly sections begin with a lined page on the left facing page, and the right facing page always has an illustration representative of the design theme of that planner (in the Academic Planner, the design theme is Mid Century Circles), and an inspirational quote.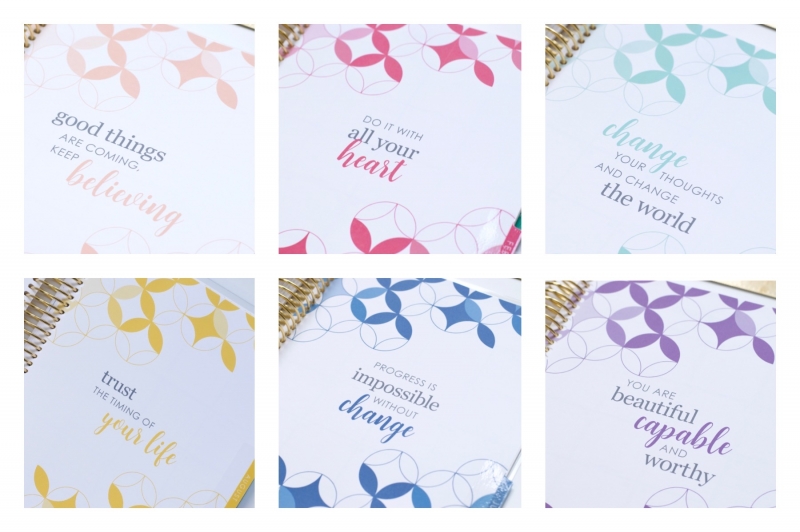 This Academic Planner has some of my favorite quotes and the mid century circle designs and I couldn't resist sharing a little collage with you!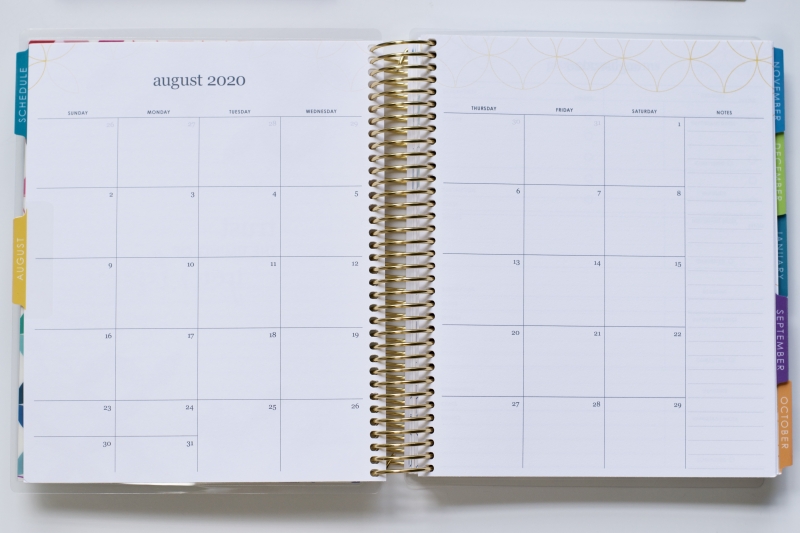 The monthly tab brings us to a 2 page monthly spread with a generous notes column on the right side. Do you see that minimal Mid Century Design across the top. Swoon!! Notice that the color of the design for the month matches the tab color – August is yellow.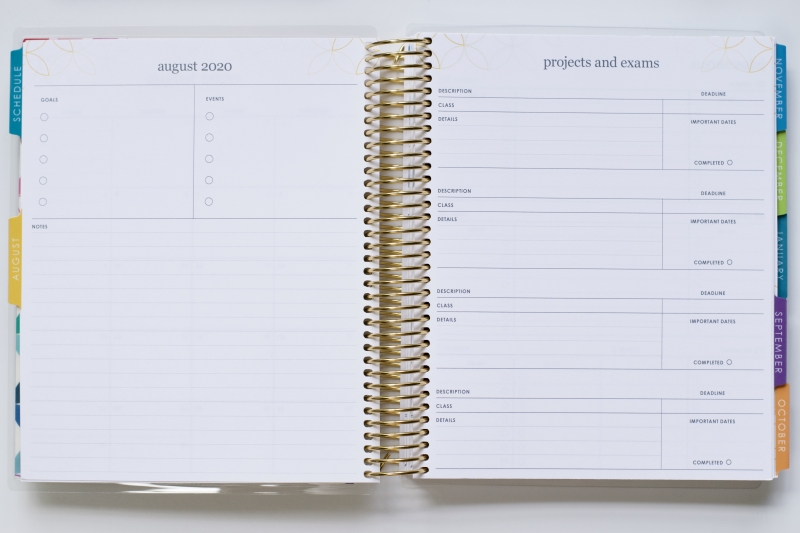 Each month begins with a monthly overview 2-page spread. These two pages leave room for priorities, goals, due dates, projects, and notes! I love how this page sets the student (or teacher) up for success with a monthly overview before getting into the daily nitty-gritty-detail! This overview page is present at the beginning of every month in this planner.
The weekly pages are dated and have plenty of room for assignments, sports, activities, due dates/deadlines, and to-dos. Saturday and Sunday are small, but they are present on this weekly view! Fantastic for homework, weekend sports or activities, or listing volunteer work!
With the exception of the minimal Mid Century Circle design, this page is free from design or specific designation – to me, that makes this Academic Planner useful for any age or function! Use it as a student, as a teacher, as educational support staff, as a homeschooler! I love that the Erin Condren Planners are designed with a purpose, but left open enough for customers to interpret the planner and use it for any need that fits on those pages!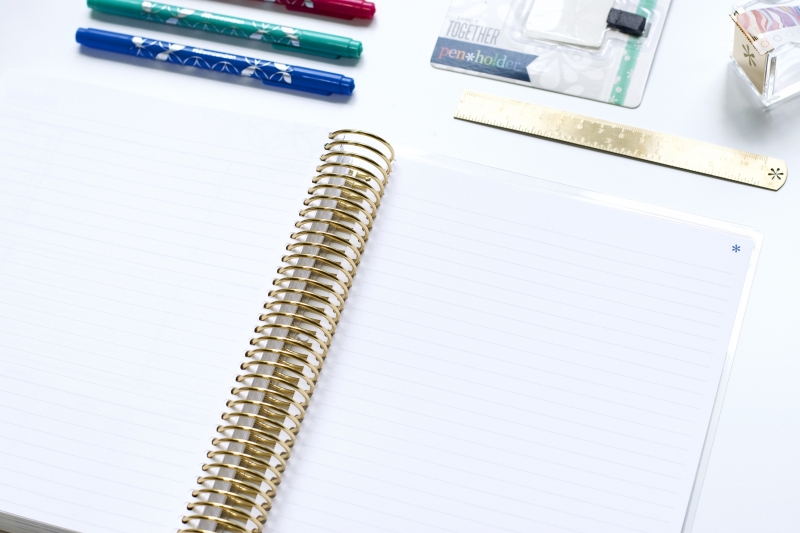 Each month includes the dated weeks of the month AND behind the dated pages there are 4 lined pages for extra notes! Every month! So practical and useful!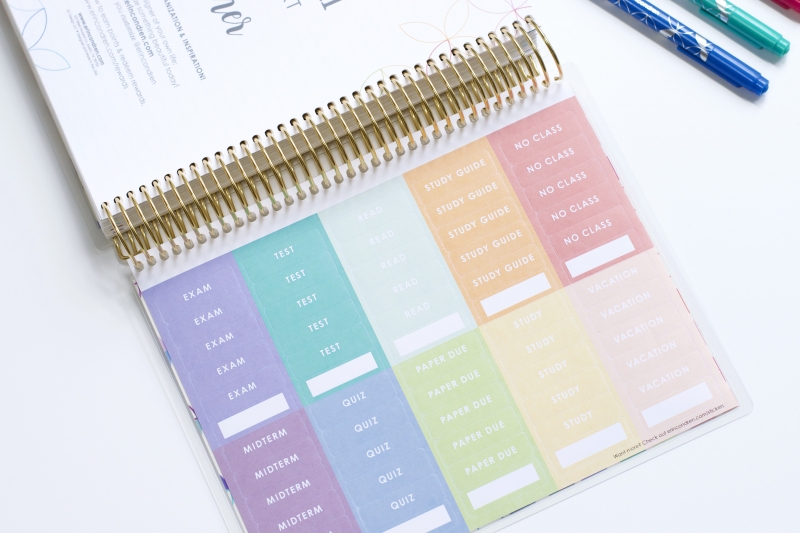 The Coiled Academic Planner includes one sheet of coiled stickers. This planner does not include a coiled in pocket folder, but if you need a little extra storage for stray pieces of paper, consider adding a large clear sticky pocket to the back of your cover!
Softbound Academic Planner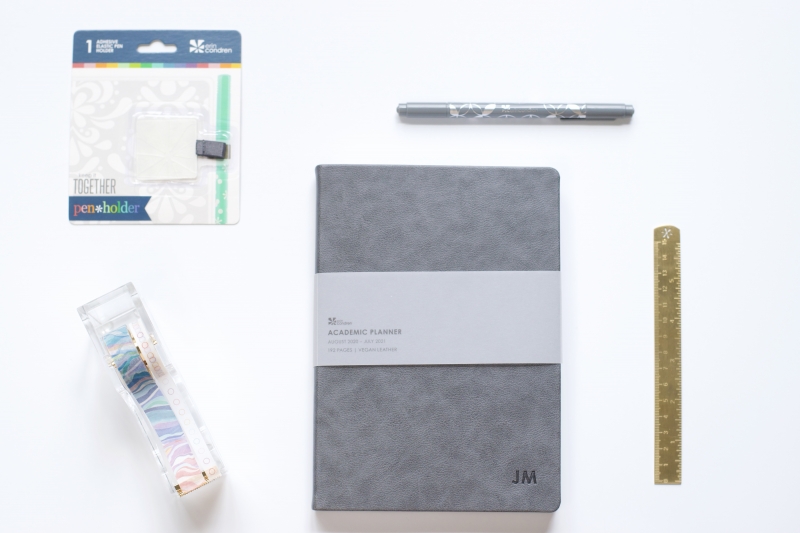 I have to admit, as much as I love the coiled planners at Erin Condren, I have fallen in love with the Softbound line! The Academic Softbound line offers 4 different color cover options and within those cover options, there are 2 different interior designs – one is colorful Mid Century Circles (inside Rose Gold and Peacock covers), the other is a streamlined Focused interior (inside Camel and Gray covers)! Options!!! That is what makes the Erin Condren Planner line stand out! Perhaps you're a graduate student, or a support staff person in the school system, and you'd prefer something a little more professional; or maybe you need to economize the space your planner takes up in your already burdened tote – you're covered with the Softbound line! The Softbound Planners with the Mid Century interior will look almost identical to the Coiled Academic Planners (on the interior – shared above) except the exterior will be Softbound.
I have the beautiful and minimal Focused Academic Planner to share with you! Let's get started!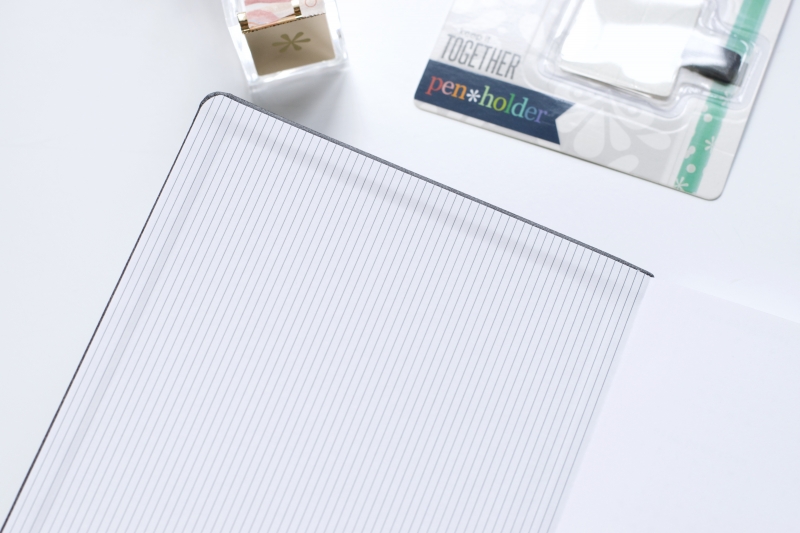 Every Focused Softbound Planner begins with this crisp, clean gray pinstripe and I'm charmed by it! The simplicity of crisp, thin, parallel lines brings a sense of order and organization the minute you open the cover!
As always, there is a title page for name and identification. You may notice throughout my pictures that the Softbound Planner lays open on its own – right out of the box! If your Softbound Planner needs a little help laying flat, bend the front cover all the way back to meet the back cover – your planner should lay flat with ease now! I love this lay-flat design in a planner!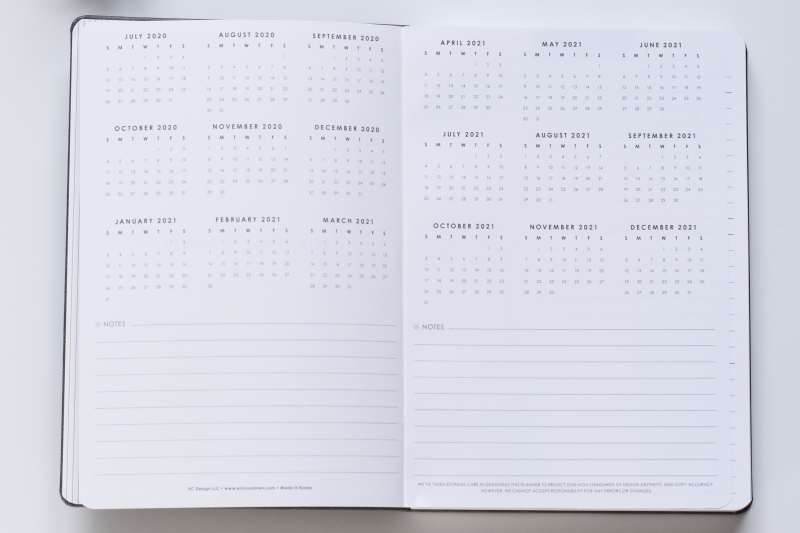 Going from the 7″ x 9″ size of the coiled planner down to an A5 size in this Softbound does require a few layout compromises. The mini months are still present and now include a few lines at the bottom of the page for notes or goals.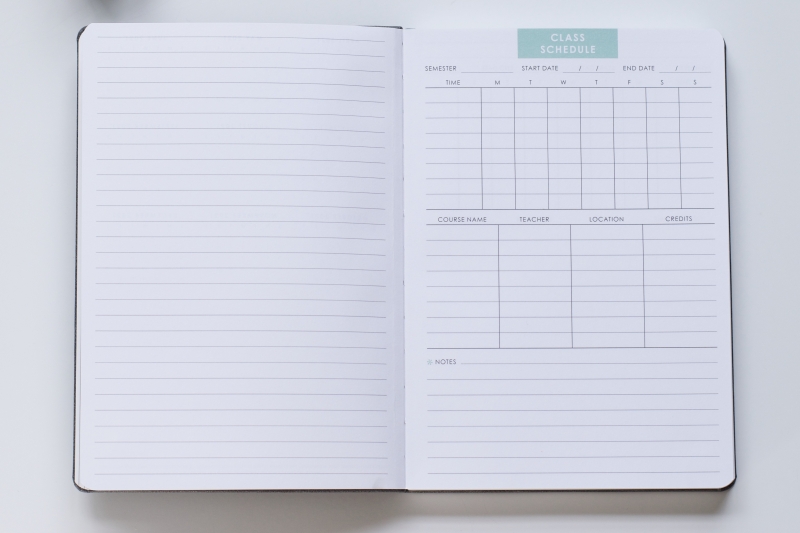 Just as in the coiled Academic, there are (2) two page spreads: one a full, lined page, and the other a class schedule page. Turn the page for another lined page and another class schedule page. These two page sets are a perfect fit for laying out Semester 1 and 2 in overview form.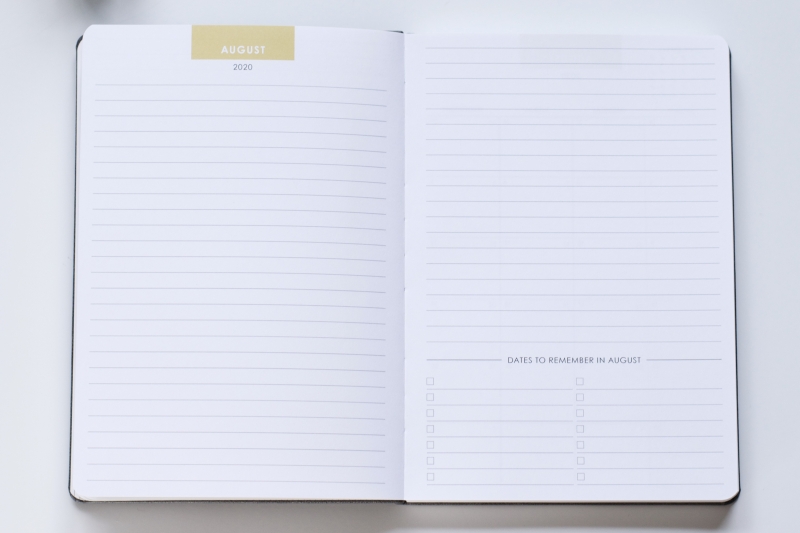 In the Focused Planner, the pages before each month are entirely practical and purposeful (whereas, in the colorful MCC design, the right facing page would have the MCC design and a quote). There is plenty of room to record monthly plans and goals, as well as important dates and deadlines.
There is a very small amount of color in the Focused Planner and you can see it in the monthly designation block. The small amount of color in the Focused Planner is mimimaly placed and the colors are soft, muted, earthy colors – nothing vibrant.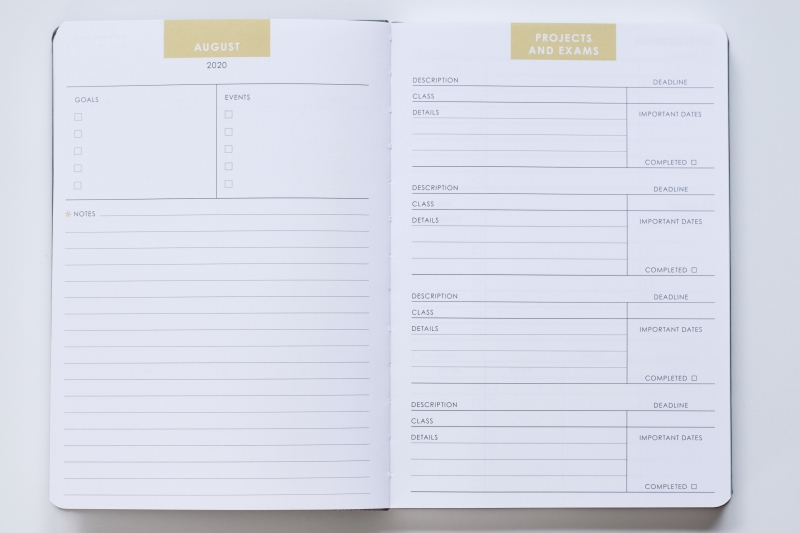 Paralleling the Coiled Academic Planner, there are 2 pages preceding each month that allow for organizing and considering the month upcoming!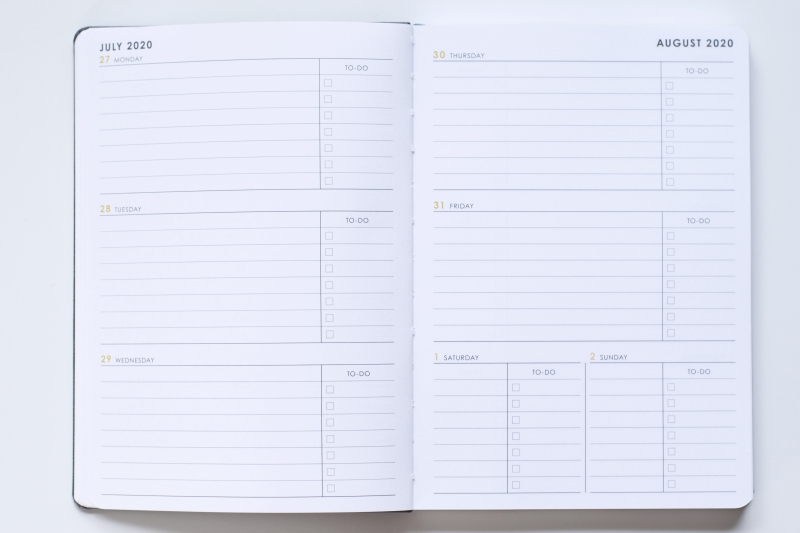 The weekly spread is minimal and functional. In spite of the smaller size of the A5, Saturday and Sunday are still present in the Softbound Focused Planner.
There are not lined notes pages between each month as there are in the coiled planner. If you would enjoy or need the additional lined pages you may find the Coiled Academic to be a better fit.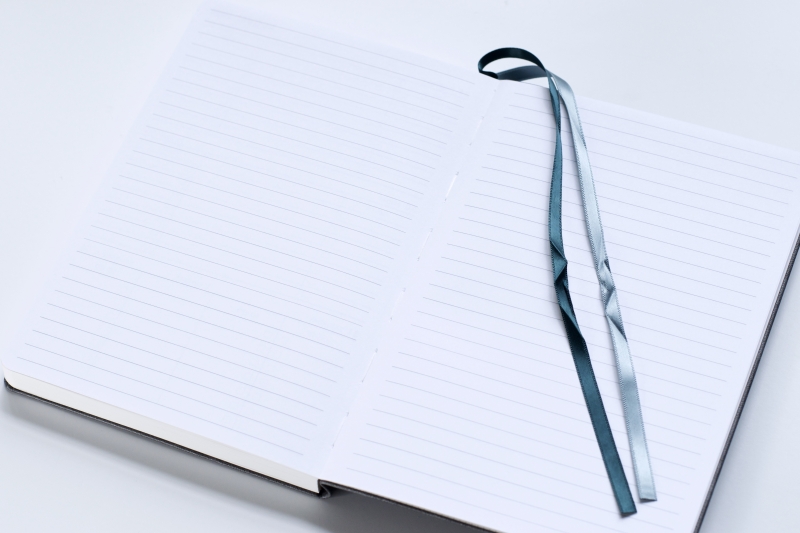 There are 6 lined pages in the very back of the Softbound Planner. You'll also have 2 attached satin ribbons that allow for holding your place in the planner. These are sewn into the binding and can move around your planner however you'd like.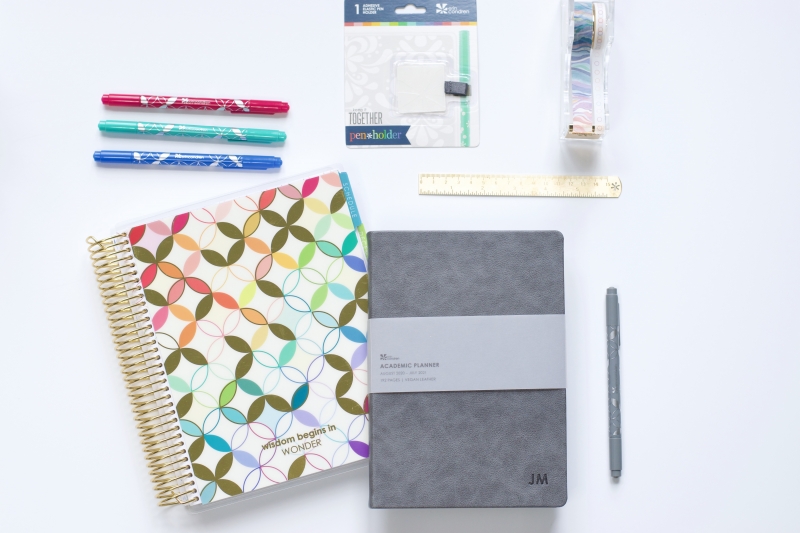 And that is it for the Academic Planner options!
---
Vision Journal Notebook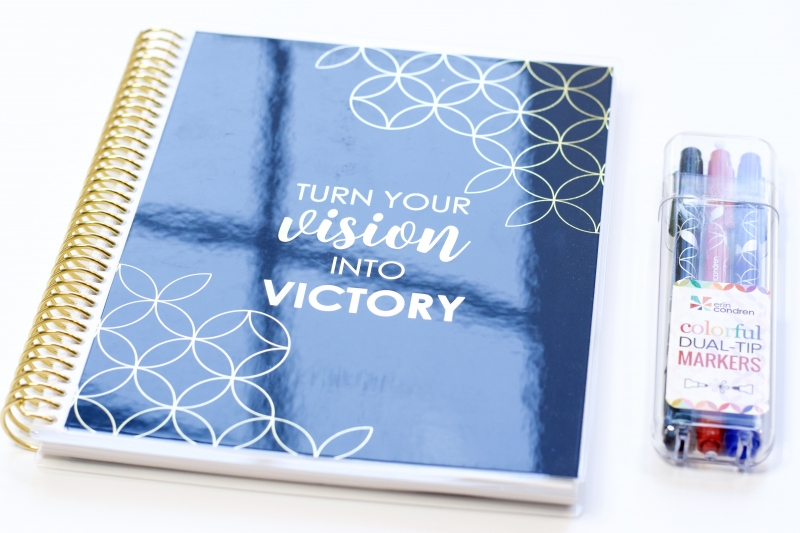 The last of the "books" I have to review is the Vision Journal Notebook. If you're familiar with the Erin Condren Seasonal Surprise Boxes (of which I am a huge fan, and haven't missed a single box since they started in 2016), you might recognize this! This vision journal was included in the Spring 2020 Seasonal Surprise Box, however in the Surprise Box it came with a different cover and different interior text colors.
A quick note about Seasonal Surprise Boxes since I brought them up, and you may not be familiar with them. Each quarter/season, Erin Condren curates a brand new box of goodies – some lifestyle items, lots of planner items, and almost always a sticker sheet or two. Spring, Summer, Fall, Winter. The contents are a….surprise (hence the name) and are seasonally themed. When they launch, customers have the opportunity to purchase. These surprise boxes always, always sell out. Usually this happens within a week, but the recent summer surprise box sold out in 13 hours! Whoa! Popular! The surprise boxes are $40 (valued at $80). The boxes include a mix of some "sneak peek" items that will eventually make their way onto the website, and some exclusive items that will only ever be avalailable through the Surprise Box. Though I haven't adored every single item I've received in Surprise Boxes, I do always love getting them because they're so much fun! And if there is an item I don't really care for, it's fun to gift it to someone else who does love it! So – now you know about Erin Condren Surprise Boxes! Let's get back to the Vision Journal, which made its first appearance in a surprise box, and is now available to purchase on the EC website!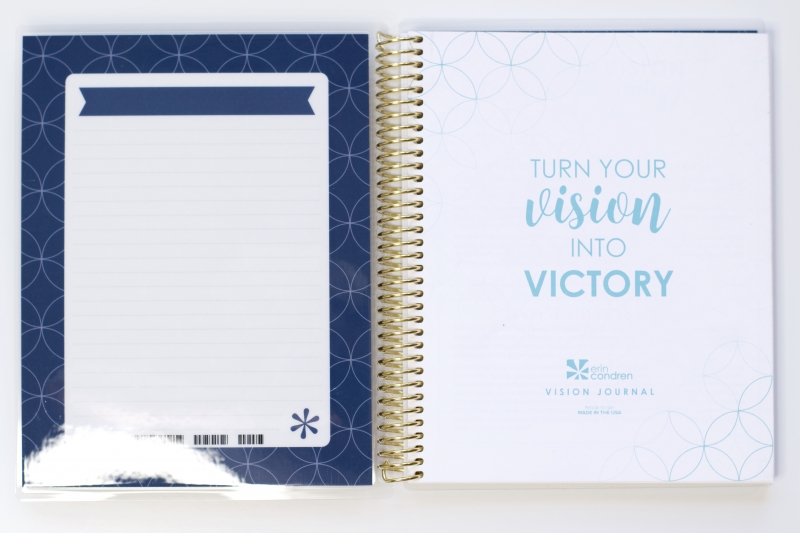 The Vision Journal Notebook is $21, and available in 3 different metallic covers (I have the sapphire/gold cover). The paper in the Vision Journal Notebook is the same thick Mohawk 80 lb paper in all coiled Erin Condren books.
This is a book that invites you to brainstorm your visions (or you might call them goals, but a vision notebook is meant to be much more visual than it is wordy) and then gives space for you to articulate through forms of journaling – both the vision and the steps you take to realize that vision.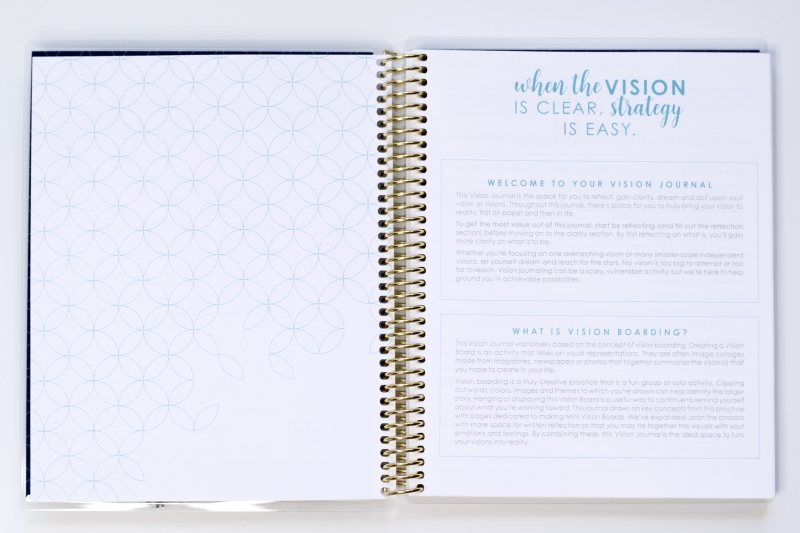 The first page introduces the idea of vision journaling and how it is based loosely on the idea of vision boarding – using magazines, printouts, and photos to create image collages. It's both a creative activity and a reflective one. The Erin Condren Vision Journal adopts the practice of vision boarding, but provides additional room to use written reflections to capture thoughts, hopes, and dreams!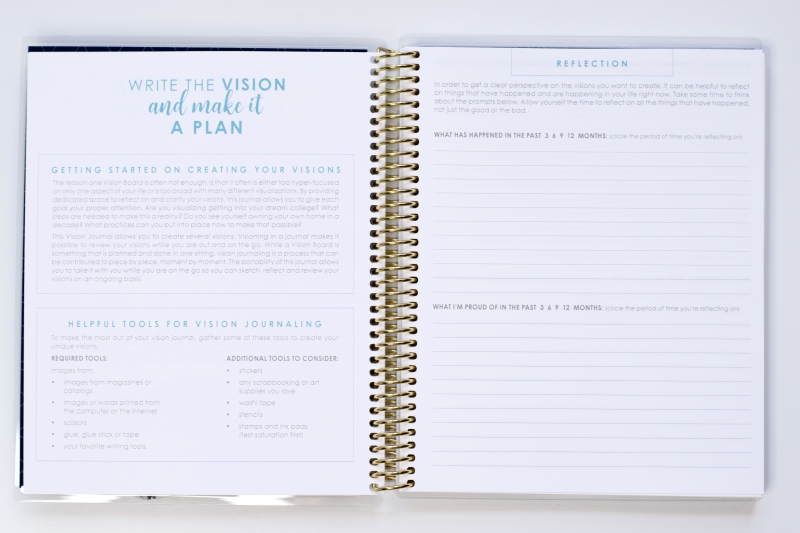 One of the reasons I love this Vision Journal Notebook is that it frees from the paralysis one faces when trying to create one.single.vision.board that sums it all up.
What if I miss something?
This seems cluttered and therefore un-inspiring.
What if I forget something?
What if I don't know I forgot something? And I want to add it later. But there's no room!!!
There is no paralysis when I have a notebook that invites me to start fresh on the next page! This notebook invites multiple visions – or you can really fine tune a broader vision! For example, what if one of my visions is to re-claim and re-organize my home? A great vision, but way too broad! I can create a broad vision in my notebook that reflects the peace I'll feel when home is organized and ordered – and then I can create a separate vision space for each room in my home so that I have small steps to take toward my ultimate vision!
The page pictured above offers some ideas for getting started as well as some suggested tools, most of which you already have at home!
The right facing page begins with prompts walking you through reflection…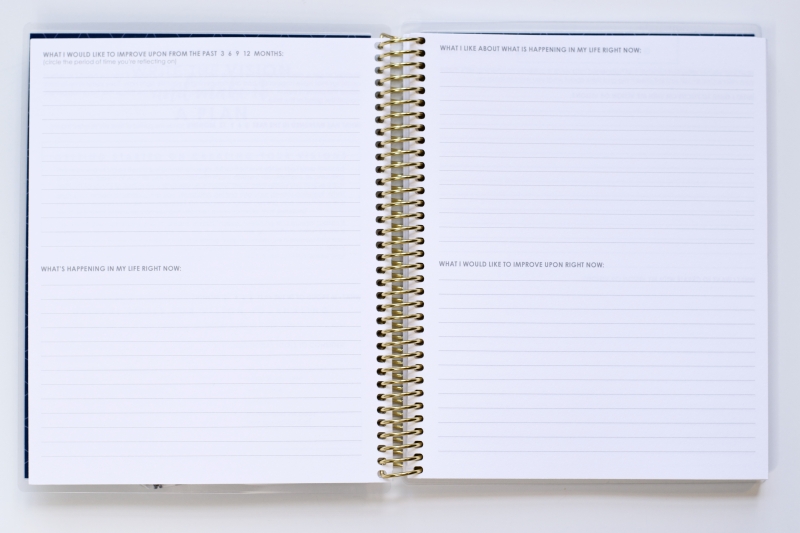 …and moving toward clarity…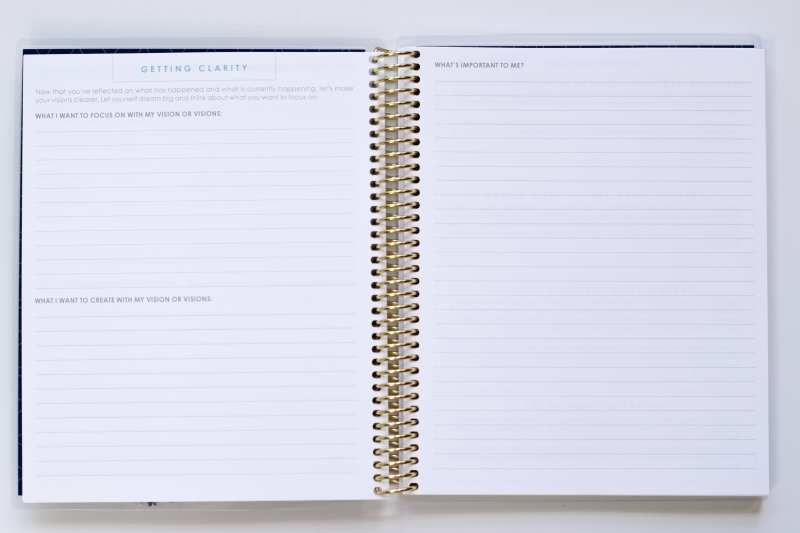 …and finally into brainstorming.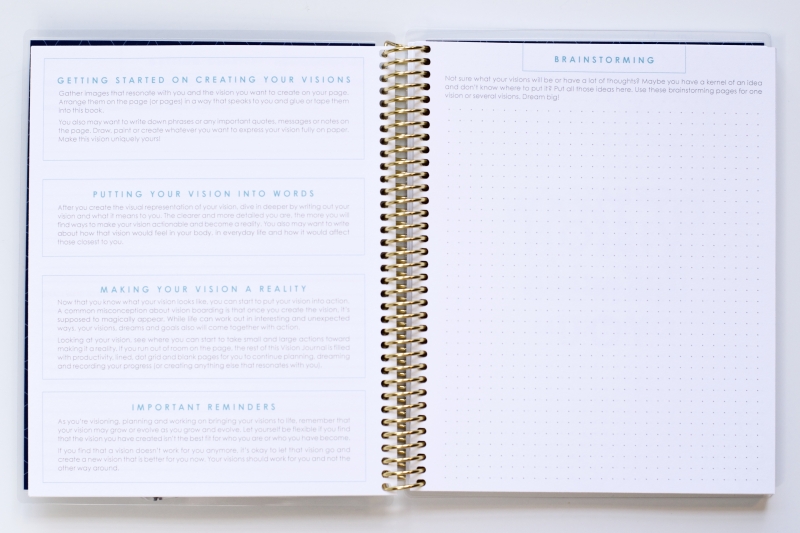 There are actually 3 pages of dot grid brainstorming pages. (not all are pictured).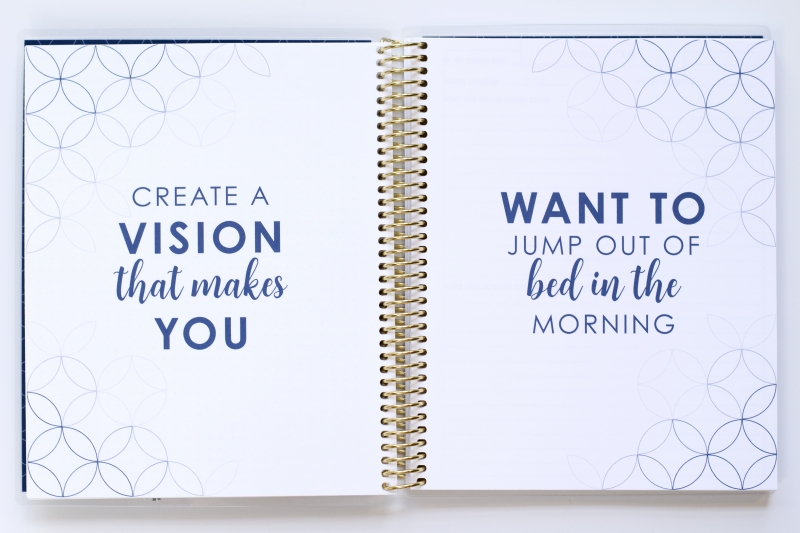 And once all of the reflecting and brainstorming is complete, we move into the heart of the planner.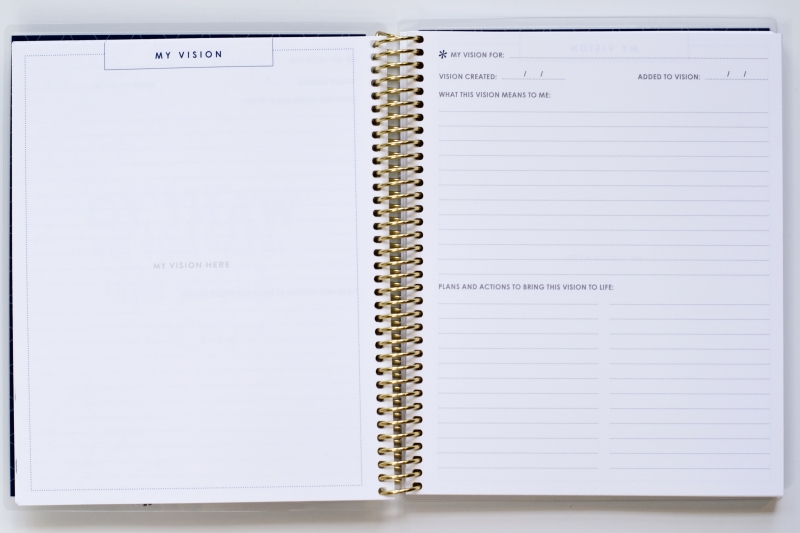 There are 31 of these 2-page-vision-spreads. The left facing page is a space to vision board. And the right facing page provides space to journal that vision.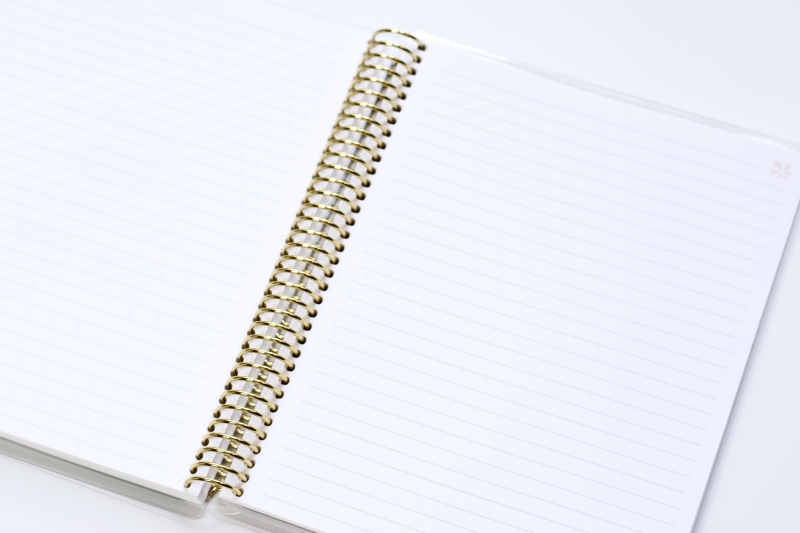 Following the 31 *My Vision* spreads, there are a collection of journaling pages. There are 28 lined pages.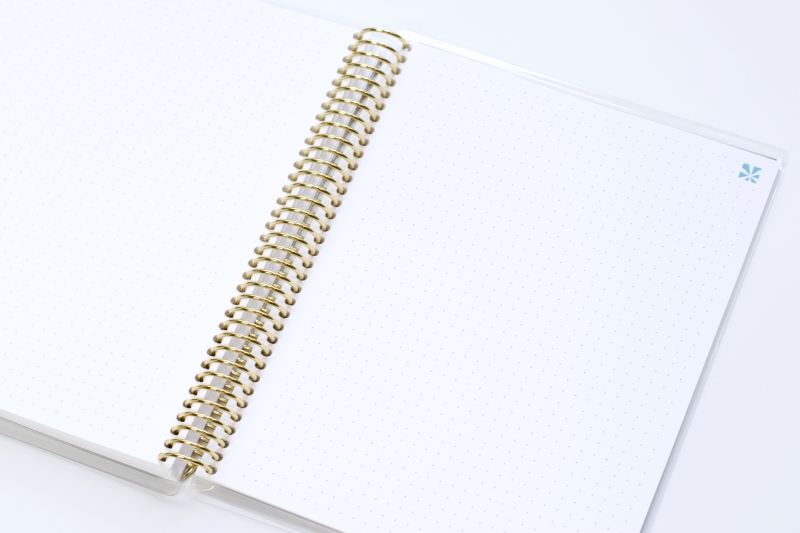 There are 26 dot grid pages.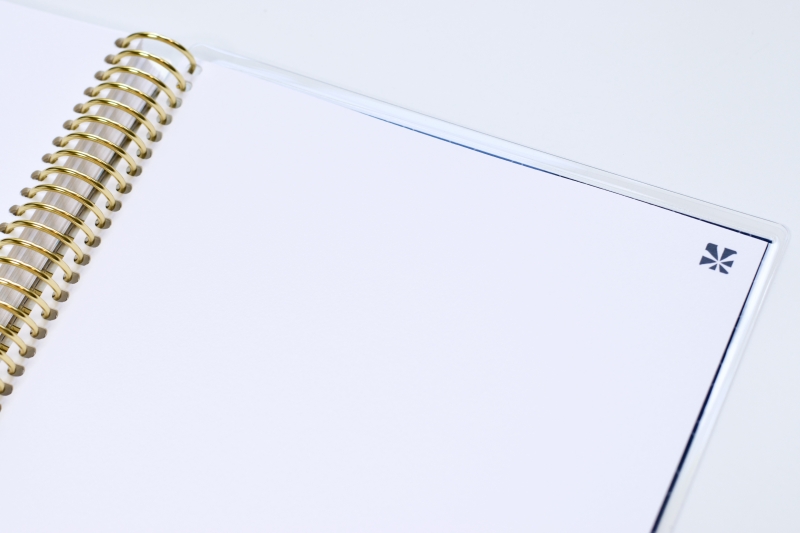 And there are 26 blank pages.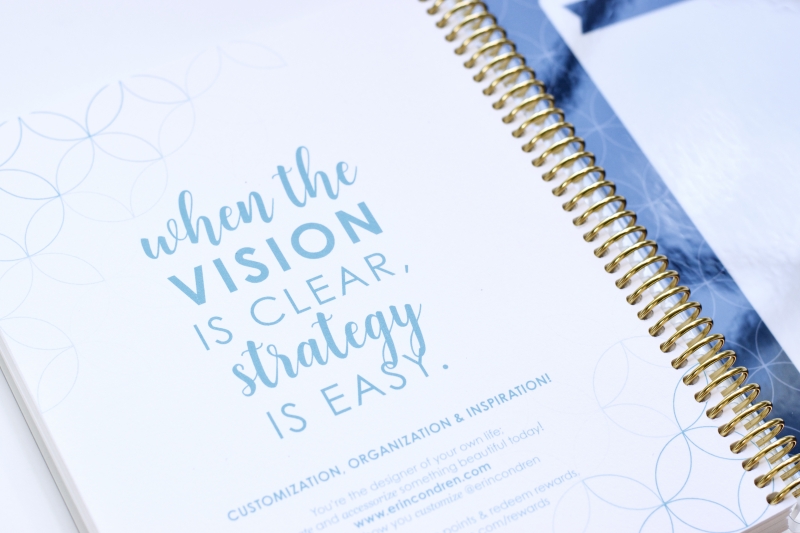 And that concludes the Vision Journal! I'm so glad Erin Condren brought this product to the website for customers to purchase. It bridges that (sometimes) nebulous world of journaling, which can be so helpful for articulating feelings and emotions and challenges and hopes and dreams, into a format that allows for those visions to become a realized reality.
---
Metallic Monthly Deskpad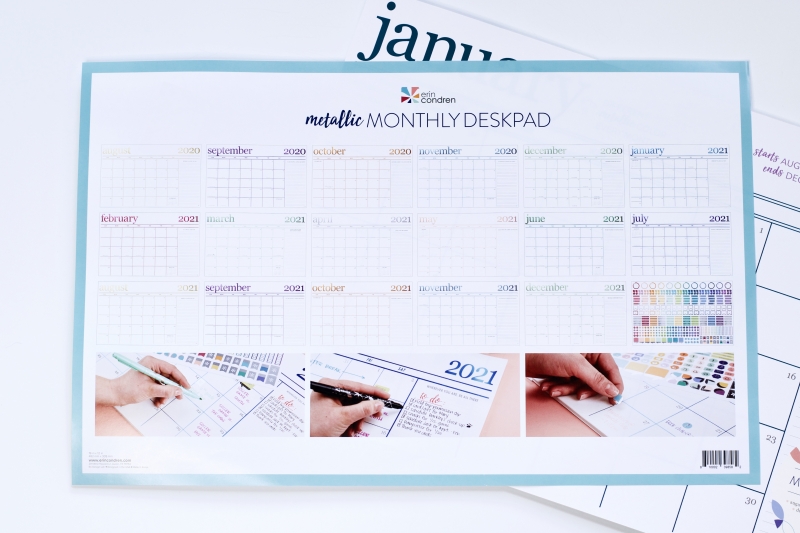 The last thing I have to share today is the annual release of the Metallic Monthly Deskpad, which is available right now! The deskpad is $30 and measures a generous 19″ x 12″ – ideal for your desk! I use this deskpad on my desk and find it's such a helpful overview of my month, but also a scribble pad, a place to jot notes while on a phone call, and a place to list monthly tasks! This is one of my favorite office items, but it could just as easily rest on your countertop command center in your kitchen!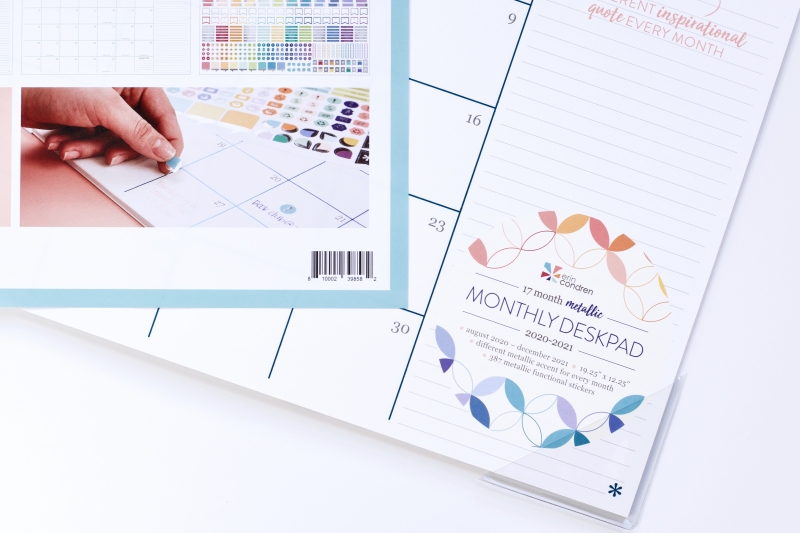 This 17 month deskpad starts with August 2020 and ends in December 2021. Each month is a different metallic color and has generous box sizing for noting events and appointments. The far right side of each month has a long lined column – and this is where I do much of my writing. Lately, it has been a helpful place for me to note all of the appointments I need to reschedule after the Quarantine! I always find a use for this lined column! And I never find myself pressured to be neat because I pull the old month off, throw it away, and start fresh each new month!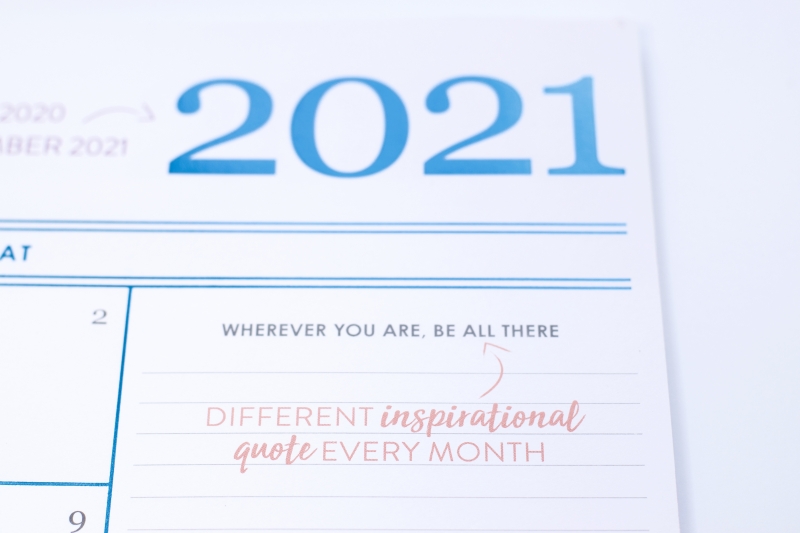 Inspirational quotes are a hallmark of Erin Condren products, and they find their way onto the deskpad by heading the lined column!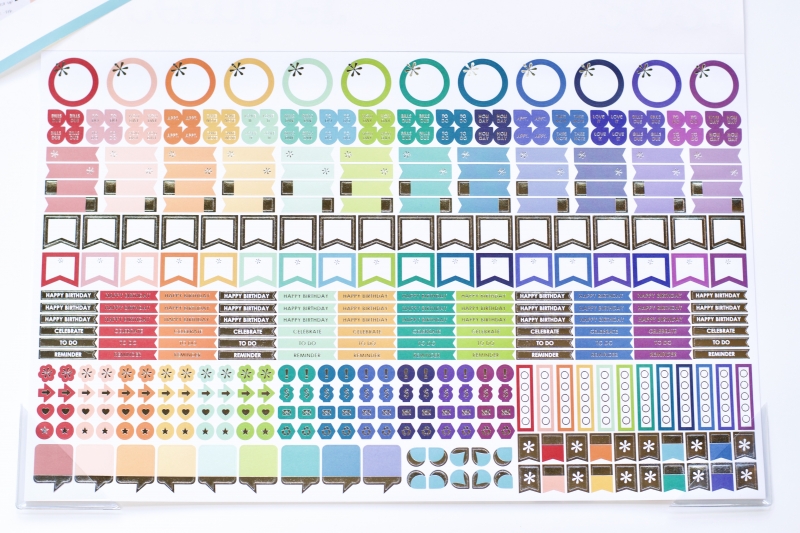 At the back of each deskpad is a full size (19″ x 12″) sheet of functional stickers to use on the deskpad. I'm partial to the teardrop stickers, but in truth, I love all of these because I am super-functional!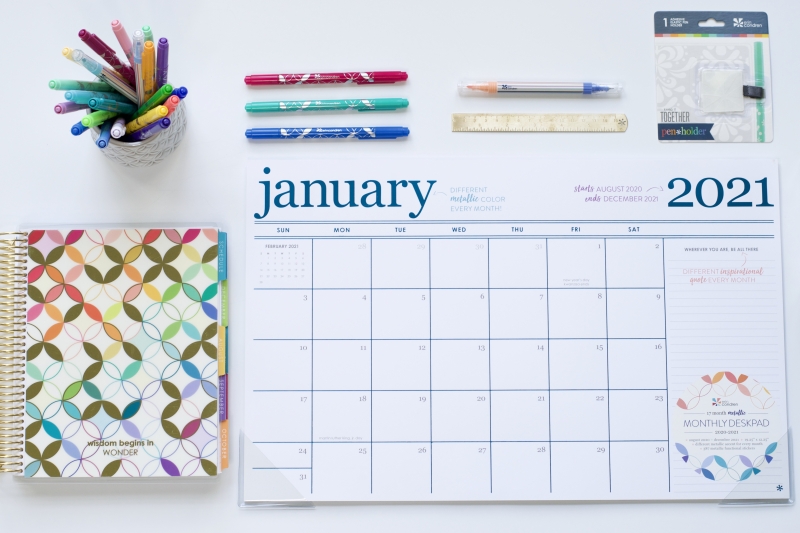 My favorite pens for writing on the heavy matte cardstock pages are the dual tip pens. They don't bleed, and the colors are gorgeous on the high quality matte finish cardstock! I love (and own!!) every single color! I'm a very heavy handed writer, and I love how durable these pens are! I use the fine point to write, and I use the medium point side to circle or underline as a way of drawing more attention to a particular event. If you're in decision paralysis with all the gorgeous color options of dual tip pens, I recommend my all-time-favorite-super-versatile 10 pen set!
---
Can I make an observation?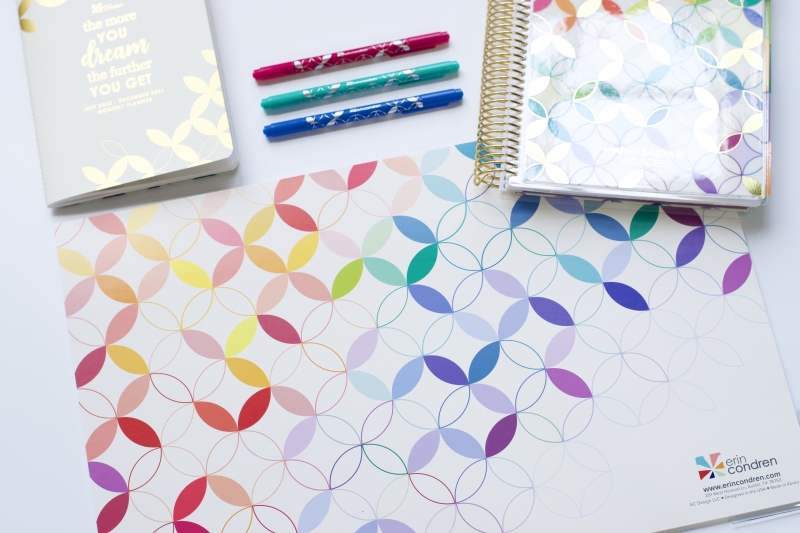 Mid Century Circles are making a strong comeback at Erin Condren! And I'm here for it!
---
As usual, my reviews are lengthy! And I always feel like I need to offer you some kind of digital reward for reading to the end! LOL! But, you're always so generous and your feedback has always been that you appreciate the detail! I'm a detail person, too! When I purchase a thing, I look for reviews. I want to know the size, the nuances, the little observations, the pages – all of it – so that I can make an informed decision. I want to stare at a picture long enough to study it.
My goal (and I hope that's how this post and my other review posts read) is to inform you about products that I'm (unapologetically) a fan of! If I sound like a fan when I write the review, it's because I am earnestly and authentically a user of the product and it makes my life better in some measurable way!
I hope you found this review helpful! I'm excited to continue sharing here about the topics you have requested – homeschooling, planning, and how to start blogging and photographing for social media!