Erin Condren Teacher Planner 2019/2020 | A Review
Here we are, at the end of another school year, and smack in the middle of a month of new planner launches. As we're wrapping up a year, we're also starting to consider what comes next!
I have always loved the possibility in a fresh new school year! Almost as much as I love a bouquet of fresh pencils and the delight of back-to-school shopping time with fresh, new notebooks and crisp, clean paper! All of it equals potential…and hope! And for an educator, a brand new teacher planner is the pinnacle of hope intersecting with practical!
Next year, I will march into my 19th year of home education. 19 years! We've graduated two young people and sent them onward, and though I don't share much about them as they get older (to protect their privacy…not because I'm not beaming with pride!) they're both doing well – both doing what God has asked of them! And I am proud! Not because of some kind of measurable, laudable accomplishment (though there are a few of those), but because both my adult children are doing the necessary things, working hard, stretching toward virtue (with themselves and encouraging those around them), continuing to self-educate, and living out God's will in their lives! <– THAT is what education is about. THAT is my paycheck. And THAT is what makes me beam with pride and pick up my lists and my plans and my tasks and keep plugging away. This is a long marathon, and I'm still in it! There are still three to go!
One thing I've come to rely on more and more in home education are my plans and lesson planning. I've learned how important it is to prepare – content, books, plans, the day. It sets a day (and a year!) up for success, and no, it doesn't promote a sort of robotic rigidity – actually, it nurtures quite the opposite! Having a set of thoughtful plans communicates clear expectations to the kids (they know what they ought to do!) and gives us freedom to do and then enjoy! (Bonus points if you recognize: I am; I can; I ought; I will – CM) Which, over the years, teaches a valuable life lesson – responsibility then privilege; work then play. Order.
As a home educator, I have used every tool imaginable for lesson planning – digital apps, digital software/word processing programs, calendar programs, notebooks, cheap planners, home made calendars, and my own created documents which I built, printed, and filled out weekly. For the last 4 years now, I have found my sweet spot in generating booklists and term spreadsheets on my home computer (which you can find in the printables section of my website), and then mapping out the individual months and days in my Erin Condren Teacher Lesson Planner. Now, my way of planning in home education certainly isn't the only way to plan, and I'm a firm believer that EACH of us plans (or should plan) intuitively, in a way that is a natural expression of our own temperament and personality. But, this month, I've been showing you some of my favorite planning tools because I find them to be versatile, flexible, functional, durable, and beautiful. And today's planning tool is one I've come to rely on as a home educator!

Last year, Erin Condren completely updated the layout of the Teacher Planner, making it so much more versatile and useful and I lived on every page of it! This year, the team at Erin Condren sent me their new 2019/2020 planner and all the new accessories so that I could share them with you! Thank you, EC!! All of the product links are affiliate links – they cost you nothing to click through, but I may earn a small commission if you make a purchase through one of my links, and for that I am so grateful! Thank YOU!! I do have a coupon code for you! If this is your very first Erin Condren purchase, click here and Erin Condren will email you a $10 coupon code to use on your first order!!!
Before we really take off in this review, I want to share that I'm going to show you exactly how this planner and the accessories arrive – fresh and new right out of the box. I want you to see its versatility – no matter what kind of educator you are. Or perhaps you're an educational support person, a college student, or a parent hoping to manage the litany of activities and homework assignments through the week, or even someone looking to use the planner to manage work or volunteer opportunities! With fresh pages, I hope you'll be able to see the possibilities because, while this is called a "Teacher Planner," it is actually a very versatile, large scale weekly planner and could be used in almost any setting!
If you're looking for specific and practical ideas for this planner and how I plan in home education, I've already got another post ready for you that shows just that! I've got pictures of the prep work pages, monthly layout, and even a full "mock week" that I actually pulled from a real week of school we had last year. The post walks you through my entire planning process from beginning to end and shares examples. And yes…hopefully a video for you soon! I hope to compare and contrast the Erin Condren Teacher Planner with the new Simplified Teacher Planner.
Let's get started!!!
Last year, there were some very significant changes to the Erin Condren Teacher Planner – the size of the coil increased, the planner itself contained a full year's worth of pages and was thicker overall, the layout of all of the pages changed, and the overall design was updated (the weekly lesson plan pages were updated to fall behind their corresponding monthly pages – a change I welcomed with open arms and have been so grateful for all year!).
This year, you'll find all of those same changes still in effect, and there are a few small changes and improvements worth noting as we go through the planner, and I'll point those out! The Erin Condren Teacher Planner remains the same price as last year:
Non-metallic cover base price: $55
Metallic cover base price: $60
Luxe cover base: $65
Adding a specialty colored coil +$10
There are a few options that can change the base price of this planner, like the number of checklist pages you request to be coiled into the back of the planner, and the number of clear sheet protector pockets you request (maximum of 3).:
2 sheet protectors +$1.50
3 sheet protectors +$3
14 checklist pages +$5
21 checklist pages +$7.50
28 checklist pages +$10
I do want to mention that the Erin Condren Teacher Planner is a full year planner, and you have two calendar options when you order:
An academic Teacher Planner (July 2019 – June 2020)
Or a calendar year Teacher Planner (Jan 2020 – Dec 2020)
Each year, every Erin Condren planner has a new theme. This theme usually carries over from Life Planner, to Monthly Planner, and into the Teacher Planner. But this year, the Teacher Planner theme is different from the kaleidoscope theme of the rest of the Erin Condren planner line. This year, the Teacher Planner line has a gorgeous, colorful geometric triangle overlay. You'll see this this theme represented on many pages of the planner.
The Erin Condren Teacher Planner begins with several prep work pages.
For educators in the school system, these pages can be very useful! For other educators (support personnel, home educators, parents managing school/activity time), these pages can easily be repurposed! I'll show you how I repurpose mine in my upcoming post!
The yearly overview page is so useful to me!! It's one of the first things I go to in my new planner! I map out our start and end dates, mark our term breaks, any days off! And I refer to it over and over again through the year!
The year plan page allows me to map out my big picture plans for the overall year! I like listing our planned field trips, special testing dates, breaks, and other noteworthy events. It's a great birds' eye view of a year. My only complaint is one I've had for a couple of years now – educationally speaking, I run in an academic year (July – June) and would love for this page to reflect a July – June order. But, changing the order of months is easy to fix, and I'll show you one way to do it in my upcoming post!
There are four grid/graph pages…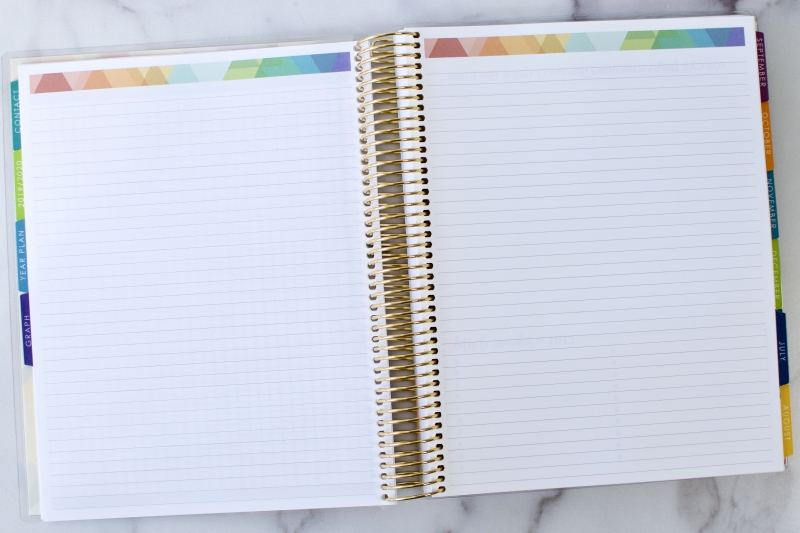 …and two lined pages. After that we start getting into the monthly meat of this planner!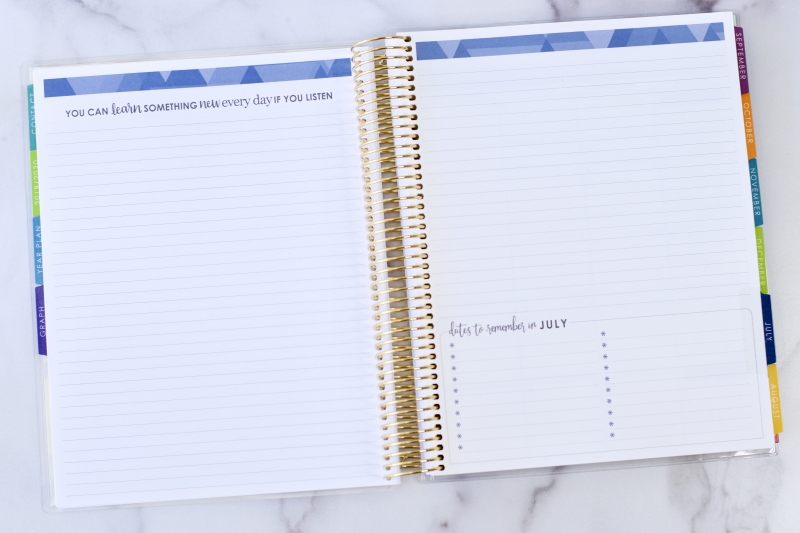 Each month begins with two prep pages! I found these two pages so useful last year! I set up our read aloud time, our monthly liturgical/seasonal themes, and listed brainstorming points for the month.
Pay special attention to the "dates to remember" section! There is something special for that section that is tucked in the back pocket of your Erin Condren Teacher Planner, and I'll point it out when we get to the back of the planner.
After my post and video from last year, and the brand new change shifting this planner into a full year of months and weekly planning pages, I got a lot of questions from confused planners, wondering what to do with the summer months of pages! Some home educators homeschool right through the summer so that they can take more days off during the school year, so for these planners, this change was especially welcome. I like my summer breaks! 😉 I use my summer pages to lay out my summer planning goals and lists as I prep and plan the next year – break down your learning room overhaul and re-org efforts, map out your yearly planning and break it down into bite size daily goals and tasks, make note of college admissions requirements and transcript tracking! I also track the kids' summer reading and volunteer work here! Brainstorm it! What kind of educational-related work can you track in the summer months?
Each month contains a two-page monthly spread with a notes column on the far right side of the page. Last year, there were several helpful and pertinent dates and holidays pre-printed here on the monthly page, but this year, you will find a blank slate! And the reason for that is to keep the versatility and flex of this planner at a premium! If you're not using this in an education setting, you likely don't care about Jan Brett's birthday, or perhaps you're using this planner in Australia – you probably don't want America's Independence day on your planner – understandable! Wait until you see how Erin Condren addresses this – allowing you, the individual planner, to choose the important dates and holidays that are important to you and worth noting! Stay with me – the solution and answer is tucked in the back pocket of this planner! We're almost there!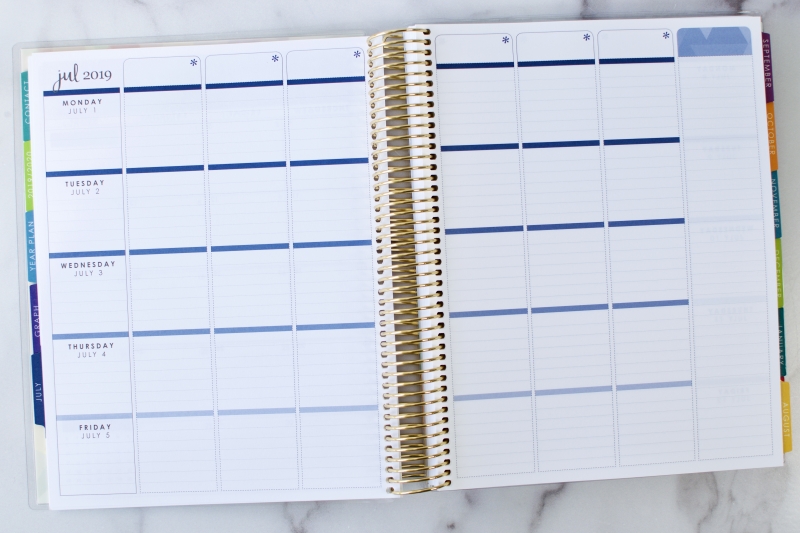 The weekly spread this year remains almost identical to last year's weekly spread, except for the header over the very far right notes column. Last year, that header was just a white space, this year the header contains a monochrome variation on the triangle overlay theme.
The weekly spread is lightly lined – each box contains space for 7 lines worth of text. The spacing is generous and I had no trouble including two lines of text here if needed. There are a total of 7 columns, one of which is a flex column that can be used for notes, or to designate plans for a specific theme or need.
Each month has a monochromatic color designation that reflects the yearly theme – this year's theme is triangle overlay. I got a lot of questions about last year's monthly colors, so this year I snapped pics of each of the months. If you're interested they're here – if not, scroll right on through. 🙂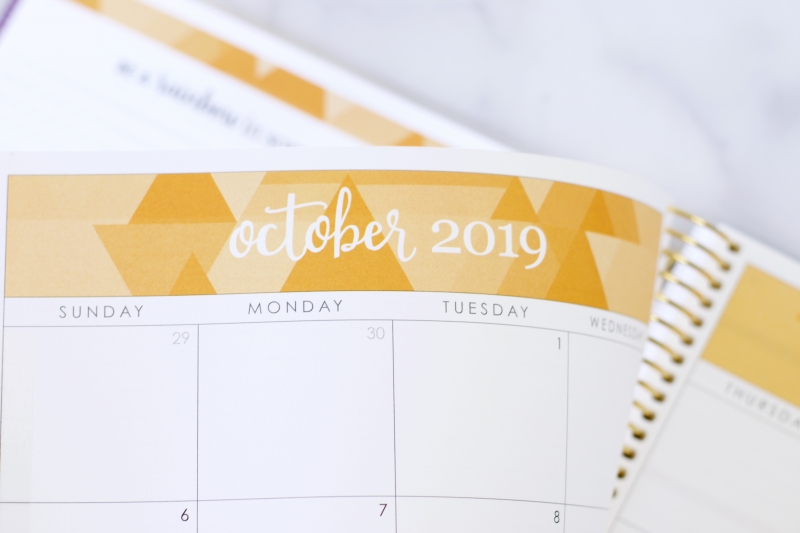 Each month repeats in the same way:
2 lined pages
2 pages of monthly prep pages
2 page monthly spread
The weekly layout planning pages for the entire month
The next month
Included in this year's planner is the 2020 monthly spread of July, and then one lined page to make an entire year's worth of monthly and weekly planning pages – versatility.
There are 7 student checklist spreads that come coiled into your Erin Condren Teacher Planner. I use these to track milestones and test scores, but if you don't find these necessary, just remove them! You do have the option to add more checklist pages when you order your Teacher Planner (additional fee).
And that brings us to the quote page and the coiled in sticker pages, which are so fun! This year's icon stickers were slightly redesigned. I love that every Erin Condren planner comes with coiled in stickers! You have everything you need to add FUNction to your planner – right outta the box!
The icon sticker page got a bit of a facelift/redesign! Rather than the thin horizontal stickers (conferences, reminder, furlough, field trip, testing), now there are round or scallop edge stickers.
It's hard to capture the pretty metallic stickers in a flat lay picture, but this page contains yellow gold metallic stickers. In fact, all of the metallic accents on the coiled in stickers this year are yellow gold, as opposed to the mixed variety of metallics in last year's planner stickers.
I just love the functional stickers, and this page contains a variety of header stickers and teardrops that are perfect!
The final page of coiled in stickers are simple event stickers, color coordinated to match the monthly colors throughout the planner, and each has a metallic gold asterisk.
We finally made it to the back pocket! As always, the back pocket reflects the yearly planner theme. The triangle overlay design has metallic gold accents and the pocket is a very heavy cardstock. This pocket easily holds a substantial number of standard letter size paper – ask me how I know!
And what do I spy there…tucked in the pocket?
There are three sheets of holiday stickers – each with dated monthly stickers, each sticker is individual so you can choose what to peel, stick and add to your calendar! The holiday sheets will be available for purchase separately for $7.50. These stickers also fit in the LifePlanner layout!
Holidays, noteworthy anniversaries, special educational days – they're all printed here on individual stickers! You can add these to your monthly calendar, or the dates to remember section on your monthly planning page…or not! You choose what to add!
Perhaps you don't observe a particular holiday, don't add it! Or perhaps a holiday or noteworthy event isn't pre-printed here for you, there are several blank stickers for you to add your own events! Once again – all the details and thoughtfulness make this such a VERSATILE planner for ANYONE!!!
Here is the final change and update to this year's Erin Condren Teacher Planner, and friends, it's a biggie for me! The back pocket is redesigned and MUCH more useful! > cue shouts of joy! <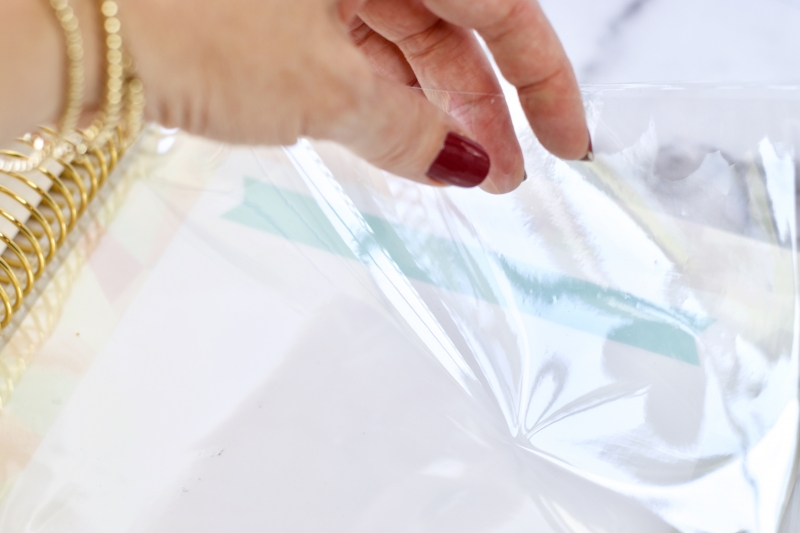 And now…cue me….laughing at myself! It is hard to take a still photo of a completely clear sheet protector page! Excuse my hand! I do love the addition of a sheet protector page! I almost always snip mine out, add a coil clip, and move my sheet protector around in my planner. One sheet protector comes with your Teacher Planner, but there is an option to add up to three sheet protectors to your planner when you order (additional charge).
One final item comes with your Erin Condren Teacher Planner – a snap in ruler! Which you can also purchase separately if you ever lose yours or just want an extra.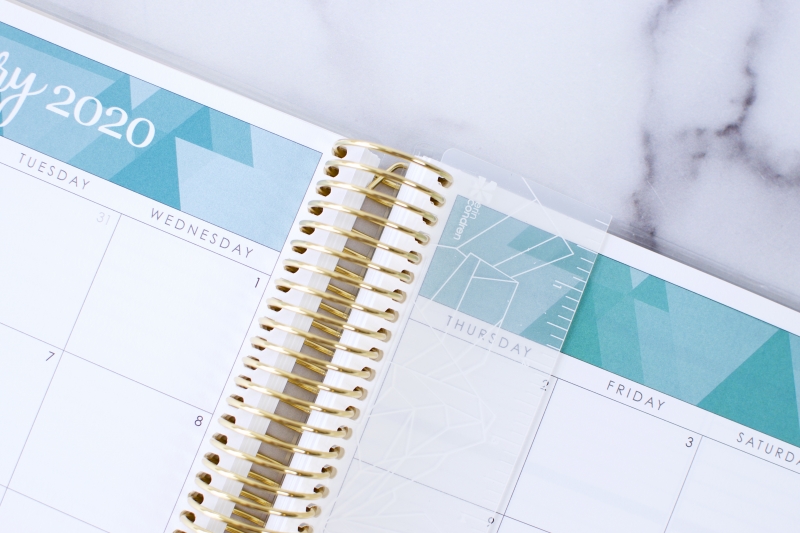 Snap it in and out of your planner to mark your place AND have a handy straight edge!
That's it! That is the entire 2019 | 2020 Erin Condren Teacher Planner – up close and personal! What do you think of this year's changes and updates? Small but mighty, yes?!
Accessories
No launch is complete without a few new accessories!
The planny pack in triangle overlay with accents of metallic gold is STUNNING!! ($20) The back side has an elastic band that wraps around your planner and snugs the planny pack right to your planner. There is one large interior zipper pocket for pens and accessories, and a back slip pocket that is perfect for bookmarks, or a few index cards.
The new snap-in stylized sticky notes are adorable and so functional! ($10.50) It's no secret, the sticky notes are probably my favorite EC accessory! I find them so useful all over my planner! Sometimes I use them as a sticky note, and other times, I roll some Tombow adhesive along the backside and let it function more like a sticker!
This year, the set of three watercolor apples mini snap in bookmarks have adorable apples with metallic asterisks. ($4.50/set) The turquoise has platinum/silver, the navy has rose gold, and the cherry red has gold. I love using these to mark my month, my big picture yearly planning page, and a checklist page! They're so handy to have and because they're tiny, they don't take up much real estate in your planner.
The new Note From Your Teacher Notepad is perfect for teachers looking for an easy to way to communicate regularly with students' parents! ($10)
Designer washi tape duo! ($5.50/set of two) This year, the tape is much thinner, and more like a traditional washi tape. I have to say, I loved the thicker EC paper tape with that smooth completely opaque surface! But the watercolor and metallic apples are adorable! They come in this set of two!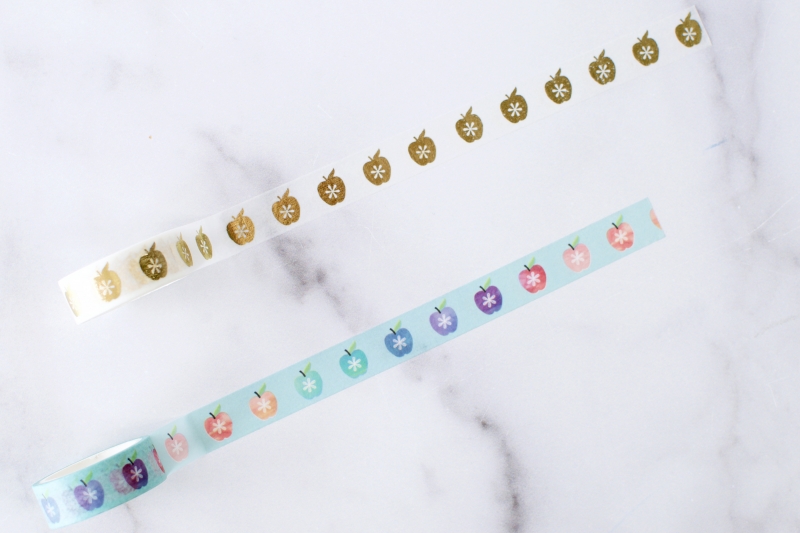 And in case you want to include the triangle overlay paper tape in your planner since that reflects the theme, you can purchase that tape as part of a two-pack here.
Big drum roll!! A petite checklist journal! ($9) The petite planner family has an addition and you checklist lovers are going to be smitten!
This petite planner contains 80 pages of….checklists!!
Each page has 26 total rows (or 13 if you skip every other row), and 7 tracking columns.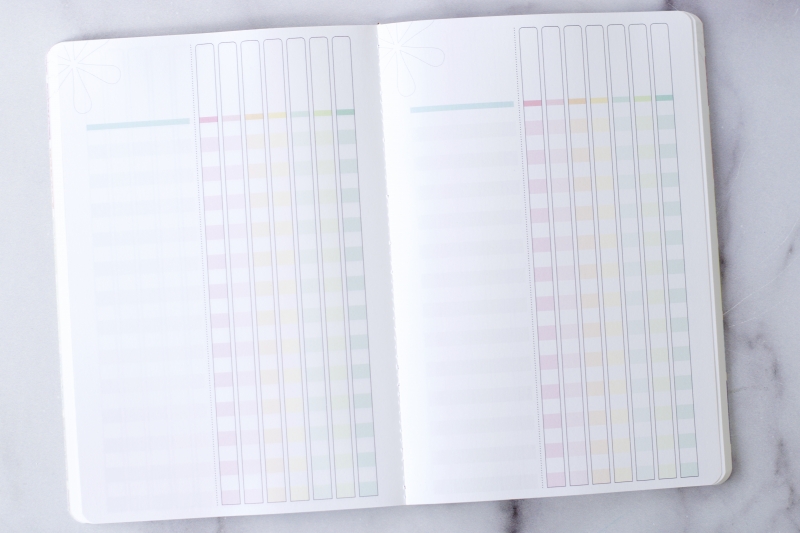 So much potential here! I love that this will fit in my on the go folio with my other petite planners OR it will tuck into the back pocket of your Teacher Planner, and I love that I can track goals and habits here!
The new snap-in teacher dashboard this year is so functional! ($7.50) I've already got mine filled out and tucked in my planner! Confession: I don't use dashboards in my planner too often, but the functionality of this one in terms of setting our morning and afternoon routine, and giving me a place to build and flex our family read aloud time – well, I'm smitten! This accessory is going to stay! Also, this would make a great addition to your LifePlanner as a parent – record chore routines here, and any upcoming school projects or events!
Use the wet erase markers – they don't smear at all once they are dry and they clean up and wipe off easily with the well kept wipes (my favorite go-to accessory – in my car, purse, desk, kitchen, and makeup drawer!).
The Classroom Collection Sticker Book, Edition 3 has 12 total pages of over 760 stickers! ($15.50) If you enjoy adding a little fun to your function, this sticker book is a great value! I'll show you all the pages of the sticker book below: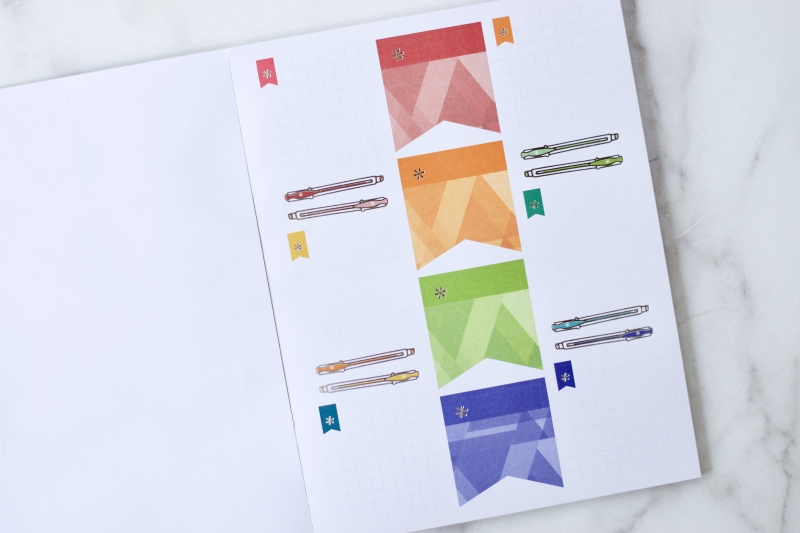 Oh my stars! Those pens!!! Am I right?
A quick word on these dots! They're transparent with gold trim around the circumference of each circle, and these are perfect for using on your big picture yearly page! I'll show you how I use them in my next post!
Most of the stickers in the sticker book are standard paper stickers, but a few pages (this page and the next one) are high gloss transparent stickers.
And that is it! Aren't the stickers gorgeous!!! The perfect mix of fun and function!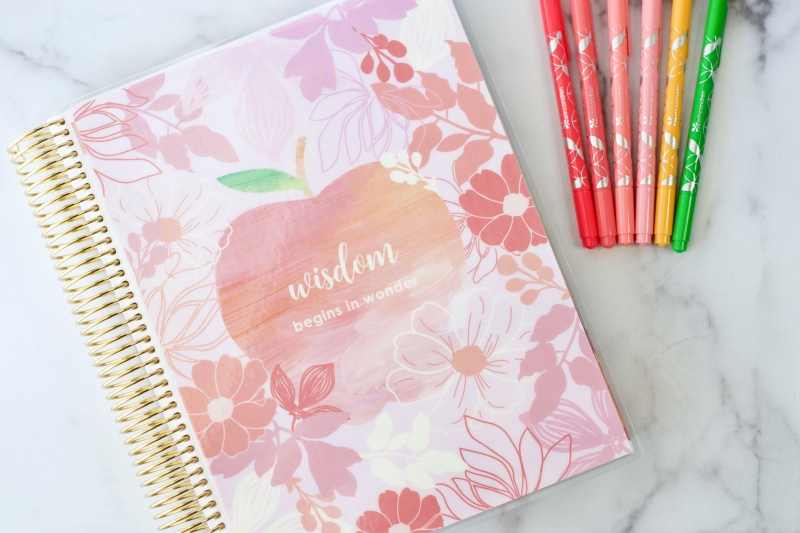 Remember that you can choose your own cover because all of the covers are interchangeable, so pick up a couple of extra to change things up through the year! It's just another nod to versatility (if you're not using this as a teacher planner, there are lots of "non-educational" options to choose from! Choose the cover and personalization that fits how you will use this planner! I'm definitely in love with this floral apples design!
** There is a bundle of accessories that will save you money if you're considering one of everything! A $74 value for $59, the Triangle Overlay Bundle includes:
Triangle Overlay Planny Pack
Snap-in Teacher Dashboard
Triangle Overlay Snap in StylizedSticky™ Notes
Watercolor Apples Snap-in Mini Bookmarks
Fine Tip Wet Erase Markers – Gemtones
Designer Dual Tip Markers – Tropics
Candy dots & triangle overlay paper tape
** Not pictured in this post, but also available on the Erin Condren website, will be customizable subject stickers. ($4.50) Set up your subjects, or your kids' names, or skills, or repeating task lists – and have stickers printed and in hand so that custom planning is a breeze! (Going in my cart first thing on launch day!)
I hope this review was helpful so you can decide the best planner fit for you! Leave me questions below in the comment box! And remember, if this is your first order, click here and Erin Condren will email you a $10 coupon code to use on your first order!!!
And now…
Check out some other fantastic reviews!
– Happy Planning –
And now, how about I give away a Teacher Planner? Thank you again to Erin Condren for being so generous and making this giveaway possible!
The winner will receive a brand new Erin Condren Teacher Planner with the metallic cover (pictured above in metallic gold kaleidoscope with the turquoise center) and ALL of the accessories shown in this post (except for the Teachers Note Pad). You'll also receive the brand new set of 10 dual tip markers because they are my absolute favorite writing tool for writing and color coding in this planner! US entries only, please. 🙂 Follow the Rafflecopter entry options below for up to 4 different entries in this drawing! I'll draw the winner randomly at 9:00 am central on May 21 and will email the winner – so you'll know if you won a planner before launch day! And I'll have it on its way to you as soon as I've notified you and you've provided your mailing address! Good luck!
a Rafflecopter giveaway