Walt Whitman :: Words For America
Failing to fetch me at first keep encouraged,
Missing me one place search another,
I stop somewhere waiting for you.
Walt Whitman, Leaves of Grass, from "Song of Myself"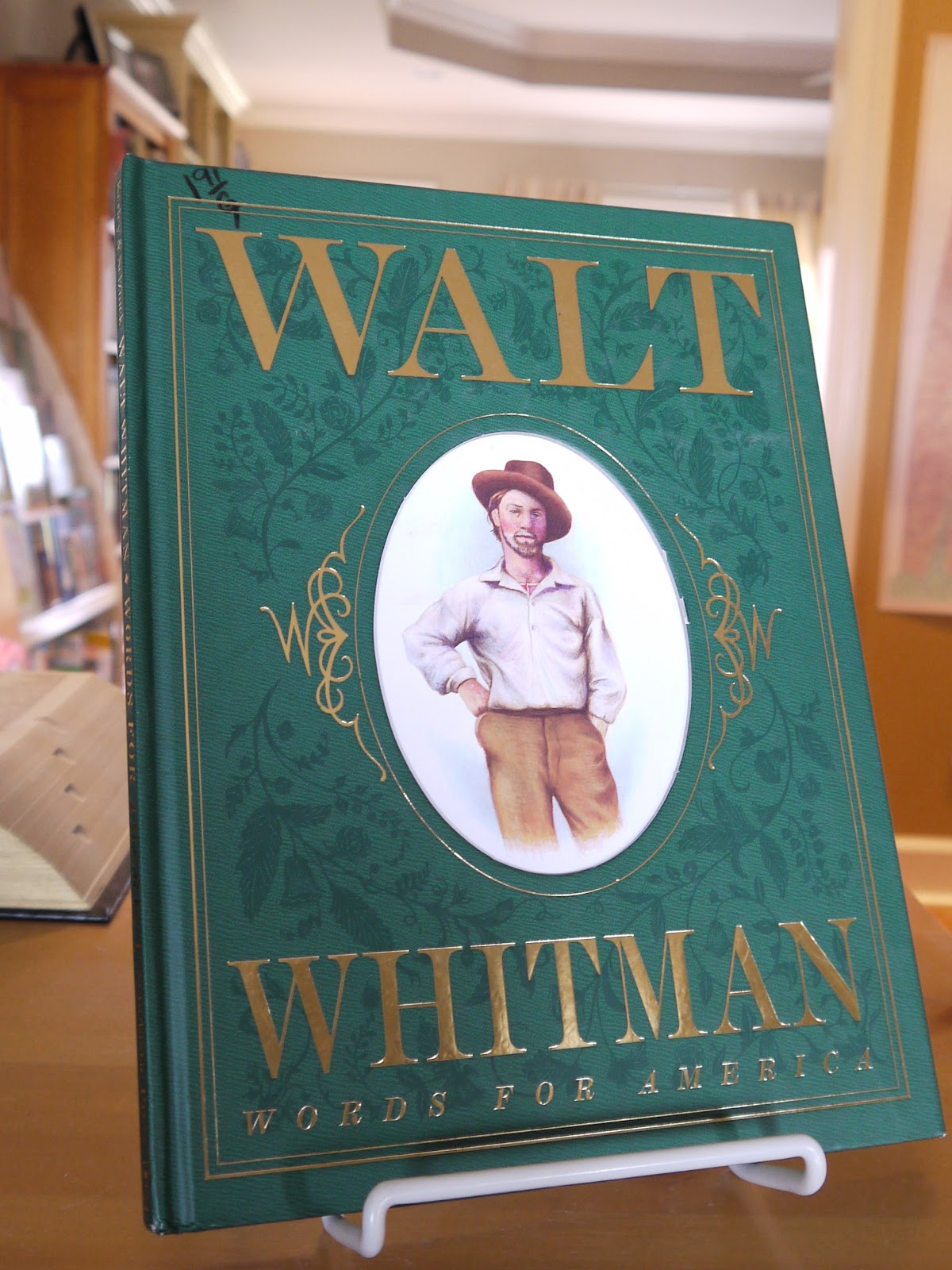 There are perhaps other books, even other picture books, to use in introducing American poet, Walt Whitman to your children, but I'm not sure any can come close to the deeply rich account of his life as given through the words and illustrations in
Walt Whitman: Words For America
.  It will, at once, touch your heart, as well as rekindle memories of historical events that you perhaps had not at first connected with Whitman, such as his deep involvement in the Civil War.  
This picture book may best be enjoyed in two sittings since its coverage of Walt Whitman's life is full, but it is not dry or dull in the least.  Beginning with the introduction to Whitman's love of words, the book moves through some of those things which Whitman found inspiring.  I particularly enjoyed the description of how he collected a few sheets of paper, securing them with a ribbon, to make his own tiny little notebooks.  
Working as a printer, Whitman began to write poetry, but unlike the current poetry of his day, his poetry was free, unmetered and boundless in scope and imagination.  He wrote of his beautiful America: open, spacious and robust, and he wrote of himself (Song of Myself, Leaves of Grass) and the ordinary heroes he saw within that sweeping country.  
In the second half of the book, Whitman's own story intersects with one of the most gripping American stories, that of the Civil War.  And it intersects in a way that is quite personal, beginning with his frantic search for his younger brother, a soldier for the Union army who was wounded.  After a heartfelt reunion with his brother, Whitman found himself anchored to those men who were wounded and dying in hospitals during the Civil War.  His compassion and care of those wounded knew no boundaries; he tended them all regardless of their color, rank, or their Union or Confederate alliance.
With each life lost, Walt mourned.  Unable to leave those fallen soldiers that were dying, Walt often chose to stay by their side late into the night just so they would not have to die alone.  A letter written to the Haskell family after Walt sat with their mortally wounded son, Erastus, as he died, conveys the depth of his heart when it came to these dying men: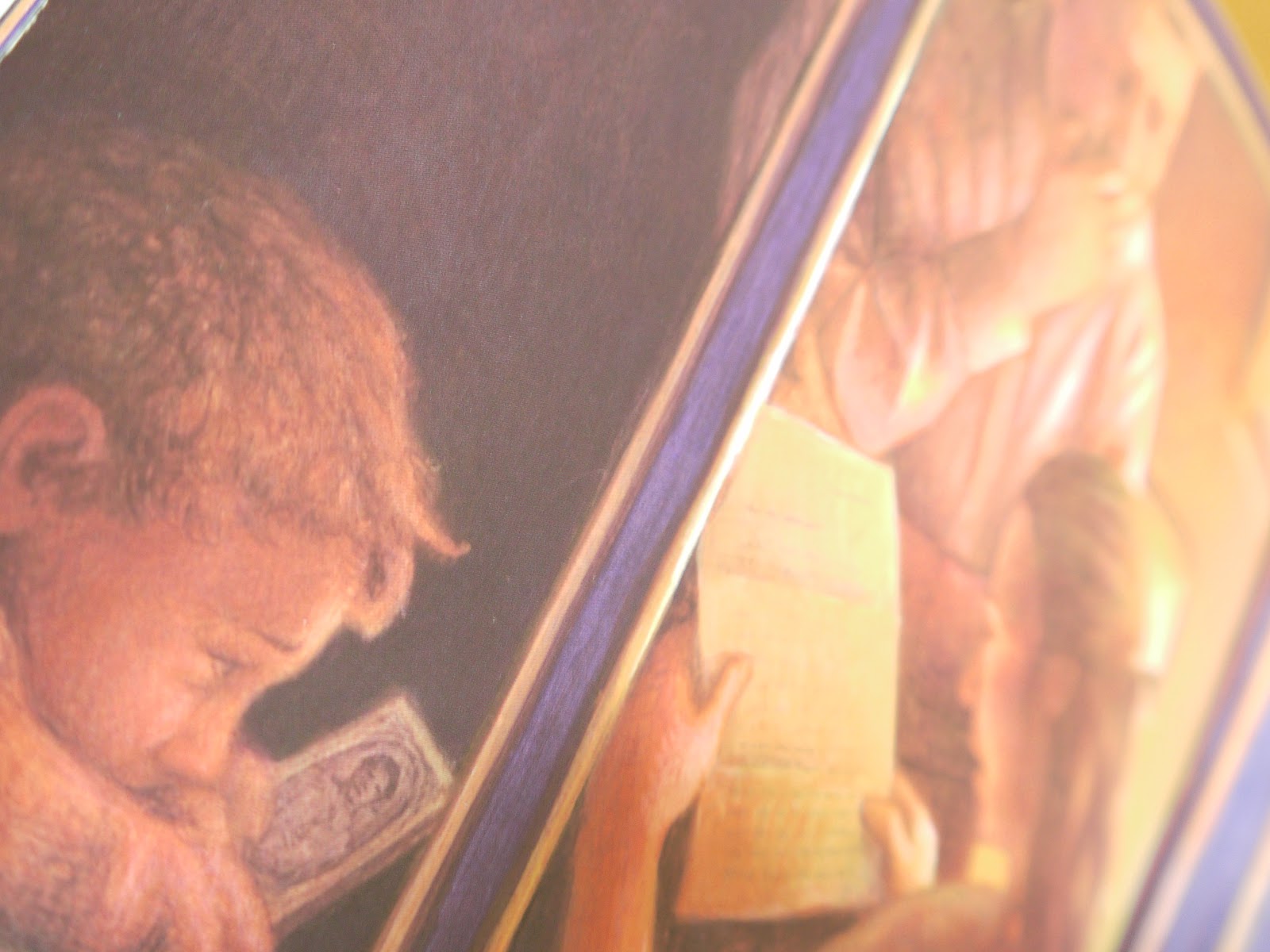 …I write to you this letter, because I would do something at least in his memory…He is one of the thousands of our unknown American young men in the ranks about whom there is no record or fame, no fuss made about their dying so unknown, but I find in them the real precious and royal ones of this land…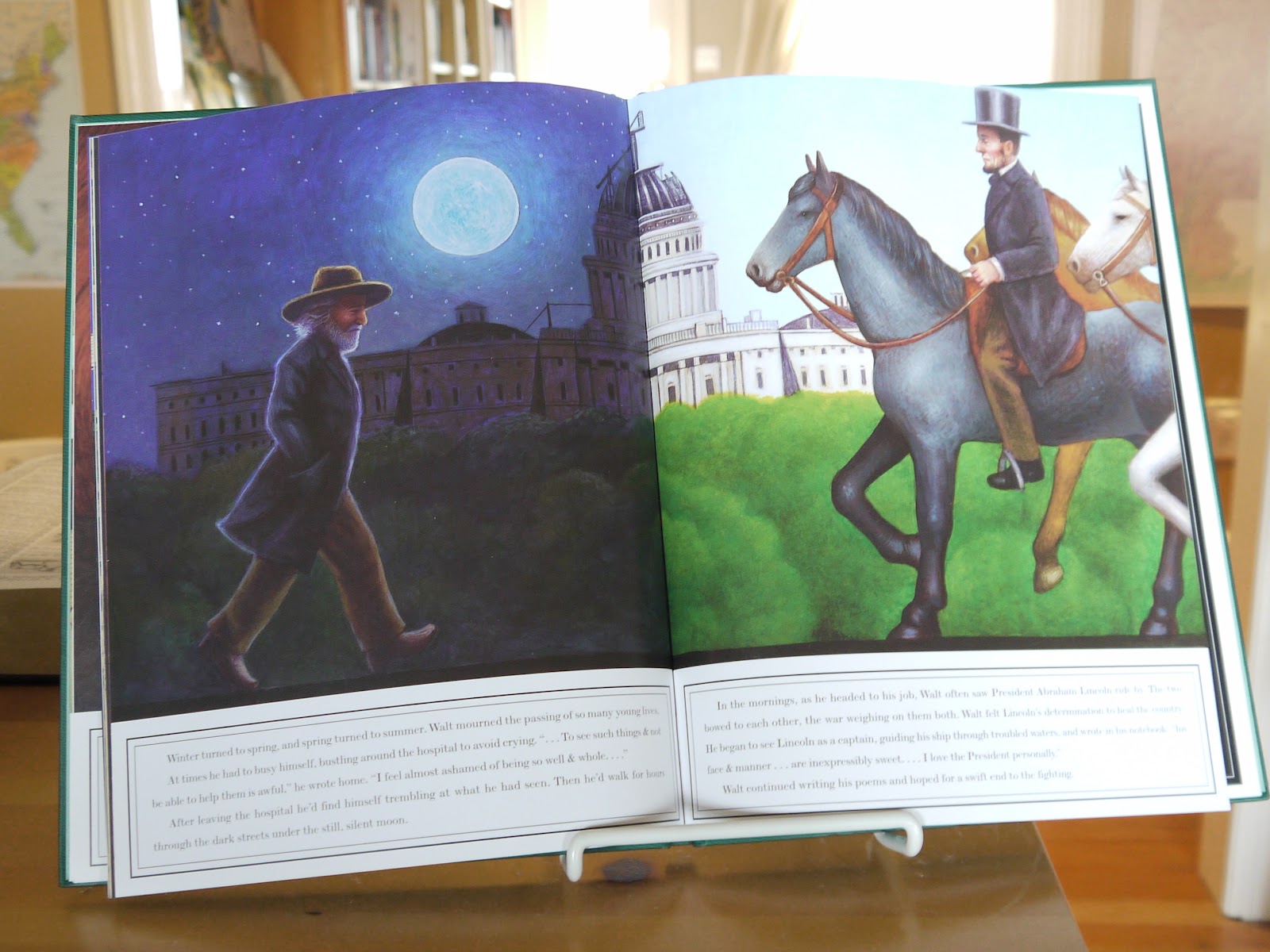 During the Civil War, Walt Whitman worked and lived in Washington D.C., and often passed by President Abraham Lincoln who was out riding in the mornings.  The war weighed heavily on both of these men, and it seems that Walt could see in the president's eyes the depth in which it affected him.  He saw "Lincoln as a captain, guiding his ship through troubled waters, and wrote in his notebook:
'…his face and manner…are inexpressibly sweet…I love the President personally.'"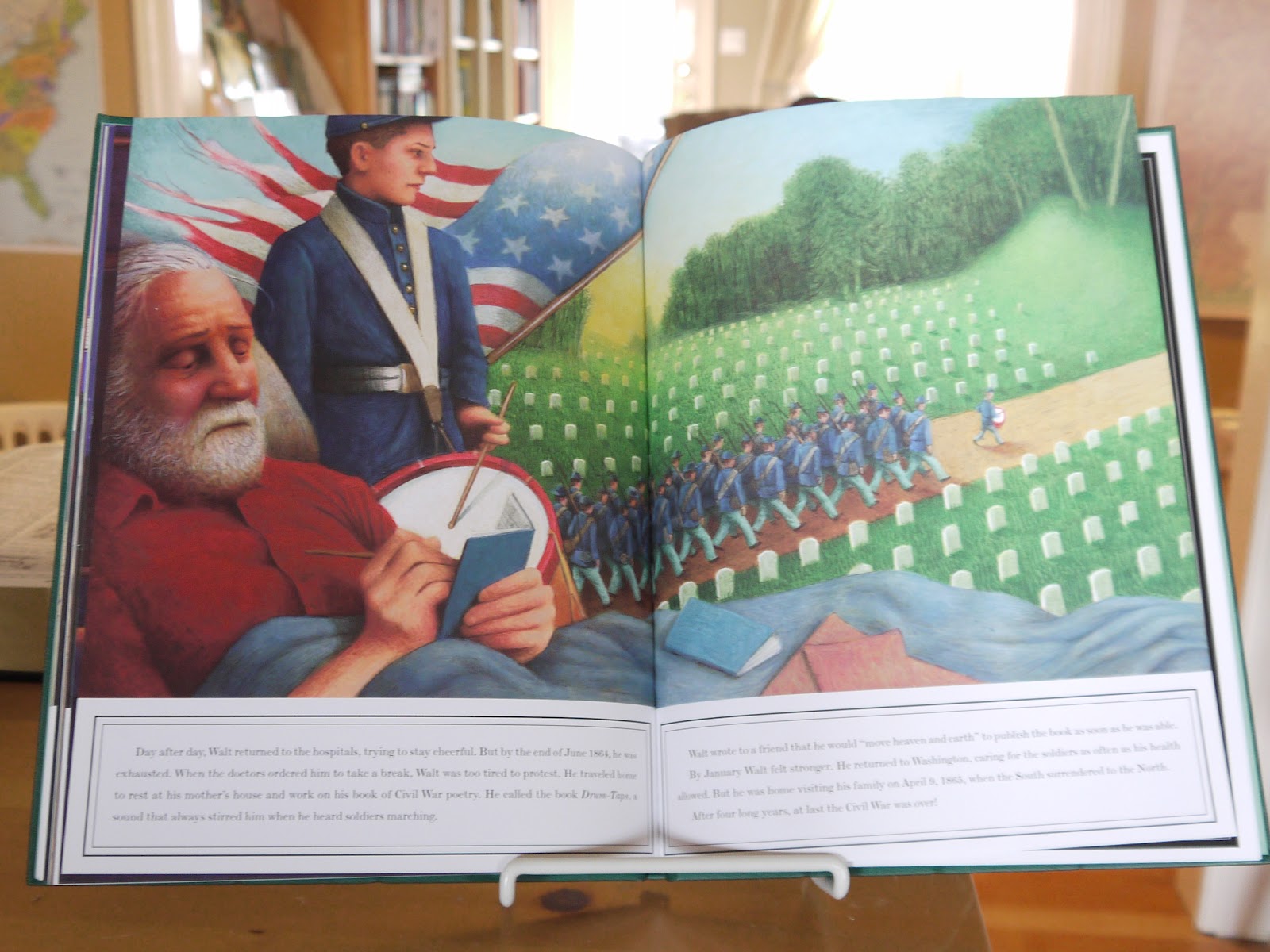 Five days after the end of the Civil War, Walt was stunned to hear of President Lincoln's assassination.  Hearkening back to his memories of the war, the tumult, the suffering, and the burdened but resolute heart of the man who would lead the country through those dark days, Walt penned one of his most haunting and memorable poems offering his own tribute to Lincoln:
O Captain! my Captain! our fearful trip is done, 

The ship has weather'd every rack, the prize we sought is won,

The port is near, the bells I hear, the people all exulting,

While follow eyes the steady keel, the vessel grim and daring;

But O heart! heart! heart!

O the bleeding drops of red,

Where on the deck my Captain lies,
I found this picture book to be most touching as well as realistic as it conveyed the historical events of Walt Whitman's life.  The book includes a smattering of his poetry, but if you are at all familiar with Whitman's poetry you know it's very long, so some of the poetry included are excerpts.  
The author's writing is engaging and deeply stirring, an excellent match for Brian Selznick's extraordinary and evocative illustrations.  So deeply touching!  You will not be able to read this book without entering in, in a sense, to some of the dark pain of the Civil War, the families that suffered, the compassion that was offered, as well as the joys and lightness Whitman felt as he embraced the openness, the vast rolling expanses of this country, penning them, line after line, in his poetry.
Walt Whitman is the poet we are studying as part of our third term of work and I found this book as I was searching for books to read in introducing the poetry of Walt Whitman.  What a treasure!  If you choose to continue studying Whitman and his poetry, I recommend the book we're using,
Whitman: Poetry and Prose
, edited by Justin Kaplan, the Library of America edition.  The Library of America edition is the most comprehensive edition of Whitman's vast poetry collection, containing both versions of
Leaves of Grass
 that Whitman penned as well as his other books of poetry, including
Drum-Taps,
his collection of Civil War poetry. 
…I depart as air, I shake my white locks at the runaway sun,
I effuse my flesh in eddies and drift it in lacy jags.
I bequeath myself to the dirt to grow from the grass I love.
If you want me again look for me under your bootsoles…
Walt Whitman, 
Leaves of Grass
, from "Song of Myself"