Morning Basket Series: Using an Erin Condren Teacher Planner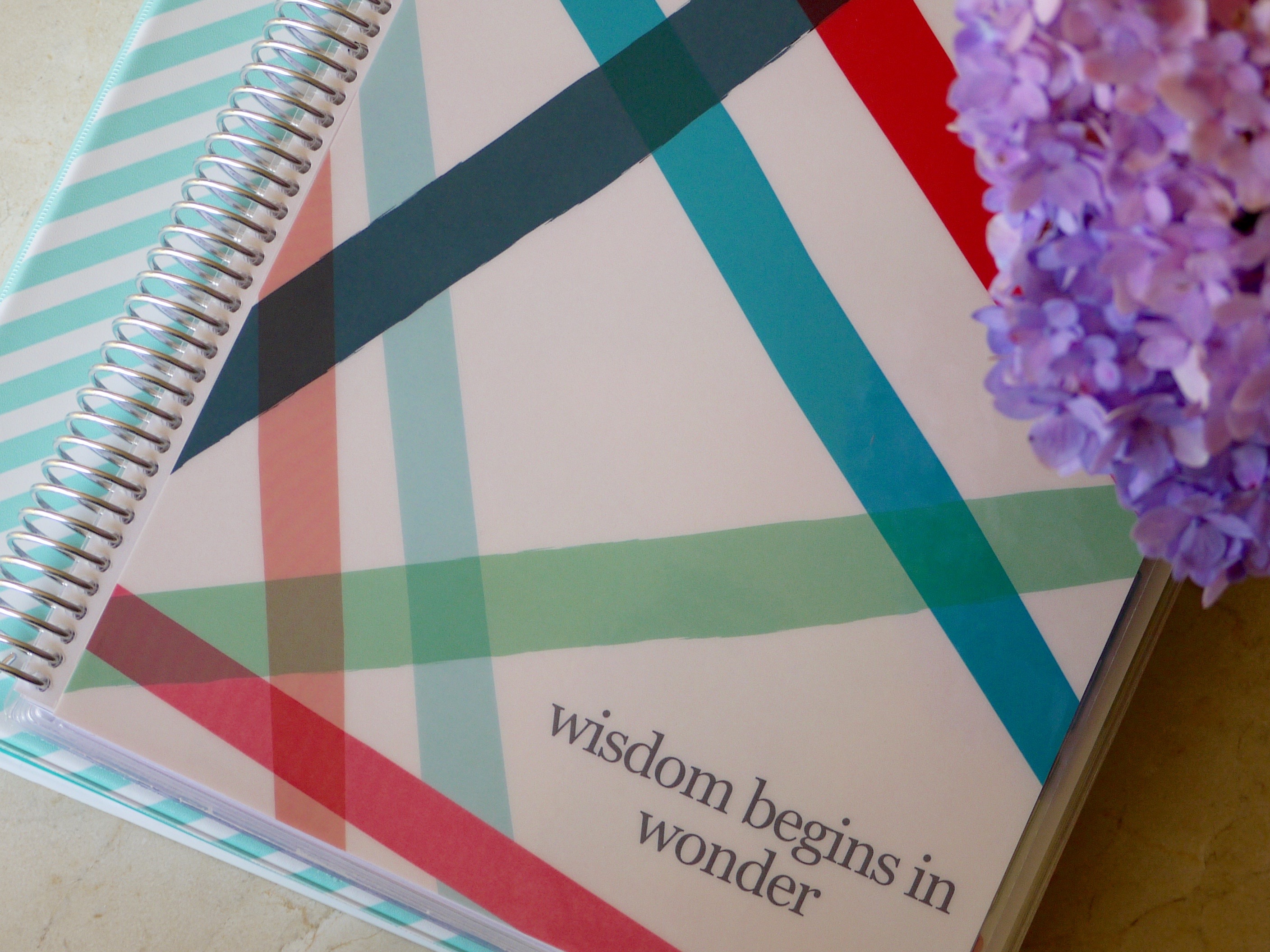 I'm back to continue my Morning Basket series and share with you about the lesson planner I use to record our actual Morning Basket work.  I've recorded  (and not recorded >>gasp<<) our Morning Basket in so many ways over the years.  But the last two years, I've really enjoyed using a write-it-down-as-you-go lesson planner.  I'll tell you why…
I've found I prefer a bound paper planner for all the work we do together, like our Morning Basket read alouds and memory work, because this leaves me a more flexible format for recording all that learning that happens outside the margins – you know: the feast day cooking and celebrations, the documentaries, the rabbit trails, the impromptu nature walks, the presidential debates with great conversations following.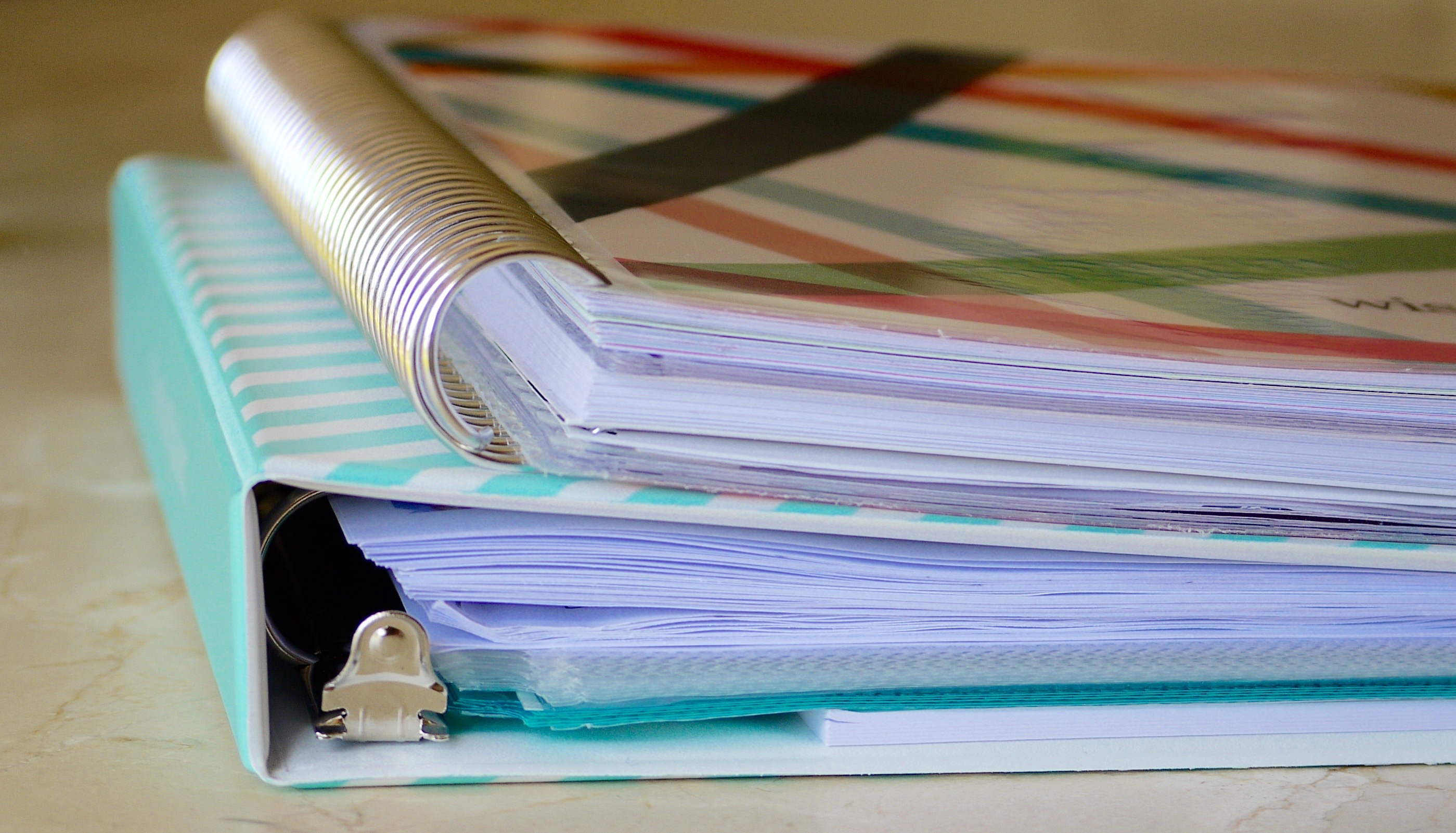 So, I modified an Erin Condren Teacher Planner.  As always, the cover is customizable and removable – a feature which I love!  I thought about saying that each year I choose a new theme to add to my cover for my year, but really the theme for the year finds me.  It lands in my thoughts and makes it clear that this is the Grand Thought for the year.  Really…REALLY…I thought long and hard about putting "Buckle Up Buttercup" on my planner for this year, because it's a year we're all S-T-R-E-T-C-H-I-N-G and we've each got our buckle up buttercup moments.  But, yeah – I went with Aristotle instead.  Don't think I didn't plaster Buckle Up Buttercup all over the house in other places!  😉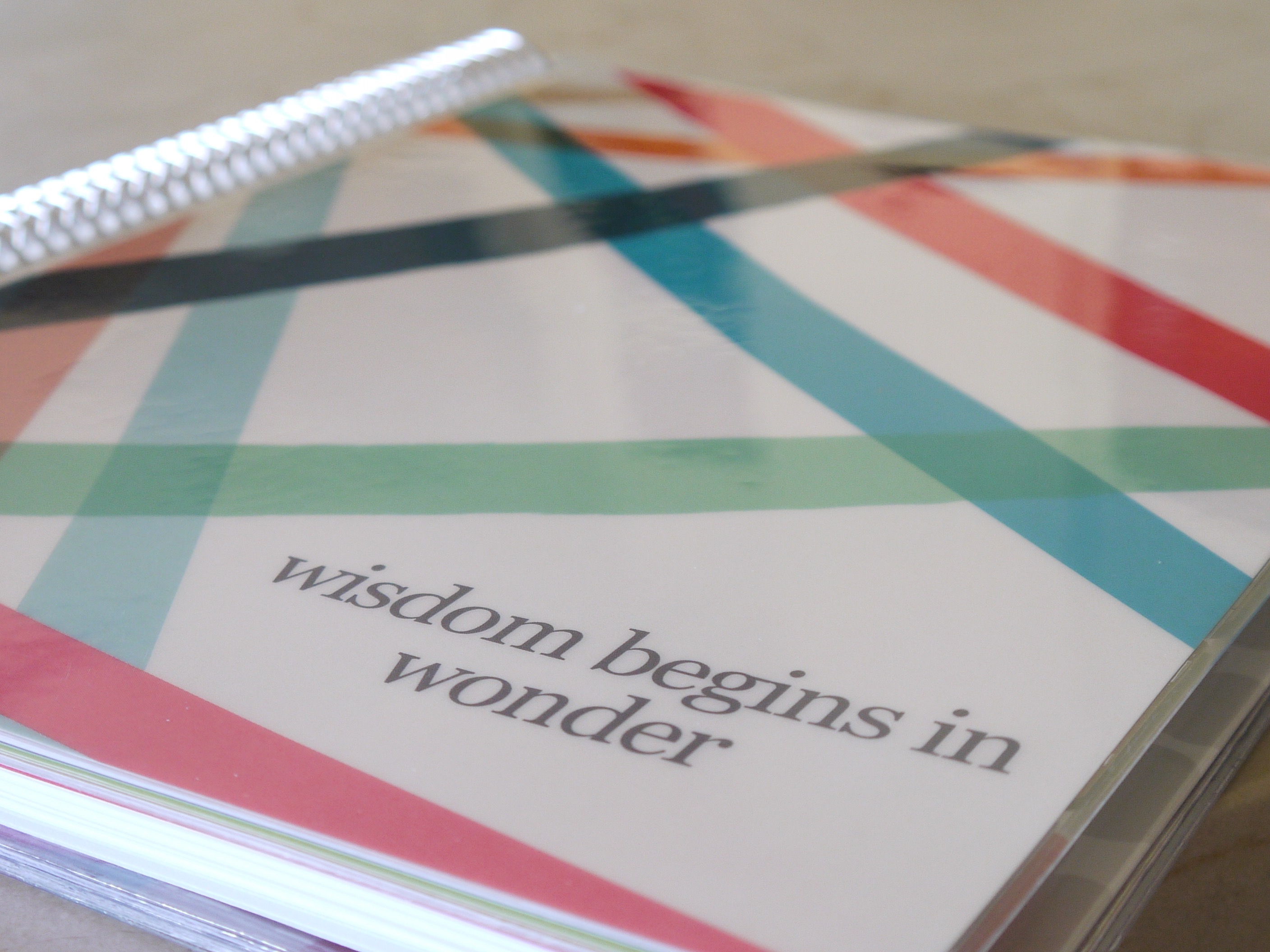 The planner is set up to be used by a teacher in a brick and mortar school with a classroom of kids, but with a few simple edits and changes, I find it works great as a homeschool planner – it contains lots of resource planning pages along with (36) 2-page spreads for planning each week of the year.  I used one last year when we had to go back to old fashioned paper planners during our remodel when I had to function lo-tech and I found I really hit a stride by continuing to use the planner for our Morning Basket work.  I like the way the planner is set up, and as I've shared before: if needed, I can simply grab this planner and let our Morning Basket time (and all of that other very rich, extra stuff) be "good enough" for a day's work.  It's certainly meaty enough and it's easy to build on.
I thought I'd share a few images of my planner modifications with you.  If you find, after reading, that you're interested in an Erin Condren Teacher planner, just click here and you'll get $10 off your first purchase.
Most of the lesson planner works fine for a homeschooler, but the first few pages contain places for recording information that are school-teacher specific (like a page for substitute teacher info…my substitute teacher is Leap Frog, so I'm all set and Leap doesn't need a page of further info from me).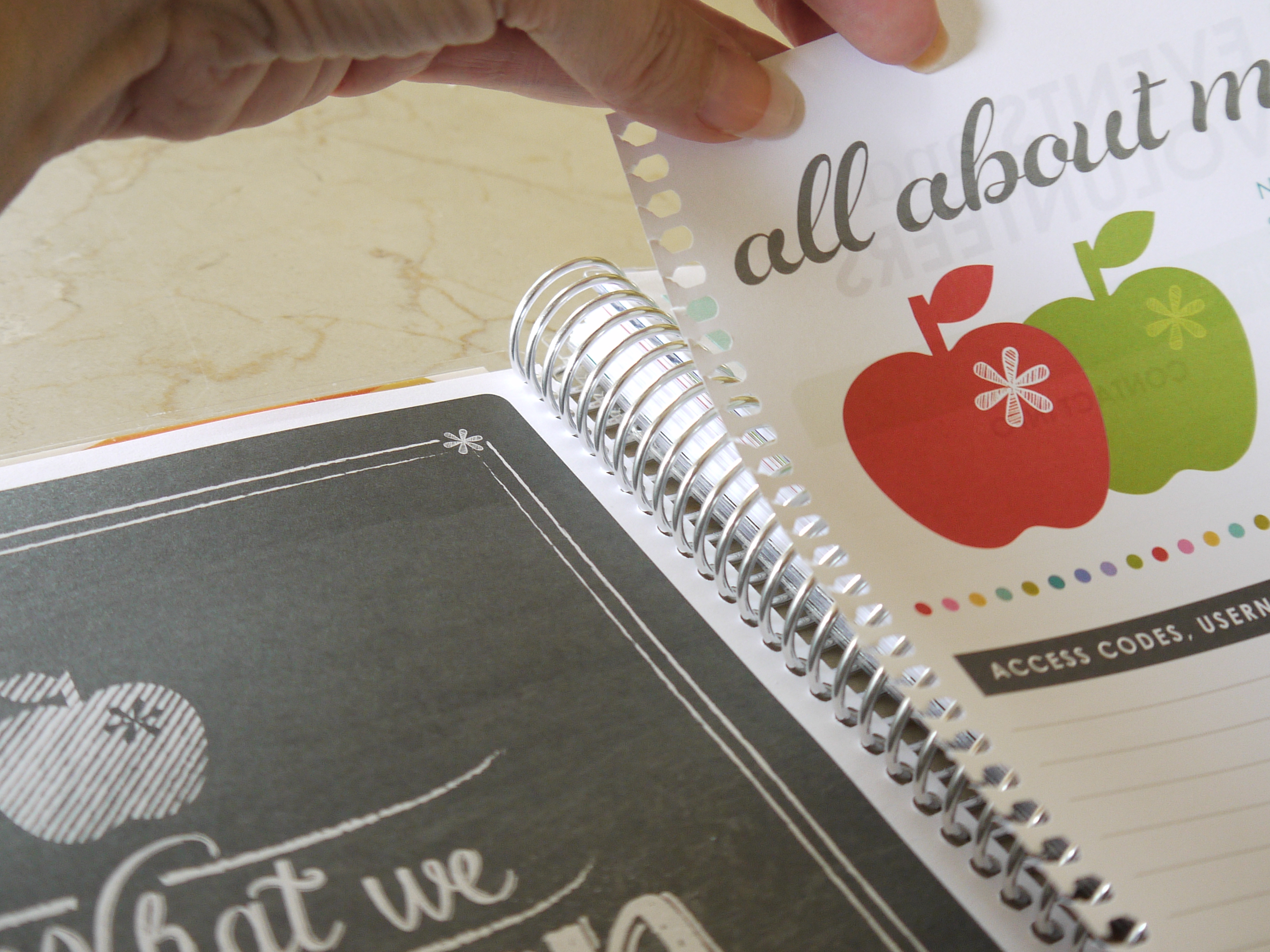 The very first page is completely useless to me – so I just ripped it out.  Others washi-taped that bad boy until it was unrecognizable…but..I didn't need it, and didn't feel like plastering that much washi on the page, so out it came!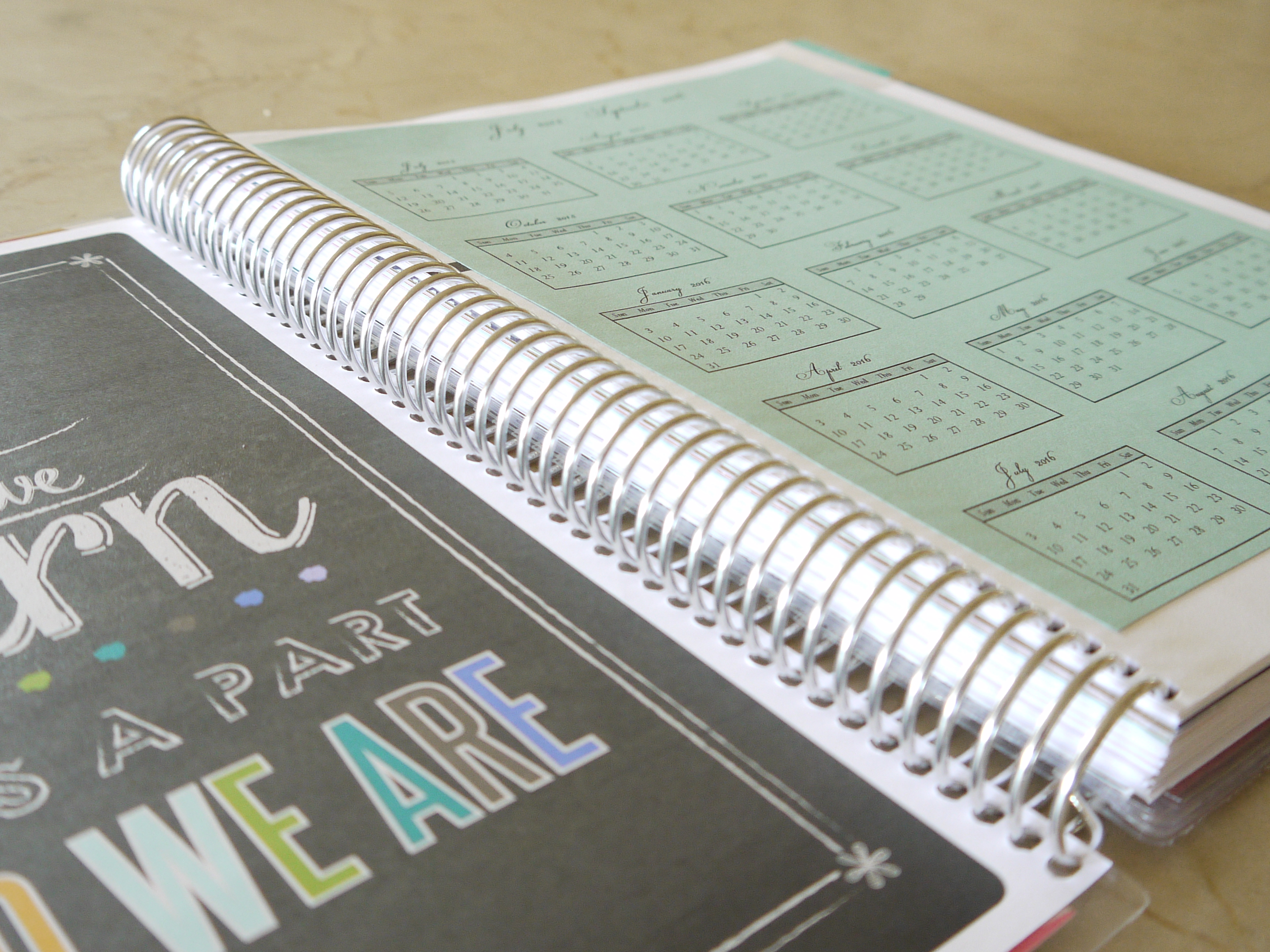 The second page is an example of a page that has a really useful backside, but had places for recording school-teacher specific information on the front side – so I taped a simple calendar that I printed (academic calendar at Donna Young).
For the rest of the planner, I just printed my own titles on cardstock (to cover titles on pages that weren't useful in a homeschool setting), cut them to size, and taped them into place.  After modifying my lesson planner, I discovered Avery Labels
 which I'm totally in love with!  Design at Avery's website and print!
Here is an example of how I used my own cardstock, printed my own titles, and modified a page within the Teacher Planner:
BEFORE: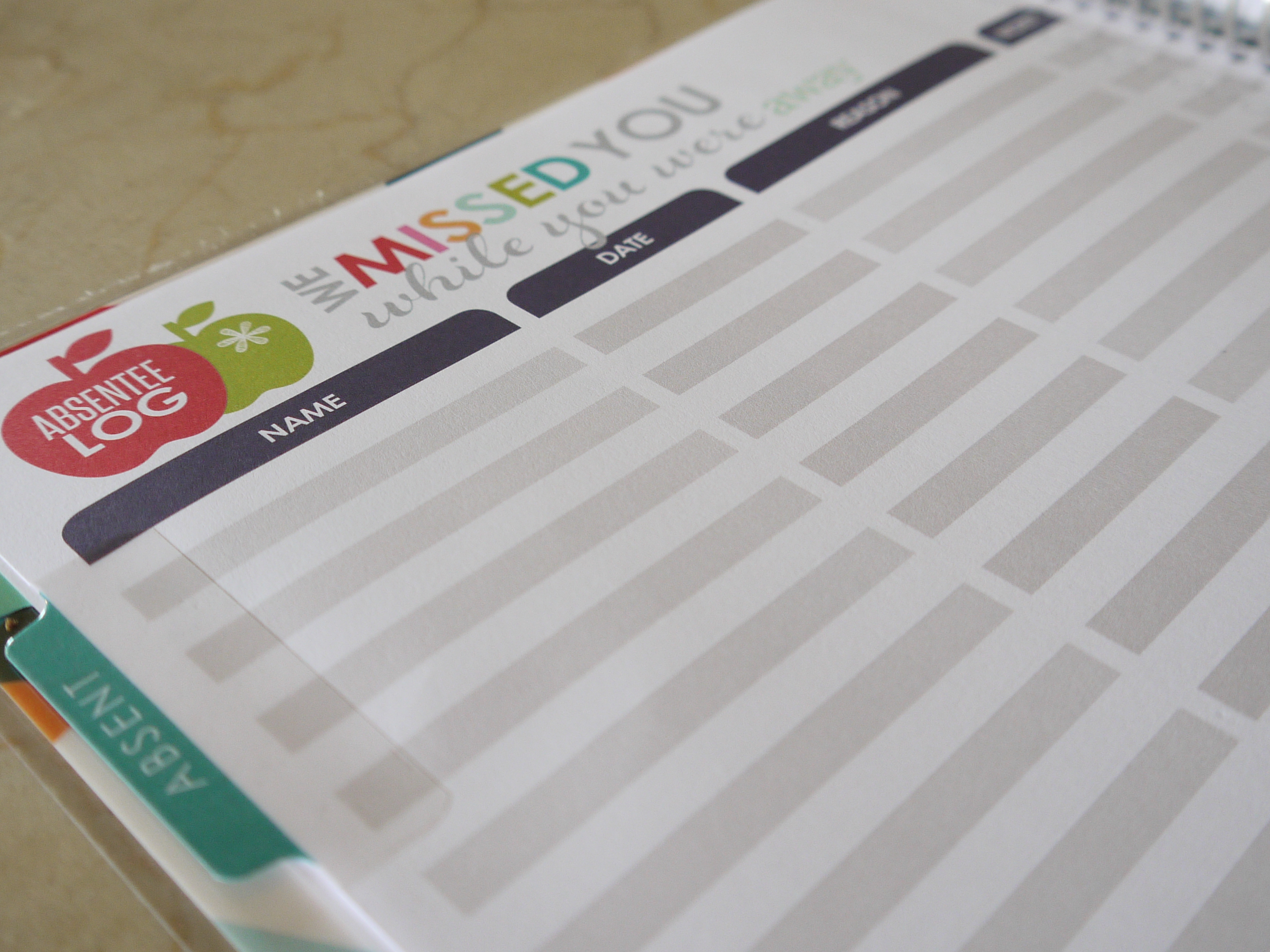 AFTER: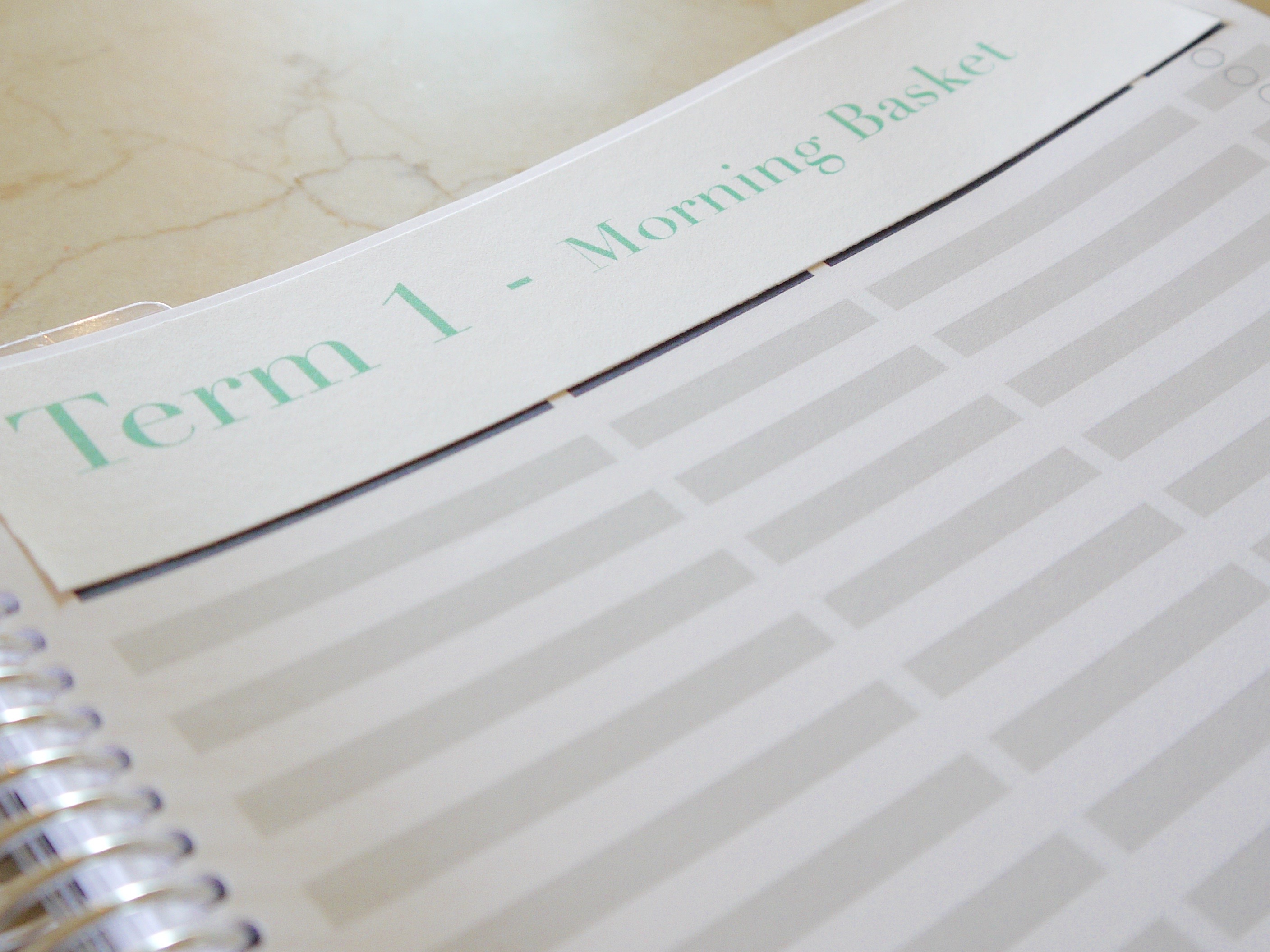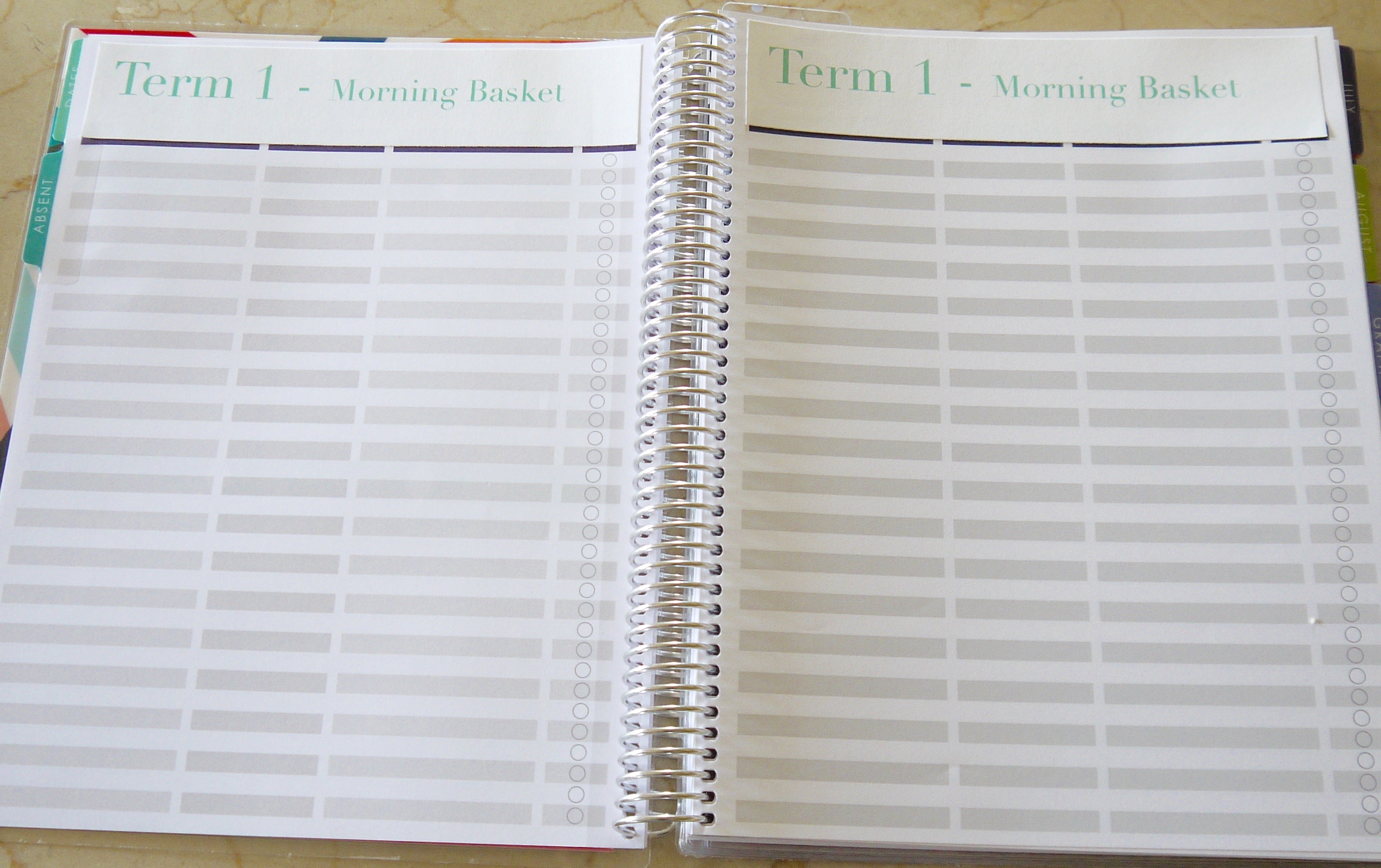 Obviously, I don't need an absentee log page (or six of them) – but these pages make great places for recording booklists (author, notes, check marks when the book is complete) for each term in our Morning Basket.  Sometimes I add in seasonal books or activities that I didn't initially plan for, and I list them here.  Simple fix!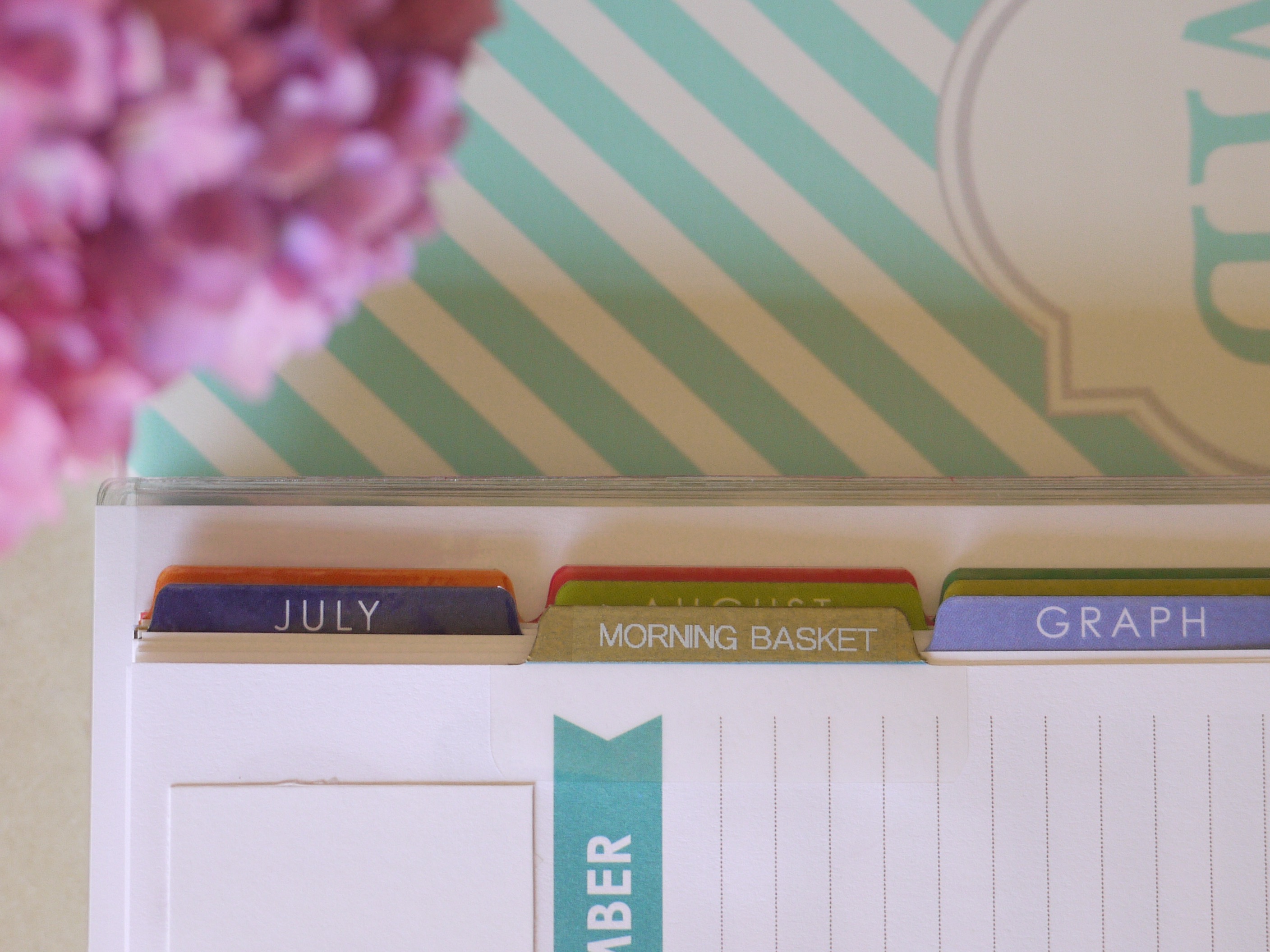 And…for the tab that said "absences," I used some gold washi tape to cover the tab, trimmed it, and then used my label maker
 to relabel the tab to say, "Morning Basket."  The font isn't a perfect match, but it's close enough.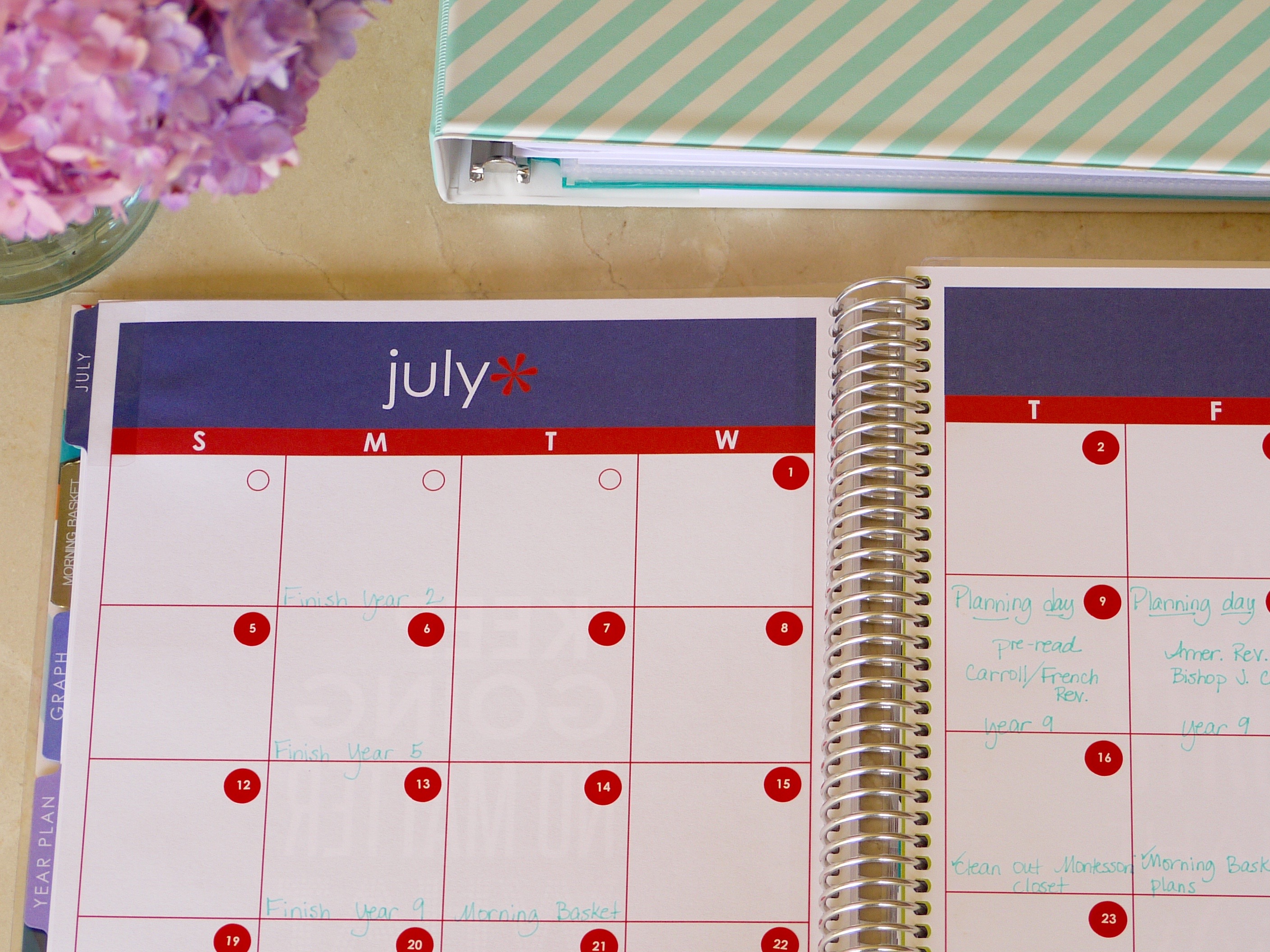 One of the features I love about the planner are the calendar pages at the front of the planner!  It allows me to jot down some big picture plans, listing field trips, local events, seasonal highlights, liturgical Feasts I want to be sure to observe.  A little pack of date stickers come with the planner so you do have to add those, but I like the bright pop of color each month.  I'm not a big "sticker-it-up-gal" – I tend to prefer a more practical planner that features lists and goals, but I do love pretty pen colors!  Still…if you do like stickers and decor, these pages are a nice place to add them.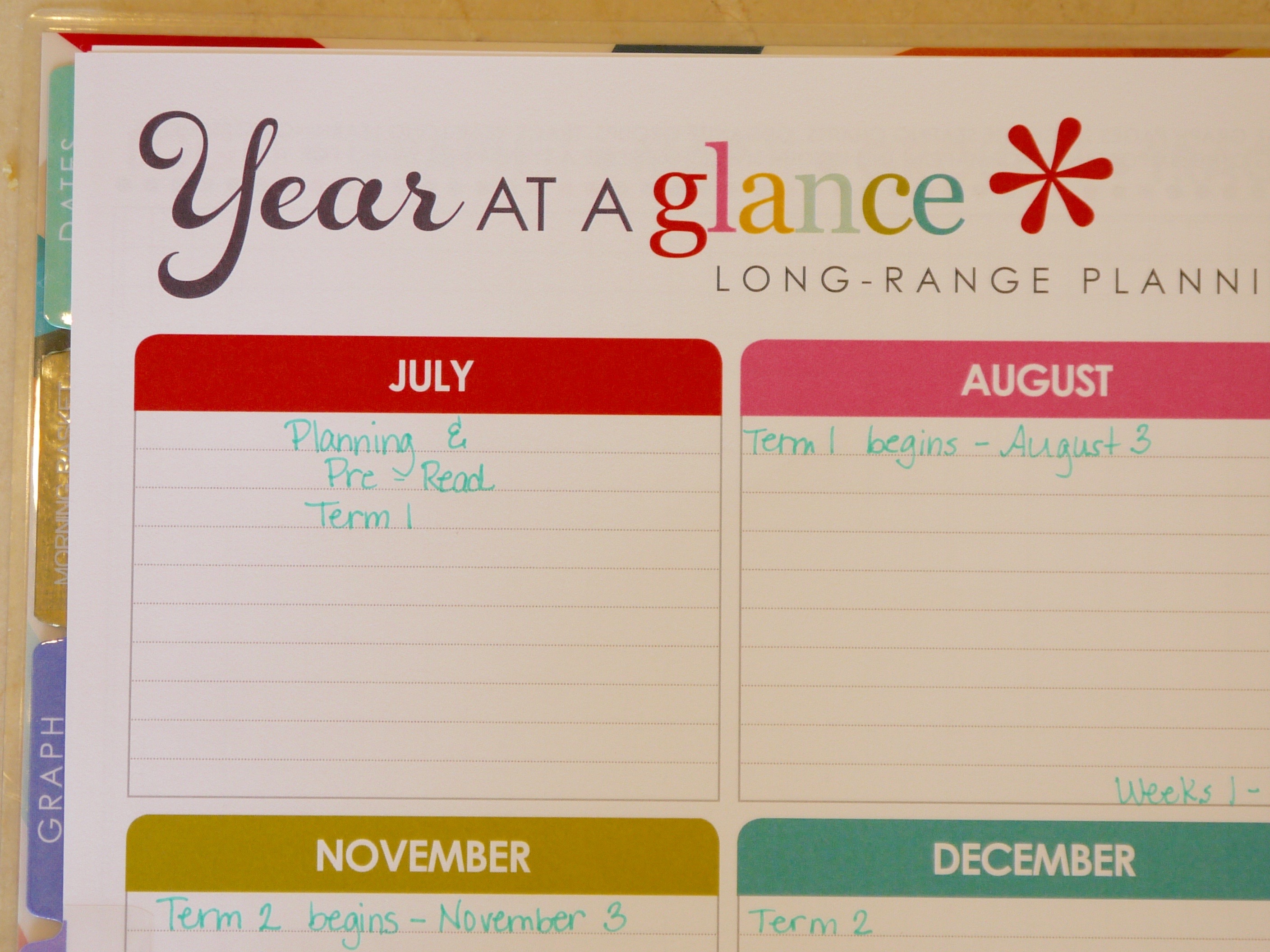 A very helpful page is the year-at-a-glance page spread.  It's so helpful to map out the year and list our breaks and holidays.
Another feature I really love about the EC Teacher Planner is the option (when ordering) to add sheet protectors to the planner.  I always add 3 (the maximum number you can add).  And I learned that I can carefully snip the sheet protector and move it around in my planner to a more convenient-to-me location.  The sheet protectors come attached to the planner in the very back – I move mine around to different places in the planner.  They stay in just fine even with the back snipped.  I keep pertinent lists, timelines, tables of contents – pretty much any kind of paper resource I'd like to have right at hand in my planner.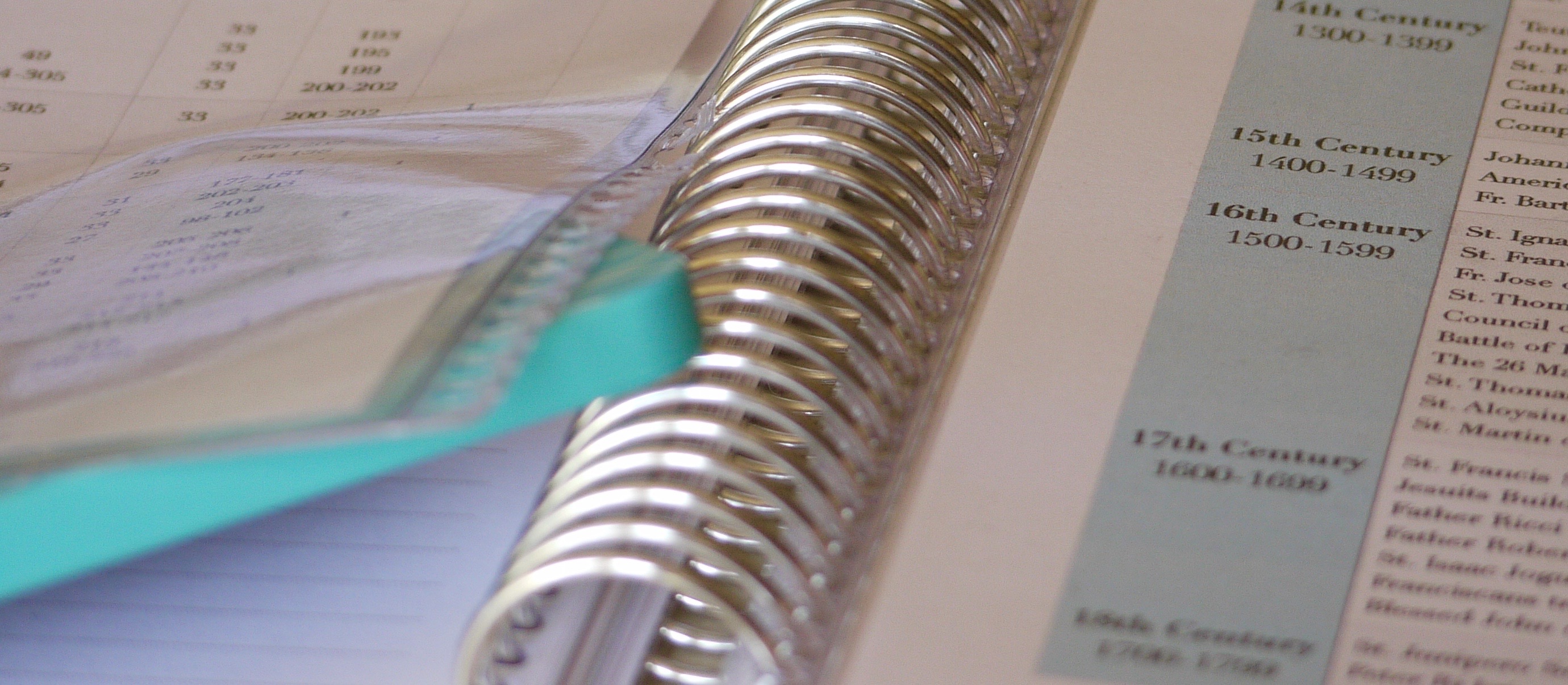 These sheet protectors will hold several pieces of paper and I find a plethora of ways to use them!
The bulk of this lesson planner looks like the image below – a 2 page spread which has enough space to record one week's worth of plans and work – which I just fill in as we complete daily read alouds, memory work or other work. I did manage to squeeze full plans for three of my school age kids in this one planner for a few weeks last year (when I had to because we had no printer/laptop during remodel)…but it about killed me!!  If you're considering this planner to contain ALL of your lesson plans, it could probably do so for 1-2 children, but if you have more than 2 school age children this planner isn't large enough to hold everything.  I do not use this lesson planner to hold each of my individual children's daily work any more (I build those in Pages for mac and print their weekly lesson plan grids – easy-peasy).  This planner is only for our together work – in the Morning Basket or other learning that happens during a day.
Blank Layout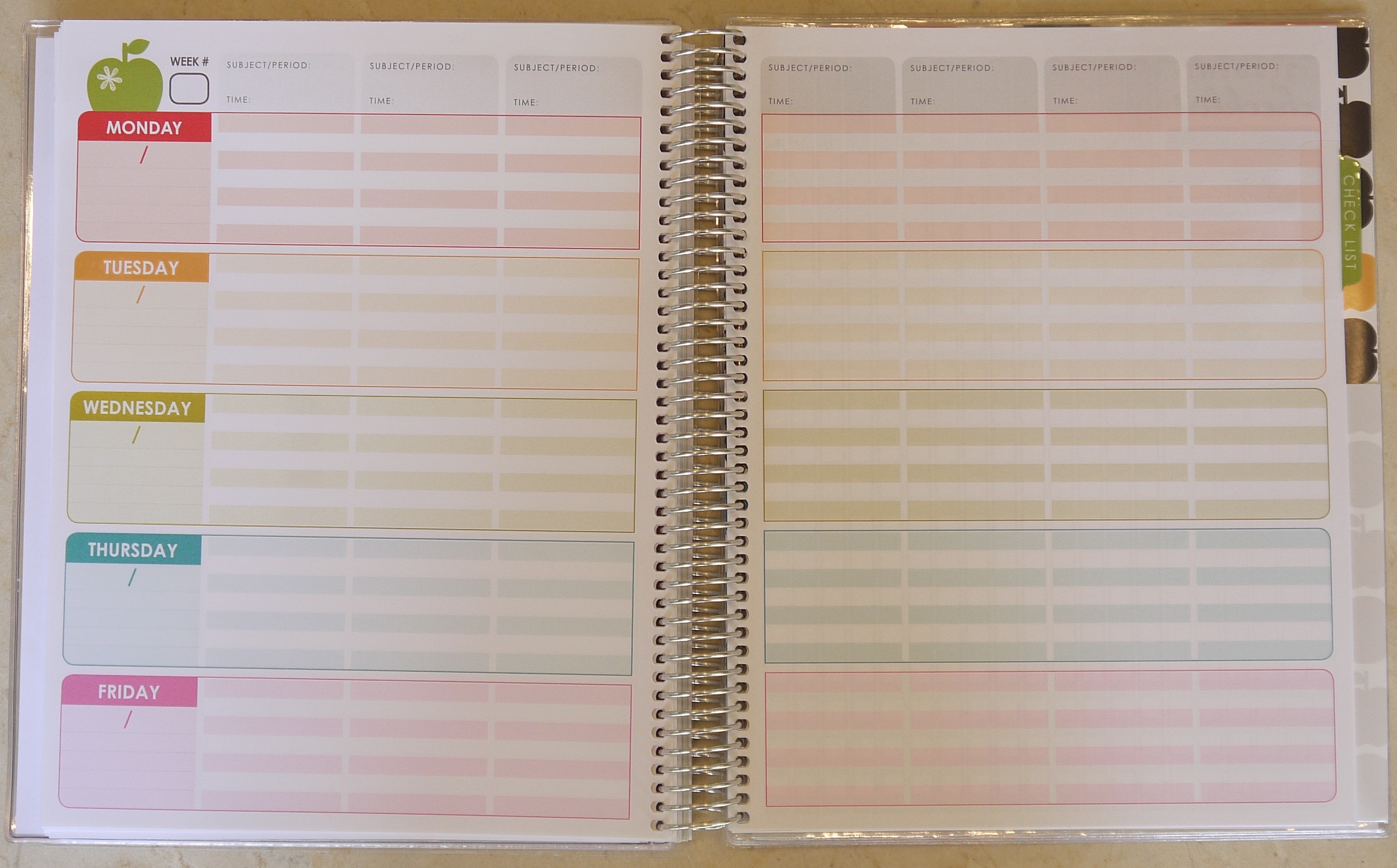 You can see that the days are listed vertically down the left and there is room for subjects/periods and time across the top of the pages.  This year, I tried something different.  I modified the layout of the weekly planner pages.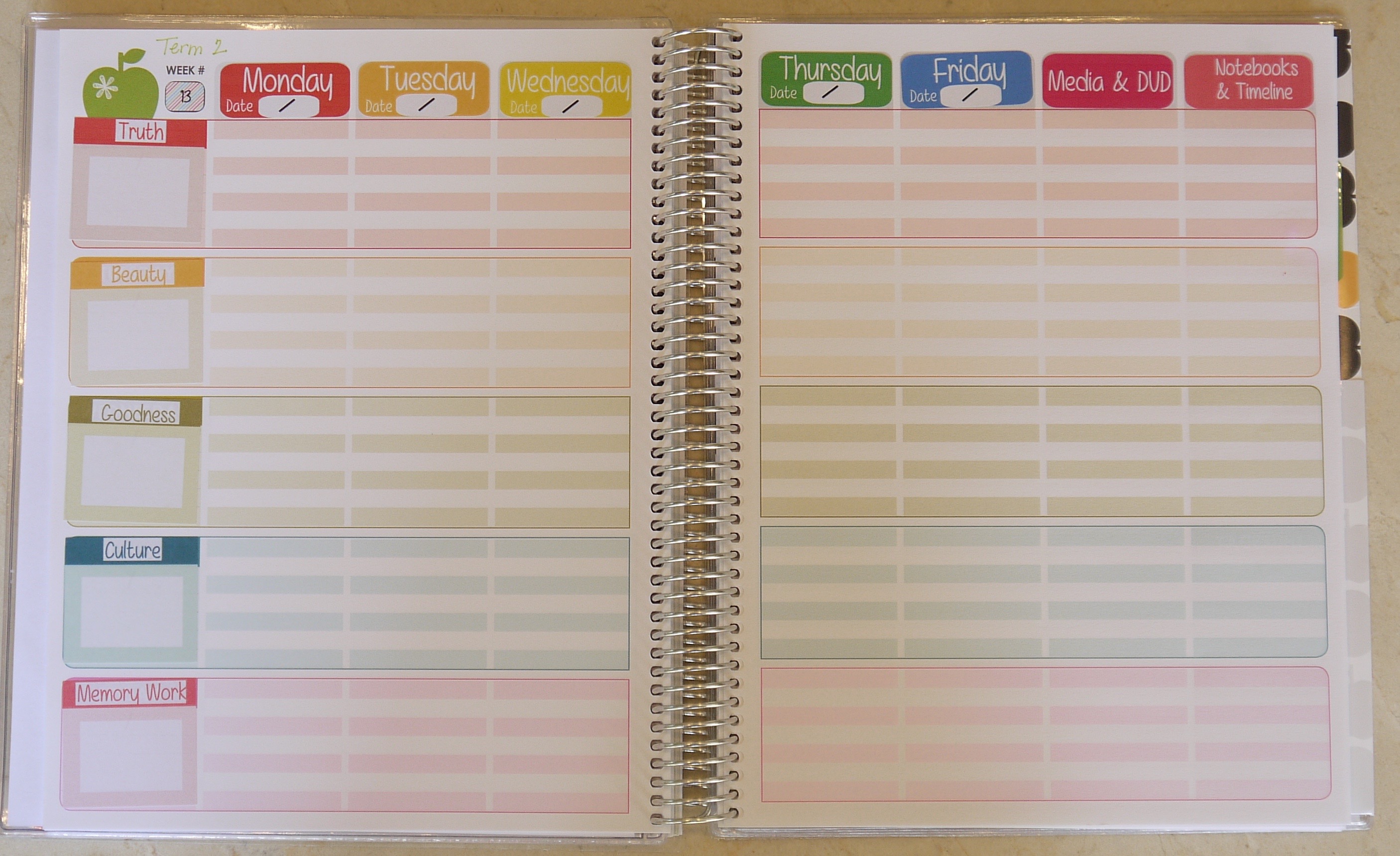 I prefer a different layout (days across the top/subjects down the side) so with the help of an etsy shop – Roc City Creations – the shop owner customized a set of stickers for me. This allowed me to be able to modify every week of my planner so that it was a layout I preferred.
Pros:
Totally customized based on my plans for the year – I love that my subject columns exactly reflect our focus of Truth, Goodness, and Beauty!
This days-of-the-week across the top layout is much more intuitive for me!
I don't spend the beginning of each week marking through or covering (sharpie or white out) the pre-printed text in order to write in my own (which is what I did last year).  I just open to the week, and start planning/journaling.
Cons:
It was expensive.
It takes time to add all of those stickers for 36 weeks!
Adding all of those stickers adds more bulk to the pages than I anticipated.  It means that the long edge and the top of the planner are actually a little bulkier than the rest of the planner when the book is closed.  This isn't dramatically noticeable, but it is noticeable, and although it's probably mostly a nit-pick, it does fit in the cons column for me.
I'm not sure if I'll customize the layout again next year.  Ultimately, it would be my wish that Erin Condren would allow for some customizations in her teacher planner, especially ones that would make it homeschool friendly right out of the box.  I've suggested it!  But maybe you could, too, if you're a fan!
Here are a few samples of my completed layouts from previous weeks.  These early weeks were pretty lite while I got the children's individual lesson plans settled, but I think they give a pretty good idea of the potential anyway.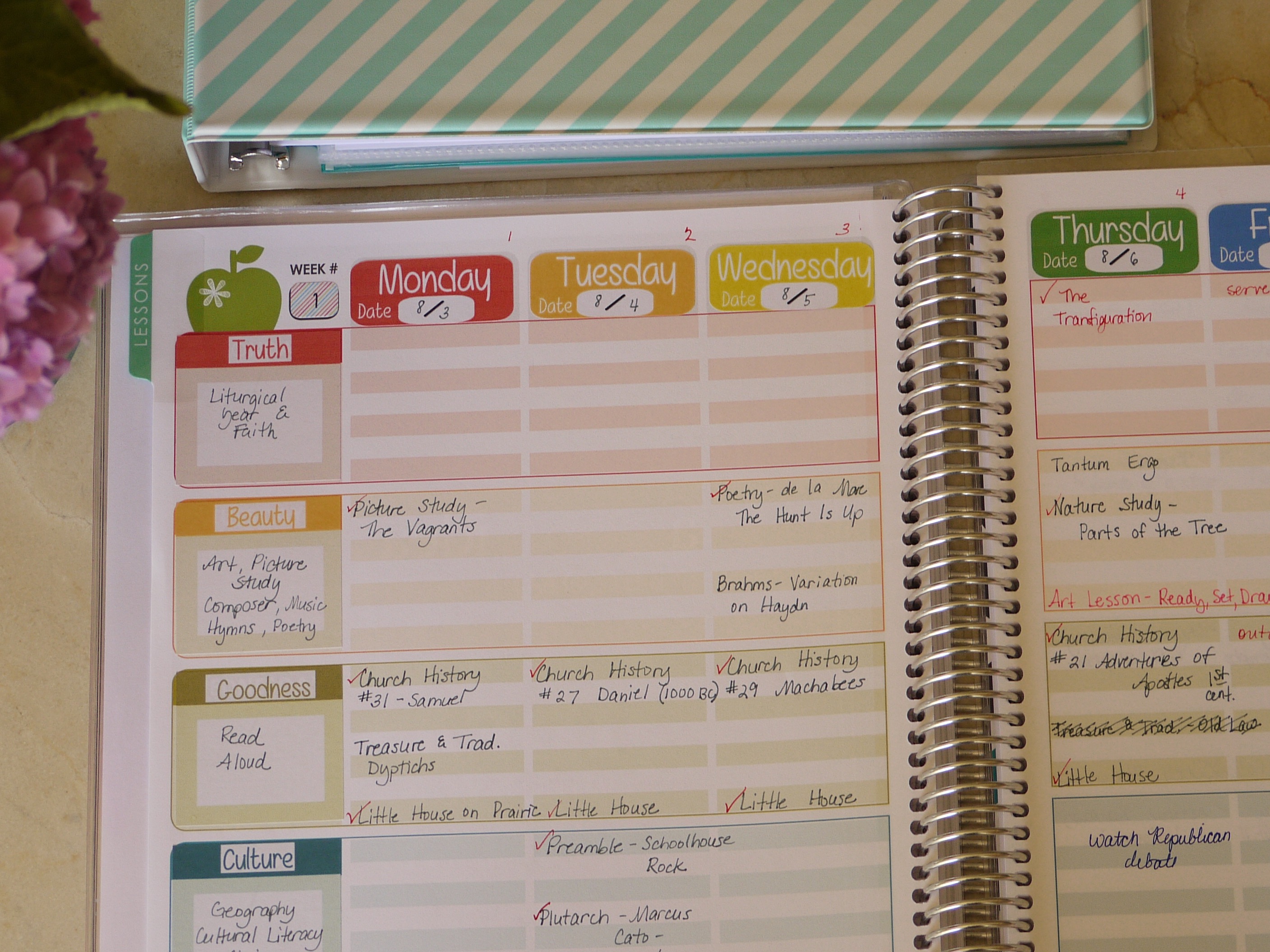 Here are some full, two-page views: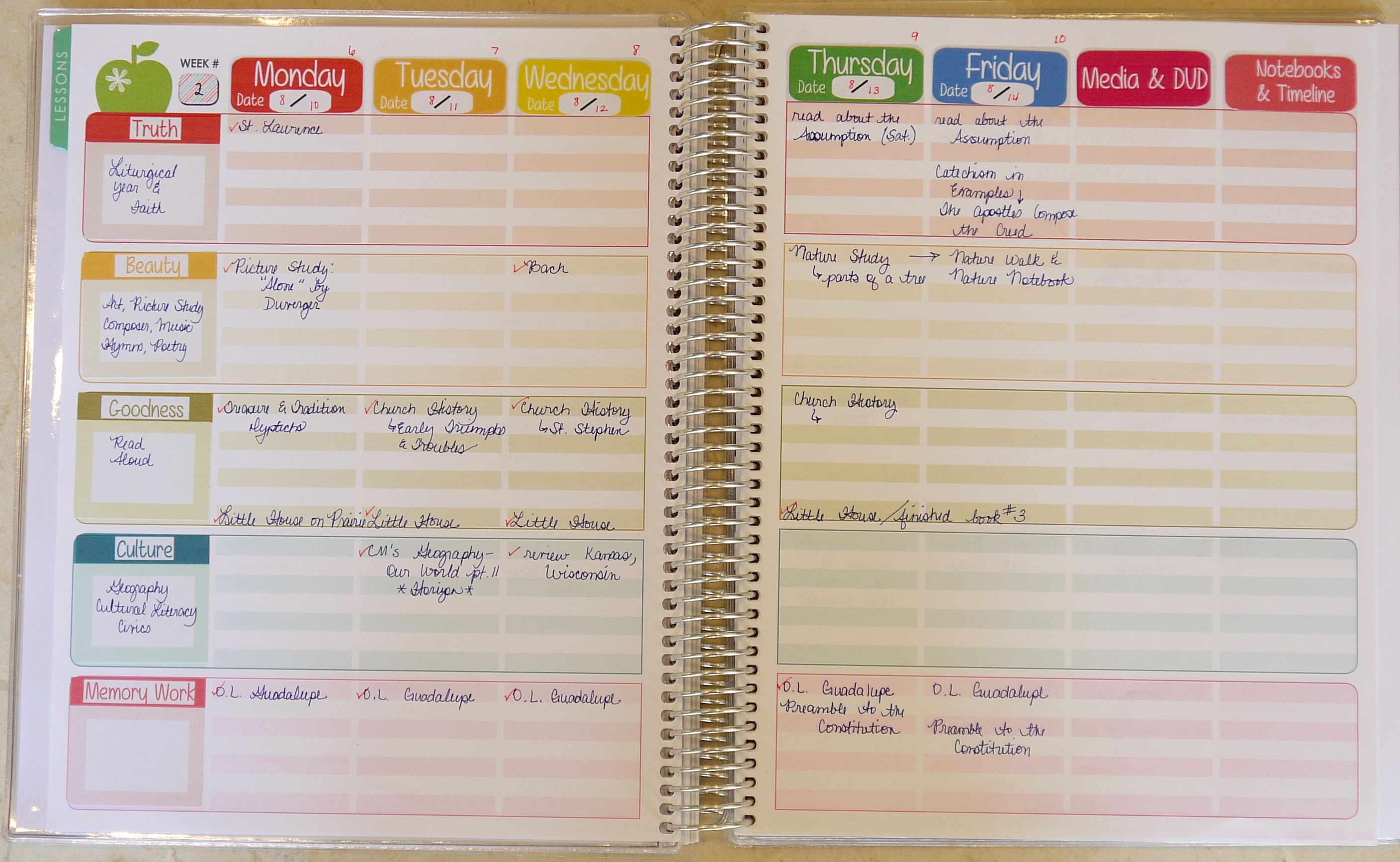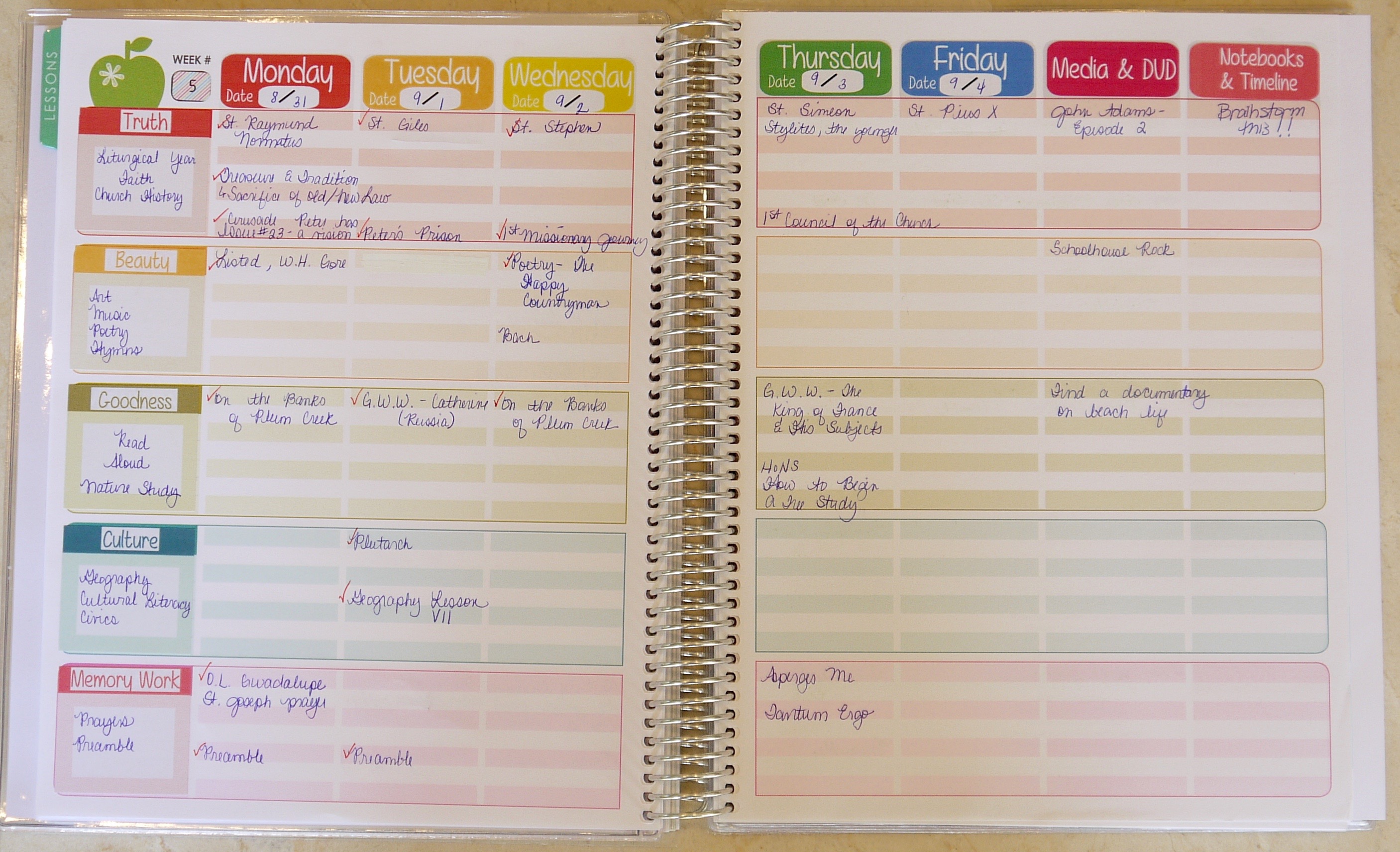 I like the list-it-as-you-complete-it method for keeping track of our Morning Basket reading and work because we may all enjoy a Drive Thru History program together, or a spontaneous rabbit trail which inspires some new researching…and I list it all here.  Remember, I only keep track of "together-work" here.  Each child has an individual lesson plan (kept on their own clipboard) that lists reading and other work like history, literature, their math, science/nature study, and their own age-appropriate religion/faith reading.
Finally, the last set of sheets behind the lesson planning 2-page spread sheets are a set of checklist sheets.  When ordering, you have the option to add differing amounts of these sheets.  At first, they mystified me – I don't have any checklists to record – what to do with them???  But, really – just think of them as grid pages and you can use them however your imagination dictates!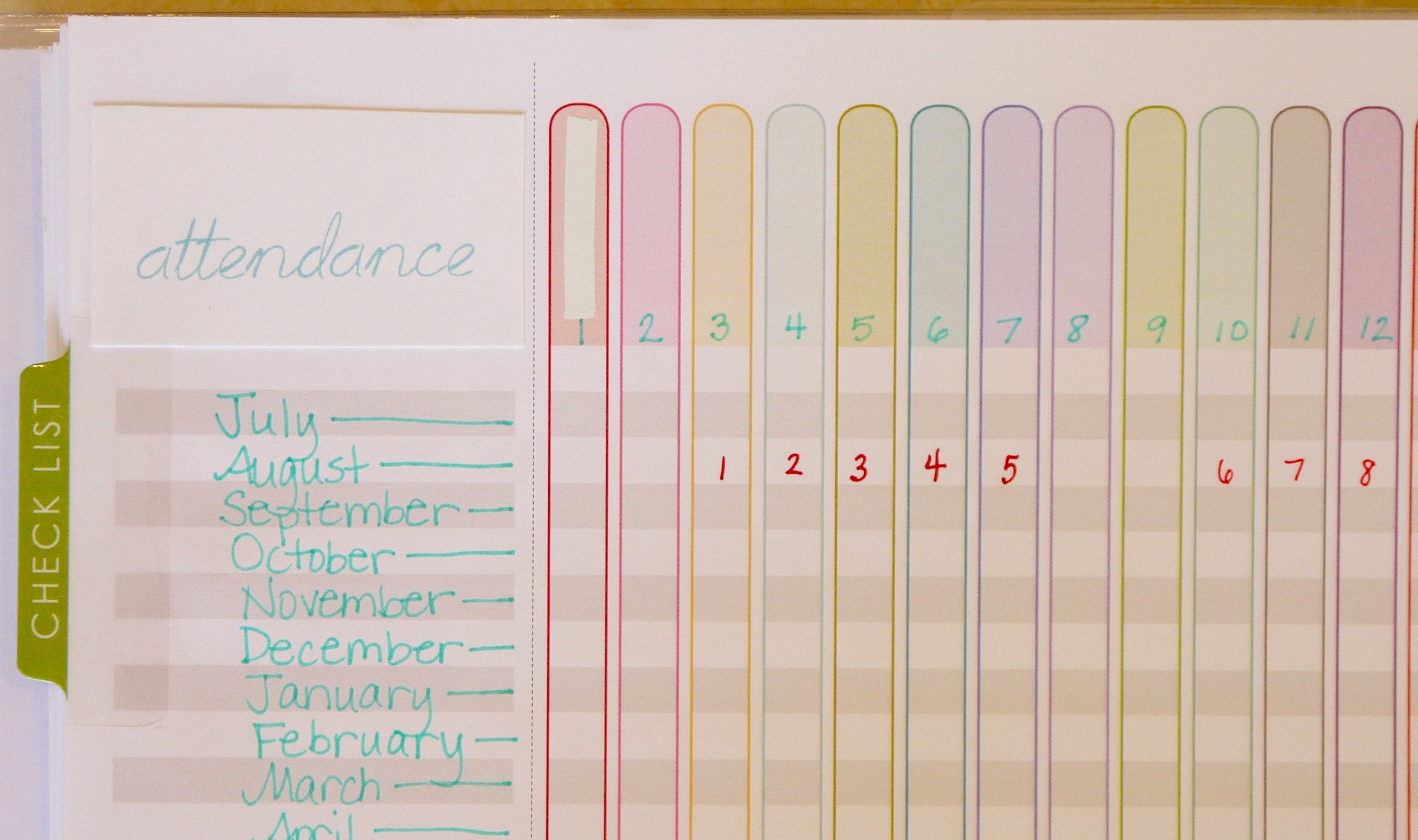 I thought I'd share the example of how I'm using one of the checklist pages as an attendance record, but you can use these checklist pages in so many different ways!
Using the checklist pages:
Attendance
Individual child's booklist
List of habits/character topics and books and resources to read
Math/Algebra test scores for the year
Feast Day celebrations for the year
Seasonal Planning
Record your co-op/local class syllabus and schedule here
Field Trip records or planning
Just think outside the box!  These pages can hold any sort of list or even simple brainstorming notes!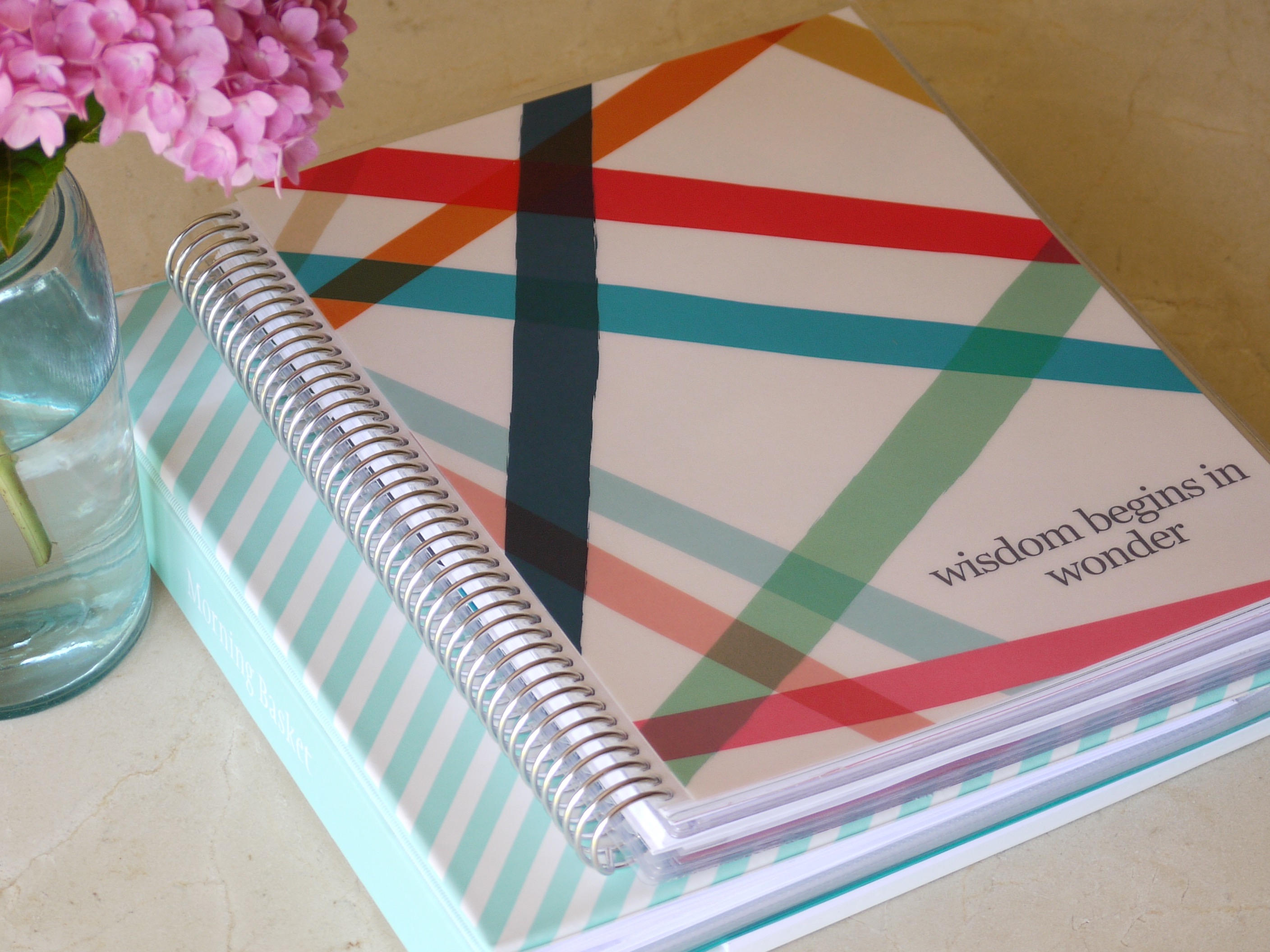 When I'm planning for the week, I pull out my master notebook, and my Erin Condren Teacher Planner, and I have everything I need.  I jot down simple plans, and then each day, I journal in the extras.  With this, and the detailed lesson plans that I make for each of my children, that's a pretty full picture of our day.  Not every day is ideal, and not every day is lived exactly as it is planned on paper, but with a plan in hand days are smoother overall and we have direction and a form to follow.
If you're interested in an Erin Condren Teacher planner, or any Erin Condren product (see my Life Planner reviews here and here) —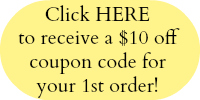 Check back soon for more in the Morning Basket series!