Erin Condren Teacher Planner – 2020|2021 Review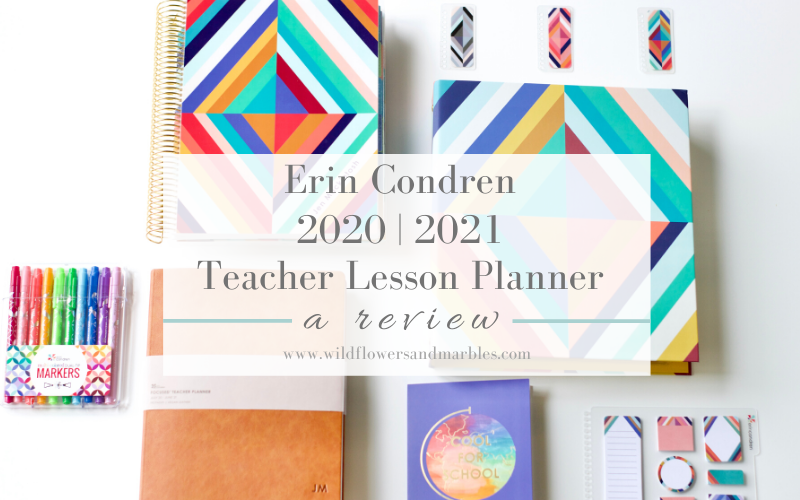 Here we are, wrapping up a school year and anticipating the next year. Except this year ends with the strangest educational arrangement – and one I never thought I'd see – every single parent is now a home educator. In my letter to reluctant homeschooling parents, I shared a crash course in homeschooling, dis-spelled a few myths, and gave you some of my tried and true tips! And now I get to share something exciting for a nation of homeschoolers – new planning tools!
A foundational cornerstone of homeschooling is planning. Planning is both the road map and the road for this journey. Without a plan, education moves in haphazard circles. There are many different ways to plan – formats, planners, styles – and you can plan before the work guiding the way, or plan/journal after the work showing your path. There are many different right ways to plan! Each of us should (must!) choose a planning method, style, and format that answers our particular needs.
As a home educator of five kids (2 graduates) for 20 years , I have used every tool imaginable for lesson planning – digital apps, digital software/word processing programs, calendar programs, notebooks, cheap planners, home made calendars, and my own created documents which I built, printed, and filled out weekly. For the last 5 years now, I have found my sweet spot in generating booklists and term spreadsheets on my home computer (which you can find in the printables section of my website), and then mapping out the individual months and days in my Erin Condren Teacher Lesson Planner. I have found that the Erin Condren Teacher Lesson Planner allows me to flex and bend my planning style around our season of life (how important is this right now?!), and provides an organized way to collect all of my planning ideas and themes. And today, I get to review the Erin Condren Teacher Lesson Planner – along with all of the new updates – with you!
I'm previewing these new products before they launch on the website and I owe a huge thank you to the team at Erin Condren for providing me all of these planners and products – all so I could share with you! I'm sharing all of the details of each planner and all of my own thoughts and opinions along the way! Thank you, Erin Condren, for trusting me with your new products!
---
Erin Condren Teacher Planner Launch Dates
April 13 – for EC Insiders
April 14 – the Teacher Planner line will be available to all
---
I want to share for clarity's sake that this post contains affiliate links. These links cost you nothing, but I may earn a small commission if you use my links to make a purchase. And for that I am truly grateful – those commissions allow me to put money back into my blog and content as well as my home education supplies and books! Thank you!
If you're looking for specific and practical ideas for this planner and how I plan in home education, I've got a post that shows just that! I've got pictures of the prep work pages, monthly layout, and even a full "mock week" that I actually pulled from a real week of school we had. The post walks you through my entire planning process from beginning to end and shares examples. You can also view my detailed Youtube reviews showing exactly how I set up and use the Erin Condren Teacher Planner – here and here. And yes…I do hope to share a video of these new planners soon, too!
new | new | new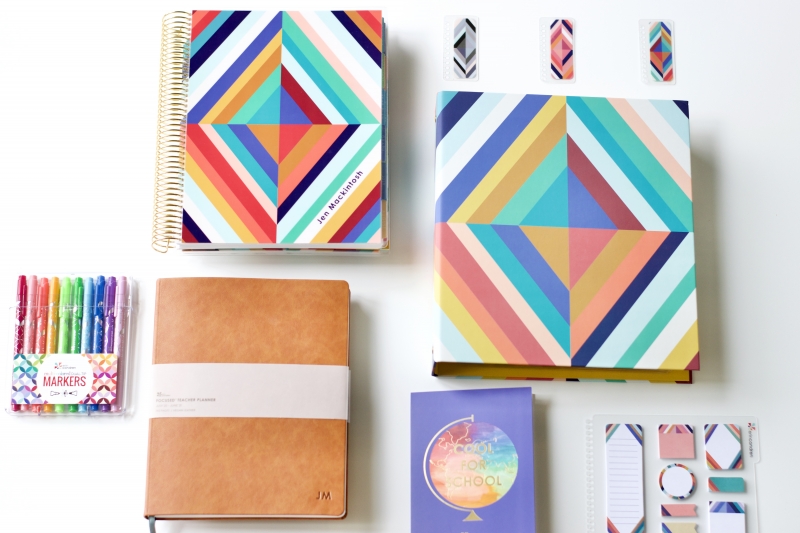 Two years ago, Erin Condren completely updated the interior layout of the Teacher Planner, making it so much more functional and useful and I live on every page of it! This year – there are more options than ever before!
This year – are you ready!!! – the Erin Condren Teacher Planners are now offered in 3 different formats and multiple design themes!
Coiled Teacher Lesson Planner – the classic Teacher Planner available in black, gold, platinum, and rose gold coil options. (Some options may add to the base price of the planner.)

You will have the option of choosing between the Kaleidoscope design theme or the Oh So Retro design theme.
Customizable, personalized, interchangeable laminated covers.

NEW! Binder Teacher Lesson Planner – all of the same interior layout pages as the coiled Teacher Planner, and now with the flexibility of a standard 3 ring binder system! That's right – 3 hole punch any of your resource materials and add them right into your teacher lesson planner binder!

The binder comes in the Oh So Retro design (only)
Personalization options

NEW! Focused Teacher Planner – in a beautiful vegan leather softbound book format that is streamlined, classic, and simple!

Comes in camel color (only)
You may personalize with blind imprinting
Two satin ribbon markers

A note: this review shows planners in the Oh So Retro design theme.
Let's look at each of the new Teacher Planners and at the end, I'll let you know which one I'm using for the upcoming 2020/21 school year! Teaser: my choice surprised me a little!
Coiled Teacher Planner
The Coiled Planner starts at $55
Insert size: 8 ½ x 11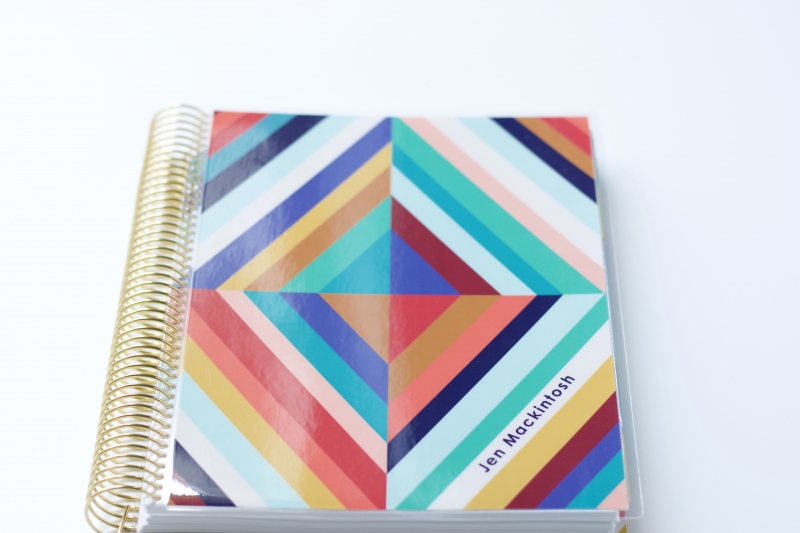 Let's start with the classic – the coiled Teacher Lesson Planner. For years, this planner has been the flagship of the Teacher Planner line. The coil is heavy duty and sturdy enough to last a full year of frequent turning and use.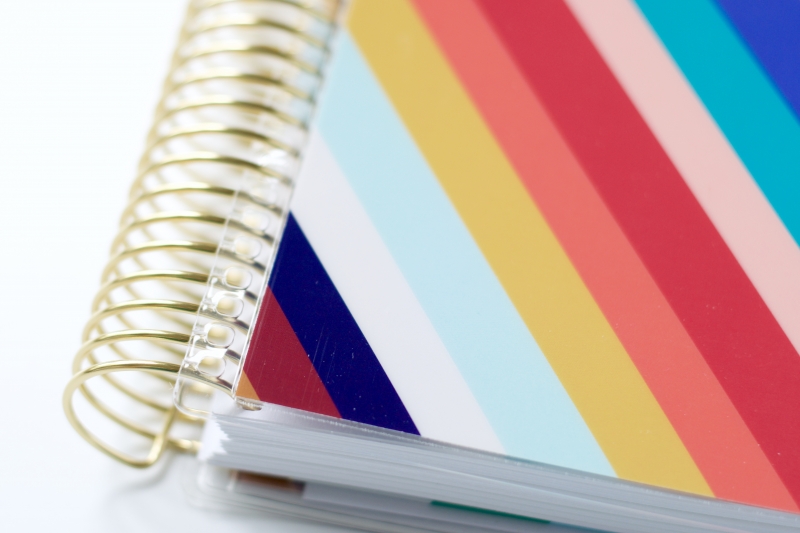 The cover is interchangeable and can be personalized and customized – making it the option with the most uniquely personal cover! The customizing option makes it fun to add seasonal and school spirit covers.
The interchangeable covers are a very heavy laminate cover (the heaviest laminate I've encountered on the market).
The layout of this planner is organized and functional!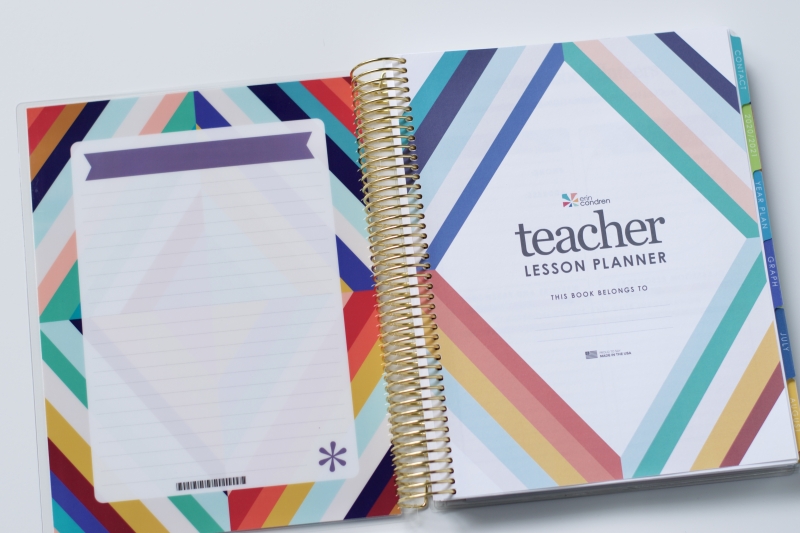 You'll find much about this year's coiled Teacher Planner similar to last year's planner – the order of the pages, the format of the pages – all the same. I'll walk through the entire Teacher Planner layout with you as if you're new to it.
On the inside of both the front and back covers are wet erase boards. I love using these whiteboards in the summer and in between semesters to outline my planning work.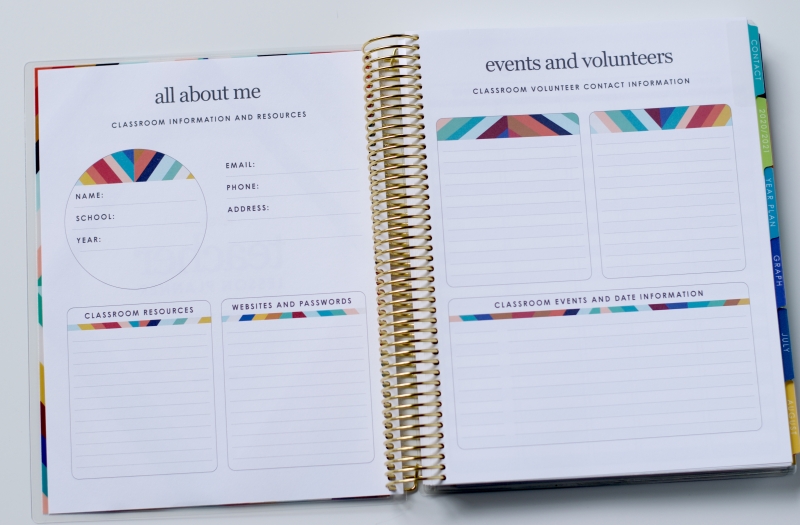 The first pages are dedicated to identifying important notes about your classroom, events, and volunteers. As a homeschooler, I repurpose some of these to reflect my own needs. For example, instead of volunteers I list educational DVD/video sources that I use instead of "substitute teacher."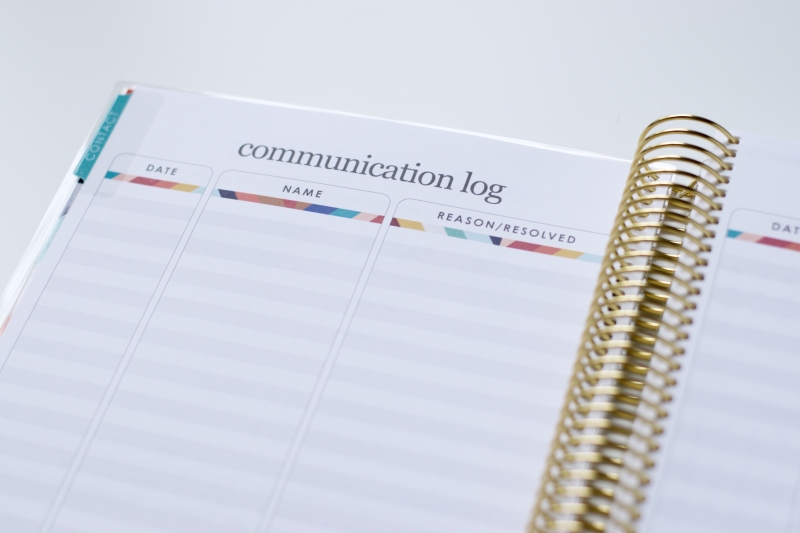 The next two pages are communication logs. In a school setting this is a helpful place to record conversations/actions between parent and teacher. In a homeschool setting I repurpose these pages to record the books my children read each year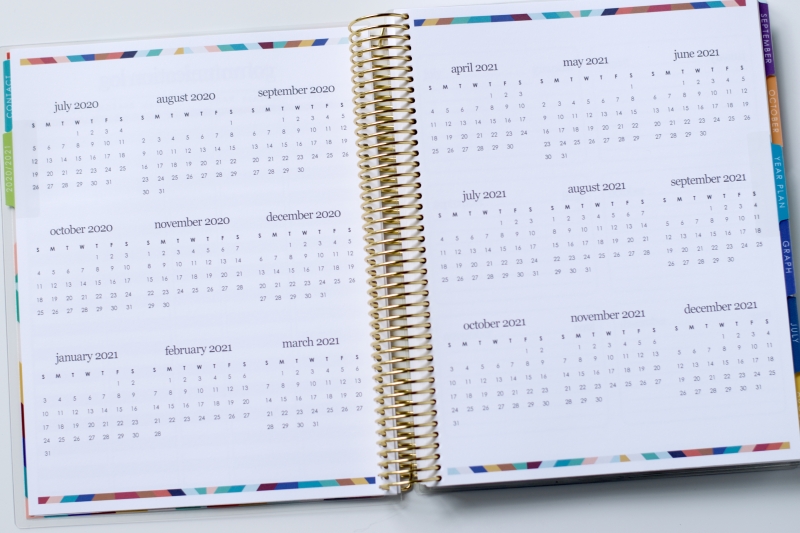 These are my two of my favorite pages in the entire planner! I use transparent dots to map out our year – our breaks, teacher weeks, planning weeks, end of semester dates, etc. This is my big picture overview and I refer to it frequently!
The next two pages are also favorite pages because I lay out a big picture overview of our year here. I note ACT/SAT testing dates, monthly themes, breaks, field trips. This has become a favorite reference page for me!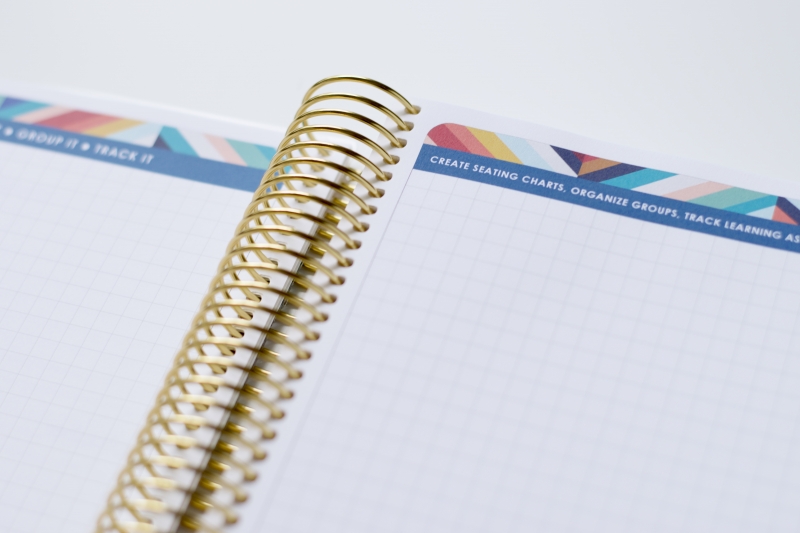 Next, there are four graph pages. I use these to map out my semester time management plan with a grid for time blocking our average day, and then I do some color coding to help me set a plan for my time – designating which student(s) will be working independently, and which student I will be working with one-on-one.
Following the four graph pages are two lined pages. This pattern of two lined pages follows through the planner – you'll find two lined pages at the end of each month's worth of weekly lesson planning pages.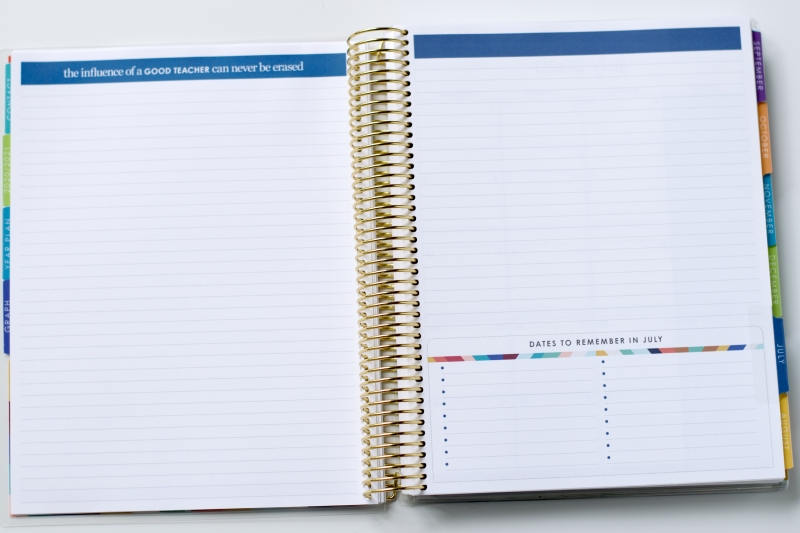 And then we get to the monthly section. Each month has two pre-planning pages to plan out the month. I love using these pages to note special historical anniversaries that I'd like to incorporate in our lessons, as well as our seasonally themed reading list and any other seasonal or liturgical ideas for the month.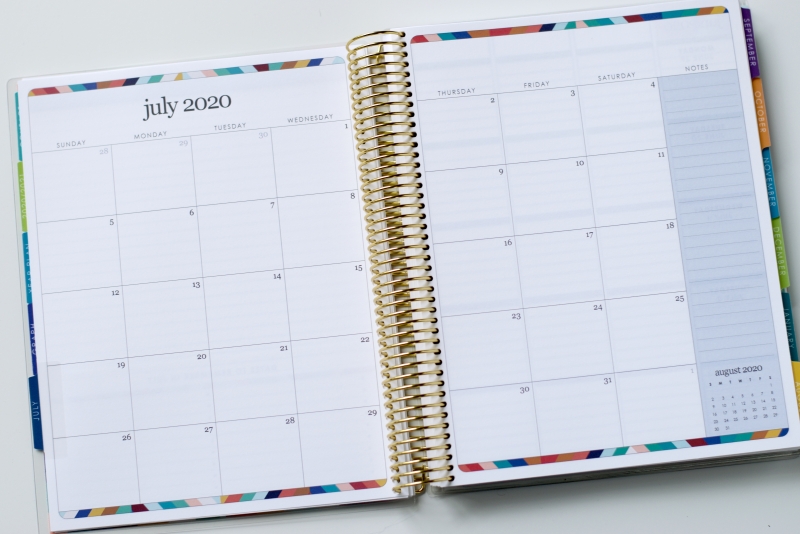 Each month is a dated two-page spread with plenty of room to plan out the big picture details of the month. I take my seasonal themed booklists and planning from the two previous pre-planning pages and begin to peg read aloud books or activities to days on this monthly spread. I also note any testing dates, outside classes, sports, or planned field trips. I love using the notes column to plan for monthly educational or habit goals for each of my kids.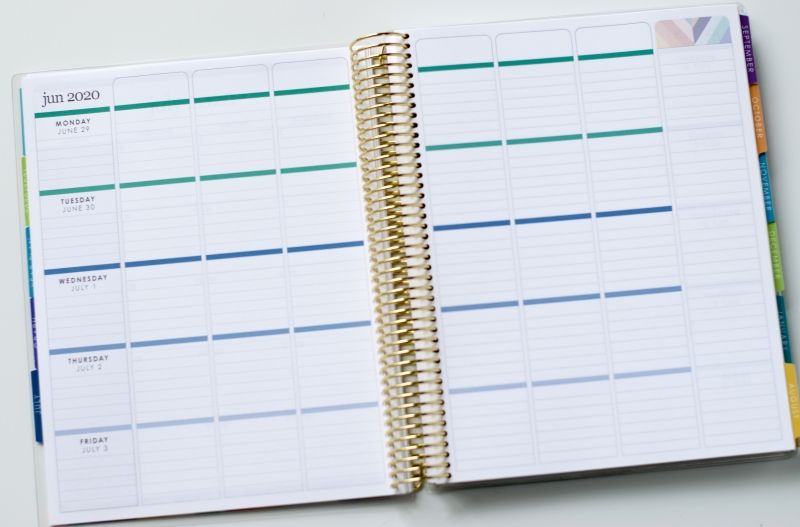 The weekly lesson plan spread is lightly lined (a necessity for me!) and minimal other than the ribbons of color.
One of the things I love about the Erin Condren Teacher Planner layout is the versatility of this page. Lately, I've been designating a column for each child, and then I use extra columns for common read aloud time, my own time blocking accountability, and seasonal pursuits. But you could designate columns by skills/subjects, or even designate a column for each block of time for your day – one column for 8 am – 10 am, one for 10 am – 11 am, a lunch break column, and so on. Versatility in the hands of an educator is a dream!!
The lesson plan monthly and weekly spreads run through an entire 12 months. When ordering there are four options for customizing your year and I love that Erin Condren allows teachers to choose what fits an individual teacher best! This is a unique feature!
July 2020 – June 2021

Always my pick and I'm so grateful it's an option because it allows me to do my summer planning IN my teacher planner! No planning and stacking papers and ideas while I wait for a TP dated to start in August or September. But, if that's your preference…

August 2020 – July 2021
September 2020 – August 2021
January 2021 – December 2021
Then, following each month's worth of weekly lesson plan pages, there are the two lined pages that can be used for reflections or notes through the month. Following those two pages, the planner cycles right back to the two monthly pre-planning pages.
There are 14 checklist pages coiled into the back of the Teacher Planner. You have the option of adding additional checklist pages when you order your planner – add 14, 21, or 28 additional checklist pages (for an additional cost).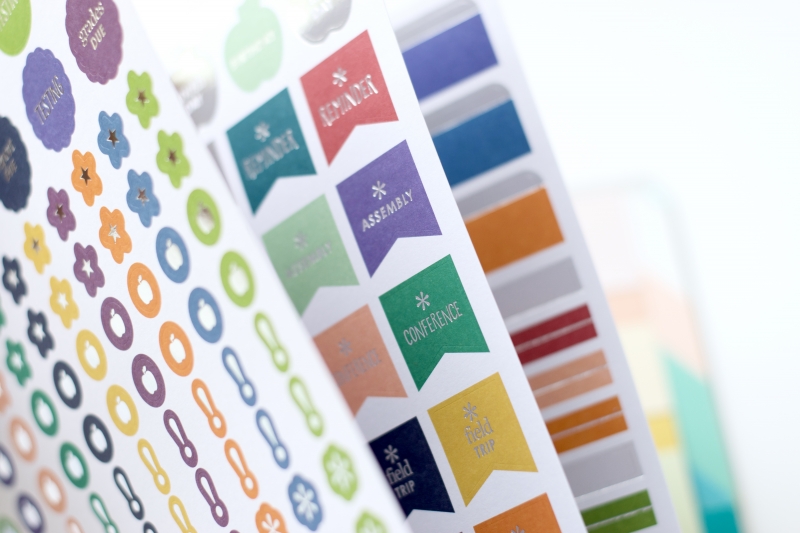 Both the coiled and binder Teacher Lesson Planners come with 4 full sheets of stickers coiled (or 3 hole punched) in as part of the inserts.
There is always a very useful coiled-in pocket folder – I love that there are accessible pocket flaps on both sides of the folder. Behind the folder are two coiled in sheet protectors. You have the option of adding up to two more sheet protectors when you order (for an additional cost).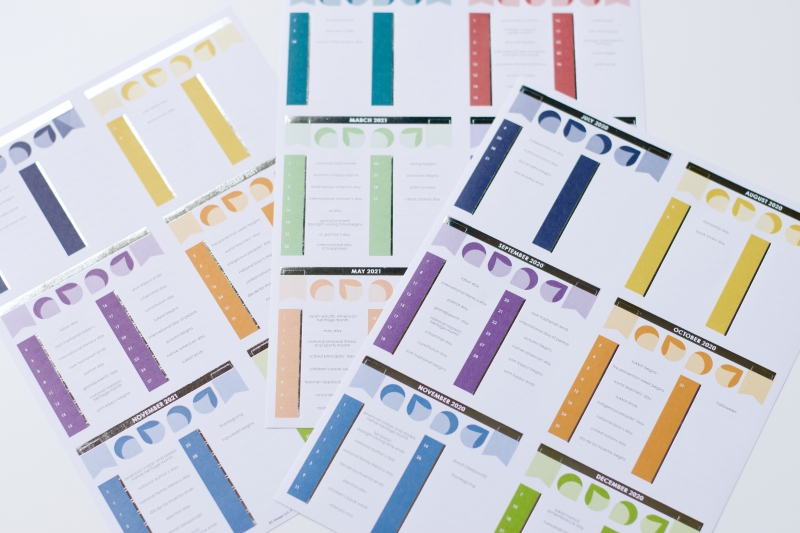 Included with the Coiled Teacher Planner is a set of dated holiday stickers. This was a new feature last year and I loved it! Add the holiday stickers that you observe! And there are plenty of extra stickers to add more events and holidays! These holiday stickers are also sold separately as a set on the site.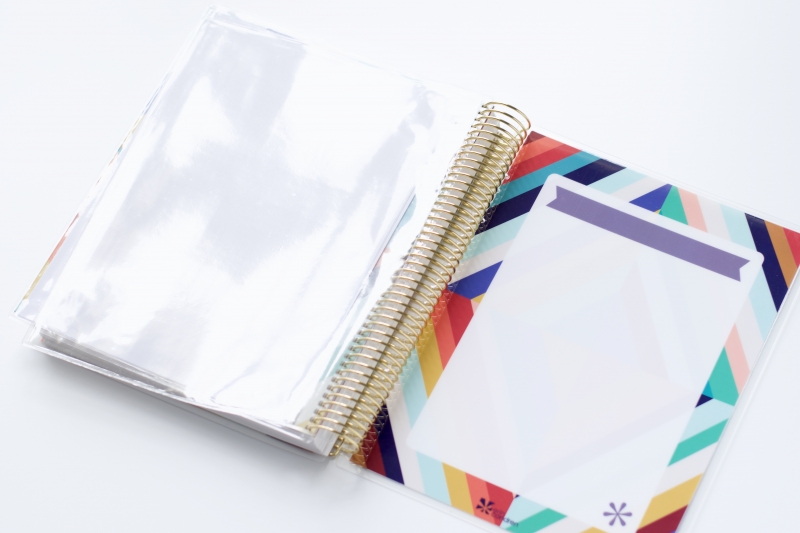 And that's it for the Coiled Teacher Planner! This functional and beautiful workhorse was the only option in the Teacher Planner line for many years! But that time is over! Now…you've got options!
Who does the Coiled Teacher Planner Work For?
I mean – she's the classic! She's worked for thousands of us for years! If you NEED your Teacher Planner to fold back on itself like you need air to breathe – this is your planner! Of the two larger planners (coiled and binder) I do think the coiled Teacher Planner travels better! So, if you need all-the-space-and-all-the-pages-to plan, then stick with the classic! This Teacher Planner is also the best fit for the educator that likes to personalize and change her cover out seasonally! If you love the freshness of changing the interchangeable covers on a coiled Erin Condren planner – stay right here!
If you're a home educator that prefers the functional design of a coiled planner, or if you…ahem…tend to misplace papers that aren't attached to something – stay with the coiled planner. Your plans aren't going anywhere in the coils!
---
Binder Teacher Planner
The Binder Teacher Planner $55
Insert size: 8 ½" x 11″
I have to be honest, when I heard that there was going to be a binder option for the Erin Condren Teacher Lesson Planner this year, I was excited! This new binder option offers the ultimate in organization and flexibility. And the more time I spent with the Binder Teacher Planner, the more I fell in love with its features. I predict that the Binder may be the runaway winner in the popularity contest this year!
The binder itself is a 2″ binder. The cover is a book-cloth wrapped thick cardboard cover. The binder inserts are standard 8 ½" x 11″ – the same size inserts as the coiled Teacher Planner. The paper is the same as all Erin Condren Mohawk paper – 80 lb. In fact, if you took a big stack of 8 ½" x 11″ Teacher Planner inserts before punching them for binding – you'd have the inserts used in both the coiled and the binder Teacher Planners. The only difference is the binding punch.
The punching on the 3 ring binder is a standard 3 hole punch – this means you can punch and add any resource papers you'd like anywhere you want in your planner! Now you can set up your teacher planner exactly as you'd like! Maybe you'd like just the current month's worth of lesson planning pages so that you have room for a bulk of your other lesson planning resources and printables? Now, you can do that! Or maybe you have printables for each child for the month – drop them in and organize away, all inside your Teacher Planner Binder!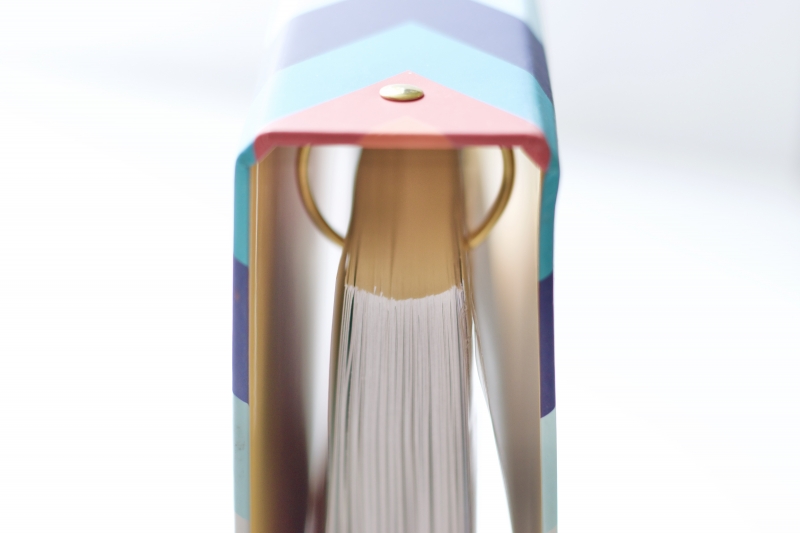 The order, size, and layout of the binder inserts is identical to the order and layout of the coiled planner so if you'd like to see the interior details of the pages of the binder – just refer to the images above of the coiled Teacher Planner!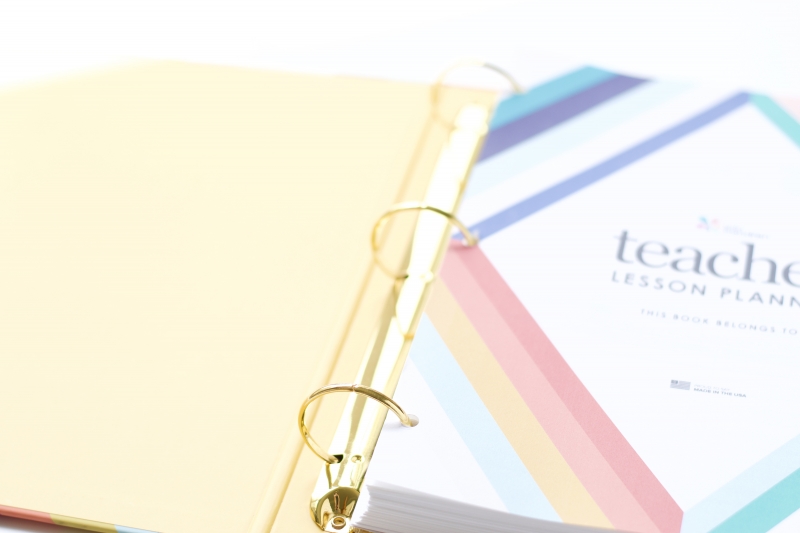 The rings are sturdy and strong and I want to emphasize again – this is a standard 3 ring binder, with 3 ring binder spacing. You can see how flexible that makes this planner option! The rings are metallic gold. There are no other metallic options or color options for the Binder Teacher Planner.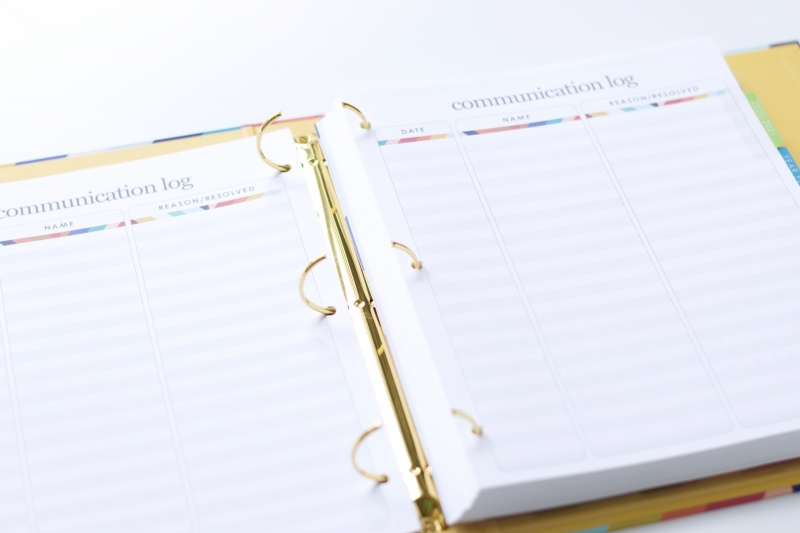 The rings open and close firmly and securely and all of my rings meet together nicely.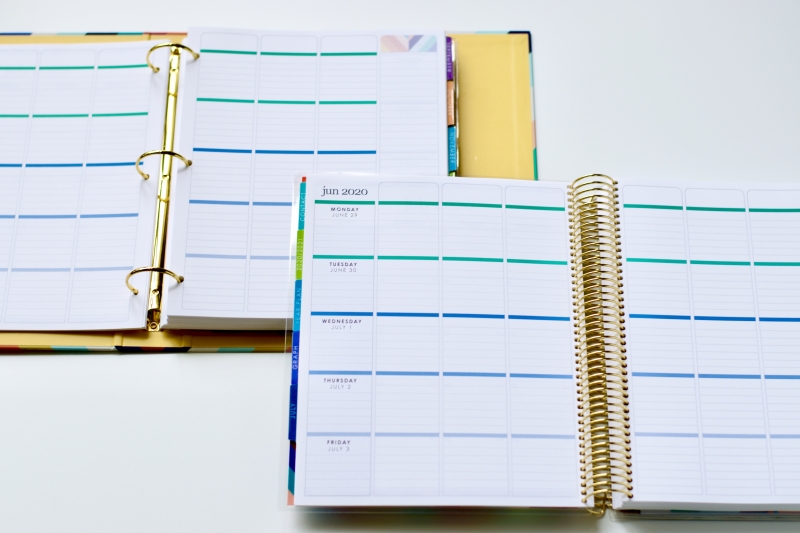 Above you can see the identical weekly lesson planning spreads.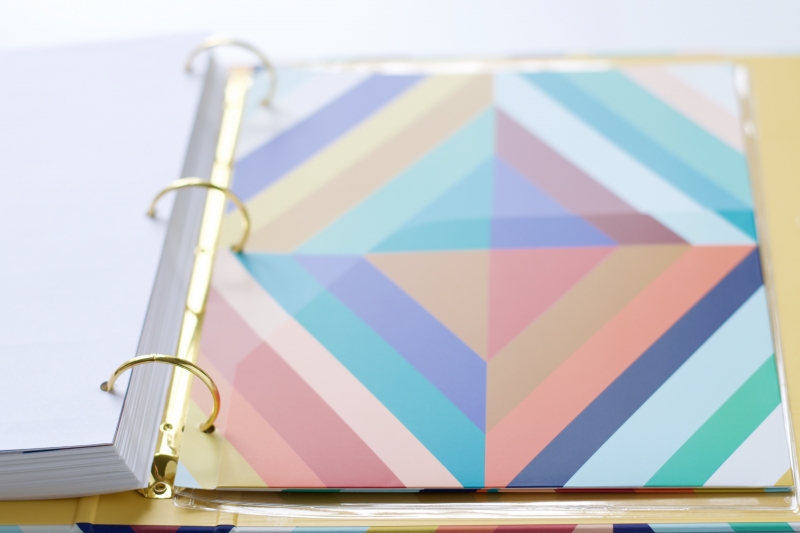 The binder includes the pocket folder as well as the 2 sheet protectors. I'm unsure at this time if we'll be able to purchase additional binder accessories.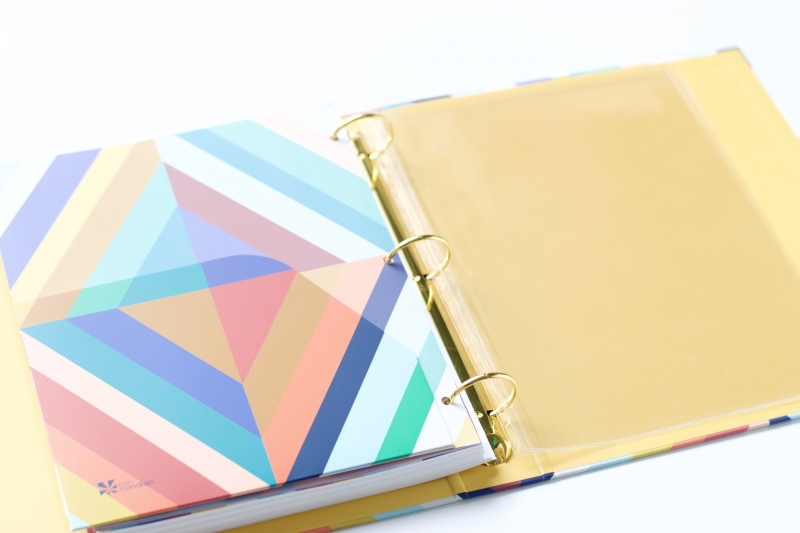 The binder is only available in the colorful Oh So Retro style.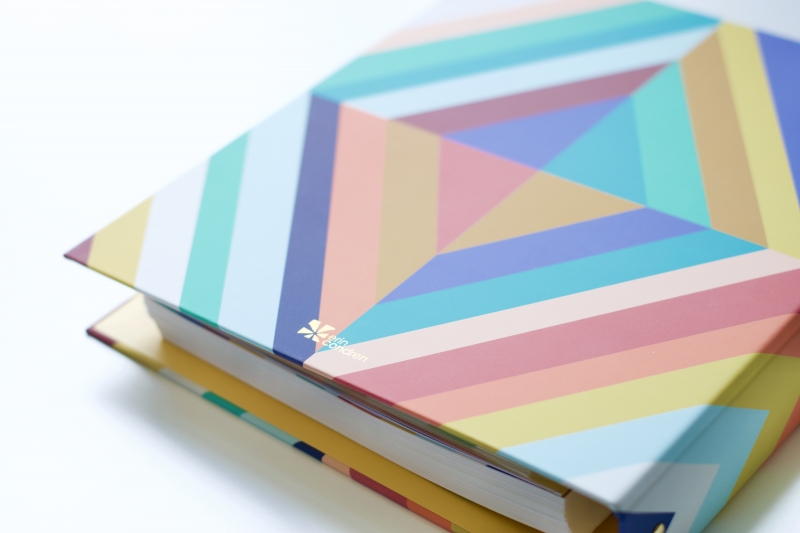 The Erin Condren branding is on the back of the binder, stamped in metallic yellow gold.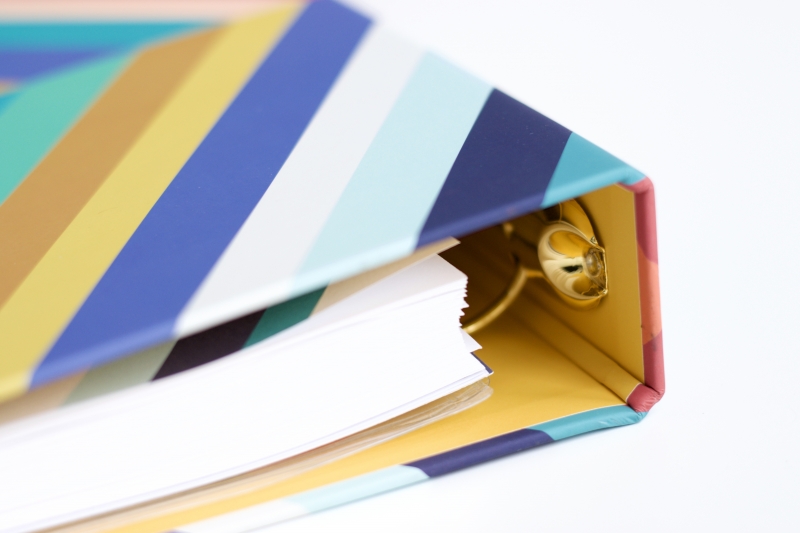 Who does the Teacher Planner Binder Work For?
This binder surprised me! The more I handled it and thought of the different, versatile ways I could add and subtract and move things around in my binder, the more excited I was about it! This planner wins hands down in the versatility column!
If you are a classroom teacher, this is probably your dream come true! It is bulkier to carry than either other option, but if you can deal with that, or if your planner lives primarily in your classroom – my stars! You can't beat the versatility of a 3 ring binder married to the gorgeous Erin Condren design and layouts. Add your resource pages, your class schedules; add it all!
If you're a home educator, I think this planner works well if you use a lot of printable worksheets that you could organize in this planner right alongside your lesson plans! I love that you can add your semester or term assignment grids right to your planner! You can add master math tracks for testing and rubrics for assessing writing. It could be your one-stop-shop!
---
Softbound Focused Teacher Planner
The Softbound Focused Teacher Planner $35
Insert size: 8″ x 10″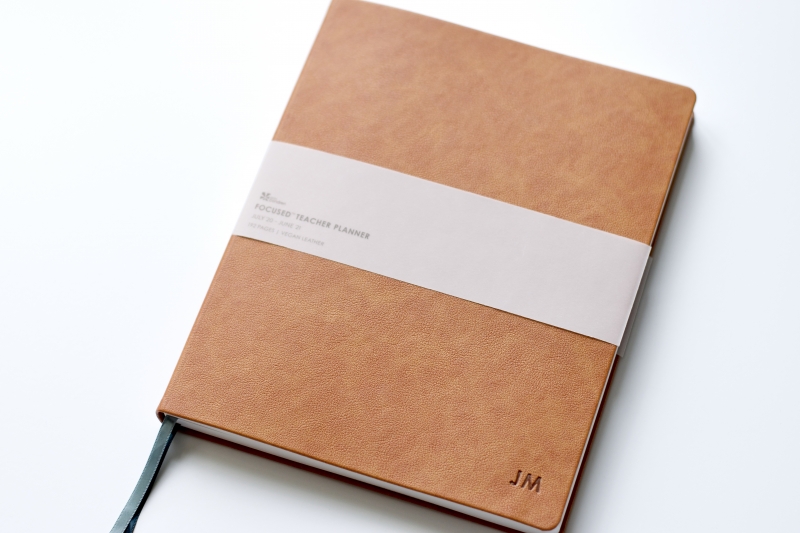 This year, Erin Condren offers educators three very different options! If you are familiar at all with Erin Condren you know she launched (over the last couple of years) a new Focused Line of planners and products for the person who appreciates minimal, clean lines, and functionality. The Softbound Focused Teacher Planner is the latest in the Focused Line and it does not disappoint!
The Softbound Focused Planner has a vegan leather cover in camel. (Note: there will be no other colors offered for the Softbound Focused Teacher Planner.) The planner is scratch resistant with a reinforced spine that opens up and truly does lay flat and open. It includes 2 satin ribbons for marking pages. As with all planners in the Focused Line, you have the option to blind imprint, and I think it gives the planner a sophisticated, luxe look!
Those of you looking for a more flexible and general planner layout capable of functioning in different ways (like a work planner) – this is a planner to seriously consider!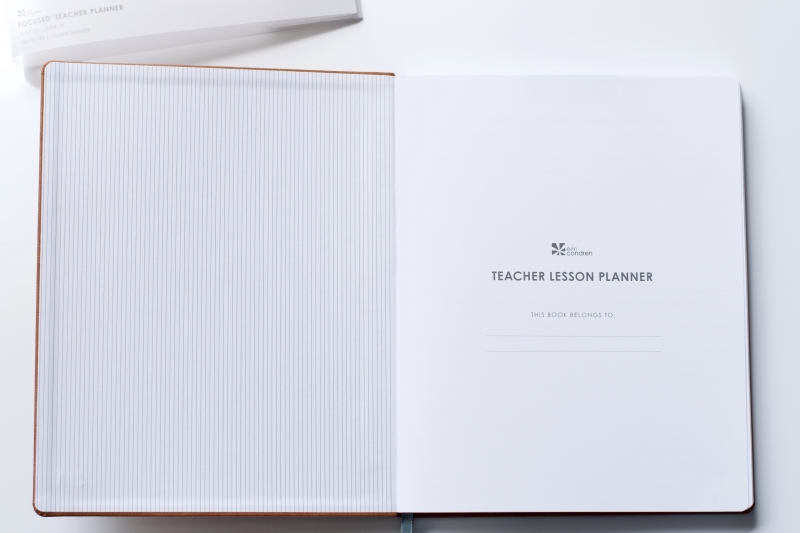 The planner has light gray pinstriping on the front and endpapers that attach to the bookboards! So classy!!! (EC, you had me at gray pinstripes!)
The pages of the Focused Planner are the same weight and quality as the other Erin Condren planners – Mohawk 80 lb paper. To me, the paper in the Focused Line has a smoother feel – a little less tooth than the LifePlanner and 8 ½ x 11 coiled & binder Teacher Planners.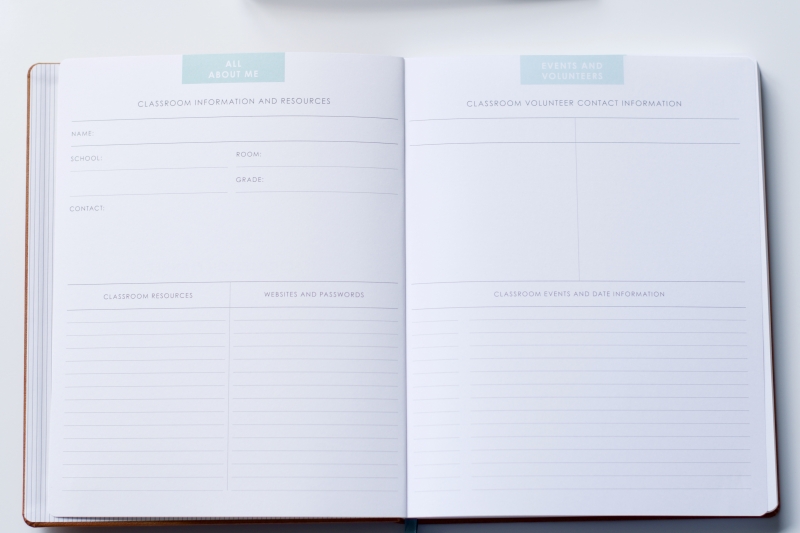 In terms of layout and page design, you can expect the same general content and order, with a few accomodations for the Focused design. The overall *feel* of the pages is minimal and clean. It's a marked departure from the designs and color of the coiled and binder Teacher Planners.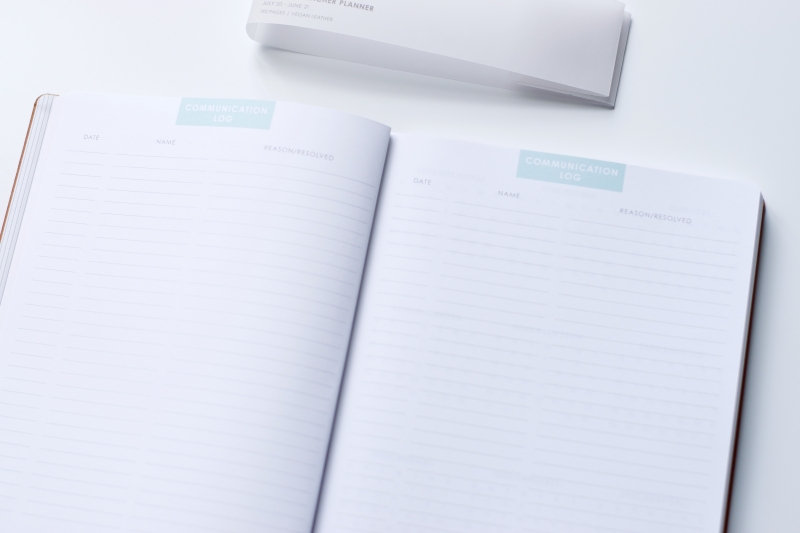 If you are a planner that enjoys stickers and adhesive design elements, you might find that they bulk up a planner that is streamlined and bound like the Focused Teacher Planner. The sewn binding doesn't absorb extra bulk like a coil or a binder with rings would, so keep that in mind! You could certainly add a small handful of stickers in the Focused Teacher Planner, but minimally! If you are a planner that likes to decorate every page, this planner may not be a fit for you. I mention this because using a lot of stickers to cover headings in order to repurpose this planner could add additional bulk.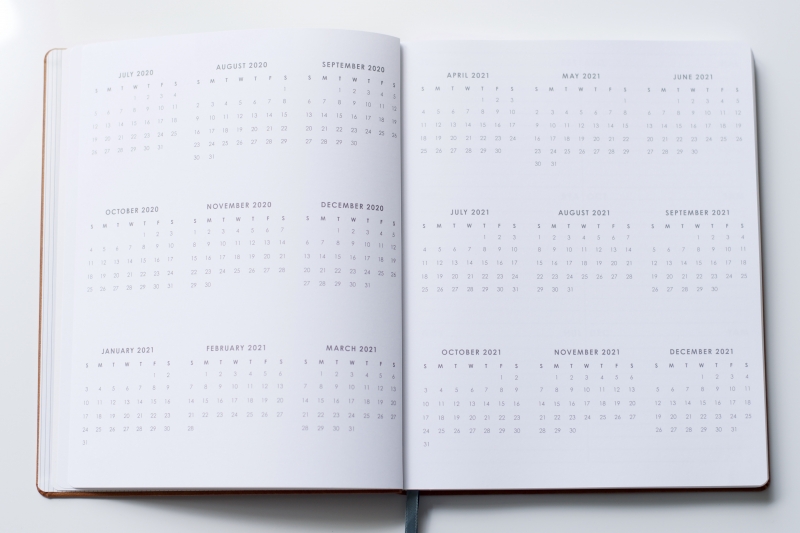 The same yearly overview is present…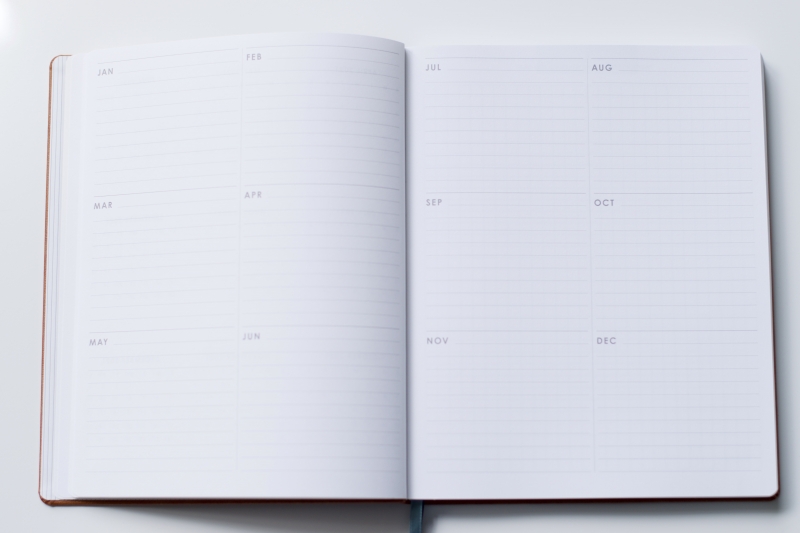 As is the two page spread with room to develop monthly themes and planning.
There are 4 graph pages and then the planner goes right into the monthly two page planning spread.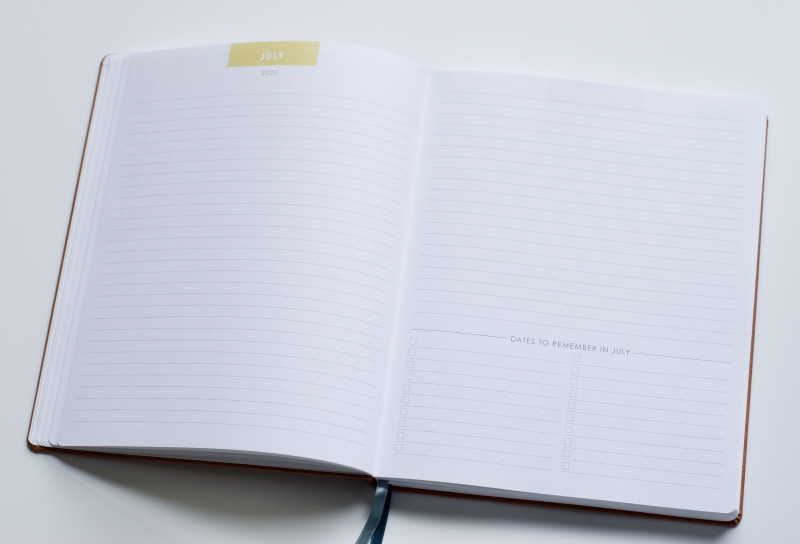 These monthly pre-planning layout pages are beautiful in their simplicity! You'll notice that the Focused Planner is not bereft of color! There are muted earth-tones that graduate in color throughout the planner – from yellow-gold to deep-gold to teals, navy blues, and grays. The color is presented in three ways:
A color block on the two-page spread before the month
A color block at the top of the monthly pages
The date numerals on the weekly lesson plan pages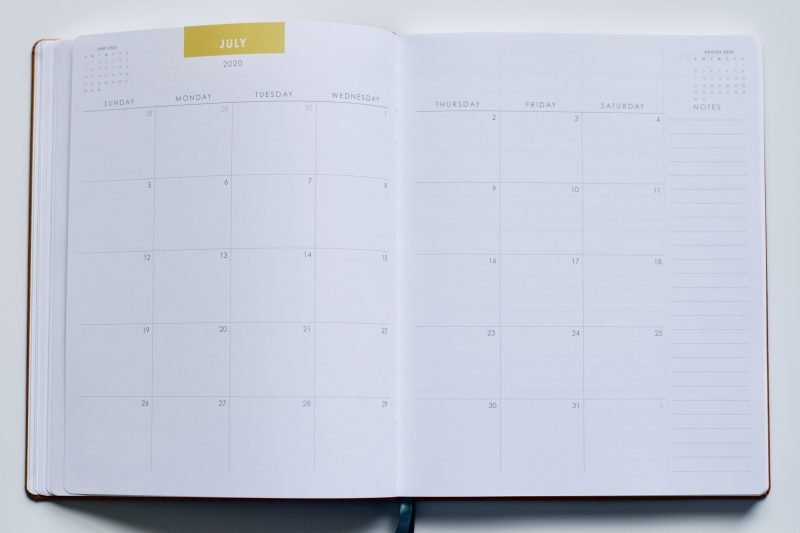 The monthly layouts are simple. Note that the there are mini monthly reference calendars in the top left and top right of each page. There is a lined notes column, but the rest of the monthly calendar is unlined. If I were going to add an occasional sticker, it would be on the monthly spread.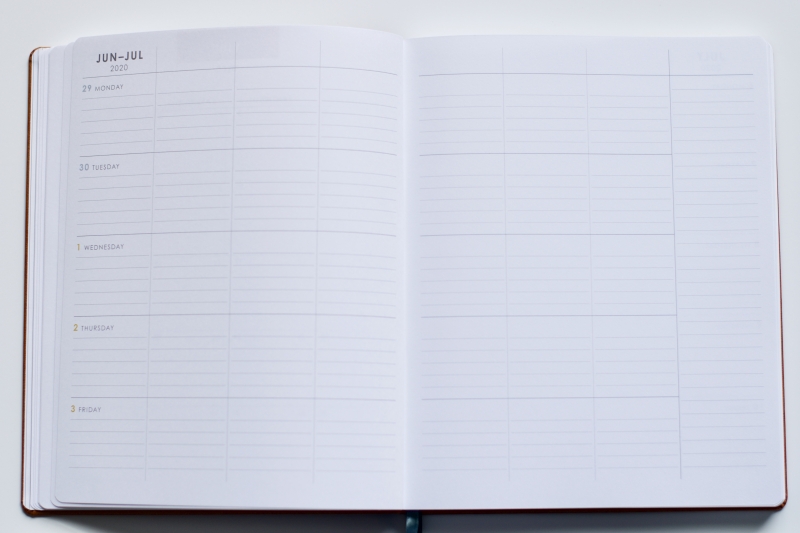 Turn the page and you get to your first weekly lesson plan page. Be still my heart! The clean simplicity and versatility of this page is breathtaking! Designate your planning columns however you wish and enjoy the lined planning boxes!
There are 6 planning columns and a 7th non-designated column that could be used for notes or even an additional student or subject – exactly the same as in the coiled and binder options! You have generous space at the top of each column to designate the column.
It is worth noting that this planner is slightly smaller than the coiled and binder Teacher Planners at 8″ x 10″. That is reflected in the planning cubes on the weekly lesson plan spread. There is a wide ribbon at the top of each individual planning "cube" to use as a header, I suppose, but there are only 6 total lined writing spaces in each cube, whereas the coiled and binder Teacher Planners have 7 lined writing spaces each. Keep that in mind because that is going to affect where the rubber meets the road in your every day planning if you need those 7 spaces for entries!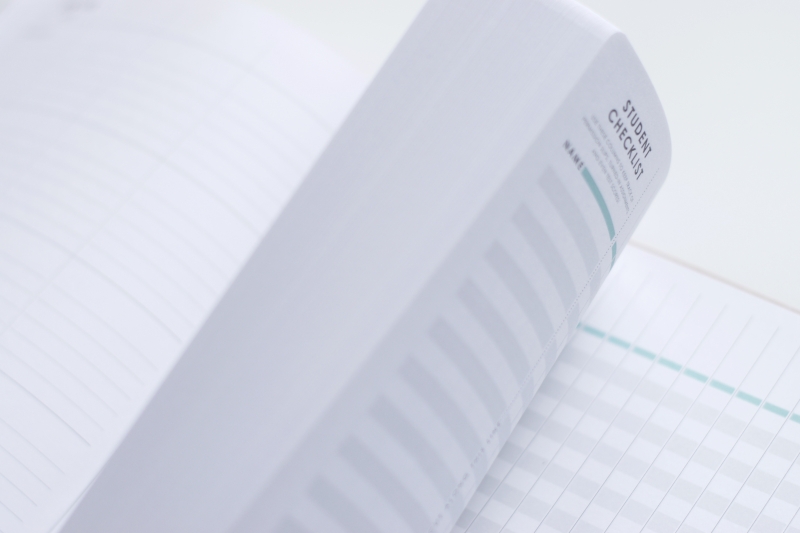 Another difference that reduces the overall volume of this planner is the removal of the two extra lined pages that are included at the end of every month's worth of weekly lesson plan pages in the coiled and binder options. After the month of weekly lesson plan pages, this Focused Teacher Planner goes right to the two page monthly pre-planning pages.
To make up for that loss, there are 10 lined pages at the very end of the planner. I happen to love this arrangement! I can keep literature, geography, and history notes all together in one place, but your options for the lined pages are endless! Versatility!
Finally, the planner wraps up with 7 (2 page) student checklist pages. Obviously, there is no option to add more to a planner with a sewn binding, so keep that in mind as well!
Who does the Focused Teacher Planner Work For?
If you are an educator in the school system that has formal lesson plans in a digital format or in a specific format required by your school system, but would love a way to connect dots and have an accountability tool, I think the Focused Teacher Planner is worth considering! I also think the Focused Teacher Planner will shine with those in administrative or support roles in education.
And for home educators, I think the Focused Teacher Planner works well if the detailed assignments of your lesson plans are on a printable you generate or purchase and you like a hub or central location for all the details. I like using my Teacher Planner as an accountability tool for myself, and I think the Focused planner shines for that purpose as well. It is not going to work well to coordinate a large number of homeschooled students if your family is large. Larger families should consider the coiled or binder Teacher Planner options!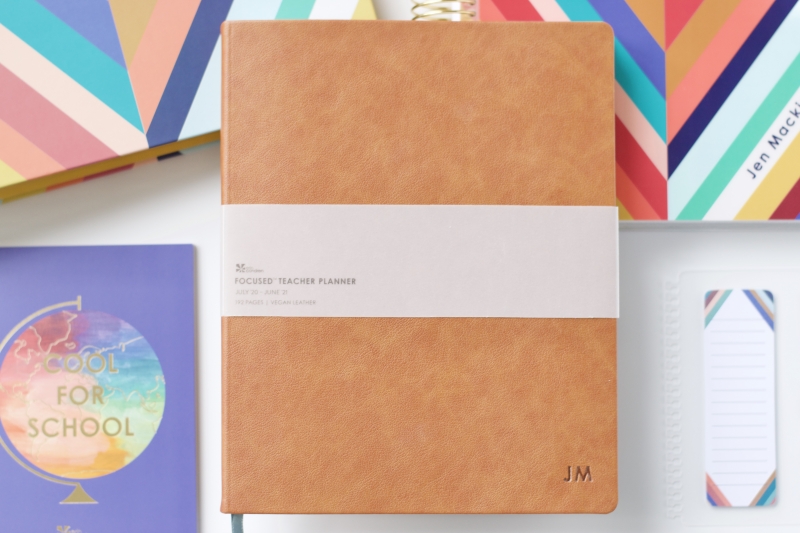 This year, the Softbound Focused Teacher Planner is my planner of choice!! I fell in love with its crisp, clean, all-function pages right out of the gate. However! I have to say that the Teacher Planner binder is in a close second for me and if we were in a different season, or there were more kids in the queue, the binder would be my pick!
---
Accessories
Every new launch there are new accessories to share!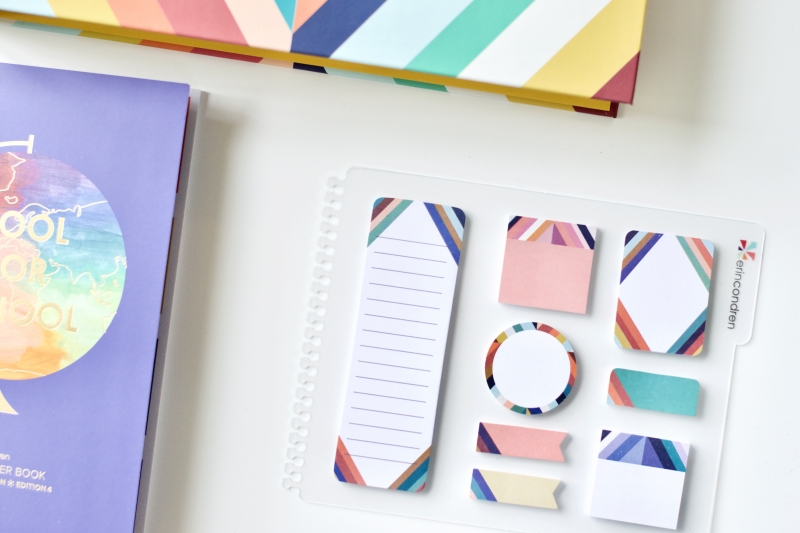 I love the Oh So Retro theme, and it translates beautifully onto the sticky notes! The sticky notes are probably one of my favorite functional-and-pretty tools – I love not having to commit to an idea or a possibility when forward planning! I can write it on a post it and leave it somewhere as a reminder! And if I want to make the post it permanent, a little runner of adhesive keeps it in place!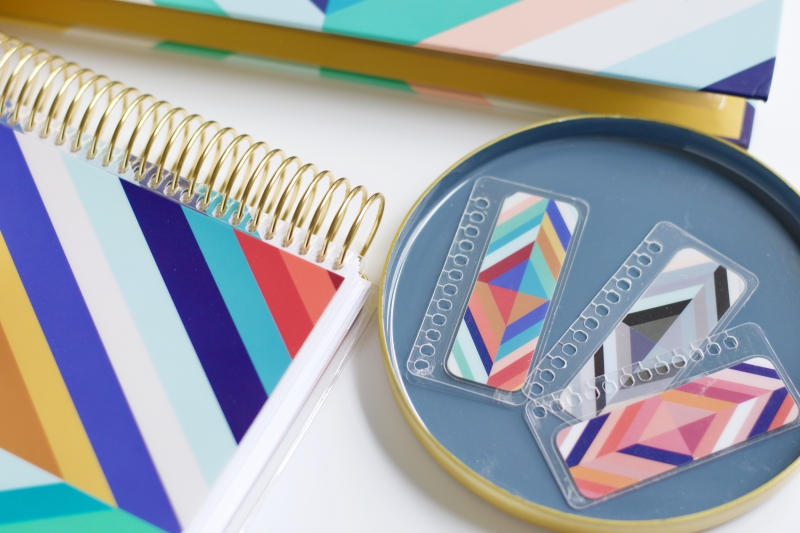 These snap-in coiled bookmarks come in a set of three and are perfect for holding a place in the coiled Teacher Planner!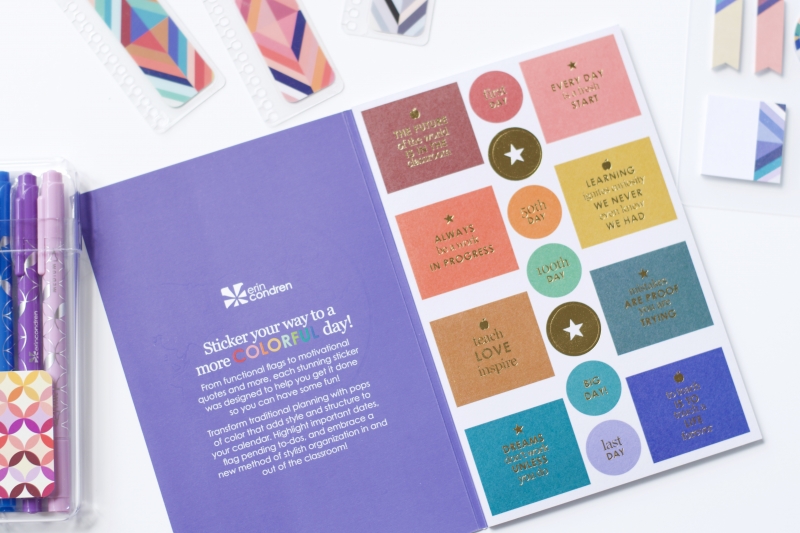 The new sticker book has a whole new set of beautifully designed stickers! My favorites are the colorful/transparent washi dots with silver foil which I'll use for my yearly overview pages to designate noteworthy days like beginning and end of semester. I'm also always a fan of the clear stickers!
You can click to enlarge the image above to see every single sticker sheet included in the sticker book! The sticker book strikes a nice balance between function and fun – there's something for everyone here!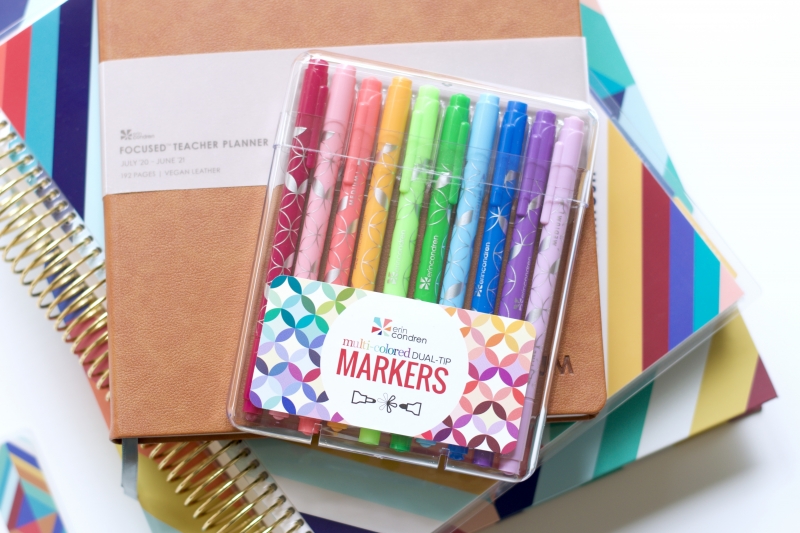 While the 10 pack of colorful dual tip markers aren't new, they are a great addition to your planning lineup, and not just for their pretty face! Color coding in the teacher planner is a huge help! I've always color coded my kids when planning! It's a great visual! Having colorful markers at hand makes color coding while planning easy – and this set happens to be my favorite!
Also – be sure to check out the new Erin Condren Teach Your Heart Out Line!
---
And that is the 2020|2021 Teacher Launch lineup from Erin Condren!
I'd love to know – which of the three very unique Teacher Planner options is your favorite this year? What are you ordering? Let me know in the comments!