Erin Condren LifePlanner Review | 2020
It's planner season!! That exciting time of year when we begin to look at the new planners and agendas that will be the paper tools that walk us through another year. And, I can't be the only person ready to close the pages on the first part of 2020, can I? Or at least, I'm ready for possibilities again, some fresh hope! And the pages of a new planner are just bubbling over with fresh hope and possibilities for fresh starts!
Every year, and every new launch, Erin Condren brings something new to the table, and this year is no exception! Her signature coiled planner line is extending and there are some exciting new accessories!
Launch for the 2020|2021 LifePlanner™ will be April 29, however, if you are signed up as an EC Insider, you get early access to shop on April 27 – 28!! And trust me, this year you want to be an EC Insider to shop early because the early access gifts with purchase this year are stunning! (pictured below!) Go sign up right now – it's free!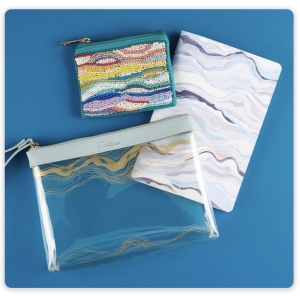 When you purchase your LifePlanner™ during early access (April 27-28th), you get TWO free gifts with purchase! Choose between the exclusive Layers Neutral Productivity Journal or Layers Colorful Beaded Coin Purse, and also receive a Layers Clear Clutch! (while supplies last) Are they not stunning? So…sign up to be an EC Insider so you can order early and grab the early access gifts with purchase! (Note: the clear clutch will still be a gift with purchase for the general launch, as long as supplies last.)
Quick housekeeping: the products in this post were provided by the team at Erin Condren! Thank you, EC Team! Though the products were gifted, the opinions shared are mine alone. Additionally, the links shared in this post are affiliate links – they cost you nothing, but I may receive a small commission if you purchase through them – thank you! Those commissions help me maintain this blog and my content!
If you're a first time Erin Condren customer head over through this link and set up an account and Erin Condren will email you a $10 coupon to use on your first order!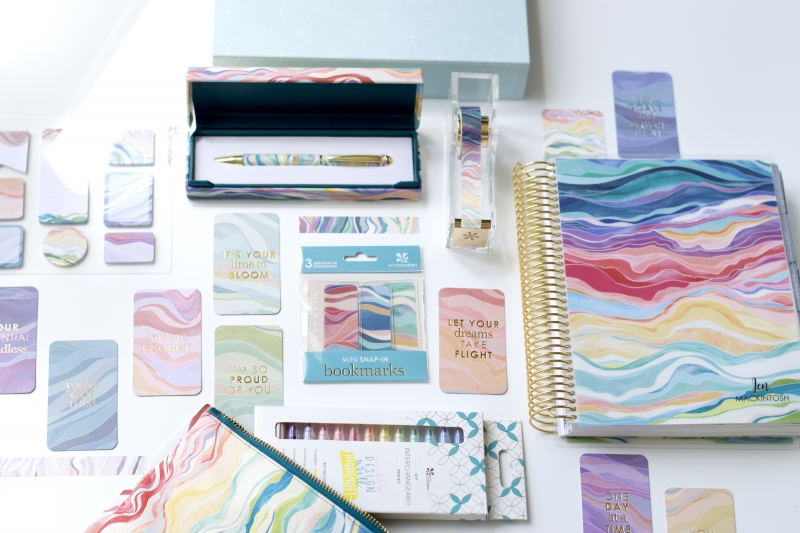 Before we start, let me share some of the qualities about Erin Condren planners that keep me coming back – year after year! I've been in EC planners for 8 years, and there is a reason that I'm loyal to this company!
Made in the USA! This feature has been with Erin Condren since the beginning! The coiled LifePlanners are printed and hand assembled – all right here in the USA!!! I love that my purchase is supporting local workers!
80 lb Mohawk paper. This is far and away the highest quality paper in any planner on the market! The paper is thick enough to take any pen (except a permanent marker) and doesn't bleed through or shadow. Pen and paper nerds, I hear you!
High quality coil! And this makes a HUGE difference – trust me! When you have a substantial planner, high quality paper, the last thing you want is a flimsy coil! The EC coil is rigid and gorgeous – in 4 metallic options (gold, rose gold, platinum, matte black). Which brings me to my next reason…
The options!! Each year, Erin Condren rolls out more options, different planners, different styles, and unique customizable features! More than any other planner company, Erin Condren has a planner and a style to fit each of us!
Customization – I love adding my name, a favorite quote, or a simple saying to my Erin Condren products! They're personal and unique!
Interchangeable accessories – my stars! How I love coordinating stickers and pouches and my covers! The coiled LifePlanner has covers that are interchangeable – snap covers on and off each season, each celebration, anytime!
The cost – I get it! This planner is an investment! 8 years ago I bought my first Erin Condren LifePlanner and it was a big step for me. When I purchased, I reasoned that my time has a value, and yours does too! Take the cost of your planner and divide it by the number of days your planner covers (that could be 12 or 18 months). You're going to average between 10 and 18 cents a day to organize your life! It's worth it! Your time has value and organizing and managing it for 18 cents/day is a bargain and worthwhile investment!
Alright, now that you know why I'm a loyal user of the Erin Condren LifePlanner, let's get started with this review!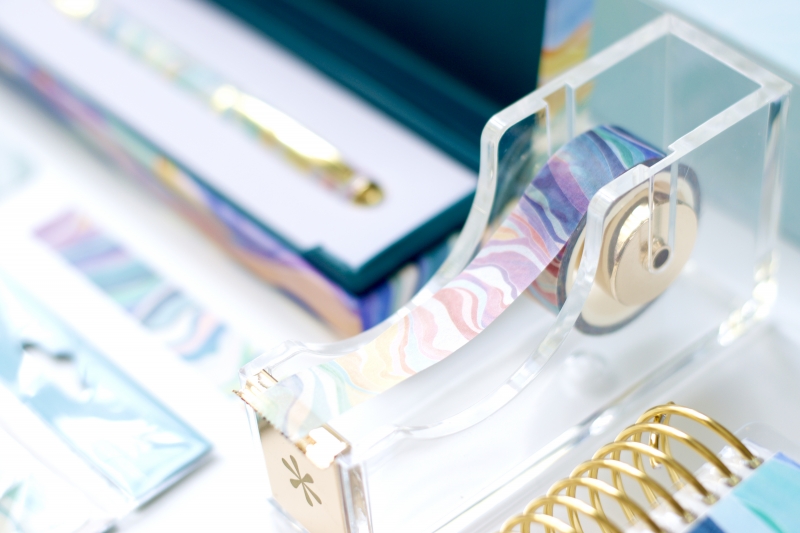 I am going to be sharing a lot of details and photos in this review, but I want to give you the basics first because, more than ever before, there are lots of options and layouts to customize and design a planner to fit you and your needs! The first part of this post is going to share all of the options that will be yours to choose on LifePlanner Launch Day, and then below those highlights, we'll get to the details! I've got 3 different planners to share with you this year!
---
Part 1 | The Highlights and Options
This year, there are 2 different design themes – Layers and Flower Power. The Layers design theme is offered in colorful and neutral. Please note that some layout options are limited in terms of design and color, so please read through the details below carefully.
Colorful Layers – this design theme is vibrant and you'll find each month has a particular color theme that is woven through the planner pages.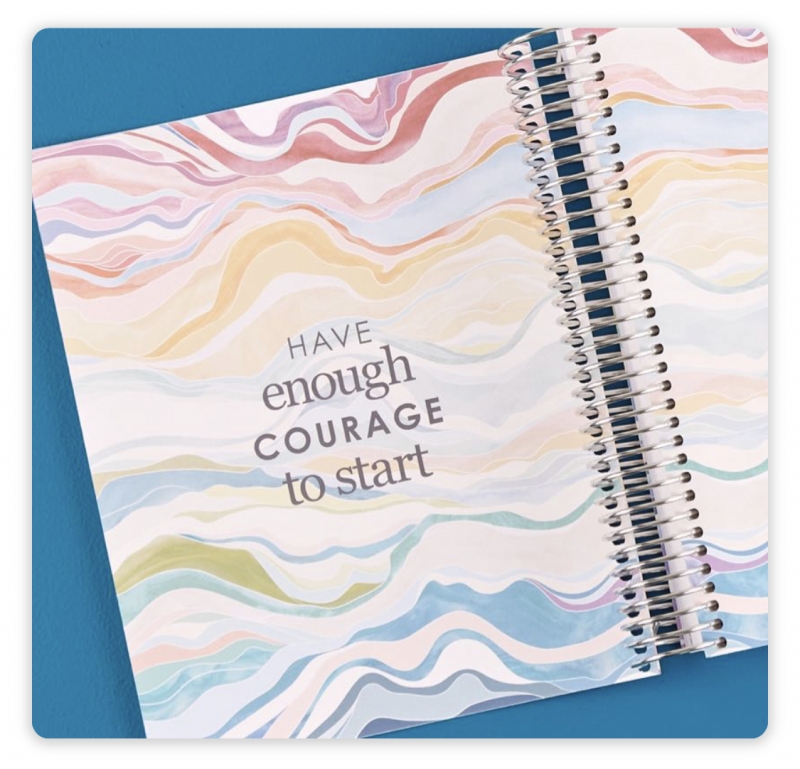 Neutral Layers – this design theme has a few soft pastel colors, but color has been removed from weekly pages – they are black/white neutral!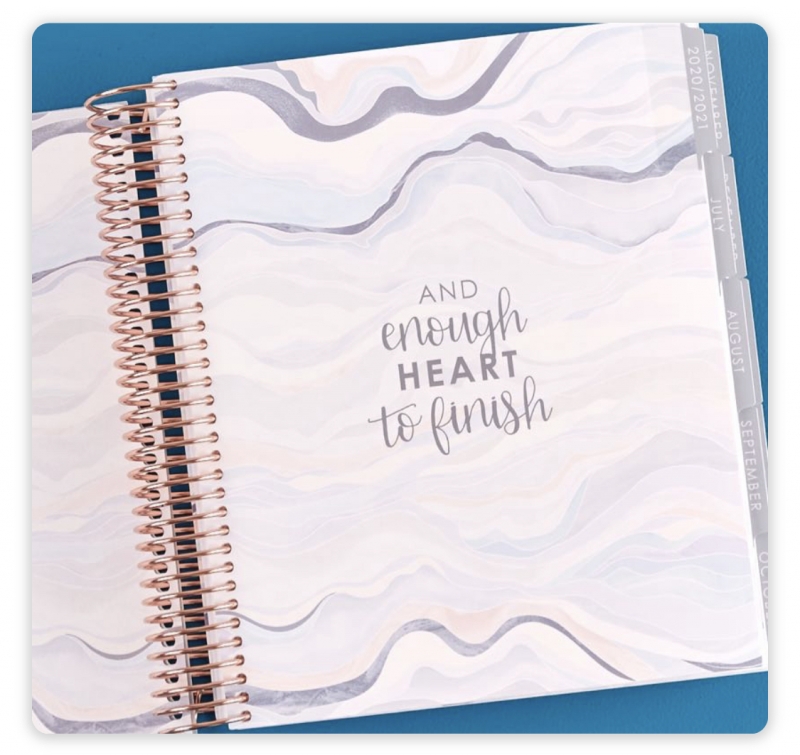 Flower Power – this year there is an additional theme that is floral – each month focuses on a particular flower. It's a colorful theme.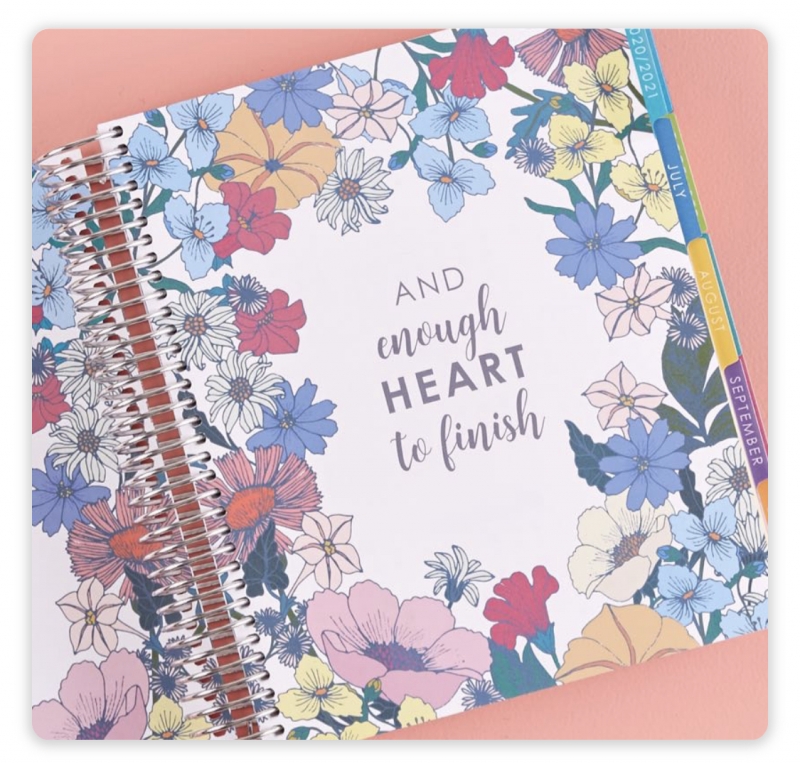 There are two different layouts – weekly and daily! And there are two different binding options – coiled 7×9 and a binder option. Let's take a look at the colors, design themes, calendar start date options, and coil/binder options within each different layout.
Coiled 7 x 9 Weekly
Base Price $55.00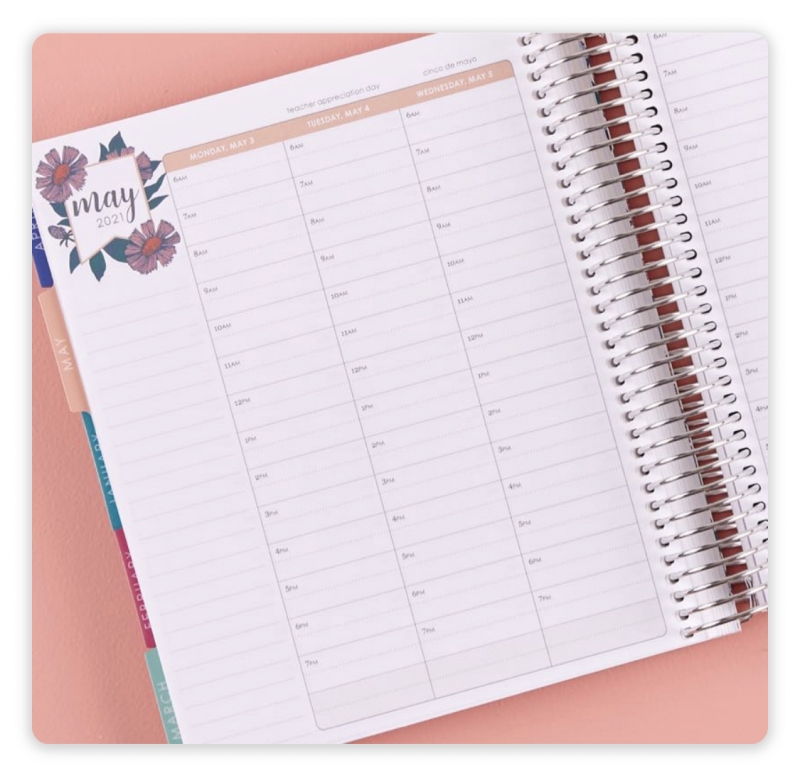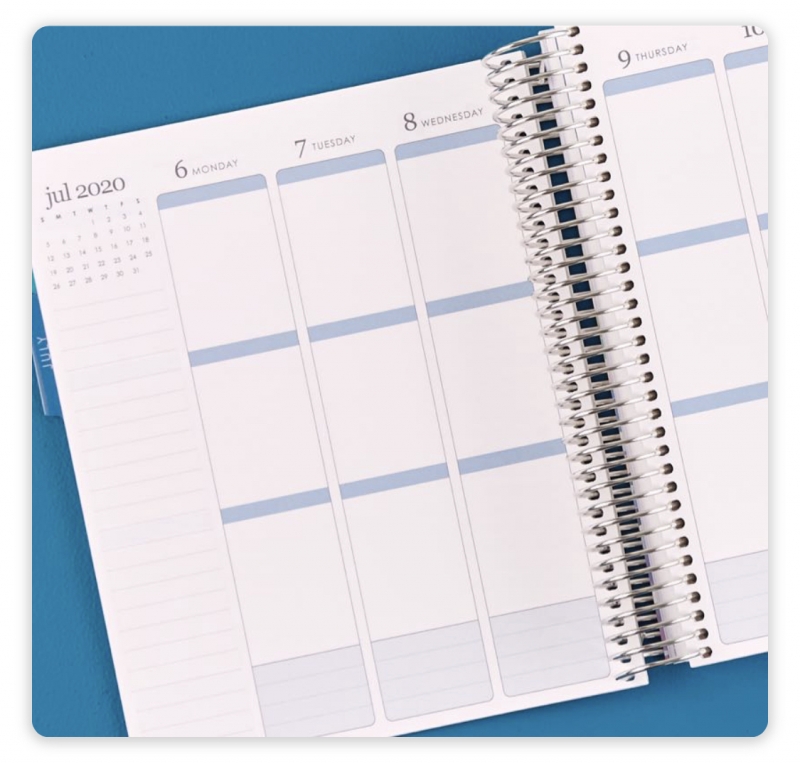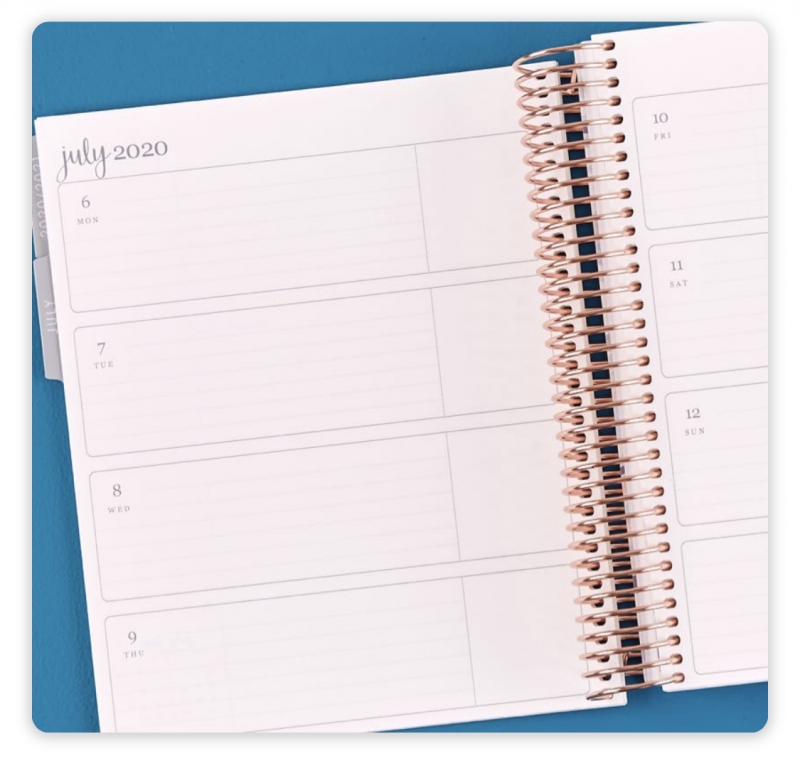 Each weekly layout offers you the following options to choose from:
colorful layers
neutral layers
colorful flower power
12 month option

July 2020 – June 2021
Jan 2021 – Dec 2021

18 month option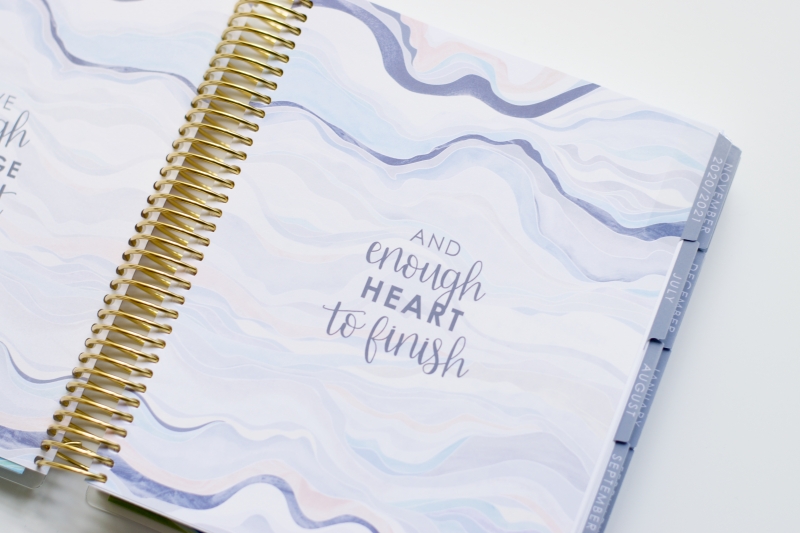 COIL OPTIONS
gold
platinum
rose gold
matte black
Coiled 7 x 9 Daily
Base Price $68.00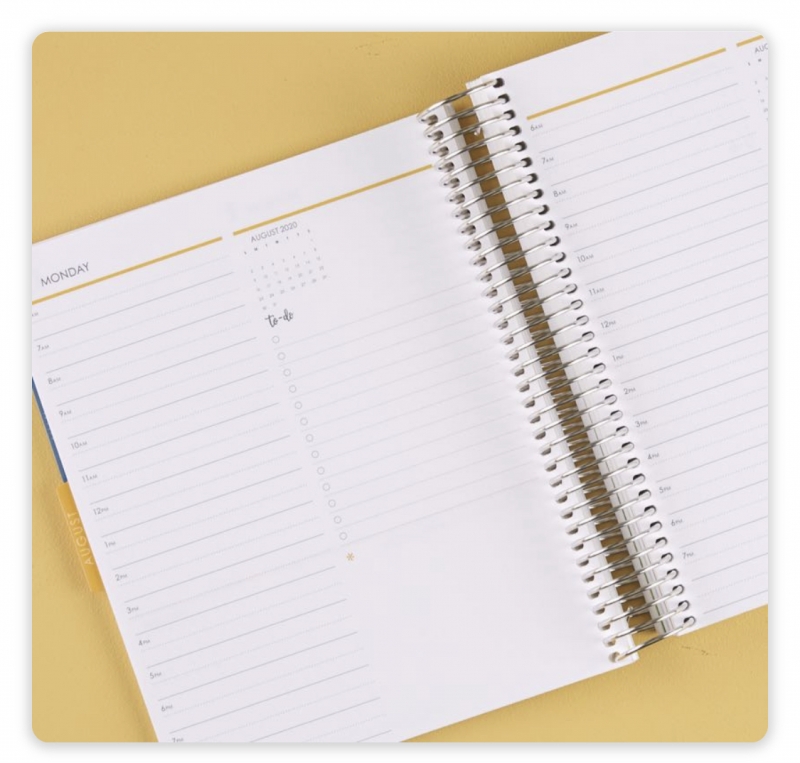 The daily layout is a set of 2 coiled 6-month (7×9) books. It is only available in the colorful layers design theme. Each day gets a full page for planning; Saturday and Sunday share a page.
These are the options offered for the Daily LifePlanner:
colorful layers
12 month only
(2) 6 month coiled books
DAILY COVERS:
You will have 1 cover choice
Your 2nd cover will be colorful layers – no options; this selection is chosen for you
You will receive a coupon for a free cover!
So…just to summarize, if you order the Daily LifePlanner set, you'll end up with 3 cover sets!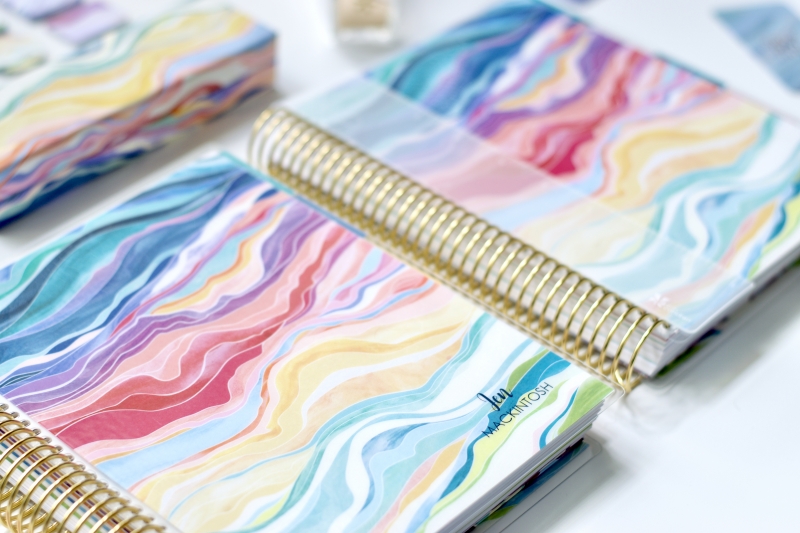 COIL OPTIONS
gold
platinum
rose gold
matte black
Binder Weekly
Base Price $60.00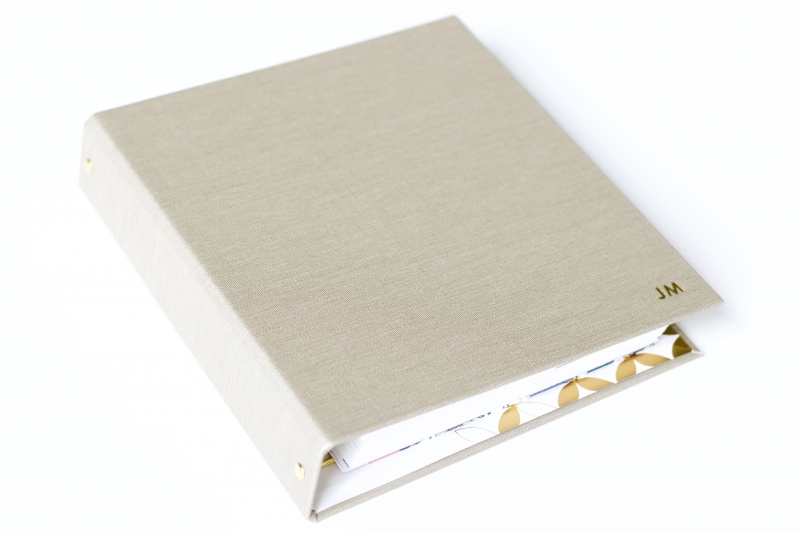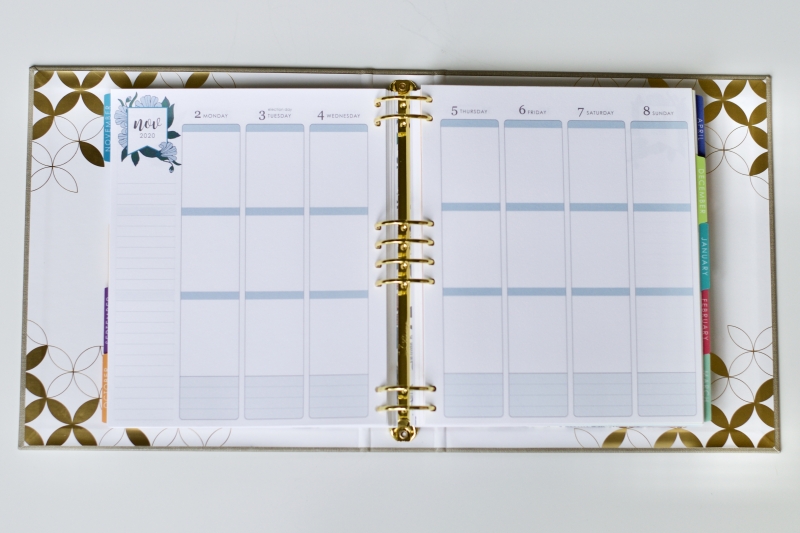 DAILY inserts will not launch now. They will be available in the fall.
Each weekly layout offers you the following options to choose from:
colorful layers
neutral layers
colorful flower power
18 month option
BINDER OPTIONS
Layers colorful
Layers neutral
Champagne (book cloth)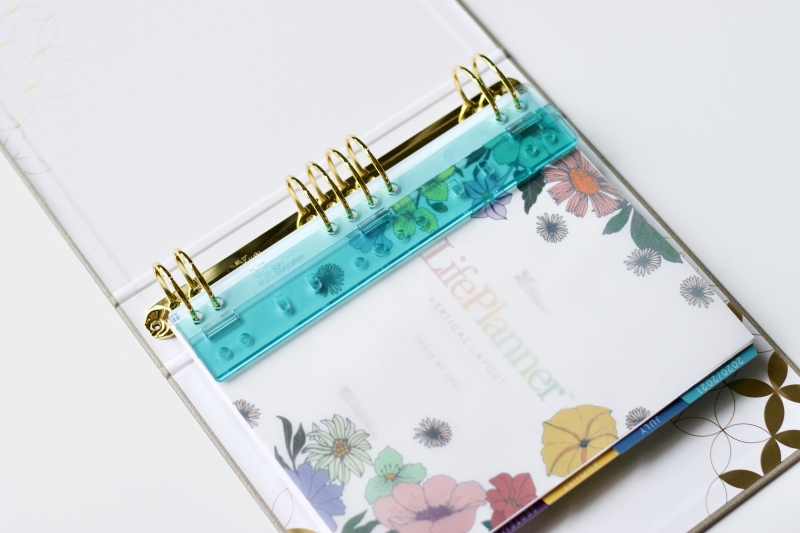 ---
Part 2 | Detailed Review
This year, I have 3 different LifePlanners to share with you! I chose them to try to show you different layouts and colors and themes. So, if you see Colorful Layers in this review, know that Colorful Layers will look like that in any planner you choose with that option! Here are the 3 different planners I'm sharing in this review:
Let's get started!
---
DAILY COILED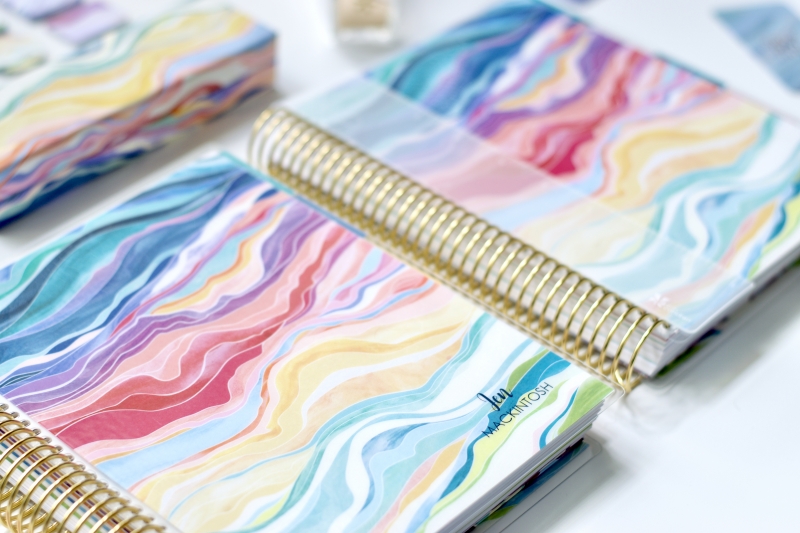 $68.00 base price (link to shop)
This year, for the first time ever, Erin Condren has created and released a Daily Set of 2 – they are calling it the Daily Duo! The set is valued at $80, but the cost was kept to $68 (there may be additional charges for metallic coil and metallic cover) and is a huge bang for the buck! With the Daily Duo set you receive:
(2) 6 month planners
A total of 3 sets of covers – 2 of them personalized!

You will be able to customize and personalize one cover when you order initially
The second cover – a colorful layers design – will be included (it is not personalized) with your second daily planner
And you will receive in your package a coupon code for a free 3rd interchangeable cover set that you can personalize at a later date!

And all of the standard free stuff that is included with every planner

3 compliment cards
2 gift labels
A perpetual calendar
The two daily planners are identical – both have the beautiful colorful vellum front page, and both begin with a title page. One book is for July – December 2020, and the other book is for January – June 2021.
It is worth noting that this year you have no choice in terms of color or design for the daily planner. There is only one option for you daily planners – Colorful Layers!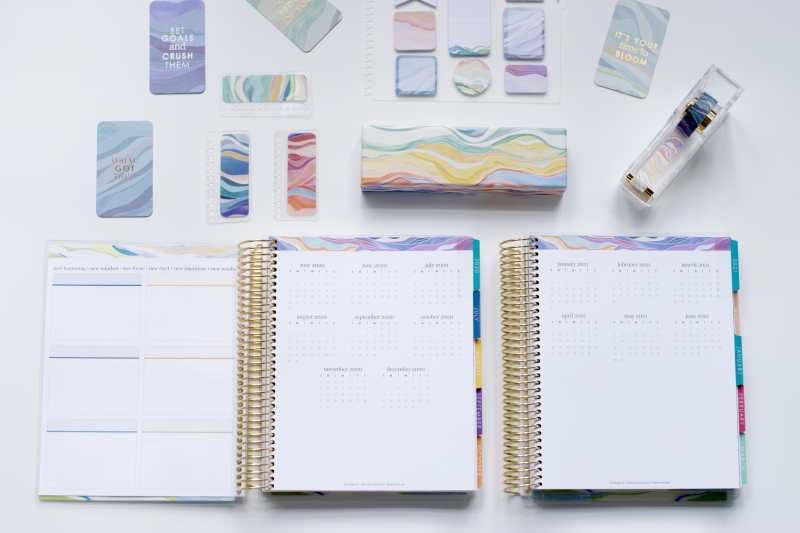 The next pages include a page with 6 "containers" for including future plans, goals, intentions – any new beginnings! I love that these boxes are open-ended! This means that you and I can designate them to work for us however we'd like! (This page is in both planners, I only pictured one)
The opposite page includes mini months for the months contained in that planner – so the 2020 planner has the mini months for the remainder of 2020, etc. Just below the mini months, the page is lined for you to note upcoming events.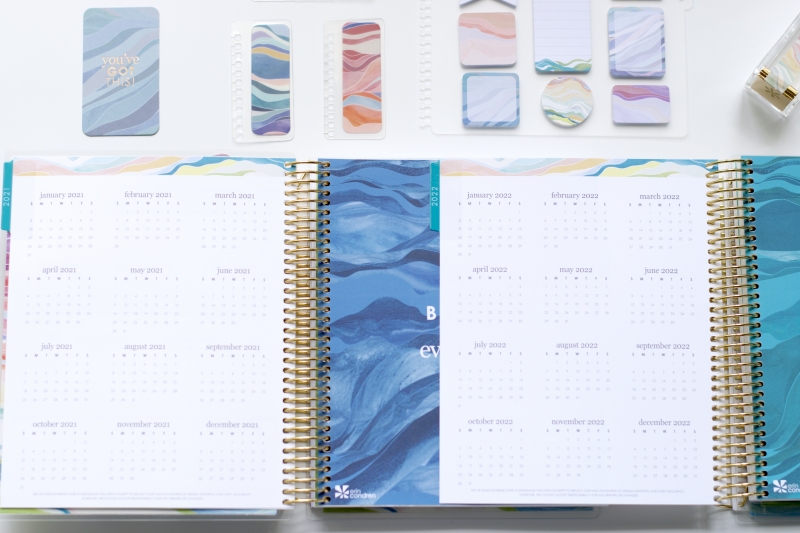 Turn the page and you have a full page of the future months – the months that follow that 6 month planner. I love using this page with transparent sticker dots to map out big events and travel for the year. It really helps me to have this big picture map!
Opposite the year of mini months is a colorful quote page and the tab for the first month of the planner.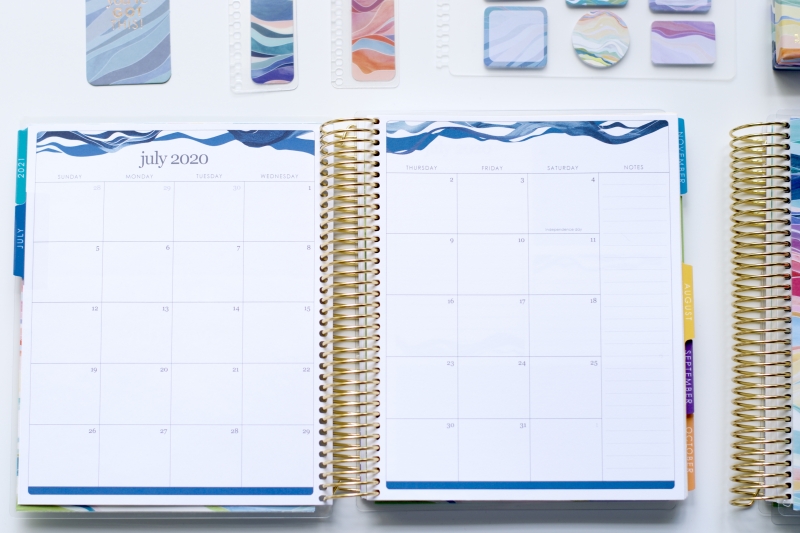 Grab the tab and turn to the monthly view. Each month has a different color theme. The tab indicates the color theme for that month, and you can expect to see colorful, almost watercolor-esque washes of the Layers pattern on all of the pages of this planner.
Other than the colorful designs, I appreciate the minimal text and decor on the functional parts of this planner. There is a lined notes column to the right of each month.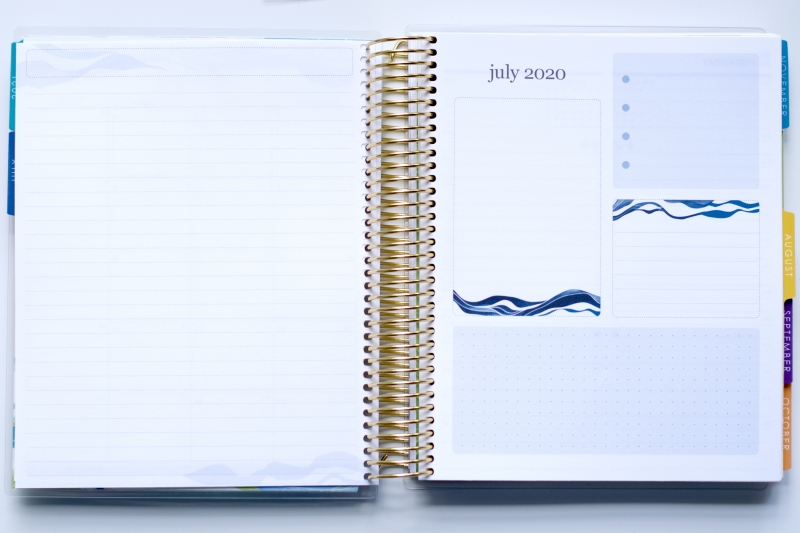 Following the monthly spread there is what I call a dashboard spread. In last year's planner this dashboard spread was immediately behind the tab and Erin Condren planners everywhere begged for the tab to turn to the month – and EC listened! In fact, there are a few changes in this planner that are a direct result of EC listening to her customers! I'm not aware of any other planner system that takes its customers requests so seriously!
The dashboard pages can be used however you like! This is another change from last year! We requested non-labeled boxes, and we got them! There are no labels anywhere on these pages – so use them how YOU like! Manage your budget, plan your content (that's how I use them), map your monthly goals, use them for memory keeping! It's up to you!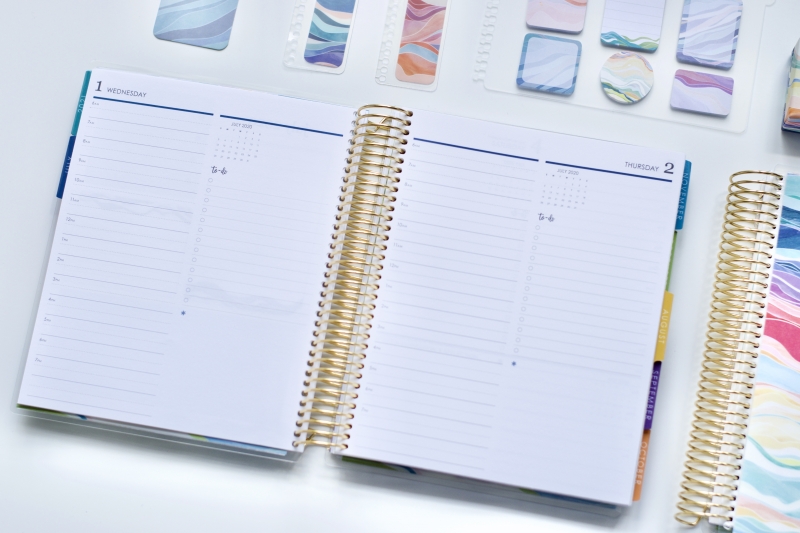 Turn the page and you get to the heart of this planner – the daily pages! How beautiful! A full page for each day of the week! The left column is timed – from 6:00 am – 7:00 pm – and has a blank entry at the very bottom to be designated by you.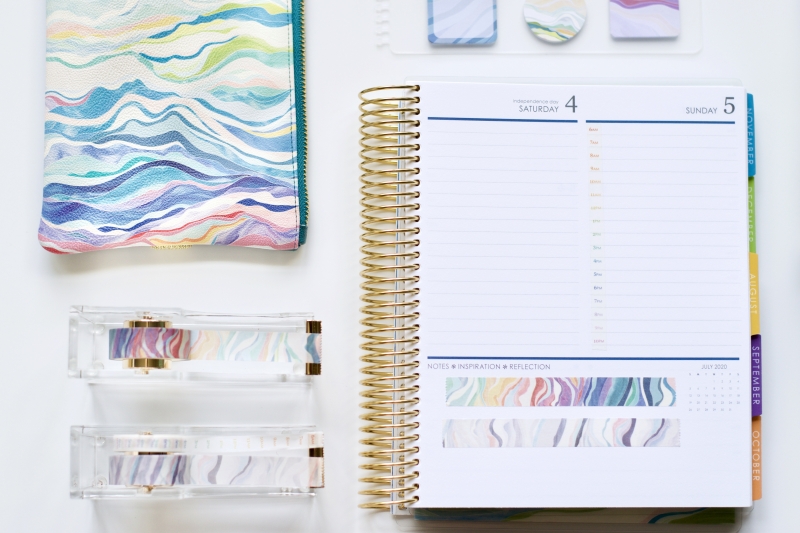 I tried using the productivity washi tape on the weekly daily pages, and it doesn't line up with the timed segments. I thought that might be a great hack for those of you that need different time segments, or a longer day. Maybe we can request a productivity washi that fits the weekly time segments. It also doesn't really line up on the weekend line segments either – about 5 of the hours line up…and then they start to be off, so you could use the washi, but you'd have to cut it at every 5 hour segment and reposition so it will line up with the weekend line segments.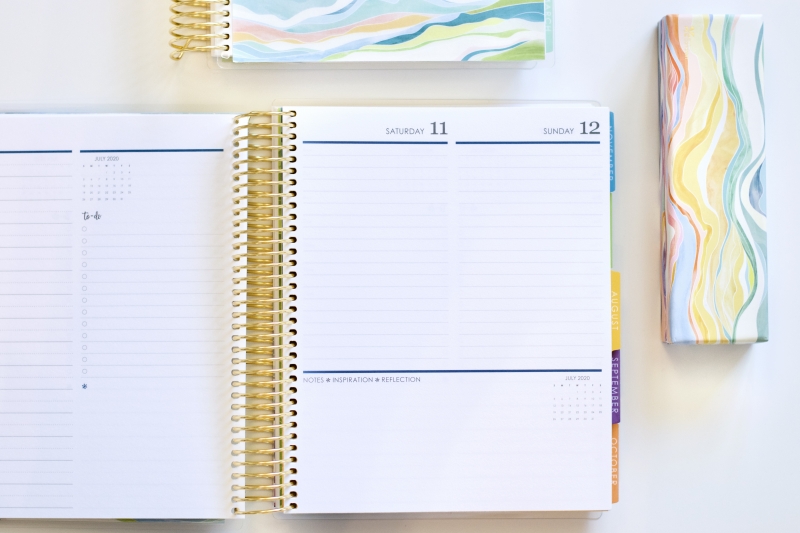 The weekend fits on one page in the Daily Planner. The Mokawk paper is substantial – and this planner is already so big that it has to be split into two books. So…that's why the weekend has merged onto one page together. Having said that, in this 7 x 9 planner, I think the page has plenty of room to note weekend events and lists!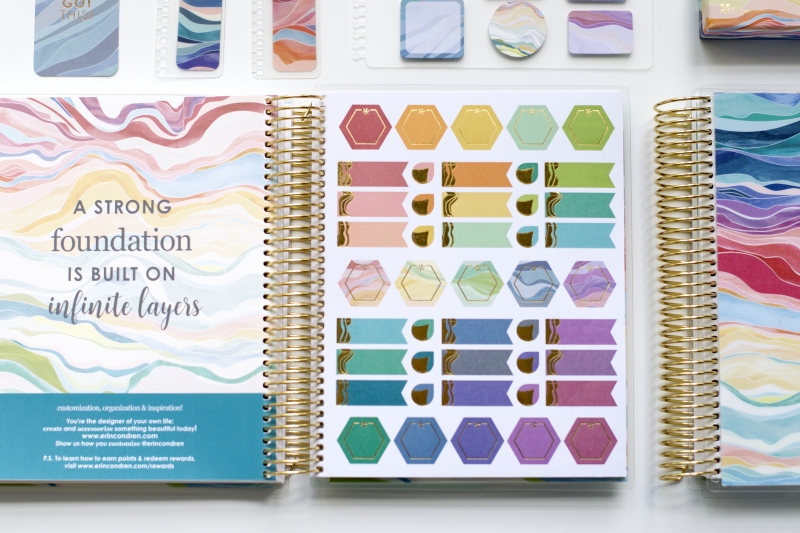 After the 6 months of daily planning pages, the Daily Planner has two lined pages and then it goes straight into what the Erin Condren planners are known for – the coiled in stickers! I'm a pretty functional planner, but I enjoy using a few stickers and I love grabbing them right from the back of my planner! Maybe you're unsure about stickers, or don't want to spend a lot extra on stickers? Erin Condren has you covered! There are 4 full sheets of gorgeous stickers coiled into the back of BOTH of your Daily Planners! This first sheet of stickers has (yellow) gold metallic accents.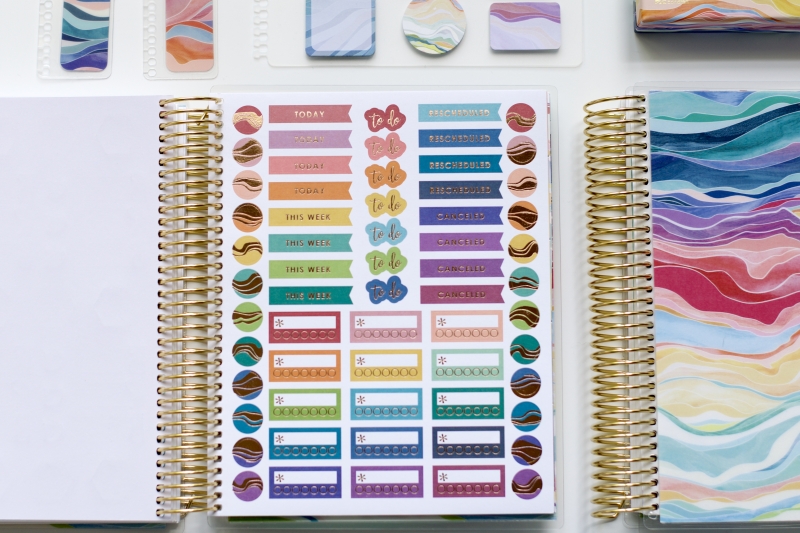 There is no skimping here either – the stickers are beautiful, colorful, coordinate perfectly with the colorful palette in this planner, and they are full of metallic detailing! This page of stickers has rose gold metallic accents.
P.S. Did you see the "cancelled" sticker up there? Does anyone else need about a hundred of those right now?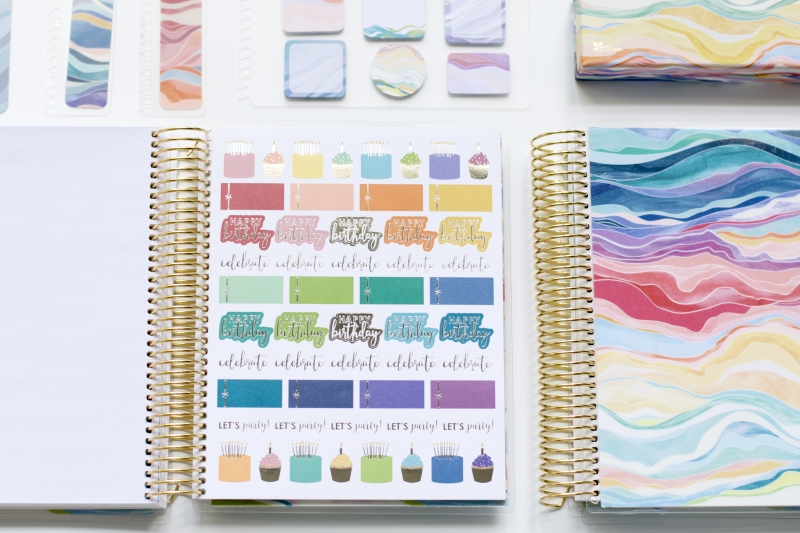 Aren't these birthday and celebration stickers adorable? The metallic on this page is a vibrant silver/platinum.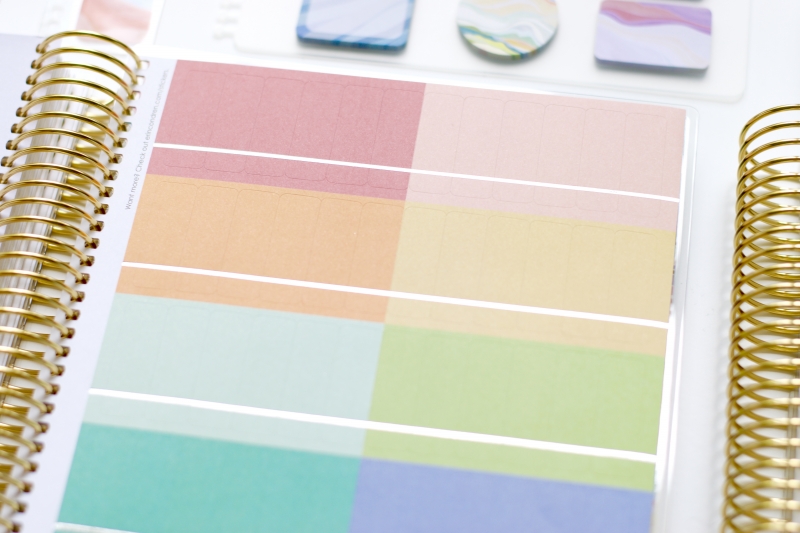 Last sheet of stickers and this one is my favorite! You may have to click on the image above to enlarge it enough to see detail, but this page has 60 colorful event stickers – all in colors that coordinate with the monthly colors! I love grabbing these for appointments that need to stand out! (It is REALLY hard to capture metallics on camera, and this metallic washed out a bit in my photo, so I thought I'd let you know that those are rose gold ribbons of metallic in the event stickers.)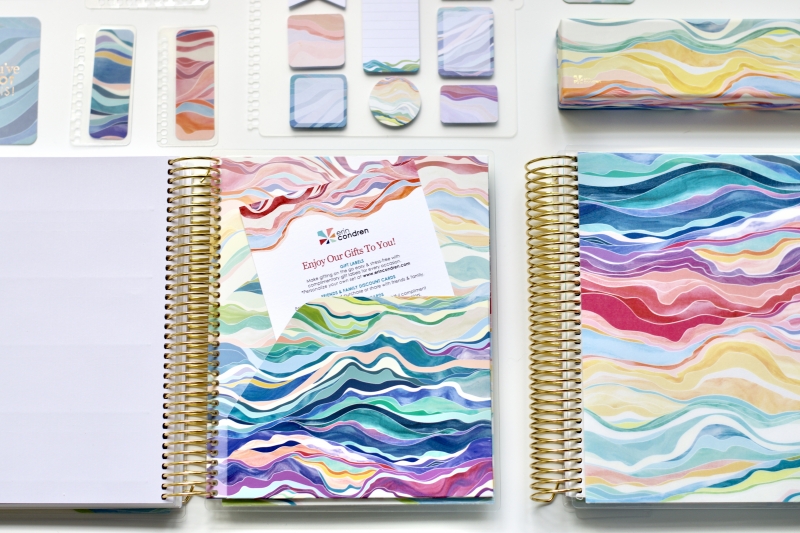 In the back of each planner is a heavy duty pocket in the colorful layers design. These pockets are great for tucking a few note cards and some stamps, or receipts you need to keep, coupons to use for the future, invitations, etc. You can also keep a few sticker sheets tucked back here!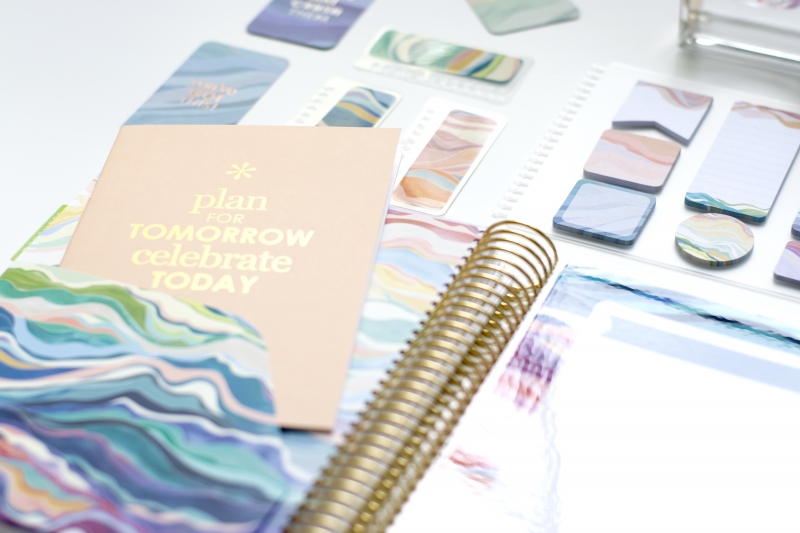 And then finally, tucked in the very back pocket is a perpetual calendar booklet. It's a great place to record birthdays, anniversaries, and repeating annual events so you have an easy reference! Once you have your perpetual calendar filled out, setting your planner up is a breeze!!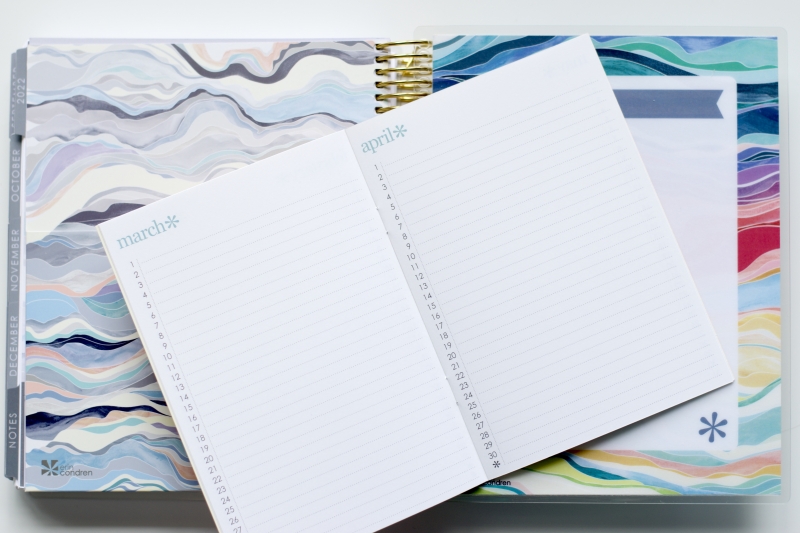 Pictured above is the Perpetual calendar opened up (the perpetual calendar is pictured on a neutral planner – more on that below!). It's set up very simply with a dated month on each page.
If you don't want to use this as a Perpetual Calendar, use it for a gratitude thought each day, or use it to record daily expenses for the month, or plan your menus! There is a lot of potential for this little tool! You can also purchase the Perpetual Calendar separately.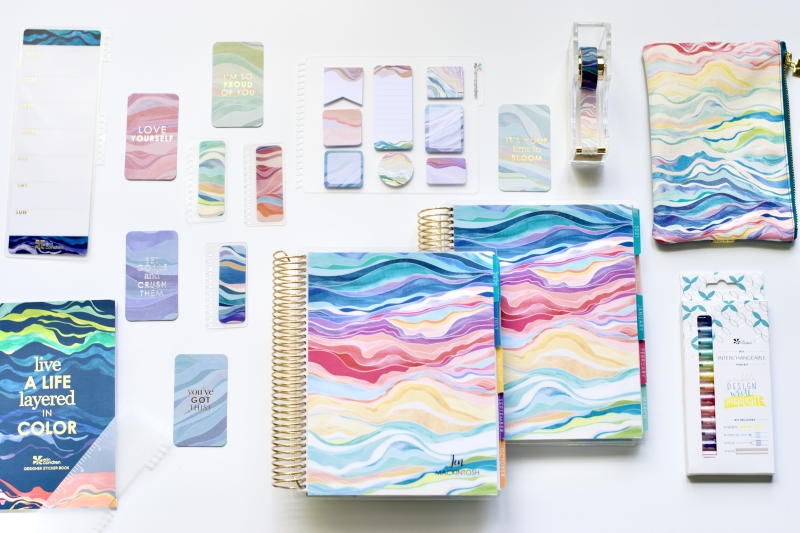 Isn't that amazing? I'm so excited about the new Daily Planner Duo this year – so much so that this is my planner choice for 2020! I can't wait to jump in!
---
WEEKLY COILED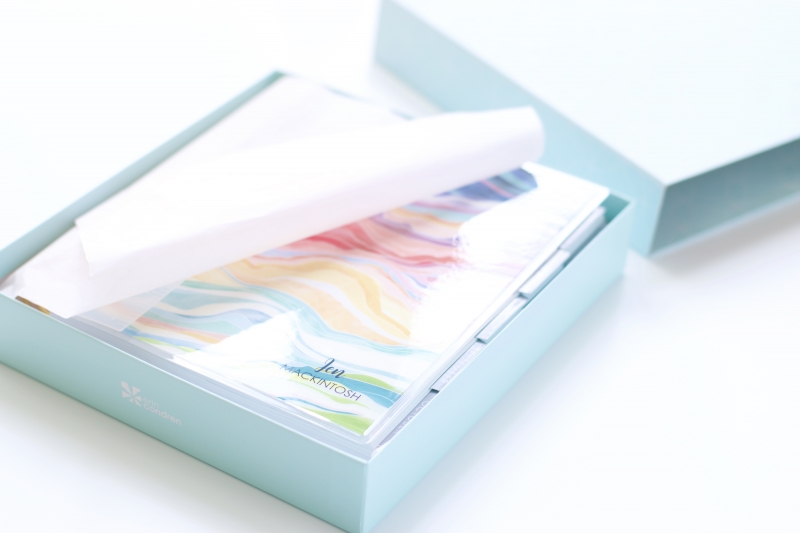 $55.00 base price (link to shop)
The next planner in our review lineup is a weekly coiled planner – it's a neutral planner in the hourly layout. Don't be confused by the colorful layers cover pictured on my planner, which happens to be the exact same cover I have on my Daily Planners above! Speaking of covers, it's worth mentioning that all of these Erin Condren coiled planner covers are interchangeable! I love being able to change out my cover seasonally!!
The weekly planners all start at $55 as a base price ($60 if you order an 18 month planner) and the price will increase if you change your coil metal options or choose a metallic cover.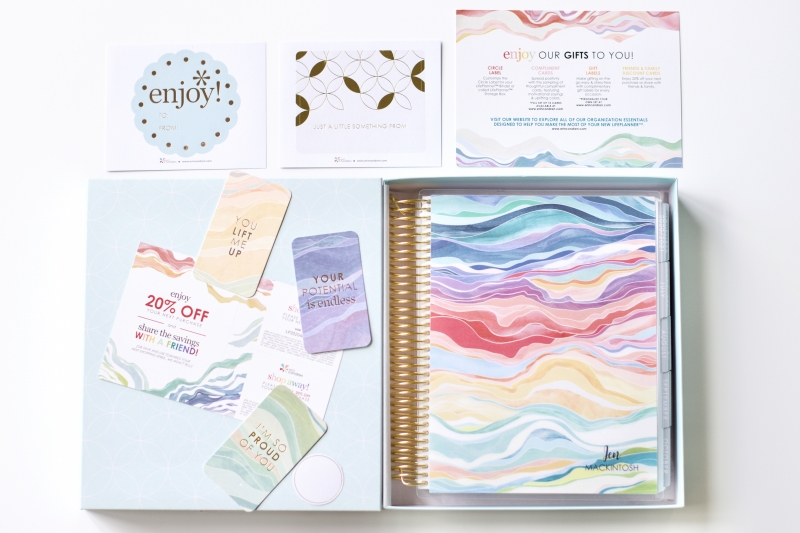 The weekly planners all arrive in a gorgeous light Robin box. The box has a slip on sleeve cover and has a very light wash of mid century circles on the box cover. I do wish the box were sturdier – with an actual lid rather than the sleeve. The box is available to purchase separately and is a good place to store sticker supplies, extra inserts and accessories.
All of the standard freebies arrive with your Erin Condren coiled weekly planner – 1 transparent snap in bookmark, 2 gift labels, a card describing the contents of the box, (2) 20% off coupons for future purchases (!!), 3 compliment cards, and a small circle sticker that you can label with the year (2020|2021) and then stick onto the spine of your box (the purpose is to be able to store your planner in the box once you're done. OR…I think the box is nice for tucking stickers and planner tools into and then shelve the pretty box near your desk! It's a great container for your planner tools while your planner lives somewhere nearby – in your traffic pattern!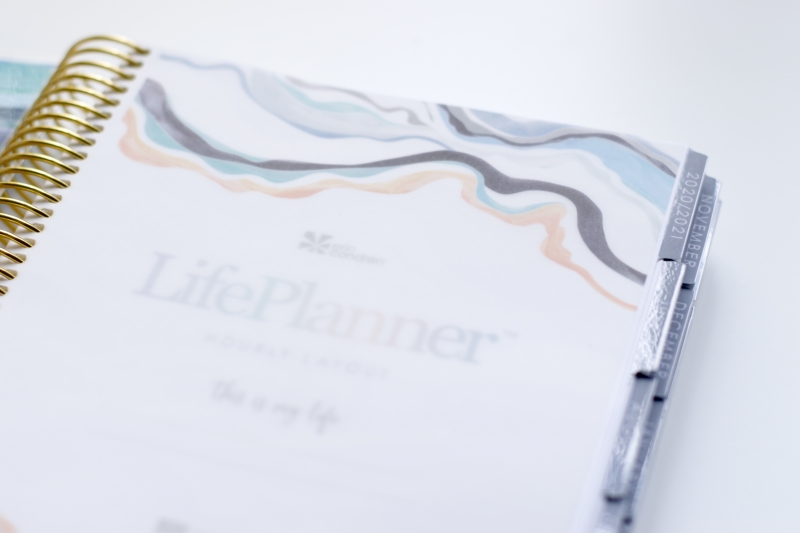 Each planner starts with this gorgeous, luxe vellum sheet – the sheet reflects either the neutral tones of the neutral planner, or the colorful tones of the colorful planner, or the floral design of the floral planner!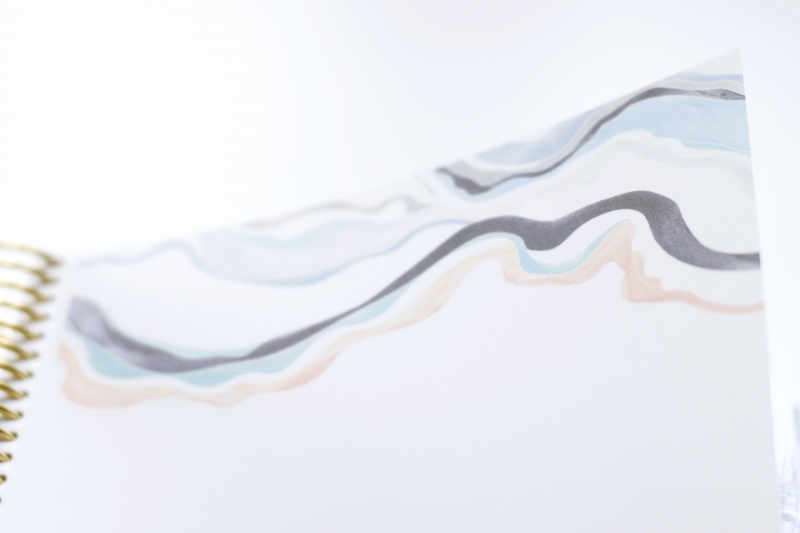 This vellum is one of my favorite touches – it's a nod to luxury and it's just stunning in person! I have saved all of my vellum front pages from every planner since Erin Condren started including them!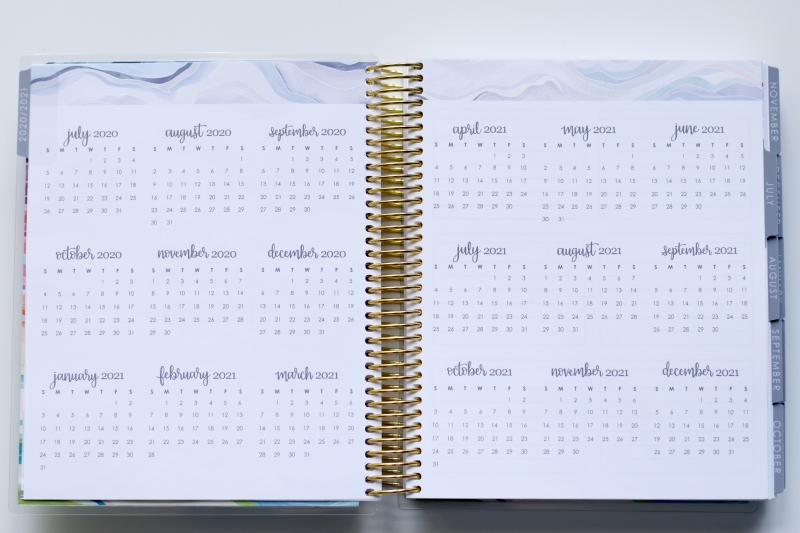 The Coiled Weekly planner begins with a two page spread of mini months that cover 2020 and 2021. I like to use transparent dot stickers to note events, the school schedule, and travel on these pages.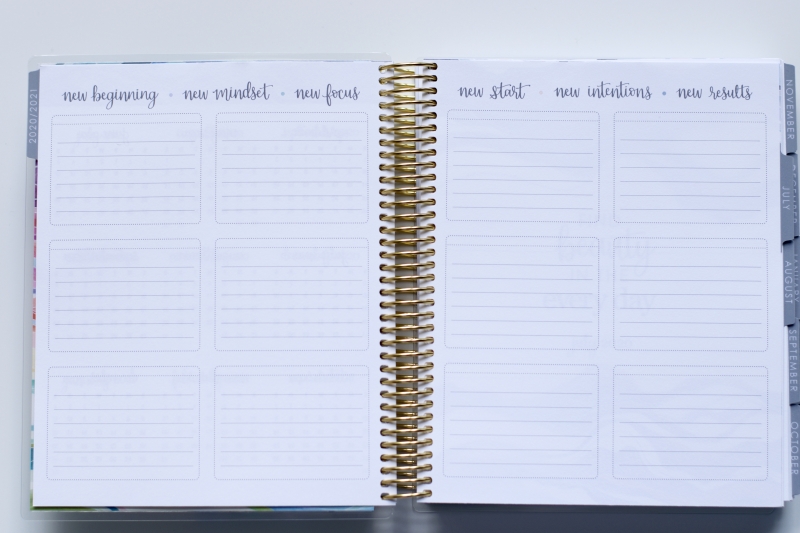 The next two page spread contains 12 lined boxes that can be used for just about anything! Again, the designation has been left very open so that you, the planner, can use the boxes however you like! There are 12 boxes, so you can designate one for each month and list the big events and highlights of each month, or use them for monthly goals, budget goals, home projects by room – this is limited only by your imagination!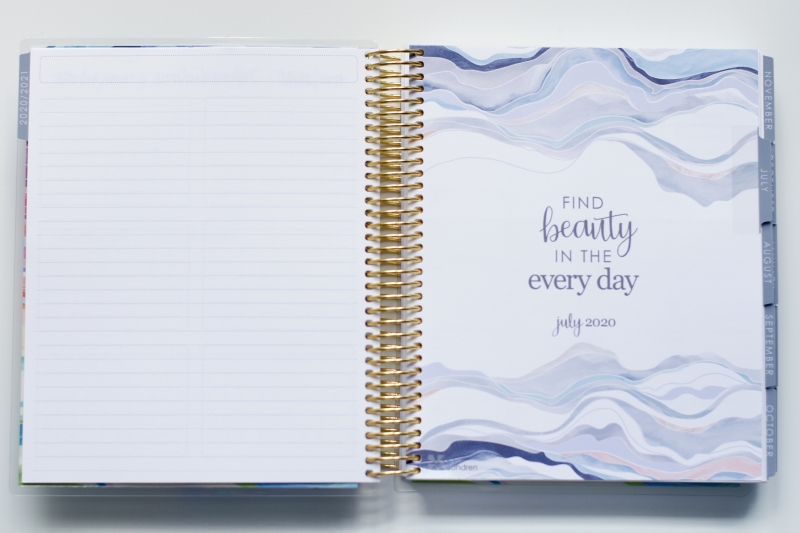 Before each month, there is a blank lined page and an inspirational quote page. The color you see here is almost the only color you'll see in this planner, and this change again represents a change based on customer feedback. Customers who prefer neutral planners want completely neutral planners! Curious about what that looks like? Read on!
The monthly view of the Neutral planner is super minimal. Note that the neutral planner has light gray (laminated) tabs to go with the neutral theme. The monthly view has shades of light gray and is much lighter in overall feel than the colorful monthly view. There is a lined notes column on the right side of each monthly layout.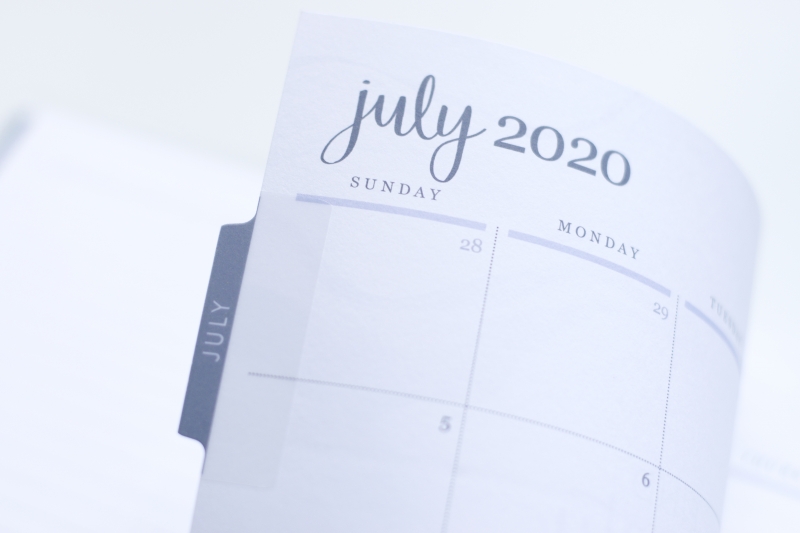 It's barely visible, but there is a small ribbon of color at the top of every column in the monthly layout. The colors vary each month between lavender, robin, peach, and slate blue. That is the only color on this page and is the last of the color until you get to the beginning of the next month.
Here is the weekly layout in the neutral planner – absolutely minimal and neutral. Not a single design or colorful element – it has only shades of gray and white.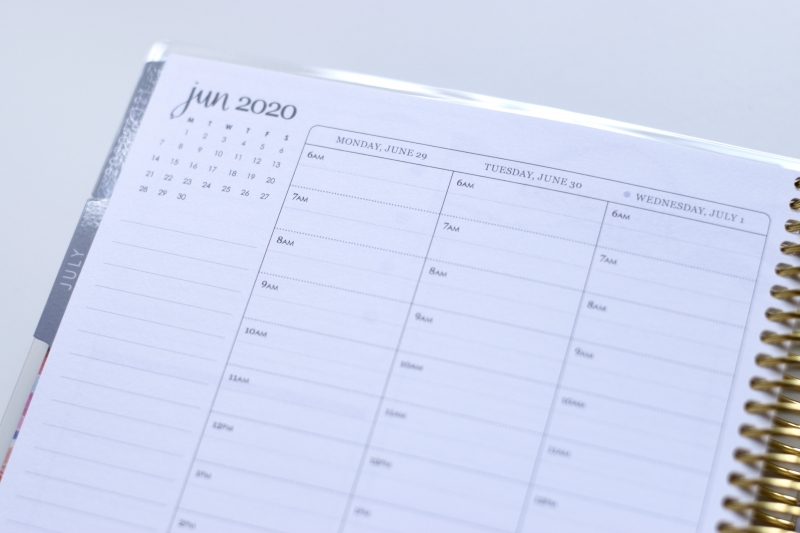 And here's the next big change – the half hour lines are back! There is a collective sigh of relief going up from all hourly planners! I missed these lines so much last year in my hourly planner (honestly, I wasn't aware how much I relied on them…until they were gone!). Anyhoo…they're back…and I'm here for them!
Absolutely neutral, and with half hour lines back – what do you hourly planners think?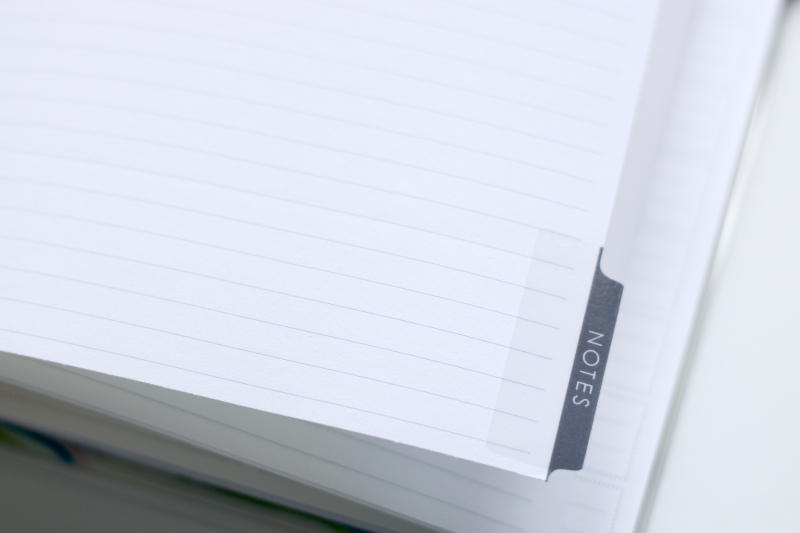 Are you ready for another BIG change? For years, customers have been requesting more notes pages in the back of the planner, and this year – we've got them! Formerly, there were a few lined pages, a few dot grid pages, and a few coloring pages. No more! Now there are a total of 11 fully lined pages in the back of every weekly coiled LifePlanner! >> insert applause!! <<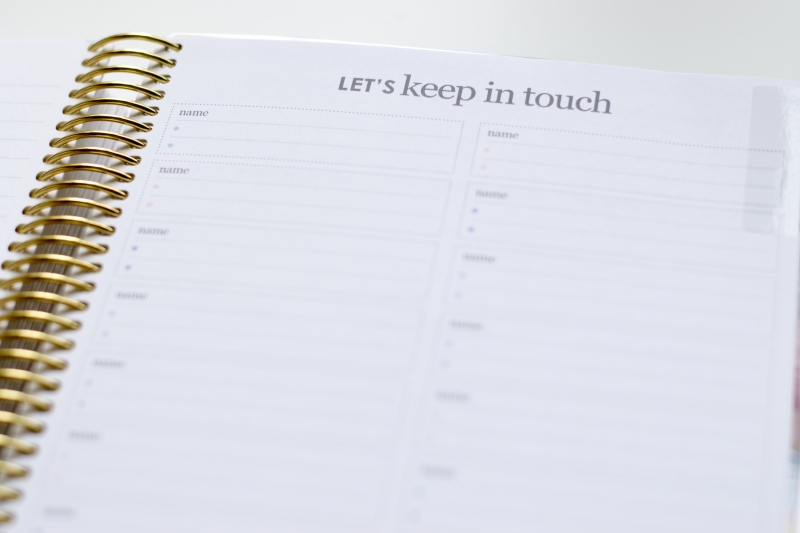 Next is the contacts page.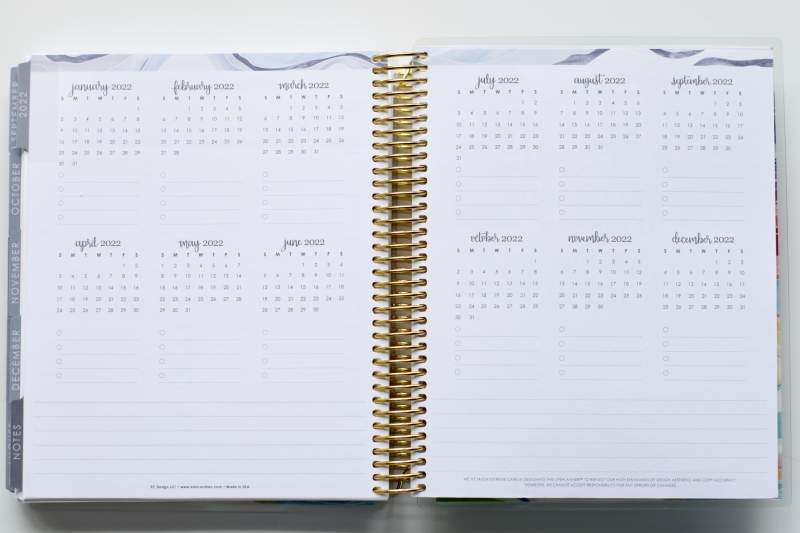 And finally, a 2 page spread of mini months that cover 2022 – the year just beyond this planner. I love the idea of this section – future planning – but to be honest, I never use these pages.
Remember, every Erin Condren coiled planner comes with 4 sheets of coiled in stickers. The colorful themed planners have colorful stickers (see the pictures of the colorful above in the Daily Planner), and the neutral planners come with neutral stickers. These stickers are so pretty – I can't even stand it! The first page is accented with yellow gold.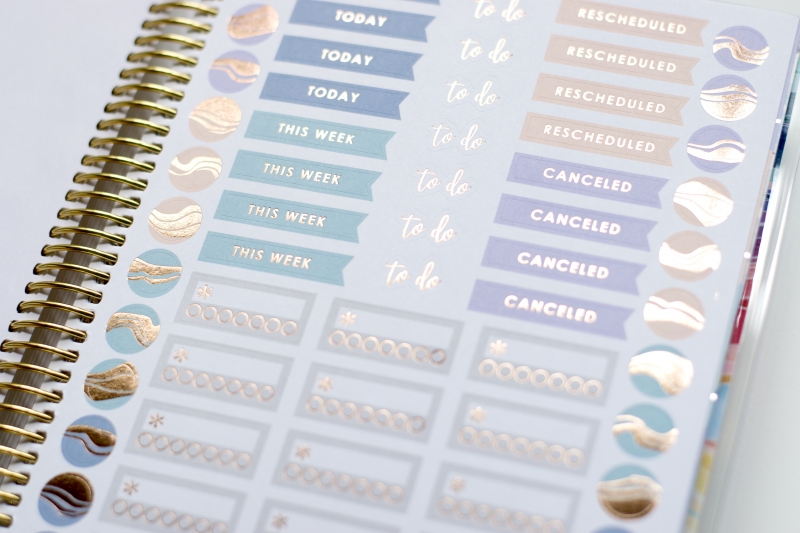 The second page of stickers is accented with rose gold.
The celebration stickers are accented in silver/platinum.
And finally, the event block stickers – accented in rose gold.
The neutral pocket shows off the Layers design theme so beautifully! It's breathtaking!
And finally, tucked in the back pocket, is the perpetual calendar.
Isn't the neutral planner just beautiful? I love that Erin Condren listened to customers and changed key design elements based on our preferences!
---
SIZE COMPARISON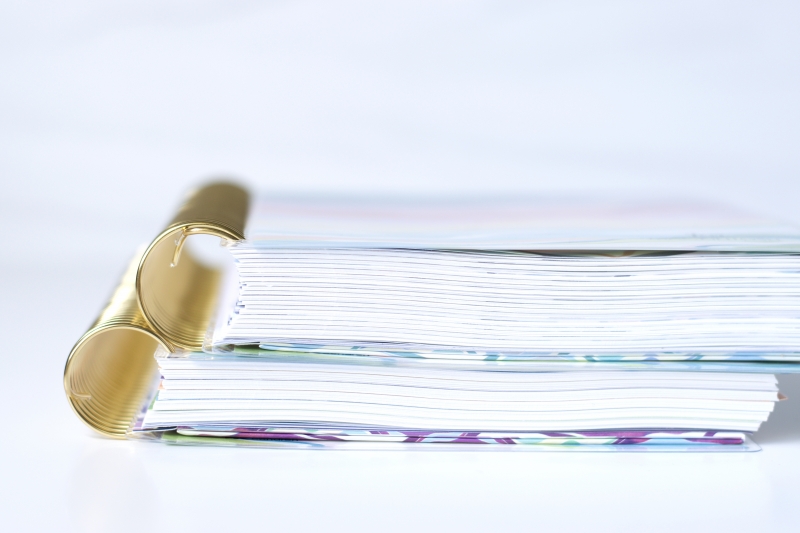 Now that we've looked through the Coiled Daily Duo and the Coiled Weekly planners, I'd love to share some size comparisons with you! All of the coiled LifePlanners (Daily & Weekly) are 7 x 9. Pictured above:
Top planner – 18 month weekly planner

Coil size (diameter) 1 7/16″
Planner thickness (without covers) 1 ¼"

Bottom planner – 1 of the 6 month daily planners

Coil size (diameter) 1 5/16″
Planner thickness (without covers) ⅞"
---
BINDER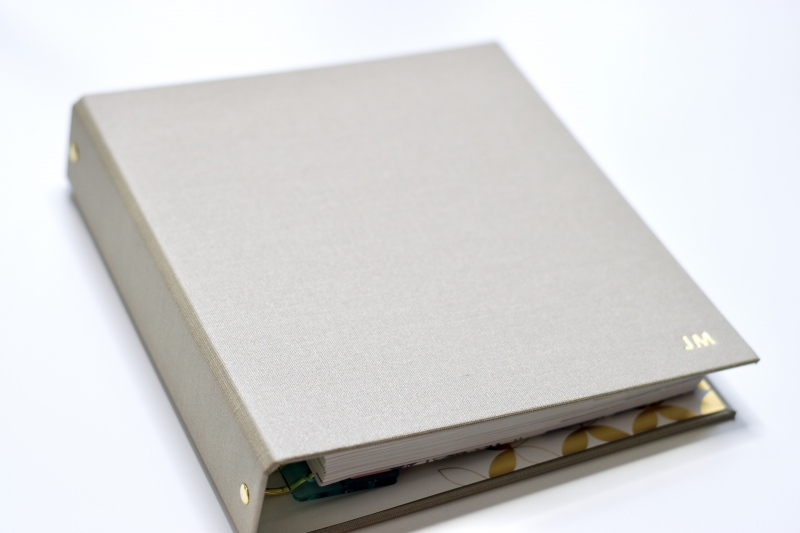 $60.00 base price (link to shop)
This year's binder options are a Colorful Layers Binder, the Neutral Layers Binder, and the Champagne Binder, which is the one I requested and the one pictured in this post! And I'm not disappointed! It's a beautiful bookcloth binder in a soft tan with gold metallic accents! The cover has a very soft sheen (that is very hard to capture in photos) – it's almost the same sheen you'd see on a coated canvas material. It's bright and subtle and oh-so-pretty!
The exterior of the binder is a true neutral and I think it makes this a perfect fit in a professional setting! The book cloth cover sometimes reads deep taupe, and in other light reads soft tan. I think the texture and dimension in the book cloth cover add to the interesting tones in color. The binder offers the option to imprint initials in the bottom right corner of the front cover, and I chose to add my initials.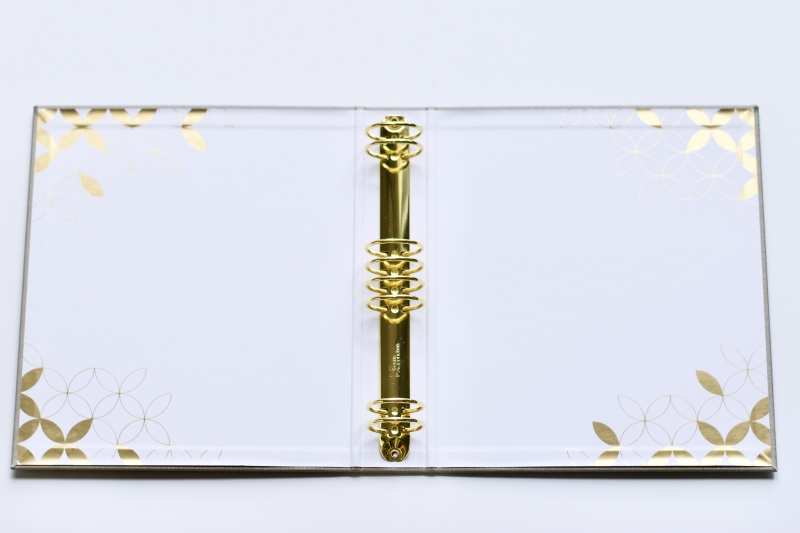 The interior of the champagne binder is stunning!! The creamy soft white interior is embellished with metallic gold mid-century circles design, and it leaves me missing my favorite design theme of all time!
This binder has the same 8 ring format that was introduced last year. Last year, this proprietary ring system was received with mixed reactions – many requested standard rings on this binder. Even with mixed reviews, the binder system garnered a loyal following. I have to be honest, I'm glad the 8 ring system will remain consistent in the LifePlanner line because this year there is a punch which I think increases the binder's usefulness exponentially! And I also like the consistency because I think binder users can keep their binders to re-use from year to year – just like coiled planner users swap out their interchangeable covers.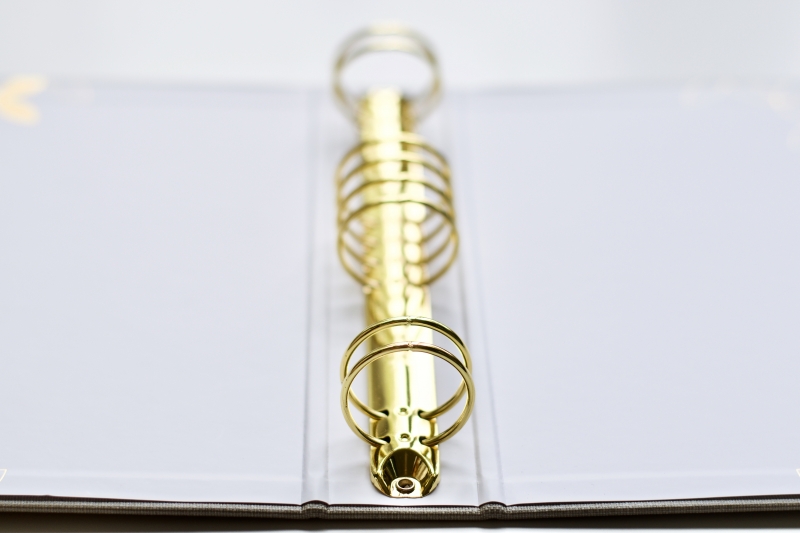 As mentioned, there are 8 rings on the LifePlanner binder, arranged in a unique way, so that the clip in or snap in coil accessories available on the coiled planner line also fit on the rings of the binder. In other words, if an accessory on the Erin Condren website snaps into the coiled LifePlanner, it will also snap into the binder.
Last year there were some issues with the individual binder rings meeting together completely so that pages had difficulty turning smoothly. This year's binder has rings that meet nicely in the middle – or at least my sample binder does. But, I take that as a very good sign! I added inserts, flipped pages around, and had no trouble moving pages.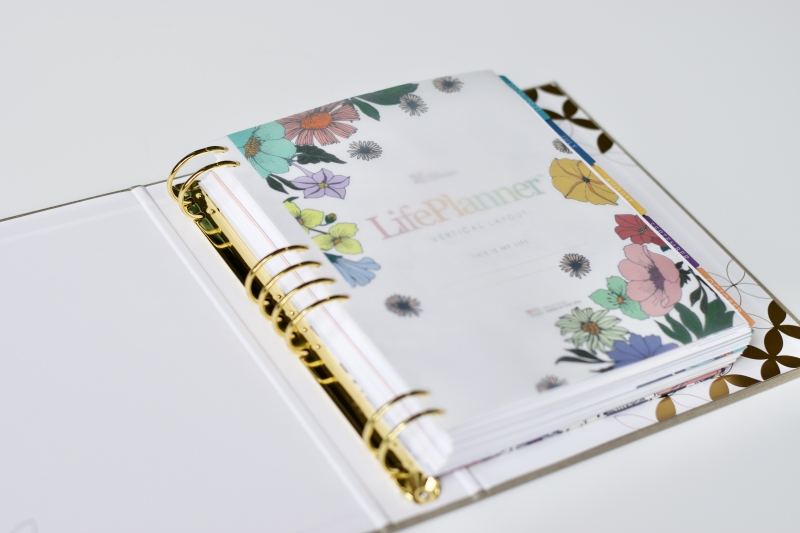 I requested the vibrant Flower Power inserts to review for you! The front of every planner has that beautiful, luxe sheet of vellum, and Flower Power's vellum is beautiful with a wash of color in each corner.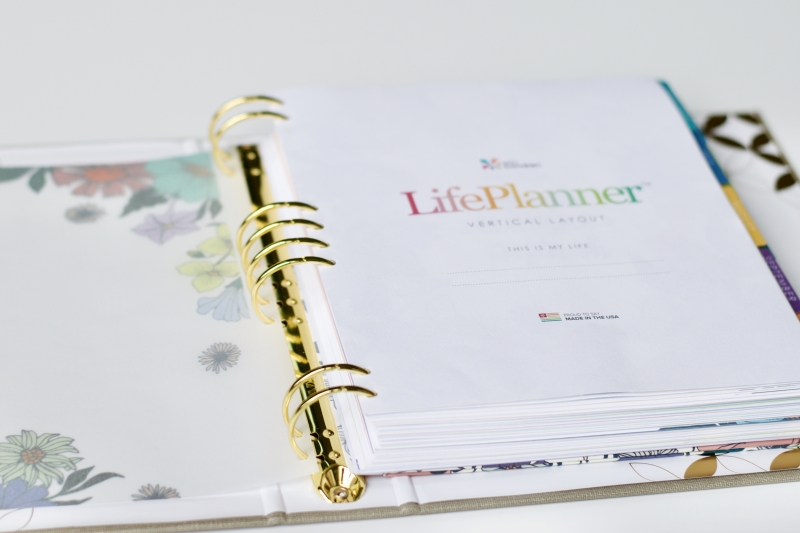 What I think is so exciting about Flower Power is that the full design is replete with a variety of different flowers, but each month in the planner is dedicated to just one particular flower! (More on that below!)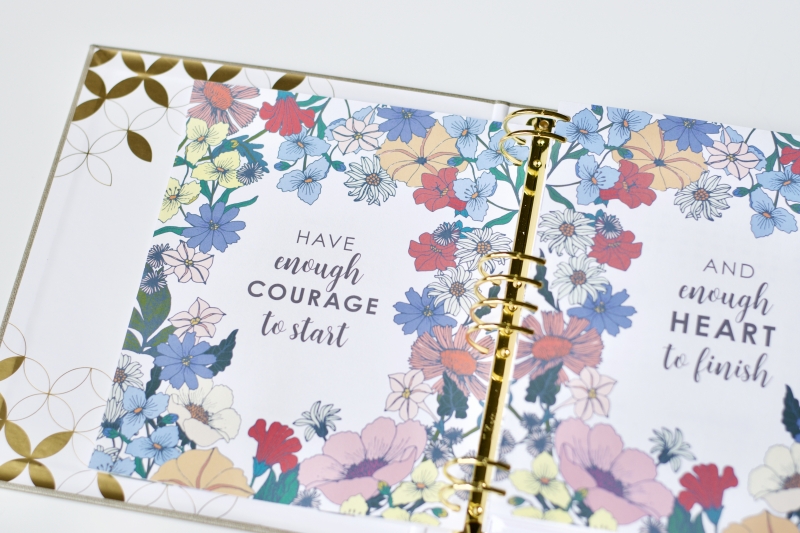 Every Erin Condren LifePlanner (except for the Daily Duo) has two full-color design pages at the front of the planner – Colorful Layers has the vibrant color washed Layers, Neutral Layers has the layers in subdued pastel tones, and Flower Power has this beautiful, all-color spread of flowers with the inspirational quote.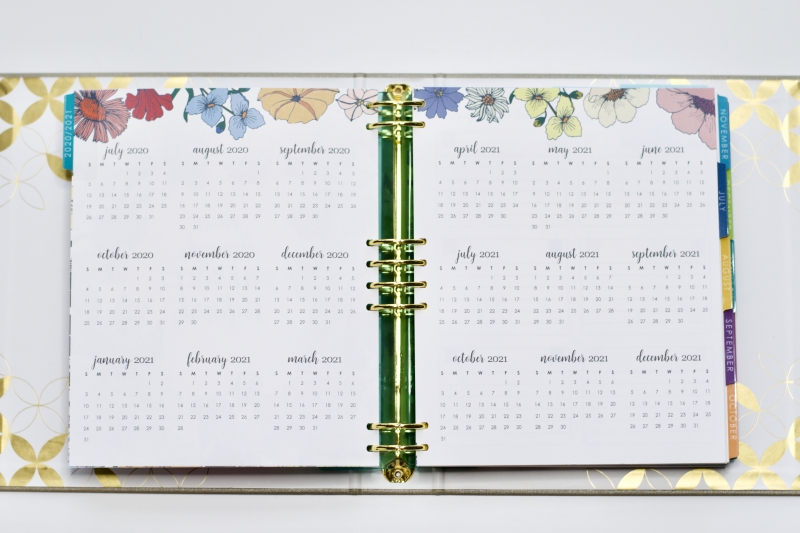 The first functional pages include the 2020|2021 mini month overview.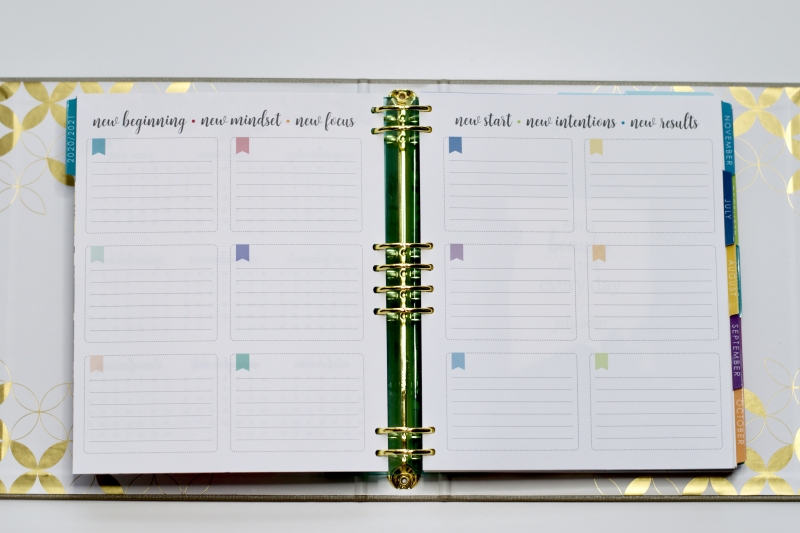 I am noticing as I look at the different planners and designs and colors (Layers, Flower Power, Colorful, Neutral) that there are subtle differences at the beginning and end of each planner. This page with the 12 boxes is one of those spreads. In Flower Power, there are multicolored flags for each of the 12 boxes. If you scroll back up to see the neutral and the colorful daily images, you'll see that this page has a different design for each different planner. I think that's really cool because it shows that each unique planner design and color received unique design attention!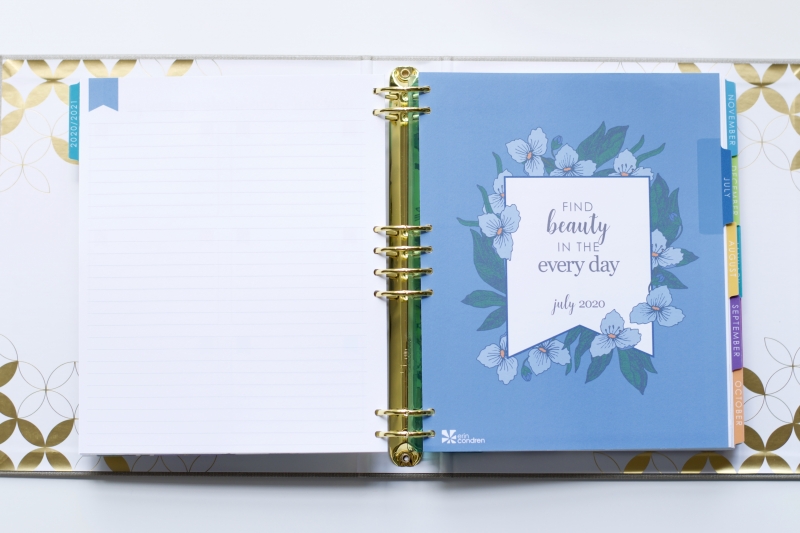 This is the gorgeous before-the-month lined page and inspirational quote page, and it allows me to show you something so unique and special about the Flower Power design! (Pictured above is the month of July, which is the month this binder starts)
Each month is dedicated to one particular flower! And that flower appears on the monthly quote page, in the monthly layout, and on every weekly page.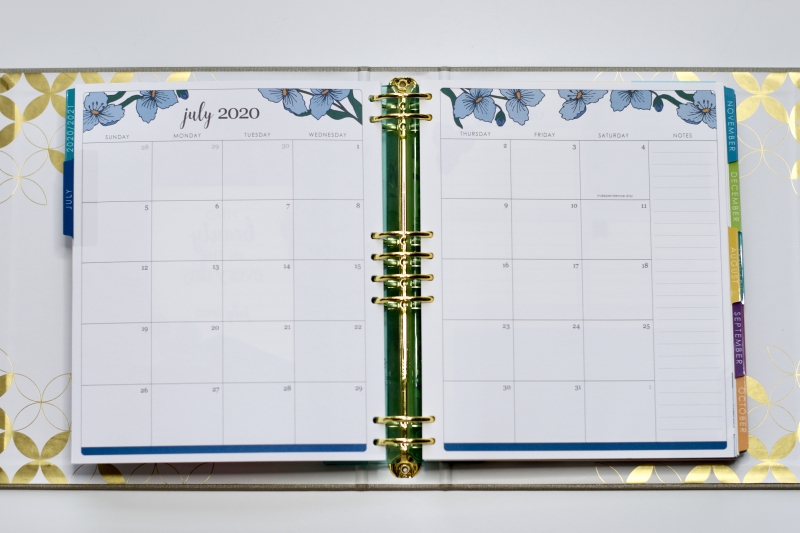 Above is the monthly layout. You'll notice that the tab turns directly to the month.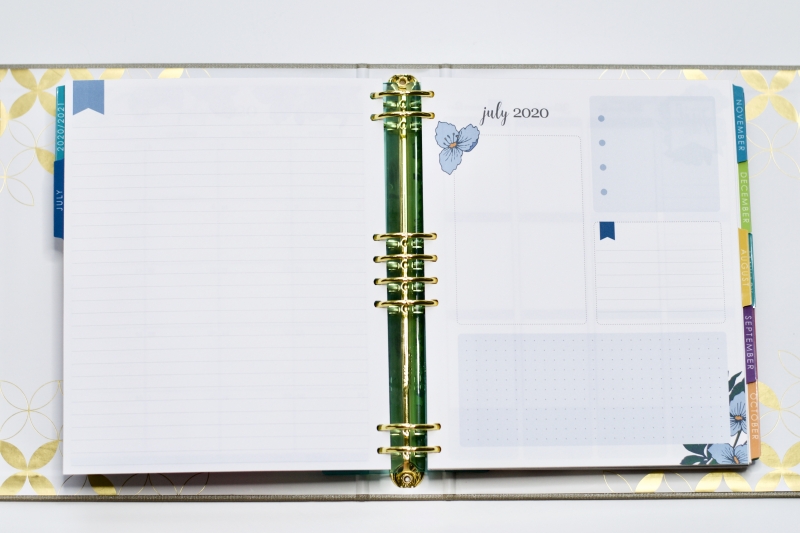 After the monthly spread there is a 2 page open-ended layout. You can use this page in a variety of different ways. (See ideas shared for this page on the Neutral Weekly planner just above this section)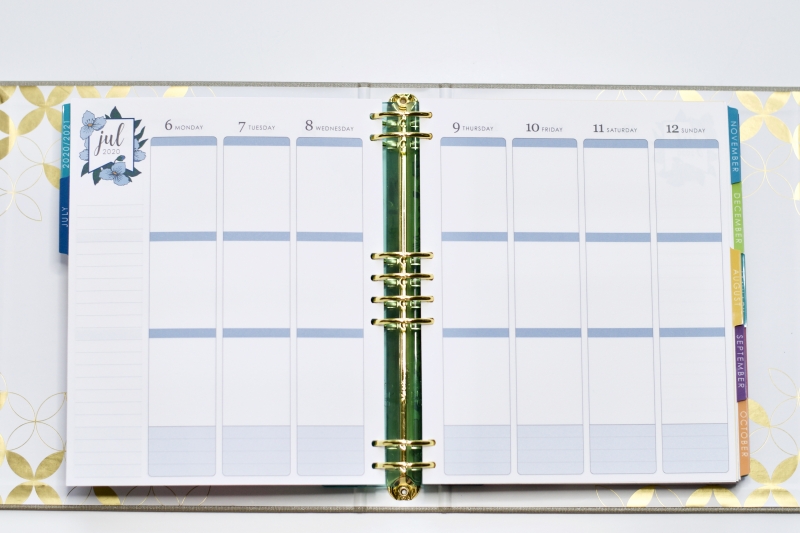 And from there we move right into the weekly pages. I requested a vertical layout in the Flower Power so I could show you a different layout. The vertical layout offers 7 columns, one for each day of the week. Each column has a ribbon of color above 3 blocks (unless you're using a neutral vertical planner) and you can designate each block however you like:
morning, afternoon, evening
work, personal, health
chores, kids, appointments
It's a very flexible system and is the classic layout. It's the first layout I used when I started planning in an Erin Condren planner!
After the months there are a set of 11 lined notes pages.
And then the contacts page.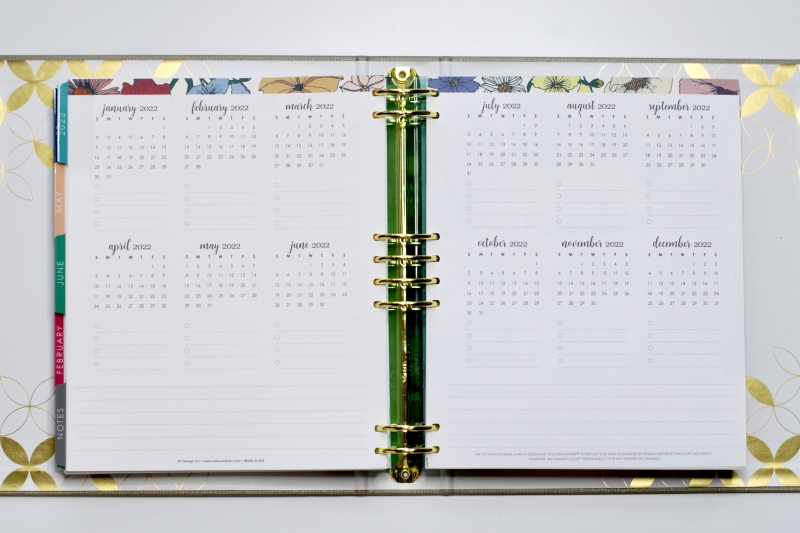 Following the contacts page is the 2 page future planning spread.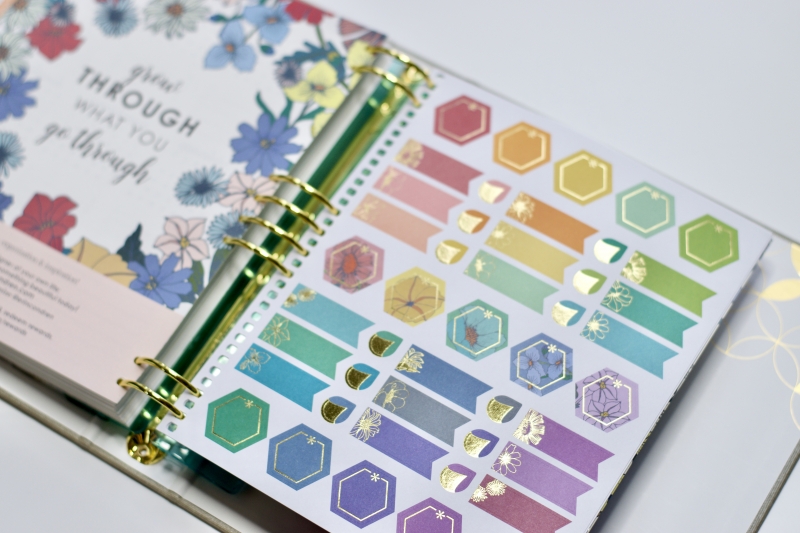 And then the stickers! Take a close look!!! The stickers in the Flower Power planners are different from the stickers in the Layers planners! The Flower Power stickers have flowers on some of the stickers – either in the form of metallic embellishment or illustration as in the hexagon stickers above!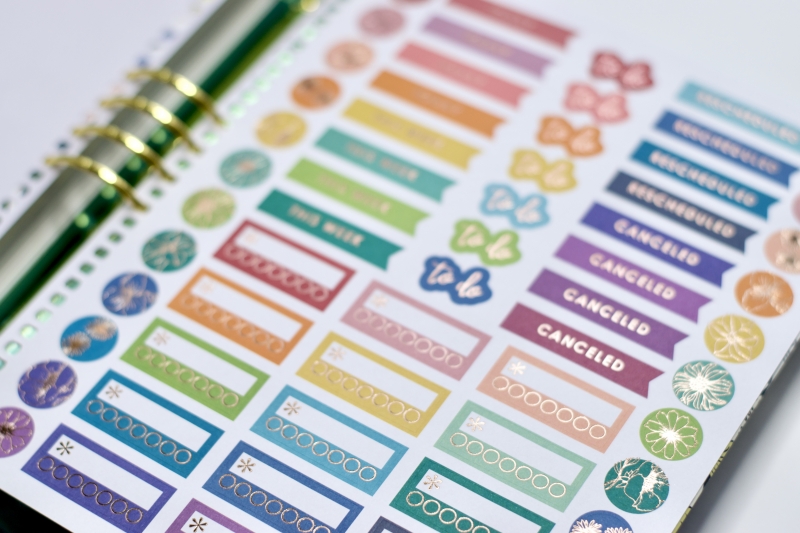 There are 4 pages of stickers as in all LifePlanners!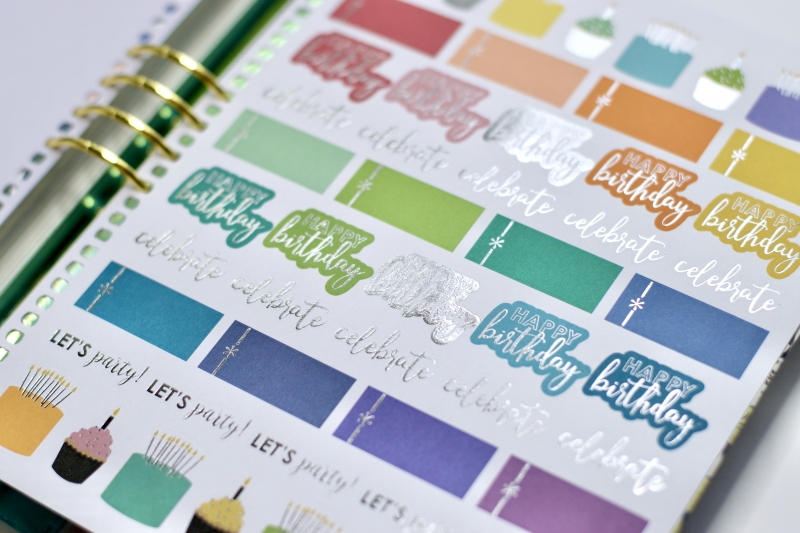 Celebration stickers…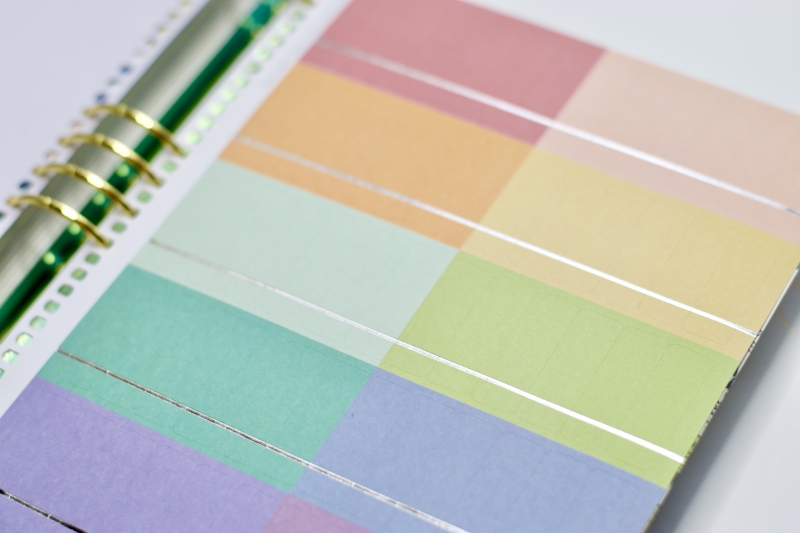 And event stickers.
The binder also has a pocket which contains the perpetual calendar.
As you look at this picture, notice that the folder (and even the sticker pages shown above) are all coil punched! And they all fit the binder! This is what makes the Erin Condren binder so unique! The 8 ring system will accommodate any coiled accessory from Erin Condren! The snap in Stylized sticky notes, coil clips, any snap in accessories – all fit on the uniquely spaced binder rings!
And that's it for the binder Life Planner! Don't forget there are additional inserts you can add to your binder – like productivity pages and lined notes pages!
This Champagne binder's true color is so hard to capture on camera, but I almost got it in this picture of the spine of the binder (above). Can you see the subtle sheen on the Champagne binder?
The binder system only comes with 18 month inserts, but I don't recommend you add all 18 months to your binder or it will be very bulky and difficult to maneuver pages. The beauty of the binder is that you can include as many (or as few) inserts as you like!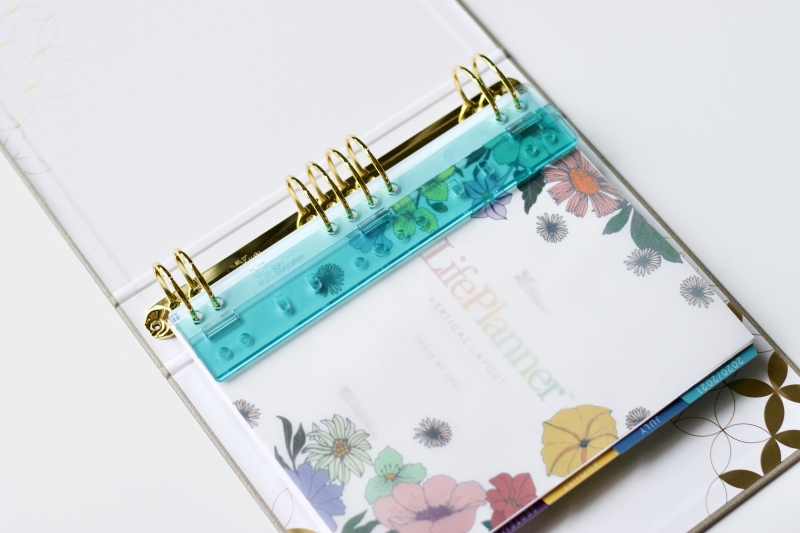 Below, in the accessories section, I share all about the new binder punch and my experience with using it! Be sure to scroll down and read below on the binder punch.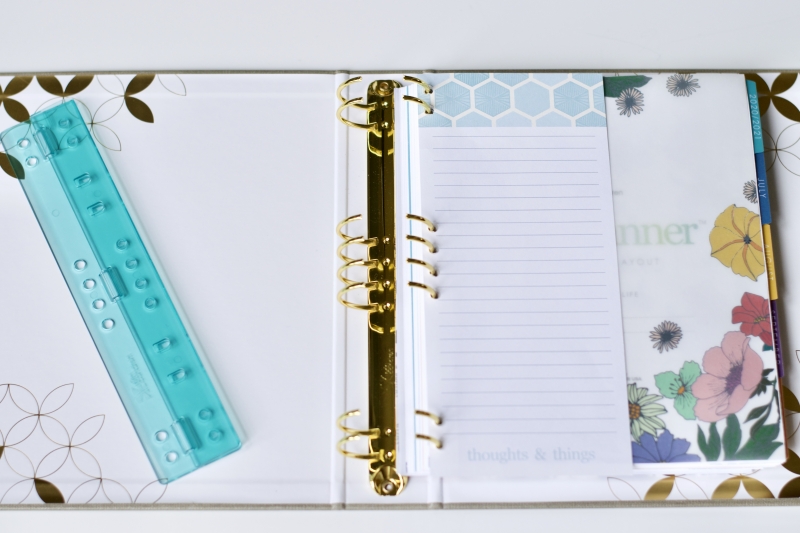 I will say that the addition of this single accessory to the binder line has left me considering a binder as my weekly desk overview planner. I love the ability to add notes, invitations, lists, and coupons to my binder with the hole punch!
---
Part 3 | ACCESSORIES
With each new launch, there are new accessories and new accessory bundles that coordinate with the design theme for the year! This year, there are 2 design themes and there are accessories to coordinate with your both your Layers and and your Flower Power planner!
The box of accessories that I was sent includes the Colorful Layers Accessories.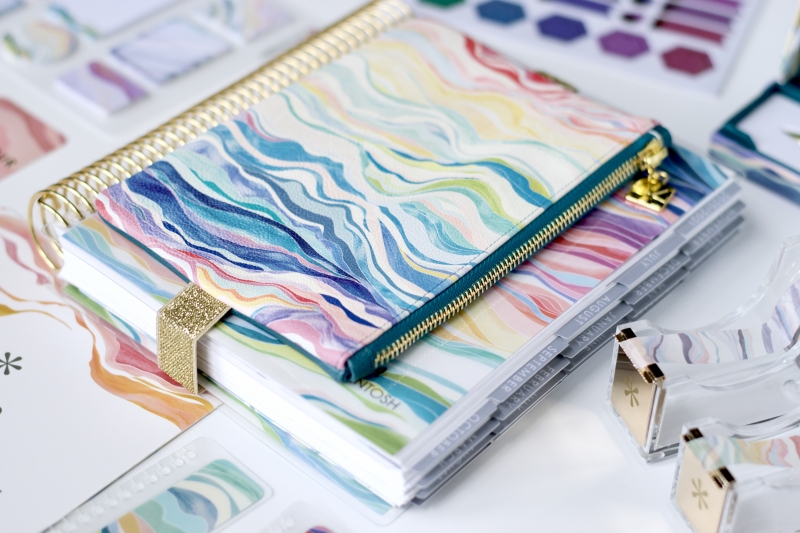 Planny Pack – $20.00 (this item has been slightly delayed due to worldwide shipping challenges – I will update when this product is stocked.)
The planny packs have become super popular accessories.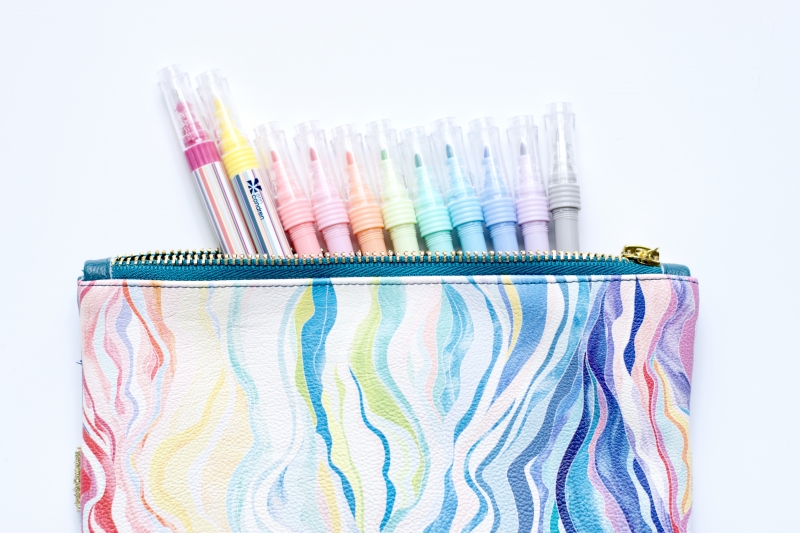 The planny pack has an elastic band that wraps around your planner (or any book for that matter) and holds it securely to the planner. It has a main zipper pocket that is roomy enough to hold pens, bookmarks, adhesive rollers – all of your favorite planning tools! And the back side of the planny has a slip pocket big enough to hold a ruler or a small post it set.
DIY Interchangeable Pen Kit – ($22.50) (purchase here)
Alright, let's talk about my personal favorite new accessory!! Possibly of all time!!! The brand new DIY Interchangeable Pen Kit!! My stars – I am excited! Let me show you why!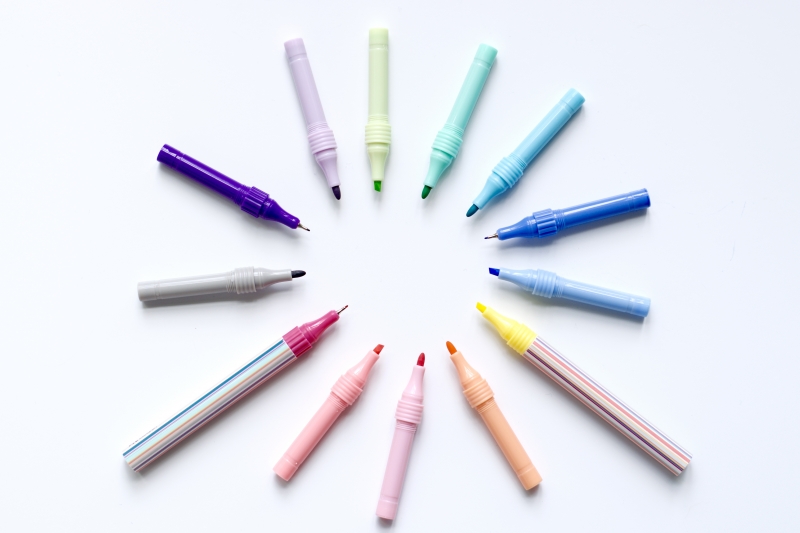 This is a 15 piece set of Monami pens (water based). There are two striped barrels, 4 highlighters, 6 medium tip pens, and 3 fine tip pens.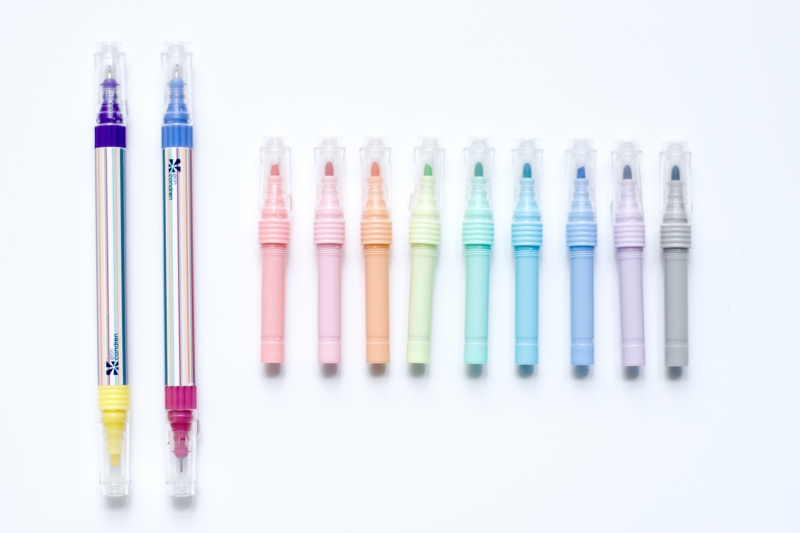 Choose the two colors you want in your pen – and thread them into the barrel. When you want a different color – swap out! Easy peasy!
This is such a versatile set of colors – they're all nicely saturated and they serve so many writing functions! And that's why this new accessory is my favorite!
Colorful Layers Snap In Stylized Sticky Notes – $10.50 (Layers – purchase here) (Flower Power – purchase here)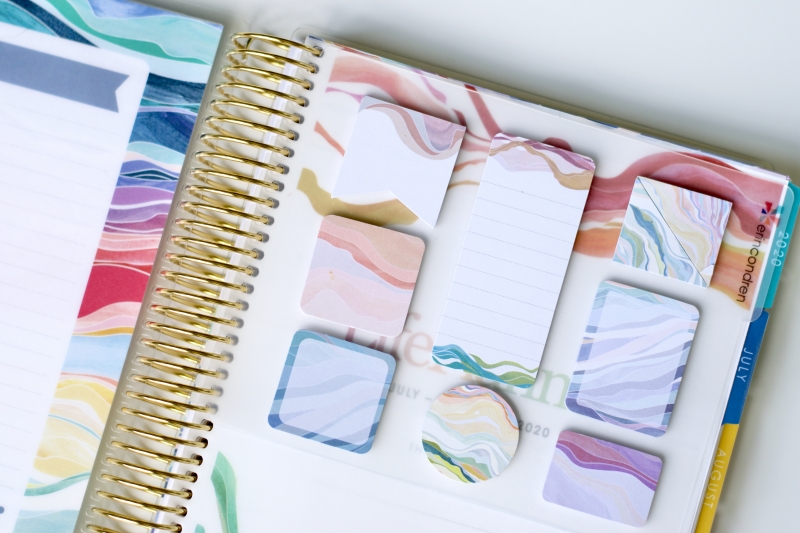 The snap-in stylized sticky notes have become one of the tools I rely on! I love that they clip right into the coils of my planner, and the sticky note means I don't have to commit to a sticker or an event – I use these all the time in my planner! If I want it to be a permanent feature I just use a bit of Tombow adhesive on the back side of the sticky note!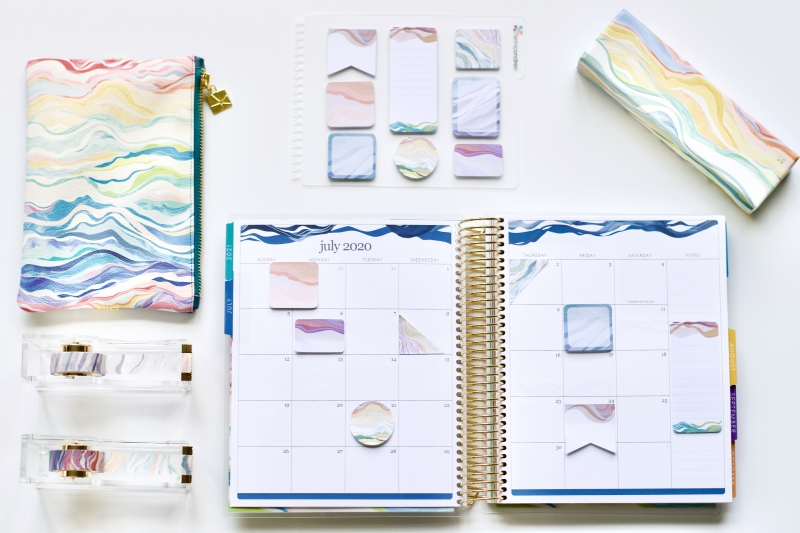 I've been a fan of many of the Erin Condren design themes over the years – I think mid-century circles and kaleidoscope were two of my favorites, but this year's layers is impressing me so much! The vibrant colors are almost like a jeweled geode! It's stunning! Looking at them on the sticky notes is leaving me so excited to see them in my planner! This is a must have accessory for me on launch day!
Layers Designer Washi Tape Duo – $5.50 (purchase here)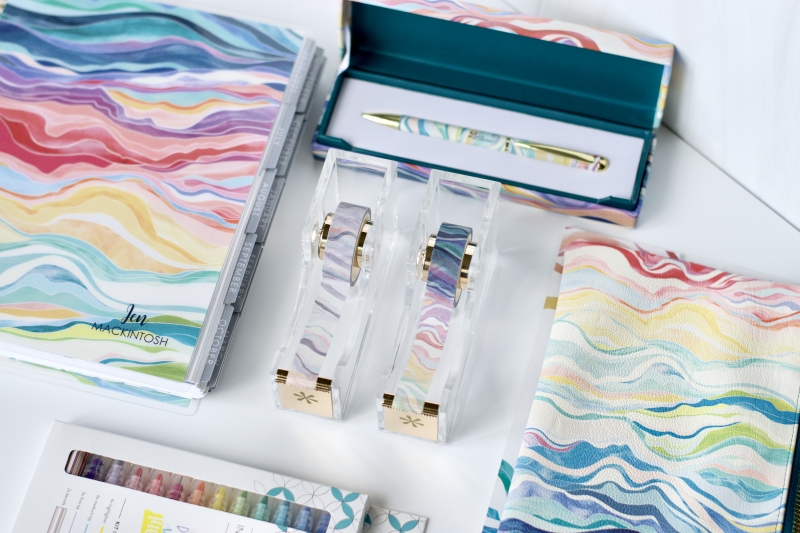 The washi tape duo set has two washi tapes – one is colorful and the other is neutral.
Both are so vibrant on paper!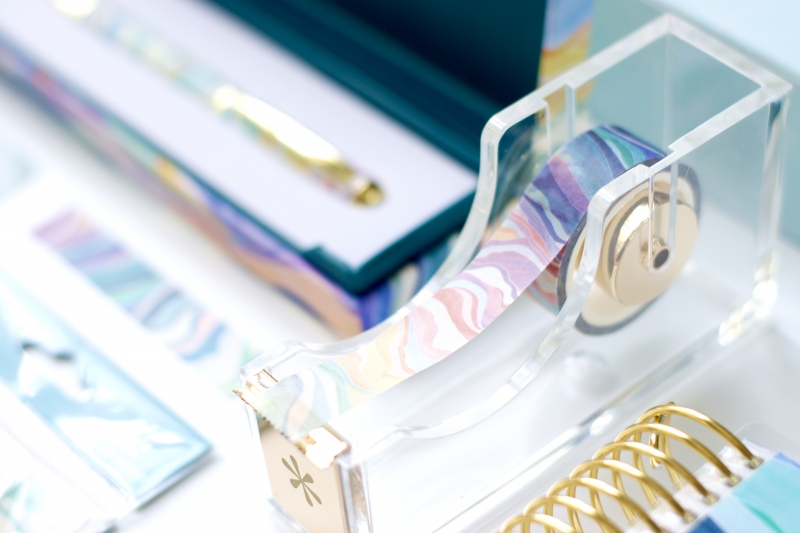 I love keeping my favorite washi on the gorgeous acrylic tape dispensers from Erin Condren – available in yellow and rose gold!
Compliment Cards – $5.00 (purchase here)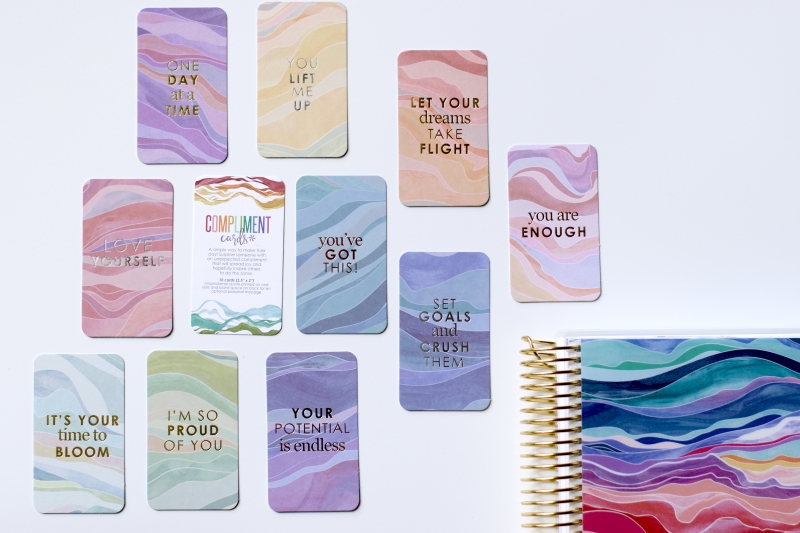 These compliment cards are another favorite accessory! My kids and I use them as bookmarks and I always keep a fresh set around to give to kids and friends that could use a little encouragement!
Mini Snap In Bookmark set – $4.50 (Layers – purchase here) ( Flower Power – purchase here)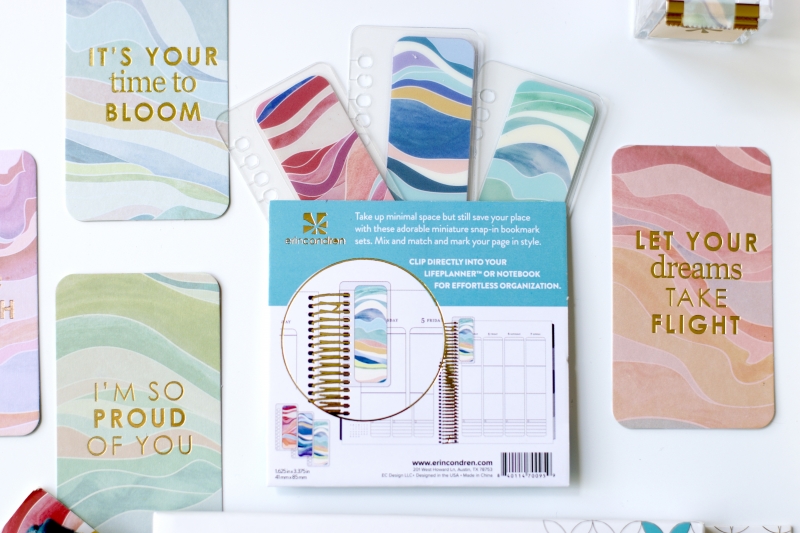 This set of 3 bookmarks snap right into the coils of your planner and takes up a minimal amount of space, but peeks up out of the planner just enough for you to find it and open your planner to your place! And with three, you can use them all over your planner – or use them in any Erin Condren coiled product!
Layers Snap In Dashboard – $5.50 (Layers – purchase here) (Flower Power – purchase here)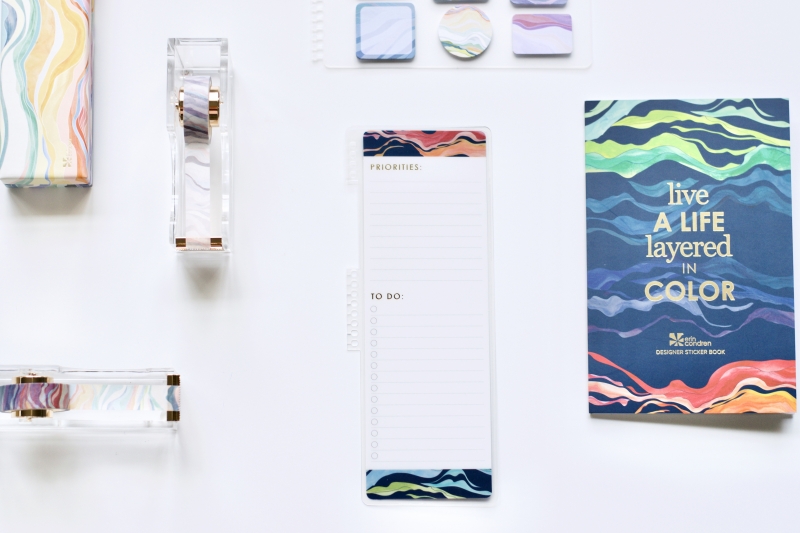 The snap in dashboards are fantastic for adding a little extra coordination in your planner – they hold lists and function as a place holder.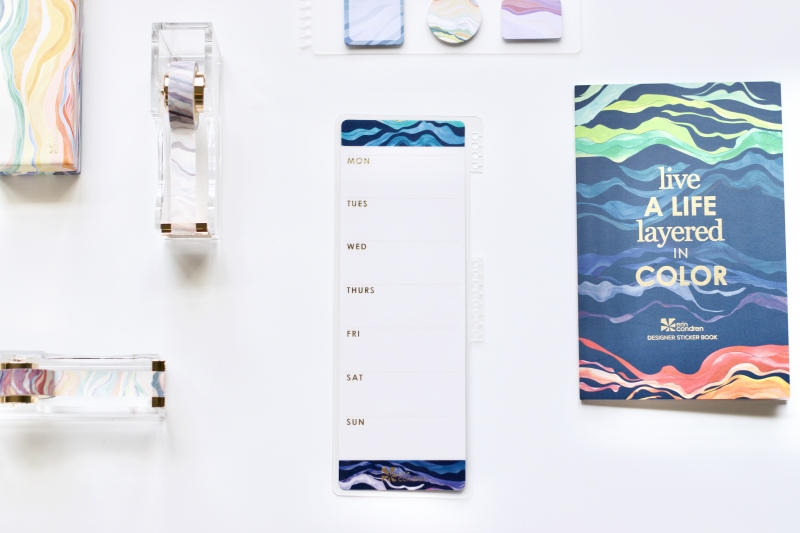 The teeth of the dashboard clip right into the coils so you can move it anywhere in your planner that you need!
Colorful Assorted LifePlanner Sticker Set – $8.50 (Colorful Layers – purchase here) (Neutral Layers – purchase here) (Flower Power – purchase here)
Love the stickers coiled into the back of your LifePlanner and wish you had more? You can buy the sticker set (4 sheets of stickers) and add to your sticker supplies!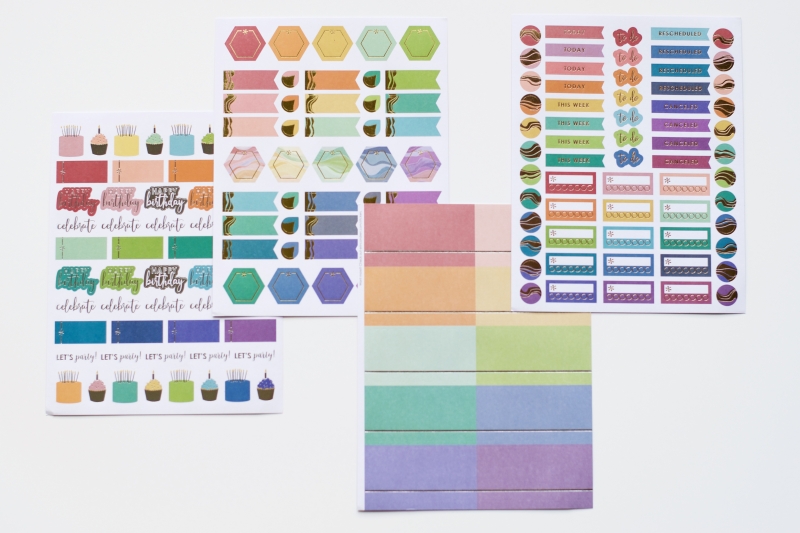 Layers Ballpoint Pen with Gift Box – $18.50 (Layers – purchase here) (Flower Power – purchase here)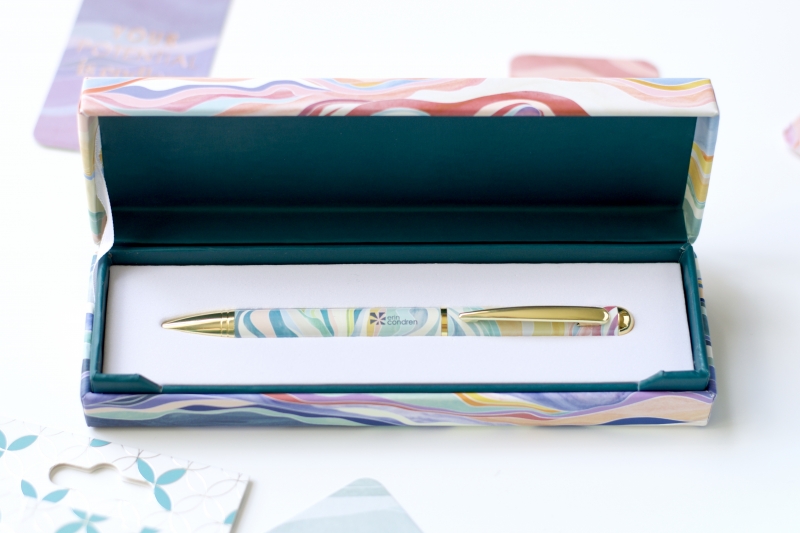 For all you matchy-matchy fans (raising my hand!!!) Erin Condren has a gorgeous ballpoint pen! This would make a great Teachers gift (looking at you, Teacher Appreciation Day on May 5) or Mother's Day!!
The pen comes in a GORGEOUS box!! Perfect for gift giving! Pop a pretty ribbon on the box and you're set!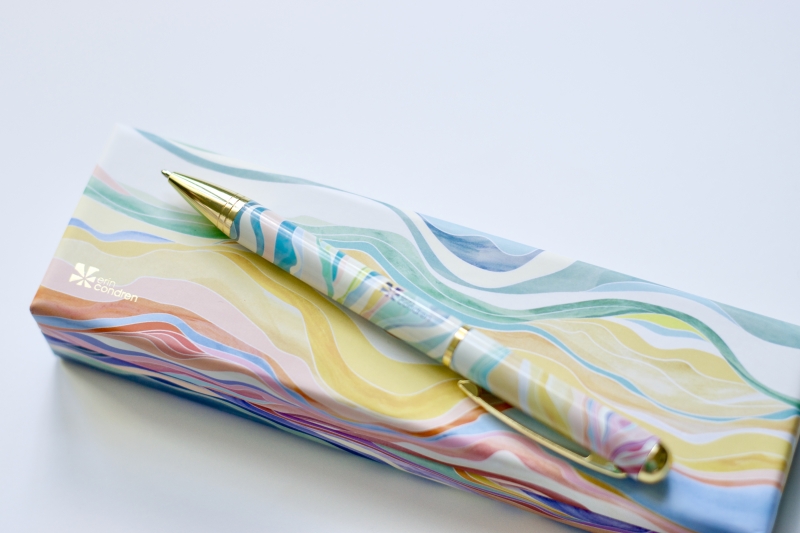 The ballpoint pen writes smoothly in black ink.
Dear Erin Condren, I would LOVE IT if our weekly planner boxes could be constructed as beautifully as the pen box!! That would be a box I would keep! I'd love something like this hinged box as an organizational tool!
Designer Sticker Book | Layers – $15.50 (Layers – purchase here) (Flower Power – purchase here)
This will take some time, but I've always had requests for individual pictures of each sheet in the sticker book in the past, so bear with me if that doesn't interest you. The sticker book has 12 pages and 529 stickers!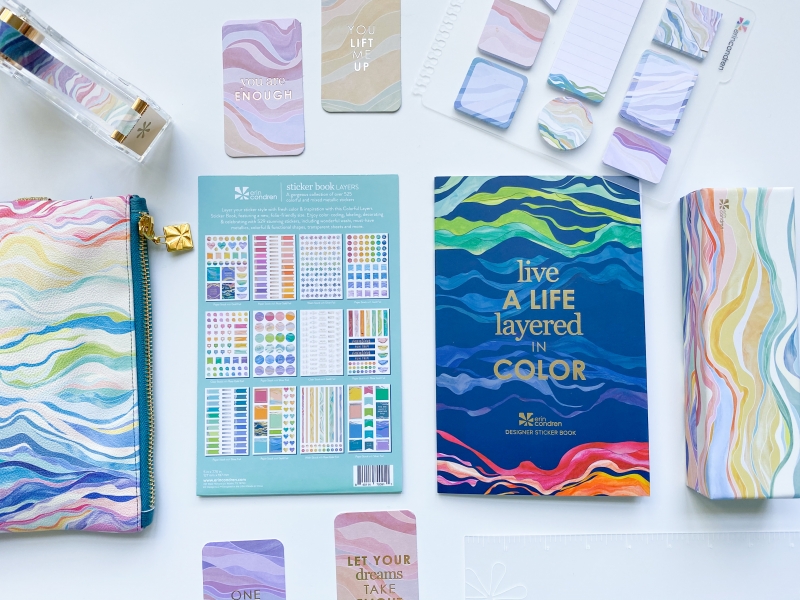 In order: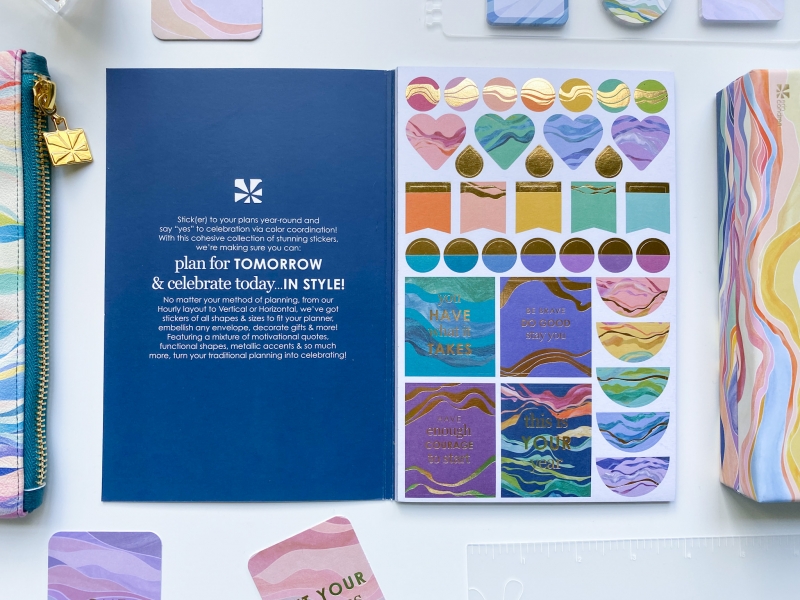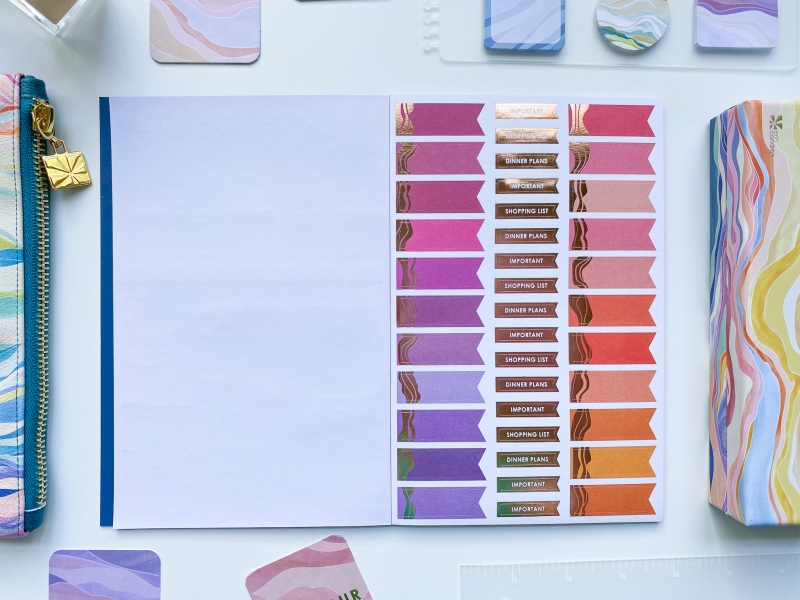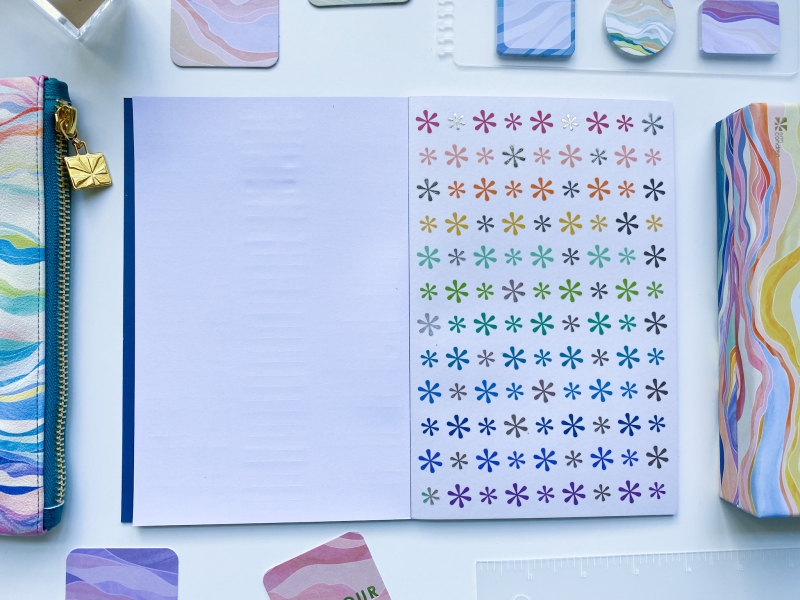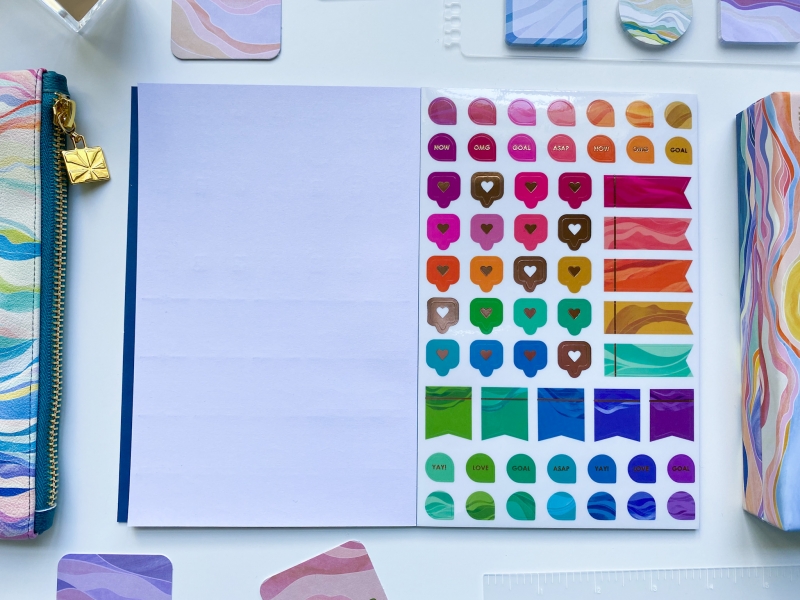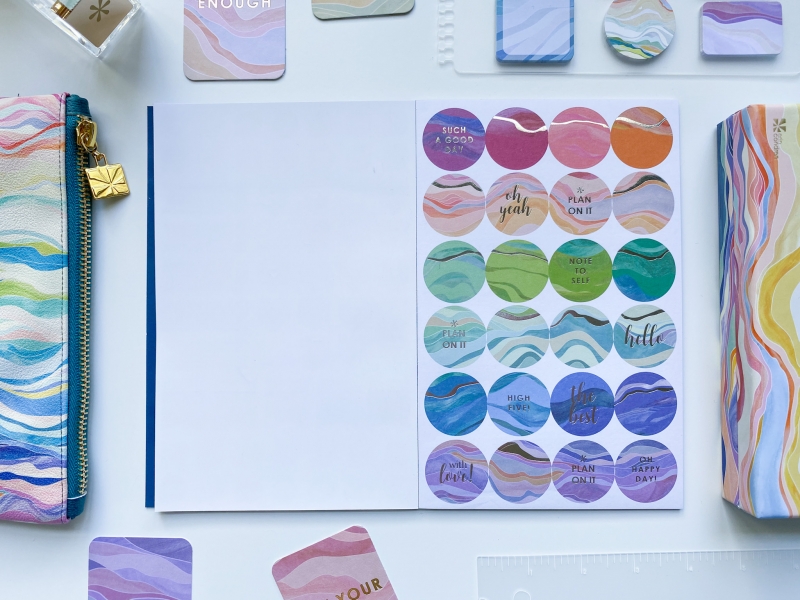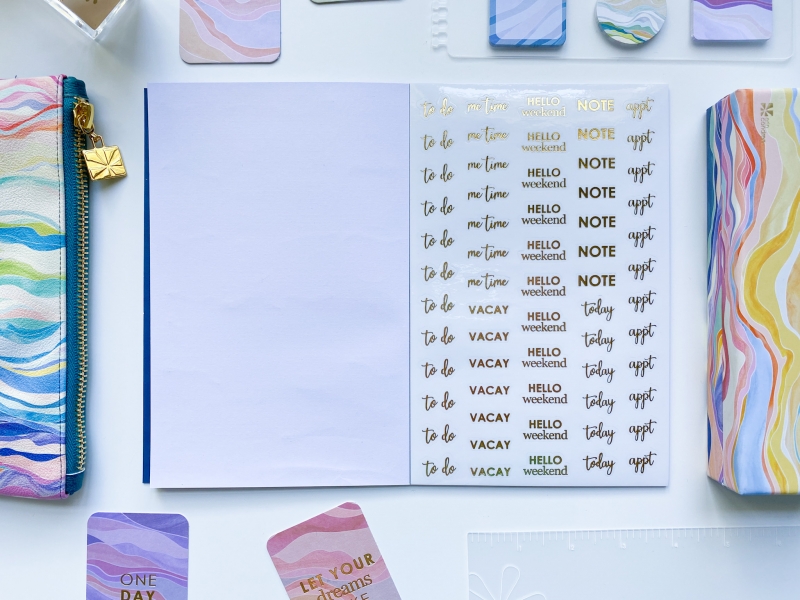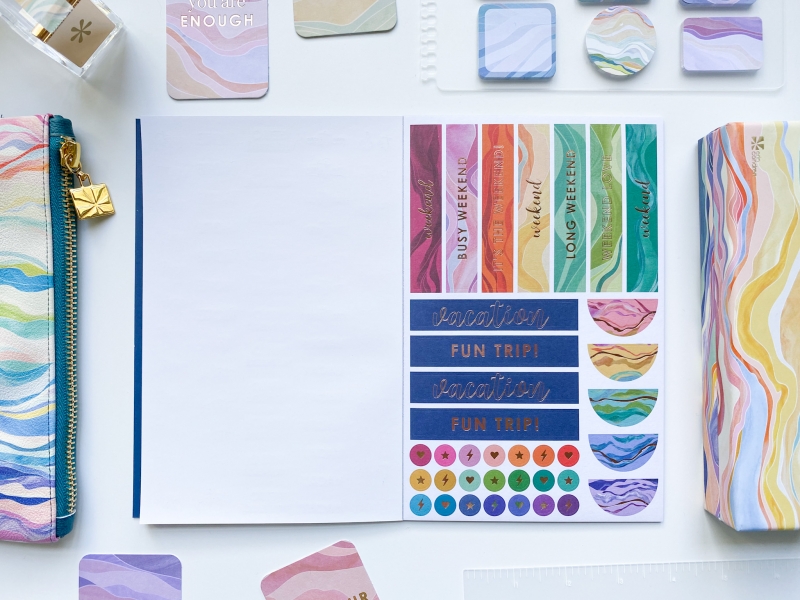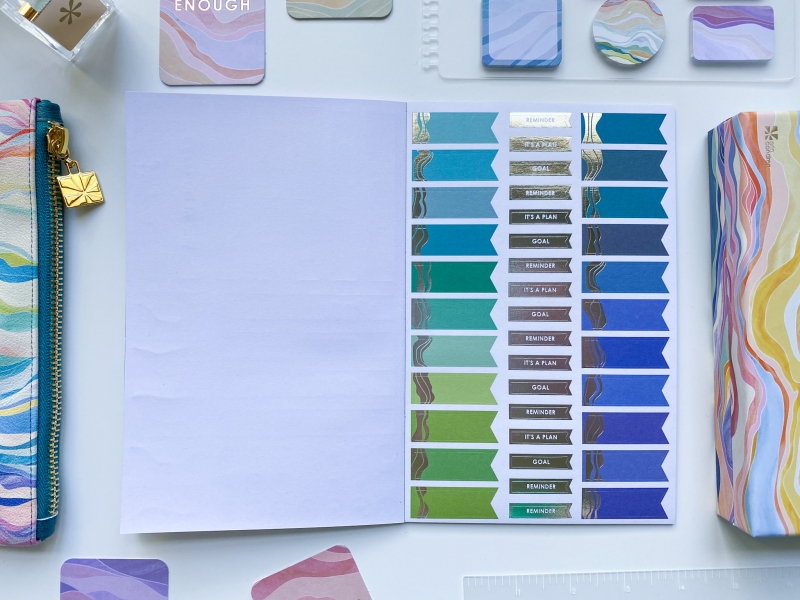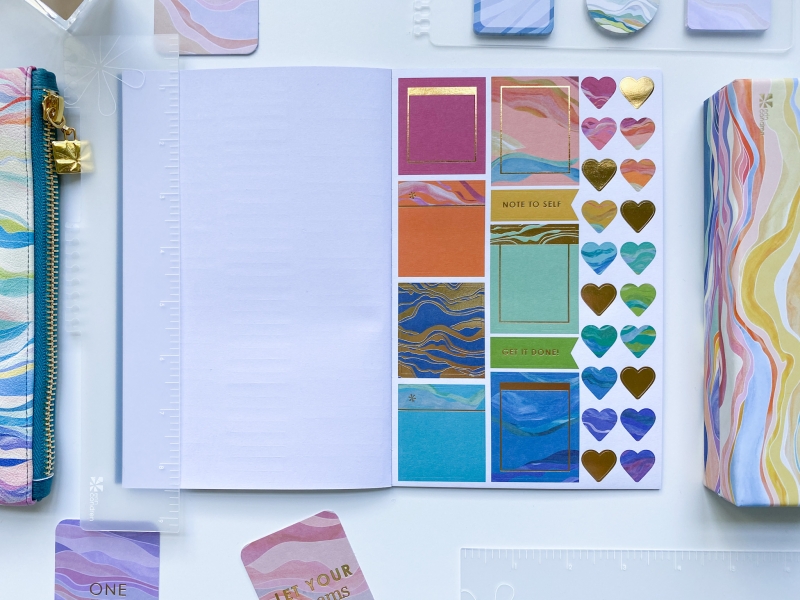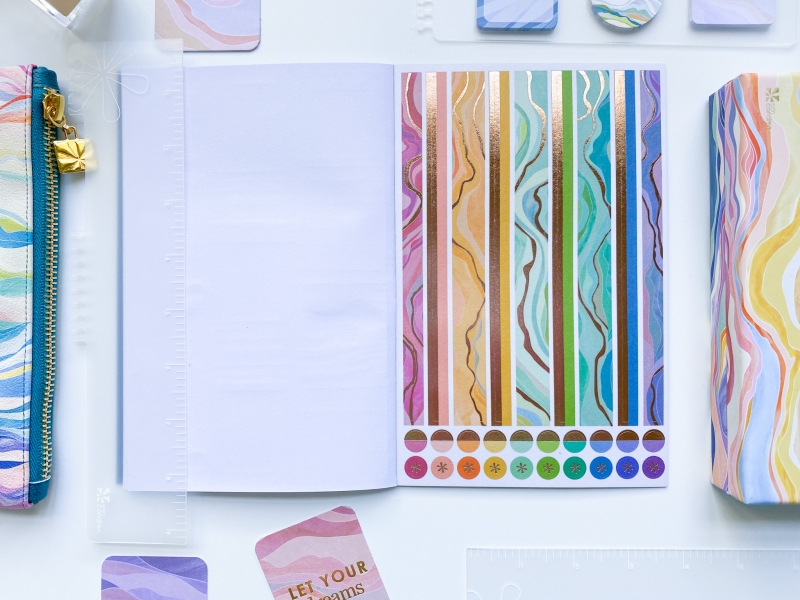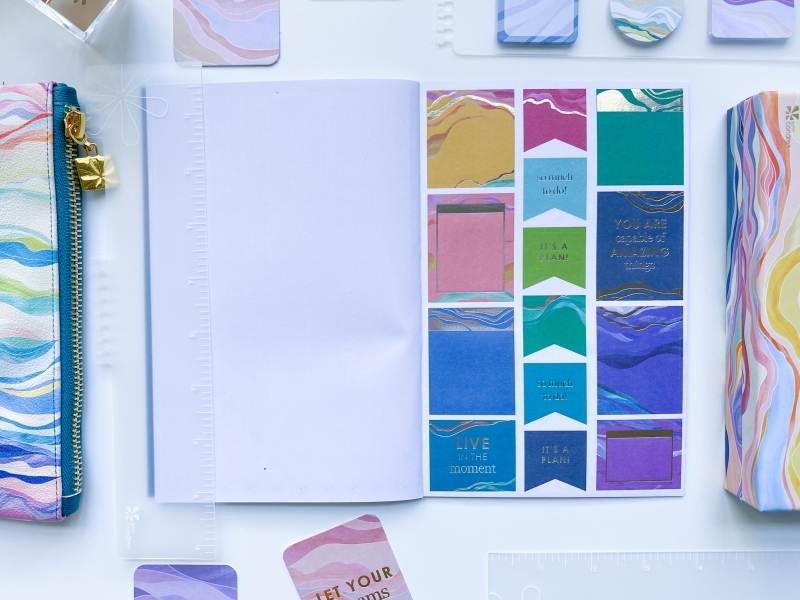 Petite Planner – Monthly July 2020 – December 2021 – $14.00 (purchase here)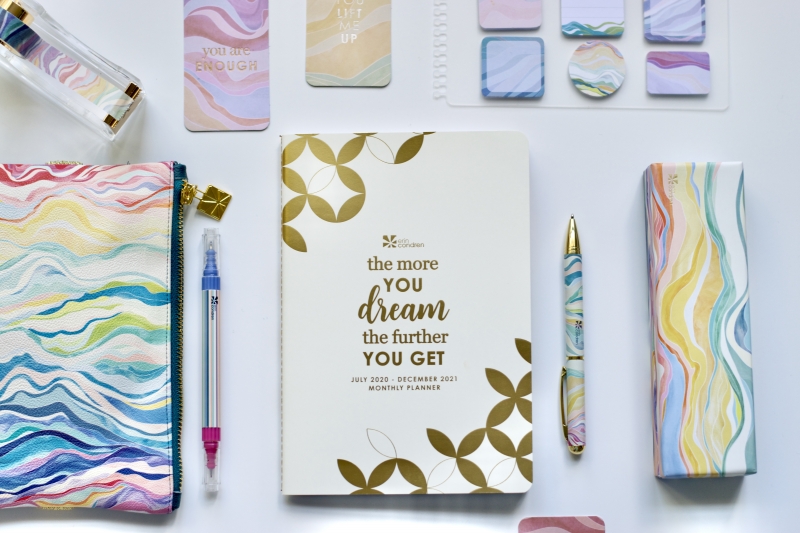 The petite planner folio system has become one of the most popular ways to plan! There are many petite planner books, and they work well on their own, or slip 4 of them into a folio to make a portable planner system that goes anywhere you do!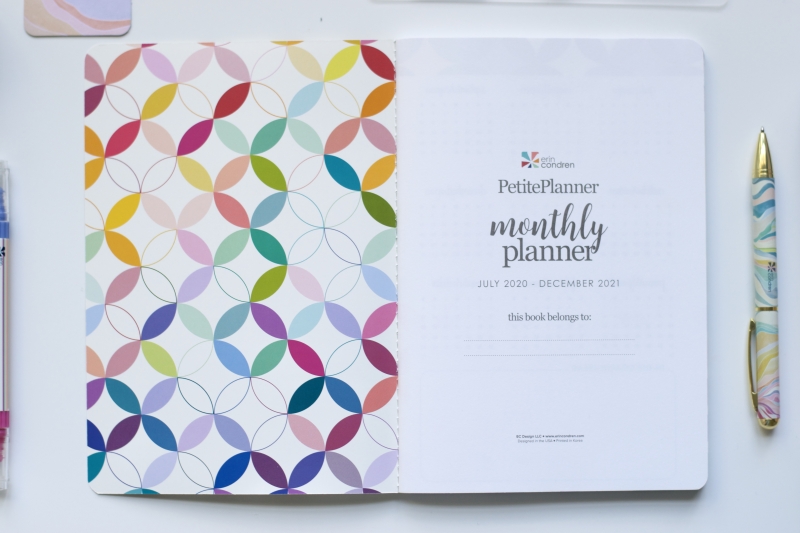 The monthly petite planner is an 18 month planner.
Also, hello mid-century circles! I've missed you!!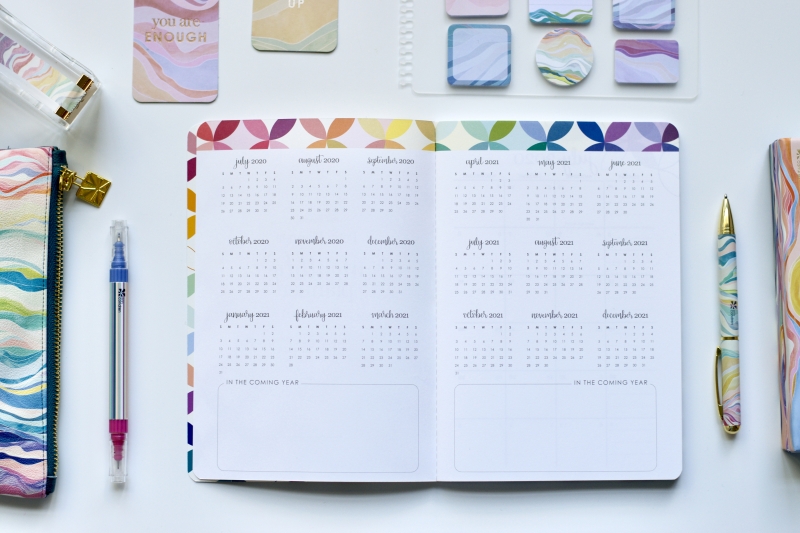 It starts with an overview of the upcoming 18 months, and a place to note bucket list items.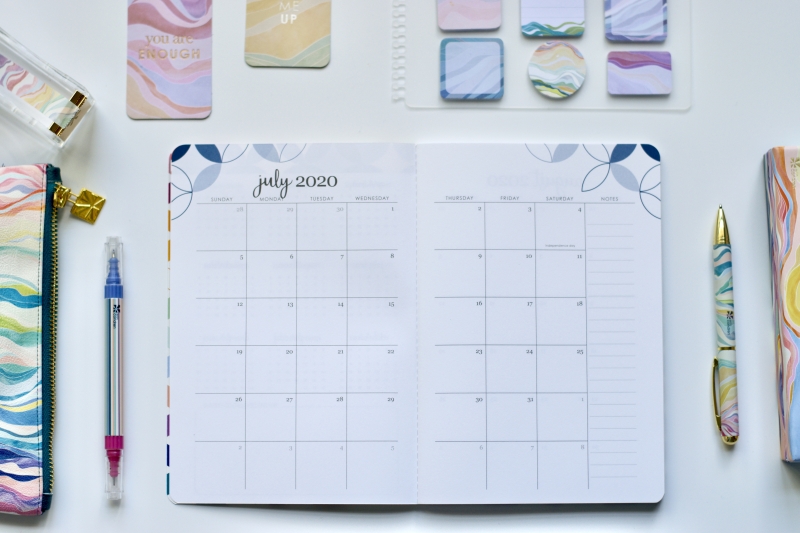 And then it goes right into the months – all 18 of them. There are no weekly or daily pages in this planner – just the 18 months from July '20 – December '21.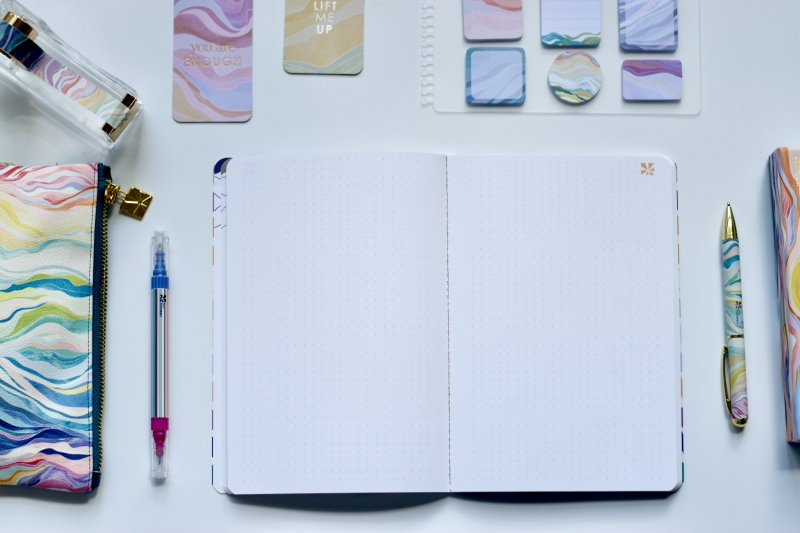 Following the 18 monthly layouts, there are 46 dot grid pages for notes!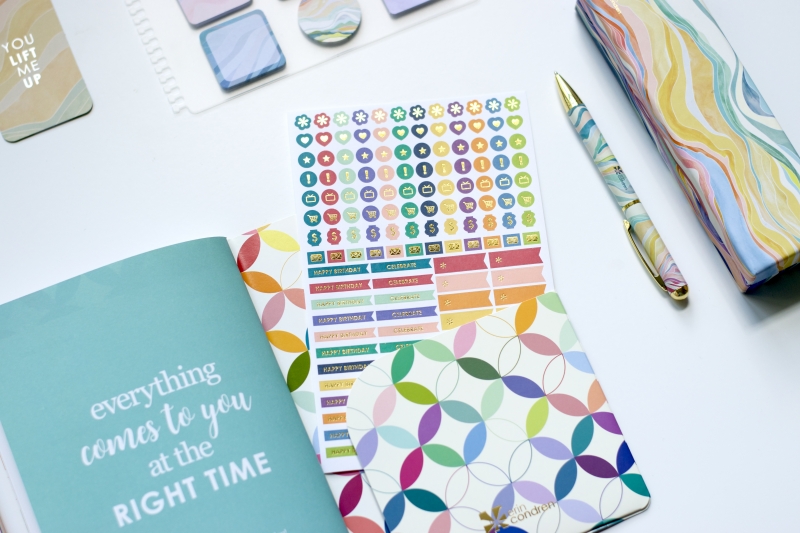 The book wraps up with the mini months of 2022 for future planning (not pictured) and a small folio pocket with small icon stickers for use in the petite planner.
Binder Hole Punch – ($12.00) (purchase here)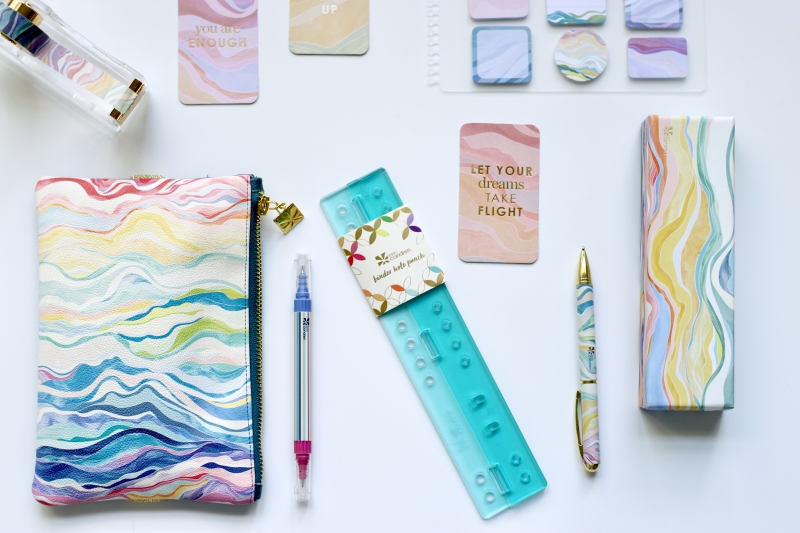 Last year was the first year of the Binder system at Erin Condren. Accessories were minimal, and those that used the binder requested a punch for the binder with the unique 8 hole binder construction. And here it is!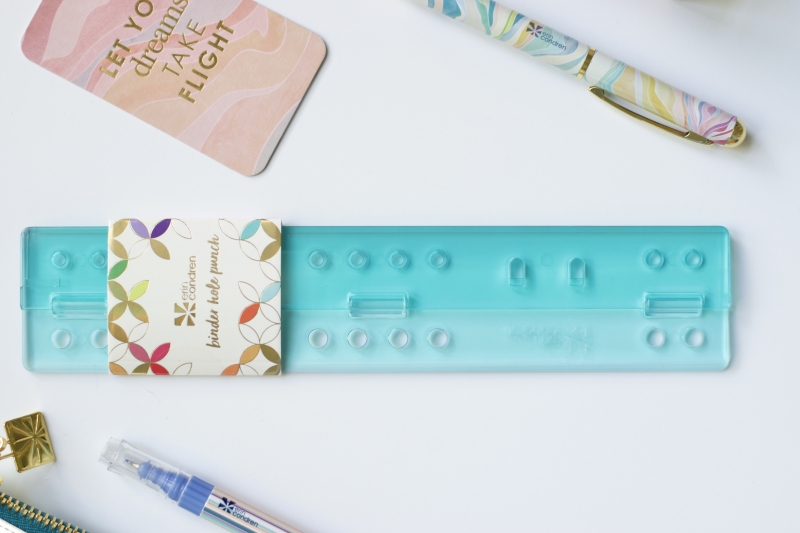 Here are a couple of my thoughts on the new punch:
I love that we have one now, and that it has holes so it can be stored right on the rings of the binder!
It's soooo pretty! Acrylic turquoise? Yes, please!
There are small guides on the punch side so that your paper will line up nicely and have corresponding punches with the rest of your planner.
It will only punch one sheet at a time, and the thicker your sheet is, the harder it is to make the punch work. I punched one sheet of 80lb Mohawk paper from one of my Erin Condren notepads because I could see that being useful – add your list to your binder. And it was difficult to punch. I lined up the paper and folded the punching side over the paper and then pushed…hard. I used the heel of my hand and finally made the punch, but in the future, I'll use a book to provide even pressure on the entire punch all at once.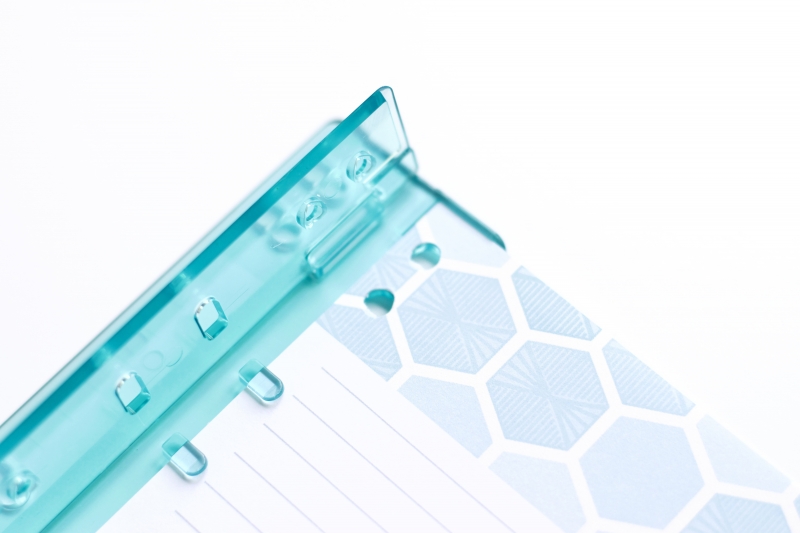 Once punched, I had a difficult time freeing the paper from the punch. It took some work, and once free, all the punches spilled over my desk – so when you open yours, hold it over a trash can. I also had quite a few "hanging chads." (Am I dating myself? Do you know what I'm talking about? Punches that didn't separate completely from the original paper.) I played around a bit more with freeing the paper, and learned how to free the paper much easier! Don't lift the top of the plastic punch off the top of the paper! Do lift the paper up from the bottom of the paper to free it from the bottom of the punch. Using the paper to lift upward frees the paper from the bottom of the punch, and at that point it's easy to free the paper from the top of the punch!
This punch will punch heavy cardstock (I tried it!), but again, you're going to need to lean on it and provide a lot of pressure to get through. Use even pressure across the punch so you don't crack it!
Conclusion: I do think those that use the binder system will appreciate having the punch! It's a welcome addition to the planner line! I also predict some frustration with a single-page punch. It's not mechanical like a leverage punch and that means you have to use a lot of pressure to get the punch to pierce the paper. I really recommend using a book to provide even, constant pressure when you punch – otherwise, I think the acrylic could eventually weaken and fracture.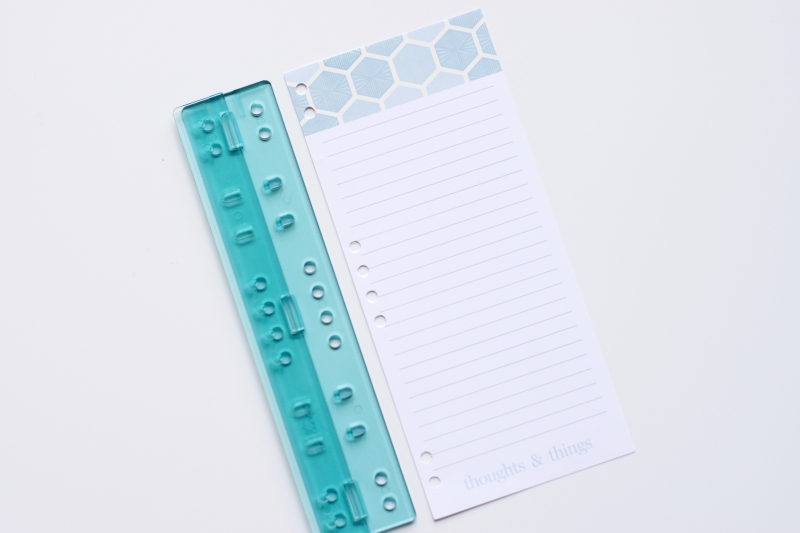 I'm definitely curious to hear your thoughts on the punch! Maybe you're thrilled to see it and you don't mind a few inconveniences? Let me know in the comments!
---
There is one more accessory to share with you – although it's not associate with the April 29 launch, it is brand new to the site and available right now! Erin Condren x Pop Sockets!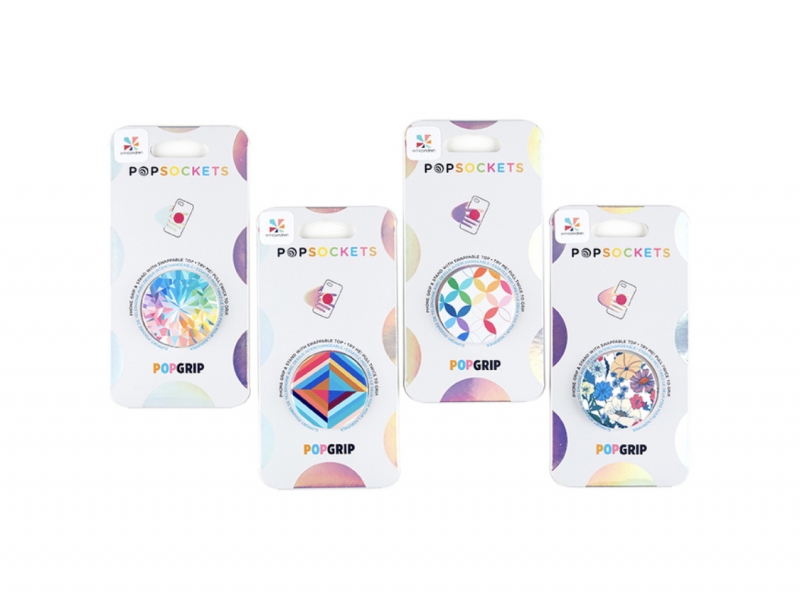 They were just too exciting not to share! They're already in my cart!
---
Thank you so much for reading all the way to the end of this review! This was super long and you deserve an endurance medal! I really hope this was helpful – in seeing the options, the planner line (which is always expanding), all the new accessories, and my own personal thoughts and opinions!
Don't forget!
EC Insider Launch – April 27 – April 28

You must be signed up as an EC Insider to have access to early launch. A special link will be emailed to you and you'll go through that link to order!
And don't forget those gorgeous early access gifts with purchase!

EC General Launch – April 29

The new products will be available on the website
Please note that some products that were planned for launch day were delayed in arriving due to the worldwide shipment delays! (The planny pack is one of them.) Be patient – as soon as those products are available, they'll be added to the site! And don't forget, you'll have 20% off coupons to use (they'll come with your new planners!) when you go back to place extra orders!

Remember that if you're a first time Erin Condren customer you can head over through this link and set up an account and Erin Condren will email you a $10 coupon to use on your first order!
Let me know in the comments what you're going to use this year!
Happy Planning
---
I'm including a comprehensive lists of all the others sharing previews of the planners launching. We each have different planners and layouts, so check the list for the planner you're interested in!
Many thanks to Emily Goldsberry for compiling this list!
LifePlanner Hourly Weekly
LifePlanner Vertical Weekly
LifePlanner Horizontal Weekly
LifePlanner Daily Duo Colorful
LifePlanner Binder