The Morning Basket: A Place for the Good, True & Beautiful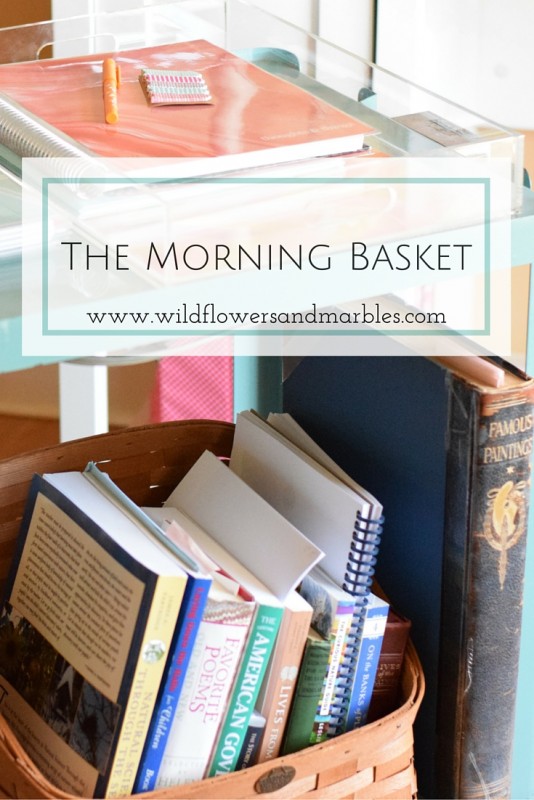 How did the Morning Basket come to be?
As my children grew and I added younger children to the mix of older children it became clear to me that expectations might be changing, but our philosophy hadn't changed just because a child reached a certain age. There was a need to anchor the day for all of us in our familiar, gentle way. I began to brainstorm a basket of inspiration that could be ageless in its offerings, that spanned abilities, that spoke to beauty and loveliness, and gave the day an inspiring start. My idea was to gather a collection of offerings that all the children would want to be a part of…a collection that could almost stand on its own for the day's work if needed. And thus, the Morning Basket came to be! A collection of the good; living ideas that we would all start our day with and grow out of.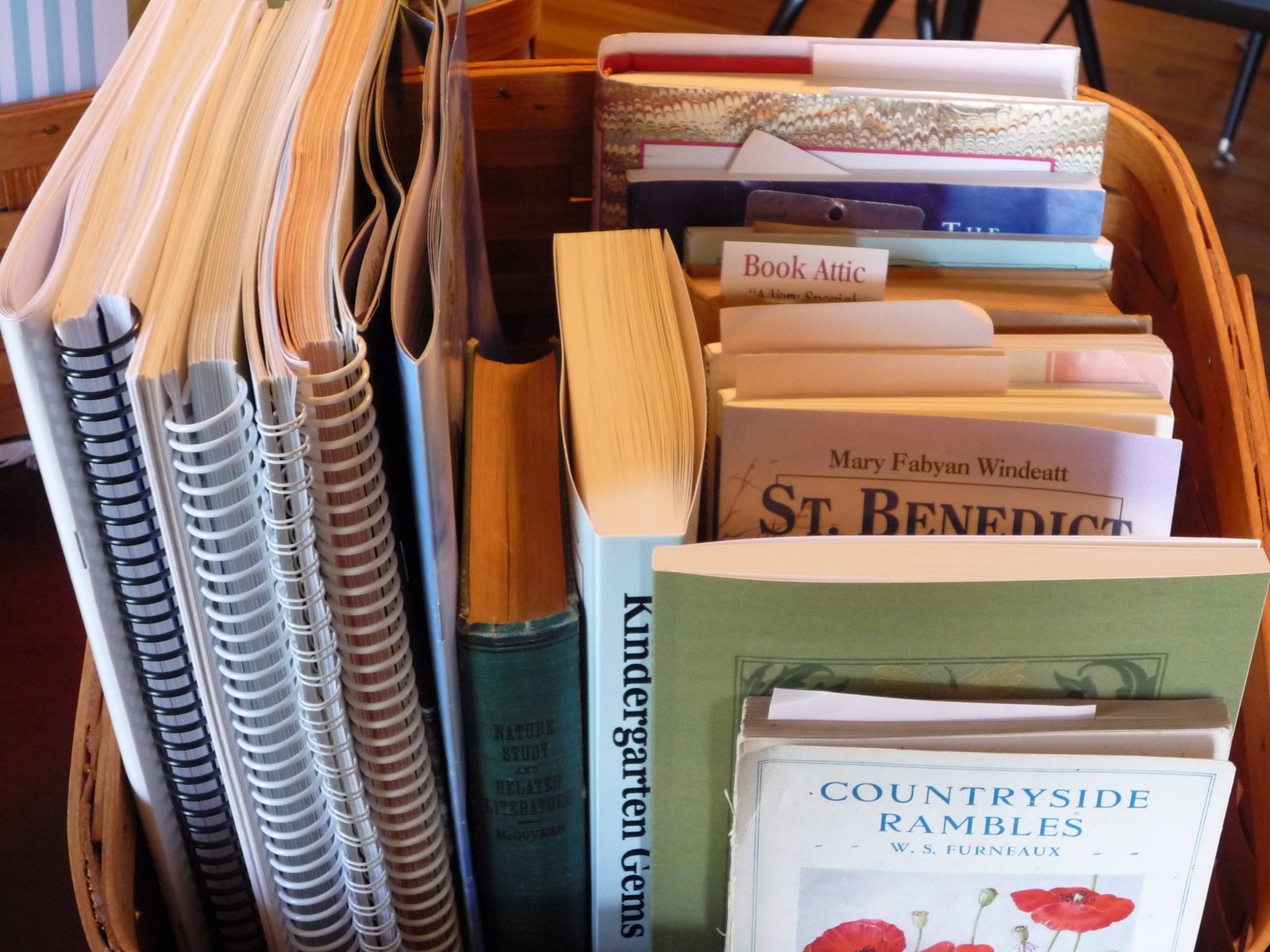 So, what's in the morning basket?
This varies from season to season and from year to year, but I'll give you an idea of what resides in our morning basket right now. It might give you a few ideas for setting up a basket or collection of common readings and ideas of your own if you feel so inclined.
I also want to mention that we don't do EVERYTHING in the morning basket every day; some days are light, other days we may read more. Each day we try to encounter living ideas and I do my best to consider the good, true and beautiful that I can set before the children within this time!
I set aside a generous amount of time for the Morning Basket and the things we read and do vary somewhat from day to day. We spend just a few minutes on each collection which allows us time to pursue individual facets of a story. Some days we may do nothing more than Baltimore Catechism, poetry, and nature study reading while the rest of the time is spent sketching something from the nature study reading, or from a nature walk from the previous day. It is a time to be inspired, and there are times I need to just get out of the way!
A bouquet of offerings in the morning basket in the order I generally present them:
Faith:
:: Saints: A Year in Faith and Art
:: Baltimore Catechism questions (we work on these for 5-10 minutes a day)
:: Read a chapter from Angel Food for Boys and Girls series by Father Brennan that corresponds with the Baltimore Catechism.
:: Read from one of the following options for the day:
Kindergarten Gems:
I'm borrowing this from the title of one of the books I have for Peanut, but this is a time for sweet stories or a picture book first thing in the morning. (You know how I love arranging his little spaces and setting out little groups of themed picture books!) I have a great variety of picture books I add in here…and sometimes I just read from Kindergarten Gems: Stories and Rhymes for Little Folks by Agnes Taylor Ketchum and Ida M. Jorgensen (1890). They're sweet stories, often with tales of fairies and children, and many times there are poems that reflect a season or a theme. I wish this book was more visibly divided up seasonally as many stories reflect a season or a theme…but it isn't. You know me, though! 😉 This is a spreadsheet in progress! I'll share when I finish!
Music:
Each day begins with a song or two. My little Peanut loves this time, but so do the other children. We choose from a variety of sources that we love!
:: Our Musical Year – Level I and II
:: Wee Sing
Nature Studies:
:: Read one article a day from Nature Friend magazine
:: Read a seasonal selection from one of these selections:
Backyard Birds of Summer by Carol Lerner (there is another title by Carol Lerner you might be interested in – Backyard Birds of Winter)
A Forest Year also by Carol Lerner (has wonderful seasonal explanations and images!)
Countryside Rambles by William Furneaux (out of print – originally published 1920 – you can find sometimes find a used copy of this….Edited to add a link to this book which is now available for free online.  Thank you to Angi @ Peakmore Academy for letting me know!)
:: Sometimes I pull a unique lesson that might be applicable to an aspect of nature we're observing out of Anna McGovern's 1902 work, Nature Study and Related Literature. This book is very similar to Anna Comstock's book, Handbook of Nature Study. I love all the poetry and works referenced in Anna McGovern's book, and I also appreciate the seasonal divisions of the book. A very dear friend found it in a thrift shop and gifted it to me since she already had a copy! This book should probably be on my reference shelf, but I love seeing it in the morning basket, and seeing it sometimes reminds me to pull a pertinent lesson out of it.
:: I keep a large selection of nature stories to read throughout the year that I rotate in and out of the basket….I'll list them for you (note many of these classics are back in print now and published unabridged. They can be purchased at Yesterday's Classics):
Poetry:
Each child works on a given poem for memorization. They spend a few minutes working on this poem every day. I choose poems to reflect the season, or subject matter being studied. Our copywork and studied dictation usually come from these pieces, from a nicely written nature story, or from one of our saints biographies. Current choices come from:
:: The Poetry of Lucy Maud Montgomery
:: Favorite Poems Old and New
but other favorite sources are:
:: The Harp and Laurel Wreath by Laura Berquist
:: Kindergarten Gems (which I mentioned above)
:: Nature Study and Related Literature by Anna McGovern (has a lovely selection of seasonal poetry!)
I reassess the morning basket each season, adding in new and refreshing books for the morning reading time. I like to place lovely Dover coloring books in here occasionally, as well as other seasonal investigations. The children love recording inclement weather for some reason – they are all geared up to chart the hurricanes as hurricane season is upon us. Enchanted Learning often offers some neat things to add to the basket.
After morning basket time, the children each move on to their individual work for the day. The big kids grab their lesson plan clipboards and work independently, and the little kids are ready for some one-on-one lesson time, but all of the kids are springing from the same common point of true, good and beautiful, and that is a very delightful way to begin a day!
I hope you find your mornings are lovely and refreshing!
Follow up post:  Refreshing the Morning Basket :: March 7, 2012
Follow up post: The Morning Basket: Ageless, Inspiring…and Still Standing :: May 15, 2014
Follow up post: The Morning Basket Plans and Printables – 2015 :: August 31, 2015
Follow up post: The Morning Basket Series: My Master Notebook :: September 14, 2015
Follow up post: The Morning Basket Series: Using an Erin Condren Teacher Planner :: September 14, 2015
Follow up post: A Little Morning Basket podcast :: October 27, 2015
Follow up post: The Morning Basket Plans & Printables – 2015 :: August 31, 2015
Follow up post: The Morning Basket Series: My Master Notebook :: September 14, 2015
Follow up post: The Morning Basket Series: Using an Erin Condren Teacher Planner :: September 23, 2015
More follow up posts to come!