Refreshing the Morning Basket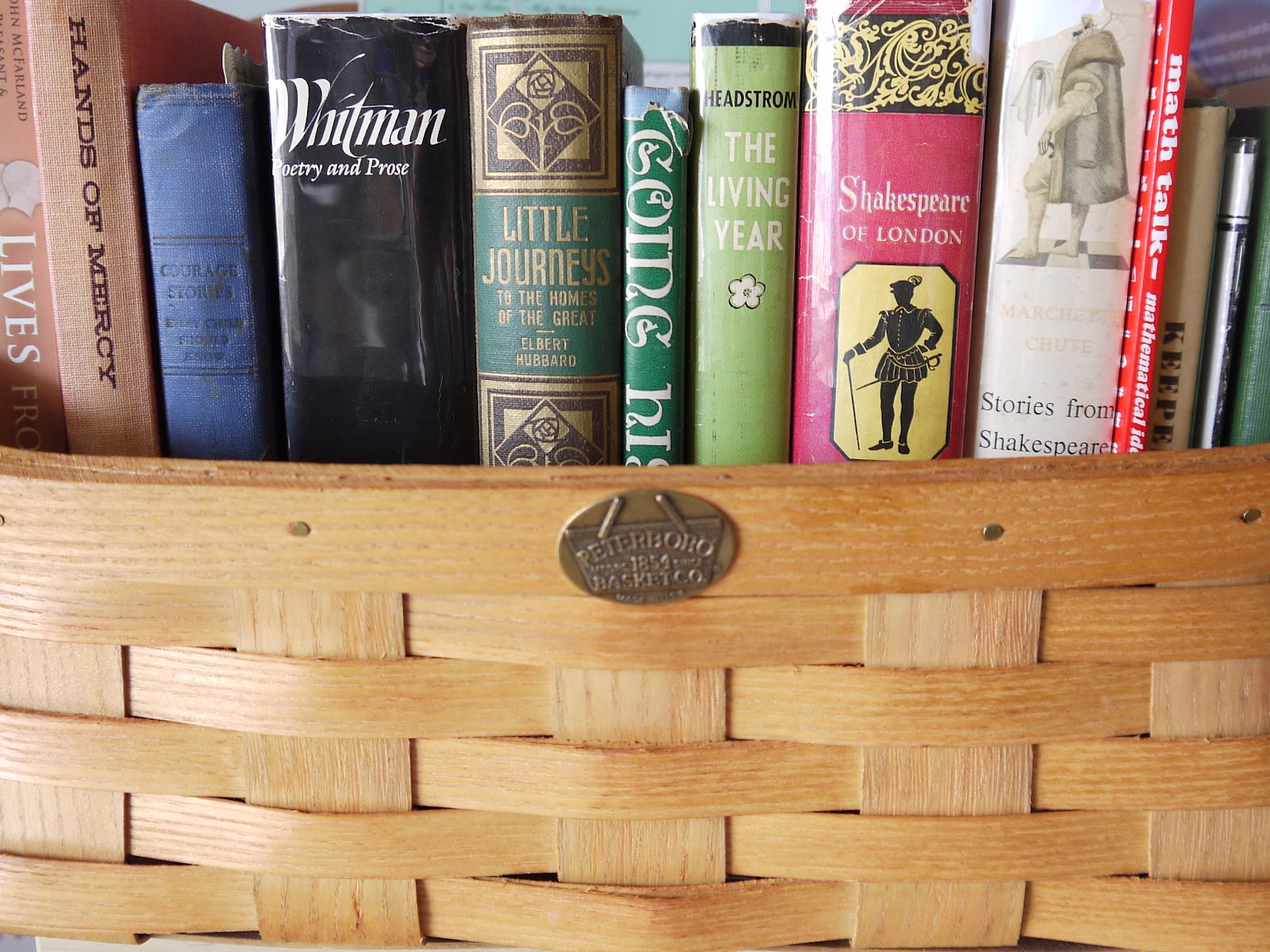 A couple of years ago, I posted about
our Morning Basket
and how much we enjoyed our together work which we keep in this family basket.  I thought I'd share again about our Morning Basket.  It seems to grow and change with our family and our family needs as they differ from year to year, so I hoped to show how the Morning Basket might change for your growing family over the years, as well as the ways it has stayed the same.Initially, I conceived the idea of having one point in the day (morning) that we could get some shared work done.  With growing children, I longed for a common point from which the day could spring, a point which was beyond grade levels and resisted defining in those standard this-book-is-only-for-this-grade way.  In a family with multiple ages and grades, a home educating mom will often look for ways to steward time in efficient ways so that the day runs smoothly.  The Morning Basket became my answer to efficiency while also addressing a need I had to combine some subjects across ages.  It has long functioned as our common beginning, and is a delight for us.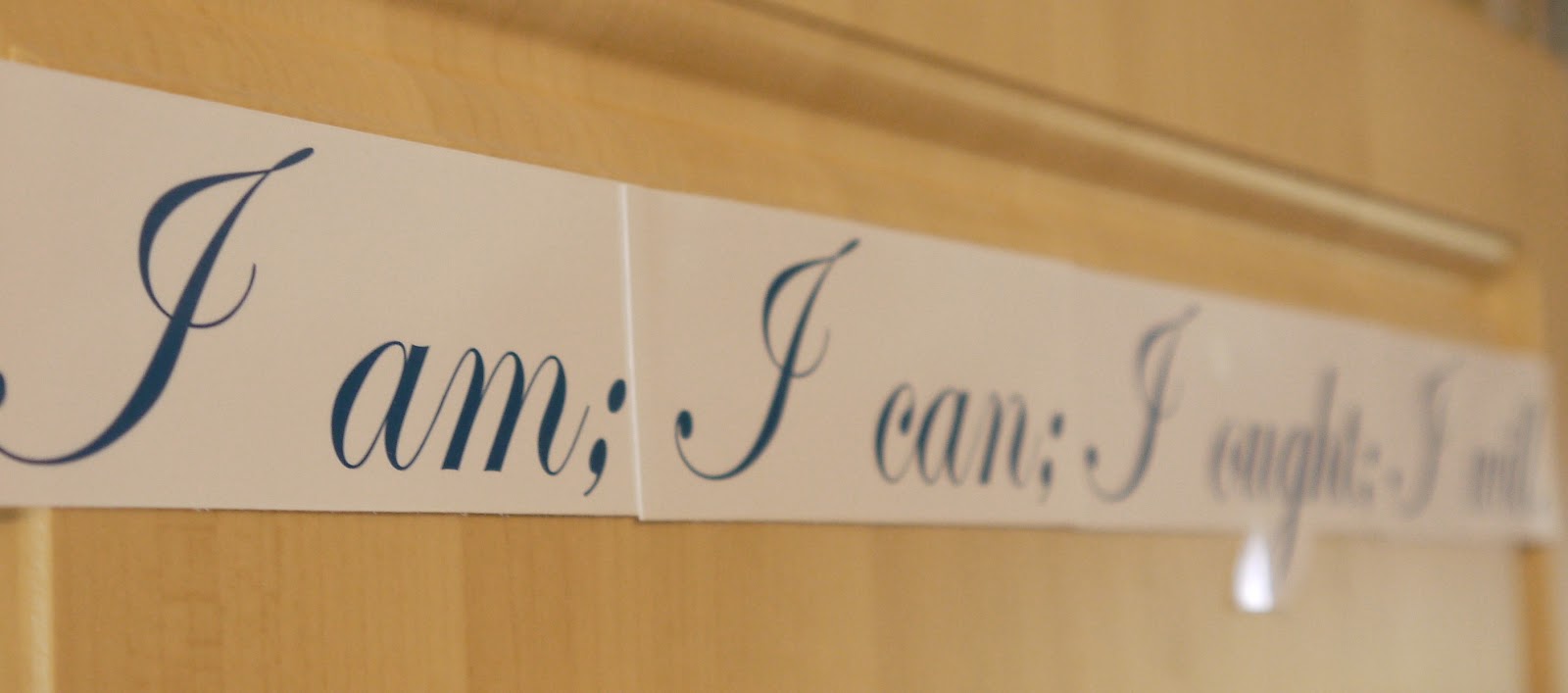 In a Charlotte Mason education, a variety of subjects are provided.  This ensures a varied and rich feast of ideas as part of their education.  Part of the challenge of arranging a Charlotte Mason day (and beyond that a term or year) is in providing the feast of ideas in ways that are manageable and inviting without being overwhelming.  Add multiple children and a span of ages and this challenge of providing a rich variety begins to strongly suggest that you combine a few subjects, allowing the different ages to plumb the subject to different depths. The Morning Basket is an answer for our family in providing a nourishing variety of living ideas and experiences, with each child taking and enjoying the feast to the extent they are able.  It is rich for all.
Our Morning Basket could really stand alone, rich and full of history, art, music, liturgical and faith reading, virtue and character education, culture, and natural history.  Perhaps the Morning Basket could be considered the rich appetizer, whetting the appetite for the feast of living books and ideas to come in the day!  Sometimes (not always, you wouldn't want to make a habit out of this), if an appetizer is rich enough, you can make a meal out of it and it can sustain you for a time, can't it?  Which means, if the day is full of outside the home activities, or contains an unavoidable interruption, the Morning Basket can stand alone for our day if needed.  Isn't that a consoling thought?  One hour of richness that lives in the morning hours.  It's simple, collected and varied enough to provide quite a rich feast of ideas throughout the week….just from the Morning Basket of work.
---
The Practical Stuff
---
 I have learned that I like keeping a simple chart (I print on photo paper/cardstock) of the weekly plans for the Morning Basket.  No need to hunt down a list of what we're doing each day – I keep this handy chart tucked in the back of the Morning Basket.  Below is what the little chart detailing our Morning Basket looks like:
You can click to enlarge and view or download several versions of the Morning Basket chart:
In the morning, I simply remove my little chart and assemble the books from the basket that we'll be reading from for the morning.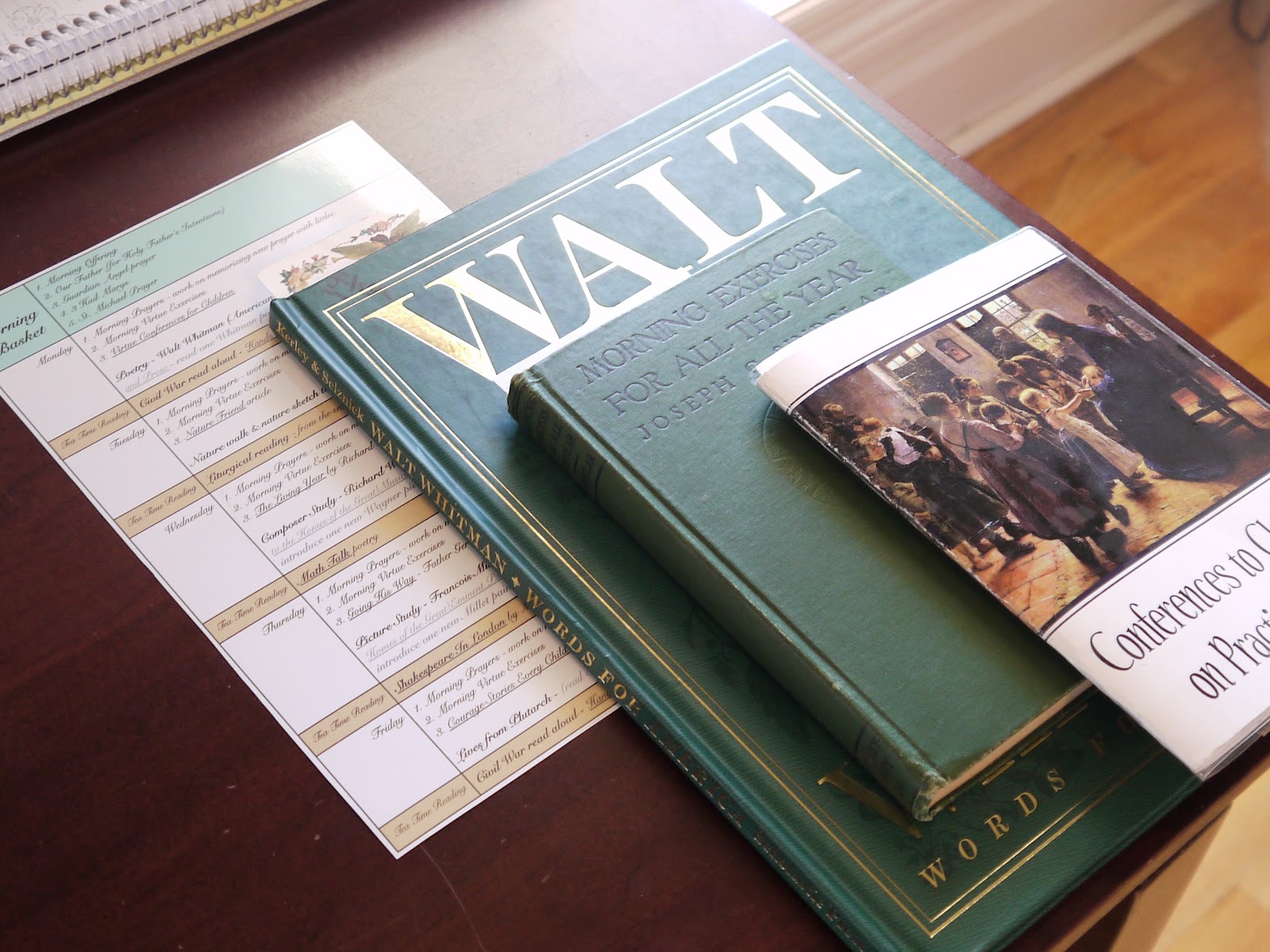 It couldn't be simpler!
---
Morning Basket Resources
---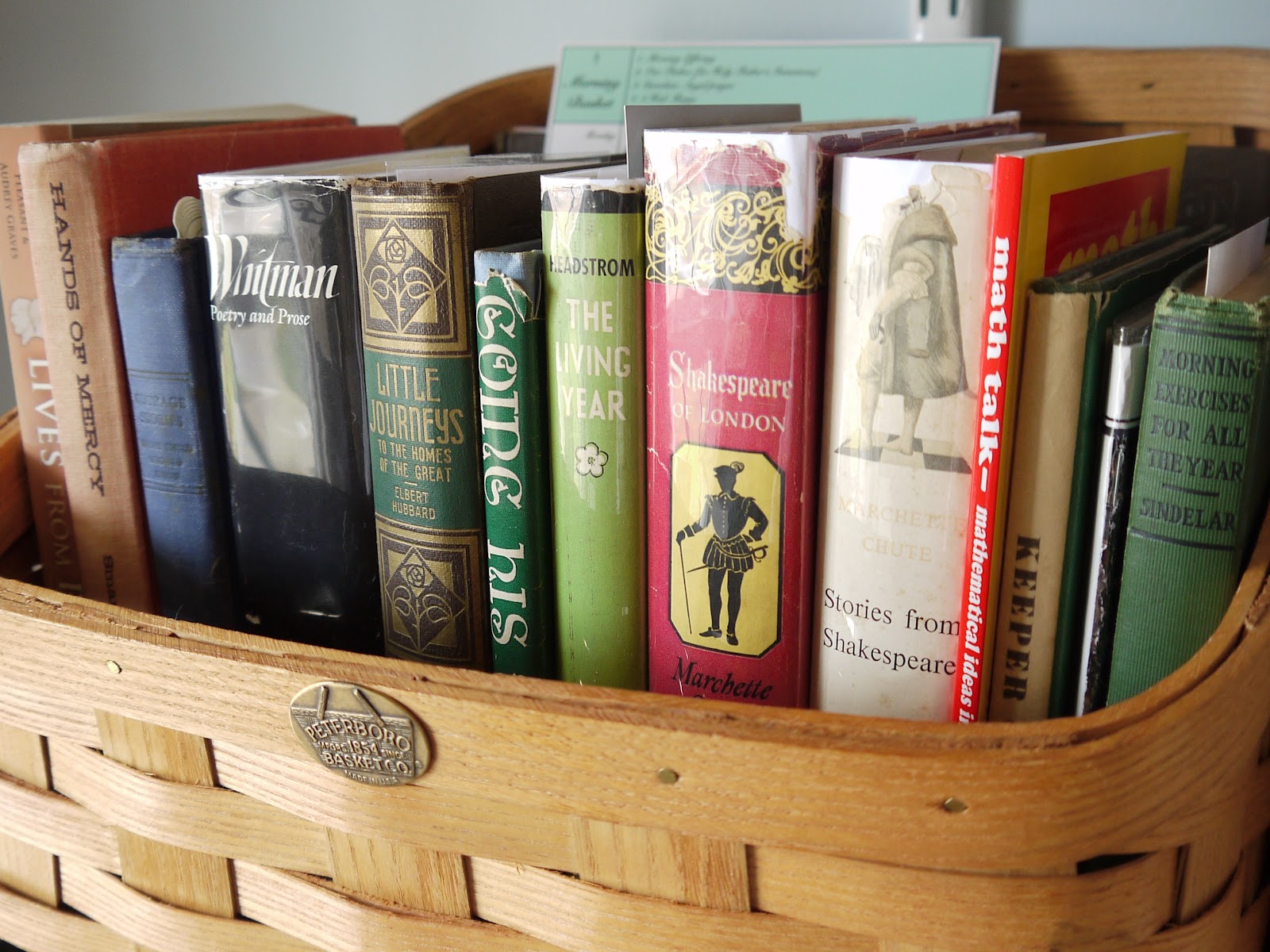 Shall we talk about some of the resources in this term's Morning Basket?  I'm really excited to share some of them with you because they are such treasures!
---
Nurturing Character Formation, Faith and Growth in Virtues
---
Morning Exercises for All the Year

by Joseph Sindelar – (You can find a free copy for your ebook

here

.)  This is one of my favorite treasure-finds for this year!  The book is arranged one day at a time for the entire school year.  Each day contains a little poem or thought/quote that exemplifies a virtue or noble habit being fostered for the day.  Following that are any significant historical anniversaries.  Some days, there are excerpts or stories that illustrate the historical figure whose anniversary (of his/her birthday) is that day, and that also exemplifies the virtue being introduced for the day.  The daily selections are short and sweet, but I am hooked!  They're perfect for starting the day in the Morning Basket!

Going His Way by Father Gerald Brennan – this is one of the original Angel Food books which remains out of print (originally Volume III).  I found it in a thrift store a year ago and quickly grabbed it!
Conferences to Children on Practical Virtue by Father Abbe Vetre – I am sure I must have mentioned this little gem here before.  Have I?  This is an old title, written directly to the child but not at all in a dumbed down, silly way.  Recently reprinted, I have been reading through it very slowly with my children for a bit now.  It is full of practical and spiritual direction for children to assist them in growing in virtue.  
Courage Stories Every Child Should Know collected by Helen Ferris, illustrated by Marguerite de Angeli – I discovered this book quite by accident.  We were enjoying Marguerite de Angeli books at the time and I was looking around and found this book that she illustrated.  When I saw that Helen Ferris (

Treasured Poems Old and New

) edited it, I was hooked!  It's full of fantastic stories that my children really enjoy! And of course they each convey courage in its most noble forms!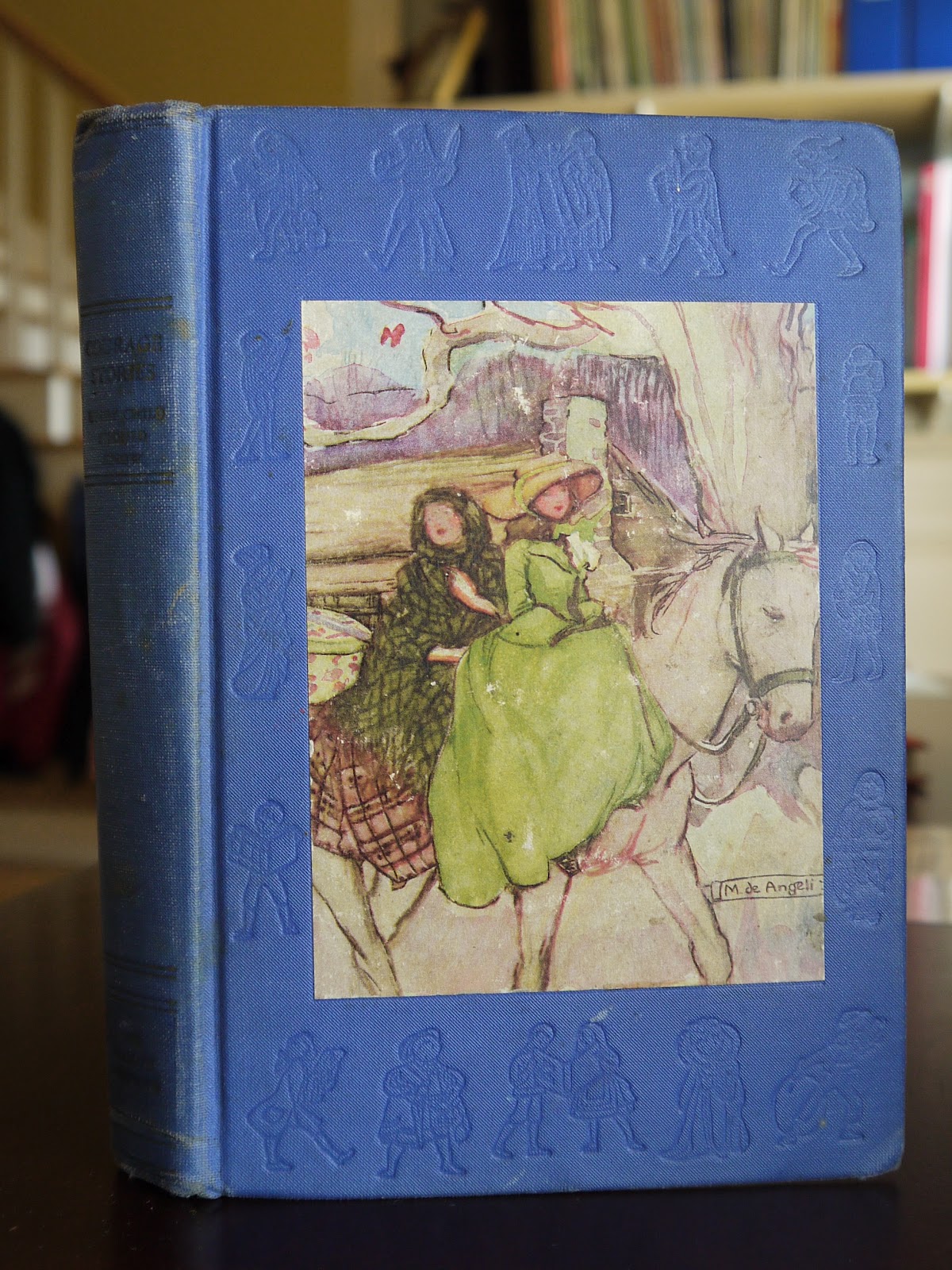 Lives From Plutarch adapted by John McFarland and Pleasant and Audrey Graves – I'm relatively new to reading Plutarch; it's something I've only recently (the last two years) added to our lineup.  Could it really be all that

 I asked myself?  Reading 

PLUTARCH????  I have to tell you, he's quite enjoyable, and the stories are completely understandable.  Don't read Plutarch with the purpose of acquiring Greek and Roman history (though you will certainly become acquainted with some culture through his writing).  Do read Plutarch to enjoy the little mini-biographies that convey a sense of character through actions.  Prepare for rich discussions.  (Note: there are many versions of Plutarch available for reading with children.  My absolute favorite for lovely typeset, quality paper and a very good adaptation is Hillside Education's version.  We also have all of Plutarch's Lives as contained in The Great Books of the Western World.)
---
Natural History
---
The Living Year: A Naturalist Explores the World Outside Your Door by Richard Headstrom – This is a wonderful book to read aloud throughout the seasons. The book has 12 chapters, one for each month. Mr. Hedstrom writes in an engaging way as he explains about various insects, birds, animals, plants and flowers and their habitats. I particularly enjoy the wonder he invites.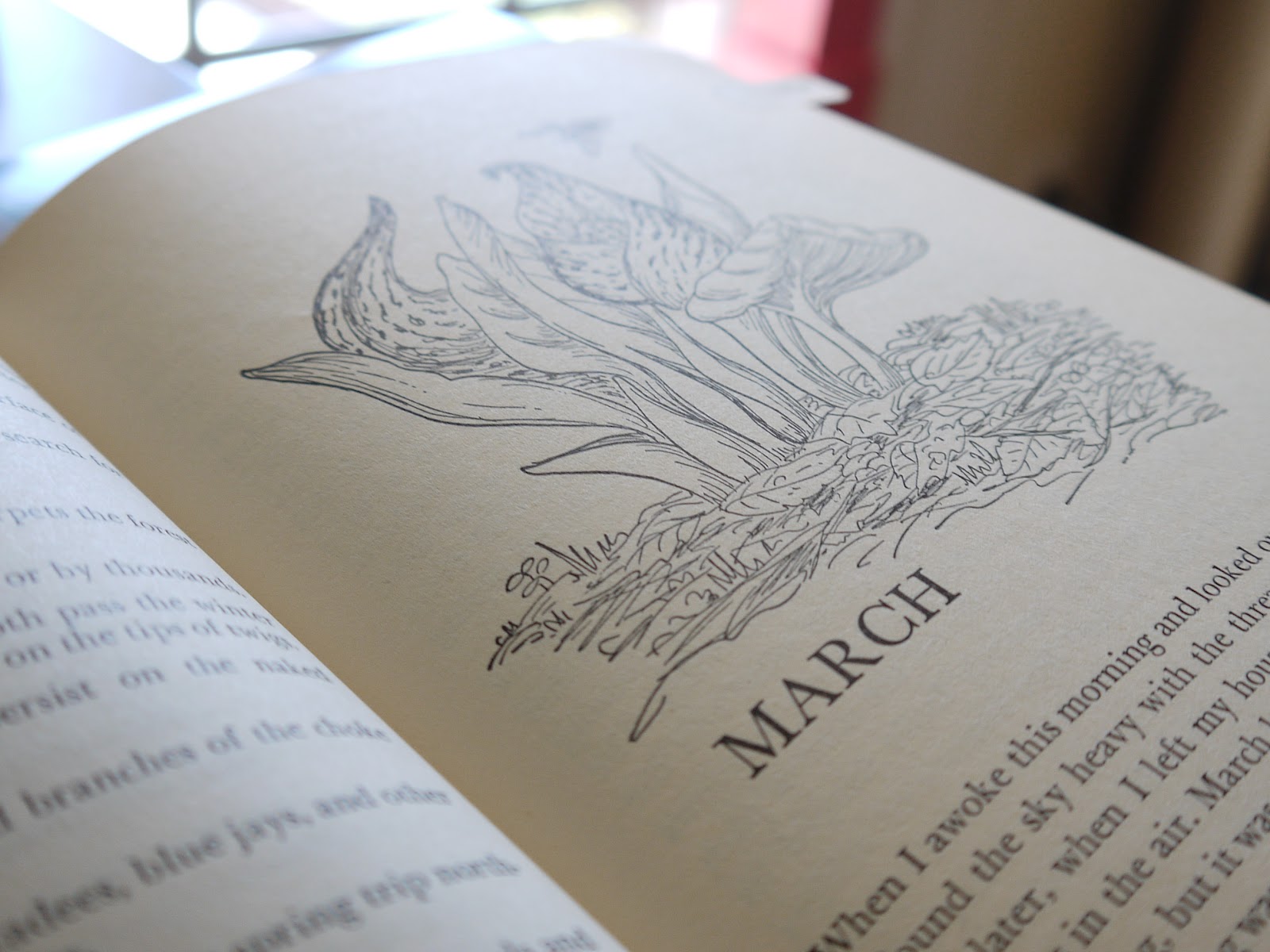 Nature Friend Magazine – an old friend of ours arriving in our mailbox faithfully every month for the last 9 years, this is our favorite natural history magazine for all ages.
Nature Walk time – do you always find this time elusive?  Does the idea of a regular nature walk sound great, but it never seems to show up with regularity in your days and weeks?  Pin it somewhere!  It works great in our Morning Basket time, and giving a full measure of time to it means the children aren't rushed – they are inquisitive and relaxed as they enjoy the time out of doors, bringing in treasures to sketch and investigate.  Your best location for a nature walk are the gardens and outdoor spaces right around your home.  Make this simple!  You don't have to get in a car and go anywhere – just put on jackets and go outside!
---
The Arts: Music
---
The nitty-gritty-how-to-of-it-all: 
As noted on our Morning Basket plans: read from a living book introducing the life of a composer.  There are many good choices for this, some I'll recommend below.  The child adds the composer to his book of centuries.  Throughout the term we listen to recommended pieces and works from the composer during our quiet work times.  We often choose works that are recommended or mentioned in our living book reading.
Discovering Music: 300 Years of Interaction in Western Music, Arts, History and Culture by Professor Carol Reynolds – I was looking for a music history course for my high schooler when a friend (thank you, Maria!) recommended this amazing course, and we're eager to start it.  (You can read an enormous number of details as well as viewing and downloading samples from website.)  When I played the sample video for myself, all my children came from different parts of the house, completely engaged and excited, asking for more.  I was sold when I saw it, too, especially after scrutinizing the content.  Fantastic!  We're going to begin viewing and enjoying the course as a family immediately, carrying it over into next year for two terms and then picking up Professor Carol's Exploring America's Musical Heritage lecture/DVD series from there.  I'm particularly excited about this series, and how it weaves culture, history, art, poetry, even some sciences into the lectures.  Far from being static, the lectures are dynamic and engaging – a superior living lecture series!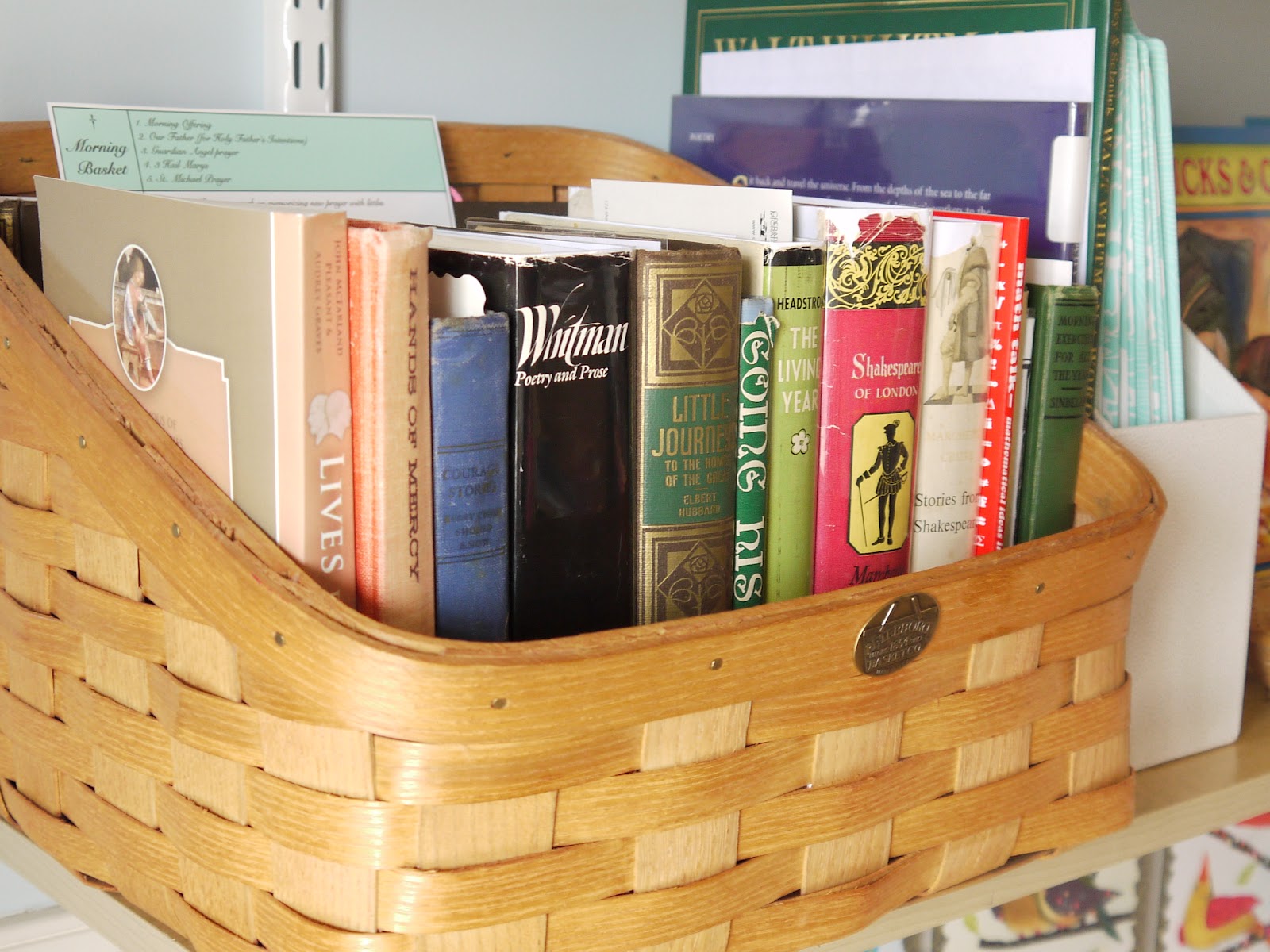 Here are some of our favorite resources for specific composer study:
Minute Sketches of Great Composers by Eva Hansl and Helen Kauffman is a favorite resource of mine (not pictured), and is an excellent book for giving a brief and very child-friendly overview of the most popular composers.
The Gift of Music: Great Composers and their Influence by Jane Stuart Smith and Betty Carlson is another excellent resource I highly recommend.  The historical and biographical information is sound and quite detailed.  I really enjoy reading this as part of the introduction to the composer.  Of particular help to us are the end of chapter recommendations, especially the recommended listening list which is our standard when we build our composer repertoire for the term.
---
The Arts: Picture Study and Artist
---
The nitty-gritty-how-to-of-it-all: 
We try to read from the life of an artist, again from living books, becoming familiar with their life.  We add an artist to the Book of Centuries (along with the poet and composer – did I mention that?).  Each week, I choose one of that artist's work and print it out for picture study.  You can usually find a good selection of art prints to print on your home computer at the
web gallery of art
.
Picture Study:
Give the art print/picture to the children to study.  Try to do this at a quiet time, or at least a time with as few distractions as possible.  

Encourage the children to bring their full attention to a painting, paying attention to colors, shapes.  Often an artist will hide something unexpected in a corner or in the background – look for all the details in the painting.

Allow the children to study the picture for a few minutes.  No talking or sharing together during this time.

After about 5 minutes, take the picture from the children and ask them to narrate, or tell, what they remember from the painting.  No interrupting.  Children take turns adding observations.

Look at the picture again to see if any other details are noticed.  We do this together.  Be sure to correctly identify the name of the painting as part of the discussion.

Using a resource like Signs and Symbols in Christian Art by George Ferguson, look up any objects that you found in the picture, especially if you're studying sacred art.  Often plants and flowers have a particular meaning, as do the placement of gardens, etc.

Encourage imitation of the style of the artist during the week.  Allow the children opportunities to express themselves creatively.

Study one painting a week.  Display the painting in a prominent place after picture study.
For this term we are studying Jean Francois Millet.  Our resource for reading and studying Millet this term:
---
The Arts: Poetry
---
The nitty-gritty-how-to-of-it-all: 
As noted on our Morning Basket plans: We read from the life of a poet, again from living books, becoming familiar with the poet's life, his inspiration, the times and culture from which he writes.  We choose unabridged works of poetry and read his poetry, choosing a couple of poems to memorize each term.
Prose and Poetry for Appreciation edited by Ansorge, Lucas, McCoy, Tower (copyright, 1942) – I found this little gem in our local thrift store for a quarter and took a chance on it, and boy have I been delighted!  This is a fantastic book that could stand alone as a poetry appreciation course for  any student 8th grade+.  There are a few other titles in the series that I'd like to collect.  The book is divided into sections or themes (Action and Adventure, Nature, Men and Women, Work and Service, Make Believe) and under each section a poet or author is chosen.  A significant portion of an author's work is excerpted, or sometimes a full piece is given, and following are questions and reflections about the piece.  If you know me, you know I'm NOT a fan of reading comprehension type questions, preferring narrations of a work, but the questions following these selections are quite good and can prompt some good discussions with an older student.  Some of the follow-up reflections include some very interesting context for the piece presented.

Edited After the Original Post:  A very dear friend of mine wrote to let me know that the Prose and Poetry series actually has a Catholic version.  The covers look similar, but the editors are different.  The Catholic series editing team includes Julian Maline, S.J. and William McGucken, published by Harcourt, Brace and Ward.  There are similar titles as far as I can tell, too.  You can find them searching in a few different ways.  (The following links will be to Amazon, but I'm sure you could also find them at other used book vendors.)  

The Oxford Book of English Verse and Norton Anthology of Poetry are two good collections of poetry to have on your shelf, and for younger children I still use my old friend, Favorite Poems Old and New edited by Helen Ferris.  I have found another useful general poetry book that I really like: The Family Book of Best Loved Poems, edited by David George, copyright 1952.
In addition to our more general poetry books, we always choose a particular poet's works to study for a term and over the years have collected some gems, like Elizabeth Barrett Browning's Sonnets from the Portuguese and The Poetry of Lucy Maud Montgomery.  For this post, I'll give you our current term's poet resources:
Walt Whitman – 

I reviewed Walt Whitman: Words for America for you here.
Poetry for Young People: Walt Whitman edited by Jonathan Levin is a picture book which includes a good overall biography of the poet at the beginning of the book (covering the first 5 pages).  On the following pages, poems are reproduced (some abbreviated of necessity) and some of the words are defined at the bottom of the pages.  Occasionally, a poem's context is explained at the top of the page.  (It's a nice book, but if I could only choose one picture book, it would be

Walt Whitman: Words for America

)
Whitman: Poetry and Prose (Library of America edition) – this is a good and complete collection of Whitman's poetry.  
---
Tea Time Reading
---
An addition to our Morning Basket isn't really in our Morning Basket at all, it is our Tea Time reading, but it helps me to consider this and organize it as part of our shared and common time.  At this point I have two younger children and two older children.  Part of the very natural evolution of our Morning Basket time has been to read aloud more mature books to my older children.  I began reading lives of the saints to them during an afternoon teatime and from there the time presented itself as full of more possibility.  I really haven't done a good job of keeping up with our tea time reading lately so it was helpful to consider it afresh for this new term of work.  These selections change each term, and it may be helpful to know that tea isn't always consumed with tea time reading (oh dear!  is that scandalous?). Well, picturesque visuals of our family drinking tea and reading aside, tea time may consist of lemonade or milk and usually some small snack….or none at all, but always, always a cafe'-au-lait for me!  🙂
Liturgical Reading is chosen to coordinate with the liturgical year, and usually one of the lives of the saints.

Because the country is now remembering the Civil War as part of the Sesquicentennial, I find that this is a good place to incorporate some excellent living books on the Civil War.  Right now, we're reading Hands of Mercy: The Story of Sister-Nurses in the Civil War by Norah Smaridge, copyright 1960.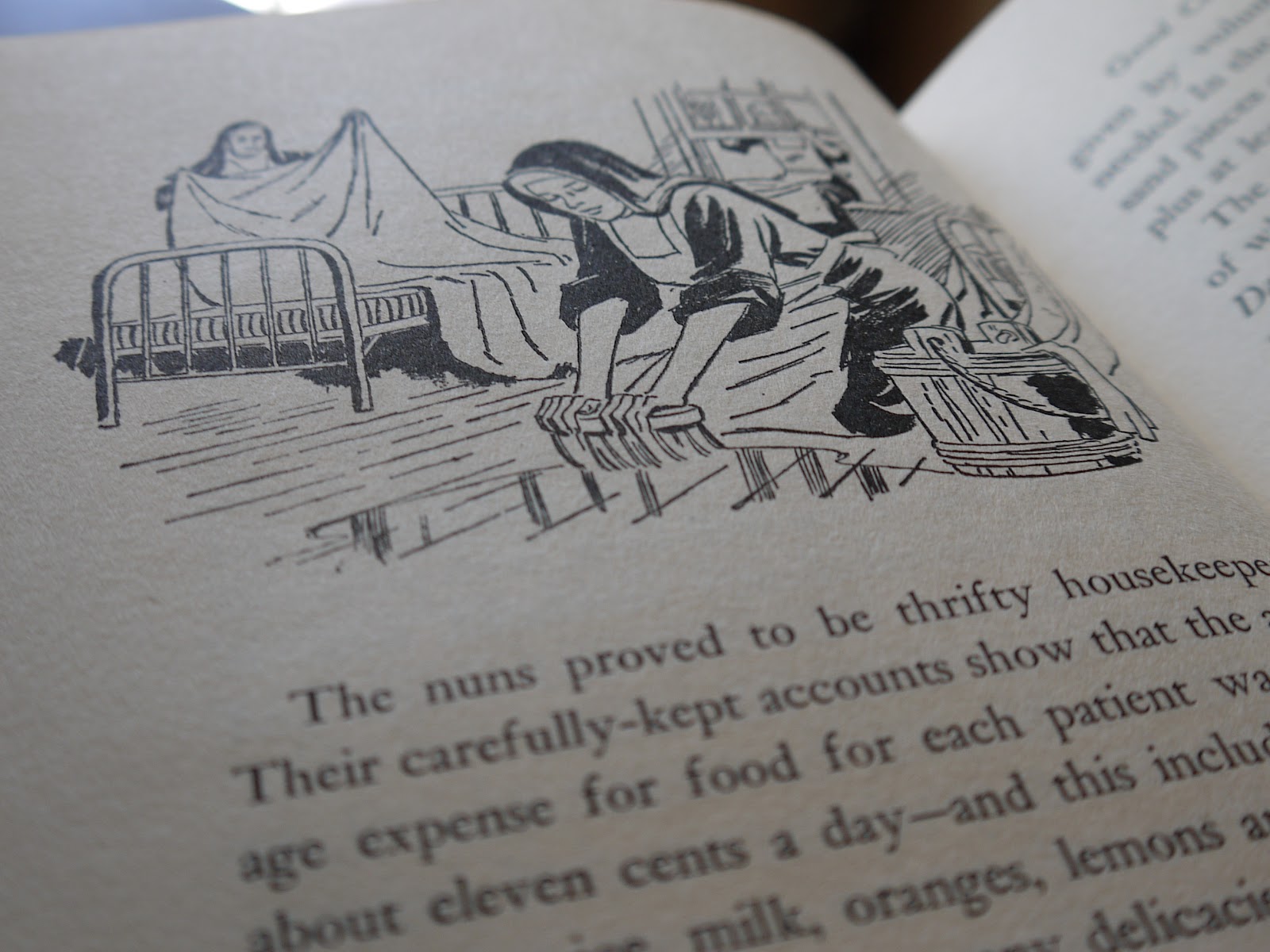 Math Talk: Mathematical Ideas in Poems for Two Voices by Theoni Pappas – This is a fun little book that is really intended to be read aloud and recited by two people!  Hence the name!  If you have an older student (or two) for whom math is not a relished subject, you need to introduce this little book!  It's a lot of fun for us!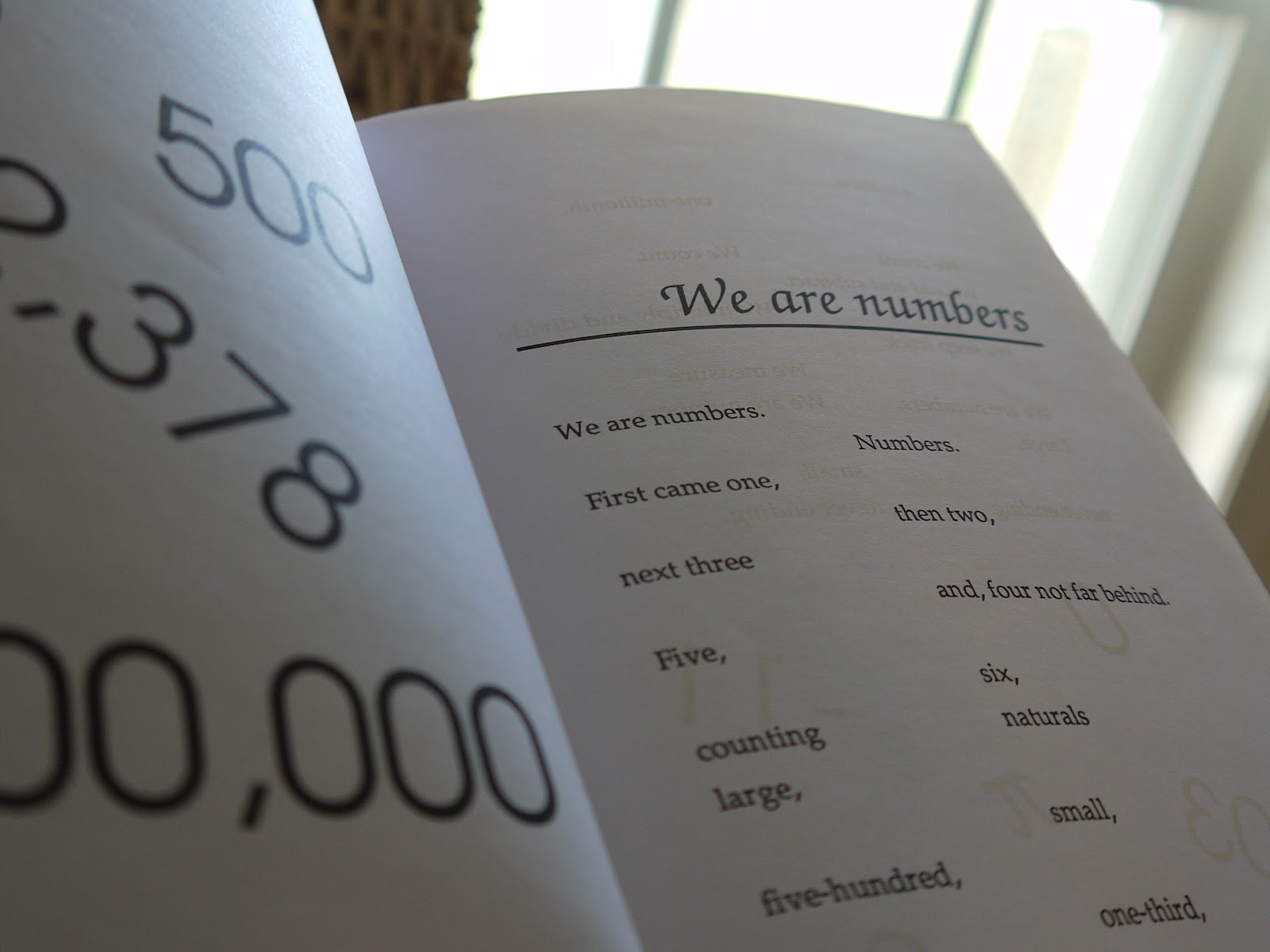 Each child reads one of Shakespeare's plays on their own, as independent reading, but this term we're starting Marchette Chute's novel, Shakespeare of London, together.  I really do want to incorporate more Shakespeare readings as part of our Tea time reading (where we each take a part and read aloud).  We may start off reading aloud from Marchette Chute's Stories From Shakespeare just to refresh ourselves on a play.  And as an aside, doesn't Shakespeare's Flowers by Jessica Kerr look interesting?  I found a used copy to highlight some of our Botanical studies and cross-connect to Shakespeare!  Gotta love it when books are that efficient!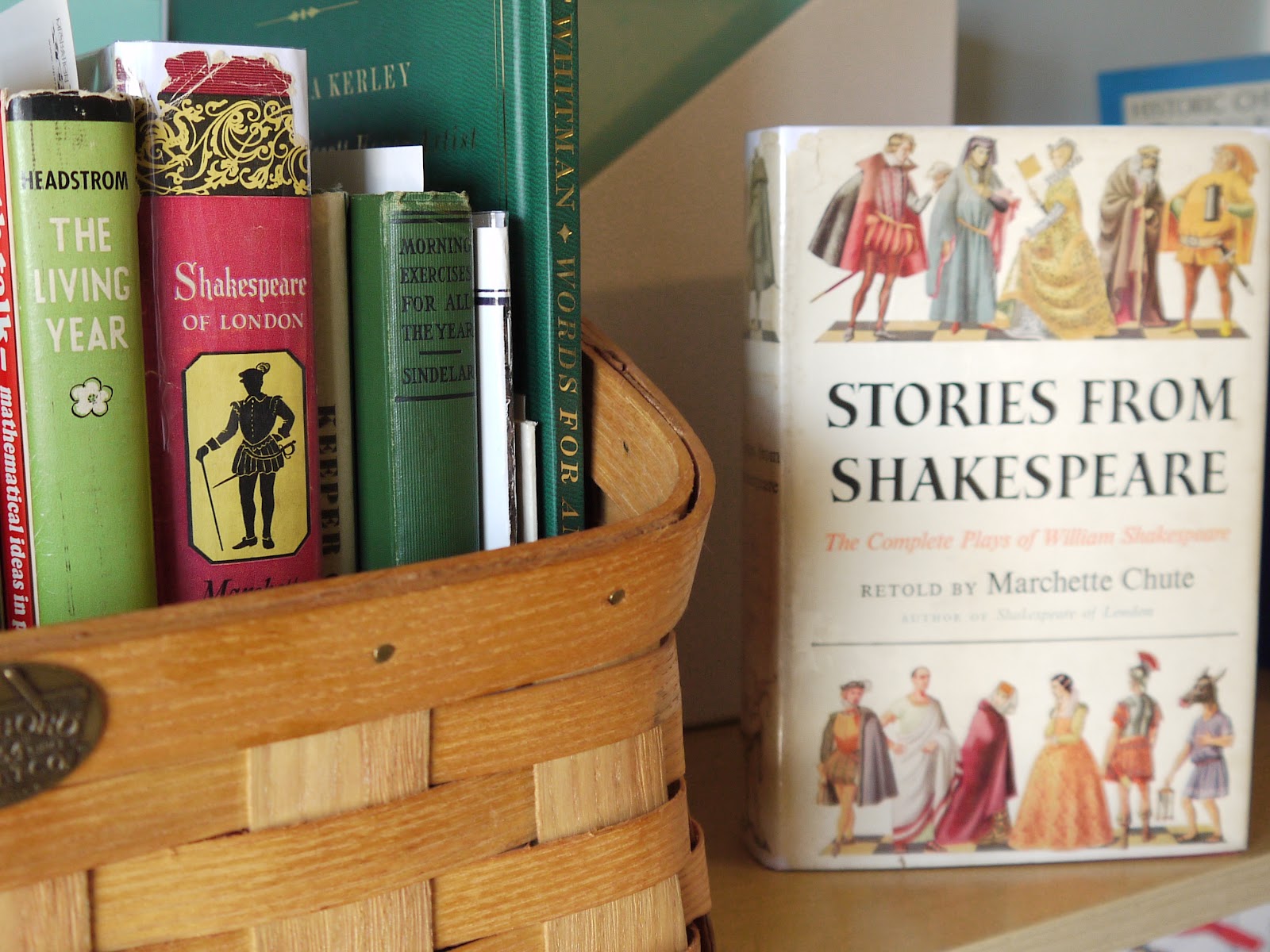 This term (our 3rd and last of the year….who can believe it?), I wanted to carve out a little area for visual displays for our Morning Basket studies.  I wanted to hang a portrait of the three artists we are studying for the term, and I also wanted a place to display the picture (art print) we're studying for the week.  It was an easy little vignette to set up, and I quite like the uncluttered feel of it.  It communicates exactly what I wanted it to in very simple terms!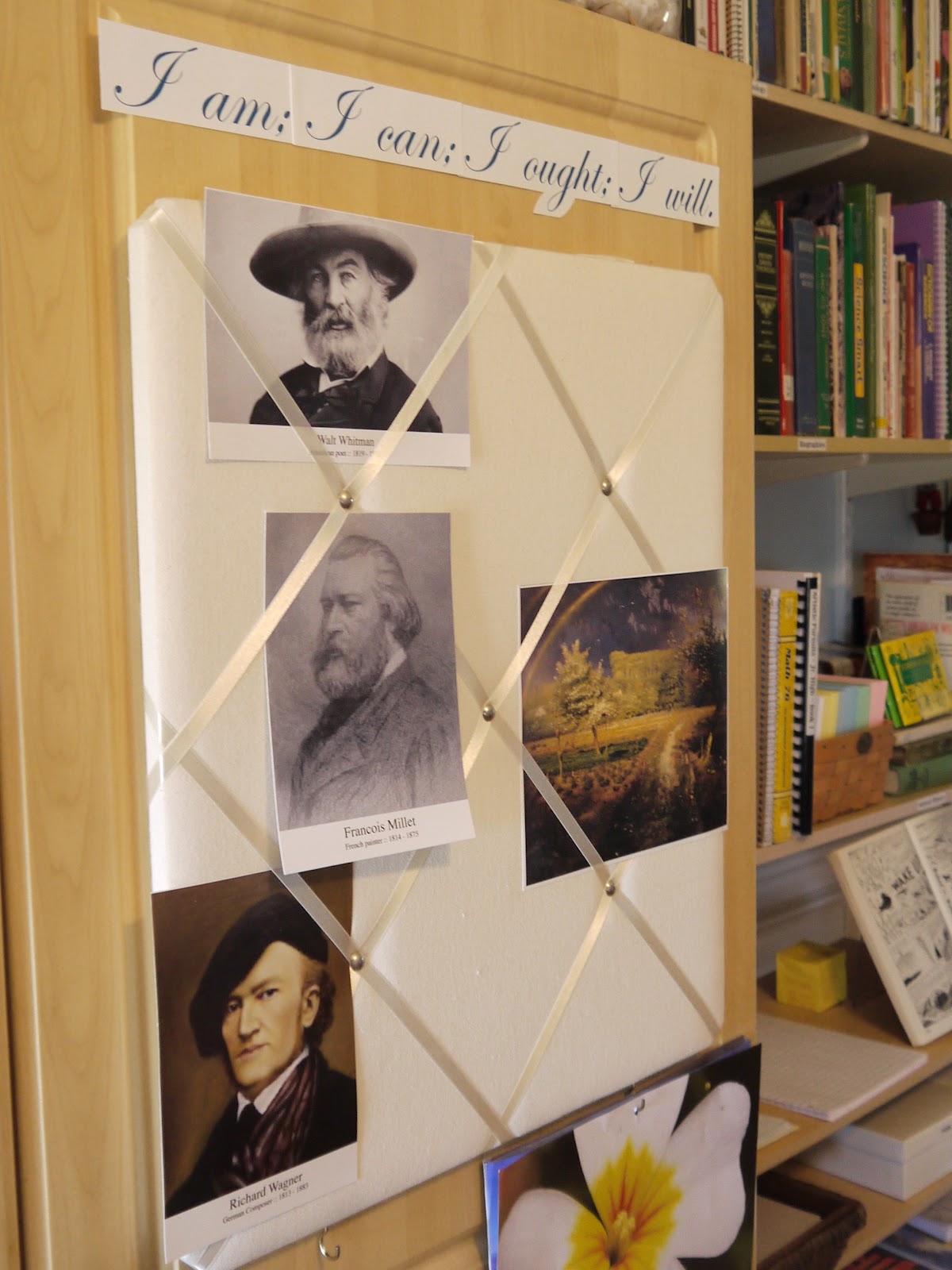 I change the focus of the Morning Basket each term as we investigate a different composer, artist and poet.  This term we're studying Walt Whitman as our poet, Jean-Francois Millet as our artist, and Richard Wagner as our composer.  I printed a simple picture of each of the men, adding their names and date of birth/death so the children could see the men as they become familiar with them (I added the text to the photos in iphoto in case you're wondering – I don't have a fancy editing program).  To the right of Millet, you'll see his piece of art we're studying as part of picture study for the week.  Each week, there is a new art print and this week we're studying 
Spring
.  How appropriate!
After completing our Morning Basket work, the children are ready to move on to the rest of the rich feast of books that awaits them in their day!  We usually spend from 30 minutes to an hour working and reading from the Morning Basket each day.
Well, I think I can safely say that it takes us less time to complete our Morning Basket work than it probably took you to read this long post ABOUT the Morning Basket!  🙂  I hope revisiting the Morning Basket was enjoyable and do let me know if you do something like the Morning Basket in your home, and if you have a neat resource to share, please do!!  I'm always keeping my eyes open!
Edited May 15, 2014 to add:  Morning Basket: Ageless, Inspiring…and Still Standing