Erin Condren 2018-2019 Life Planner – Review of all the Newness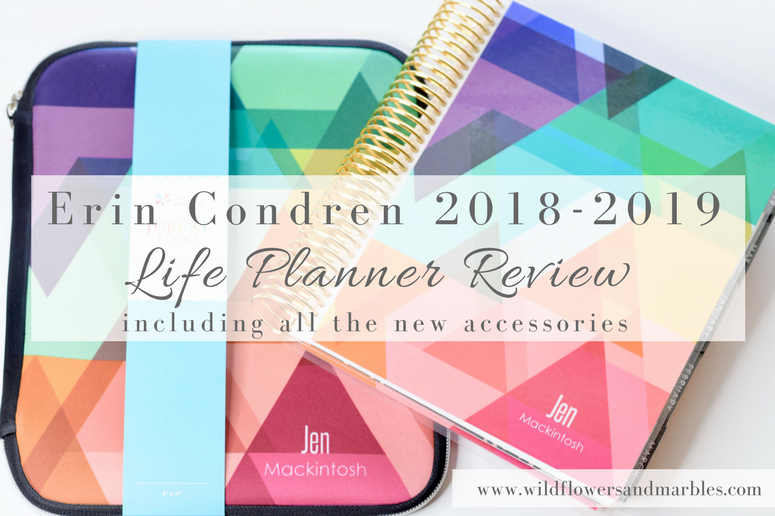 Every year, in early May, Erin Condren releases her new Life Planners for the year. With over 1.5 million Life Planners sold and 1 million followers, that date is eagerly anticipated. Erin Condren fans voice their delight at having a quality planner with thoughtfully considered details and beautiful accessories in a paper planner system. I count myself among those that have been loyally following and using this brand for years!! Initially drawn to the beautiful designs and functional layout, I come back year after year for the sophisticated and trendy designs that are layered into one of the most functional planners on the market. Practical and pretty – a match made in heaven!
If you're considering your first Erin Condren Life Planner, sit down in your favorite chair with your favorite drink and get ready! This planner brand doesn't disappoint. My review will be honest and detailed with pictures of every page and accessory so you can make the best decision possible! (And for you first time Erin Condren purchasers, there is a coupon code for you – just follow this link and set up an account and you'll receive a coupon for $10 off your purchase.) If you're a long time Erin Condren fan, I think you'll enjoy all of the new covers and accessories this year and will be thrilled to see the planner is the same quality and attention to detail that you've become accustomed to.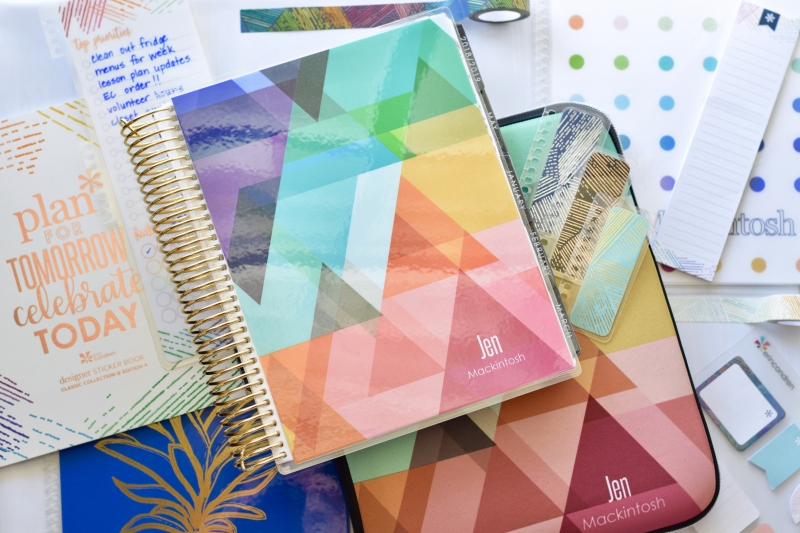 I enjoy photographing (there are a little over 100 photos in this post – fair warning!) and reviewing Erin Condren products because I use them and love them! For 6 years now I've been choosing Erin Condren planners! I wear a lot of different hats and juggle a lot of things and I still love this planner! Now, more than ever, I enjoy the versatility, thoughtful function, and beauty of the Erin Condren planner!
I love sharing these beautiful products with you and I'm grateful to the team at Erin Condren for sending the items in this review my way so that I could photograph them and share my thoughts about all of them!! Six years ago, when I was searching for reviews on Erin Condren Life Planners, blog posts and reviews just like this helped me see the potential in this planner company and was my door into the planner community, and I'm grateful I get to give back and review a product I love so much! Additionally, I have to let y'all know that the links in this post are affiliate links. Each link that points you to a product costs you absolutely nothing, but I may earn a small commission if you make a purchase through these links, and for that, I am sincerely grateful! Thank you!
SIGNATURE   THEME
So let's get started! When introducing the gorgeous new Life Planner and the new accessories I thought we could start by showing off the new theme that you'll see throughout this year's planners as well as the accessories! Erin Condren is calling it "Woven Wonder" and the graphic is representative of the common thread that all planners have – the love for planning – regardless of the season of life or planning style.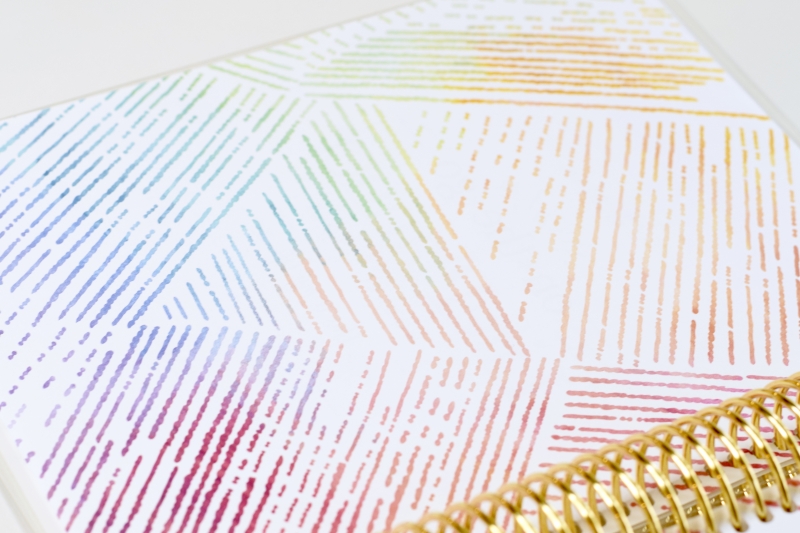 When I first saw "woven wonder" in sneak peeks (before the launch) I wasn't sure how I felt about it. I loved last year's theme of painted petals, and I really loved the design the year before that of mid-century circles. Once I saw woven wonder in person I was smitten. It's gorgeous! It's vibrant and fresh and colorful!! Just like the planner community! Your first glimpse of woven wonder will be striking on the first full page of the planner, and you'll find subtle hints of it throughout the planner on all of the pages!
YOUR PLANNER  –  YOUR WAY
Before we go into all the details about the new 2018-2019 Life Planner, I wanted to give you a brief outline of the customization options you'll have if you order a Life Planner. I was initially attracted to Erin Condren for three reasons: the beautiful designs, the functional layouts, and the customization options. Over the years, Erin Condren has extended many of the areas we can customize our planners! Because we don't all plan the same way! You build your planner to fit YOU! How do you plan? How do you want your planner to look? What's most intuitive to you? We each have different planning styles; for a planning tool to be a good fit, it should reflect that style! And there are so many ways to do that with an Erin Condren Life Planner!
Planners this year start at $55.00; adding some options will increase the price. Let's hit the specs and the details of ALL of the CHOICES you'll encounter as part of the ordering process for the coiled Life Planner (there are other planner options on the EC website), and after this, we'll walk through all the photos. If you have questions let me know!
CALENDAR OPTIONS:
18 month planner (July 2018 – December 2019)
12 month planner (July 2018 – June 2019)
12 month planner (January 2019 – December 2019)
INTERIOR COLOR THEMES:
Colorful (a vibrant, colorful planner with each month's designs reflecting a different color theme)
Neutral (a black/white option that is streamlined and gorgeous! There is some color in this planner, but it is minimal and soft – not bright. NOTE: the planner reviewed in this post is a neutral color theme)
LAYOUTS – Each planner contains a monthly spread (for a big picture monthly overview), followed by the weekly spread – see your week at a glance. It's this feature that brings me back again and again. What your week looks like in your planner is up to you – you choose:
Hourly Layout (the planner pictured in this post is hourly)
Vertical Layout
Horizontal Layout
COIL:
Gold (the planner pictured in this post has a gold coil)
Rose Gold
Black
Silver
COVER:
Choose your own cover to reflect your personality! Let your cover become another accessory!
The laminated covers are interchangeable!
Many times the colors on a cover are customizable – on the website, when you're ordering, look for the square color swatch icon under the cover choices – if it's there, you can choose your own colors for your planner cover!
OTHER ERIN CONDREN PLANNER OPTIONS:
If you're looking for an option besides the standard LifePlanner with interchangeable covers, one of the following planners may better fit your needs!
Luxe LifePlanner ($65.00) – the Luxe coiled Life Planner is still an option this year and comes with a permanently coiled in cover (it is not interchangeable). You have SIX beautiful cover choices for the luxe this year and you can add personalization in metallic foiling, or choose a blind imprint (which is beautiful on a luxe planner).
Hardbound Planner (Customizable/Undated) – this is a strikingly beautiful planner with covers so rich you almost have to feel them to appreciate them! The covers are true hardbound (no flex at all) with a sewn lay-flat binding, a ribbon to mark your place, and a fabulous price point. Of all the planners, I find this the most portable because of the hardbound design! (I use the larger 8″ x 10″ as my content planner because the layout is perfect for that!) The planner comes in two sizes:
MY  2018-2019  PLANNER
I thought it might help if I identified which color, layout, coil, and covers I chose because they'll be pictured throughout this review.
COLOR:     NEUTRAL
LAYOUT:     HOURLY
COIL:     METALLIC GOLD
COVERS PICTURED:     PINEAPPLE — TRIANGLE OVERLAY — CANDY DOTS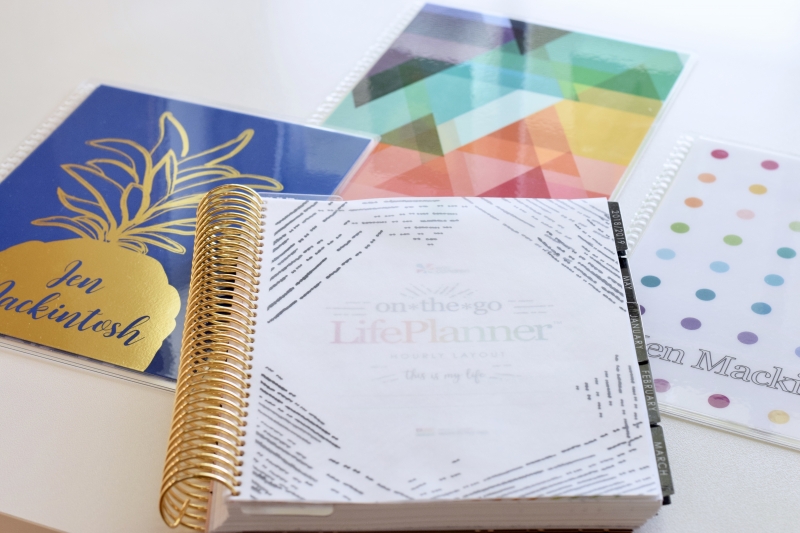 SPECIAL  TOUCHES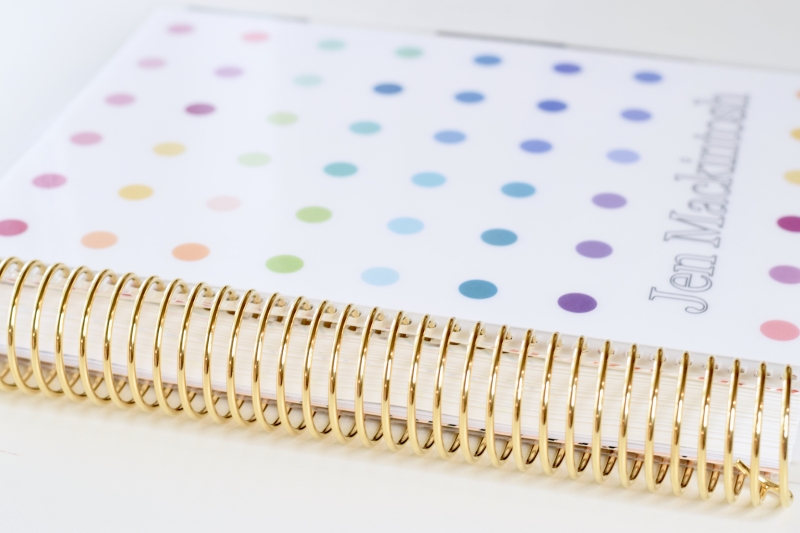 Erin Condren fans have come to expect a high level of quality in this planner – special touches that almost make you feel spoiled as you open and use this planner. The coil is an essential element of that quality. It is a solid, sturdy, heavy gauge metal coil. Remember, there are 4 different color options for the coils: metallic gold (pictured), rose gold, black, and platinum (silver). The beautiful and sturdy coil is one of the original features that drew me to this planner! I love that this planner doesn't flex when you hold it and that's a testament to the very high-quality coil and the substantial and thick covers! You might not have thought about coil quality, but after living all over the pages of this planner, I can tell you that you'll appreciate the quality!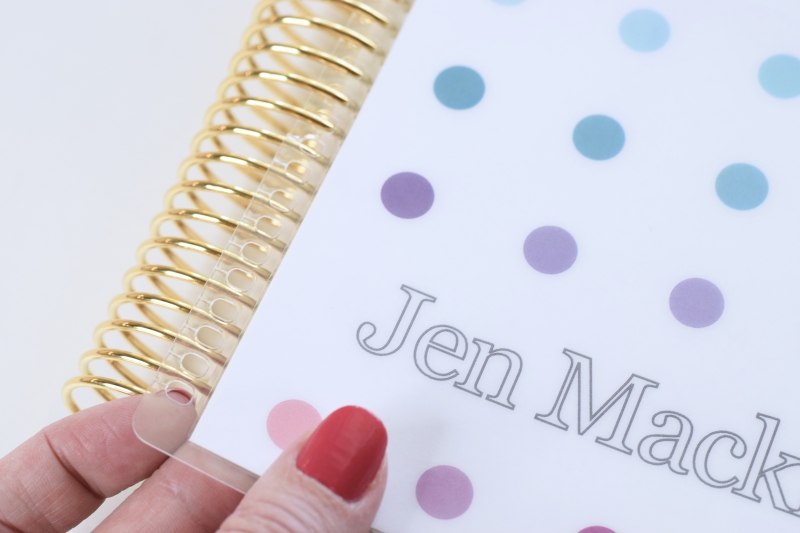 Every one of the laminated Erin Condren covers is interchangeable! Yep!!! Just pull from the top or the bottom and the cover unzips right off the coils and you're ready for a new cover! Change of mood – change of season – change of style – upcoming celebration or event – just pop on a new cover! It's a great way to accessorize this planner, keeping it fresh, while the inside of your planner remains functional and together! I'll share the three covers I got!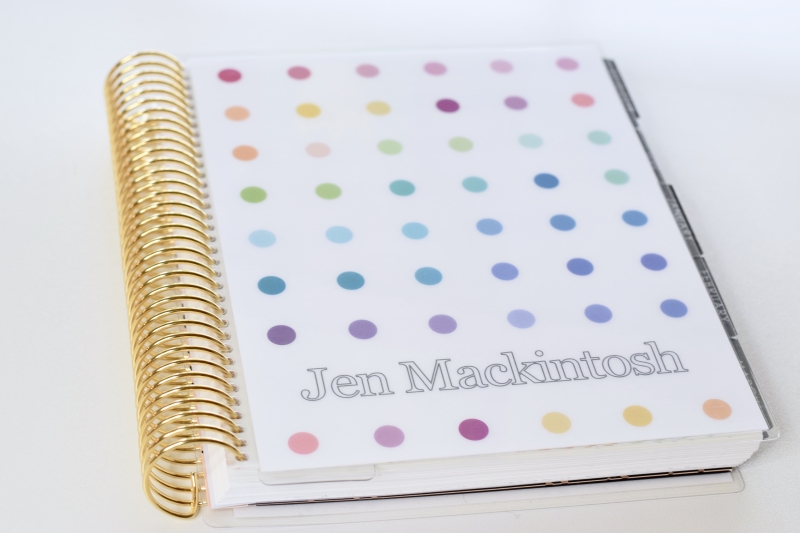 Above is candy dots, which I love for its minimal, fun look. It's very reminiscent of my favorite feature wall at the Erin Condren Flagship store in Austin, TX.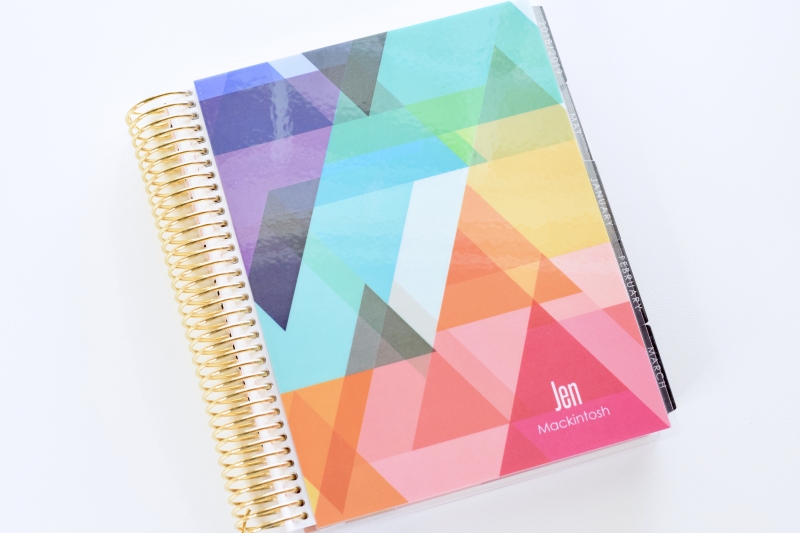 I saw the pops of color on this cover – triangle overlay – and knew I had to have it! I love geometric designs and bold colors!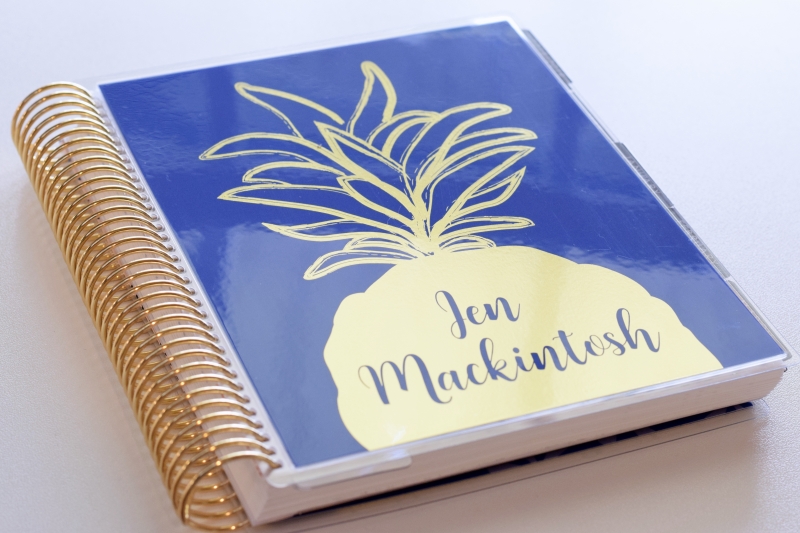 And finally, there is pineapple, which is just stunning with all the metallic gold and electric blue!
Whatever my mood, whatever I'm celebrating, my cover can be a reflection! And I love that! There are soooooo many other new covers this year! Including a really exciting collaboration between Erin Condren and Joy Cho of Oh Joy! The Oh Joy! covers are vibrant and modern, full of pops of color, and I'll be first in line to grab a couple for my new planner!
Here are some publicity shots just to give you an idea of the collaboration with Oh Joy!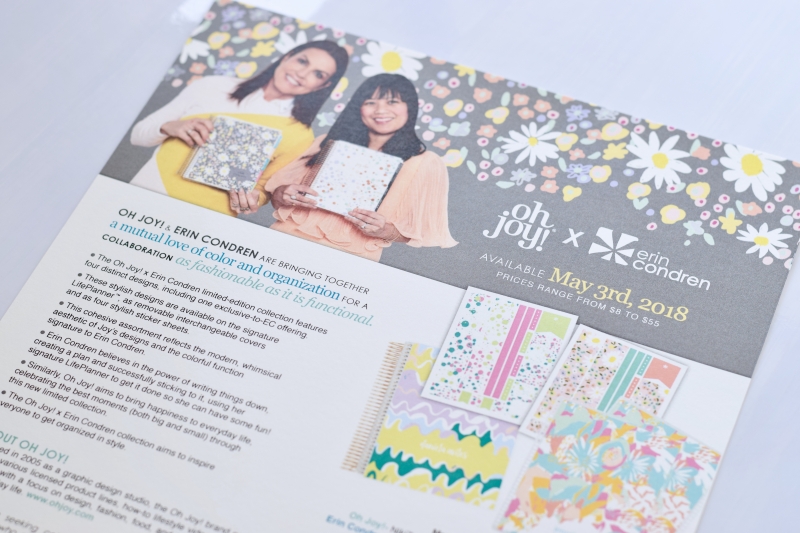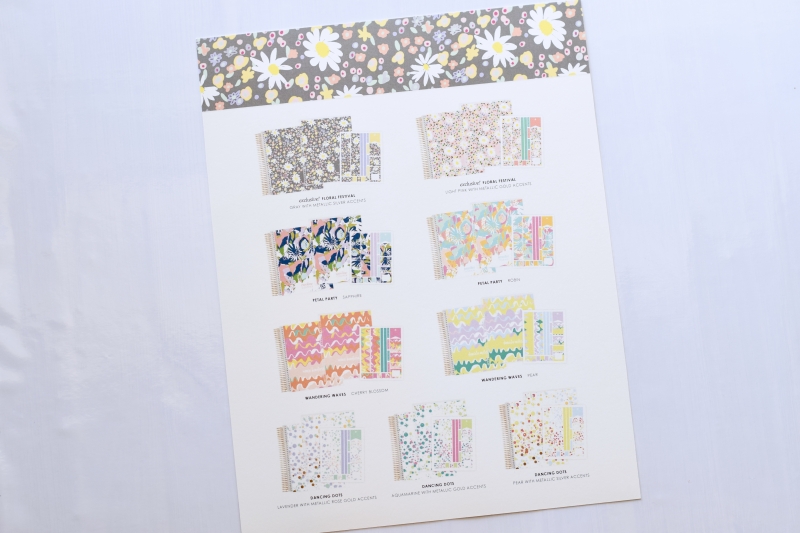 Don't those look vibrant! If you're interested in an Oh Joy! cover for your LifePlanner, you'll find them in the interchangeable covers! (To see details, just click on the photo and click again to enlarge – you should be able to clearly see the detail of the individual patterns once you enlarge.)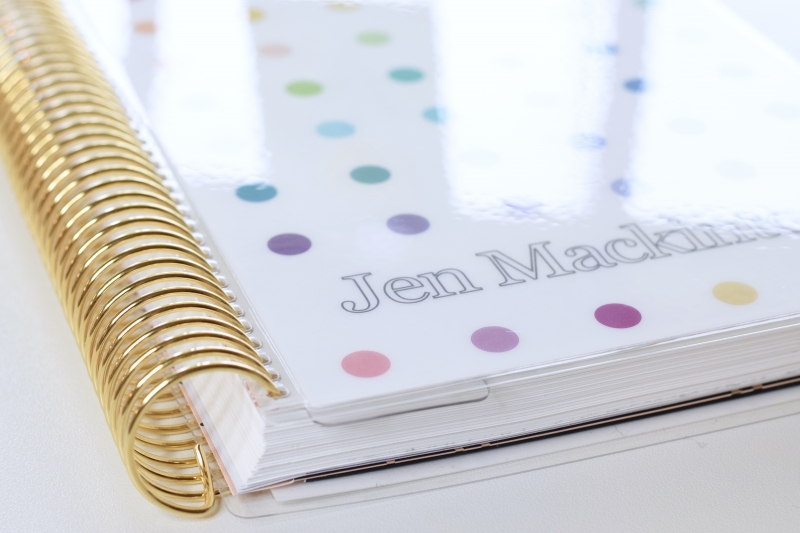 As I mentioned, there are a lot of customization options – one of the first is your choice to personalize your cover with your name or a quote, or not! You don't have to personalize! Leave the cover blank and let the design be the feature! Let's open the cover and start looking inside!
LIFE PLANNER  –  COVER  TO  COVER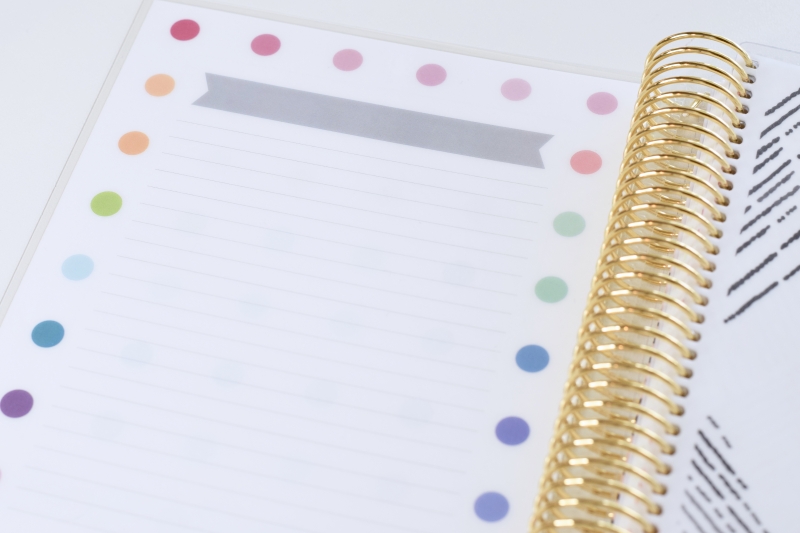 Each cover has a lined whiteboard interior that is useful for noting a variety of things – seasonal clothing needs for the kids, a quarterly home maintenance/honey-do list, a list of recurring budget items, books you want to read, upcoming tasks – anything! You can use wet erase markers on this whiteboard on the inside of the cover, but I personally like to use Sharpie Ultra Fine Point permanent markers. The permanent marker writes well and stays put with absolutely no smudging or smearing onto the opposite facing page of your planner. You can "erase" the permanent marker using rubbing alcohol.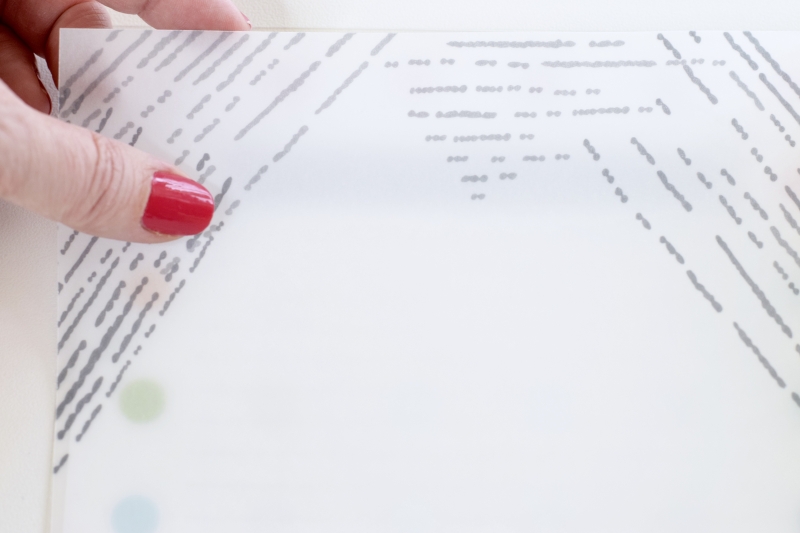 The first page of every planner is a beautiful transparent vellum page that is framed with the yearly theme – this year you'll see woven wonder here. Since my planner is a neutral planner, my vellum is black/gray. If you order a colorful theme planner, this vellum page will look the same, except the design will be printed in color, and the color on the vellum is stunning!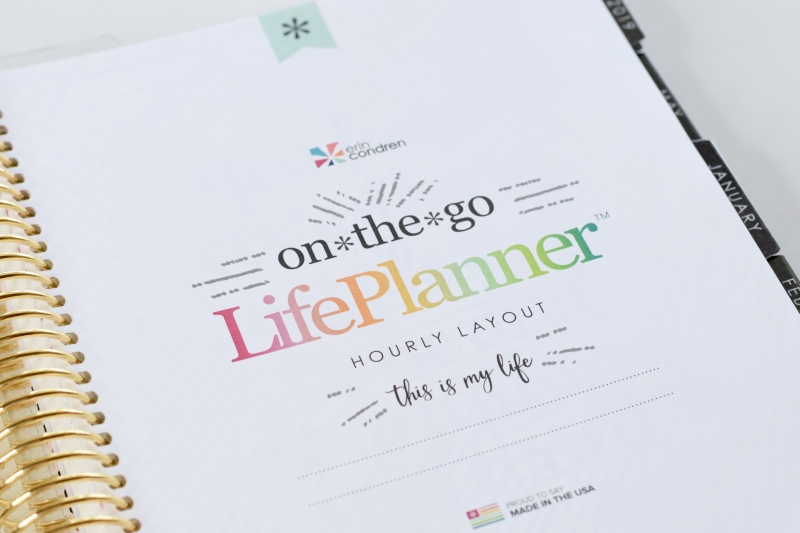 Behind the vellum, you'll find your title page, and because the vellum is a transparent overlay, you can see this title page through the vellum. It's a sophisticated effect!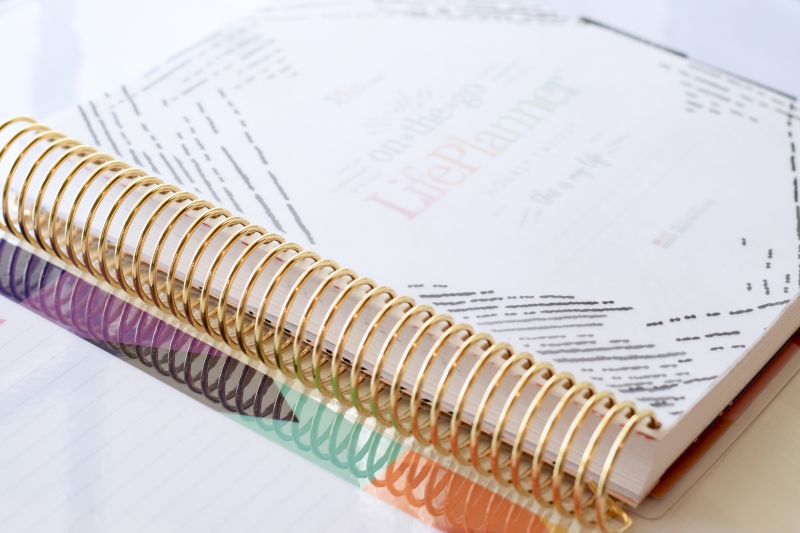 After the title page, you'll see a full display of the beautiful woven wonder theme and an inspiring quote to set the tone for your planner!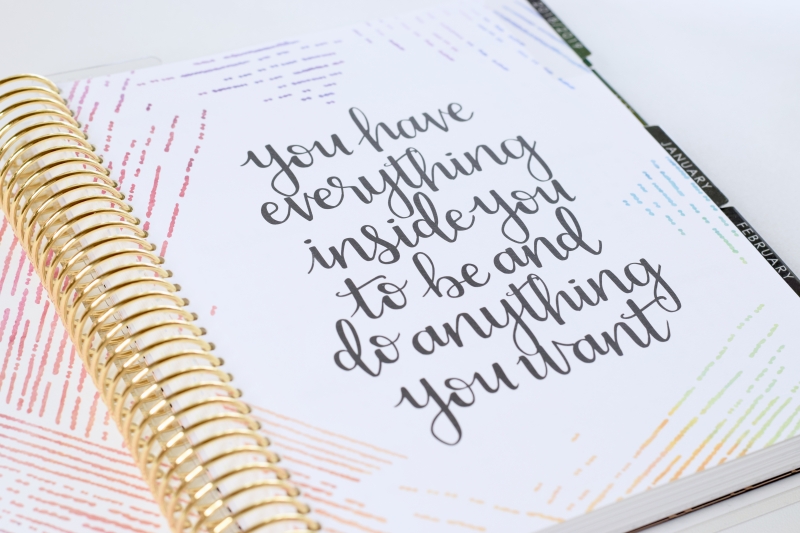 Before we go further, it's worth mentioning that last year's collaboration between Erin Condren and Mohawk Paper was a huge success! The paper of the Life Planner was transformed and I felt like it had a positive effect on all my planning last year because the paper is such a joy to write on! The Life Planner is printed on beautiful, archival quality 80 lb paper. (Here is a fantastic video detailing the Mohawk partnership!) For so many of us, these planners become more than a list of appointments and to-dos – they become a space for hopes, goals, and dreams to land, and then finally at the end of a planner they reflect the collected memories of past seasons. The archival quality paper ensures that these memories are preserved and protected! And I like that.
The first few pages of the planner are intended to help you set your year up for success.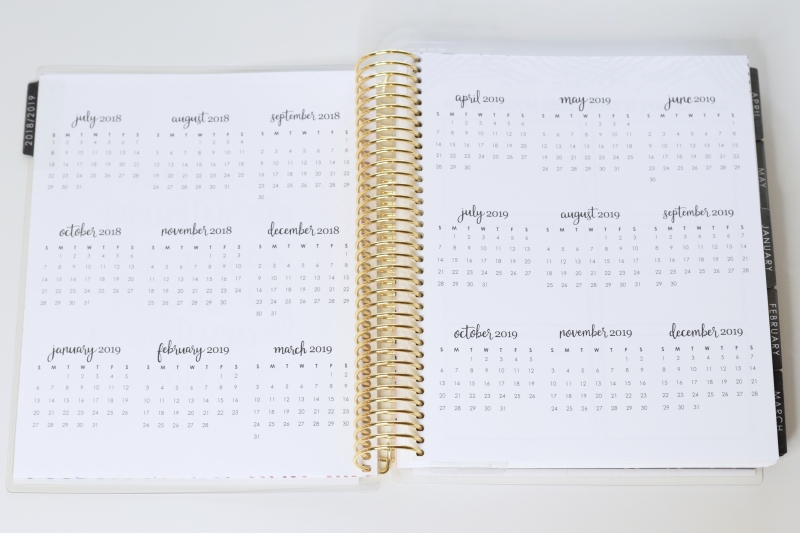 I use the above yearly layout to help me build a big picture view of my year. I use transparent dots to note school start/end dates, any vacation times, notable events.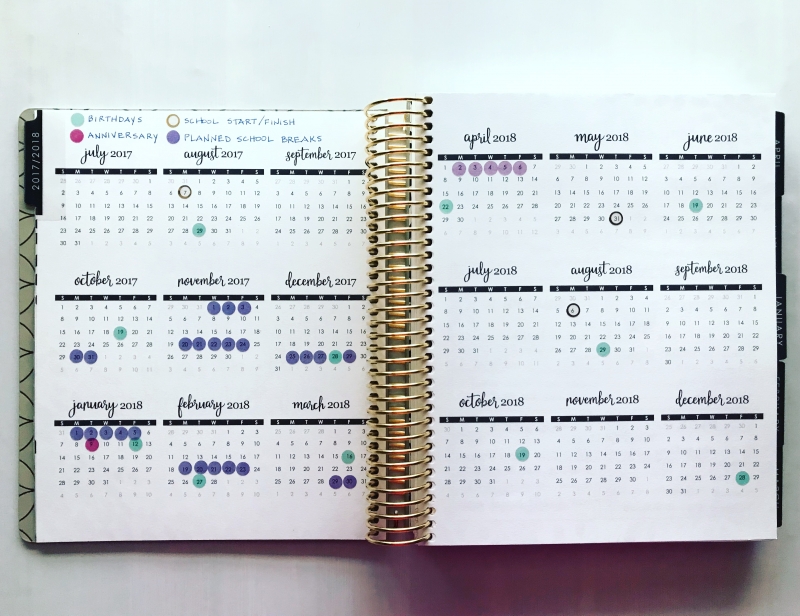 ABOVE: 2017-2018 Life Planner Yearly Overview
It's helpful to have this as a reference point, and I have loved looking back at it for that top-down view of my year.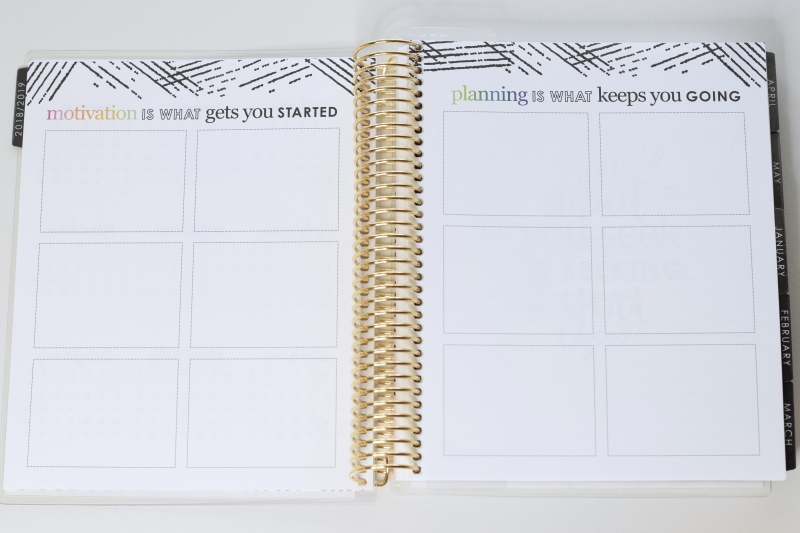 Next up are some goal planning pages. (Note that if you choose the colorful themed planner it will still have the same twelve boxes and general design, but there will be much more color on this page!) I really love these pages!! Think "outside the box" when it comes to dropping some notes and goals here! Here are some ideas based on different ways I've used these pages over the years:
Use the twelve boxes to correspond with the twelve months of the year and list your top goals along with action steps for each month.
Divide up the boxes by rooms of your home to help set action steps for a big home decluttering and organizing project.
Designate your personal self-care goals into themes – workouts, health, wellness, special dietary goals, etc.
Note 1-3 favorite memories from each month. This looks so neat when it's complete, especially if use a portable photo printer and add photos!
Think of the different hats you wear and the different aspects of your life that are important – faith, relationships, finances, friendships, mom life, volunteer, blogger, homeschooler, mompreneur, reader, gardener, etc. – and label each of your boxes. List the goals you have for yourself in those areas that are important to you.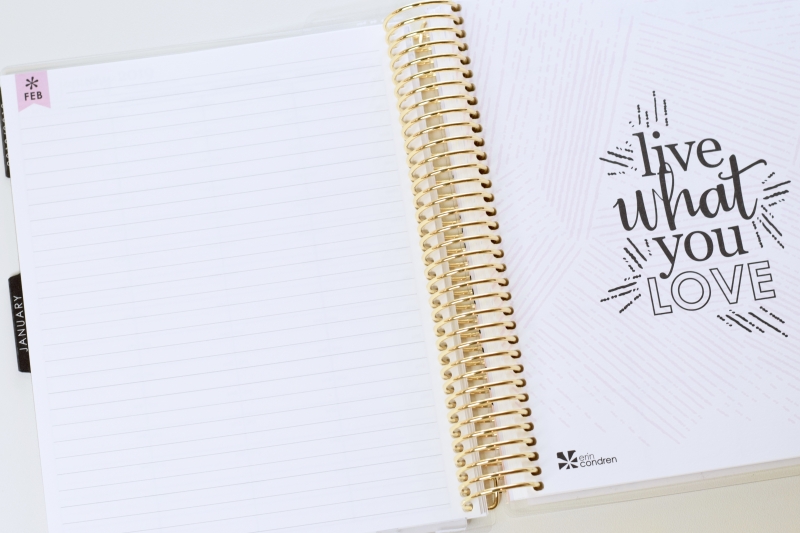 THE  HEART  OF  THE  PLANNER
After all of the yearly overview pages at the beginning of the planner, we begin the heart of the planner. These pages proceed in the same way each month:
Lined page for listing your monthly goals, events, or budget for the month (the left page in the above picture). If you had an Erin Condren Life Planner last year, you may notice that this page is a change from last year's layout (below).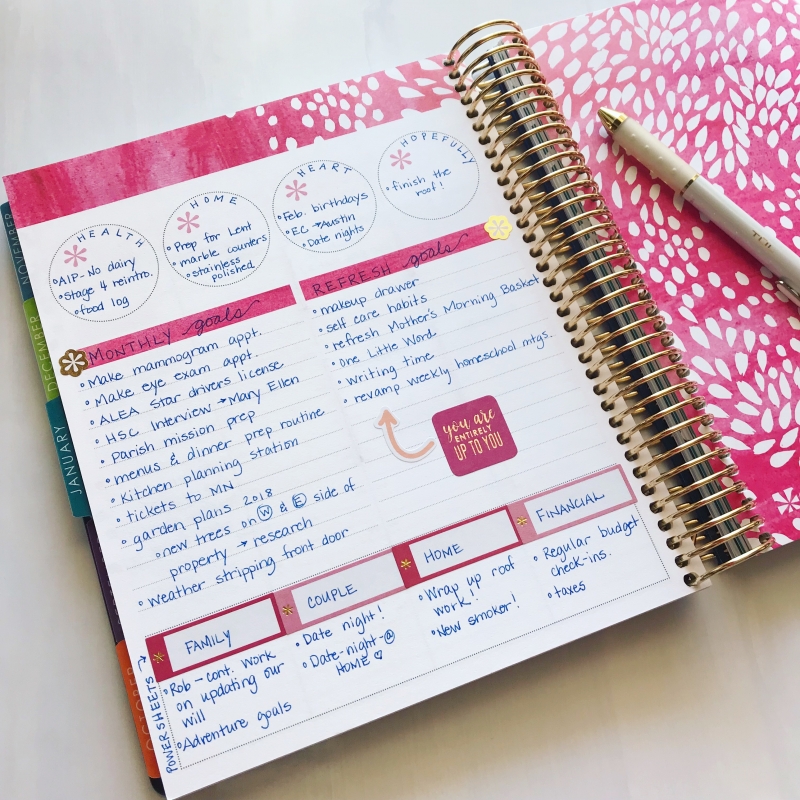 ABOVE: 2017/2018 Life Planner Monthly Goals Page
An inspirational page (the right facing page in the above picture – note the subtle woven wonder design in the monthly color…this page will be much more colorful in the colorful themed planner)
A two-page monthly layout (see pics below)
The weekly pages for the month – one week in a two-page spread (see pics below)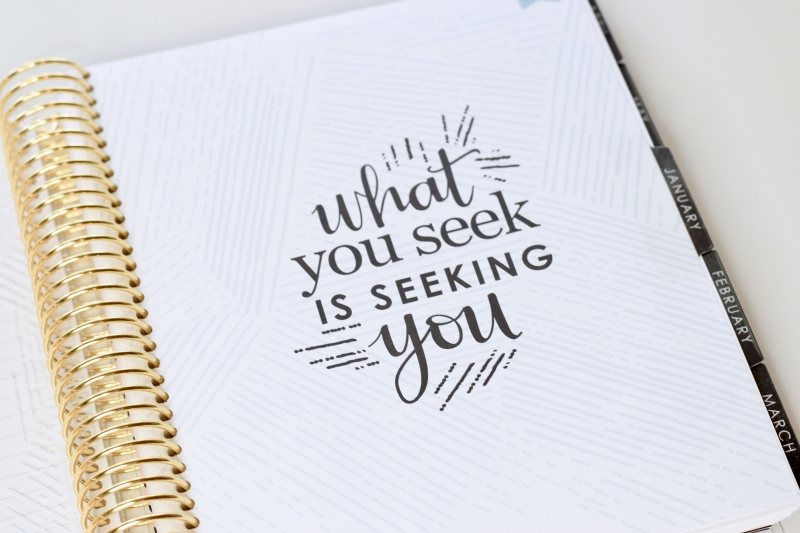 The inspirational pages this year are among my favorites! They're all uplifting, motivating, and inspiring and I like the geometric woven wonder design that forms the background of each of these pages. It frames the inspirational idea perfectly!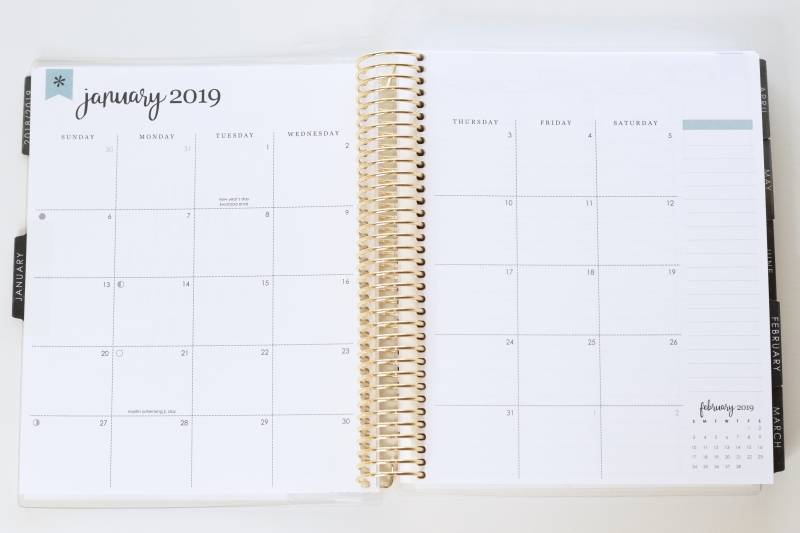 The monthly layout page is very similar to last year's layout, but look closely…the printed upcoming month is back in the bottom right corner under the notes column. Personally, I prefer more note writing space, but I know many people really longed to have that future month available for reference, and if you're one of those people, you'll be excited to see it back!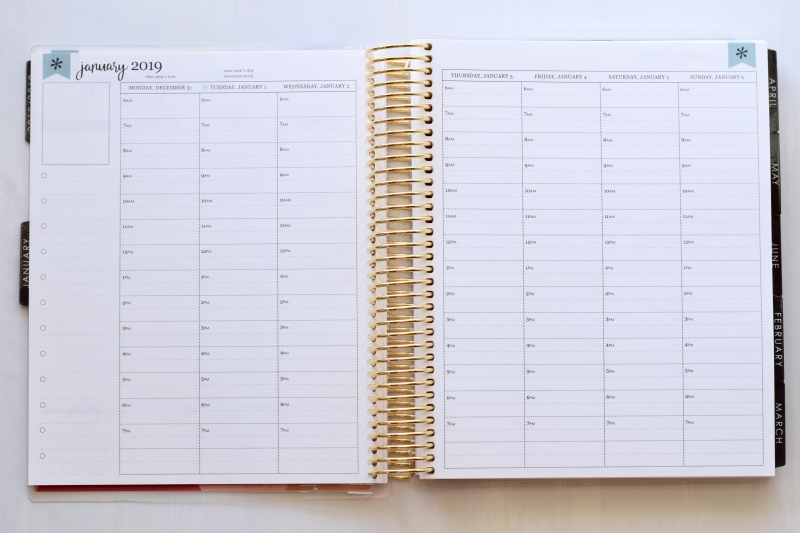 The weekly pages, and how they look, will reflect the layout of your choice. There are three different layouts to suit a variety of planning styles:
Hourly – a lined vertical column that notes hours from 6 am – 7 pm. In past years, the lines of the hourly columns were all the same weight and darkness, but this year, the half-hour line is definitely a lighter line than the other lines.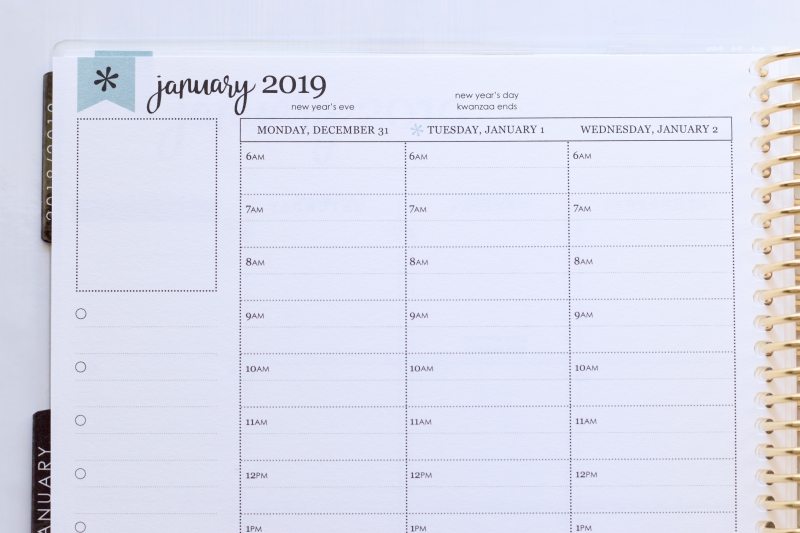 Vertical – an unlined vertical column divided into three boxes.
Horizontal – the days of the week stretch horizontally across the page.
After a month of weekly pages, the monthly pages repeat for the next month.
ADDED  EXTRAS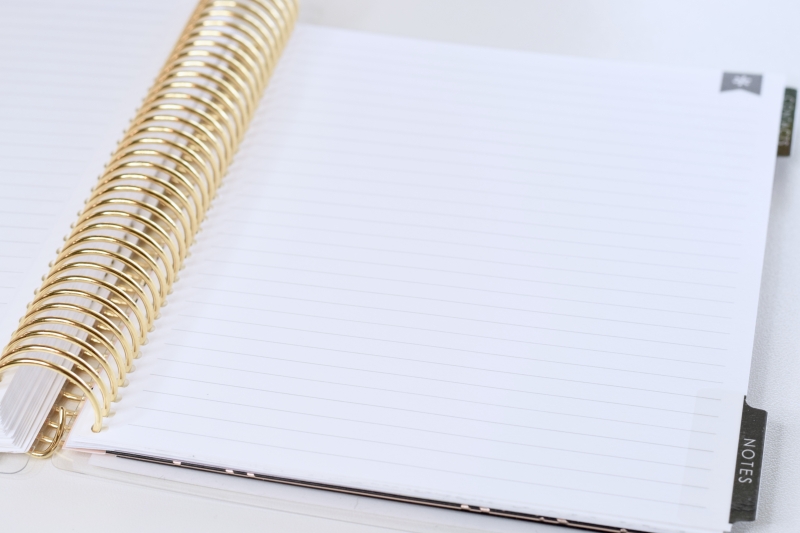 Behind the last month of your planner, you'll find the notes pages. I love using these to track recurring chores and our yearly goal lists!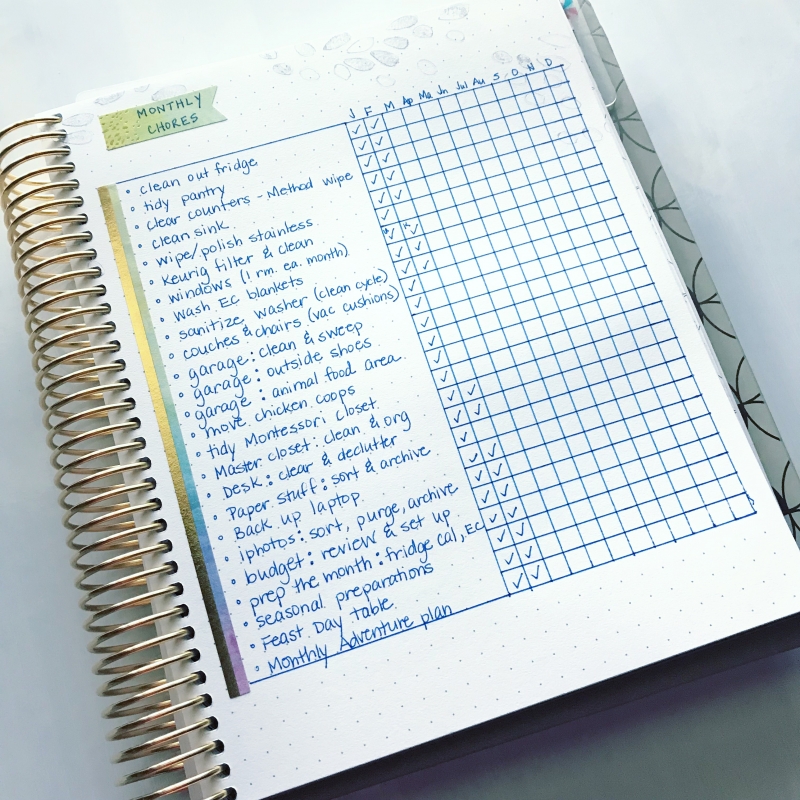 ABOVE: 2017-2018 notes page
There are a total of 4 lined notes pages…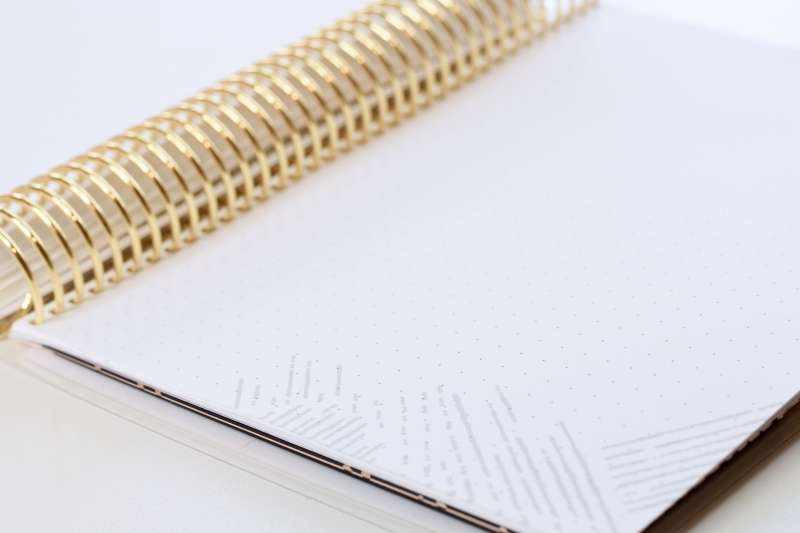 …and 4 dot grid pages.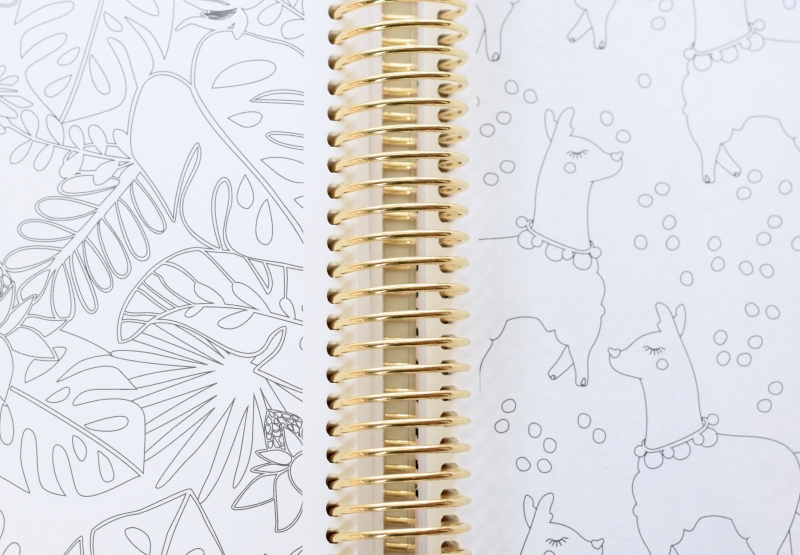 After which you'll find 3 coloring pages. These can be fun doodle pages or stress relievers!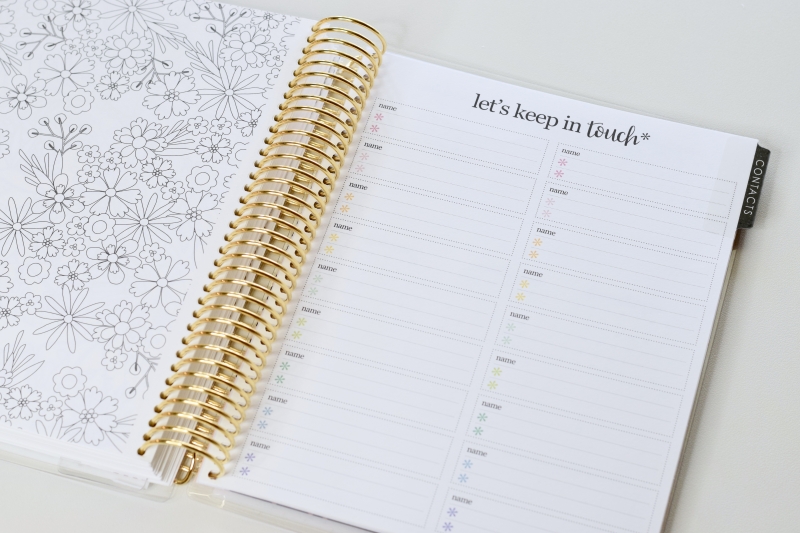 The contacts page is back this year! You'll find space to note a few important contacts – babysitters, lawn care, doctors.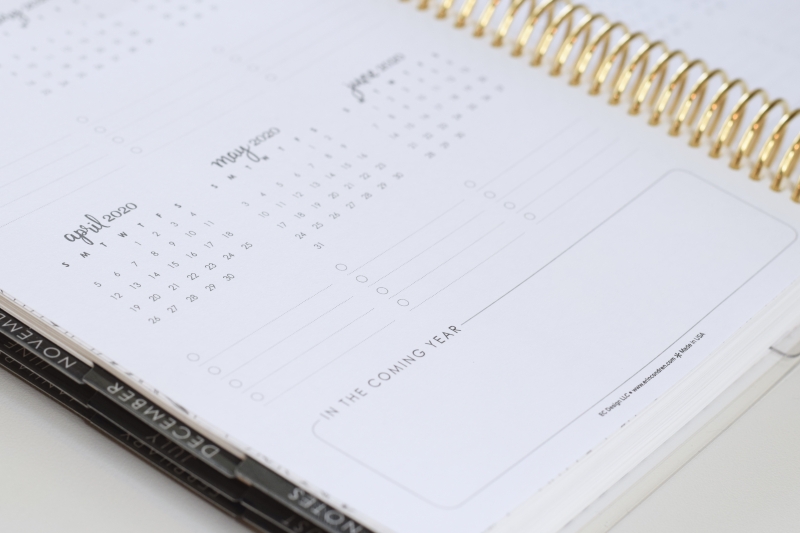 At the very back of your planner, you'll find a two-page spread of the upcoming year so that you can note future dates and events as they pop up on your radar! List your cousin's upcoming wedding date, projected debt payoff, college application dates! Listing it here makes it easy to set up your next Life Planner!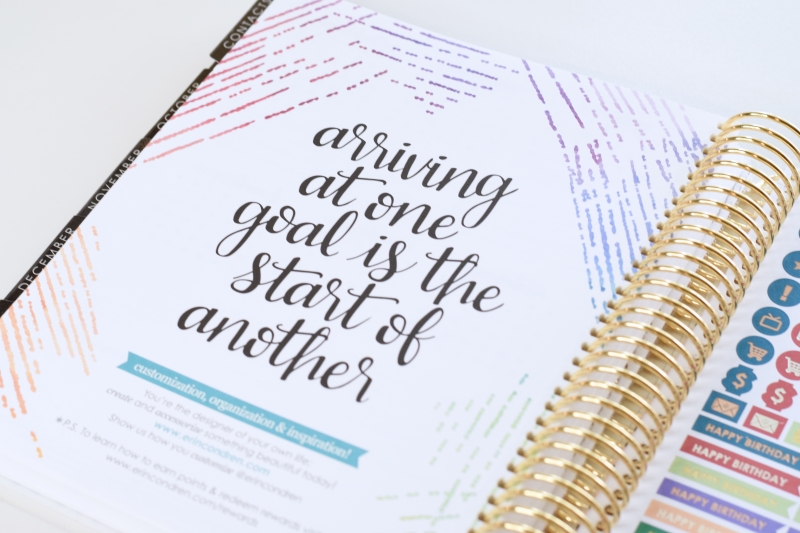 And that brings us to the close of the planning pages! But Erin Condren isn't done giving us extra fun for our planner! Nope!!! Keep reading because there is more!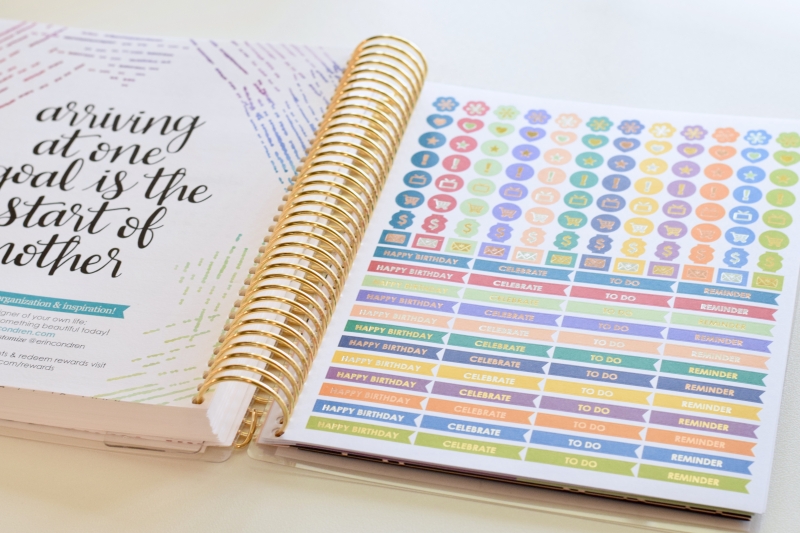 There are FOUR FULL PAGES of stickers!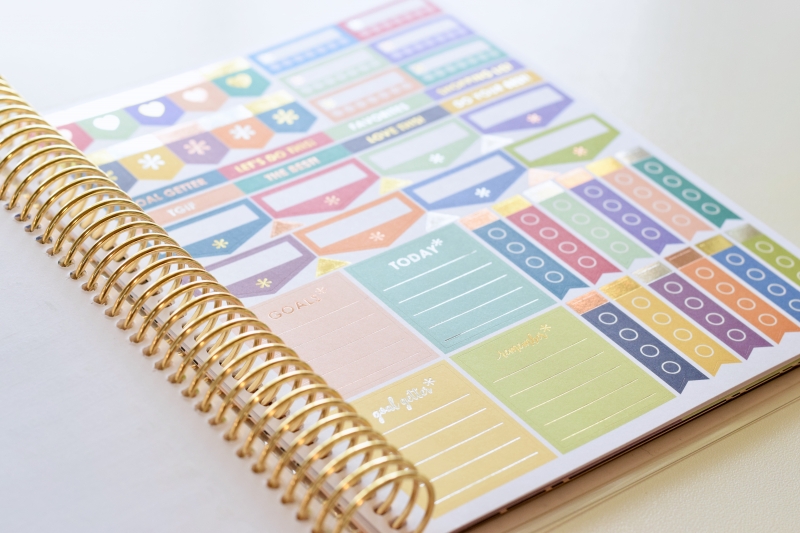 Each page is coiled into your planner!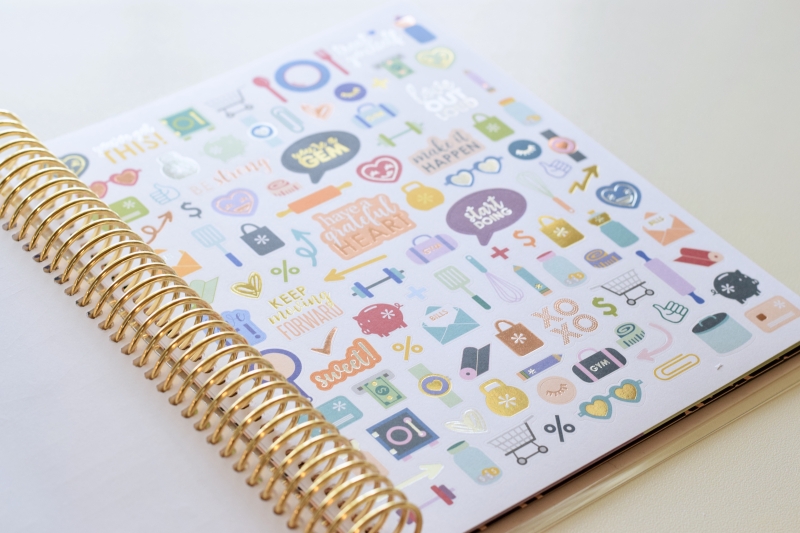 You'll never be without stickers again!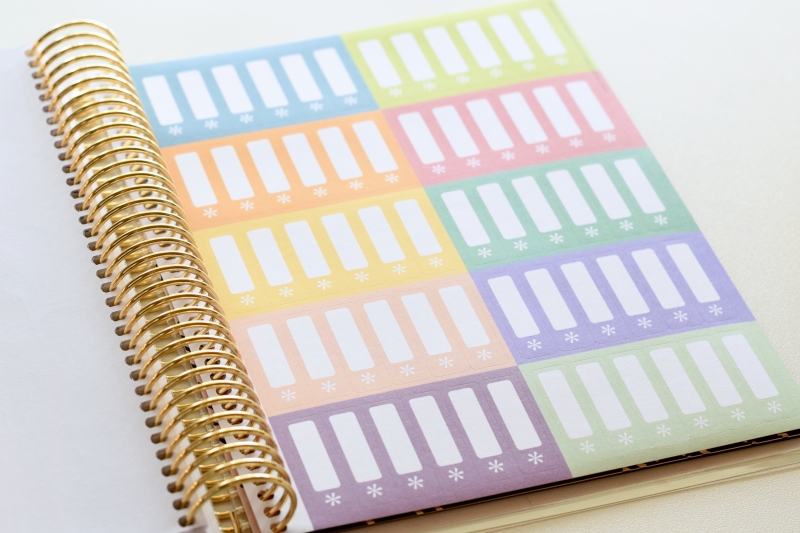 Planning perfection!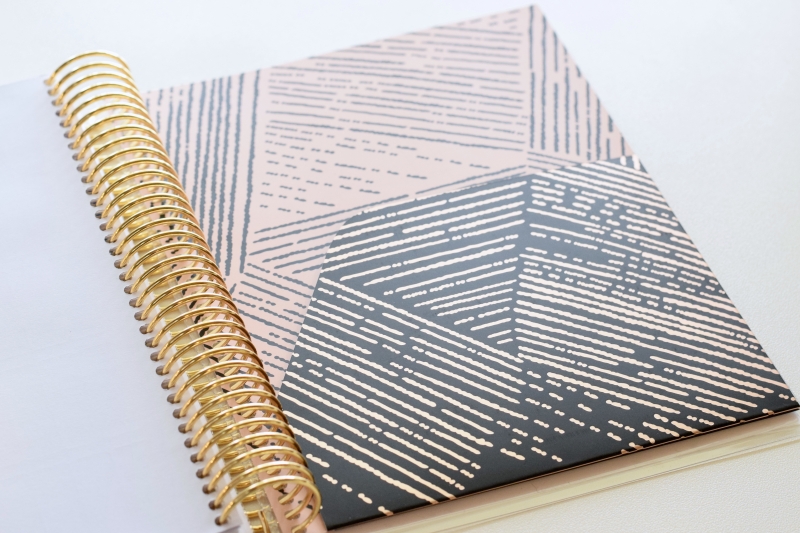 The keep-it-together pocket reflects this year's gorgeous woven wonder theme! In the neutral planner, the woven wonder pocket has shades of blush with a black folio and rose gold accents. The colorful themed planner has the signature colors of the woven wonder theme and metallic gold accents.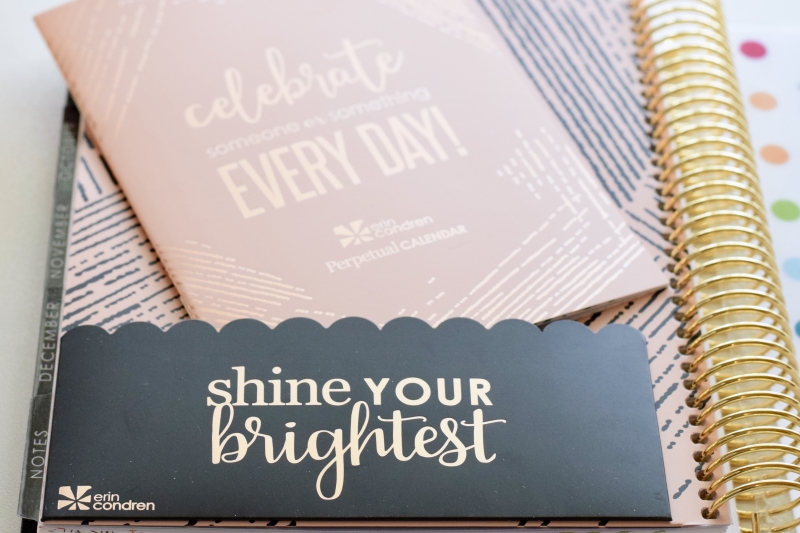 The backside of the keep-it-together pocket contains another extra – a perpetual calendar!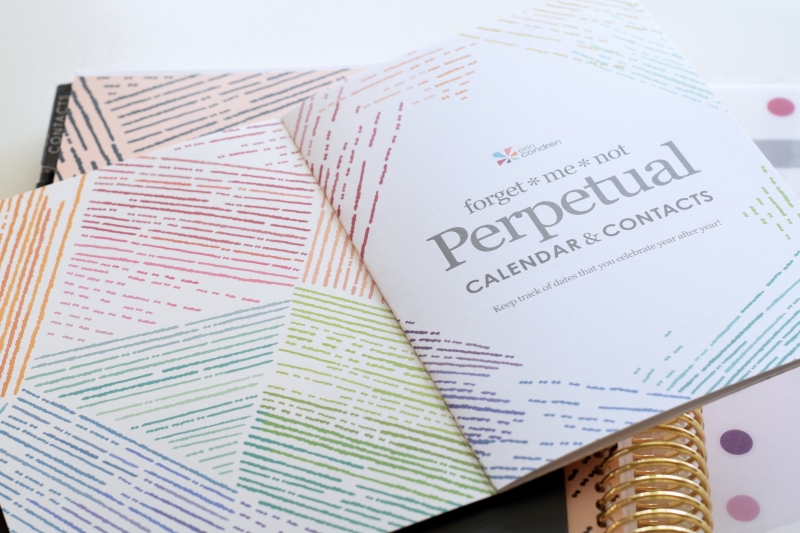 It's a simple lined calendar that you can use to capture repeating events and special dates.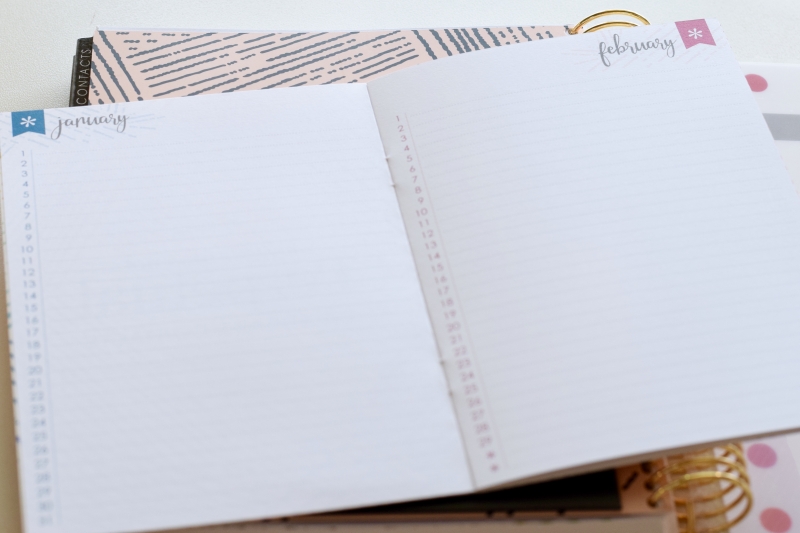 Tuck it into the back of your planner to refer to when you plan out your month! Or…repurpose it as a meal planner, a daily mood tracker, daily expense log, list of milestones for your baby.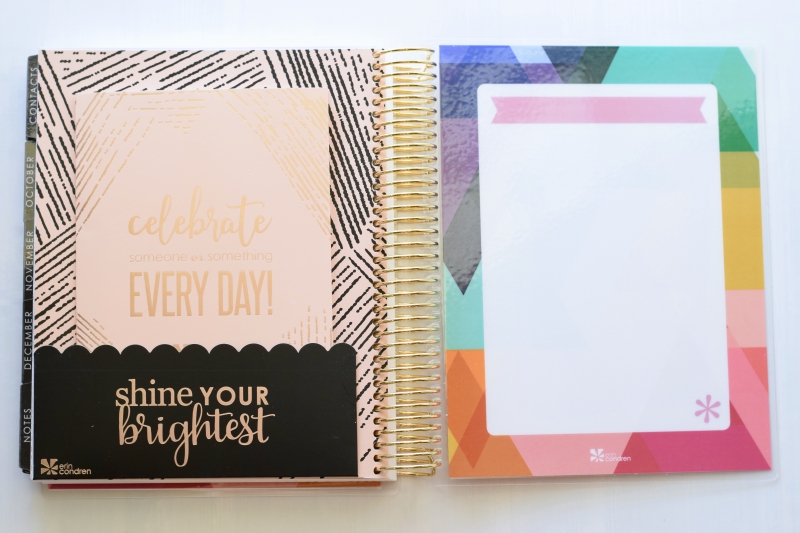 The back cover has a whiteboard as well as the front cover! More doodles or notes!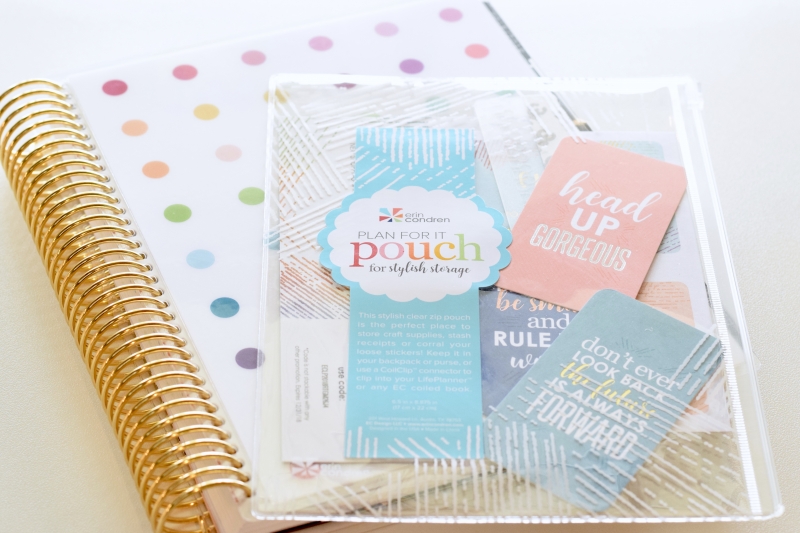 The last special touch is a favorite of mine! Included with every planner is a plan for it pouch! This vinyl pouch is so useful for containing small bits of paper, contact cards, and receipts, but not everyone likes having their pouch inside their planner! After all, for some of us, our planners can get full, and having a pouch just adds unnecessary bulk. No problem! Erin Condren anticipated ALL our needs and gives us ultimate flexibility!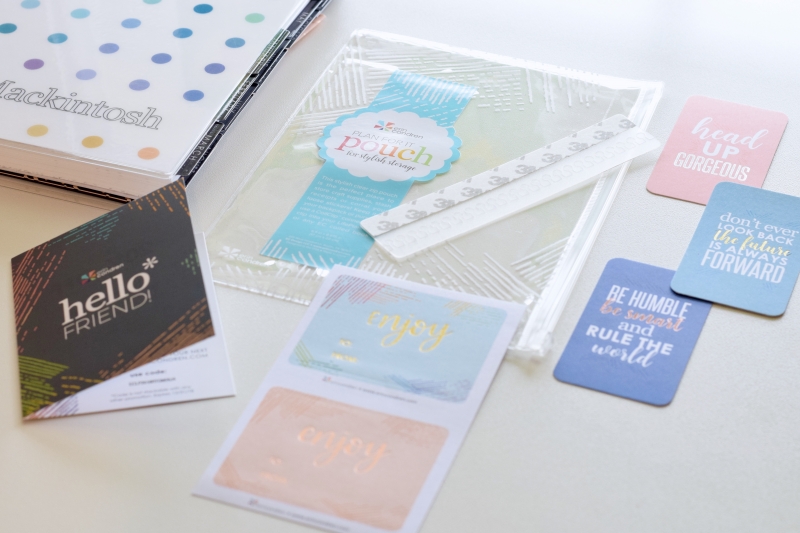 The pouch comes with a coil clip – use the 3M adhesive strip to attach to your pouch. Then clip your pouch right into the coil of your planner – you can move your pouch wherever you prefer to keep it in your planner. Or not. Keep the pouch somewhere else if you don't want to use it in your planner! You get to decide – and that is a part of the ultimate customizability of an Erin Condren planner!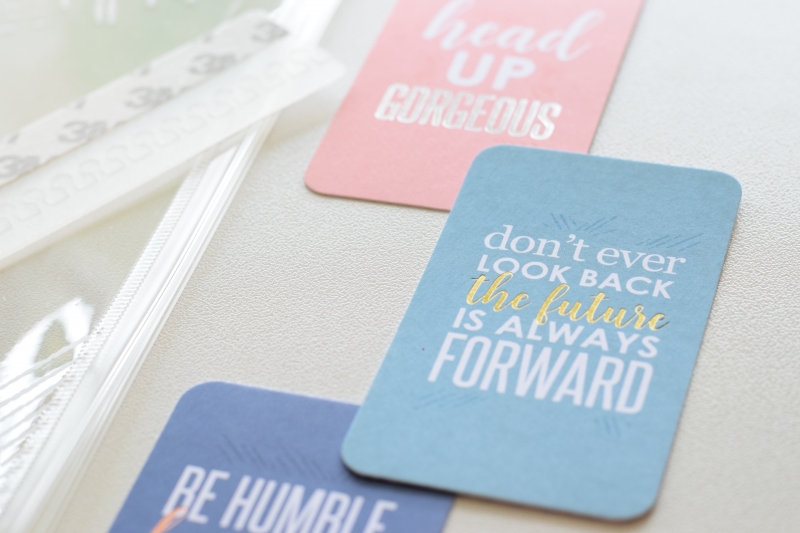 Each pouch comes with a fun set of 3 compliment cards, 2 stickers for gifting, the coil clip, and 2 coupon codes (!!!!) for you to use on future Erin Condren purchases!
QUICK SUMMARY OF 2018-2019 CHANGES:
Woven Wonder design theme
Lined FULL page before each month (as opposed to last year's goal page with the 4 circles on top)
Small future month printed in the bottom right corner of the monthly layout pages (new addition this year)
Hourly grid lines in varied shades of black/gray in the hourly planner (the half hour line is light gray, the hourly grid lines are darker)
Contact page at the back of the planner (new addition this year)
STYLISH  ACCESSORIES
Let's talk about some of the new accessories this year! They all retain the same practical & pretty element as the new Life Planner, and most will show off the design theme of Woven Wonder!
Woven Wonder Stylizedsticky Notepad – $4.00 (link to purchase)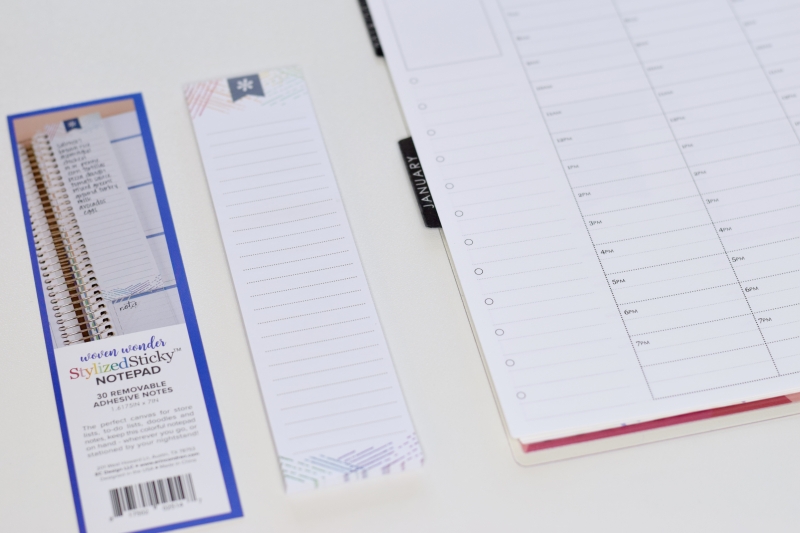 This set of 30 post-it style sticky notes are slim enough to use in the columns or sidebar of your planner and they're a perfect place for longer lists to land.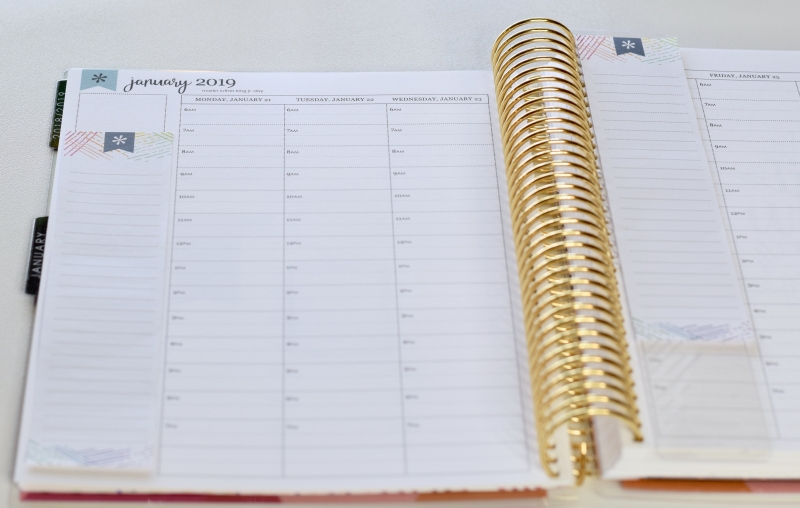 The back of the notepad has a small 3M adhesive strip that can be used to attach to your snap-in ruler(included with every Life Planner) so that you always have it handy.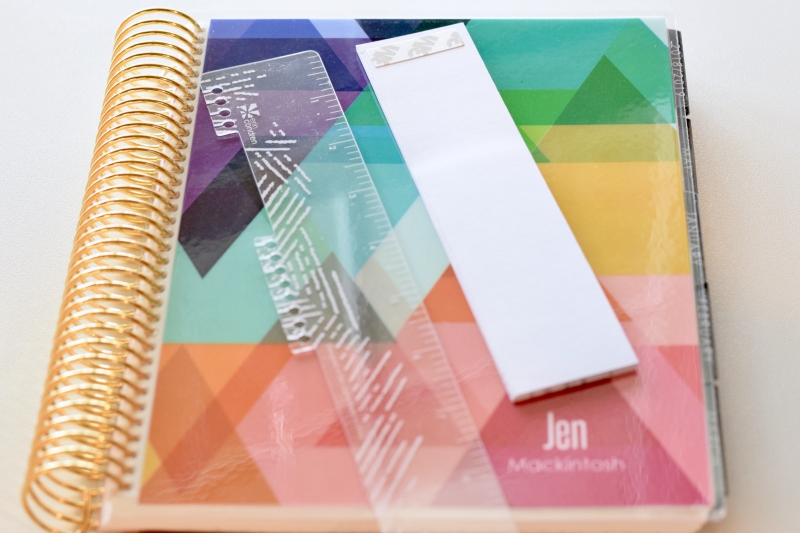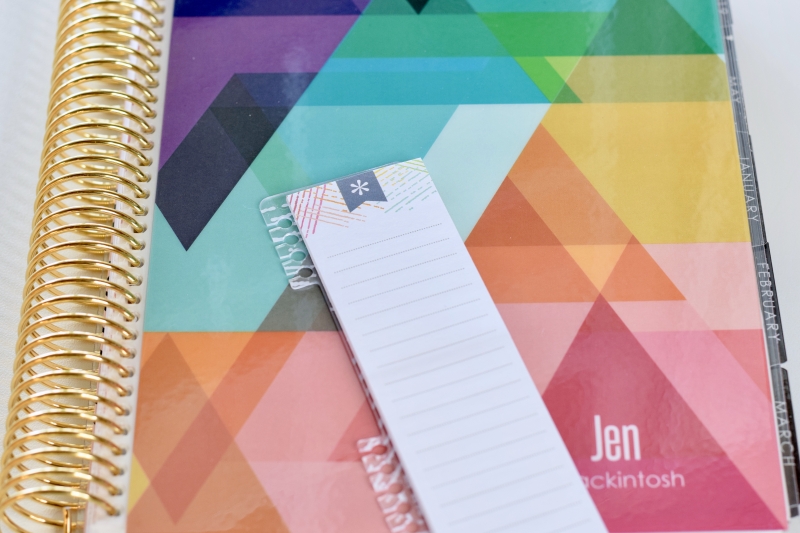 Mini Snap-In Bookmarks – $2.50 (link to purchase)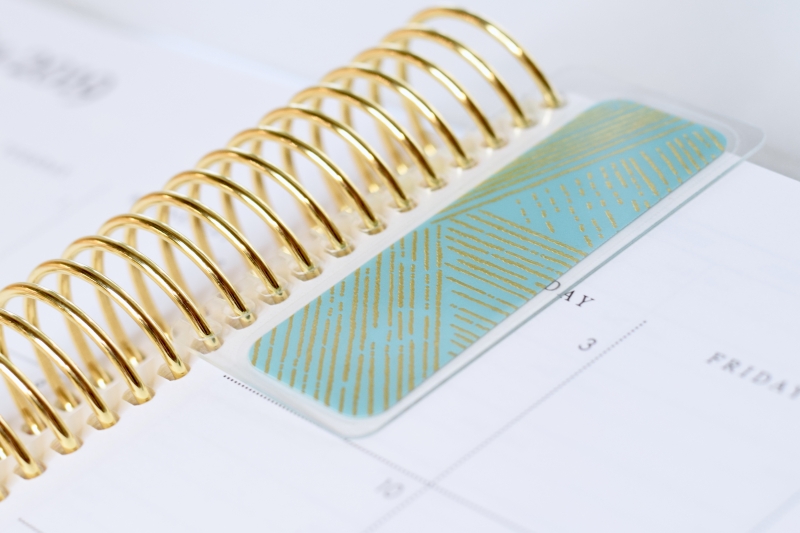 For those of us that appreciate a smaller clip-in placeholder, these small laminated bookmarks snap right into the coil and are easy to move around your planner. I like them because they're small and don't block the text on a page.
Each package comes with three: turquoise with metallic gold, black with metallic rose gold, and sapphire with platinum.
Woven Wonder Snap-in Dashboard – $4.00 (link to purchase)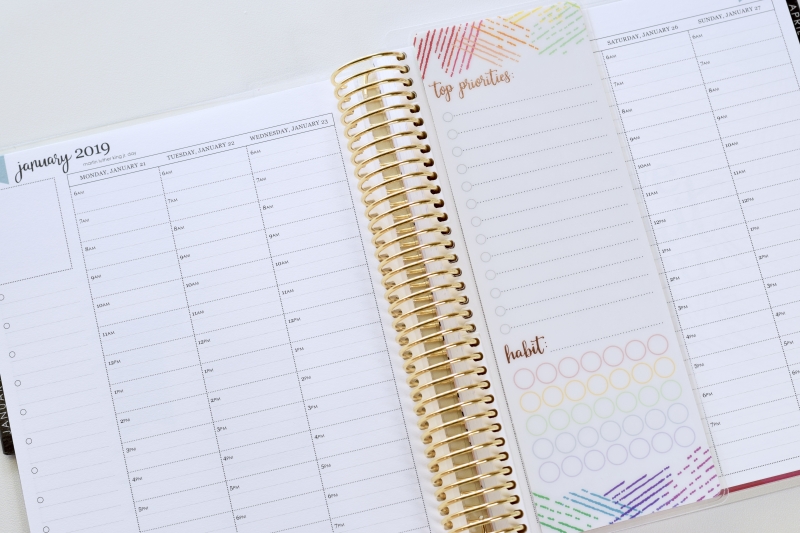 Over the years, Erin Condren has released several types of dashboards with different text and layouts. Each snap into the coil of your planner and can easily snap out to be moved around your planner and used as a bookmark. Without a doubt, this is my favorite dashboard design!
The top half has a place to note your top priorities, while the bottom half has a place to note a habit you may be targeting! Self-care goals have been a biggie for me lately – if I get busy it's the first thing I drop! So, I love having a place to visually encourage me as I make progress!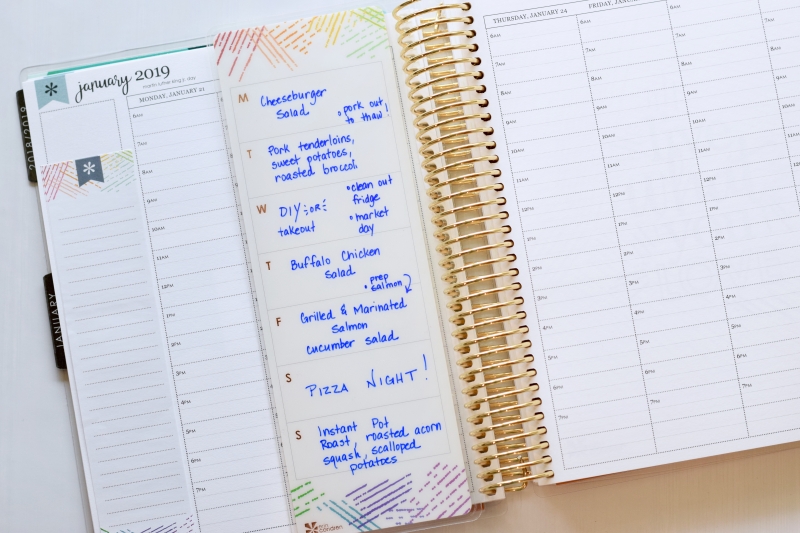 And the back side of this dashboard has a divided section with initials to indicate days of the week! I immediately thought this would make a great meal planner, but it could be used in so many different ways – list soccer practice days, work days and days off, chores for the week!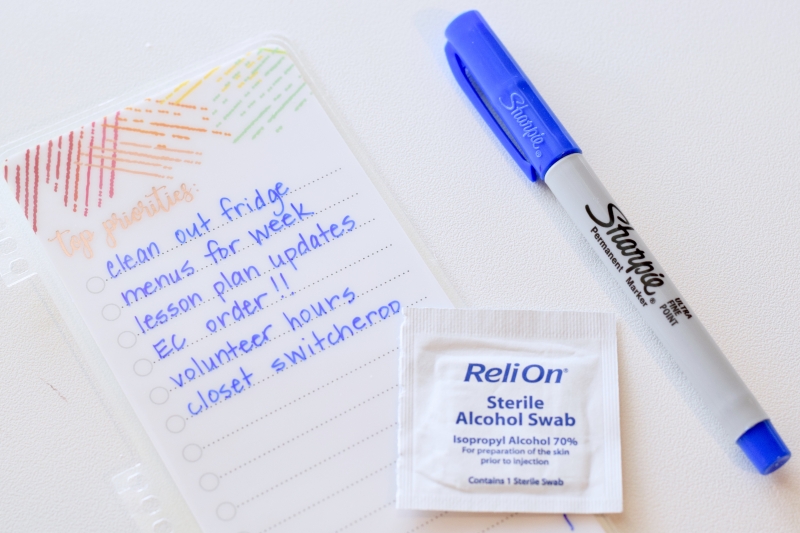 And, just a reminder – I use a Sharpie Ultra Fine permanent pen to write on all my laminated dashboards, and I've been doing that for years! It doesn't smear or budge! When you want to erase it, you'll have to pull out some big guns: I use simple alcohol wipes I pick up at the drug store. It erases sharpie pen easily and then the dashboard is ready for a fresh set of notes! If you need to make tinier corrections, use a Q-tip dipped in rubbing alcohol.
Woven Wonder Paper Tape Duo – $3.00 (link to purchase)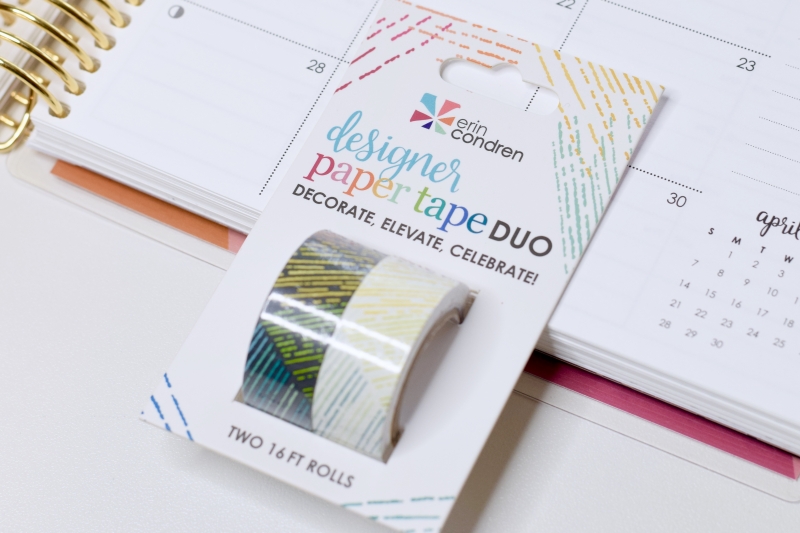 I love Erin Condren's Paper Tape!!! It behaves like a washi tape, but the tape itself is a smoother finish and is just a smidge thicker than standard washi. This year you get 2 sets of tape in one package, both of which reflect the new Woven Wonder design theme.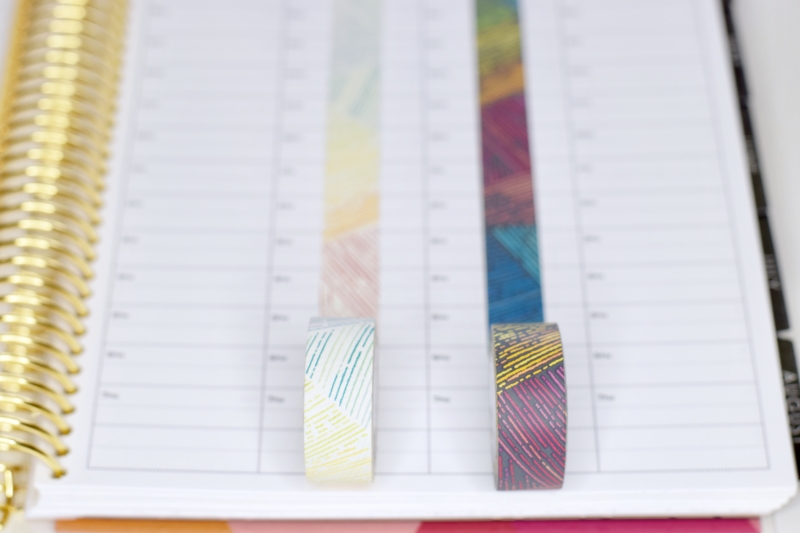 The colors are brilliant!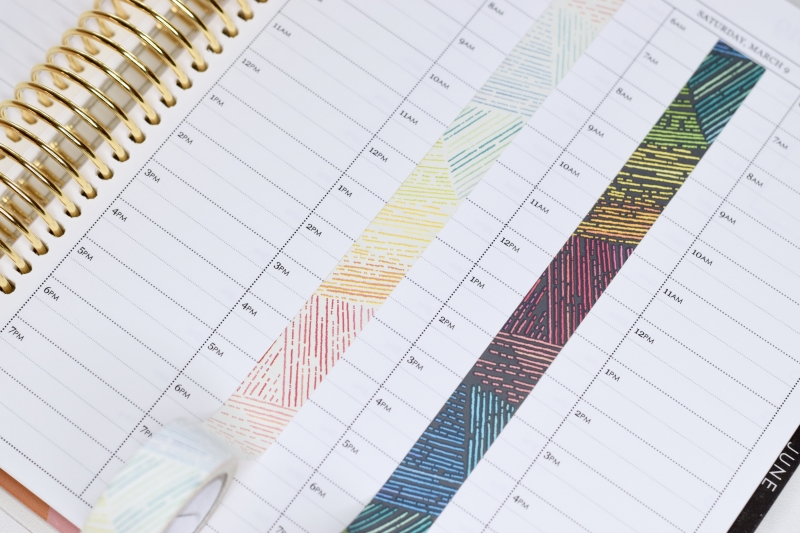 I'm often asked how I use this kind of tape in my planner. I like to use it to designate an event that stretches – either down through several hours of a day, or across several days of the week. It's just a pretty visual reminder of how long an event may be.
Woven Wonder Snap-in Stylizedsticky Notes – $10.00 (link to purchase)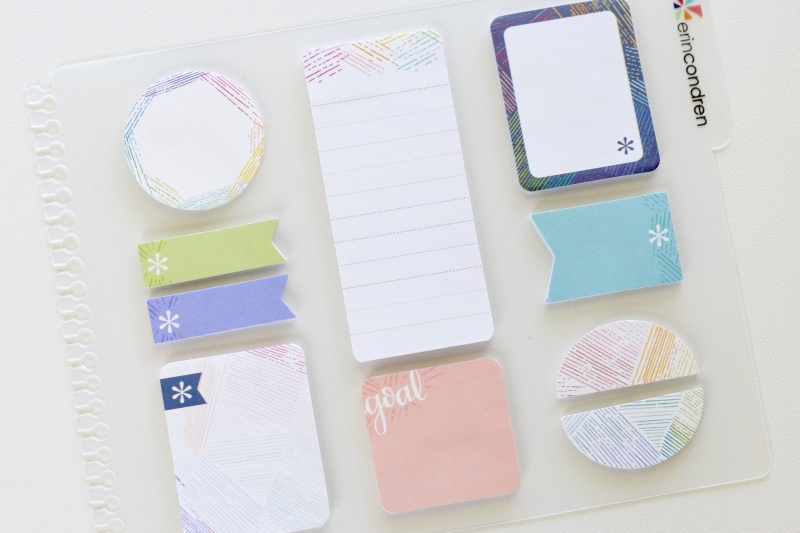 This is a perfectly-sized-for-your-EC-planner set of sticky notes! The entire set lives on a transparent snap-in dashboard that snaps into the coil of your planner and allows you to add a quick sticky note anywhere in your week.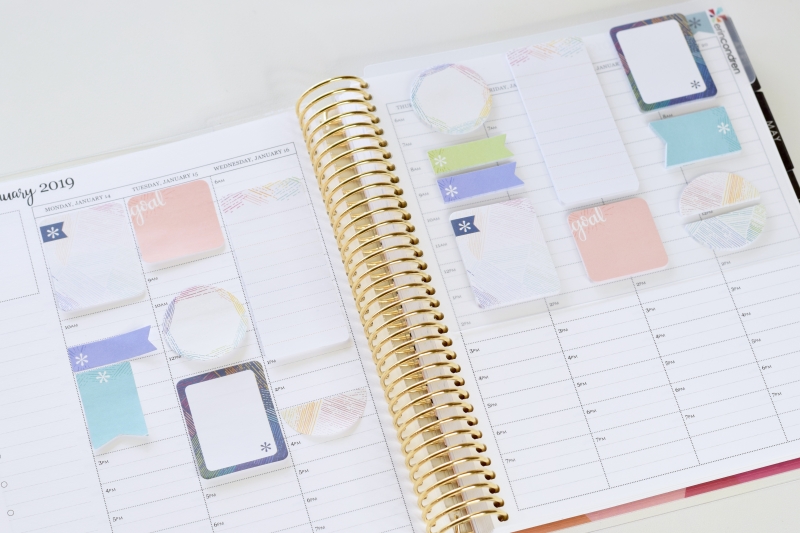 Perhaps you found out about an activity for next week and don't want to forget about it? Add it to one of these little sticky notes and drop it in your planner!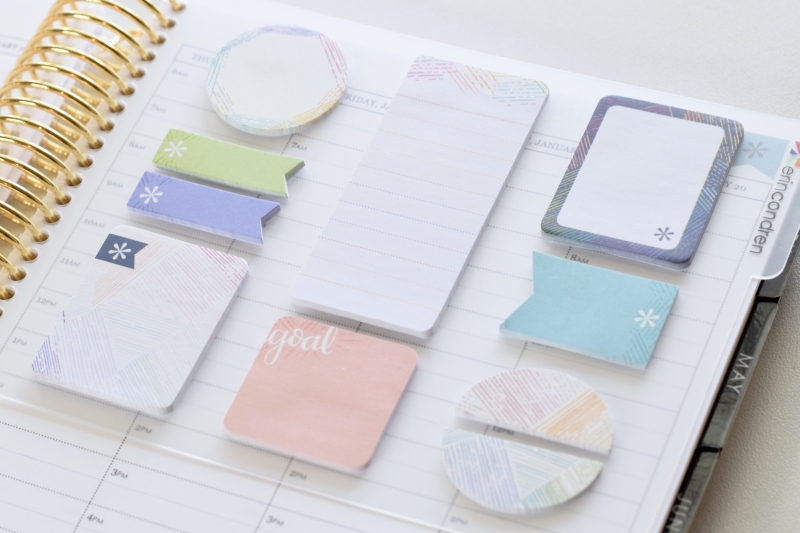 This is probably my favorite Erin Condren accessory! Sometimes, I use a small bit of Tombow roll-on adhesive on the back of my removable sticky notes to make them a permanent feature in my plans. I just like that they are all sized perfectly for the planner, and if I'm going to use a sticker or embellishment, I tend toward a more functional style. These Stylizedsticky notes fit the bill perfectly for me!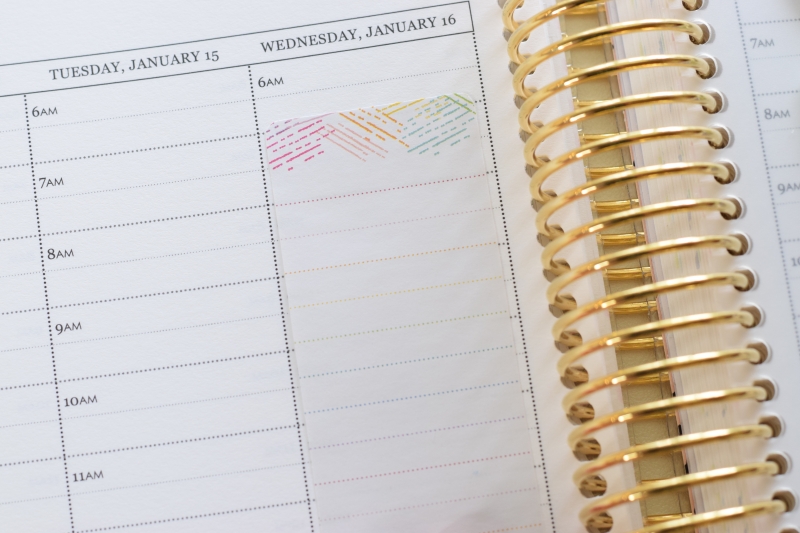 I really like the longer sticky note that will allow me to add a list of tasks to a day!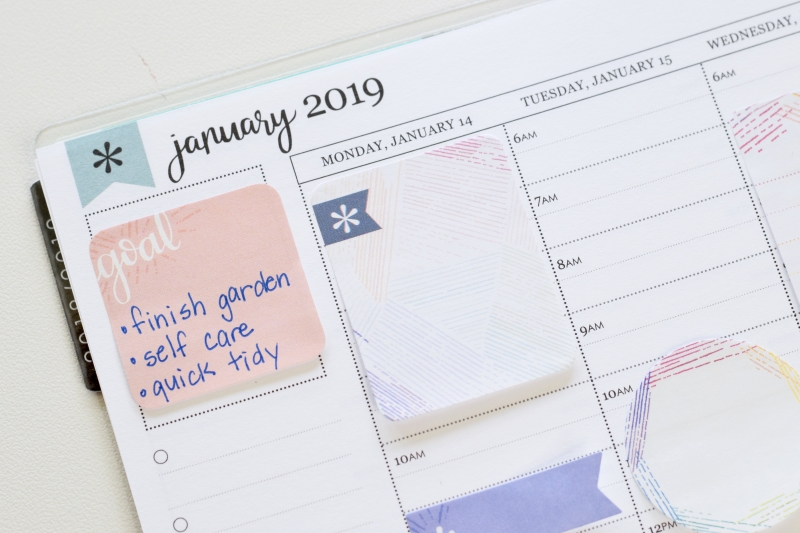 And that *goal* sticker??? I love imagining the different ways I'll be using that! I predict I run out of that sticker before any of the rest are gone! It will be perfect for leaving my top 3 goals in the corner of my week to motivate and remind me!
Classic Sticker Book Edition 4 – $15.00  (link to purchase)
Erin Condren's collection of stickers continues to be an unbeatable value for some of the most beautiful stickers! Most of the stickers in this book are functional, which I love. I love adding emphasis to an event by using a simple sticker to help it stand out. A few of the stickers are whimsical or inspirational. All of them add an extra touch to help you celebrate your ordinary days on the pages of your planner!
I'm going to share all of the sticker pages in the new book so you can see everything you'll get. All of the stickers are matte paper with the exception of three (very special) pages in this sticker book.
MATTE PAGES FIRST: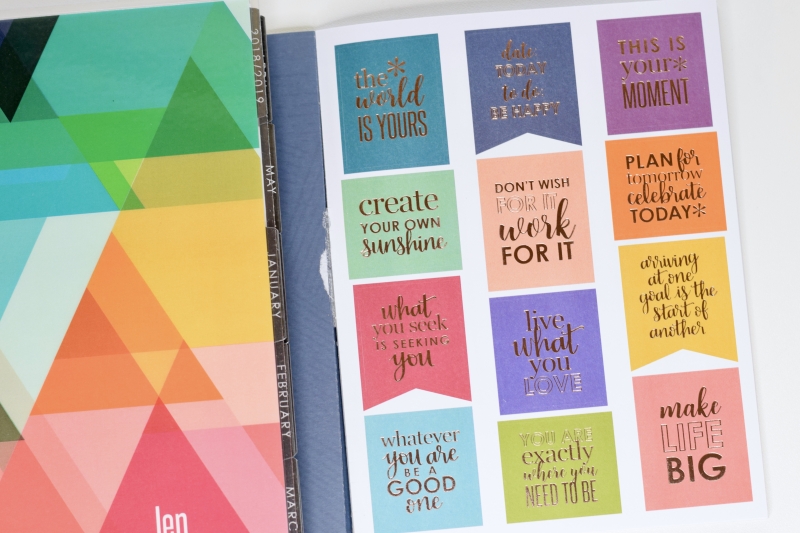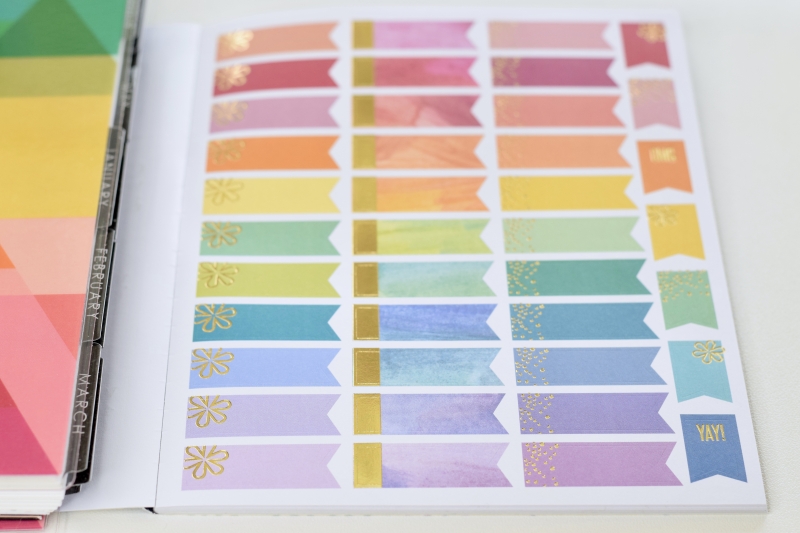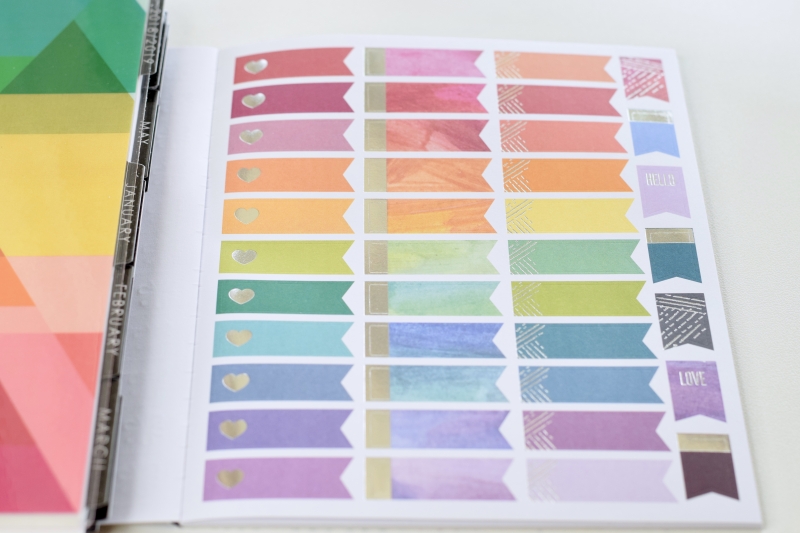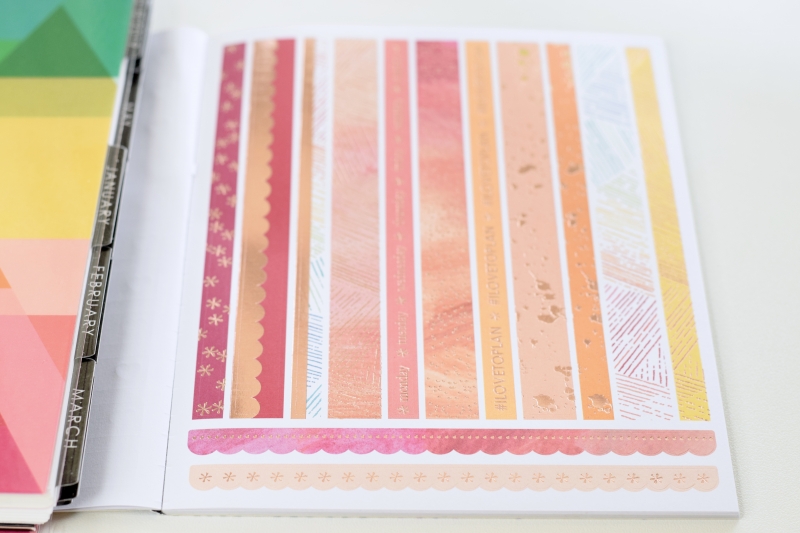 Above and below are washi-like sticker strips. They're perfect for adding borders or boxes to those lined pages that come before each month. I love setting up that page as a monthly goals page and these washi stickers will be perfect for stretching down or across a page – to set up designated spaces to list my goals and hopes for the month!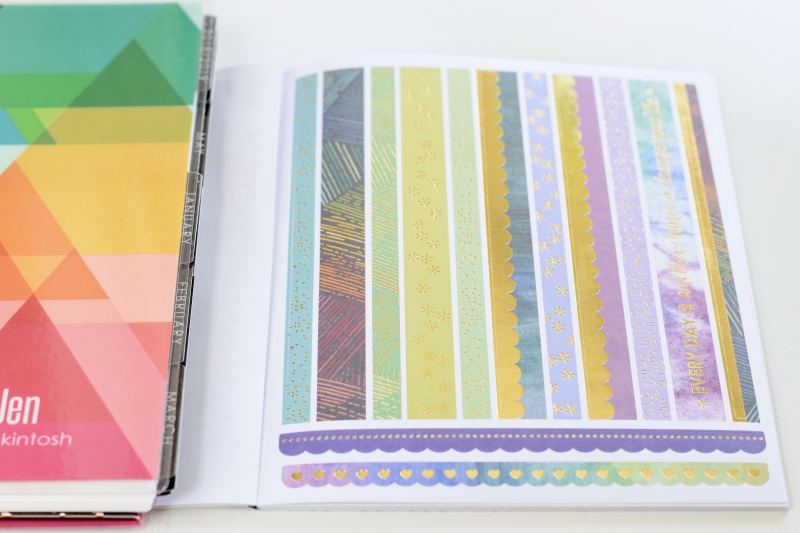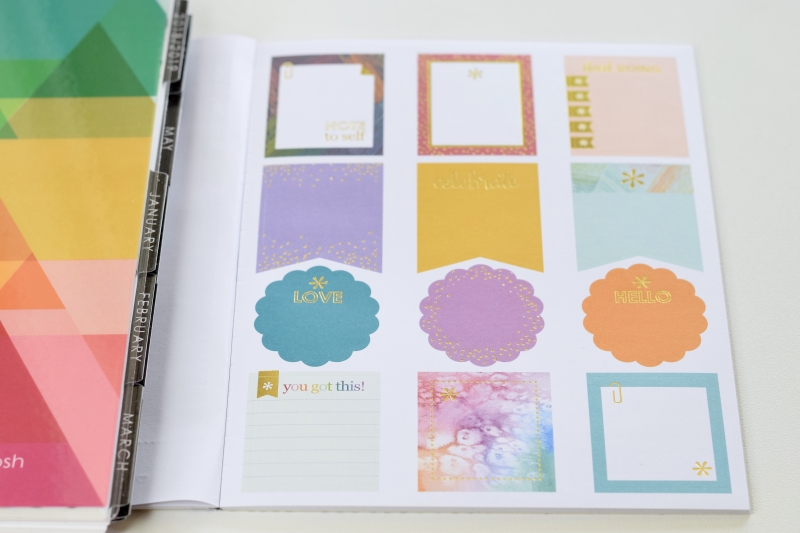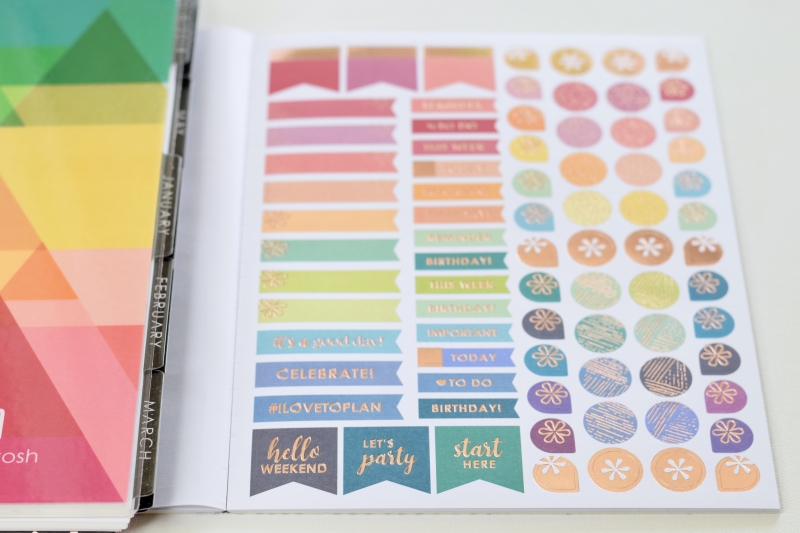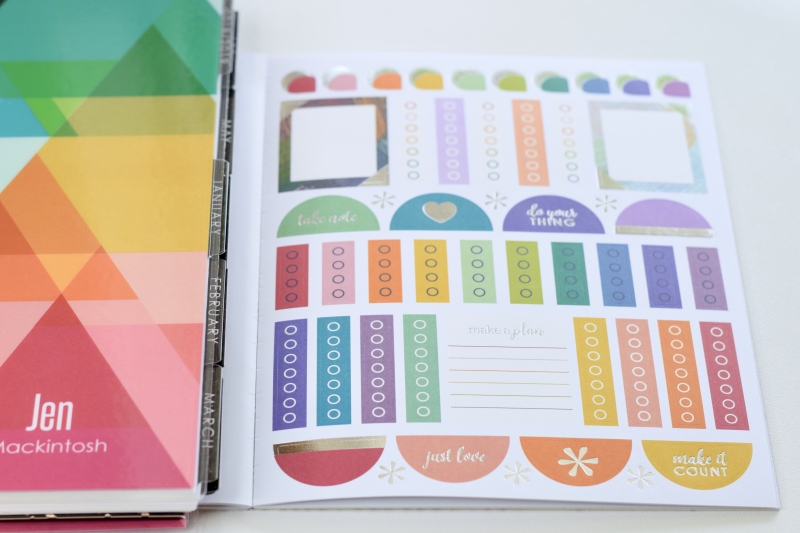 *NEW* TRANSPARENT GLOSSY STICKERS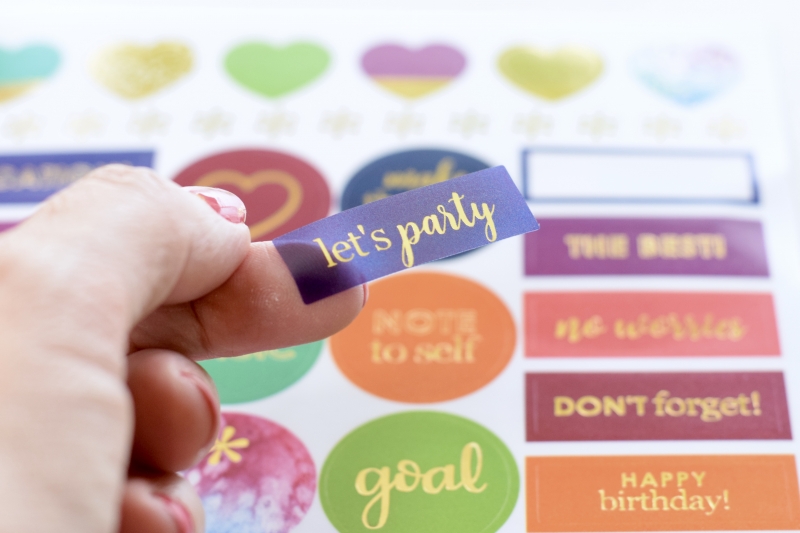 These new stickers in this sticker book are beautiful! 3 of the 12 pages in the sticker book are comprised of these transparent, glossy sticker. They're brand new to the Erin Condren sticker collection and the colors are rich and vibrant! I tried to hold a couple of the stickers up so that you can see their transparency! Because they're printed on a glossier paper, the overall effect is that they pop off the page! Stunning!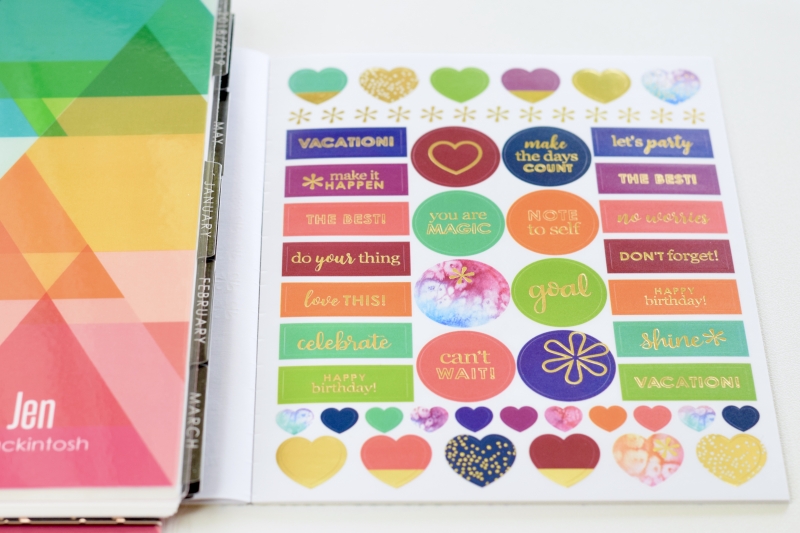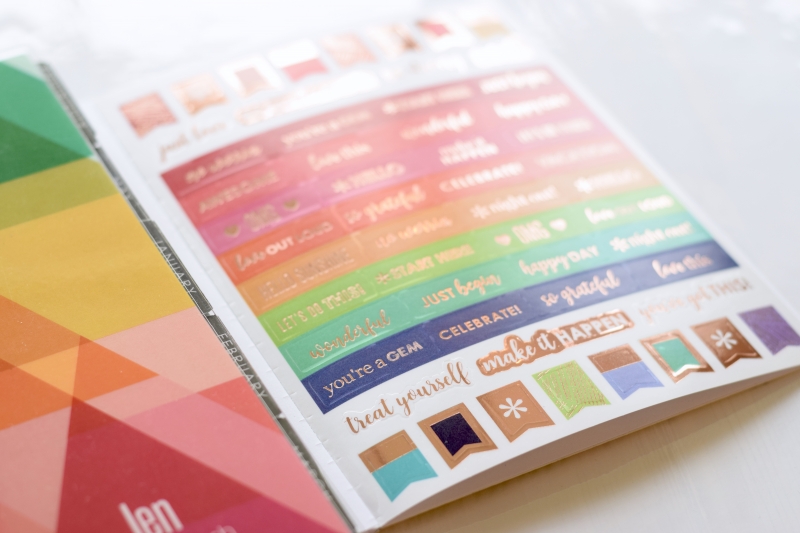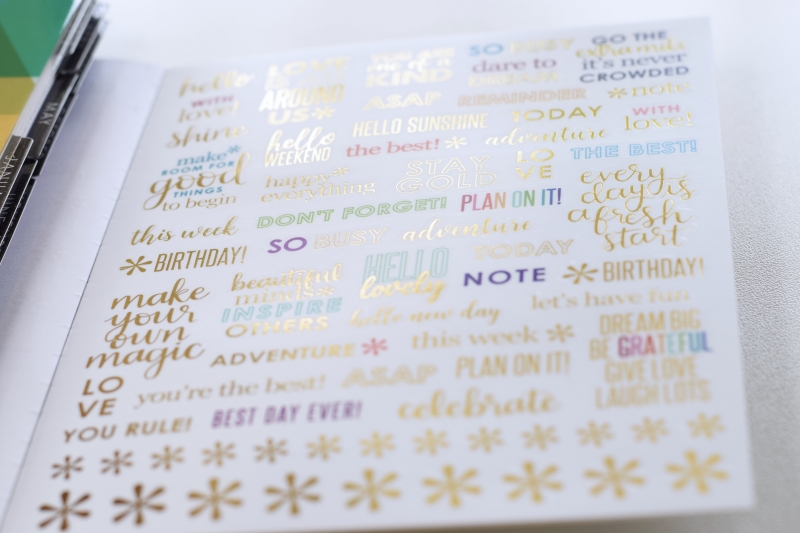 The new transparent stickers really bring a different look to sticker planning!
Woven Wonder Reusable Bag – $8.00 (link to purchase)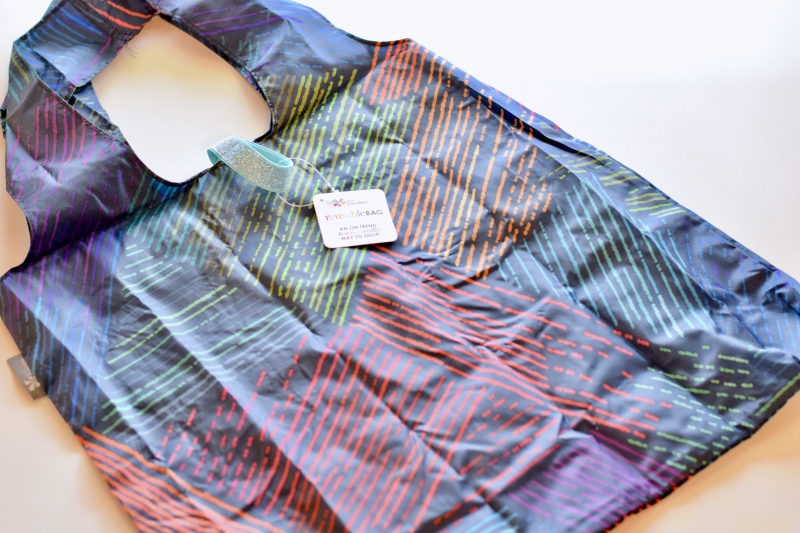 I have a few different designs of these reusable bags and I love them! I keep them in my car, in my purse, and each of the kids has one on their hook! It folds up so compactly and holds quite a bit! It seems like we always need a bag for something – clothes, bringing books in from the car (or trash…or water bottles that seem to multiply every time we go out), to go to the beach, grocery stop, or organizing hats/gloves/toys in the hall closet! This durable bag is my go-to!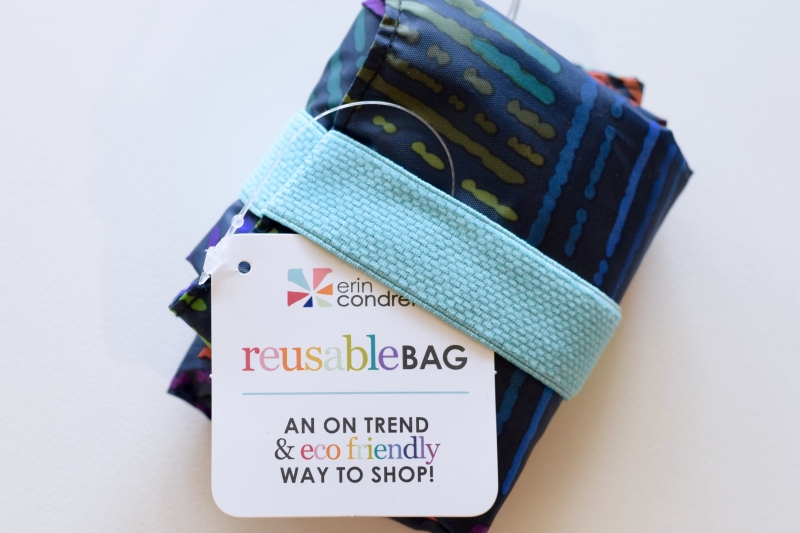 And look how compactly it folds up!!! Win!
Planner Folio – $25.00 for the medium size that fits the Life Planner; $30.00 for the larger size that fits the Teacher Planner (link to purchase)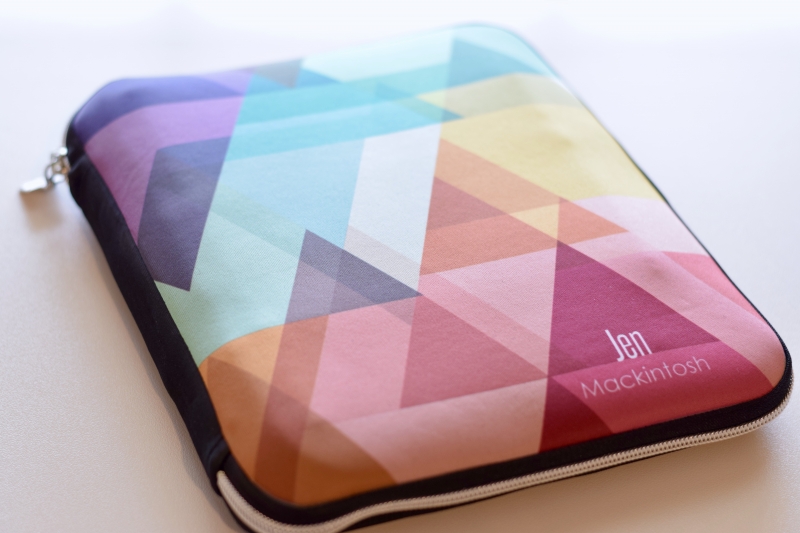 The EC planner clutch gets a makeover, but most of the new fabulous-ness is on the inside!! The new folio is made out of the same durable and stretchy neoprene fabric as the previous carry all clutch, and they are approximately the same size, but the similarities stop there.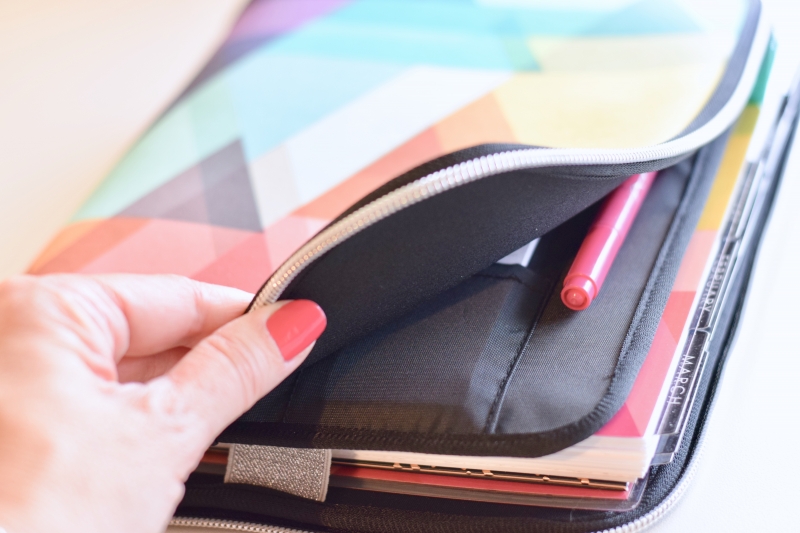 The new planner folio unzips completely around the folio so that it can open and lay flat next to you while you plan.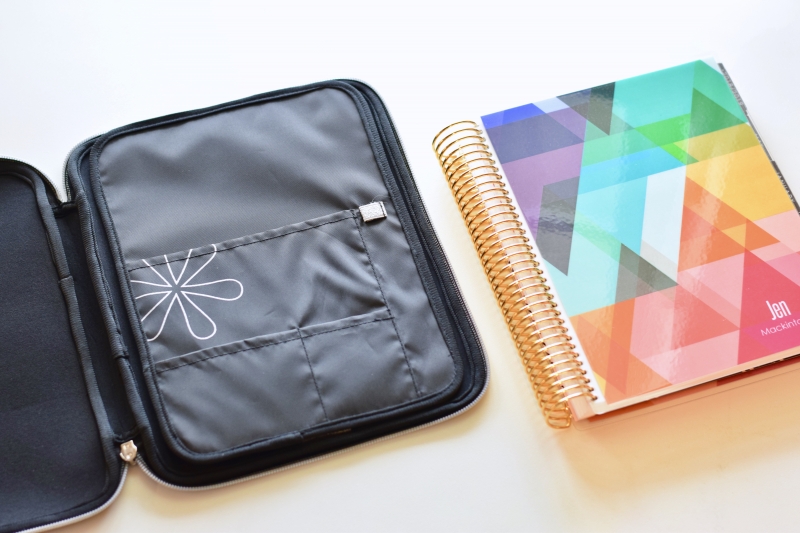 Inside you'll find an attached organizer that holds all your favorite planning essentials.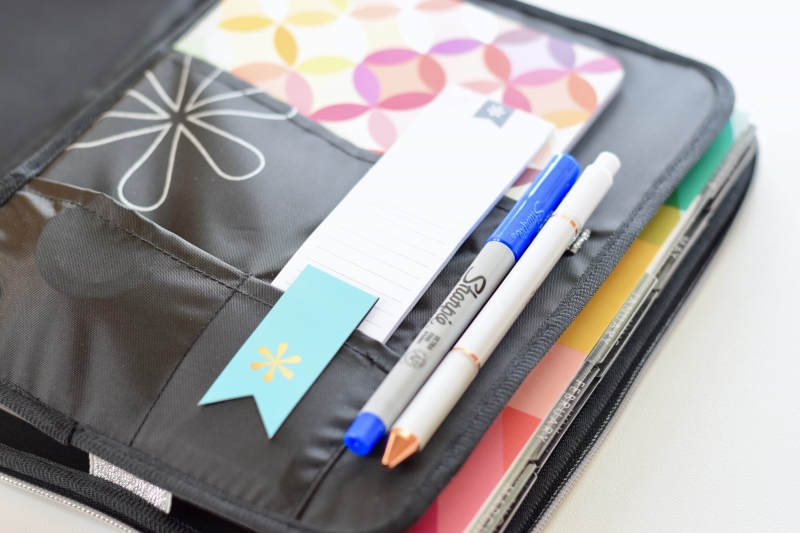 Your Erin Condren Life Planner tucks under the organizer in a protected spot. The top and bottom of the organizer are attached to the folio with elastic bands and these also hold your Life Planner snugly in place.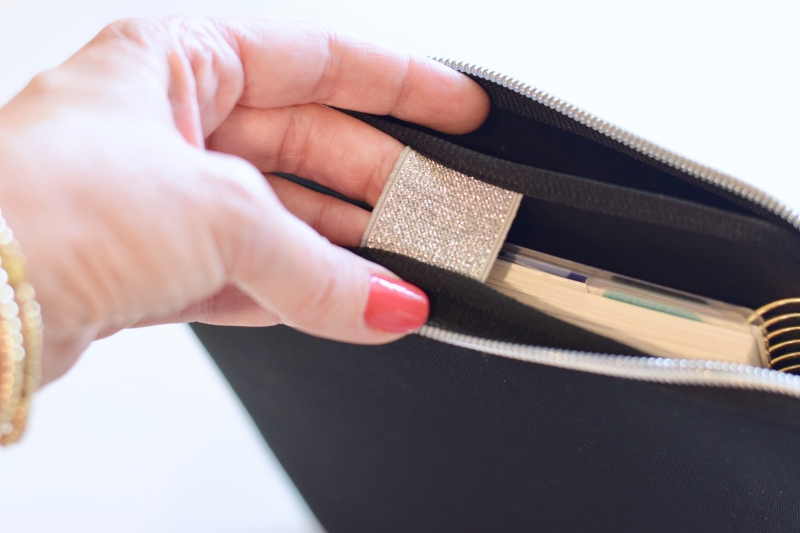 Now, just zip around the folio and you're all together! Stylishly!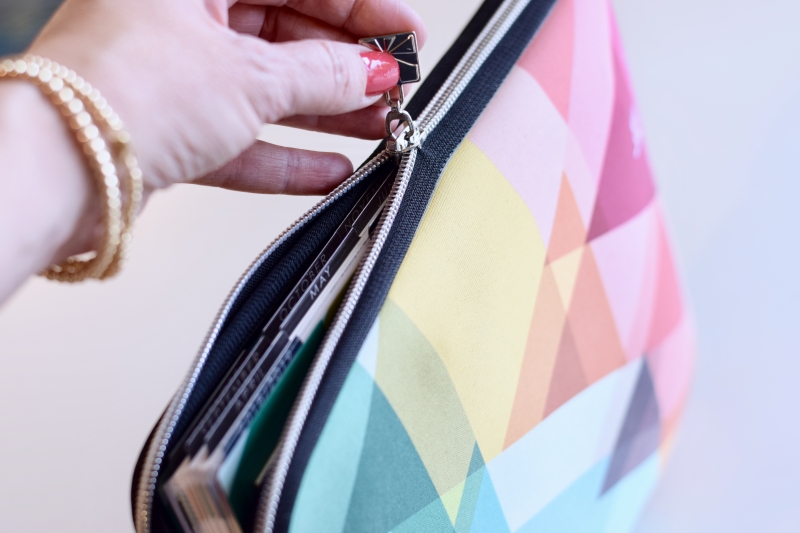 The planner folios come in almost all of the Erin Condren designs – choose a design to match your cover, or choose something totally different!
Full disclosure: I really worked hard to over-stuff mine (2 sticker books, a journal, Life Planner, 4 pens, 2 rolls of washi, ruler, dashboard, stylized sticky notes, and adhesive roller) and it kept stretching and zipping – impressive! With your planner, pens, and supplies tucked in here, you can drop this into your bag for the day and not have to worry about your planner or your supplies getting lost in your bag, or damaged while you're out! It's a fabulous option if you're on the go!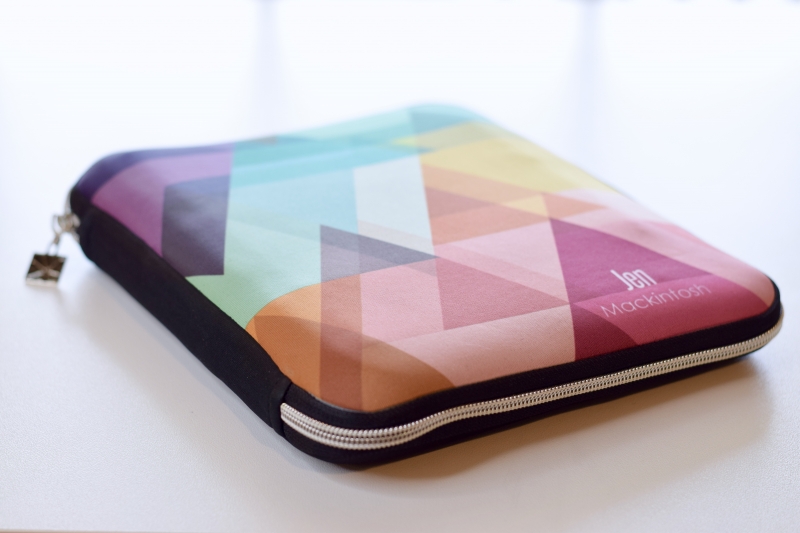 And that's it! Isn't the 2018-2019 line beautiful, exciting, and functional!!!
I know this post is long. What can I say? I've never been known for my brevity, but in my defense, I do remember how I felt when I first considered this planner – it was a stretch for me financially. I wanted ALL the details. Every single one. Every picture. Every measurement. Everything. And that's why I try to photograph everything and share all the details and pages – in case you're carefully considering this planner! So let me share just a few more thoughts with you that helped me make that initial decision and that keep me coming back to Erin Condren every year!
I love that this planner began in Erin's home – her vision, her dream, her hard work. And she HAS worked SO hard to continue to elevate that vision and this planner since the very beginning in 2007!
I love that this planner is made 100% right here in the USA! Completely! From the paper, the printing, the assembly – it's made right here and I'm so proud of that commitment from Erin Condren over the years!
Time is a gift to steward. Think about that for a minute. You steward your finances (well, hopefully, you do!), carefully considering where you will invest your hard earned dollar, prioritizing your budget and purchases. Time is also a gift. There is not an infinite supply of time. And once it's spent, you can't get time back. So spend it carefully! Invest your time in the things that matter. Consider your time – where you spend it, how much of it you spend. Consider your season of life, your kids, your vocation, your energy, your health. Be a steward of your time, work hard, and make time for leisure, relaxing, and fun. This doesn't make you a control freak; this means you're prudent! And a planner is a tool in your hands toward that end!
Choose the best tool for your work! I wouldn't hand a contractor that was building my home a cheap and ill-fitting tool and expect the same quality of work had I given quality tools that were made to get the job done. For those of us that lean into every moment of our day, considering and loving the people we plan for, a planner is a tool. Different planners are simply different tools. Choose a quality tool to help leverage your day!
Now, let's break the Erin Condren Life Planner down! At $55 for a yearly Life Planner, that breaks down to:

$4.60 to plan, consider, lean into, and record all of the important moments in your month. That's less than a cup of coffee! Give up a cup of coffee once a month, and you've paid for your Life Planner!
$.15 a day! 15 CENTS!!!!! To plan your day!!!
Phew! We made it!!! If you made it this far then you are a serious #plannergirl and you must have really been interested in the details of the new Erin Condren planners and accessories releasing on May 3, 2018! And if that's the case, you might be interested in this link –> it's a coupon link for you! If you're a new Erin Condren customer, click through, set up an account, and Erin Condren will email you a coupon for $10 off your first order! Every little bit helps!!
Let me know what you're ordering May 3!!! And let me know if you have any questions at all! Because I love to chat planners!
H A P P Y   P L A N N I N G !!!