Erin Condren Teacher Planner 2018 – Video & Walk Through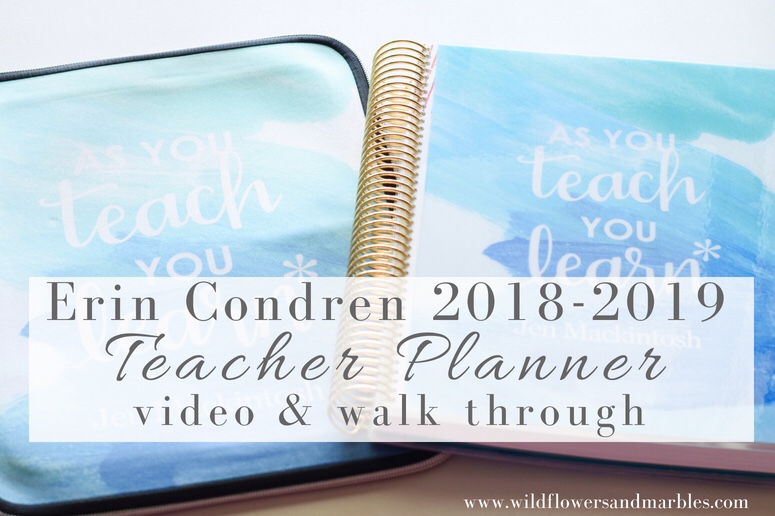 Setting up the Erin Condren Teacher Planner is always a joy for me! I love seeing the pages in front of me and imagining how I can use them and how they will serve us in the coming year. A planner is simply a tool. Some planners are better tools than others, but they all function as a lever to help move a day forward. No planner is going to be THE perfect fit, unless you make it yourself – which I've done before. However, there are some planning tools that just get it right – the function, form, and flexibility are all there. All that is needed from me is to imagine my day – our year – and move them onto those pages. The Erin Condren Teacher Planner is that planner for me when it comes to home education and lesson planning! And this year, the reformatted design and layout make it more functional than ever.
This post contains affiliate links.
I reviewed the Erin Condren Teacher Planner extensively in this post, and if you haven't read through that post yet, you'll want to! In the review post, I show the planner exactly as you will receive it – out of the box. I'll also show you the new accessories released this year, many of which are featured in my video since I used them to set up my Teacher Planner.
I know this planner is large and for some that might be intimidating. You want to make good use of this planner tool but where do you start?
I spent a few weeks with my planner, taking my time, imagining our days and needs, and I set this planner up. And then I sat down and filmed a walkthrough of the entire Planner and my set up. I talk you through everything and walk you through my process – cover to cover. This planner is large and, well, I'm not known for my brevity. 🙂 Fair warning: the video I'm about to share with you is an hour and ten minutes long. But I share it with the hope that you might find some ideas that you can translate into your own planner – whether you use an Erin Condren Teacher Planner for homeschooling, use a different planner, lesson plan as a teacher in the school system, are a support person, or want to use this planner in an altogether different way because of its versatility.
Resources mentioned in this video:
I'd love to know if you have any questions!! I do read every comment on youtube, and here on my blog – just ask!
Also, if you'd like to continue to follow along with me and my year and my planning, you might want to follow me on Instagram. (You can see my Instagram feed on the right sidebar of my blog.) I share daily on Instagram: planning ideas and tweaks, home organizing, my Erin Condren teacher planner as I continue to set up as well as how it functions through the year, and home education related posts. I'd love to have you along!
How is your summer planning going? I'm just getting started! Happy planning!