2017 Dayspring Planner Review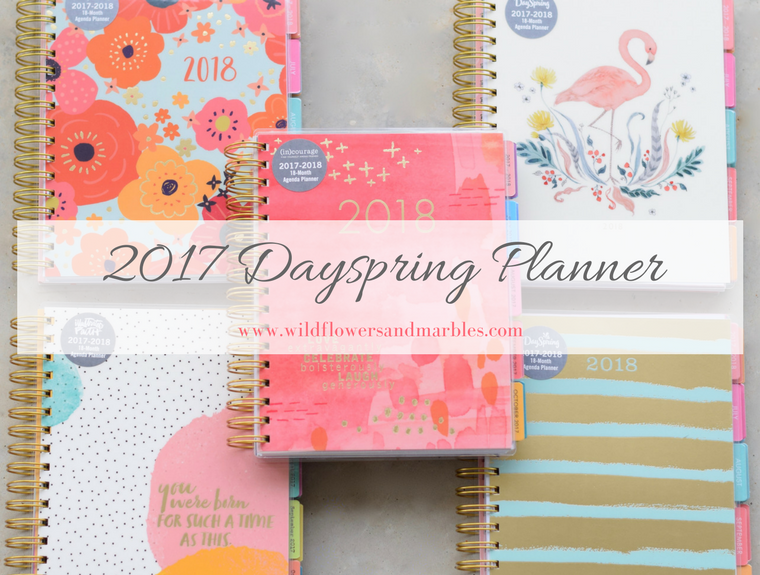 What a treat! Today I get to review and share with you the five brand new, never before seen planners that Dayspring has created! I'm often invited to review different planners; I'm always grateful for the invitation, but I usually say no thank-you. If I take the time to take detailed photos and really review something for you then I really have to believe in the product and company. When DaySpring offered to send me their new 18 month planners to review I didn't have to think long – I've long been a fan of DaySpring, and I knew that I'd love to peek at the planners they came up with. And I'm so glad I did – they're stunning! And you get to peek inside today, too – because they sent these planners to me before they're officially launched!
Let's get to some details first! You can access all of the new Dayspring Planners and Accessories here!!
These are 18-month, horizontal layout planners.
There are 5 cover design options to choose from.
The coil is a heavy duty gold tone coil.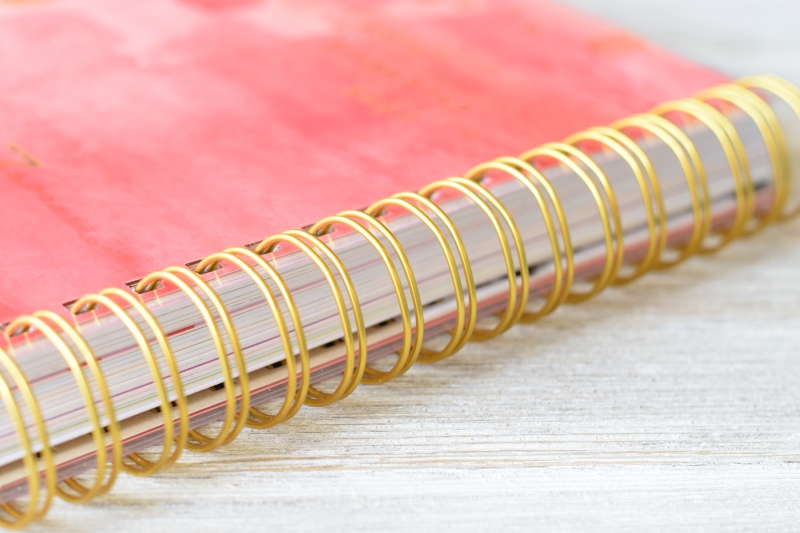 The covers are a very heavy laminate – you can pick this planner up by the edge and it stays rigid. Very sturdy!!
The planners begin with a page to record your name, and two have a few inspiring words on the front of the laminated cover.
There is a full two-page spread containing 2017/2018 at a glance.
Each planner has a monthly view and then following each month, the coordinating weekly views.
The layout for the weekly views is horizontal.
Each month (and the weeks within that month) coordinate – each has its own unique theme and color.
Each planner contains a notes section with 4 lined pages, 2 grid pages, and 2 blank pages.
There is a list of 2017 and 2018 holidays in the back of the planner.
There is a 2019 planning calendar page for future reference.
There are three sheets of stickers coiled into the planner that coordinate with the individual planner theme.
Each planner has a heavy duty cardstock pocket folio coiled into the planner – you can tuck items in the front and back side of the folio.
There are inspiring verses, thoughts, and quotes throughout each planner!
Each planner cover contains some gold foiling – some more than others.
These planners measure 7″ x 9″ without the coil. With the coil (and accounting for the slight extension of the tabs outside of the covers) the full measurement is 8″ x 9″.
The price point for each of these planners is $29.99 and they will be available for purchase later this week.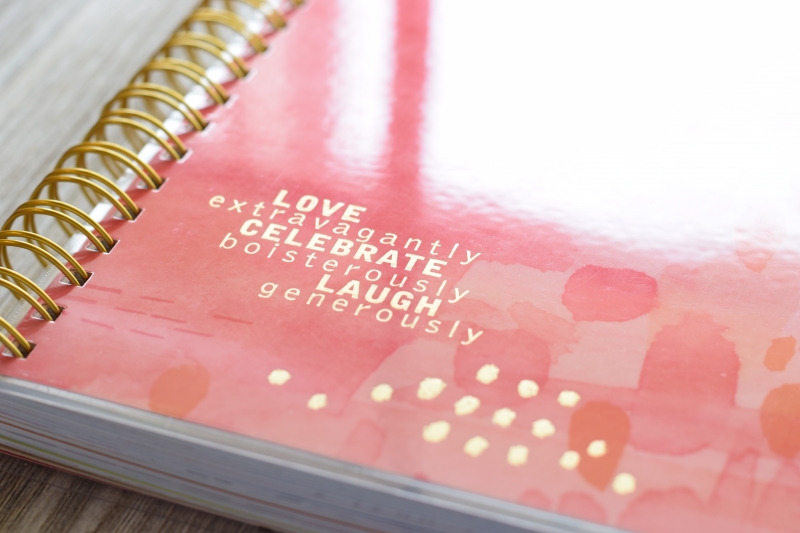 These planners are perfect for anyone looking to keep life a little more together on paper! I fell in love with some of the layouts and the inspiring quotes and verses and I'll share those below with you. Overall, this is a sturdy beautiful planner. It will look beautiful on your desk, in your bag, and on the go! Use it as your main planner, or dedicate it to one aspect of your life that could use a little more organization – your budget and finance goals, a blog planner, something to keep up with school assignments, a Bible/devotional reading journal (jot a quote or inspiring and encouraging thought for each day), or a memory journal for your kids. There are so many ways to use this planner!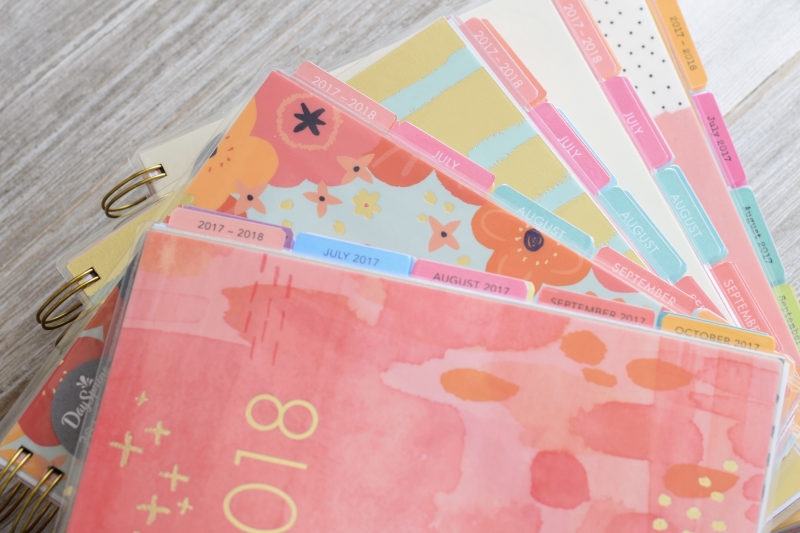 Let's look at these planners individually so you can decide which one is YOUR favorite!
---
[in]courage Agenda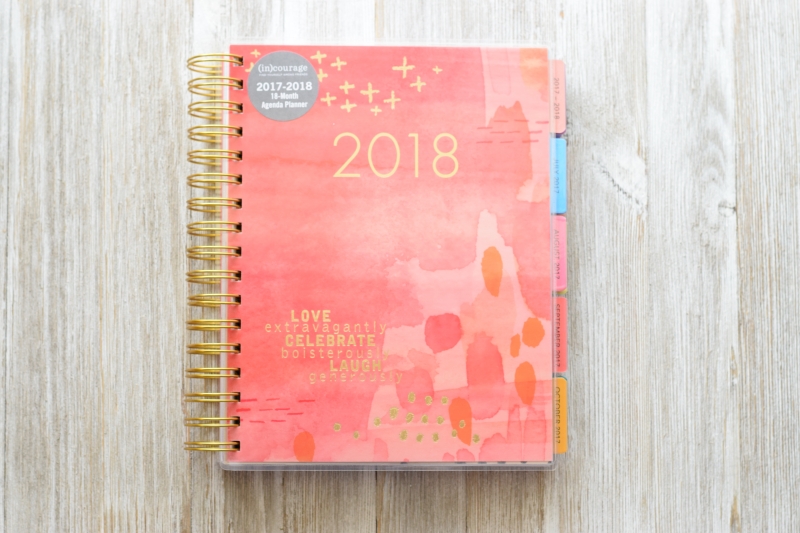 This cover is one of my favorites (although it's really hard to choose – they're all soooo pretty!) – it's a vibrant watercolor full of corals and pinks and it just pops with the gold coil and gold foiling on the cover!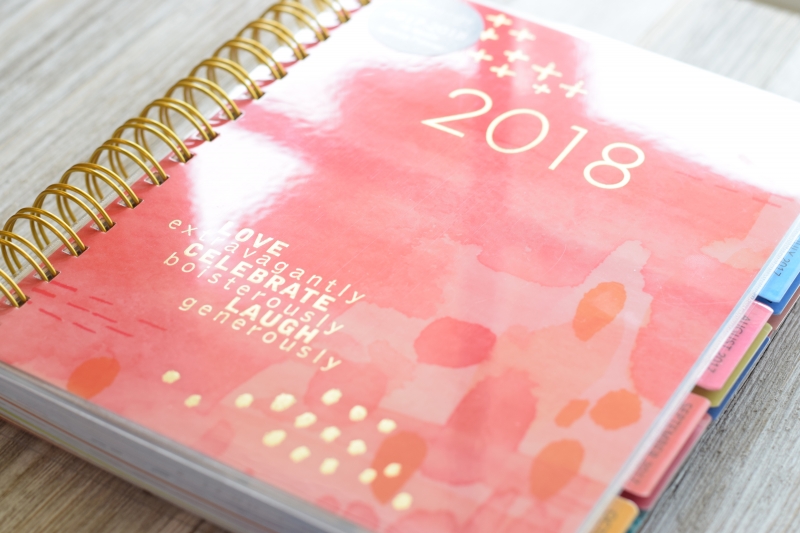 "Our prayer is that God will use this [in]courage planner as a space in the middle of the everyday chaos. A space to breathe and get organized. A space to plan and listen. And a space to hear from God, who names us His daughters." Beautiful!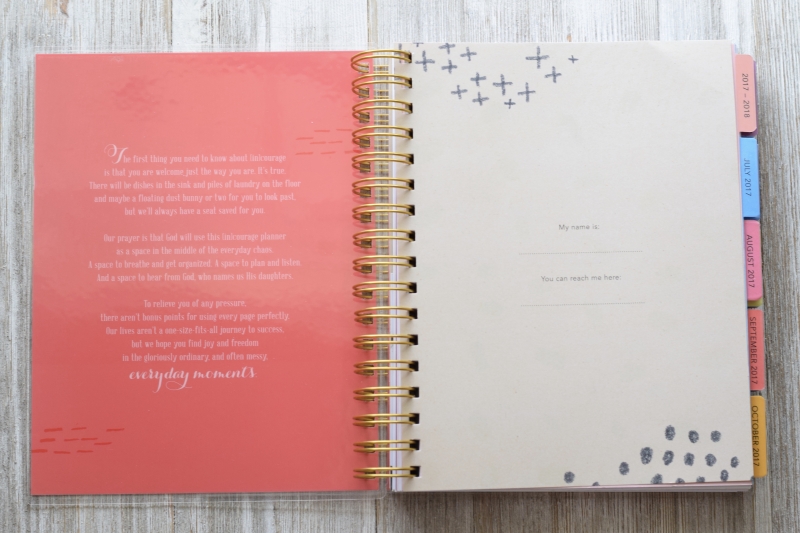 All of the color themes in the [in]courage Agenda are watercolor washes with a variety of subject matter and colors and tones. Below is one of my favorites. Each monthly cover page for every planner has a verse or encouraging thought.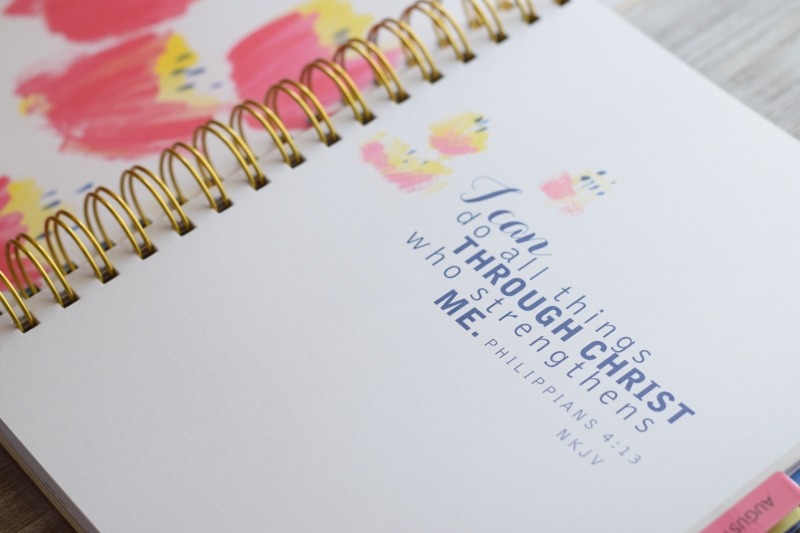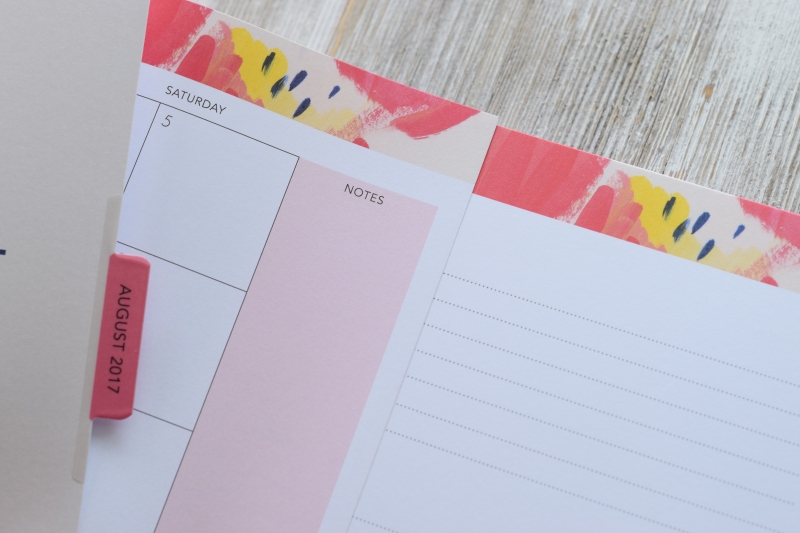 The monthly layout and all of that month's weekly pages carry the same watercolor theme at the top of every page.
Below is another example of the beautiful watercolor wash themes…and how could I not love this encouraging note!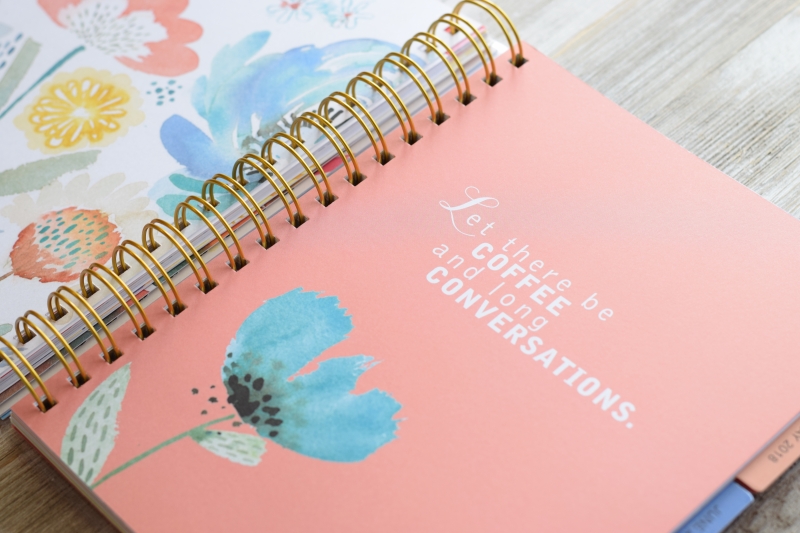 The stickers in the [in]courage Agenda reflect the watercolor designs used throughout the planner. I thought that was such a thoughtful detail!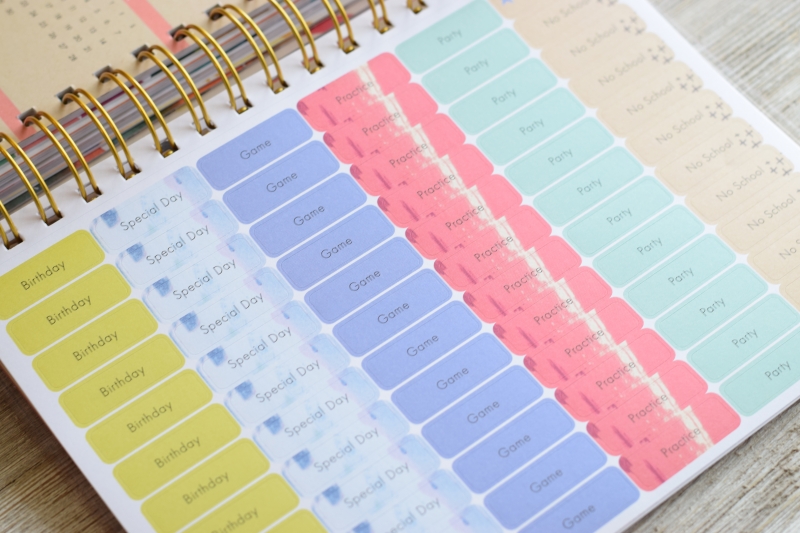 ---
Illustrated Faith Agenda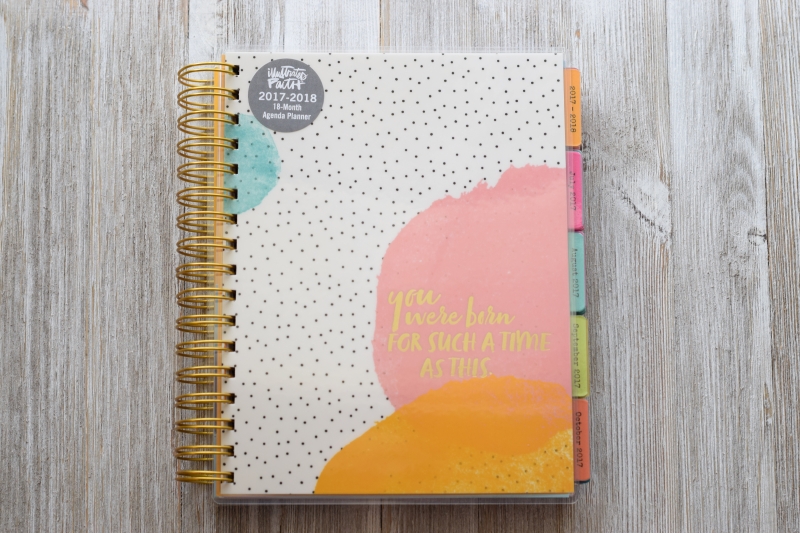 As with all of these covers, it was difficult for me to capture the light just right so you could see the gold foiling. This cover! It's fun and whimsical, and yet it's also inspiring and encouraging!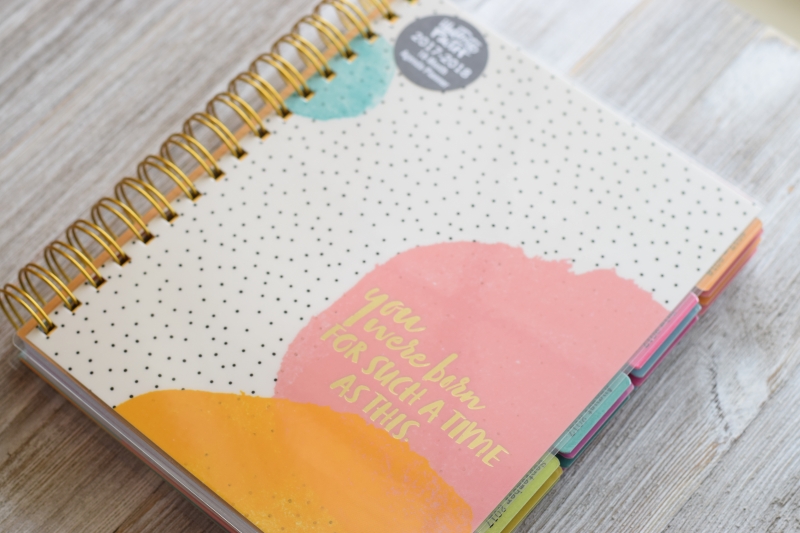 The interior of the cover for this planner contains a message I found so encouraging! "In today's culture, it is so easy to get caught up in the busy work of life. … I am inviting you first and foremost as a place to purposely plan time with God. Set Him as a priority in your life…" (Shanna Noel).
The tabs on the Illustrated Faith cover have a typewriter-typeset.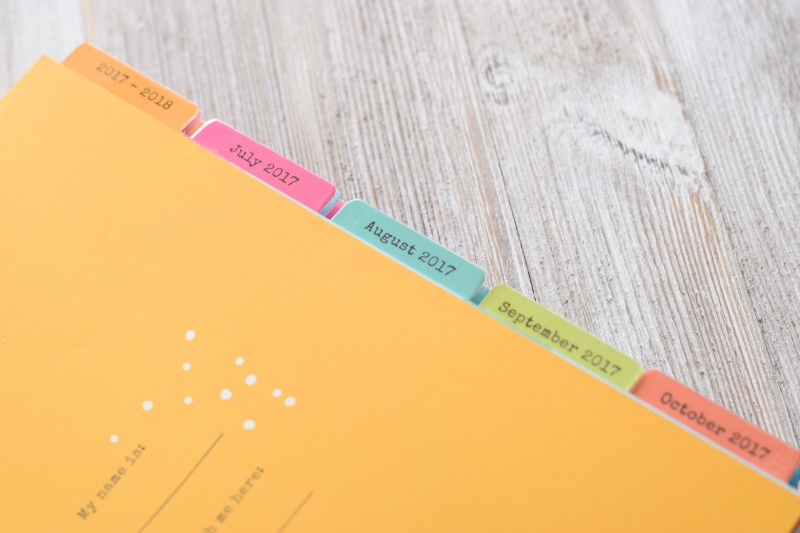 The designs and themes in Illustrated Faith are much more whimsical than the other planner designs.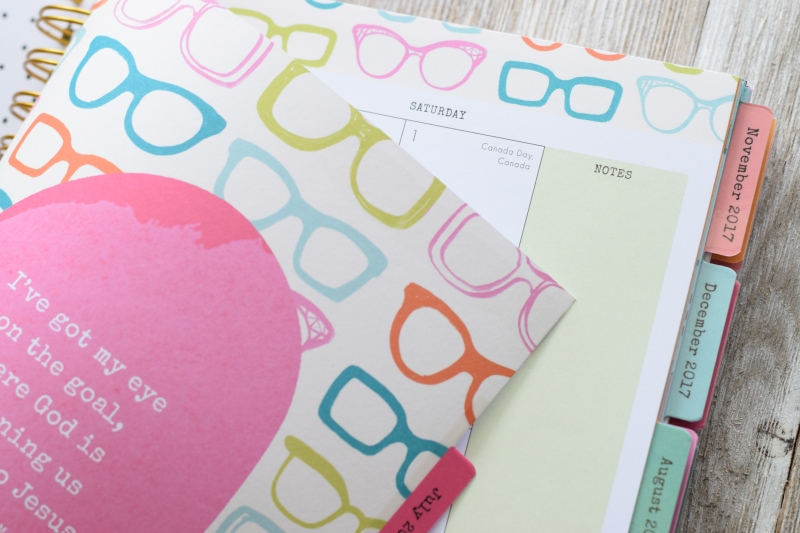 And you'll note that the sidebar is just a ribbon of color – no lines.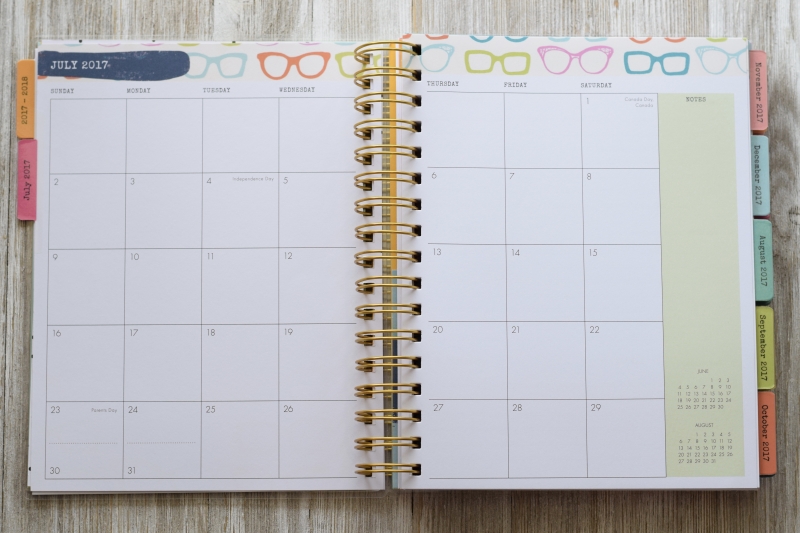 The horizontal weekly format in all five planners follows the same format – with dotted lines for journaling and planning.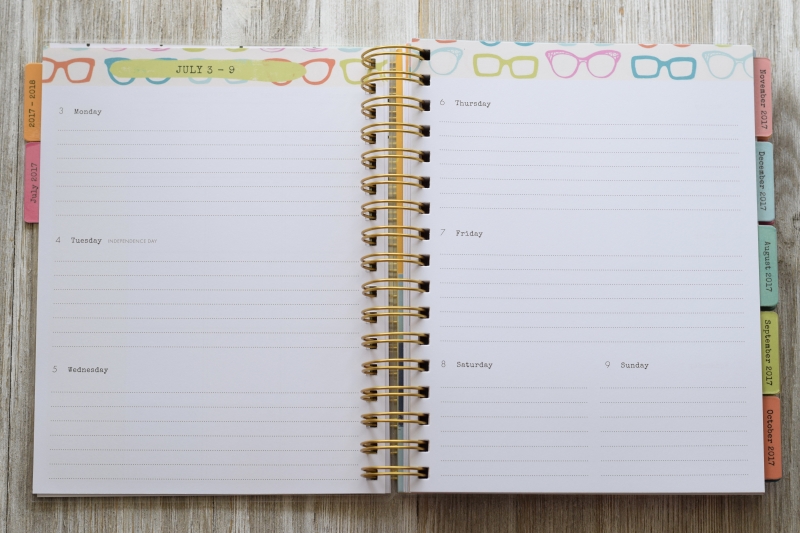 I loved this beautiful layout for one of the months!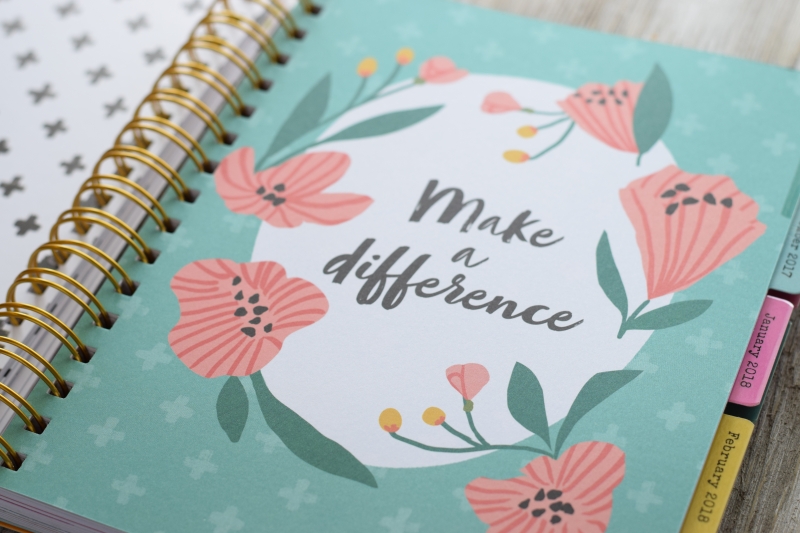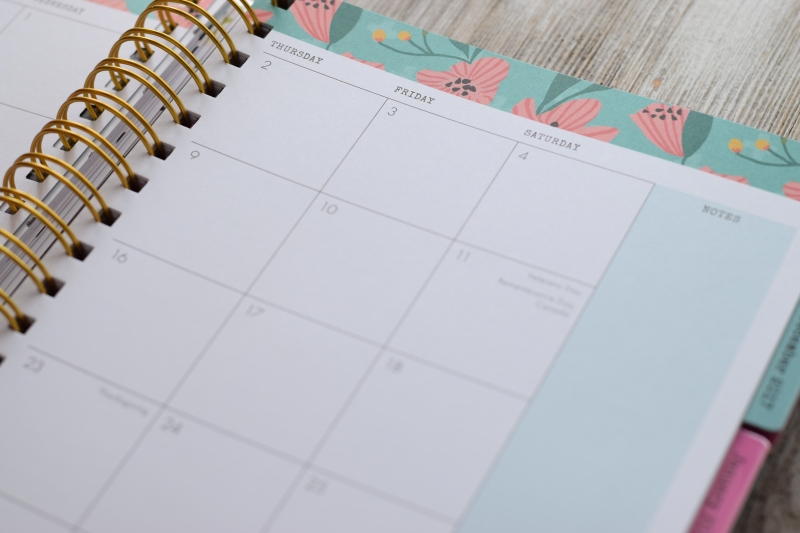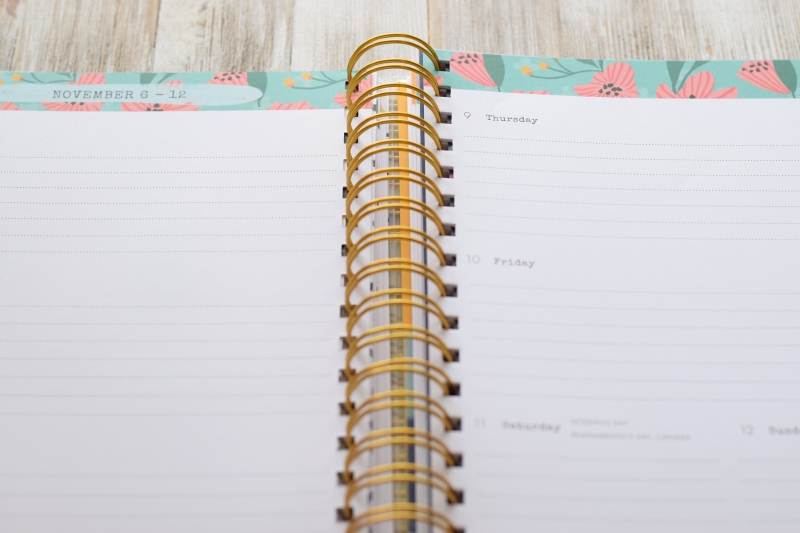 Each planner comes with a notes section (see specs above for details).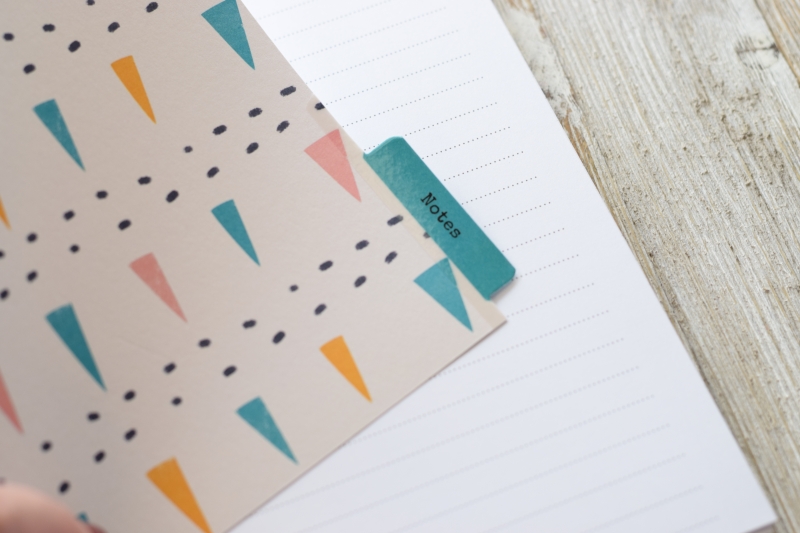 The Illustrated Faith Agenda has three sticker sheets coiled in. The colors and designs on the stickers reflect the colors and designs that are found throughout this planner.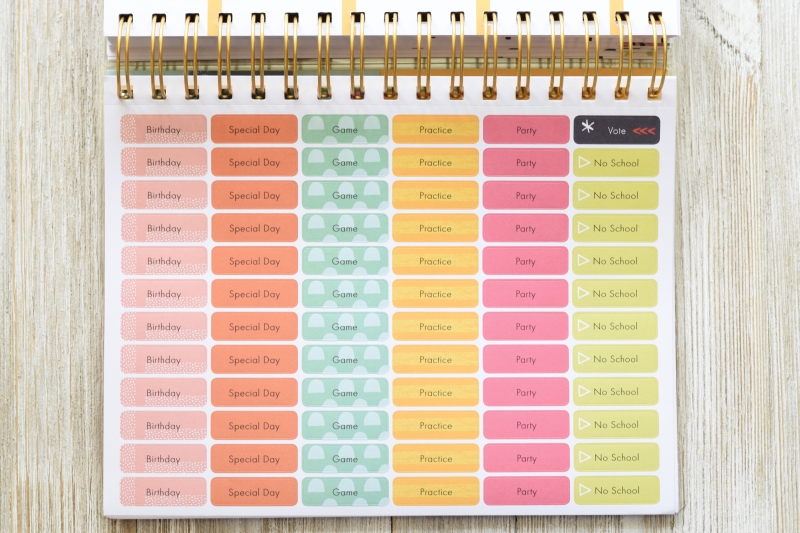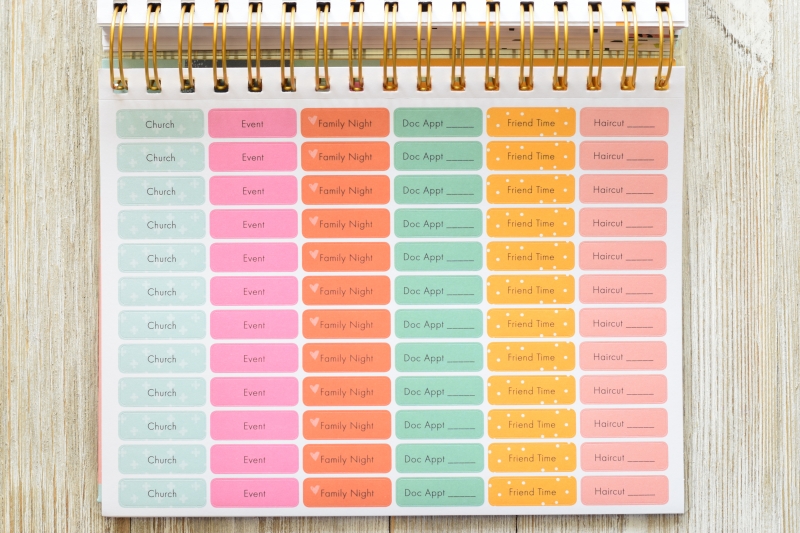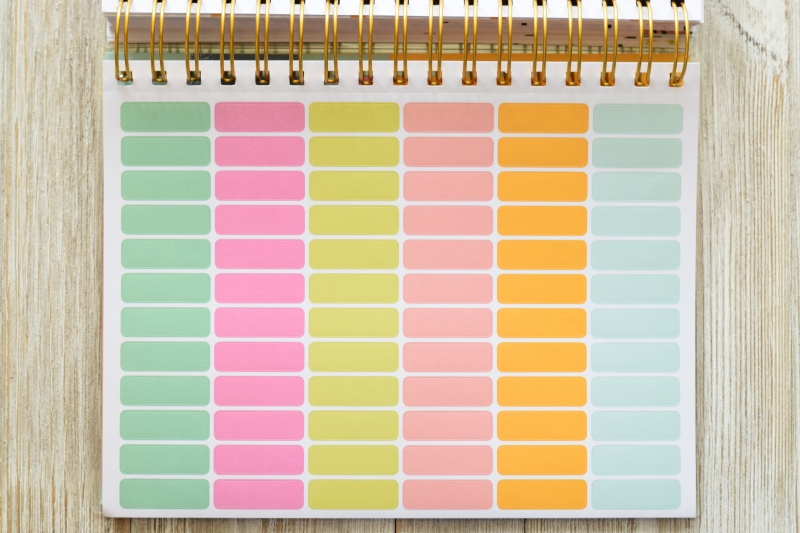 And below you can see the coiled in folio pocket. This is super handy for tucking receipts, cards, and all kinds of paper stuff that lands in your lap a gazillion times a week!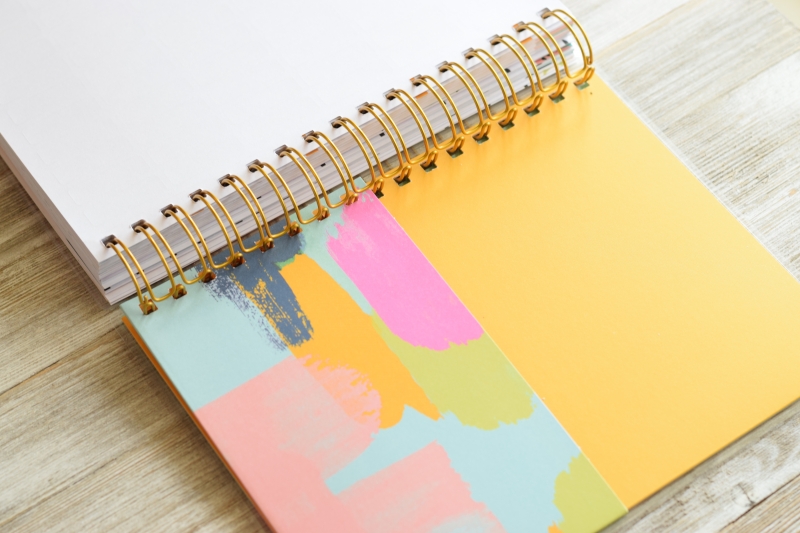 ---
The following three planner covers contain the exact same interior: color theme, tabs, stickers, pocket folio, and overall design. Their covers are the only thing different about them. Left to right: Flamingo, Floral, Gold Stripe.
---
Flamingo Agenda

All the covers are just extraordinary in their detail, but this one is especially so. The pink and coral flamingo is pictured on a creamy ivory background amidst beautifully detailed flora and is accompanied by a very simple "2018" in gold foiling below. Did you know that the flamingo is a symbol of femininity and innocence? It is!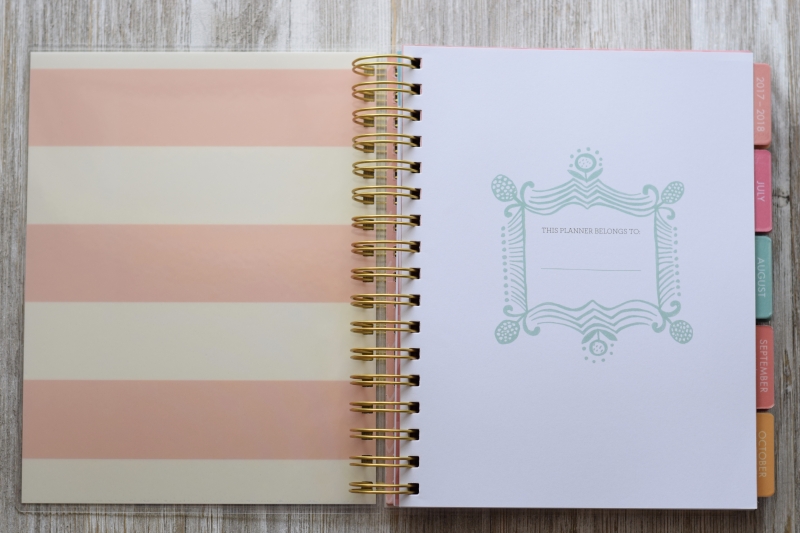 I just love the interior cover of the flamingo planner! It's so pretty!
---
Floral Agenda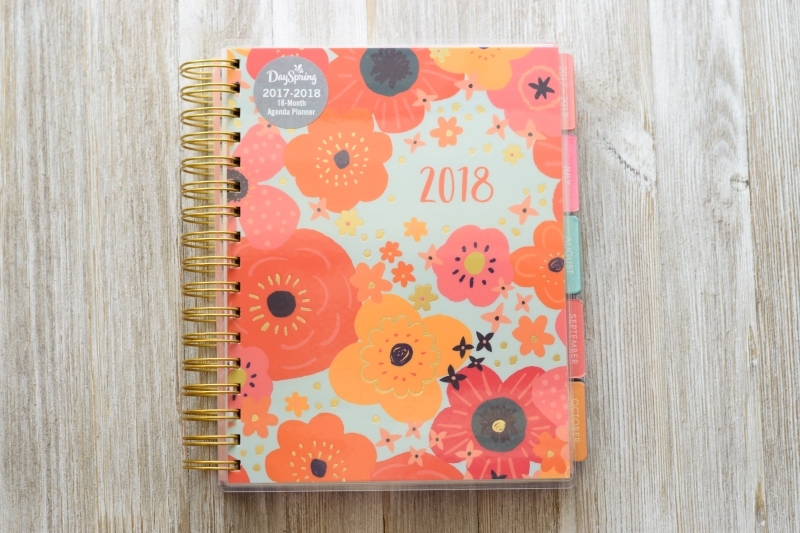 The florals on this planner cover are bright and fun, and the background is the perfect robins-egg-blue!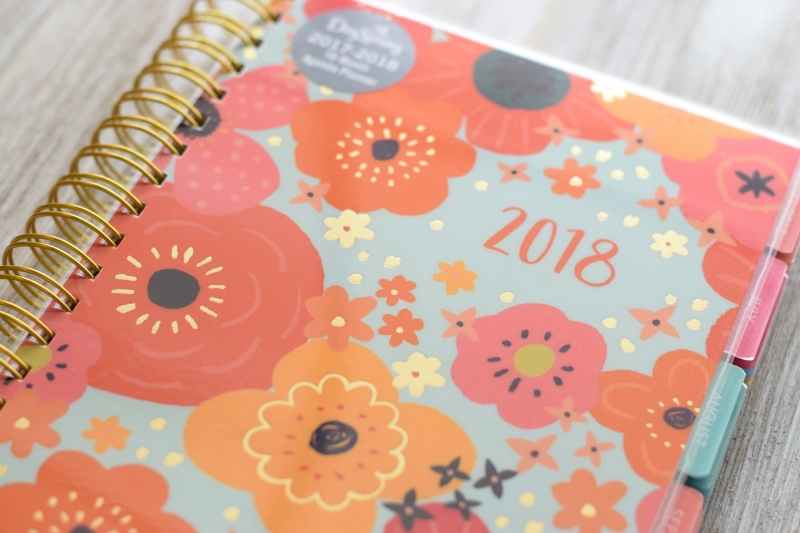 Anything that looks yellow is actually gold foiling – I tried to capture it in the light, but not all of the covers cooperated with me. But the gold foiling is such a nice detail – especially for a planner at this price point!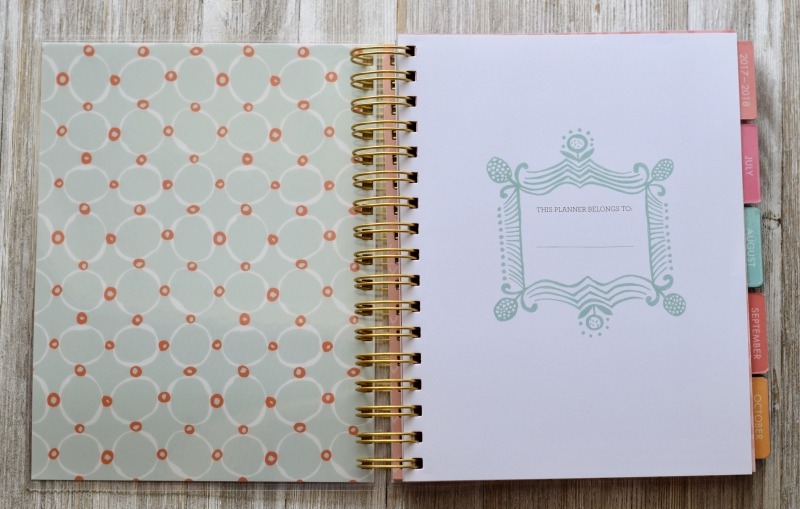 ---
Gold Stripe Agenda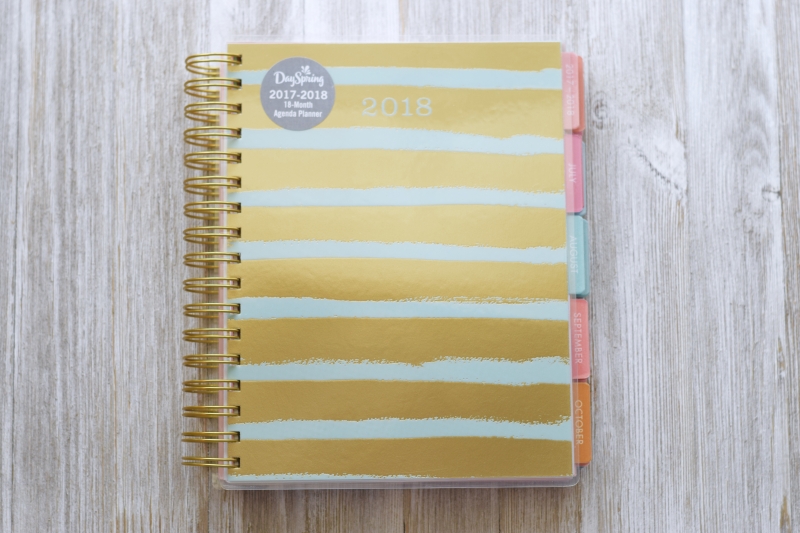 This was by far the most challenging cover to photograph because of all the gold foiling! It's absolutely stunning in person! Add the contrasting mint and – wow! This cover is probably my favorite!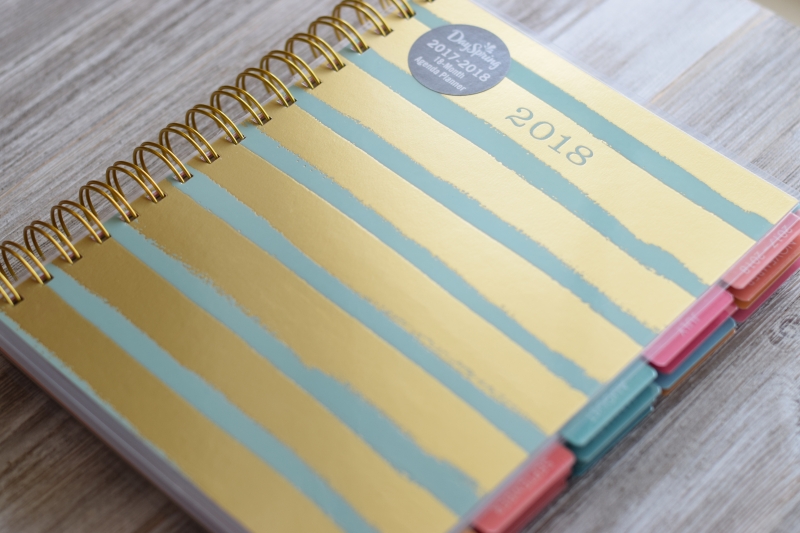 The interior reflects the same simplicity as the cover.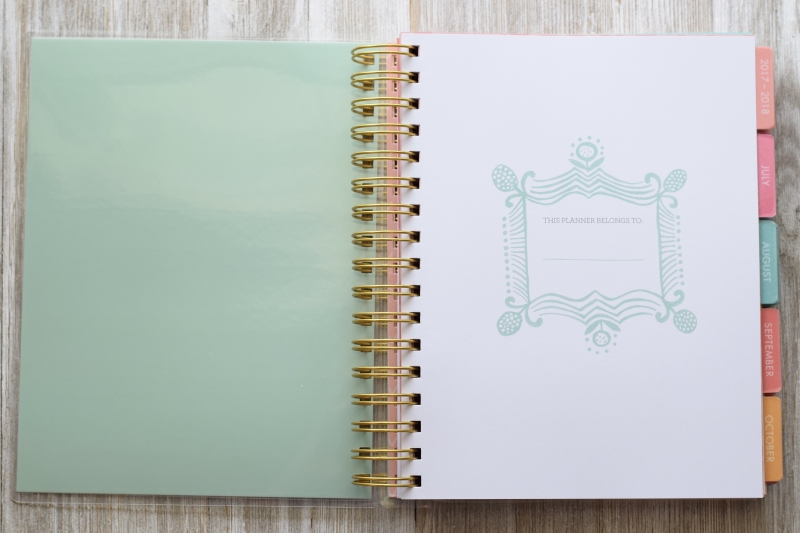 ---
The Inside of Flamingo, Floral, and Gold Stripe Agendas
The design series of these three planners contain some of my favorite colors and quotes; I find the designs overall to be simpler and softer in color and design.
Let's look at the inside pages of these three planners.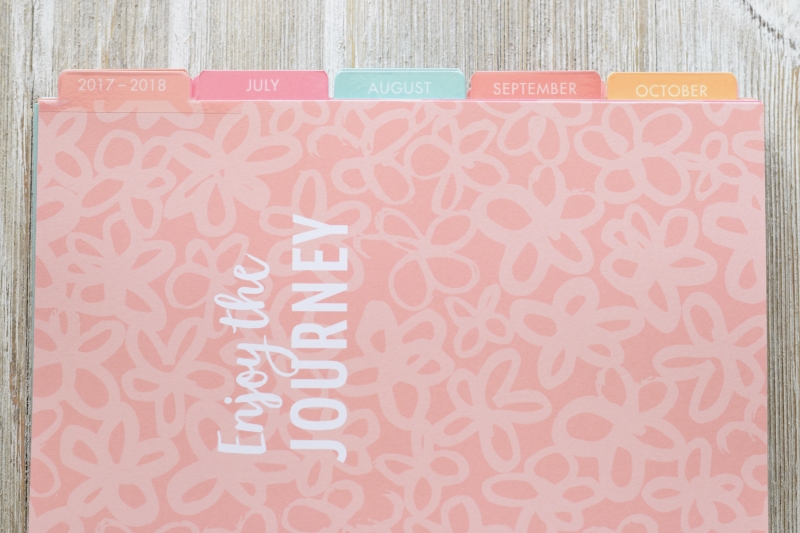 The cover page is a soft peachy pink. You can see clearly in this picture that all the tabs are laminated for durability, and all the tabs have the same white font that pops against the pastel tabs.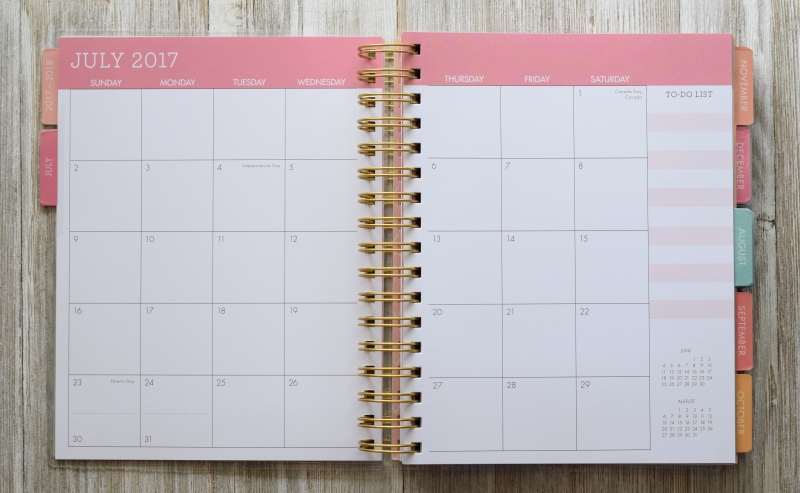 This is the monthly layout for the Flamingo, Floral, and Gold Stripe Agenda. The color of the tab indicates the color theme for a given month.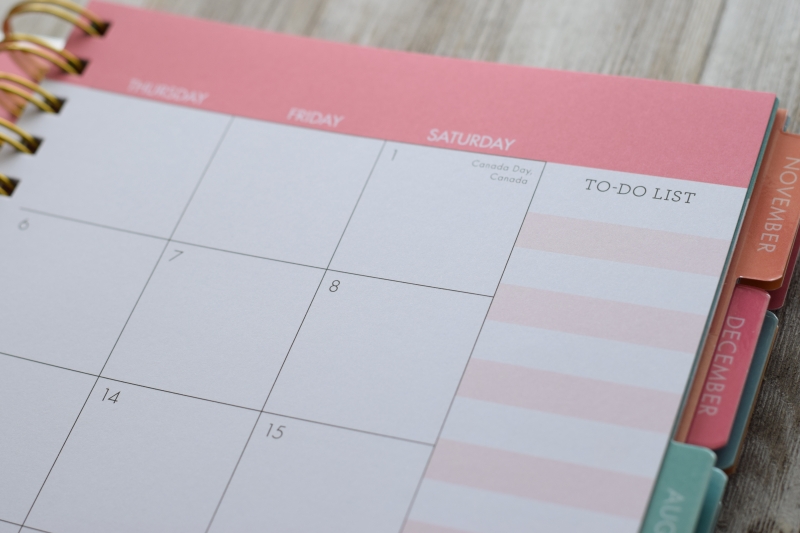 All of the planners have a small sidebar on the monthly layout, but not all have lines. These three planners do – or at least they contain alternating colors that effect an outline for writing. If you can't write straight without lines (my hand is raised) you'll appreciate this.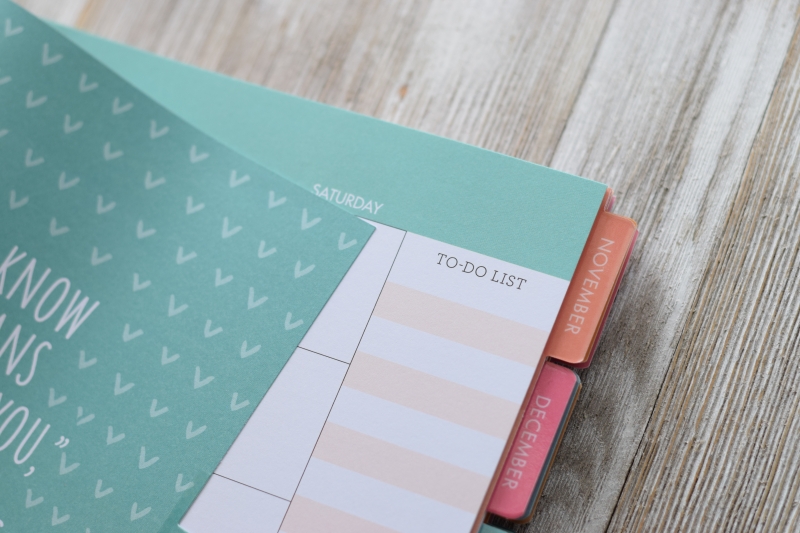 "For I know the plans I have for you says the Lord."
It was hard to choose just one "favorite" monthly cover page to share with you. I should also mention that opposite each of the monthly quote pages in these three planners only (flamingo, floral, gold stripe) there is a lined page waiting for your monthly goals and to-dos. (In the other two planners, the same design art is extended to both pages.)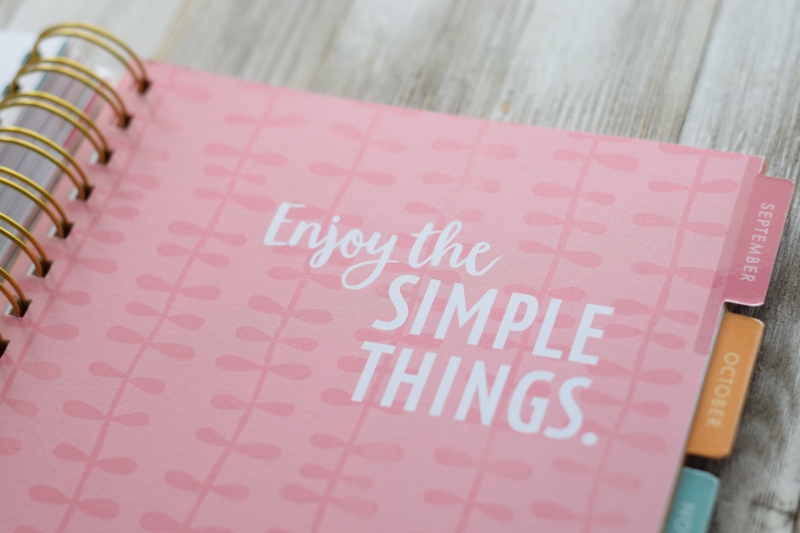 The coiled in sticker pages for this series is slightly different and reflects and matches the overall color theme of these three planners.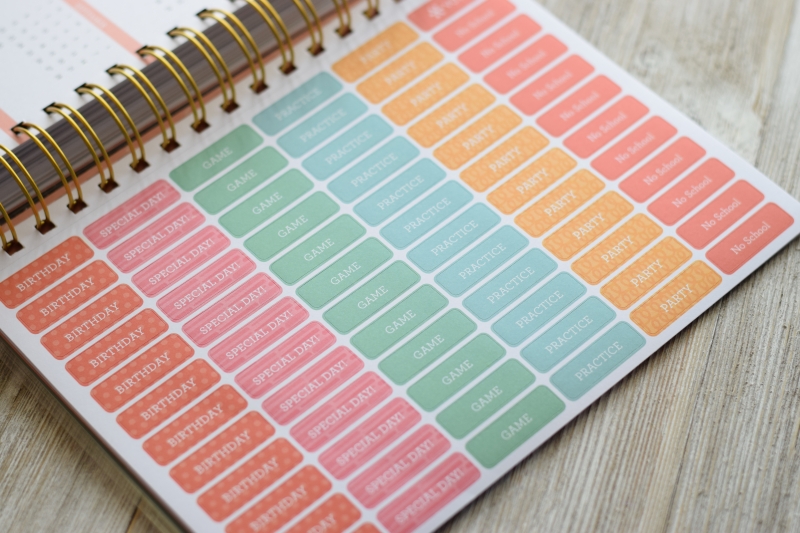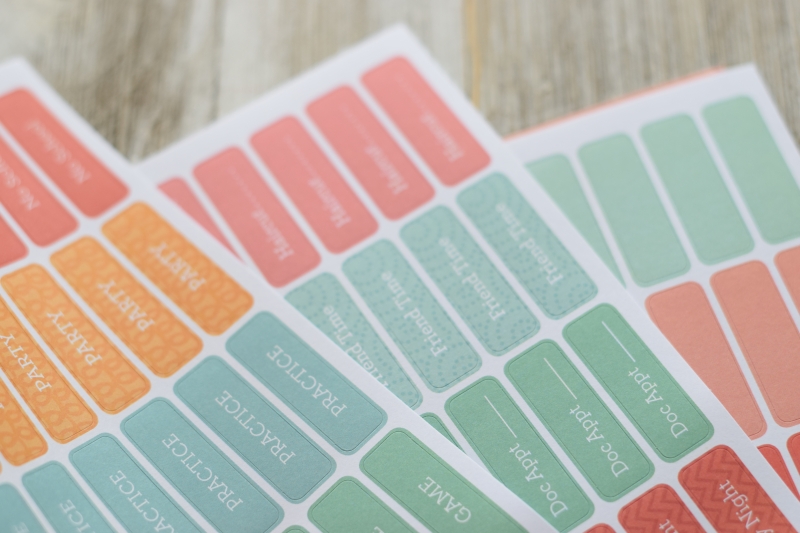 And the pocket for this series is darling!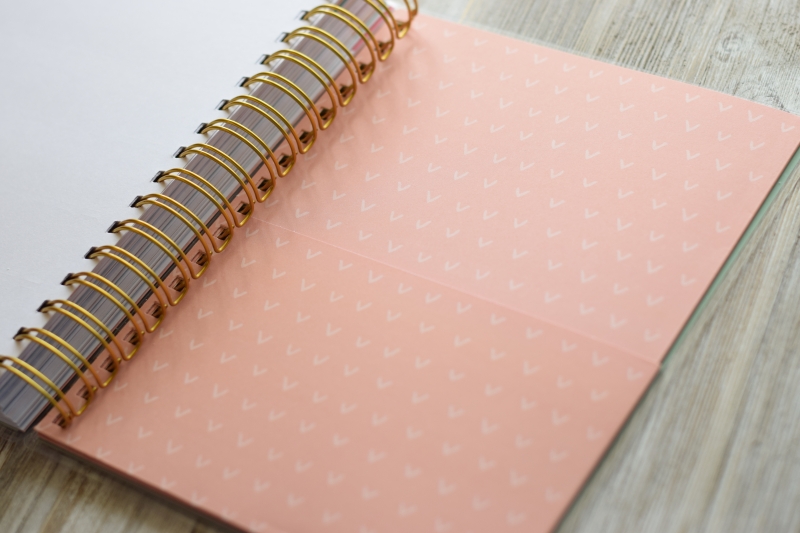 That's it, friends! Aren't these new DaySpring Agendas beautiful? Perhaps you have a young daughter just beginning to enjoy journaling and planning, or maybe you're a college student looking for a planner to coordinate your class schedule, or perhaps you're a mom like me and you just need a paper container for all the things. And maybe you're looking for a planner that will inspire you and remind you that your faith walks with you through life – even on the pages of a planner. If you're that person, the new Dayspring Agendas might be for you!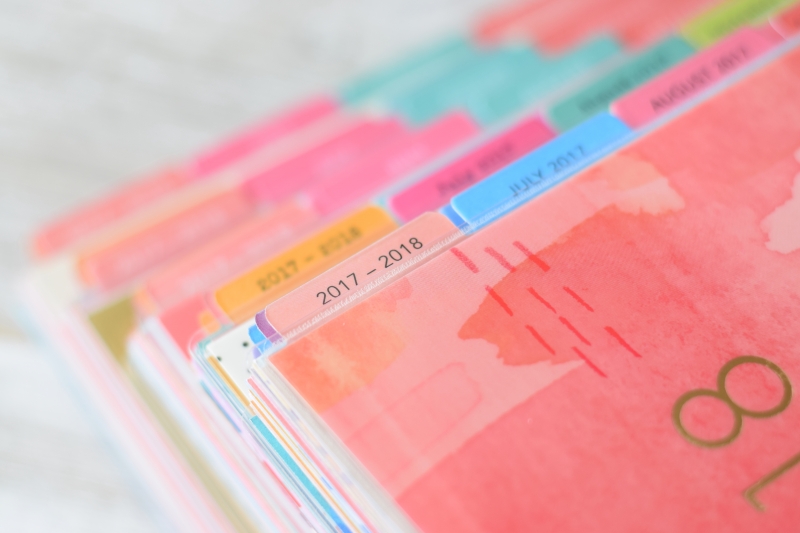 ---
A couple of notes:
You can find all the planners as well as several accessories on DaySpring's website.
The links that are here are affiliate links. Dayspring invited me to review these planners and I, in turn, gave my honest opinion of them. If you click through any of these links it costs you absolutely nothing, but I may make a small commission if you make a purchase. For that, I am so grateful! Thank you!