Planning Series: Follow Up #1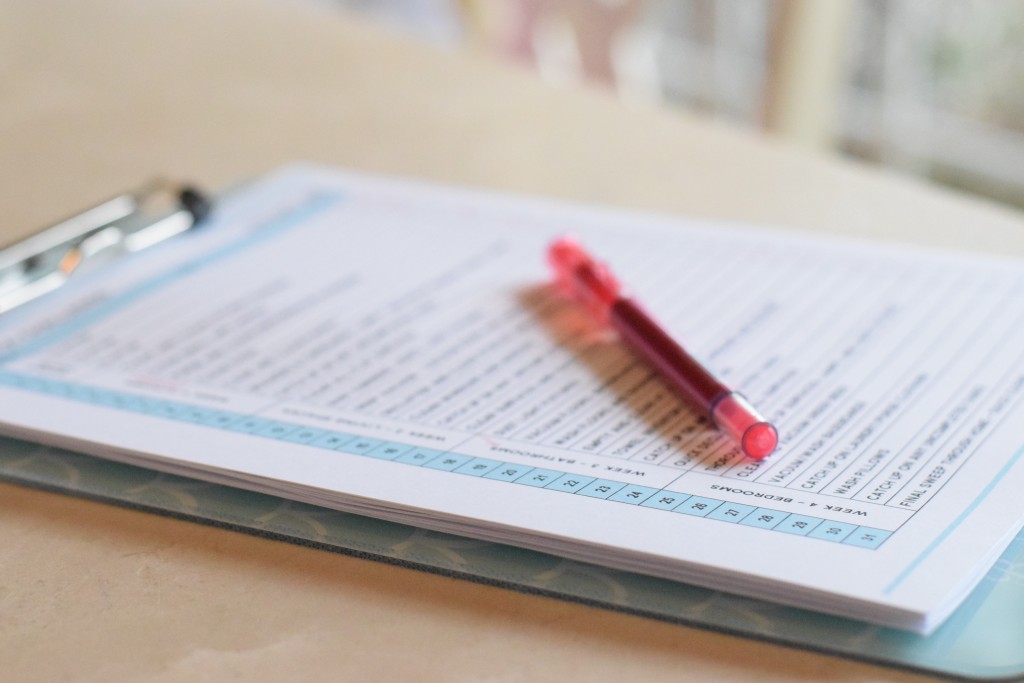 Let's start tackling some of those planning questions you asked after Mystie, Dawn and I shared in our planning chats. By the way, you can still click over and view the planning chats if you haven't seen them yet! They were so much fun and we shared our different styles and strategies with you!
The full index of planning follow-up questions is right here, and I'm tackling one section at a time. Today, I'm going to cover all the general questions. I'll answer below, but feel free to leave me a note in the comment box if you need clarification or you'd like to hear about something related.
Planning. I love the thought of it and I love it when I do it properly, but I am so bad lately at maintaining any kind of planning rhythm. I need help with planning the planning time!
This is definitely a challenge! Raise your hand if you've ever carved out 30 minutes of quiet time, have your coffee sitting nearby, all your pens and your planner out…only to be interrupted 2 minutes after sitting down with a crisis of epic proportions. Planner time derail!! Alas, such is our vocation! Here are some ideas to help you brainstorm a reasonable planning rhythm.
MONTHLY – sit down and consider the upcoming month. This is probably the most useful planning time and I like to do this on a Sunday afternoon, looking toward the upcoming month. Time investment: ~1 hr (But this will depend on your monthly goings-on as well as how much you like to decorate your planner. I'm not a planner decorator but I do like to take my time with this so sometimes I might spend a couple of hours on this step). Grab your liturgical year calendar, seasonal calendar, notes, pens, appointment cards, all your monthly inspirational stuff, and your planner and sit down and map it all out. This is the time to consider your time priorities, look at any conflicts, note when you need to make phone calls or research someone's birthday gift, etc. I also like to note liturgical feast days in a particular color so I can see them clearly (and I note if I'm making a special meal for that feast day, or reading a picture book, or something else).  This is also the time I like to do my menu planning. If I don't finish it completely during my monthly planning time, I'll definitely finish it during my weekly check in.

NOT ON MY PLANNER – and…you didn't ask…but…this is also the time I like to refresh my little monthly themes. I set up my Feast Table for the next month, refresh my toddler's seasonal picture book shelf, and I also refresh her toy and play-things that I keep out in the learning room (I keep a handful of activities out at a time and rotate often to keep her interest).

WEEKLY – open up your planner and take a look at the week ahead. Again, I like to do this on a Sunday afternoon because I have help with the little kids thus reducing the potential for planner time derailing. Time investment: 15-30 minutes. Review the week ahead, jot down any cleaning/household goals for the week, any seasonal happenings, note anything special going on in school, and I also jot down personal goals for myself. Writing them down keeps me accountable. I finish up any menu planning and use the Cozi app to note my grocery list for the week. (I like how I can set up several lists in Cozi because my grocery list might take me to a few different stores.) This weekly planner step is absolutely crucial, and is so helpful if you have older kids/teens/young adults living at home – check in with them and their week, too. My adult daughter will grab her planner and coordinate with me at this time in case I need help retrieving a younger child from an event one day, or a babysitter another day, or a pinch hitter for grocery shopping (easy to do since we all have the Cozi app and the shopping lists are synced across all of our phones – so Sarah can stop and pick up anything from my grocery list by simply opening the app and checking it off as she goes). Get those older kids coordinated with you – modeling time management gives them skills and useful tools to bring to their own future vocation!
DAILY – I check in with my planner in the morning, throughout the day, and usually in the evening after the kids have gone to bed. These are check-in times, so my planner is open on my desk (keep yours in a high traffic zone that you'll pass by several times a day), and I may check something off, slide something to another day (I draw a little red arrow next to it on my planner), add something to the day, check in with my personal goals, check to see what my menu plans are and any prep work I might have noted (I note if I need to get meat out to thaw on the day before I'm going to cook it…otherwise…I forget. sigh.)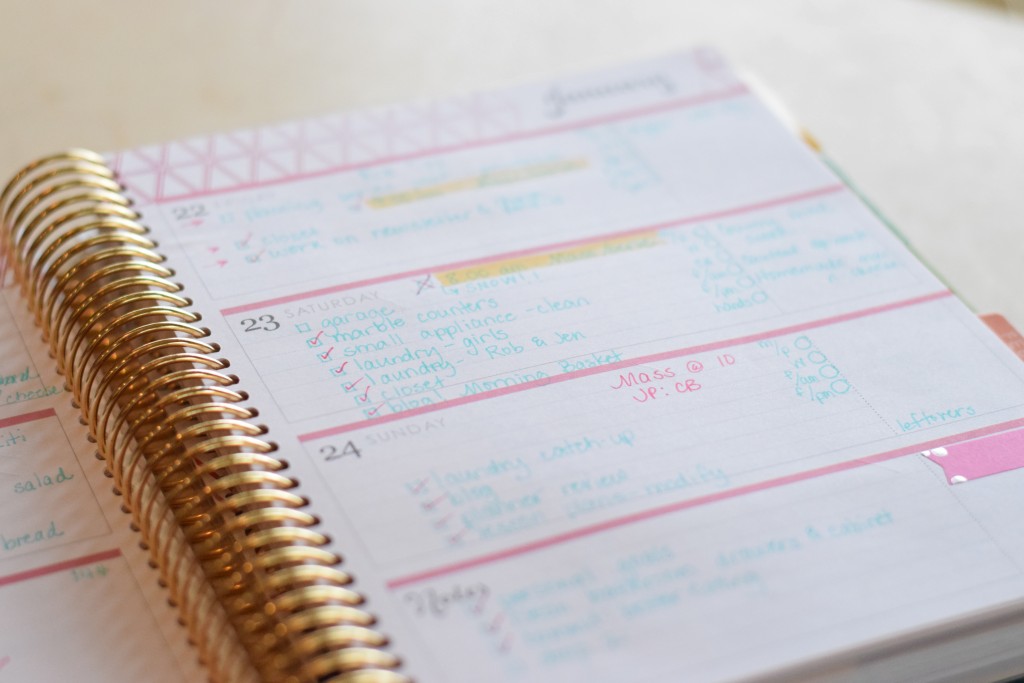 A few other thoughts:
Keep your planner notes succinct. Some people enjoy journaling in their planner, and if you do, that's wonderful! If you're really trying to set up a regular routine of visiting your planner and adding to it so that it's useful – keep your entries practical, short and sweet.
Keep your planner in a high traffic area – so you can add to it any time you need to.
Use post-it notes as landing pads for ideas and goals and to-do's – jot them down as you think of them and just drop that note on top of your planner. Use one of your check in times to add the goals or ideas to a more permanent place on your planner.
Keep a pocket or folio at the end of each month to collect items/clippings/recipes you want to consider for the next month. For example, if you come across a craft for the Feast of St. Patrick and you want to plan for it, drop it in your monthly pocket. Then, when you do your monthly planning before each month, just pull all that inspirational stuff out of your monthly folder, map it out on your planner for the month, make lists of materials you might need to purchase and any other notes, and move your monthly landing folder to the next month. The goal here is to have a planner drop zone so inspirational finds have a place to land and you know where to find them!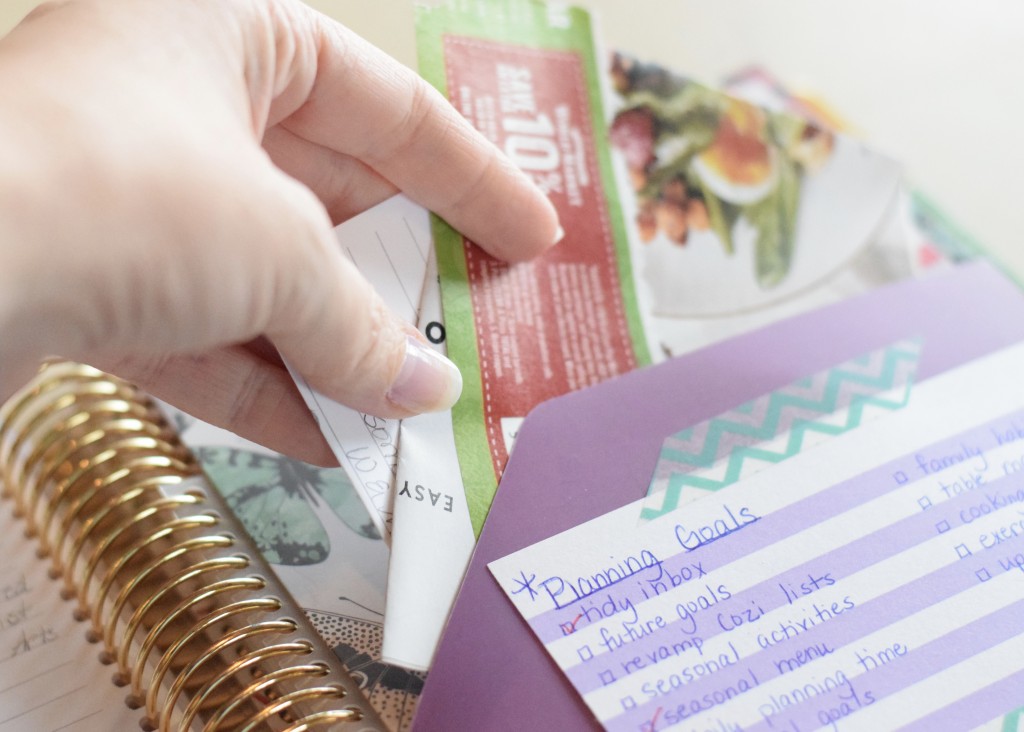 How do you go about determining what is intuitive for your personal planning "style"? 
A good place to start would be to consider your temperament and how it may shed light on your planning style. From there –
Do you work better in stacks, files or notebooks? Or a combination?
Do you like a pretty planner or prefer total non-fluff?
Like to journal, or do you just record the basics?
Do you keep a command center up on your fridge or in some common area? How are you using it?
Do you gravitate toward digital books, apps, platforms? (If so, digital planning tools may be the way for you to go!)
Which room do you spend the majority of your time each day? (How many of you said laundry room? LOL!!) Wherever that is, the most intuitive place to locate your planner is right there! Maybe that's the kitchen counter, a special shelf you clear on a bookshelf you walk past a gazillion times a day, your desk, or the top of the dryer!
The goal with finding what is most intuitive to you is really considering yourself, your natural style, how you naturally work, your impulses – and work with the grain. For this, you may have to stop looking around for a bit to really consider your personal style and after you've done that, resume looking around for inspiration and start filtering ideas through that lens of "intuitive to you." Here's an example: let's say you love the idea of a planner book, but you have a shelf full of them that you've never used in the past. You're more a "fly-by-the-seat-of-your-pants" style planner anyway. You definitely consider your time and do your best to manage it, but pens in 40 shades of pink aren't your thing! Great! How about a simple grid on a dry erase board that you can drop post-its that have pertinent information? Or maybe a digital app that connects all the family members. Or a simple spiral notebook – do you see what I mean?
What is my own personal planning style? I use a combination of: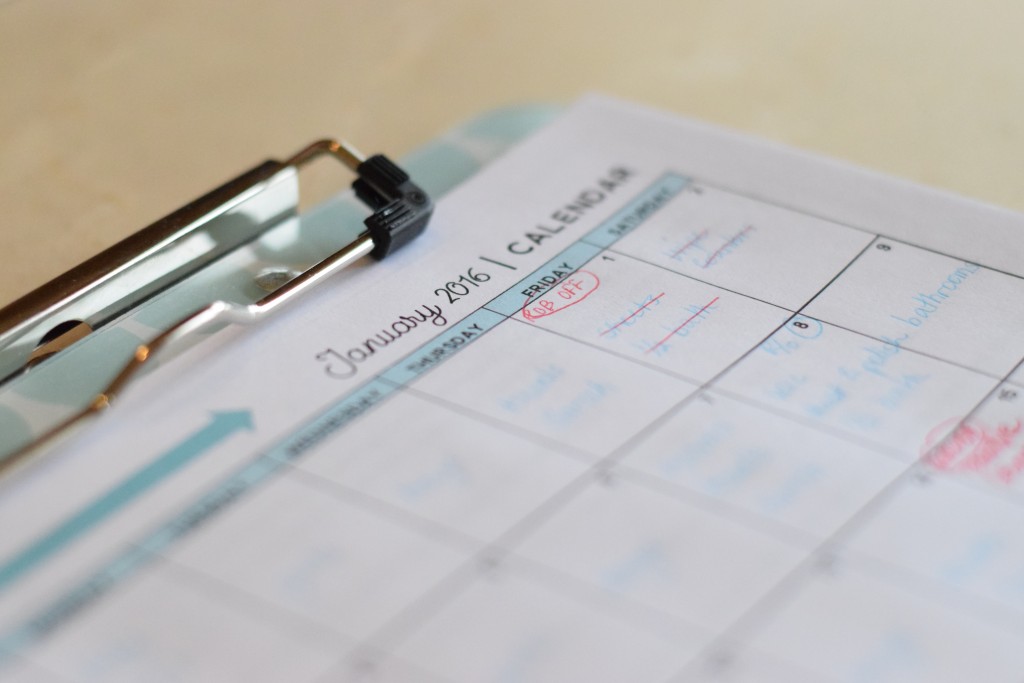 Where/how often do the ladies do their planning? Get away for a little bit on their own periodically?
MONTHLY: I spend about 1-2 hours at the beginning of each month. I usually sit down on a quiet(ish) Sunday afternoon at the end of one month and consider the month upcoming.
WEEKLY: I spend about 30 minutes each Sunday afternoon as I consider the week ahead with my planner open and coordinate with my husband and my big kids/adult kids checking in with their weekly plans.
DAILY: I spend 10-15 minutes (or less) each day as I check in with my planner and adjust plans and check off.
I love the idea of hopping over to a coffee shop to plan – I really do! B-U-T…that's not my reality for a plethora of reasons. And that's ok!! I do like to make myself as comfortable as possible while planning, so I keep my planner tools in a tote that I can grab along with my planner, my laptop and phone, a cup of coffee and some kind of delicate little only-for-me-treat…and I sit down and get to work. I also enlist my husband or a big kid to help out with the littles so I can work with as few interruptions as possible. Also, take full advantage of times when the kids are naturally occupied! Car time while a child is at an activity is a great time to plan!
Another reason I like planning at home is that all my resources are here – cookbooks and recipe boxes, my past plans and monthly fridge calendars, my liturgical year calendars, my laptop with resources at my fingertips. I like being able to spread it all out and work!
Do you plan an entire year or only 6 weeks at a time?
I look ahead all year long, and I like having a planner that covers at least one full year so that events and goals have a place to land, no matter where I am in the year. My current planner covers 18 months and I love it! I drop invitations, reminders, appointments, phone numbers, sale/coupon notices – all right into the spot I'll need to plan them when I get to my monthly planning.
I find I naturally (intuitive-to-me) plan only one month ahead with the nitty-gritty. It's just how we work best and I've found it gives me the most flexibility without overwhelming me!
I do sit down seasonally with my husband and come up with a home priority list (how romantic!!). I keep this list in my planner and we move through our list as we have time.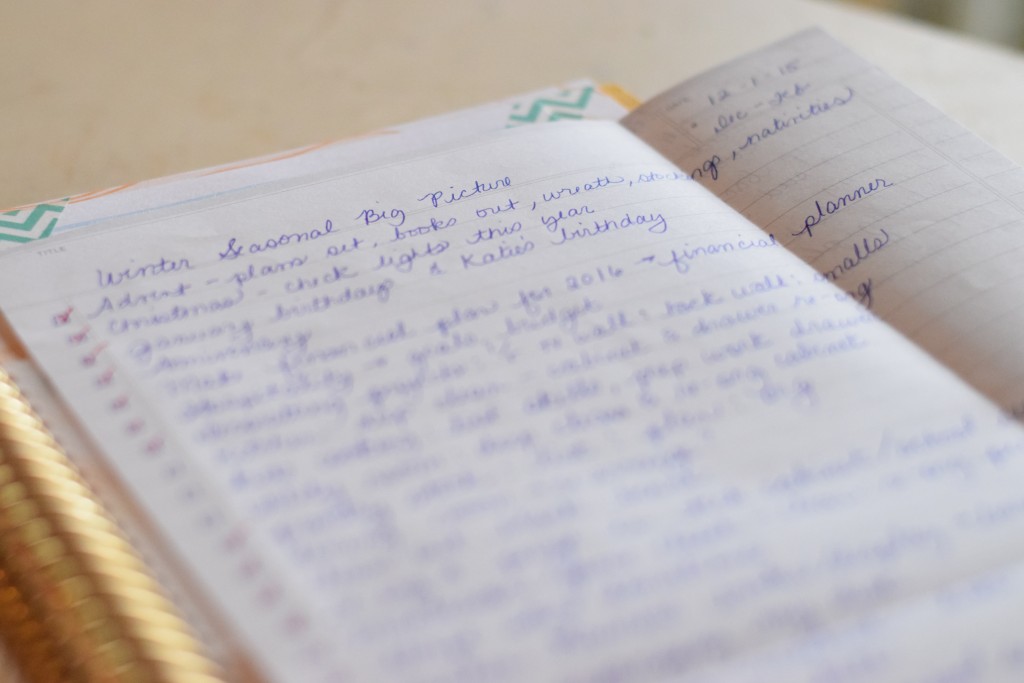 How do you stay focused? Especially on the day to day plan.
The answer to this can't be very cut and dry…because…life. I've got 5 kids that range from adult to toddler; my life is full and a certain flexibility is important! I feel like that sounds like a disclaimer and I guess it is…sort of.
Even though I'm very passionate about stewarding the gift of time through planning and considering our days, I don't think twice about letting go of the plans in favor of something more important…especially if it's clear that God's plan for my day is different. God's plans trump my plans and sometimes that means EVERYTHING on my planner has to slide. Give yourself permission to do that and you'll have great peace in your planning…and in letting go of your plans when that time comes! And it WILL come!
We plan for the people in our home because time is a gift from God – we're not entitled to time – more time, uninterrupted time, easier time, time to ourselves. Time is not an entitlement; it is a gift. This makes our planning –> stewardship <– more than anything else and considering it that way means it is rightly ordered. Planning becomes a way of serving God and my family. When my attitude about time is rightly ordered it's much easier to recognize God's redirections and adjust. There is peace there because THAT is where God wants me to be…even if that is way off the planner.
So instead of staying "focused" – because that implies that our eyes are only on the day to day plan and nothing else – let's call it staying attentive. Because attentive implies that I'm doing my best, considering our days with my family in mind, and I'm open to how God wants those days to look – even if that steers me off my planner!
Now I can answer the practical part of this question! Finally, right? If I have to name a key to my success in keeping my attention on daily plans and rolling with my plan it is this: keeping my planner open and out. (I keep mine propped open in an acrylic book holder on my desk.) If it's not in front of me, I may start rolling through my day and not check in. Find a planner you don't mind looking at, and put it in your daily path…even if that means it lives on top of the dryer!
I'm spending too much time planning. Do you have any suggestions for time savers when it comes to planning?
If you feel you're spending an excessive amount of time planning, here are a few of my favorite streamline-the-planning-time tips:
Keep it together! Keep your planner tools in a bag or a tote so you can grab them when it's time to sit down.
Plan when you have the least chance of being interrupted. (Stop laughing at me!)
Make sure you're not over-planning – keep your plans succinct and real!
Don't duplicate your plans across too many formats – digital calendar, paper calendar, fridge calendar, planner, weekly map, etc.
If you're overwhelmed planning the number of activities you've got rolling, it may be a good time to re-evaluate those activities. Your planner SHOULD have some white space on it! Everyone needs time to rest!
Don't overthink the plan! Sometimes all you need to do is get the big picture down on paper, and work the details in as you get closer.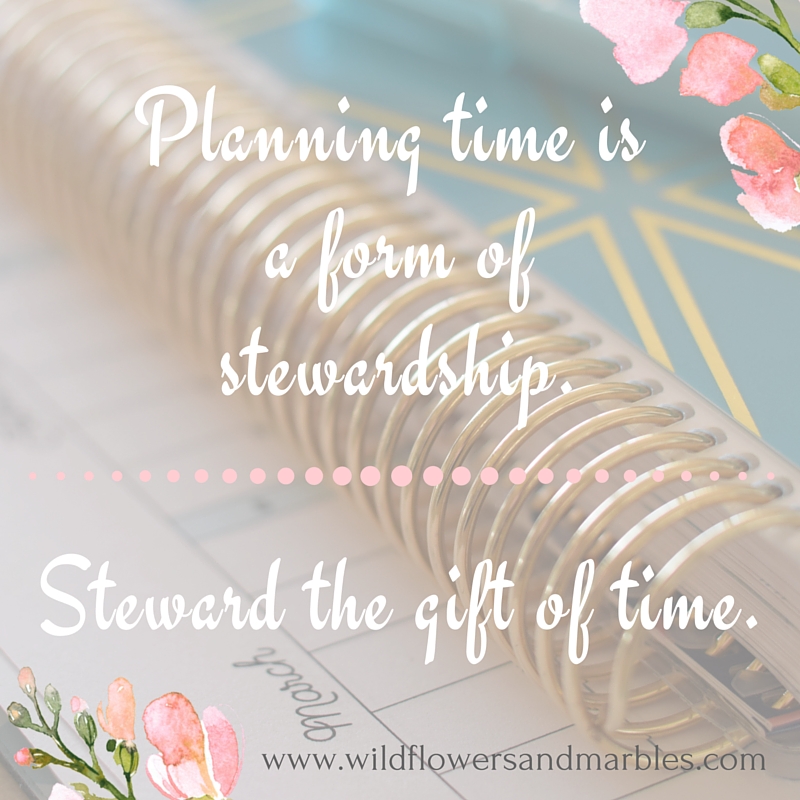 I hope this follow-up has been helpful! If you have any other questions, let me know in the comment box! I hope to tackle another section of follow-up questions from the planning chats next week! See you then!