Rebuilding Culture: The Family Rosary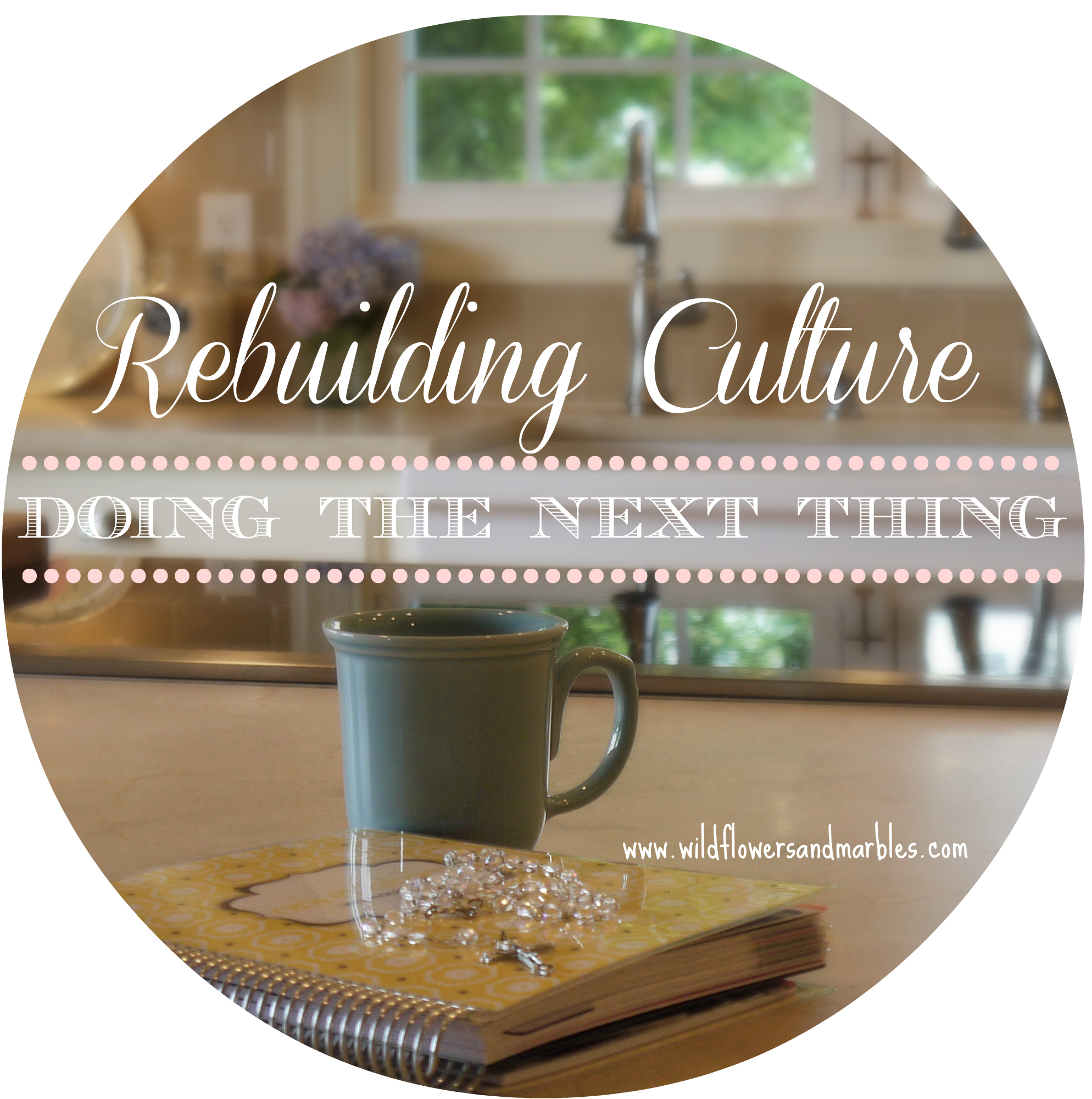 October is the month of the Holy Rosary, and the Rosary is such a strong anchor for families – a powerful weapon in this battle we're in the middle of – that any efforts to rebuild culture will be futile without it.
I thought I'd share some ideas for praying the Rosary as a family because…I know that it's challenging with toddlers in the mix.  But this is perhaps THE best habit to begin while they're little.  The example of Mom and Dad praying…and then through the years adding siblings praying…those examples are powerful for little ones!  They set a tone of family prayer and begin to inform the family culture in powerful ways!  Take the time to brainstorm ways to carve out 20 minutes of your day so you can make it happen in your family!  Praying the Rosary, every day, will probably go farther in rebuilding culture than we will ever know in our lifetime!
In this post, I'm excited to share some ideas with you, and a couple of tools for your own arsenal!  I've got a Rosary printable to share with you – in pdf, and also in an editable form, and I'm super excited to share a little game with you that gently cultivates quiet with little ones — The Whisper Game!  This is a game my mom taught (by modeling, of course!), and it's a life changer if you've got little ones!  Read on, friend!
---
The Rosary – A Beginning
A sacramental is defined in Father Hardon's Catholic Dictionary as: Objects or actions that the Church uses after the manner of sacraments, in order to achieve through the merits of the faithful certain effects, mainly of a spiritual nature.  Your Rosary fits the bill, and since the Rosary, as a prayer, is a weapon used in spiritual warfare, we can begin by teaching respect and reverence early.  This is easier to do than you might think – just treat the Rosary (or any Sacramental) as you would the family Bible.
Choose a durable, beautiful Rosary and have Father bless it. (My own experience: chain rosaries – the kind with little interlocking metal chains holding the Rosary beads together – are the most durable in little hands, and also the simplest to repair if needed. We have had several beautiful wire Rosaries, but once the wire breaks, I'm unable to repair them, and they often lose beads 🙁 in the process.)
I try to communicate my first lessons about the Rosary in quieter tones – because normal voice=this is a normal thing…quiet/soft/dropping the voice=this is something important.  Simple first rules: no throwing, no leaving Rosary on the floor, no treating it like it's a toy.  In general, if little one is treating it gently and/or with love, I leave alone.  The minute that changes, I remove the Rosary and redirect.  Nip bad habits in the bud.  🙂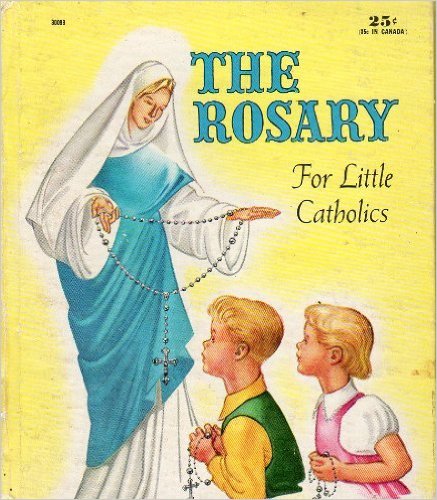 My favorite little book for beginning with the Rosary is out of print, but can still be found with relative ease:  The Rosary for Little Catholics, explained by Francis McGrade, Imprimatur 1952.  It's a very sweet book that helps me start teaching the Rosary a little at a time, in quiet little ways that grow.
The Rosary lives in a special place – a place set aside. Rosary comes out during the time we pray the Rosary, and goes back to its special place at the end of the Rosary.  Rosaries do not live in toy boxes.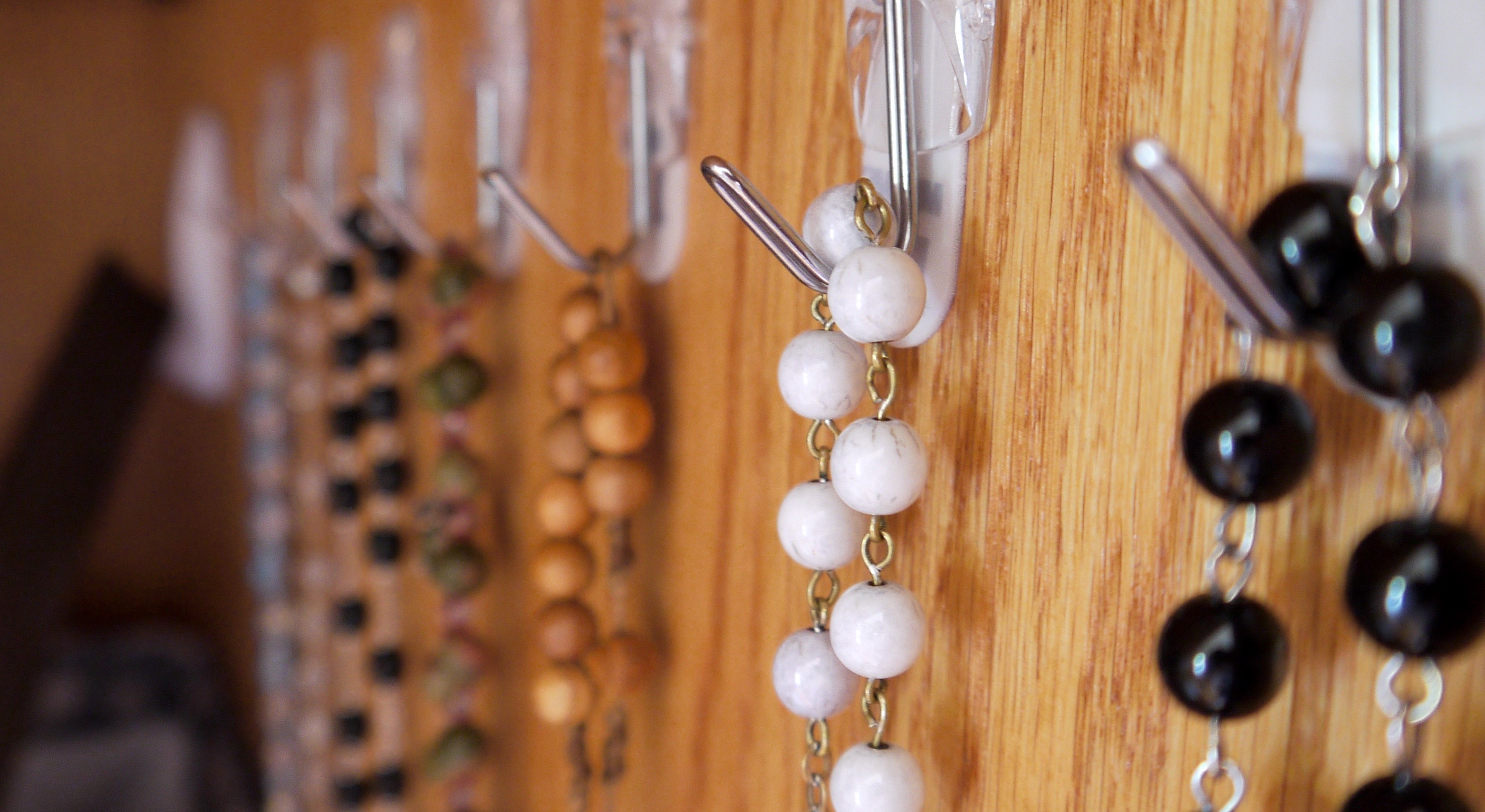 For this special Rosary place: we've used baskets, a special drawer, a bag large enough to hold all of our Rosaries (but they do get tangled up), and now we have our Rosaries hanging up in a cabinet.  I used simple 3M hooks –
one for each person's Rosary – to hang our Rosaries.  This keeps them neat and easy to distinguish from each other.  No more tangling, and they're out of reach from little hands that are still learning good habits in how to handle the Rosary respectfully.
Set a beautiful statue of Our Lady within sight of all those praying the Rosary.  These kinds of touches help lift the heart and mind.
---
Special Helps
I have a couple of kids who REALLY struggle with distraction.  And sitting still for 20 minutes is challenging.  It's a worthwhile habit to develop though!!  Toddlers present a challenge of their own – not only are they distracted, but they become distractions for everyone else.  To help both: my distracted and the distracters, I try to provide some helpful tools that can be held and will engage their heart and mind.
I allow toddlers to move around the room, but encourage quiet during Rosary time.  How?  Through a little game my mom taught me long, long ago – the whisper game.  Thank you, Mom!  This game has also taught every single one of my kiddos how to grow in quiet, and if necessary, use a whisper voice during Mass when they're little.  There are only a few key elements: engage little one through eye contact, smile, and model the habit (whispering).  Here's how I grow this habit:

The Whisper Game Begins

This game happens during any happy play time – outside playing, while playing on the floor with little one, any time you have little one's attention and there aren't a gazillion other things going on around you (read: noisy bigger kids, but it's fine if they're playing, too – you just want the first introduction to this game to be wonderful and engaging).
Smile as if you're delighted by a little treasure you've just found and are going to share.
Make eye contact with little one.
Lean in close and say, "I have a secret," and then over to baby's ear, cup your hand as if you're telling a secret and say…
pssstpppsssss,pssss, pssst,pppssssssss – nothing intelligible, you're just making little whisper-y sounds in little one's ear.  This introduces the idea and makes it a sweet little game between Mom and little one.
Repeat over a few weeks and welcome little whispery sounds that little one mimics back to you (but generally, they just smile as if something has just happened which they can't quite process…..yeah…..that would be QUIET – it can be shocking to experience!  LOL!).
OK —- AFTER you've been playing the whisper/secret game for a couple of weeks…

Step 2 of the Whisper Game

Same quiet playtime scenario – smile and make eye contact and say, "Let's whisper!"
Lean in close and whisper something sweet — "I love you," "Let's go make lunch," "I wonder where brother and sister are?" "I can't wait for Daddy to be home!" "I see a birdie out the window."
Encourage little one to whisper back.
This is a short little game – one or two exchanges.  Baby steps build giant habits!

Step 3 of the Whisper Game

By now you've established a delightful habit of speaking in a whisper voice at various times, so the next step is to call on it during a family prayer time, like the Rosary.
Let's set the scene: everyone has their Rosary, Dad has begun leading the Rosary, everyone is praying along in rhythm, toddler is walking around moderately bouncing from object to object…and suddenly launches into the most woeful lamentations about needing sustenance to go on with life (having been fed a mere 15 minutes earlier).
You go quietly to toddler while the family continues praying and trigger the Whisper Game – remember your steps?
Get close, smile, make eye contact, ask toddler, "Can you whisper?"  (It goes without saying that you are modeling the whispering which means you're down low, in toddler's space, next to his ear, whispering…).  Continue…
"Would you like something to drink?"  Hopefully, toddler responds in a whisper (if not – just keep modeling and working on the habit – don't be discouraged!) – you quietly grab the sippy cup (knowing that liquid deprivation during the Rosary is probably the next habit you need to work on) and move on.

Step 4 of the Whisper Game

Takes this powerful habit tool to Mass – and even though this post isn't about littles at Mass, it might be helpful to mention how this works for Mass quiet times.  When little one launches into any sort of shrieking or lamentation (always – ALWAYS – at the quietest point of the Mass!!), quickly engage, make eye contact, smile, and ask little one to whisper.  If you get compliance – great!  Keep growing this habit!  If no compliance – quietly remove toddler from Mass, but keep whispering!  Keep encouraging by whispering things like, "Oh dear, we have to whisper during Mass so Father can tell us about Jesus," after you've removed toddler to a more remote location.  Then: try, try again!
Once this habit is set at home in a delightful way, the whisper game EASILY extends to a variety of circumstances: Mass, eating out, any time a little quiet is needed.
It goes without saying that habits like this start SMALL – so you can expect a very short extension of whispering at first, but grow this habit!  It's worth your time and effort!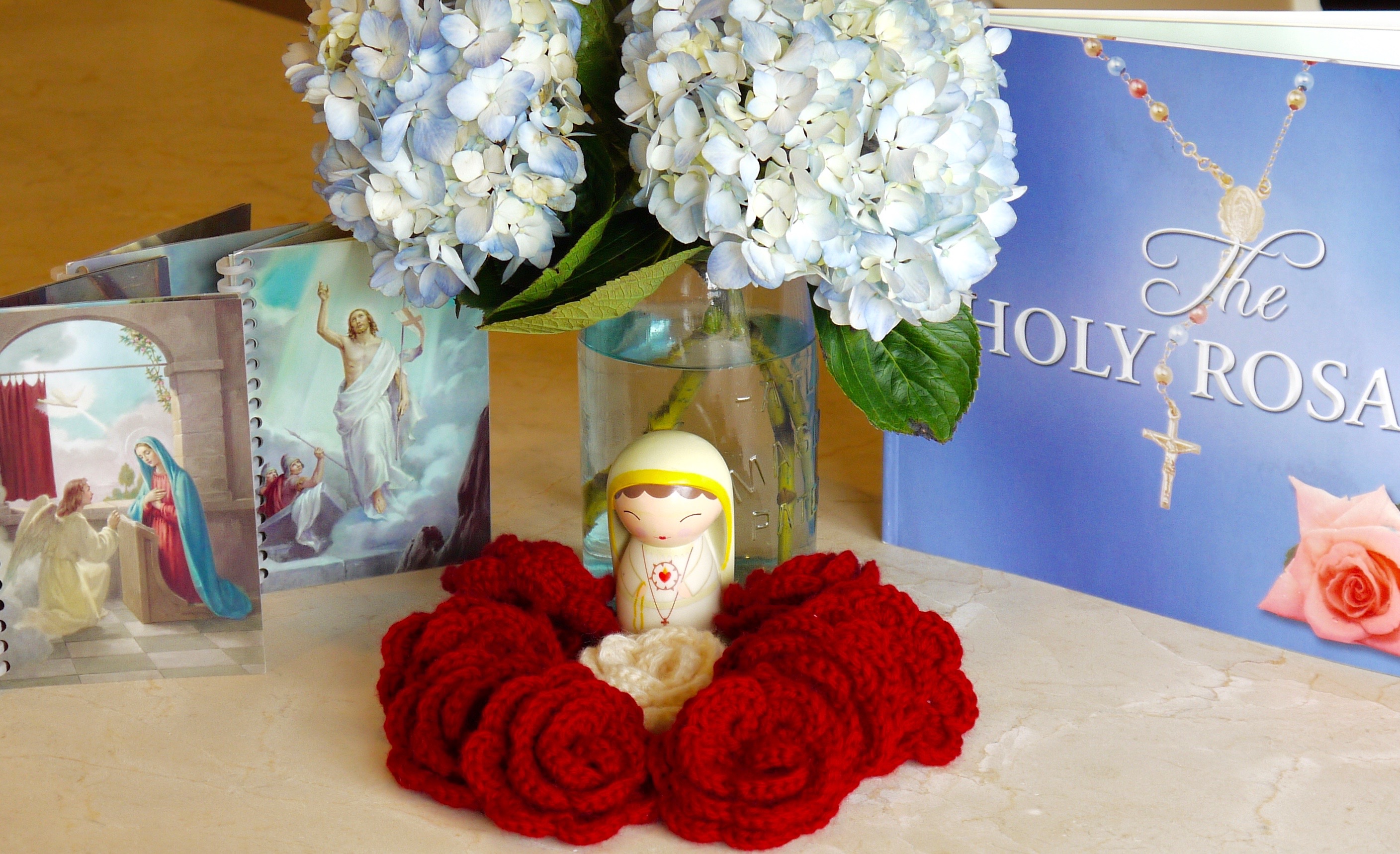 The sweet little doll is a favorite! Our Lady of Fatima is from the Shining Light Dolls Collection.
The beautiful crocheted roses are an absolutely lovely way to engage little hands and teach the rhythm of the Rosary.  They're beautifully made by Kimberlee of Pondered In My Heart, and she makes them available through her etsy store – The Fig and Thimble.  My little Lauren received them as a gift for her 2nd birthday.  She's still a little young to make it through an entire decade using her little roses, but it's a beginning!  I know you're going to ask about the inevitable throwing of the roses!  When Lauren starts throwing her little Rosary roses around, I just quietly pick them up, remove them, and replace them with something else.  My simple strategy is to communicate that this is a Rosary – a Sacramental – and we treat it lovingly and with respect.
A long time ago, I purchased these beautiful 4×6 images of the mysteries of the Rosary.  When my Katie was littler, she had such a hard time staying focused, so I laminated these prints, used my Proclick to punch them and bind the mysteries together in order (you can read my post reviewing the Proclick here), and made three little books, one for each set of mysteries.  They're durable and were (still are) a wonderful way to help her focus.
Katie now enjoys this beautiful book which is an extension of the little Rosary mystery books I made earlier.  The great thing about this book is that there is a picture for EACH and EVERY Hail Mary.  This is a beautiful tool for helping train the mind with images that will become a part of her prayer-memory.  My only complaint about the book is that it is big and wide when it opens up; I wish it were about half the size, but I do like the way an entire decade of the mystery folds out in a big two-page spread.
---
A Rosary Printable
I made this printable for our family, and in particular, for my husband.  Not everyone would need this, but it can be a help if toddler is distracting.  The leader needs to keep his place for everyone else, and Rob said this helped him by providing an outline.  It's meant to be printed (we printed ours on cardstock) and folded in half.  Once folded in half, one side is an outline of the Rosary from beginning to end; the other side lists the mysteries of the day and their corresponding virtue.
We've added an extra prayer to our concluding prayers at the end of our rosary – the prayer to Our Lady of Guadalupe – a powerful prayer.  The kids and I memorized the prayer quickly as part of our Memory Work in our Morning Basket, but my husband still needs the words, so I printed it for him here.
We have two relics of Saints Margaret Mary Alacoque and Elizabeth Ann Seton, which we keep on our mantle, so we invoke their prayers for our family at the end of the Rosary by saying, "Saint Margaret Mary, pray for us, Saint Elizabeth Ann Seton, pray for us."  I left that part blank for you to add a special family patron.
One more thing – I don't list Sundays on this printable because on Sunday we pray the Rosary at church before Mass, and also, the mysteries of Sunday change to reflect the season (Advent/Lent).
I'm making this available as a pdf, and also as a Word document that you can edit yourself.  🙂  I hope it's useful to your family!
Click here to download the pdf of the Rosary printable
Click here to download the Microsoft Word version of the Rosary printable
---
We're far from perfect when it comes to praying our family Rosary – we get distracted and work on reverence and attentiveness just like you do!  But our efforts are steadfast and it's my prayer that Our Lady will help us grow in our eforts and that they will yield a family culture which fosters a deep love of Our Lady, transforms our lives in Christ and His mysteries, and eventually transforms our culture!