October Feast Table for Our Lady of Fatima
"Feasts reach them all."
Pope Pius XI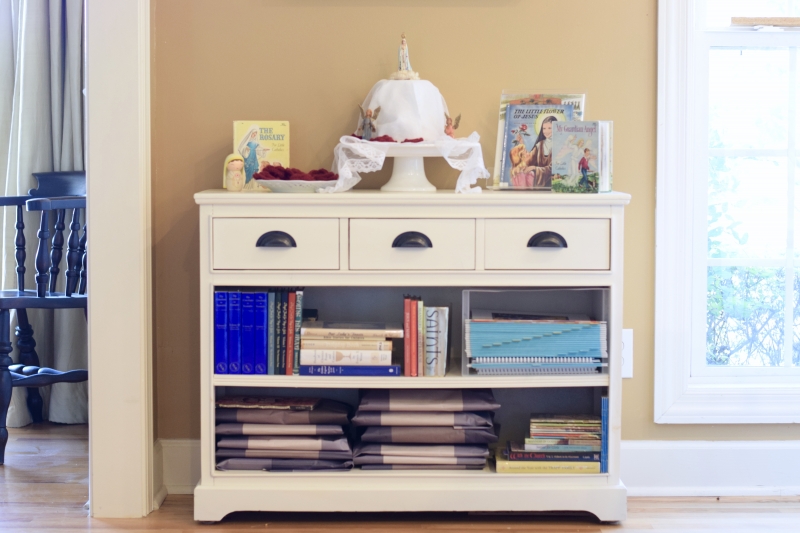 October is a rich month, liturgically speaking! The month is dedicated to the Holy Rosary, and it contains some big feasts – like the Feast of the Guardian Angels and St. Therese. (See last year's October Feast Table)
As many of you know, I love to set up a small table – which we call our Feast Table. The Feast table is named after the Feasts on the Roman Catholic Church's calendar for the liturgical year and is a place set aside for seasonal displays that reflect the rhythmical and beautiful Church year. We follow the 1962 calendar for the Extraordinary Form (The Latin Mass). The Church's year has so much depth and history – we could spend a lifetime setting up these little seasonal displays and still not plumb its depth.
The Feast Table has been a simple way of anchoring our family to the rich traditions and celebrations of the Church year. I've been doing this – changing out books and stories, statues and vignettes – every month and season since my oldest daughter was about 2 – for 19 years. I started very simply – with a handful of holy cards and a couple of statues, and slowly built my seasonal supplies and books. The books have been so important – children learn through story!!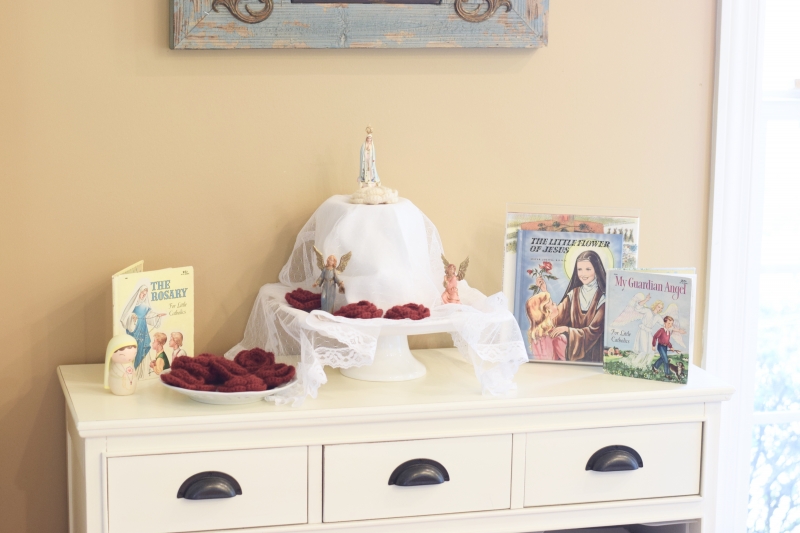 Over those years I've enjoyed learning right alongside, but mostly, I've collected memories as I've read familiar treasures across the years, and watched from afar as my children lovingly interact with objects that are tangible reminders of the traditions of their faith heritage.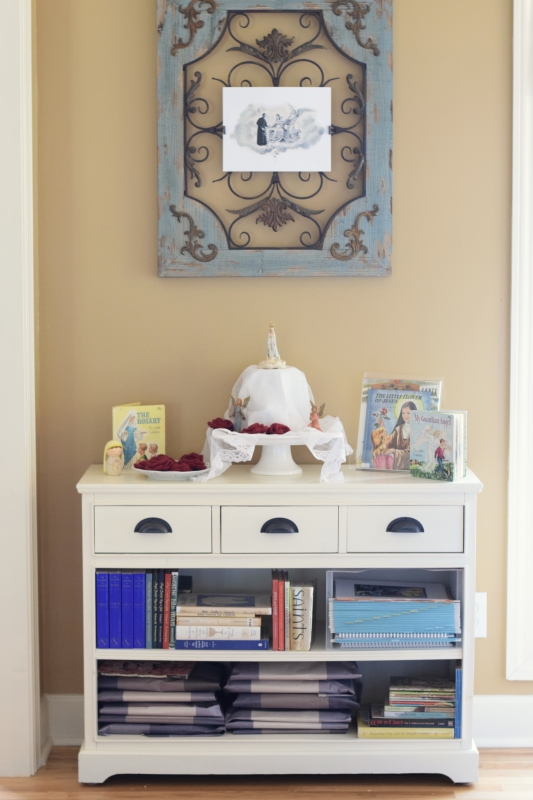 I set up the Feast Table this month to honor Our Lady of Fatima since October 13 is the 100th anniversary of her final apparition to Lucia, Jacinta, and Francisco. She told the children over and over again to pray and make reparation for sins, so I took that idea and built a simple way to remind the children to make special sacrifices this month especially. I used our crocheted roses from the fig and thimble shop – every time someone makes a small sacrifice, I encouraged the children to quietly offer that as a gift in reparation, and place a rose at Our Lady's feet. (By the way, the little statue of Our Lady of Fatima is standing on an upside-down canister propped on a cake plate and draped with a little lace table runner I had – so just use your imagination and grab what you have to make your displays as attractive as you're able!)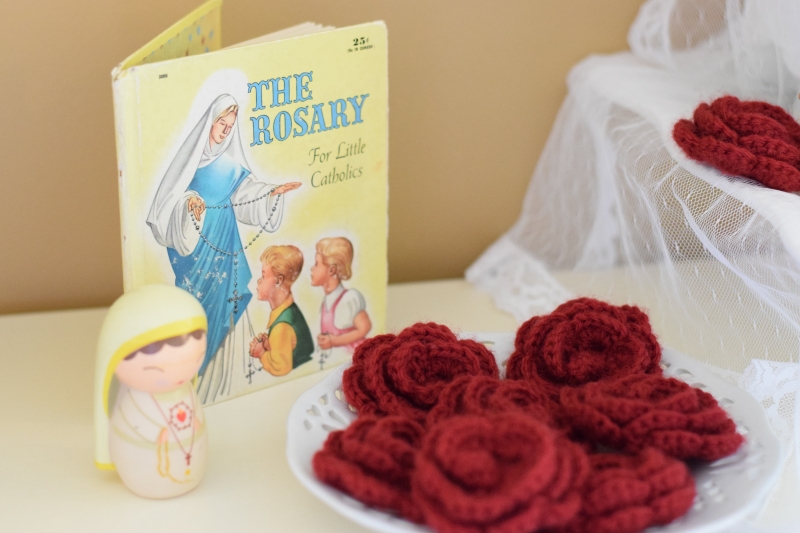 I set out Lauren's sweet little Our Lady of Fatima doll from Shining Light Dolls. I often find that Lauren has moved the little doll and set her in the midst of the little plate of roses. Sweetness.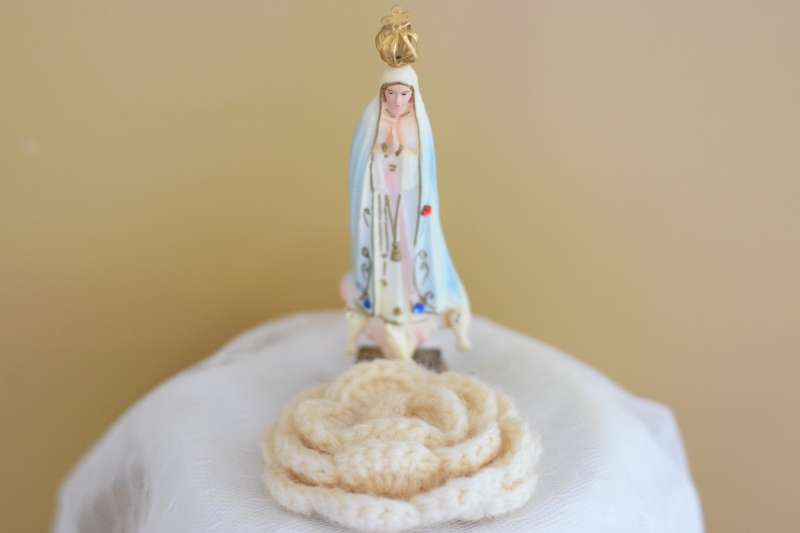 I do wish I had a larger statue of Our Lady of Fatima, but the smaller size statue is still nice.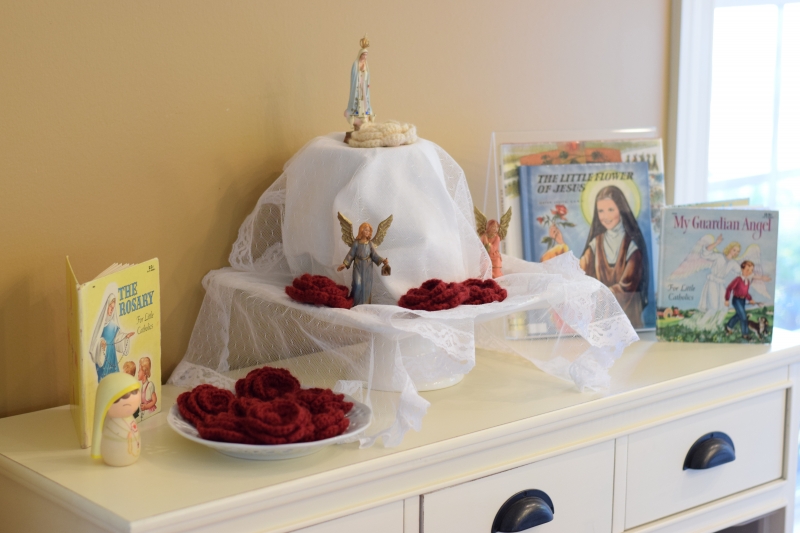 Because the Guardian Angels also enjoy a Feast this month, I placed our little Fontanini angel statues out.
As always, all the children are encouraged to touch, re-arrange, enjoy, and delight in these little displays that anchor our family to the rich liturgical year of the Church. They are tangible reminders of the Church's beauty, of our family the saints, and of great virtue often lived out in very ordinary circumstances. Those are powerful realities that we need more than ever.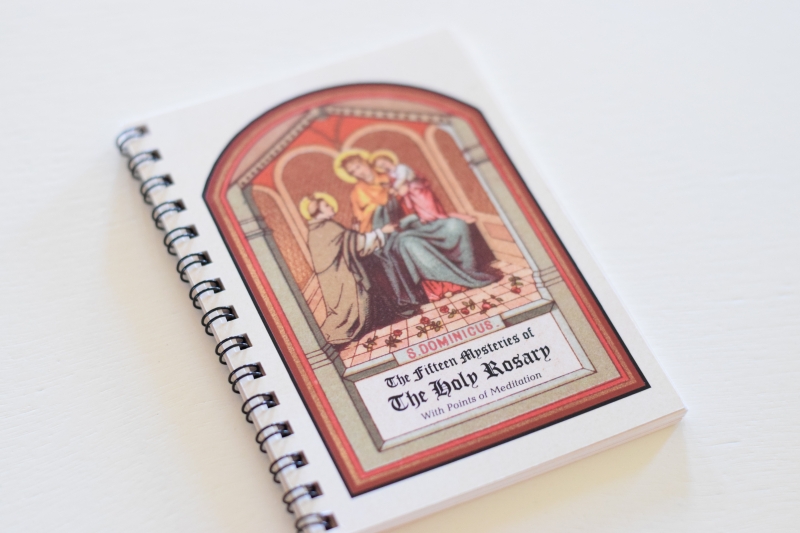 I wanted to share a new resource I recently discovered for this month of the Holy Rosary. These little booklets are quite extraordinary for your children that have difficulty with distractions. I'll be honest – I use one, too!
The Rosary is meant to be a contemplative prayer, focusing on a mystery as we lovingly recite the angelic salutation. But…for most children (and many of us adults) that level of concentration is difficult at best. The unique gift this little Rosary booklet offers is that it has a tiny little thought for each Hail Mary. My children have really enjoyed these little booklets available at My Holy Cards!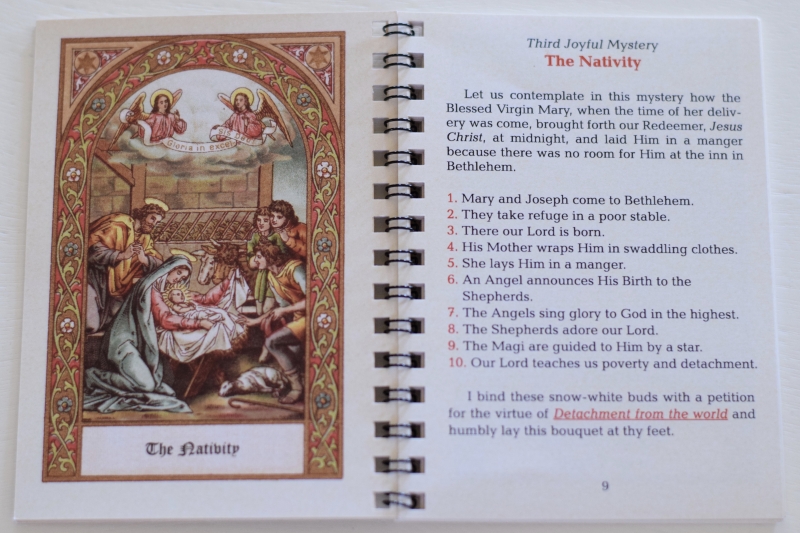 List of resources and books set out for this month: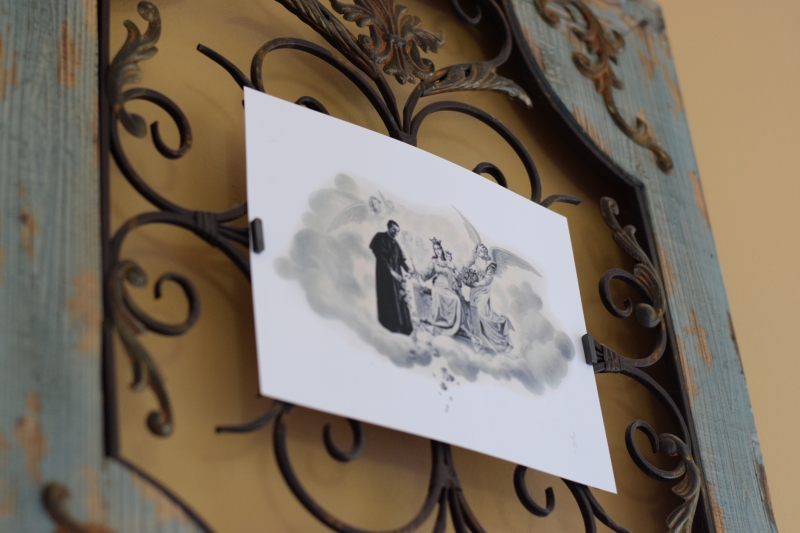 Mater Dei, ora pro nobis!