Truth & Beauty: Rebuilding Culture By Doing the Next Thing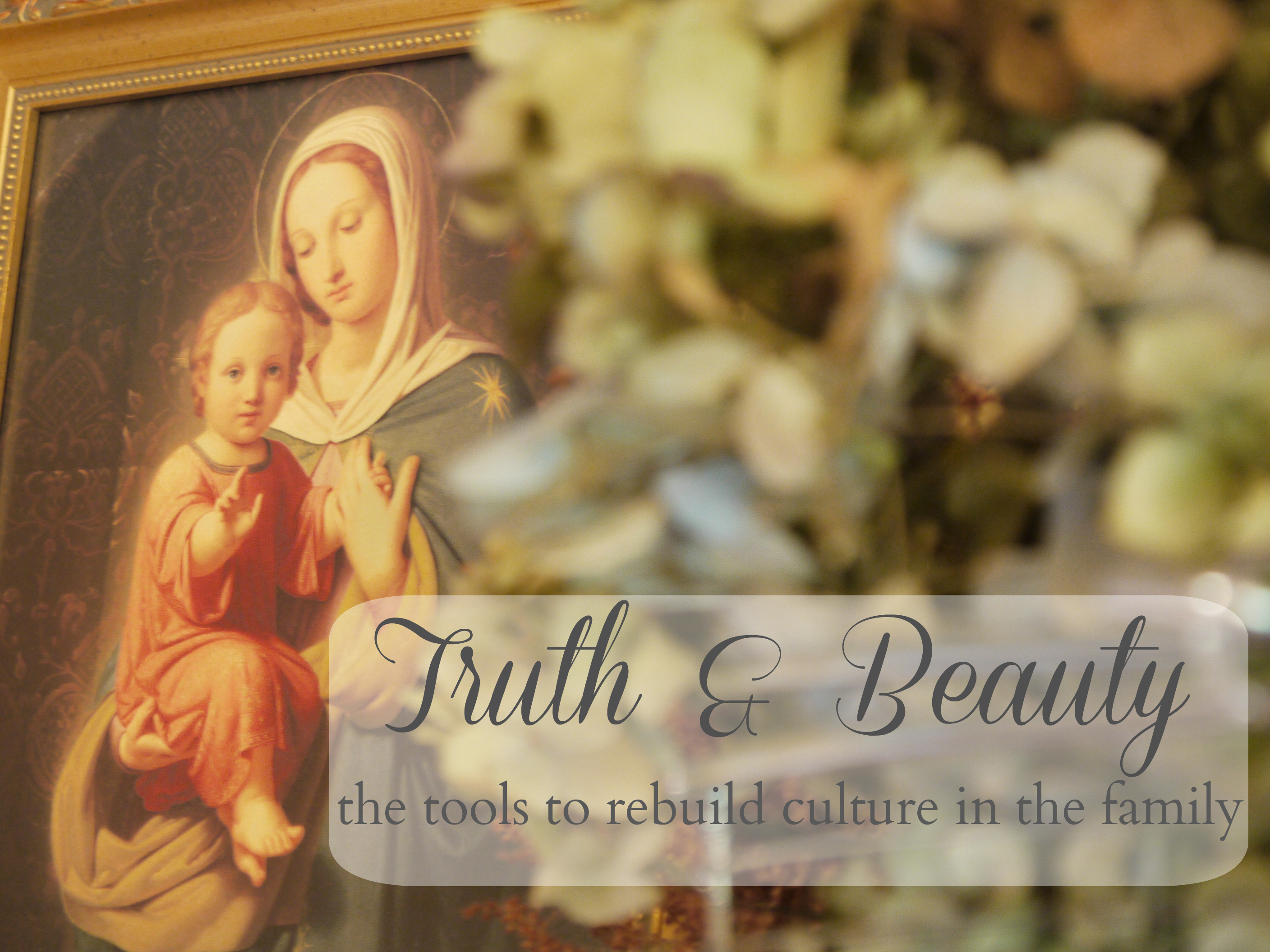 I've been doing some bigger picture thinking – you know the kind I mean?  When you "zoom out" with your vision in light of everything, taking it all in while keeping your own family in focus.  It has been hard for me not to default into this wider scope or focus of thought with all that is going on in our culture-at-large.  Elections, Supreme Court decisions, a deeply troubling erosion of truth – objective, knowable truth.
I'm specifically avoiding specifics here – because I'm not sure getting specific is actually helpful to me.  It keeps me spinning around and around in ideas that are diabolically ordered toward chaos.  So my thoughts invariably leave me wondering:
How do I fit in to this "conversation"?  Do I fit at all?
What now with my family?
How can I make a difference?
How can this little family, which is where God put me, begin to rebuild a culture?
Because that's where I am.  And, if you're still reading…that's probably where you are too.
The answers are beginning to distill, as if they've always been right there.  And, in a sense – they always have.  The current culture has targeted the family – therefore, it makes sense that rebuilding it begins and ends with the family.  And that means kind of simple and seemingly quiet sort of stuff for us to do.  The sort of stuff that families have been doing for centuries.  Which is actually great – because we can do that!  We can read worthy books to our children, beginning at the beginning and working from good to great!  We can form them in our faith – deeply.  We can make dinner and eat together.  We can grow, as a family, in excellent conversations.
The idea that keeps finding a place in my thoughts is that of truth and beauty as the necessary aims for this rebuilding work.  Don't take my word for it though:
"The role of truth in human life is so predominant and so decisive, the interest in the question of whether a thing is true or not is so indispensable in all the domains of human life (ranging from the most humble everyday affairs to the highest spiritual spheres), that the dethronement of truth entails the decomposition of man's very life."
…
"There is a special message of God, a specific reflection of God's infinite beauty, contained in a glorious landscape, such as the one seen from the Parthenon in Athens or from the Giannicolo in Rome; in the sublimity of a church such as San Marco in Venice, and in the transfigured music of Beethoven's Ninth Symphony or in one of his late quartets.  This beauty speaks of a world above; it is a ray of the Father of all Lights; it elevates our spirit and fills our hearts with a longing for this higher world."                  
(Dietrich von Hildebrand, The Dietrich von Hildebrand Life Guide)
So, in my wide angle thinking about all of this, I'm working my way inward from these big ideas, these Great Ideas of Truth and Beauty as so integral, so formational that they can rebuild a culture.  I'm looking at the things we can do.  In our ordinary days.
We can expose our children to beauty in ordinary moments of the day – playing classical music, showing beautiful pieces of art, exposing them to beautiful and rich ideas through their reading.  And we don't need anything crazy or expensive to do this – we just have to make a place for beauty in the day.
We can teach our children that objective truth exists, help them recognize it so they know it (and so that they know when something isn't true), and it will permeate our family culture so that they can grow into it and bring it with them in the culture-at-large, imbuing their own family culture with truth.  When we do this making use of the Sacraments of the Church our efforts are supernaturally charged!  And this simply means:
Build a family culture of prayer – pray the Rosary as a family!
Go to Mass as often as you're able (and yep – I've got a toddler, so I KNOW what Mass is like with littles and bigs and in-betweens and chatty kids and hungry kids!  I know!  It's all brainstorm-able.  All train-able.  All necessary!).
Pray an Act of Contrition every evening and encourage Confession.
Look for and embrace the graces available through the Sacrament of Matrimony – this means actively carving out time for you and your spouse!  Brainstorm this – it's worth it!  Have dinner after bedtime!  Get a babysitter and go out for cocktails and dinner and rock some heels when you go out…ok…or at least rock the wedges that you can wear without twisting your ankle and transforming your evening into a memorable visit with the staff of the ER!  Wear perfume again…every day…while you're doing dishes!!!  Make time for the hard conversations – even if your house is full of teens and toddlers and it's challenging to find a single space in the house for private conversation (not even the bathroom…you're shaking you're head…you know what I mean, don't you?), much less a quiet, uninterrupted moment in time to string four words together!  (Ahem…the van in your garage has locking doors and you can bring the baby monitor with you if needed.  Just sayin!)
Brainstorm this a little and find a few simple ways to stretch forward in this and grow your family culture!  If society is targeting the family, you're gonna need all the tools in your arsenal to firmly stand your ground as a family – including, but not limited to…heels, perfume and a good red wine never hurt!
---
Ideas that transcend and transform
---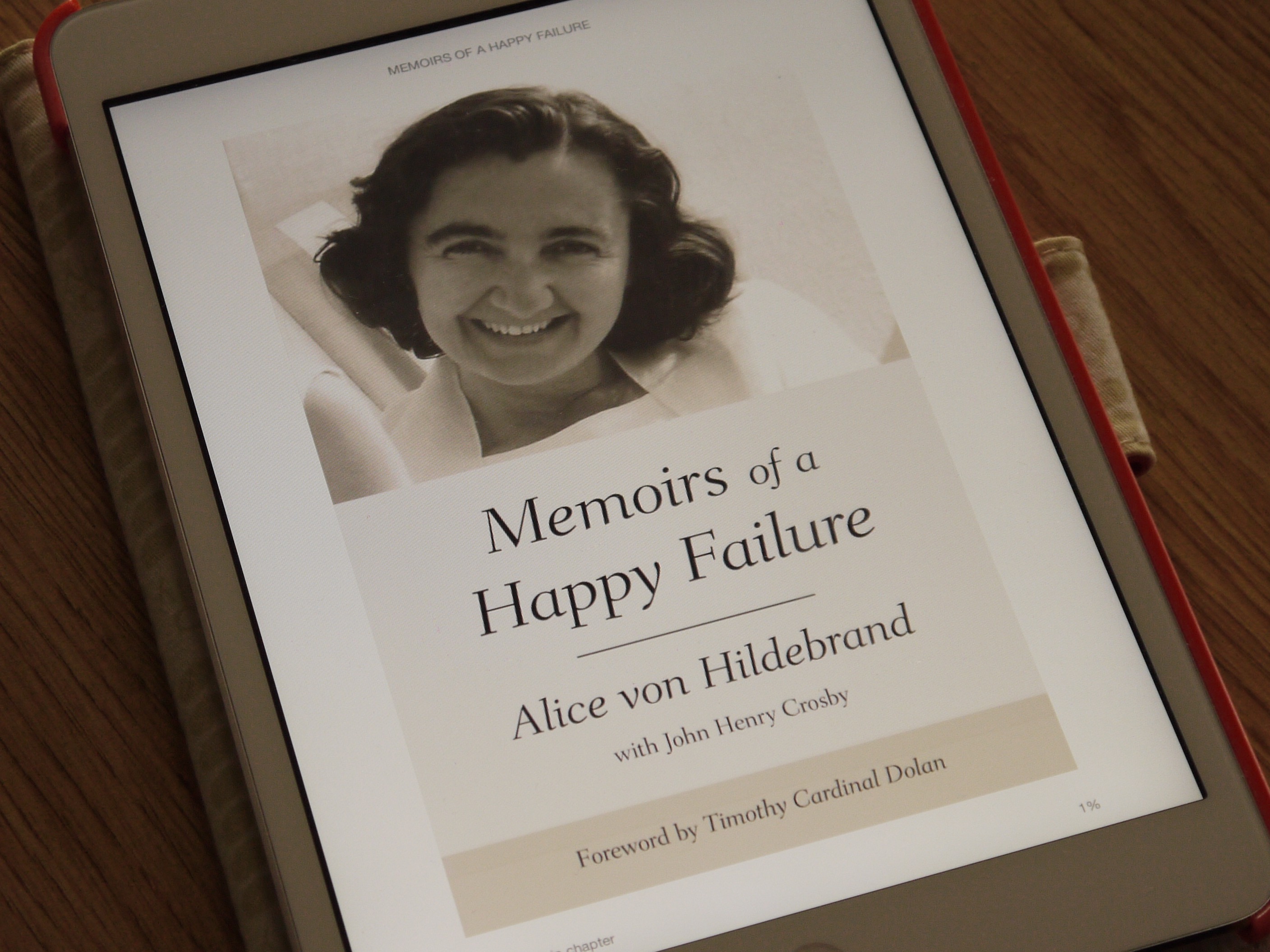 If you haven't yet read Memoirs of a Happy Failure by Alice von Hildebrand, you should!  Make it THE book you read this summer!  It's a delightful read: her narrative moves swiftly and easily and it will inspire you, and you'll find refreshment in its pages.  I expected all of that because I've read Alice von Hildebrand before – what I didn't expect is how much it would inspire me as a home educator and teacher, nor was I prepared for how deeply it would resound with ideas that had consequences for me…in my little vocation…along my little path to holiness…and my little contribution to society and our culture.  I didn't expect how often I'd think of the things she shared months after having read them.  I had no idea how many ideas would connect as a result of reading this book.
Dr. von Hildebrand's description of her life, and particularly her life as a teacher of philosophy at a secular institution that intentionally and repeatedly set out to undermine (and thwart) her objective of teaching philosophy and showing her students truth and how to recognize it was powerful to me.  I was also quite struck by the number of conversions affected through simply showing truth, being unambiguous about it, and allowing the student to tread from there.
This isn't the first time I've encountered this idea of truth as a vehicle that leads out onto greater truths – Dr. John Senior's writings are so instructive.  I've been so influenced in reading about the way the Integrated Humanities Program at the University of Kansas (a humanities program formed in the 1970's at a secular school) dramatically formed persons, and affected conversions – through truth.  Simple, extraordinary truth.  An amazing article summarizing the Integrating Humanities Program and the fruits of this program can be found here: Let Them Be Born In Wonder.  I read it again and again, and I really got to know this program through some talks given by Father James Jackson, FSSP, particularly a conference talk he gave titled Nascantur in Admiratione – Sowing the Seeds of Wonder in the Homeschool – which you can still purchase here and I highly recommend it!
---
And here is where I began making connections —
---
Aware of our current culture, the level of noise and intrusion presented by so many outside sources…
Aware that my vocation as a wife and mother demands and specifically requires that my husband and I educate our children…
Aware that others have gone before me – Dr. John Senior and Dr. Alice von Hildebrand to name just two – and have left inspiring examples in the way they taught using simple ideas rooted in truth and recognizing that all education begins with wonder…
Aware of an erosion of truth and a disturbing distortion of beauty that seems to have permeated so much that it warrants an almost herculean task force to keep it at bay and outside the doors of my home…
I began to realize that rebuilding this culture is actually a job for the family – not for intellectuals, the media, nor politicians – though they may certainly play a role and exercise some influence.  Historically, rebuilding a culture has always happened through the Church and with the family.
And thinking about my role…our role – as a mom, the heart of the home – the vision of rebuilding a culture began to crystallize into something that almost surprised me – it's simply doing the next thing.  Teaching, reading, cleaning, changing a diaper, working on a good habit with a child, making dinner for the family, growing toward virtue – these are the building blocks of civilization.  And they always have been.
Teach children objective truth.  Don't worry here and don't overthink this!  Don't let it paralyze you thinking that you can't possibly be the teacher Hildebrand or Senior was – it's true, you can't!  You CAN be the person God created you to be, and from there, trust that truth, beauty and goodness are within your grasp and within your child's grasp!  Stratford Caldecott reminds us that, "the ideas are somehow in us, or we could not recognize them."  (Beauty In the Word) The ideas are there because we're made in God's image.  Go forward here because we can do all things in Christ!
Beauty is something we should be in touch with every day – not on a field trip, not reserved for someone else's "more perfect" home – but present in our ordinary days!  Model wonder in seeing beauty in the simplest of things – a flower, a dew drop, a shell on the beach – and step back and watch it transform your family!
Embrace order (in the home) as an antidote to chaos.
Embrace duties with joy because from all eternity this, THIS exact moment in time, is where God put me.
Laugh often and cultivate a good sense of humor!  Have you ever noticed how this lightens everything and smooths wrinkles in all kinds of places?  It's worthwhile to lighten up and embrace levity…especially when everything else seems so dark!
And do this in every next thing that I do.  
---
Rebuilding a culture is simply doing the best I can, with as much grace as I can cooperate with in my vocation.  Because if we all resolve to do this quiet work of forming our families in truth, we'll send them out and at the very least we've planted seeds the Holy Ghost can work with.  And at most?  Our children will do the same quiet work in their families, and so on…until one day the light is greater than the darkness.
It turns out that we're just going to have to help tie our civilization back to the sound principles of truth, goodness and beauty…by doing our duty with as much love as we can, whatever the next thing happens to be in our day.  And that's actually very simple, isn't it?
G.K. Chesterton said in his poem, The Wise Men:
"The way is all so very simple that we may lose the way…"
Don't overthink this and lose the way.  Don't get lost in your own thoughts considering what extra things you can or can't do.  Don't get lost in social media ramblings that direct your gaze outside "the next thing" in your day, whatever that is.  Don't get lost in the tumult, darkness and chaos of the news headlines, Supreme Court decisions, political posturing, and elections fraught with rhetoric.  Acknowledge these things certainly!  Engage the culture!
But moms – our job in rebuilding has actually been in front of us all along – go give them a hug and do the next thing!