On the Feast Table this October: The Feast of the Holy Guardian Angels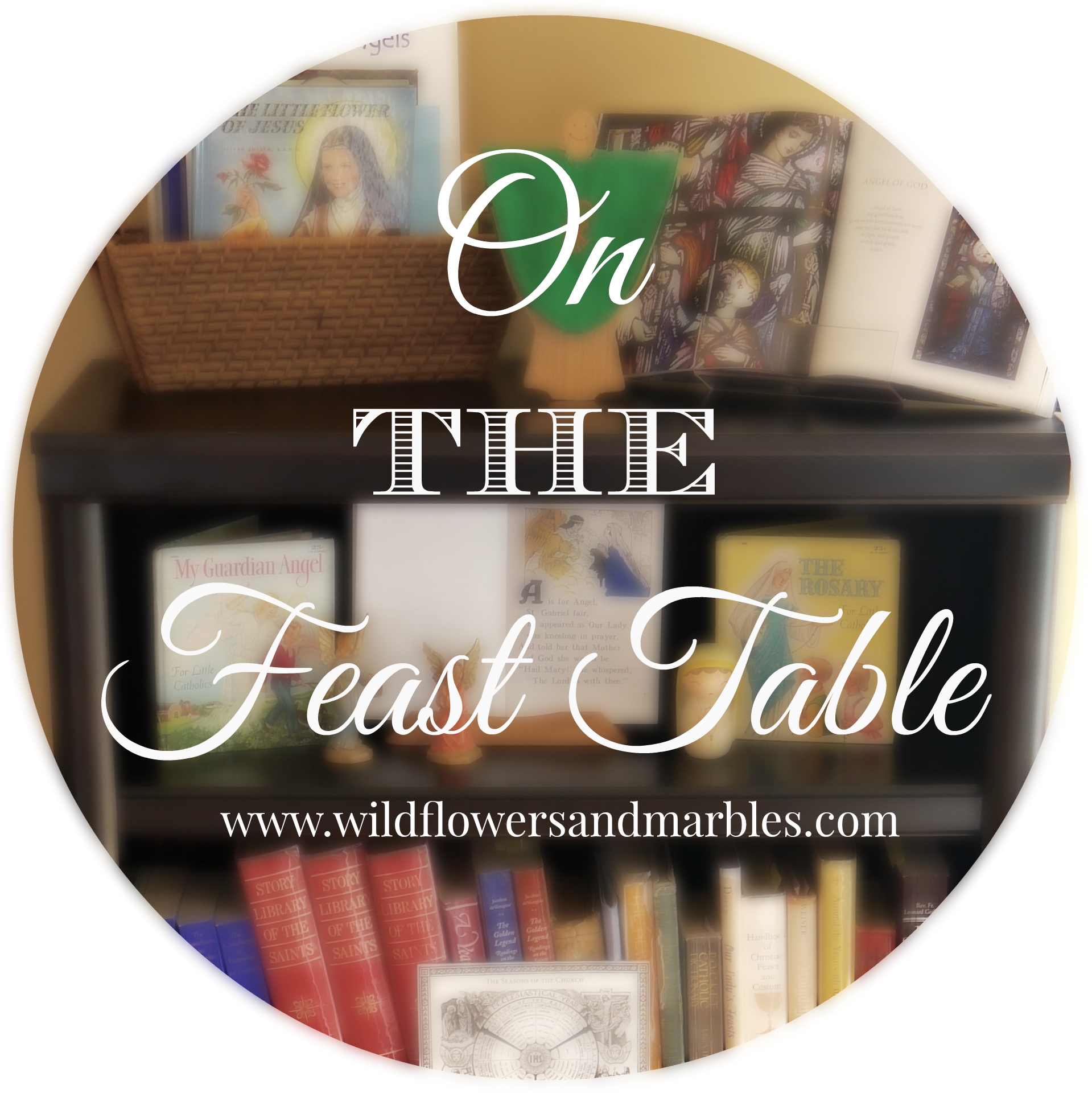 It's been so long since I've shared about our Feast Table, and I've resolved to change that!  I want to share more ideas and resources that our family enjoys as part of our Feast Table and Liturgical Year observances.
Over the years, our Feast Table has changed and moved, but it remains an anchor for our family's observance of the liturgical year.  Very simply, it is a place (it can be a shelf, table, mantle, deep window sill – think outside the box here!) for liturgical year items to land so that they can have a place of honor for the month. I change our displays with each month, and also with the big seasons (Advent, Christmas, Lent, Easter). I set out reading (mostly picture books), holy cards, sacred art, and small items that serve to connect the family to the Feast we're preparing to celebrate. Some months are very simple on the Feast Table, while other seasons, as you can imagine, there are many wonderful things to add to the Feast Table.
The Feast of the Holy Guardian Angels is October 2 and I wanted to share this post in time for you to print and gather resources for your own celebration of the day. Pope, St. Leo tells us that we should, "make friends with the angels." May the Feast of the Holy Guardian Angels serve to deepen your friendship!
---
The Catechism in Examples
Volume 3, p. 75, by Rev. D. Chisholm, Imprimatur 1919:
The Catholic Church teaches us, my child, that we should pay to the angels and saints an inferior honor or worship, for this is due them as being the servants and special friends of God.
God made the angels to be partakers of His glory.  They are also our guardians.  Christ, speaking of the little ones that believe in Him, says: "Their angels in Heaven always see the face of My Father, Who is in Heaven."  (Matthew 18:10)
When you were born, God said to one of His angels: "Go down to the world, and take care of that child; keep it from harm, protect it against its enemies, assist it in its needs, and bring it safe to Paradise when the day of its trial is over."
That heavenly spirit became your guardian angel, and from that day till now he has never cased to watch over you.  He has offered up to God all your prayers, your alms, your acts of obedience, your labors, and all the good you have ever done for Him.  And when the moment of your death draws near, he will watch over you still more tenderly; he will strengthen you against the attacks of Satan; he will inspire you with good thoughts; and will diminish the fears of death.  Oh how happy he will be if he is able to present your soul pure and holy before the throne of God!  Then you shall see Him, and be happy forever with Him.
---
On the Feast Table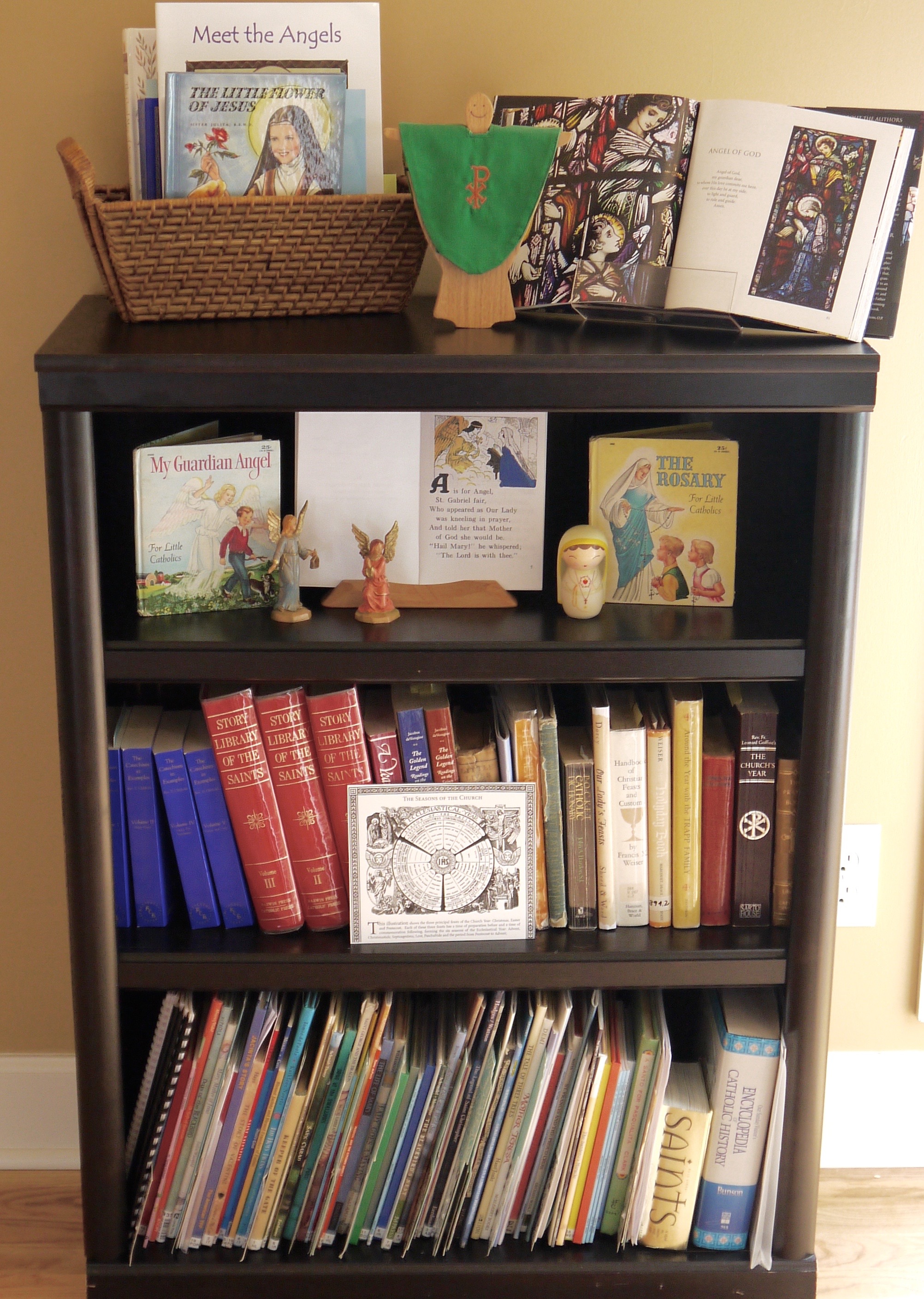 Our Feast Table lives atop this small shelf.  I wanted my toddler to have her own shelf because I remember the other kids lovingly investigating items on the Feast Table – arranging and rearranging them. So, the very top is our main monthly set up, but the shelf below is set up just for the toddler with simple little books and statues for her to hold.
The following are resources that would work well within your Morning Basket of read alouds, or as part of your family devotional time to cultivate a deep friendship with the angels, and in particular, our Guardian Angel.
Free ebooks
Books
My Guardian Angel – This is a reprint of a classic book and it's such a treasure!  You may have to scroll down through the different selections to see it, but this entire book series is so worthwhile and is offered at such a fantastic price!  Maybe grab a couple of extra to tuck in St. Nicholas stockings!
The Child To Whom Nobody Was Kind by Father Faber (includes the Guardian Angel in the story)
All About the Angels by Fr. Paul O'Sullivan (TAN) – this is a favorite book!  It's easy to read small segments aloud and Fr. O'Sullivan's deep love and affection for the angels comes across in a compelling way!  There is a nice chapter on the guardian angels.
A Short Guide to Praying as a Family – this is a wonderful collection of prayers and simple guidelines for praying as a family put together by the Dominican Sisters of St. Cecilia Congregation.  I really enjoy this book and the stained glass images throughout are the perfect fit!  (In the image above: I have this book open to the Guardian Angel prayer on our Feast Table.
I confess that I don't actually own Leila Marie Lawler's delightful book, The Little Oratory: A Beginner's Guide to Praying in the Home, but so many of my dear friends have it and I've flipped through it and it's absolutely wonderful!  If you're new to this idea – praying in the home, setting up a little home altar (which is essentially how our Feast Table functions) – then this is the book for you!  I normally would never recommend a book I don't own, but I can recommend this with my whole heart!  This book would live on your shelf (after you've read it) as an excellent support and general reference.
The Catechism In Examples
If you happen to have this series of books (which follows Baltimore Catechism #2), you'll find several delightful to read-aloud stories on the Guardian Angels in Volume III (which you can download and view as a free etext here):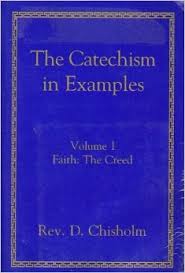 St. Frances of Rome Sees Her Guardian Angel, p. 76
St. Agnes Not Afraid, p. 77
St. Gregory's Angel, p.77
St. Gertrude's Guardian Angel, p. 78
Why He Was Never Angry, p. 78
The Guardian Angel of the Dying Man, p. 79
St. Francis Regis Preserved From Great Danger, p. 80
You can download this series of five volumes free at archive.org, or check Amazon or ebay or other sellers of used/out of print books.  They're hard to find, although a few years ago, Roman Catholic Books reprinted the set and every now and then that set (paperback, blue cover) is available.  The Roman Catholic Books reprints are a good set, quality typeset, easy to read.  They're worth hunting down!
Art
Coloring Pages
Guardian Angel Coloring pages – these are all free to print:
Meet the Angels, Illustrated by David Clayton, Text by Leonie and Stratford Caldecott – I can't find this many places for purchase, although Amazon has some copies here.  This is an extraordinary coloring book featuring one of my favorite authors, Stratford Caldecott, and the icon-like illustrations of Mr. David Clayton (I've been a fan of his for a long time – see his blog here: The Way of Beauty)
Cooking With the Saints
Videos & DVDs
Looking for more?  Be sure to check out:
Littles at the Feast Table this month…
I'm always watching for books and images that are beautiful and lovely for all the ages and stages I have at home! Littles are no exception – here are some ideas that might work well with older toddlers or preschoolers.  Remember, less is more.  Little ones become visually overwhelmed quickly, so keep your offerings simple and as lovely as possible.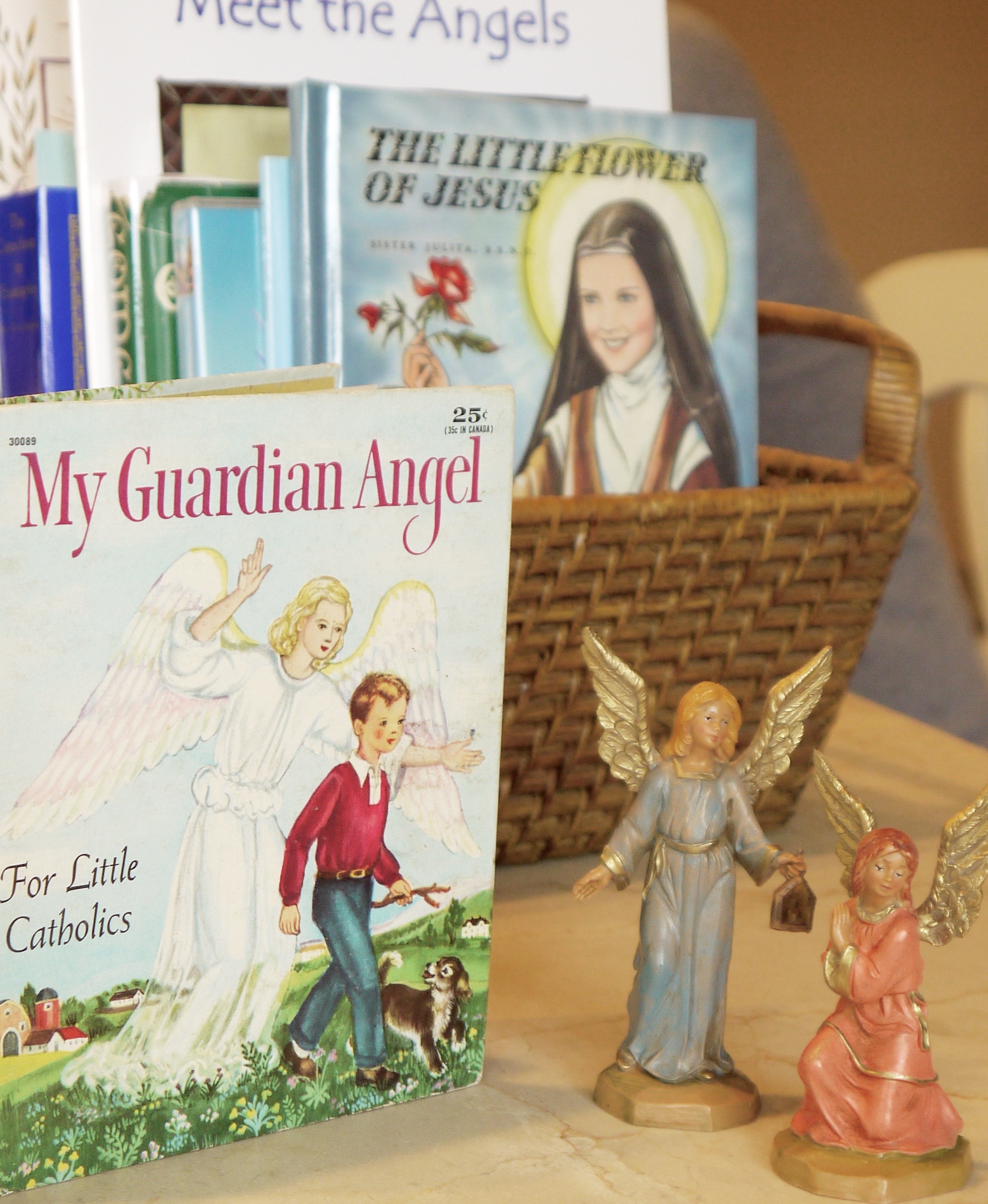 Break open the nativity set!  I like to nab the angels from the nativity sets and set them out on the Feast Table because they're typically well made and can hold up to little hands loving on them.  If your Feast Table offerings are slim, I bet you've got a lovely Fontanini nativity set (we have these Fontanini angels and my toddler was smitten as soon as they were set out) – go grab your angel and set him out on your Feast Table. I'm a big fan of Fontanini because they're made of polymer (a nicer, heavier weight plastic), very durable, and are lovely and realistic in their depictions – not cartoony.
Another option is this Playmobil Angel (also comes with St. Nicholas, which you can tuck away in your Liturgical Year bin to save for December – he'd be a perfect fit for your December table!)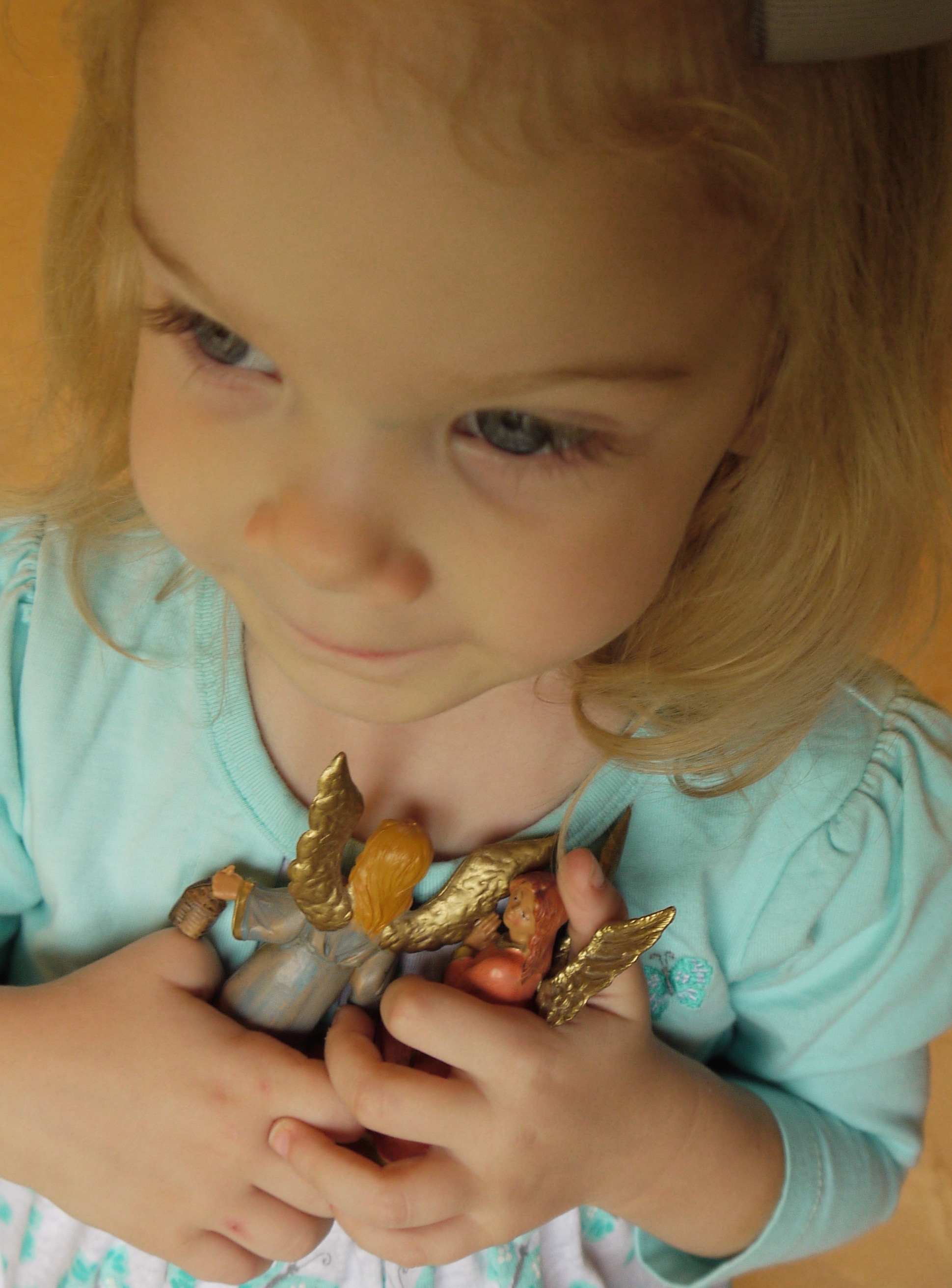 Watch for opportunities to foster love of little one's guardian angel.  Encourage little one to ask guardian angel for help, and model a simple prayer during these times.
Remember to encourage respectful investigating of items on the Feast Table – no throwing, chewing, or taking items off the Feast Table – but arranging and re-arranging is to be encouraged!  You'll have to exercise best judgement in terms of what little one is allowed to touch…or perhaps little one is just too young to have free access and items can wait – there's always next year when the Liturgical Calendar rolls around again!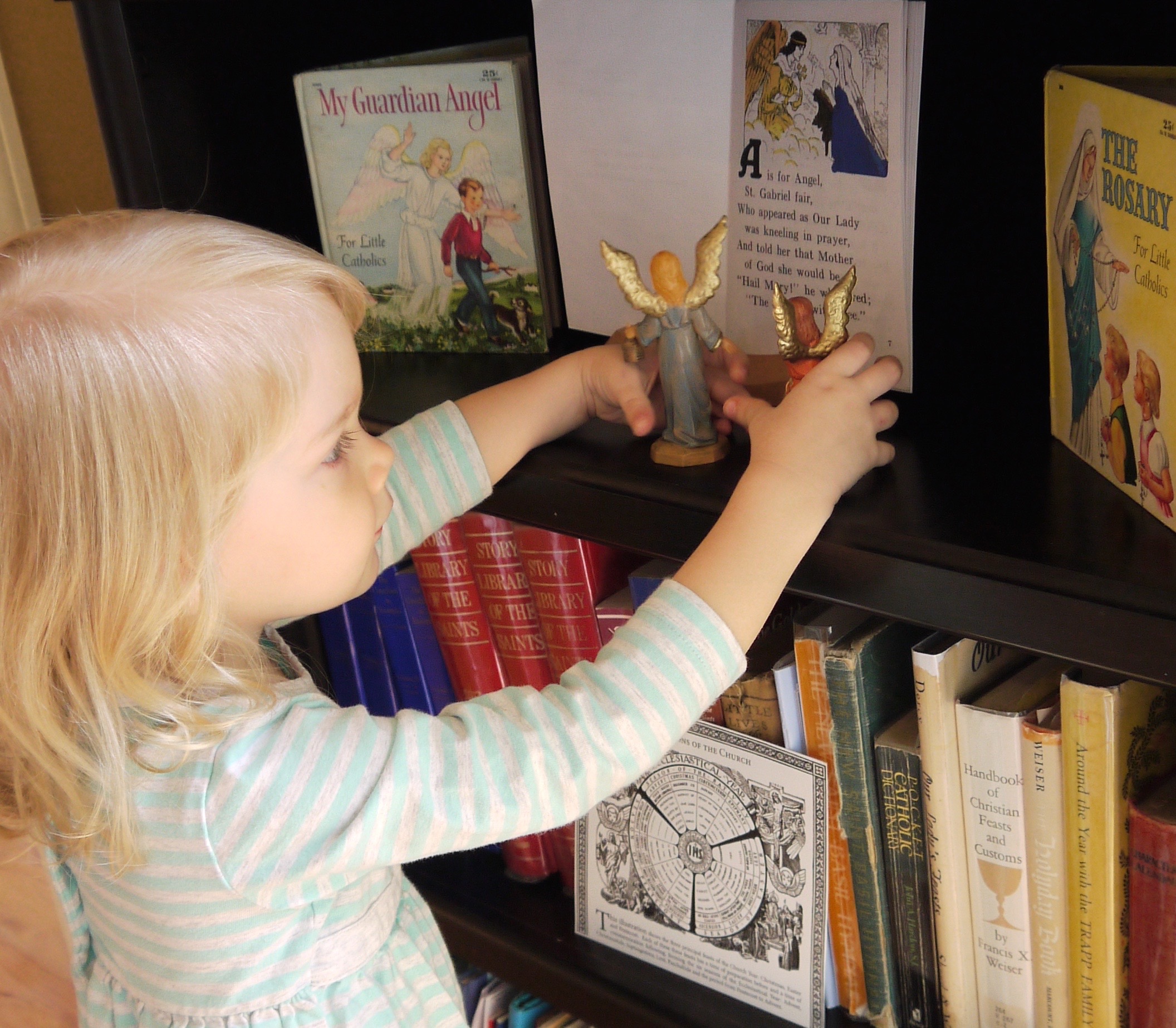 Practice the simple guardian angel prayer morning and night.  Here's a printable with the prayer – print a couple of copies, laminate it (little hands, y'know!) and keep one copy the Feast Table and one copy near little one's bed for evening prayers.  Click the image (left/print, right/script) to print (right click to save the image and print from your desktop).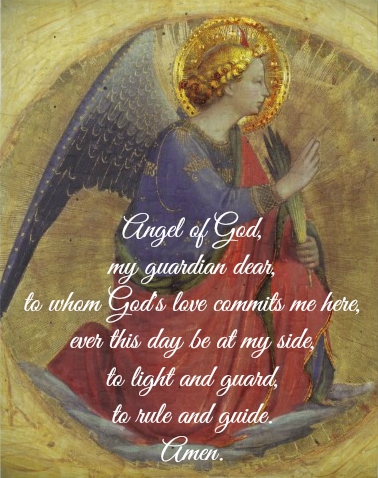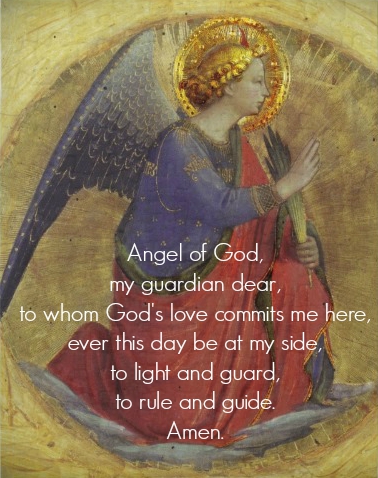 I hope you enjoy a lovely Feast Day celebrating the Guardian Angels and that your celebration grows your friendship with your Guardian Angel!