November Feast Table – Rebuilding Culture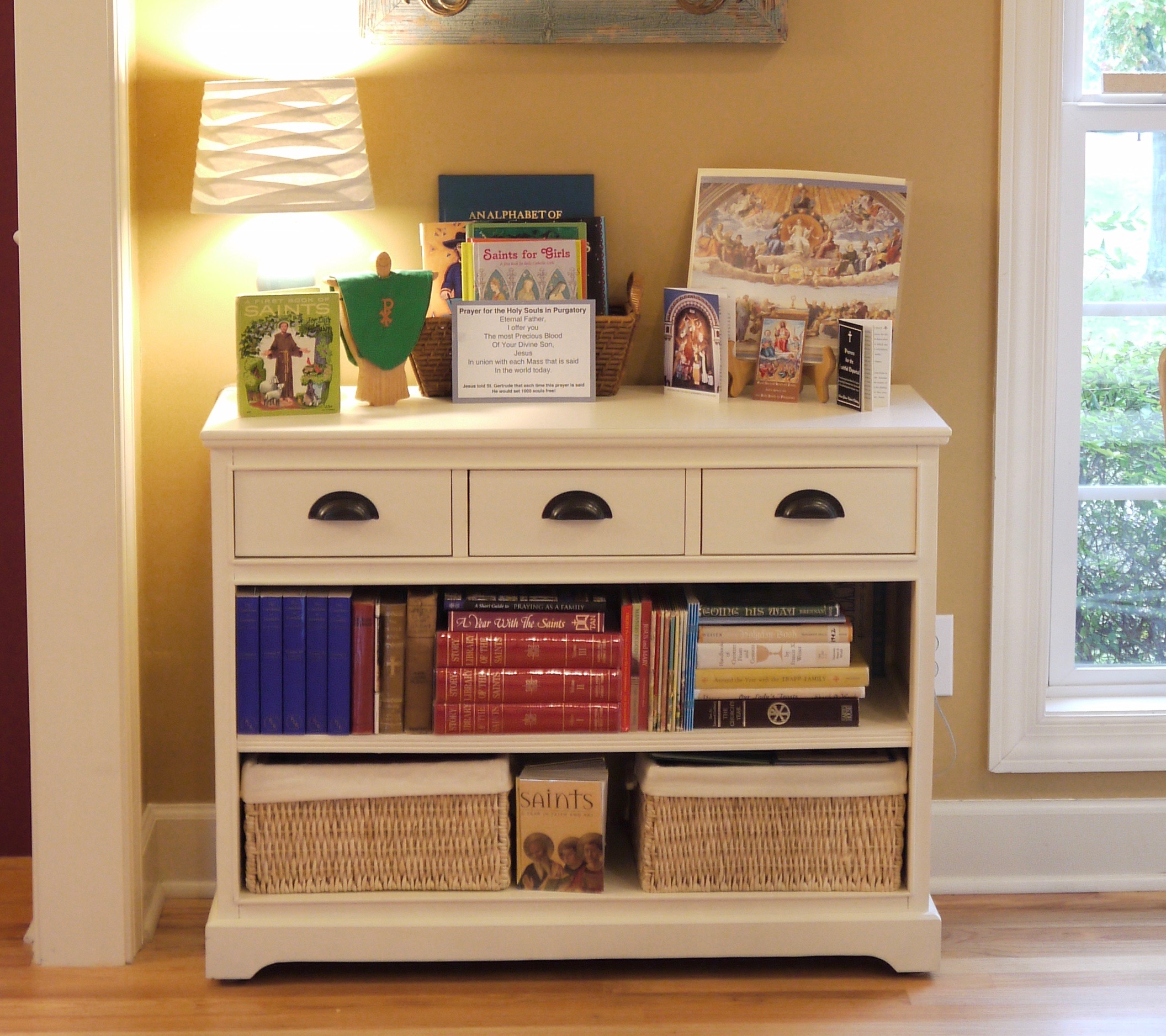 Feasts Reach Them All
" …people are instructed in the truths of the faith and brought to appreciate the inner joys of religion far more effectively by the annual celebration of our sacred mysteries than by any official pronouncement of the teaching of the Church.  Such pronouncements usually reach only a few and the more learned among the faithful; feasts reach them all.  The Church's teaching affects the mind primarily; her feasts affect both mind and heart and have a salutary effect upon man's whole nature."  — Pope Pius XI
I thought I'd share that beautiful quote with you to encourage you if you're just starting out – just beginning to consider setting up your own family Feast Table. Pope Pius XI beautifully illustrates how the rich lessons and examples within the feasts of the Church's liturgical year are able to reach all of us…meeting us right in our homes, tucked in our ordinary days. Making a place for them is our part in rebuilding culture.
Our own Feast table began very modestly around 18 years ago when our oldest was still quite young, but starting to be old enough to learn simple little lessons about our faith. My mom attended a conference/class with the Dominican Sisters of St. Cecelia and one of the themes of the conference was something they called a "family feast table." Mom told me about the idea, and I set out to bring this idea into our home. I found a very inexpensive little table from a hardware store that we refinished and set up as our first Feast Table. I gathered beautiful images from old calendars, small statues suitable for little hands, and collected little holy cards of favorite saints. As our family grew, I began collecting book titles, learning of many treasures through the generous sharing from other Catholic moms. And over the years, our collection grew so that each year familiar friends would find their way to the table. Setting up the little displays on our feast table each month became an extension of hospitality – it's a quiet little way for me to serve.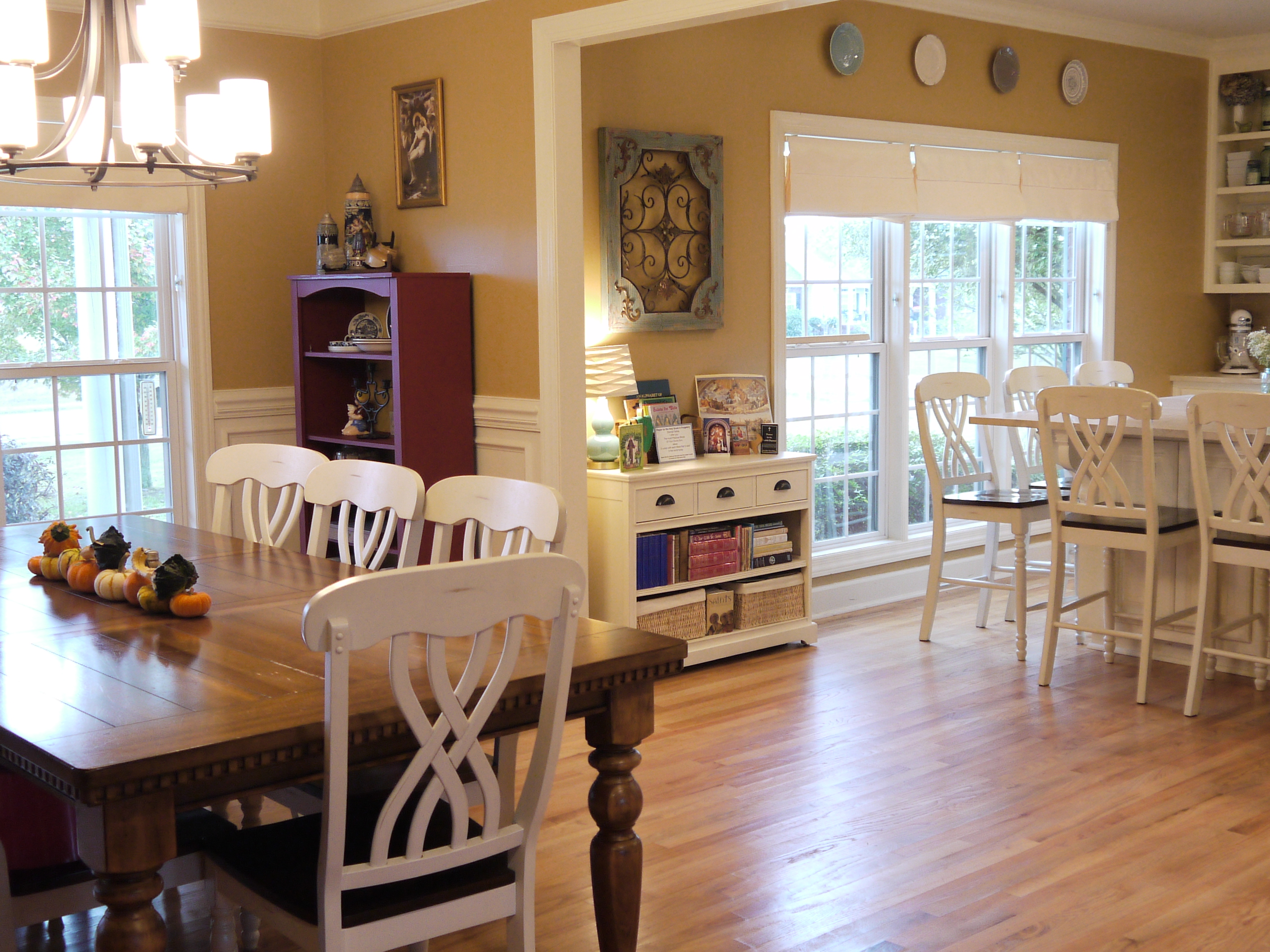 For years this practice of setting up a simple monthly display and a monthly liturgical book basket grew. And then…we remodeled. My humble little wooden table used for our first family Feast Table had been drafted into service elsewhere, and after tearing down walls and opening up spaces (which I am still smitten with!) I couldn't find a place that would work well for our family Feast Table. Last month I had my teen son sliding a bookshelf from room to room as I searched for a place that seemed to "fit." And that's when we happened on the perfect spot – the one you see pictured above with the cream table nestled between the big windows of the kitchen and the dining room. It's a perfect fit. I like how visible it is, and how it lives right alongside us in family spaces.
But…the bookshelf I was using as a temporary feast table was black.  Blackety-black. In my pretty cream kitchen. And just…black.  Light-sucking black. So, I thought maybe I'd paint it – I've certainly done that before – a cheery cream. But alas, the bookshelf was enclosed all around the bottom (bookshelf completely meeting the floor on all four sides) and alas my perfect spot is directly over a floor register. So I started searching for another option – something charming, cream in color, diminutive (this is a high traffic area so it had to fit between the window and wall and not be very deep), and something that would allow airflow under the bottom. Should be easy to find, right? LOL! It actually took quite a bit of searching since I had a "look" in mind but had no idea how to search for it other than general terms…>> cream…>> my dimensions…>> and then I just kept eliminating as I searched. And then I found what seemed to be the perfect fit at Amazon, believe it or not – the Safavieh American Home Collection Bookshelf Unit in Prudence White. I'm thrilled with how it looks and how it fits!
I rebuild culture right here, tucked in a sunny corner of my kitchen, celebrating feasts that "reach them all." My little monthly moments of hospitality continue as I again set up our little liturgical displays on a cheery cream cabinet.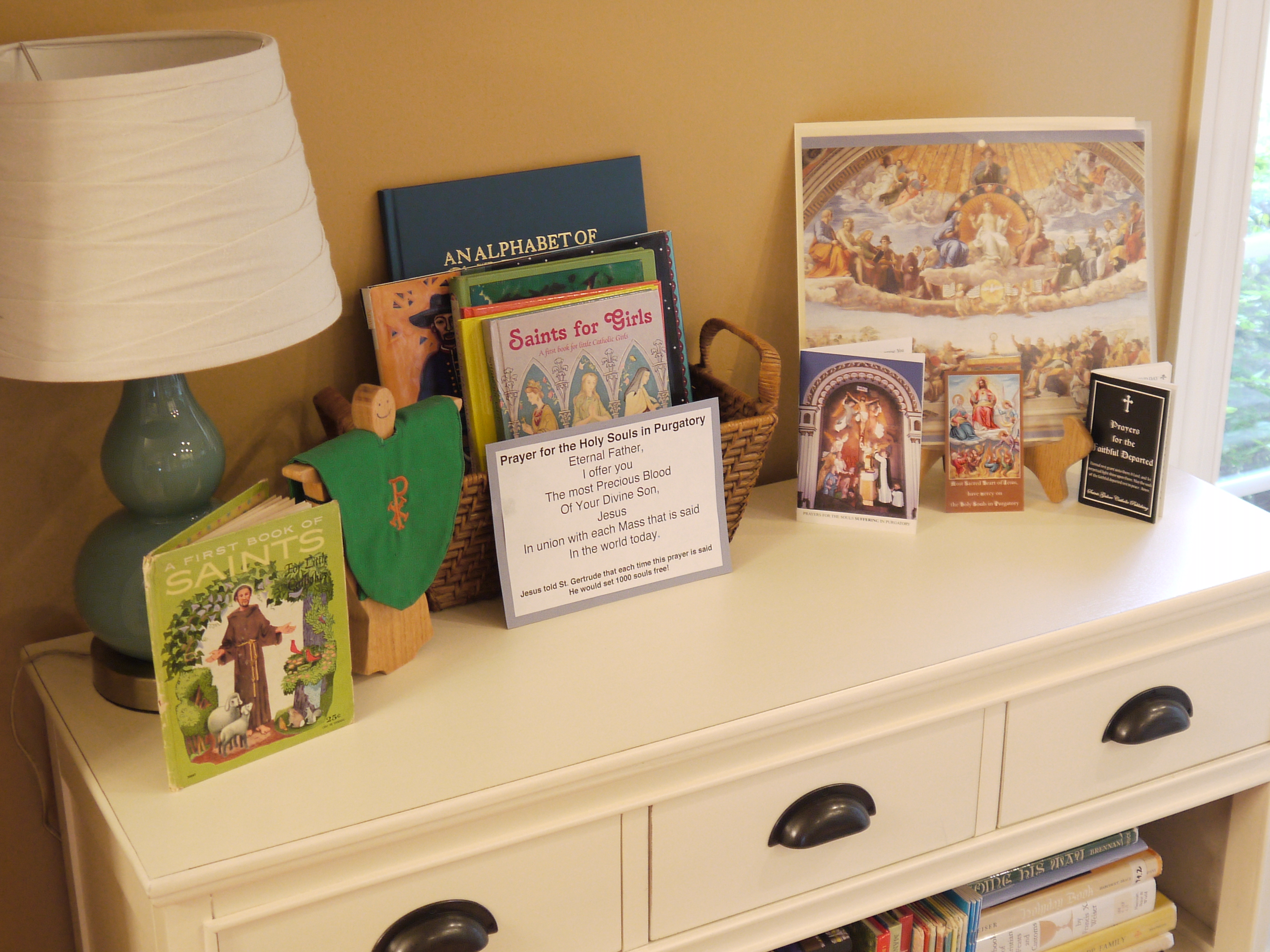 So…what's on our (new) November Feast Table?
This month we celebrate All Saints and we remember to pray for the Holy Souls in Purgatory! And there are several other wonderful Feasts to celebrate!
Books
I'd love other book recommendations for November if you have them!
Leave me a note in the comments box if you have a favorite November book!
Art & Holy Cards
The Disputation on the Holy Eucharist by Raphael (was a calendar page that I laminated – gotta love those old calendars with beautiful sacred art!!)
Holy Souls Holy Card (available here – scroll down to near the bottom of the page)
Activities for All Souls Day and remembering the Holy Souls throughout the month
Prayers for the Faithful Departed – small prayer booklet available here – scroll down.
I have two free printables for you to consider – download your preference: (1) Holy Souls Cards (color); (2) Holy Souls Cards (black/white) – print, cut apart and add the names of departed family members and friends that you would like to pray for this month.  Ideas for what to do:

Keep them on the Feast Table as prayer reminders throughout the month.
Divide up the cards and assign a child to a card/intention as a prayer partner for the month.
Keep the cards in a basket near your family Rosaries and at each Rosary time, have a young child draw a card out and offer that Rosary for the person listed on the card.
Father Oak
…who should not be dressed in green for the Feast of All Saints (it should be white).  But…what can I say…we were busy going to Mass and I forgot to ask the little girls to change his vestments to white (I love that the new little table has small drawers for holding Father Oak's vestments, our holy cards, and other small items.  You can read more about Father Oak here, but I plan to update that post very soon with a (free!) downloadable template for you to use to make your own "Father Oak." (Forgive the 2007 photography skills!  :/ )
Don't forget…
…the St. Andrew's Novena begins on the Feast of St. Andrew, November 30!
A little more…
For more wonderful ideas, be sure to read Jessica's November Book Basket at Shower of Roses!
Looking for a great book to help you get started within your home? Consider The Little Oratory: A Beginner's Guide to Praying in the Home by David Lawler (who writes at The Way of Beauty) and Leila Marie Lawler (who writes at Like Mother, Like Daughter).
Keep doing the next thing, friends! We rebuild culture one little duty – one feast table – at a time!