Erin Condren 2015 Life Planner Review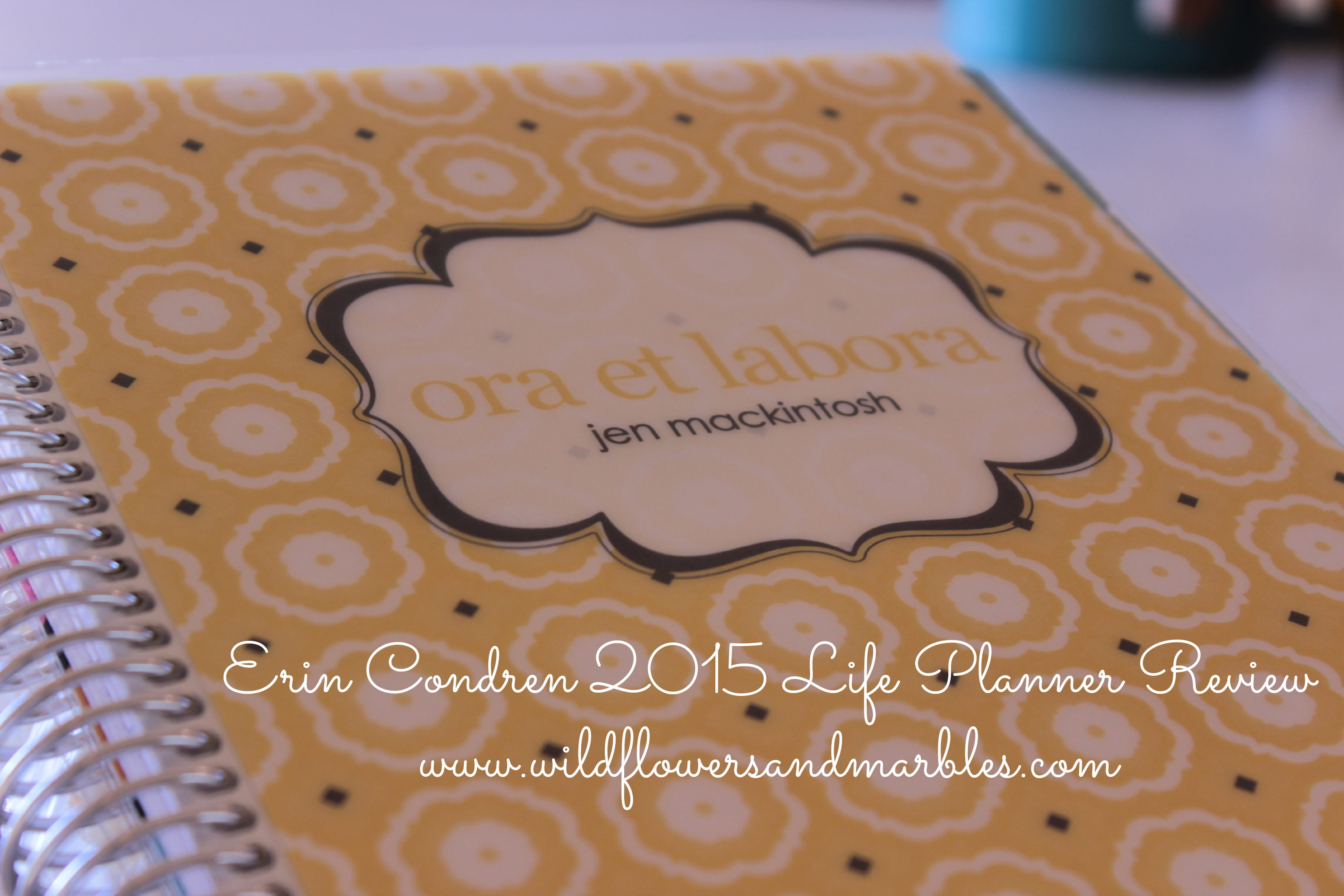 Hello friends!  How has your week been so far?  Mine seems to move along nicely…until it doesn't.  😉  You know that kind of week, don't you?  The one that involves a day of picking up a meat order….across town…by 8:00 am, then sprinting to the dentist, and then charging off to buy clothing for the 14 year old eating machine growing boy that has apparently outgrown pants again…those new ones that I just bought 2 months ago (you know…the ones that now fit like capris…yeah….all five of those pants).  And then getting home and schlepping in all the stuff that my van burps up…while finding the toddler playing happily in a basket full of her big sister's DIRTY laundry (ew!!!) the children play happily in some safe corner of my home…and then finally getting everyone settled for lunch only to discover a pin-hole leak in the bottom of the last clean sippy cup.  So…yeah.  That kind of week.  The kind that has you contemplating your wine options at 11:00 am!  🙂
Determined to be sure to stick with a little more routine today, I sat down to consult my planner this morning, and I remembered that I hadn't shared it with you yet!  (Although, you just got a pretty realistic glimpse of my day Monday!)  You do remember last year's post where I reviewed my first Erin Condren life planner, right?  When I gushed and gushed about discovering this planner?  Well, I used every little corner of that planner last year, so I was eager to start another this year.  I've been using my new planner since October of 2014, and I love it and find this particular planner to be so intuitive and useable…and pretty!  So, I thought I'd share a few thoughts on my 2015 planner…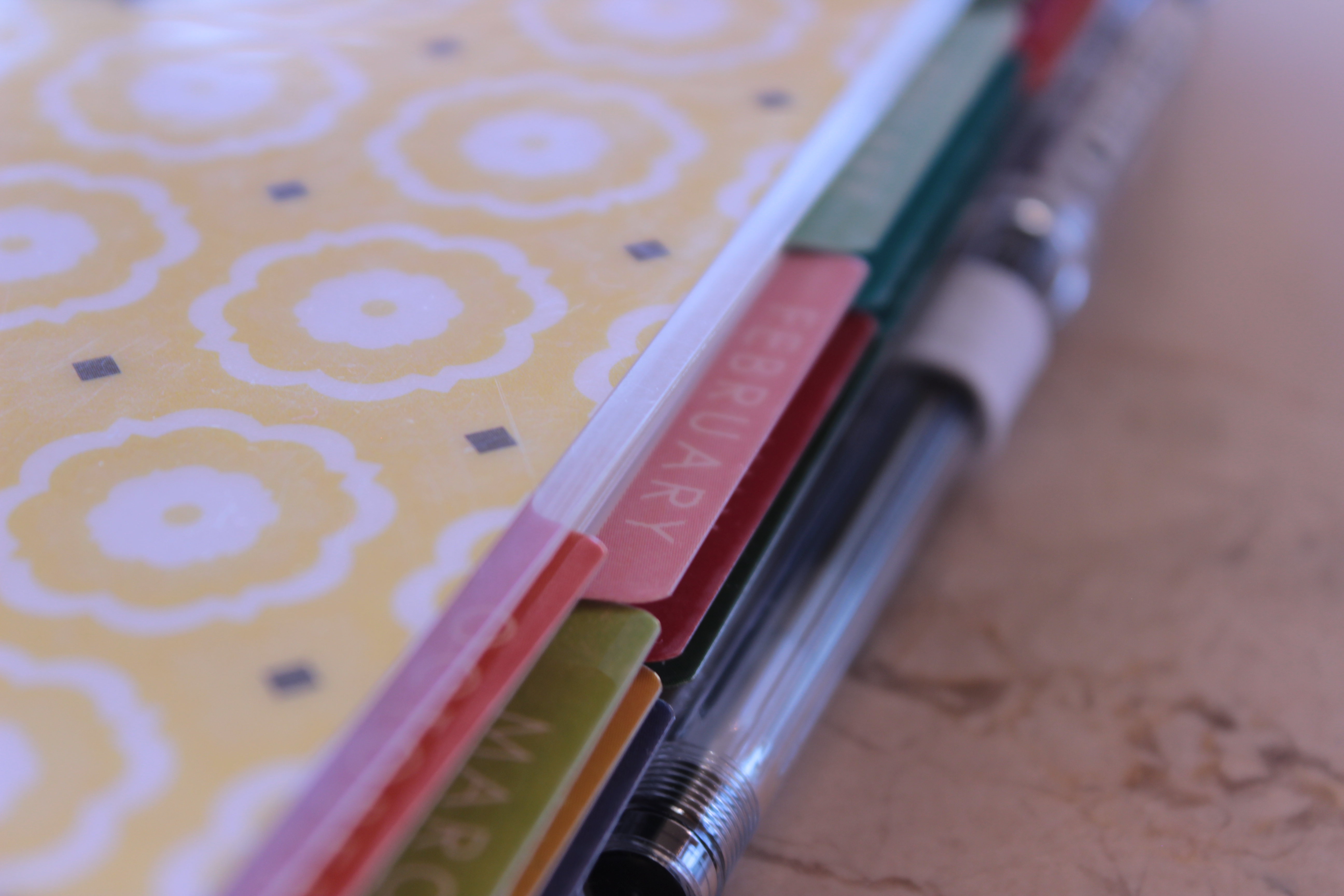 Some of the features of the planner are exactly the same because they just work – the page layout, the laminated tabs – but there are a few new features that I just love so I thought I'd tell you a little about those in my review today.  And there are a few features that have always been available that I'm really just figuring out how to make the most out of…so I'm going to share a bit about those, too.
---
Removable planner covers
---
 I admit it – when I heard about this new feature I was VERY skeptical.  After all, one of the things I loved so much about the Erin Condren planner to begin with was how durable the laminated covers were.  How in the world could the covers remain rigid and durable, while also being able to "unzip" a cover from the coil?  And…really…would the cover stay in place…in my bag, on my desk, sliding around in my piles of stuff as I plan?  Or would it be flimsy and constantly unzip itself?
And after several months of use – day in and day out – the covers are still durable and the same thickness as the old planner covers, and they are indeed completely removable, and I don't know how they did it – but they stay put!  Until you're ready to pull them off and change them out!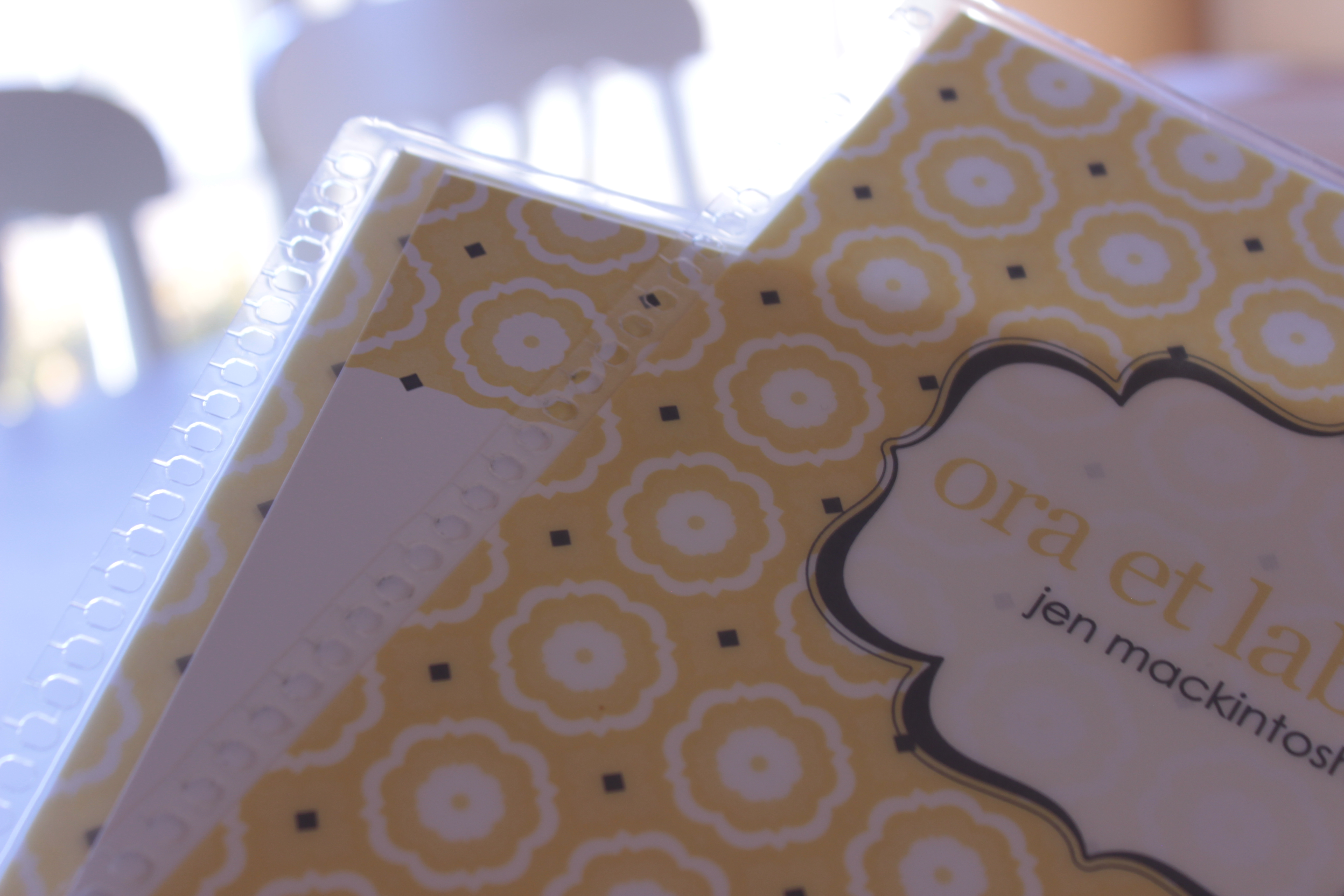 Because sometimes….we might want a little change, am I right?  A different look with the different seasons!
The interchangeable cover sets are sold as a front and back cover that match, and as always, you can customize to your heart's content!  Make sure you watch the video that details just how to exchange your covers!
My sunny yellow cover is:
mod morocco, primary color: butter, accent color: gray.  I didn't want my name to be front and center, so I chose "ora et labora" – my focus for the year (pray and work).  I love how this cover set looks!  It's cheery, but a nice reminder that my days should be anchored in prayer and all about the work of being a wife and mommy!  I can't think of a better planner motto!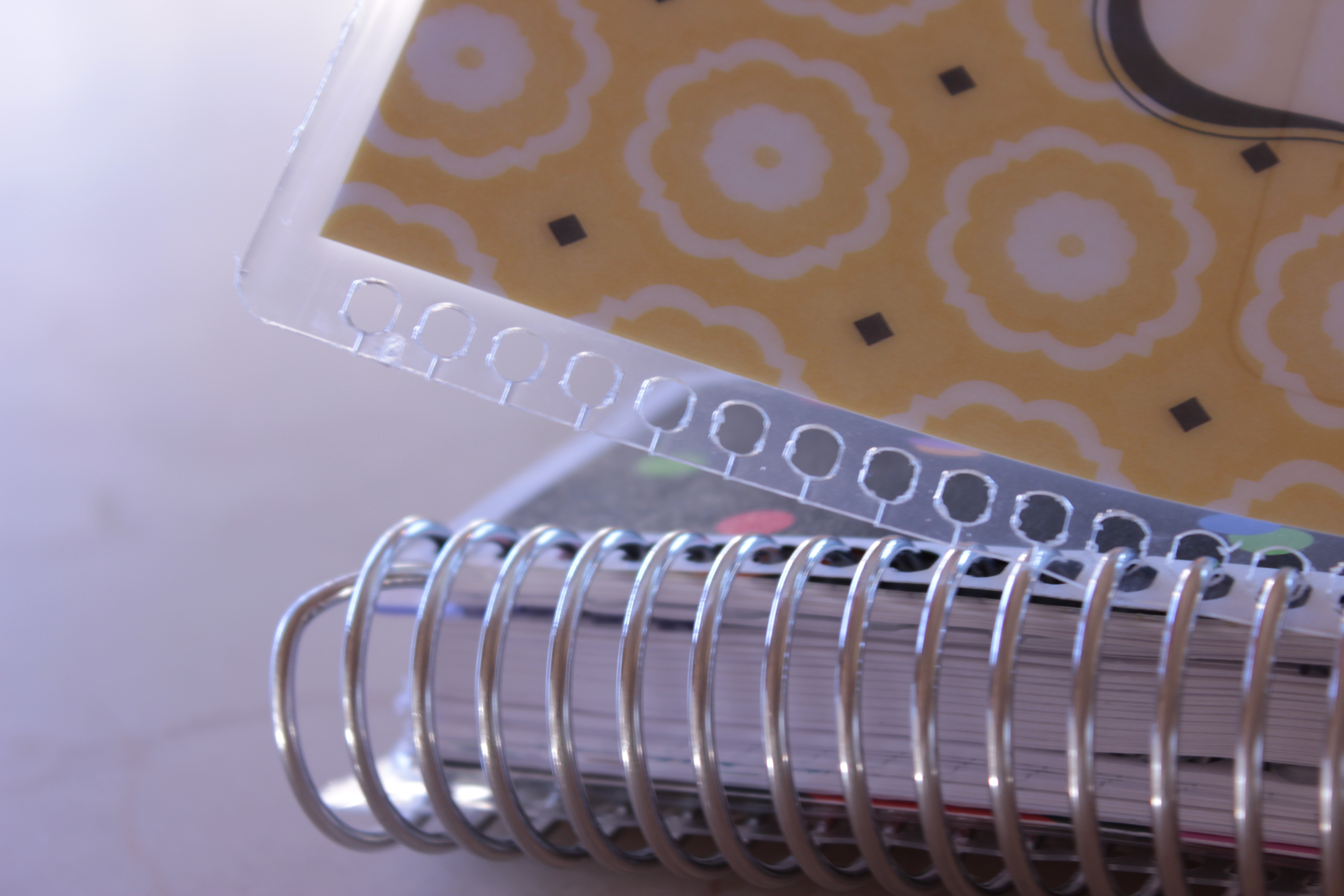 …and…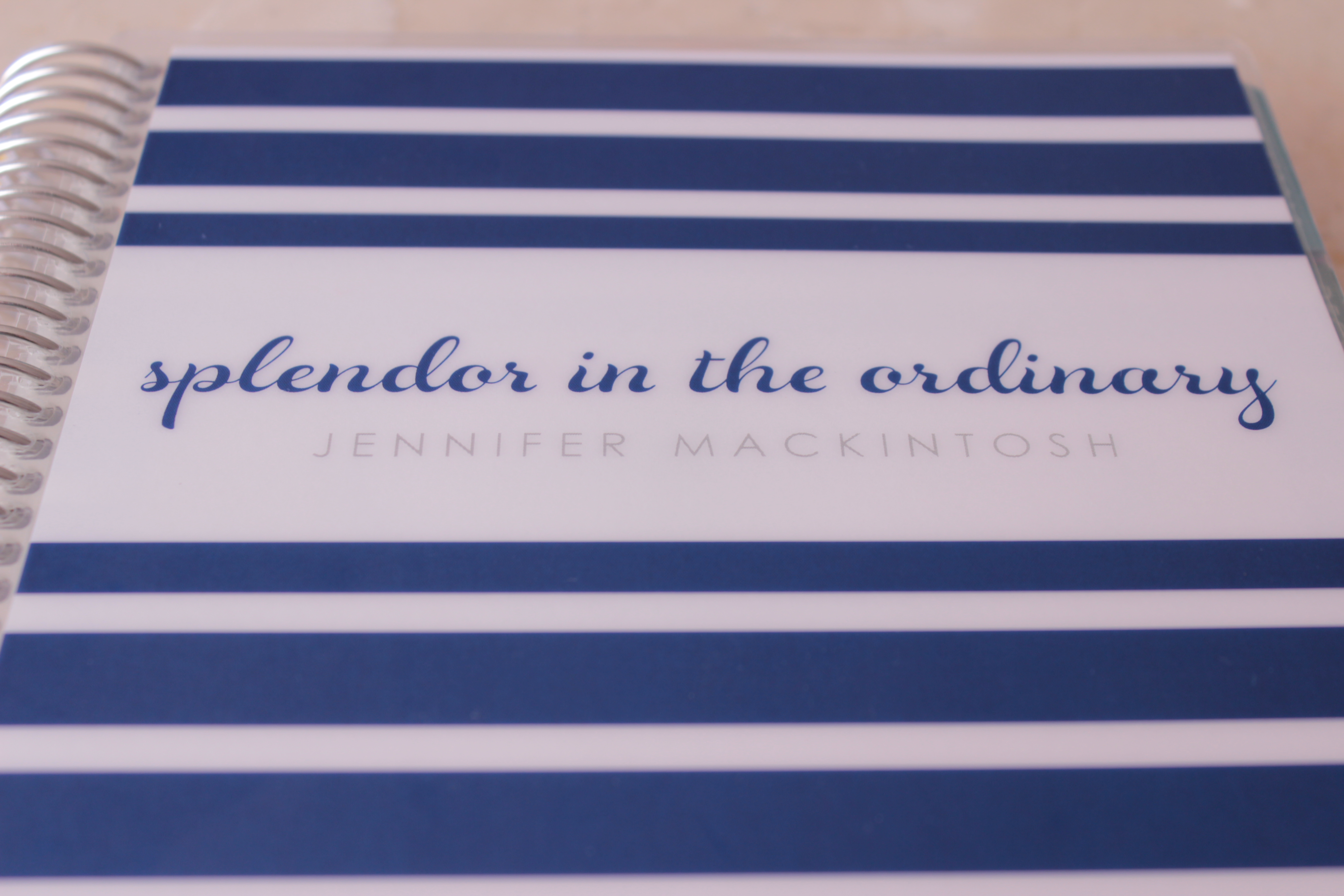 My navy cover is:
taffy stripes, custom colorway: all navy stripes.  Top line font: I requested the script font used in this planner.  I've long believed that there is great splendor and beauty within the ordinary parts of my day.  Sometimes it helps to have that reminder…because…you know those days…the ones you've gotta fake it til you make it??  Yeah.  Those.  I need to be reminded that there's beauty in there.  And, what can I say – I'm loving navy this year.  Navy and coral.  Navy and mint.  Navy and gray.  Navy.  Navy.  Navy.  I'll stop now.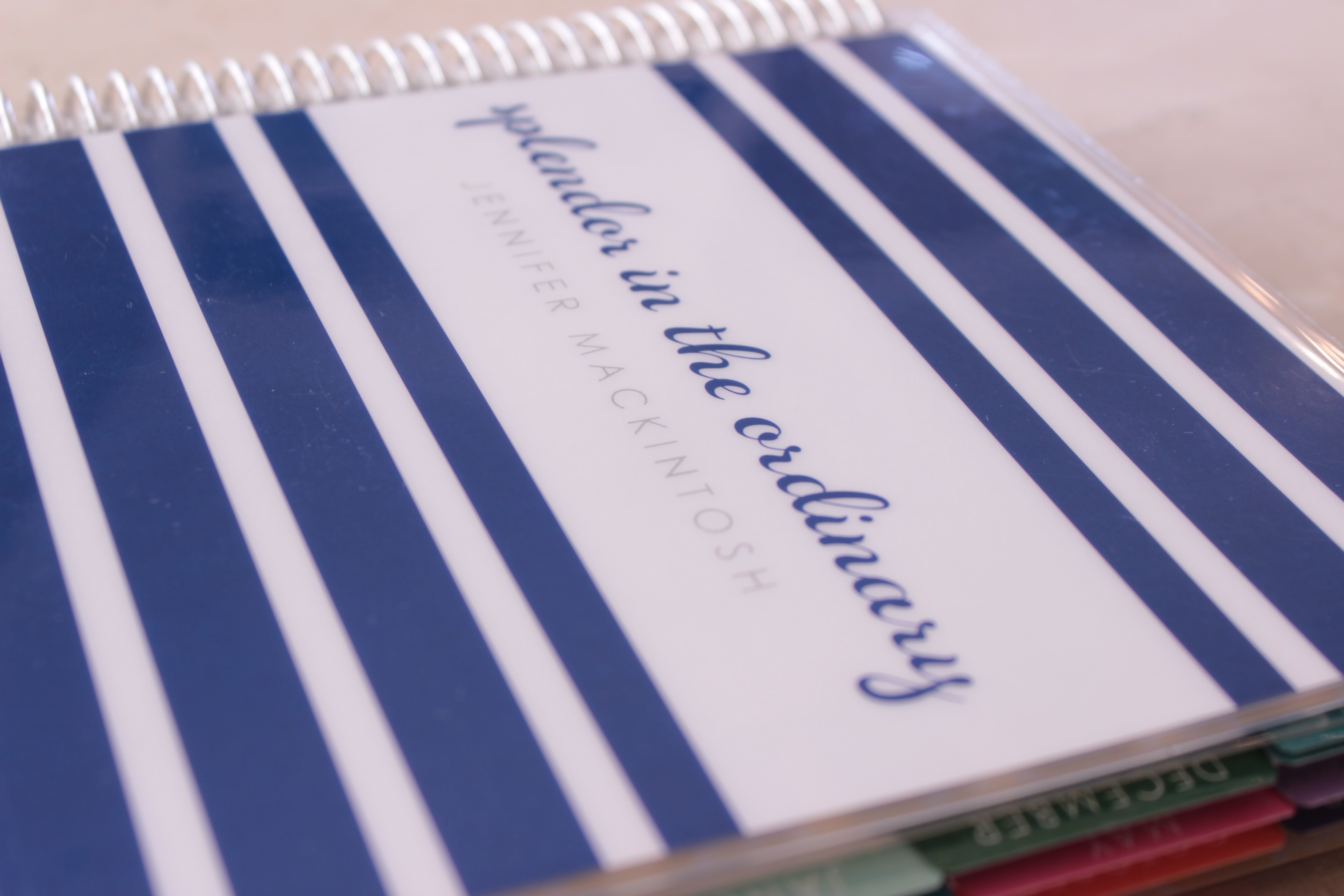 The interchangeable covers are probably my favorite new feature for this year's planner!  I love the options for customizing, and as the year goes on…I might even grab myself a new cover or two!
---
Forget me not perpetual calendar
---

In last year's planner, at the very beginning, was a nice section for recording birthdays, anniversaries, and repeating annual events that you might need to reference throughout the year.  I really enjoyed this section because I could keep everyone's Baptismal day, birthday, etc…all in the same place for me to refer to easily.  This year, instead of a section of the planner reserved for this information, there's now this very handy little booklet that can slide in and out of the pocket in the back of the planner.  It contains the same format for recording events, but now in a handy pull-out booklet so you can have it open as you plan your month…and at the end of the year…you can just pull it out of your current planner, and pop it right into your new planner!   Very handy!
---
Stickers
---
The customizable event stickers aren't new this year, but I did decide to try them for the first time, and I love having stickers that are customized for me!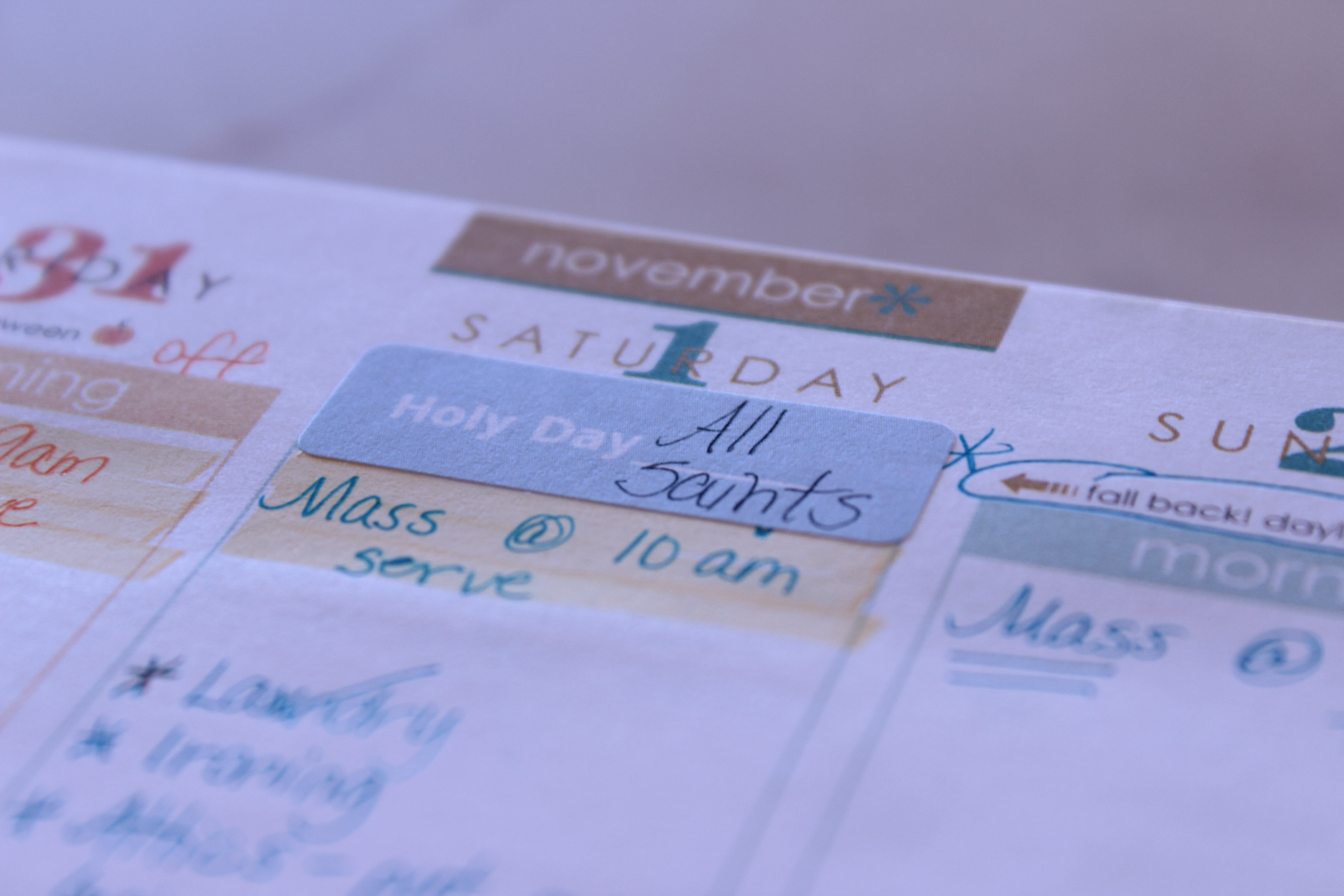 I had one sheet of stickers customized just for the purpose of adding more liturgical year reminders to my calendar.  Each personalized sheet is just $5.00, and I really like adding these liturgical year stickers throughout my calendar.  Not only can you customize the text, but the color, which is wonderful for the liturgical year!  I'm already thinking of more customized stickers I could add.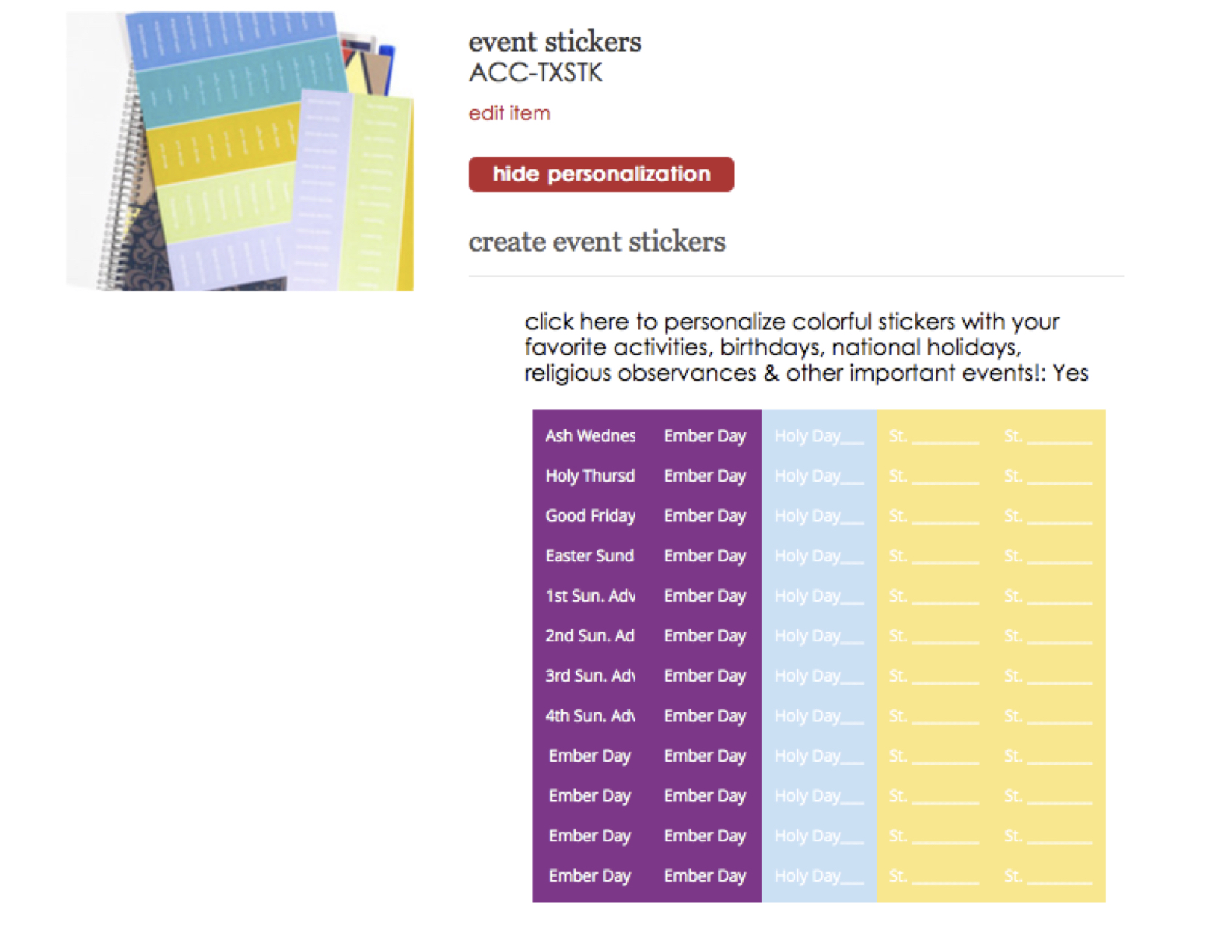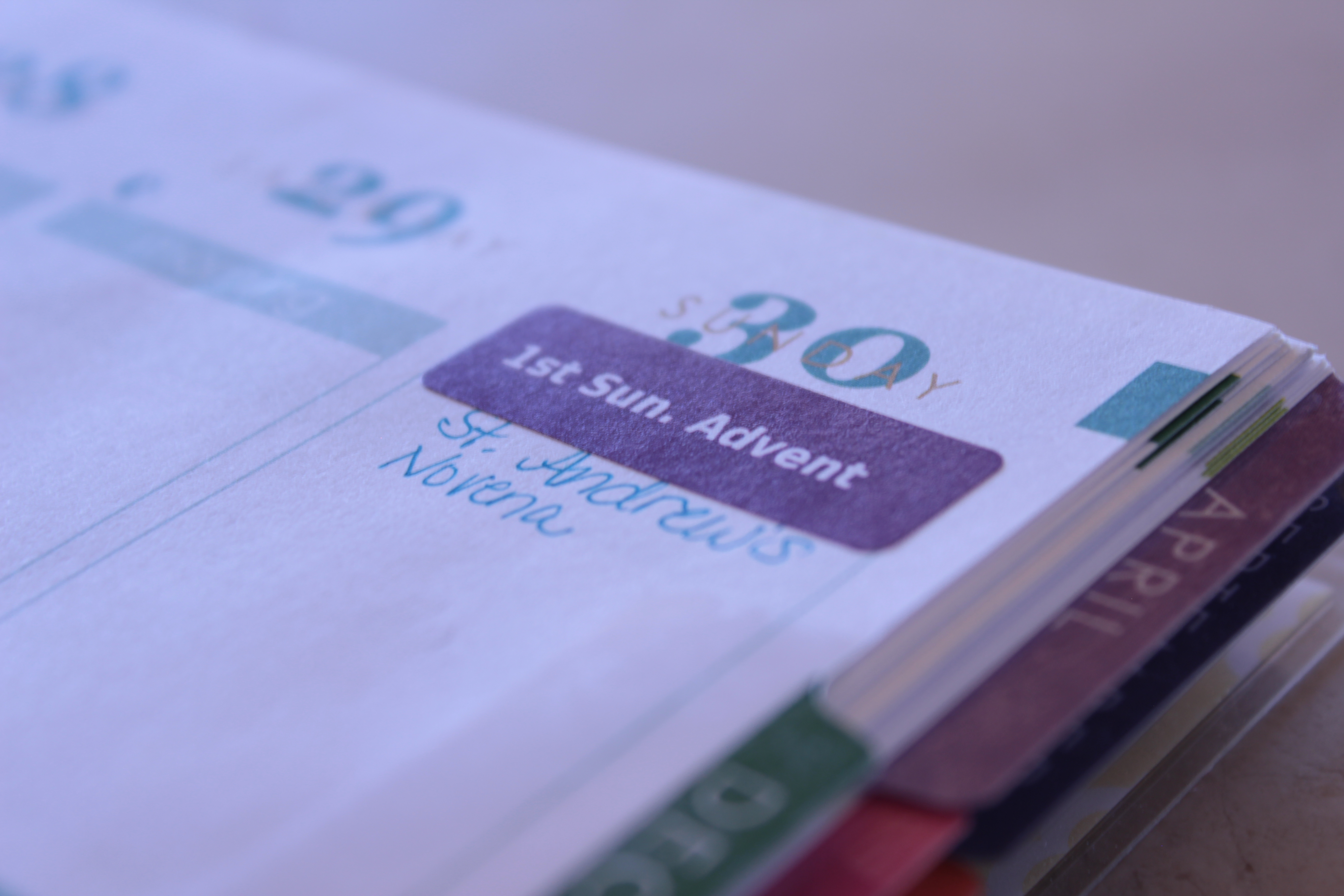 With each planner you receive a set of pre-printed stickers along with some blank stickers.  I used a lot of my blank stickers to help me stay organized while we were under construction.  I kept up with chores that were construction related, or noted upcoming construction events.  These were really a huge help for me for the 8 weeks we were under construction.

And my planner was our lifeline while we were under construction!  I honestly cannot imagine that we could have kept our collective heads above water without some system for staying organized – what they were doing…what we weren't going to be able to do….and for how long!

---
Page layout and using the calendar
---
I thought I'd share a few snapshots of pages…just to give you an idea of how I use my planner.  Some people really enjoy journaling in their planner and theirs is so lovely and filled.  I use my planner almost exclusively for organizing and keeping up with the stuff we've got going on.  I keep goals and lists here, along with my menu plans.
Here is a full 2-page spread from December.  We were "moving back in" at that time….AND….also keeping up with homeschool lessons for a 1st grader, 4th grader, and 8th grader.  I accomplished this by stacking my mornings.  I called them "bionic mornings" because I'd get up early and jump on my list and stay focused until lunch.  Then, after lunch, we'd have our lessons. I set up my lesson plans to accommodate our full days so that the kids weren't overwhelmed, and it worked great!  (If you see a line through an item on my list that means I actually got it done – yay me!)

---
Coil Clips
---
I'm in love with the coil clips!  They're so inexpensive so do consider them if you're ordering your planner!  Simple premise: each coil clip has an adhesive backing that will stick on anything — doctor's appointment card, coupon that will work on a certain date and you don't want to forget.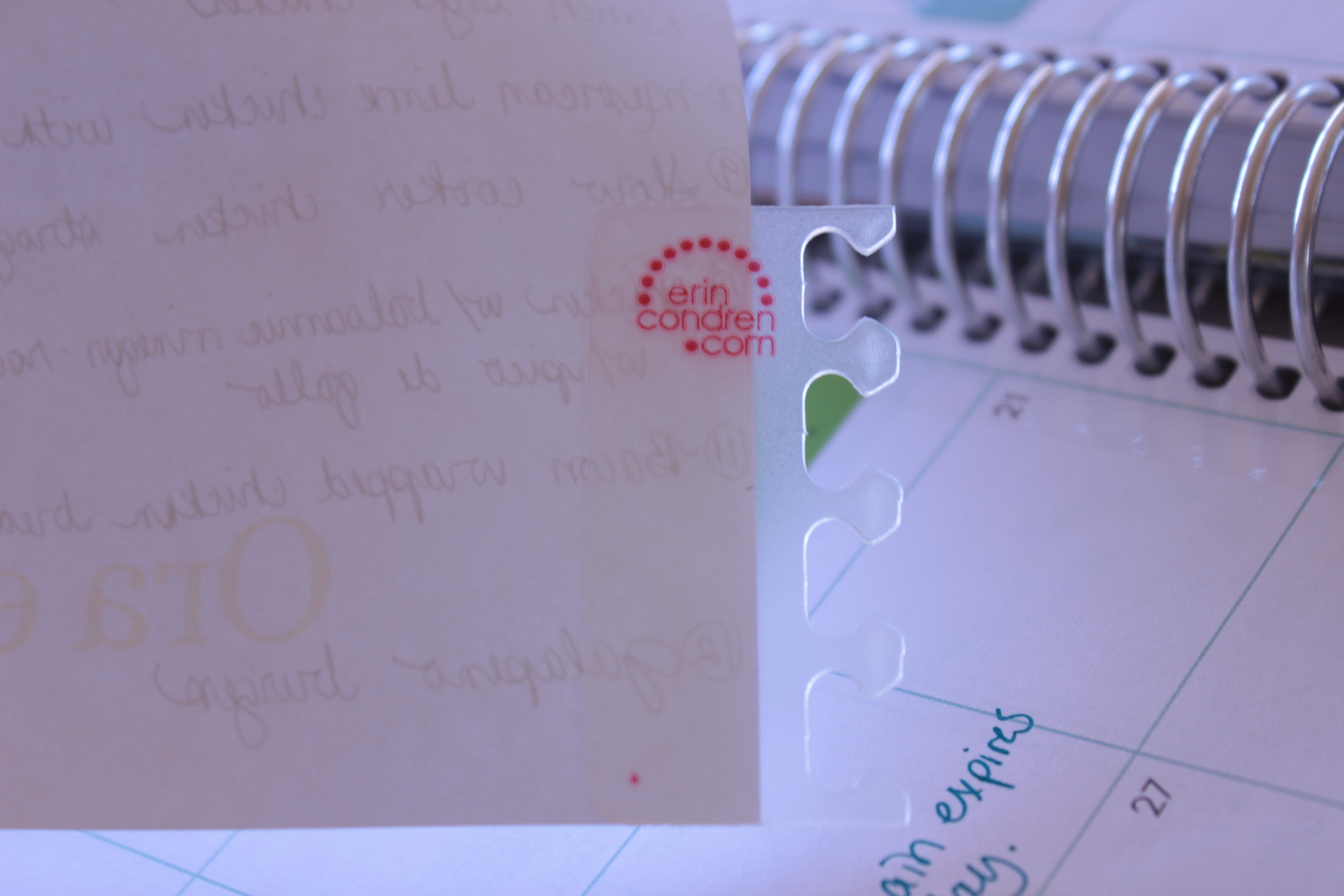 This is just one of the ways I use the coil clips: I work on a seasonal menu each season, and I like to move it around in my planner so that I can find it easily when I'm planning menus.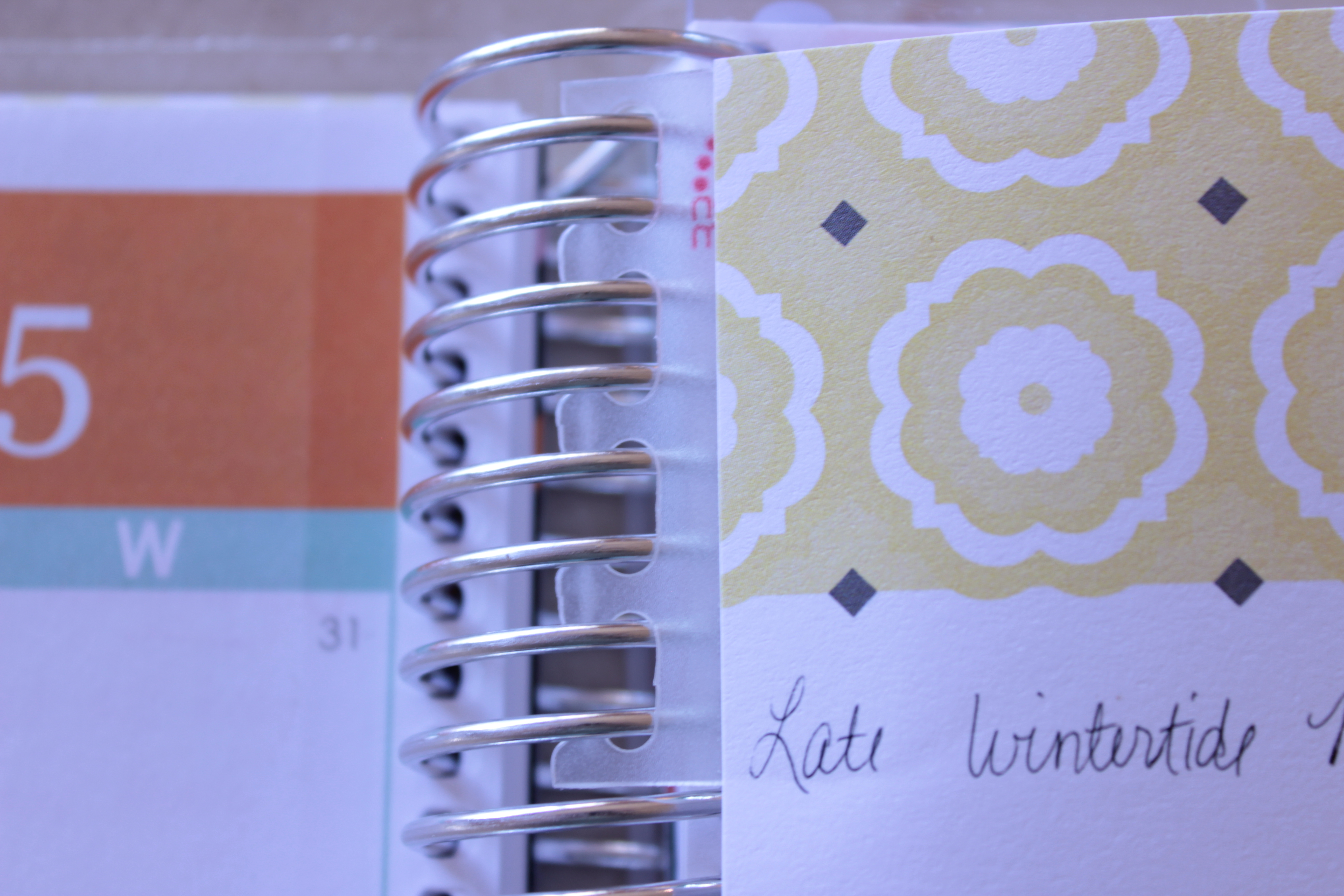 I apply two coil clips to my menu list and pop it right into the monthly layout each month.  I know exactly where it is when I'm planning, and I can pull it out to view it more easily as I plan menus each week.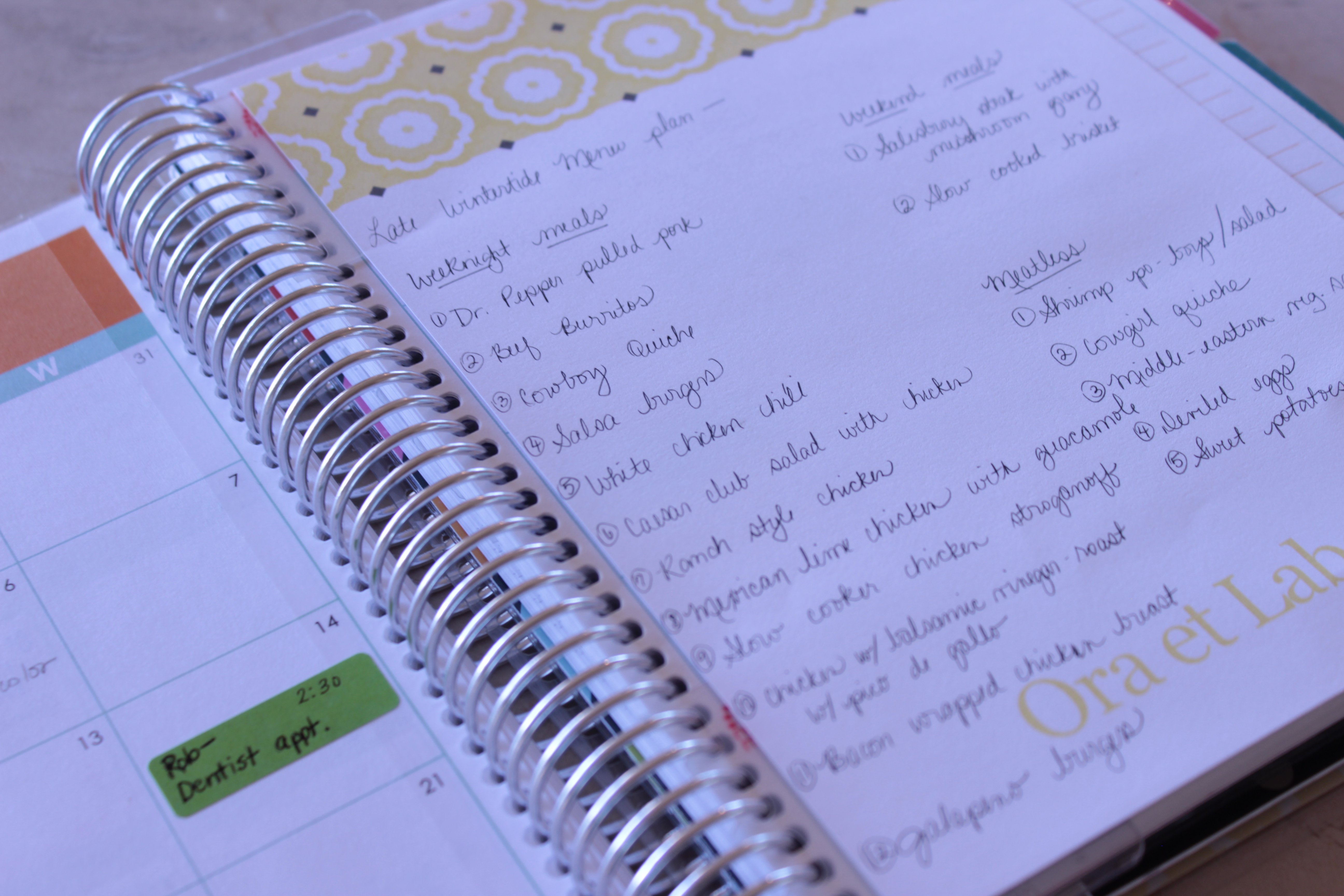 ---
Clear snap-in ruler
---
The snap-in ruler is clear with this year's planner!  Very cheery and doesn't obstruct your vision of the opposite side of your planner.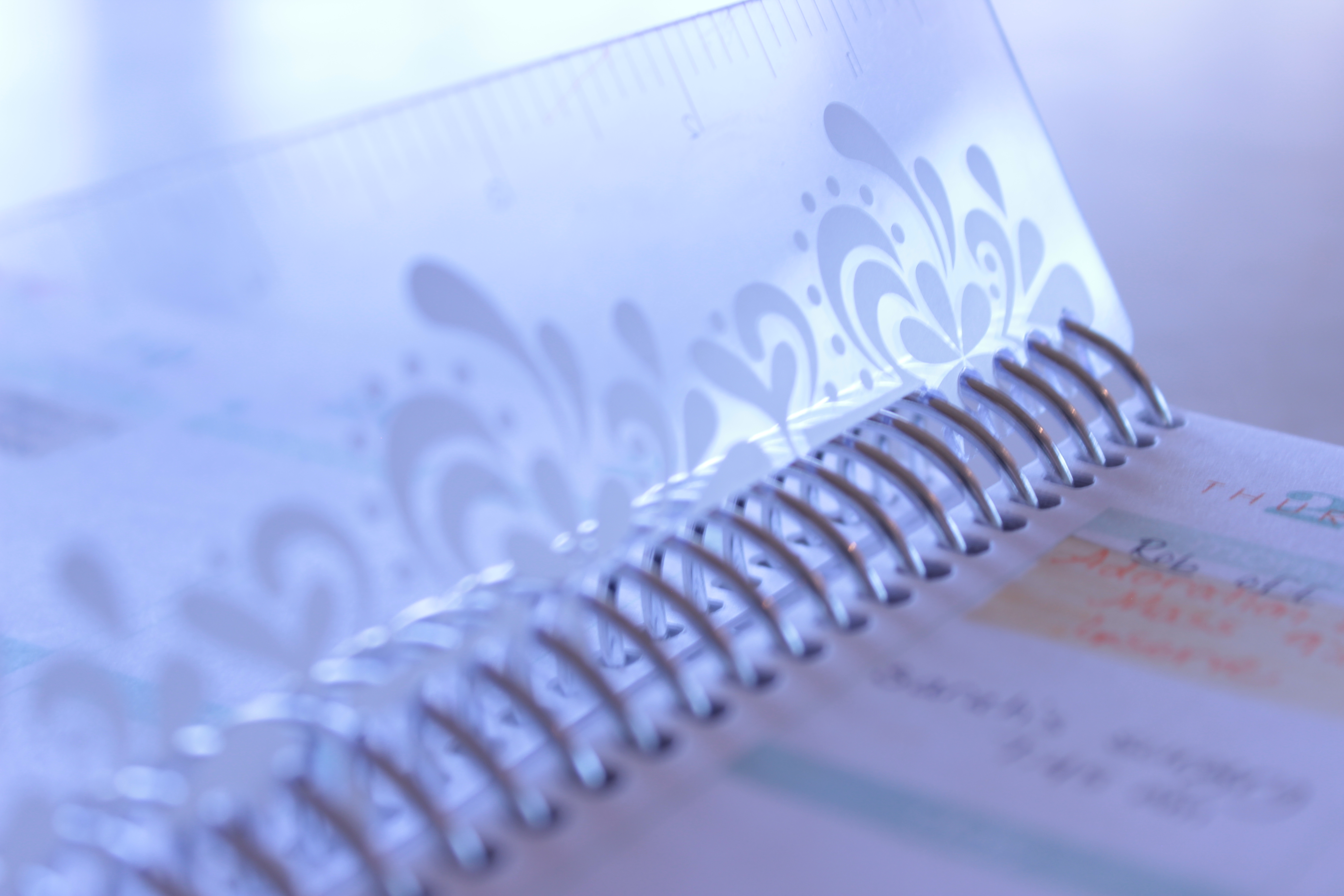 ---
The carry-all clutch
---
I was really excited to try the new carry-all clutch because I'm always dropping my planner in my bag for the day and I loved the idea of a little protection for my planner – to contain it (and a few pens/planning supplies) while I'm out and about.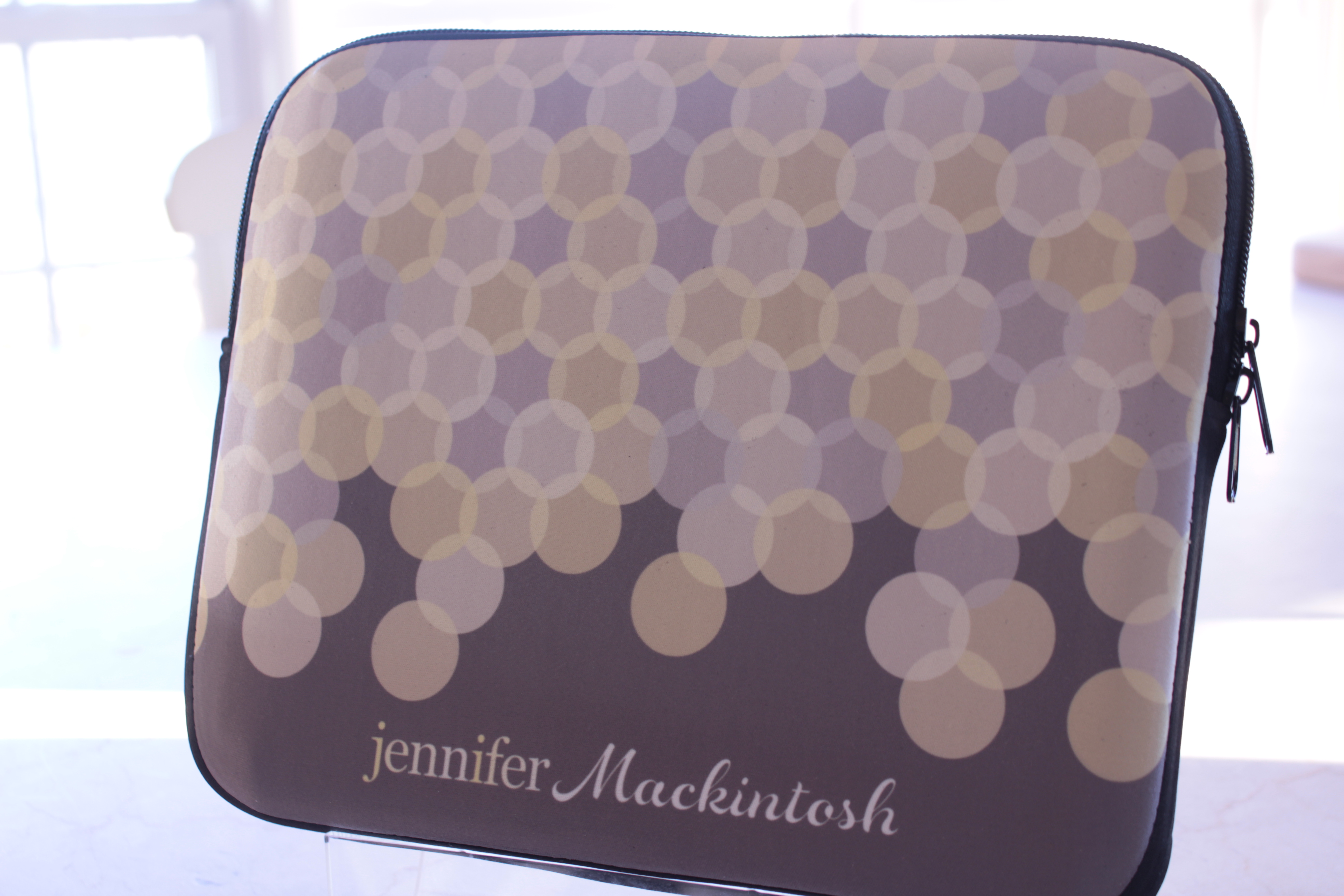 The carry all clutch is made of a really soft, but extremely malleable neoprene.  It's protective, but not bulky, and it's soft as your planner slides in and out of your bag.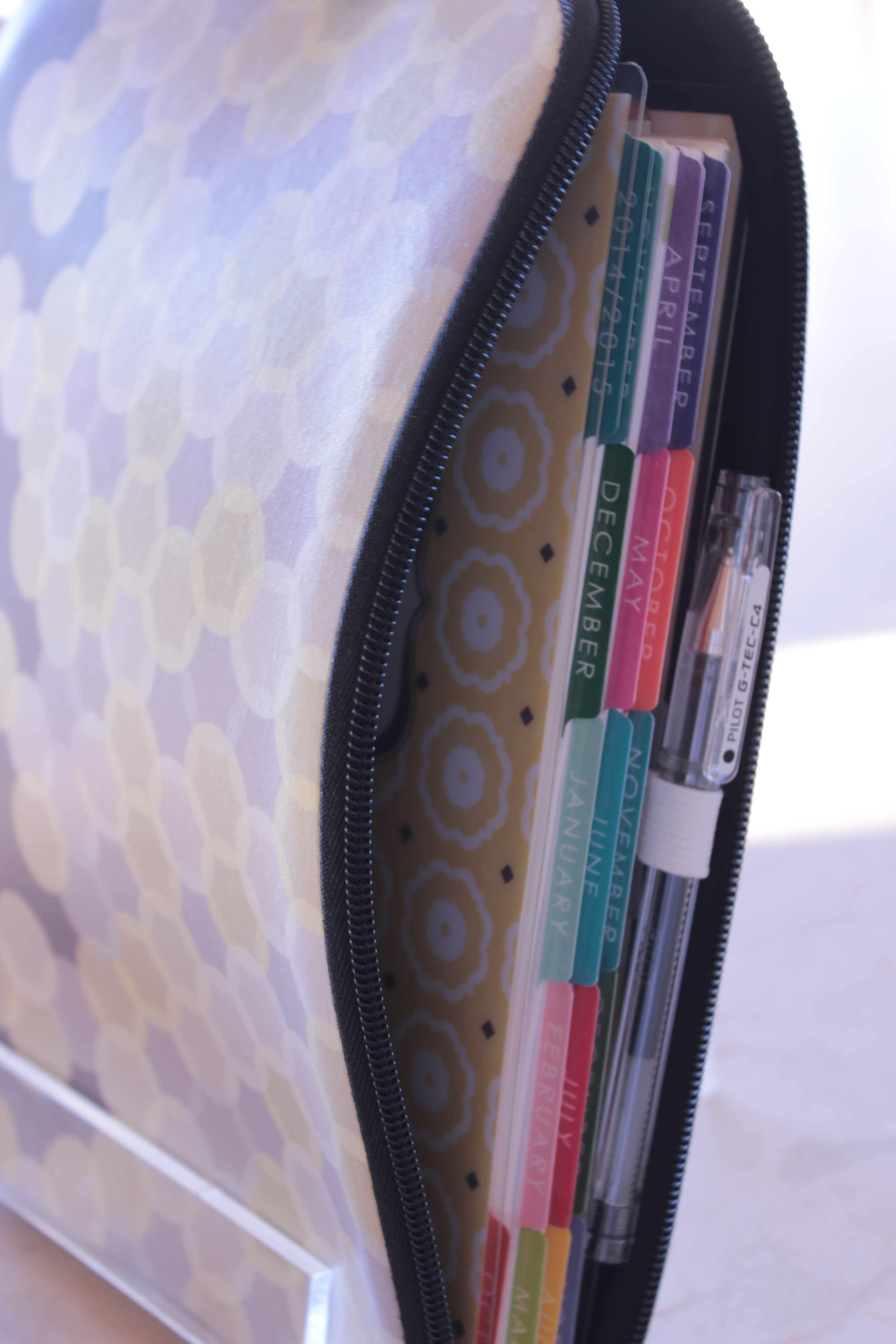 I love how the clutch fits the planner and will also hold pens, your iPad, another small book or some papers (like recipe cards if you're planning a menu).  My clutch is sequins with a 3 gradients of the color: butter.
---
A coupon code for you!
---
 So, there you have it!  This planner is just a workhorse for me!  It keeps all my loose ends tied together!  If you're considering an Erin Condren planner and you've never ordered one before, and you're just not sure if this is a good investment of your family dollar, read my first review to help look through more of the details of this planner.  Then, if you decide this is a good investment for you – you should definitely….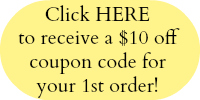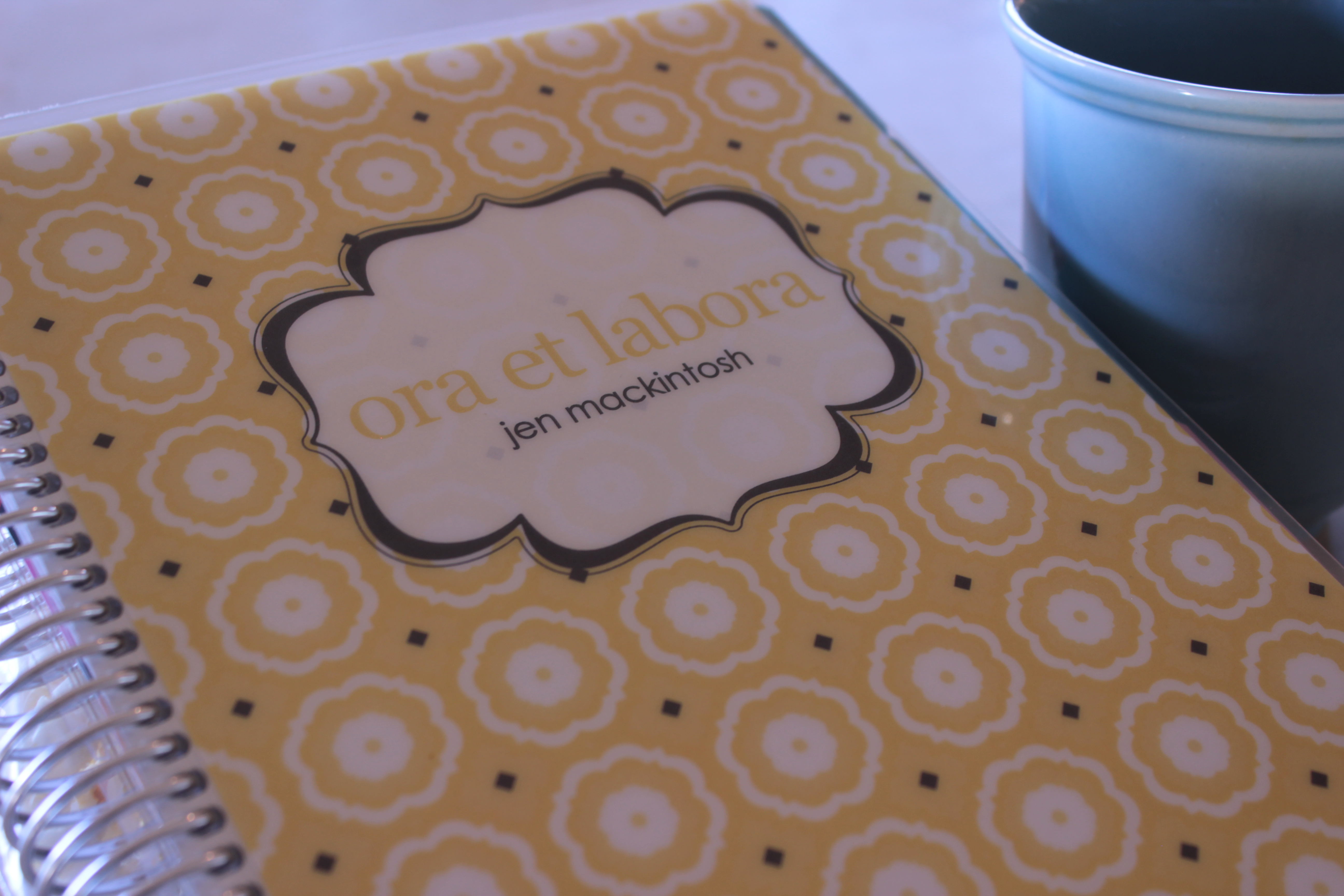 Happy planning everyone!  I'd love to know how you use your Erin Condren planner!!!  Really!  I love finding other ideas to make this planner useful!  And, I'd love to offer an Erin Condren gift card giveaway – would you be interested?  Leave me a note and if there's some interest I'll see what I can do to set it up!