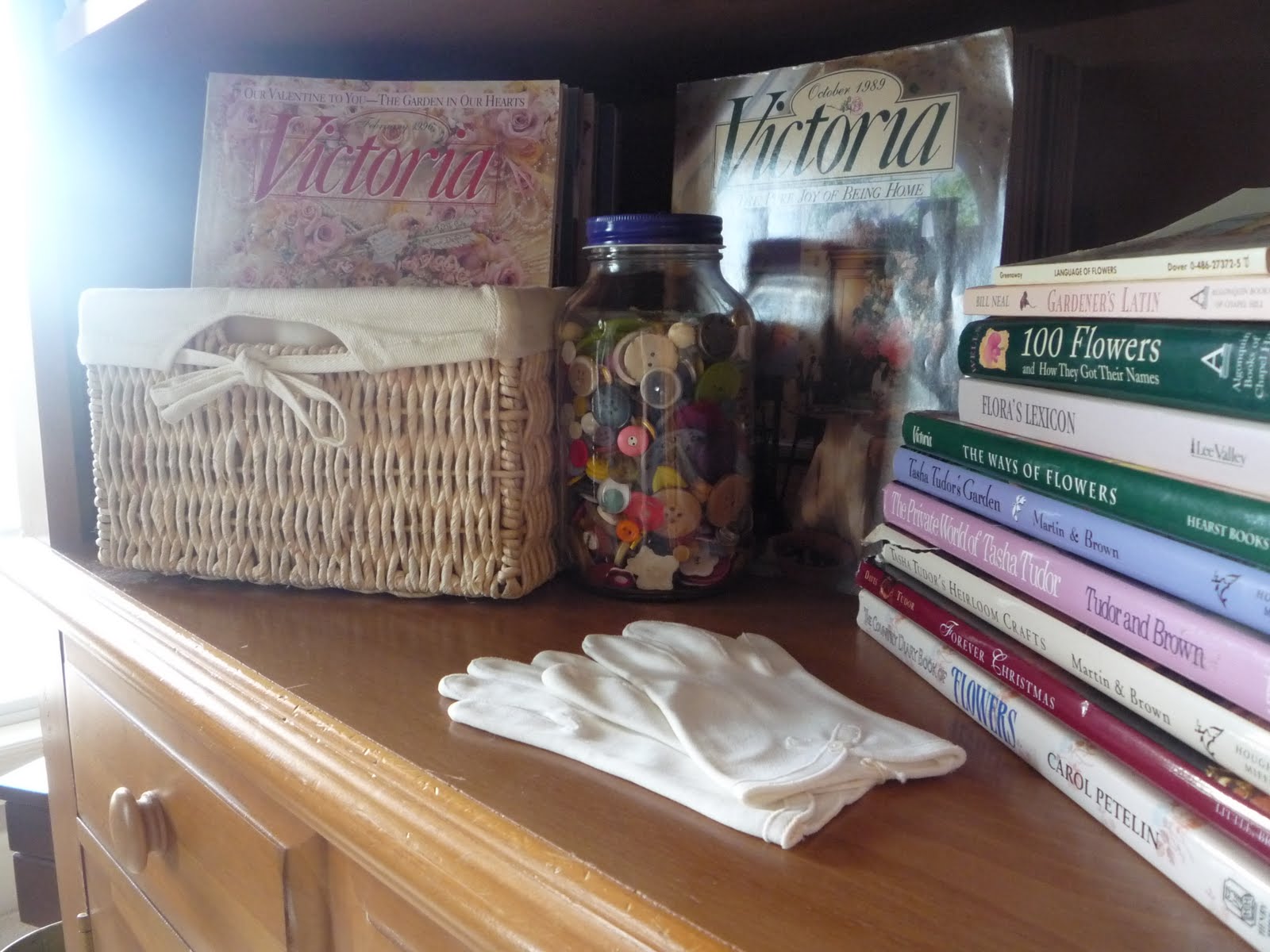 You know, some days I need to take time to linger over a sunny little vignette a little longer than other days.  Some days I need to ground myself in something simple.  Something real.  A little place tucked away.  I carved out this little bit of shelf space for myself several months ago, and I quite enjoy it.  Walking past it makes me smile, and I hope to find a vintage chair, comfortable and full of echoes of the past, to place in this sunny spot so that I can sit and visit here a little longer.
Pictured is a dear collection of old Victoria Magazines that an even dearer friend gifted me.  The collection is a treasure.  I have copies of the magazine from as far back as 1989.  That's the year I graduated from high school, dear readers!  The collection includes most of the 90's, and is full of images that evoke feelings of warmth, hospitality, and femininity.
My daughter recently gathered all of our buttons in an old jar, and since this brought her so much joy, and the collection was so cheery, it simply had to go on my sunny shelf.  Some of the buttons in that jar are from my Granny's collection.  Living through the depression, she wasted nothing.  Nothing.  There are buttons here that are from children's dresses, and old shirts.  This brings me great joy, just to think of the frugality, and the time spent…saving buttons.
The rest of the books are my treasured books on flowers, gardening, and home simplicity!  As you can see, I have quite a grouping, and though there are more on the shelf above, the collection on this shelf never fails to bring a smile and inspire a corner of my imagination.
The white gloves are a vintage pair that my sister gave to my oldest daughter.  They were too small for wearing, so I tucked them into this little vignette.  Just for a touch of whimsy…and because they're just too pretty to be tucked away.
You know, a sunny shelf can be anywhere…in a kitchen, tucked away at the end of a long hallway, outside on the porch.  No matter the size of our homes, or the decor within, I think everyone might have a little space carved out for just such a collection of small treasures, old or new, not terribly pretentious, but rather practical and pretty all at once.
May the sunshine dancing across your spaces bring you great joy!
Where is your sunny shelf?