St. Martha's Apron Strings – Part 8, Handwork of All Sorts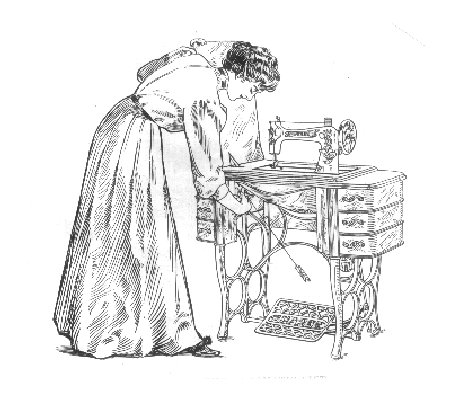 As persons made in the image of God, the desire to create is imprinted on our very souls. We all, in some way need to create. A young lady in preparing herself in the domestic arts has many skills to take in. This post is really just to be a collection of links in order to follow some trails and gather books along the way that may help a young lady in the area of handworks.
We'll be reading from the Mary Frances Collection – The Mary Frances Sewing Book and The Mary Frances Knitting and Crocheting Book – as we start our study of handworks. Both of these charming books would stand alone all by themselves if need be. Each Mary Frances book is more of a story than an instructional manual, but woven in throughout are lessons. Included in the Sewing Book are a set of patterns for a complete wardrobe for a 16″ doll. The knitting and crocheting book include instructions for many doll items with further lessons for real person size items. Simply charming throughout!

Sewing with St. Anne – another cherished book by the lovely Alice Cantrell. Alice gently leads the young lady from project to project introducing basic sewing skills along the way.
Lessons include:
**Threading the Needle
**The Running Stitch
**Sewing a Seam
**Stitching with a Single Thread
**Basting
**Backstitching
**Overcast Seam Finish
**Hemming
**Ripping Out Stitches
**Gathering
**Basic Embroidery Stitches
**Sewing with a Machine.
There are several jewels thrown in throughout the pages – Pins and Needles, The Chatelaine, Saint Anne's Sewing Circles, The Hope Chest, A Bit about the Humble Apron, What is a Natural Fiber, A History of Quilting.
Also included are a number of simple to make projects for the aspiring seamstress including patterns:
Homemaking Projects…
**Choosing and Preparing Fabric
**Pinchushion
**Needle Book
**Pretty Hand Towel
**Cloth Napkins
**Eyelet Pillowcase
**Pot Holder
**Apron
**Home Altar Cloths
**Lap Quilt
Gift Projects…
**Scented Sachets
**Hair Scrunchie
**Mary's Mantle
**Jar Lid Cover
**Baby Blanket
**Baby Bib
**Fabric Gift Bag
Alice's book is my favorite sewing book for young ladies, and I highly recommend it!
See and Sew, A Sewing Book for Children by Tina Davis is another favorite sewing book . This book is similar in design to Look and Cook and Sow and Grow – also by Tina Davis. All three are positively charming with vintage illlustrations throughout.
A little more detail about See and Sew. The Chapters of Instruction include:
**Getting Ready to Sew
**Sewing Safely
**How to Begin
**Basic Sewing Stitches
**Basic Embroidery Stitches
**How to Sew on a Button
**Finishes and Trims
Sewing Projects included:
**Drawstring Bag
**Strawberry Pot Holder
**Egg Cozy
**Elf Slippers
**Frog Pin Cushion
**Baby's Bib
**Sock Doll
**Felt Cap and Mittens
**Cat Purse
**Easy Apron
**Sewing Cards
**Pom Pom
**Tassel
**Monograms
There are many more handwork skills that could be taught to a young lady – knitting, crocheting, embroidery, cross stitch just to name a few. Great Yarns for the Close Knit Family would be a lovely book to add to your collection if you are a knitter. If you are able, by all means offer young ladies the benefit of your instruction. What a shame it would be if these quiet domestic arts would be lost and fall by the wayside.