Attic Clutter to Useful Spice-Rack
I love my kitchen. It is bright and cheery, pretty roomy too. I do have a gigantic pantry – the saving grace of the kitchen. However, it was not designed for a family that actually cooks! I think perhaps it was designed for the "reheat your leftovers from dinner out because you never eat at home together" family. Counterspace is virtually non-existent, and cupboard space is also quite limited. We've learned to make-do and adapt where we can. My husband bought and set up this great baking area for me which makes the kitchen completely useable.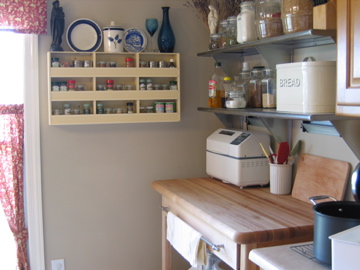 I've had a problem with spices for some time now though. They've been lining drawers and spread out all over the place. They weren't all together, nor were they easily accessible. When you cook most of your meals from scratch, you use A LOT of spices regularly!! I looked and looked for a spice rack that would work for us. It couldn't sit on the counter, as I mentioned I don't have any more available counter space. It couldn't live in the cabinets – no room there either. The only available space was the wall! Spice racks for the wall were either ugly, or way too expensive because I'd have to buy 4 or 5 to hold all of the spices I'd need to store.
I went mentally shopping through the attic – and in talking to mom one day, remembered a wooden cd rack I'd been storing up there since we'd moved in. It wasn't anything spectacular, but it was big enough. I brought it down and my handy husband went to work. First, the unit was painted a sunny cream color.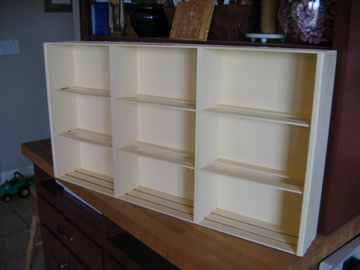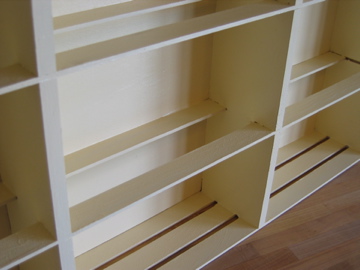 Then, Rob cut 12 floor pieces out to make a solid floor for the spices to stand on. We found 3 pieces of trim left over from a bookshelf Rob modified in the living room. We used the trim to hold the spices in the cabinet.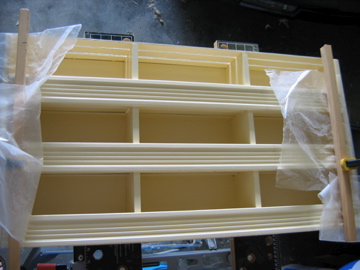 It's hung on the wall now next to my bake center in a very useful location. I decided to display my collection of "blues" on top because it was so striking against the creme.