Getting Organized for 2020 – Office Edition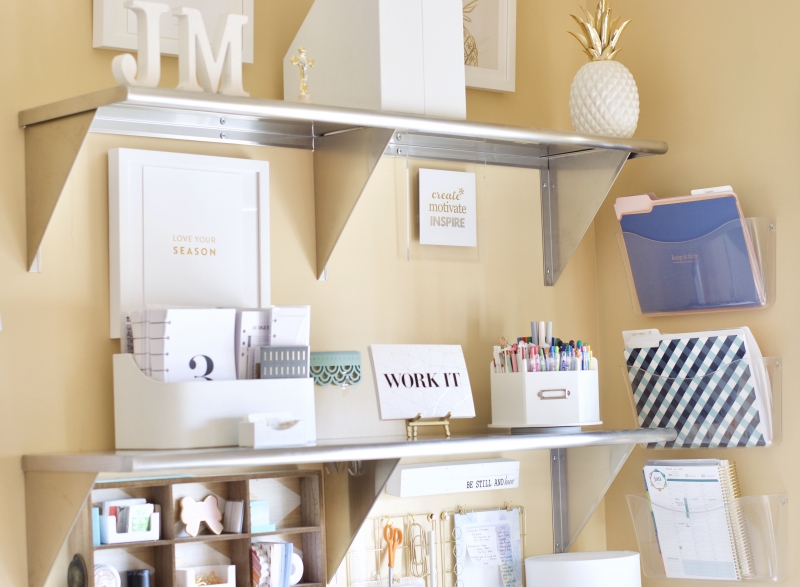 There is something about the beginning of a new year – it's so fresh and full of potential and the hope of new beginnings. It's an invigorating feeling! Each new year, I like to take a look at my organizing systems and note what's working and update where needed! I like refreshing my organizing systems regularly because life is never static – kids grow, seasons change, and my needs change, too. I love looking with fresh eyes at our home, our organization, and our systems, asking myself if these systems are working for us now, or if they need updating. I'd love to show you some of our organizational systems and tools that are rolling into 2020 with us! Some are new and some are favorites that are serving well!
We'll start in my home office and schoolroom with a little detour into my bag! And I'll follow up with other organizational systems in the rest of the house in future posts!
Full Disclosure: I did my best to link products for you in case something here might be useful to you. Some (not all) of these links are affiliate links. They cost you nothing, but I may earn a small commission from your purchase. For that I am very grateful!
The Keyper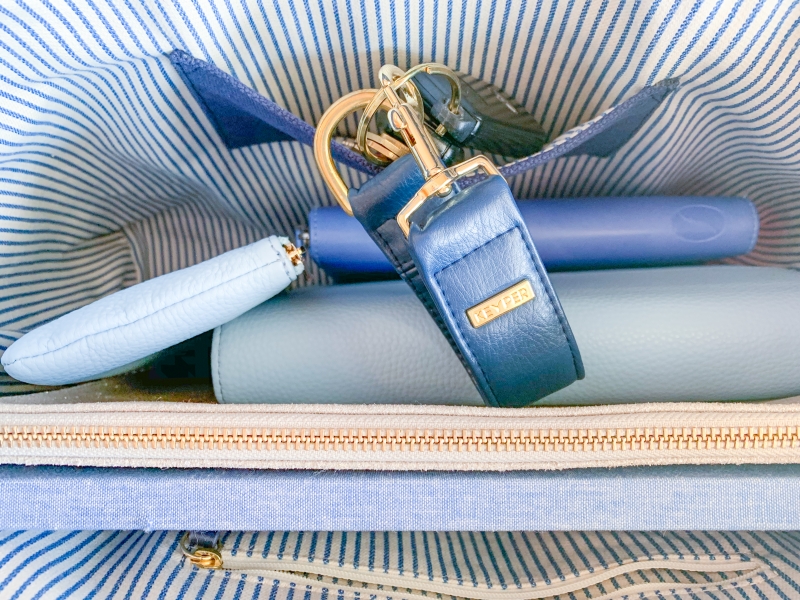 I don't know about you, but I am always short at least one hand when I'm out and about! When I discovered the keyper I fell in love! The first, and most obvious benefit is that it forms a bracelet that slides easily over your wrist so your keys aren't the *one-thing-too-many* that you have to keep up with in the parking lot while grabbing for little people and grocery carts! And that was my initial reason for purchasing the keyper, but then I fell in love with its other features! It will clip and unclip to attach to my bag, my cart, my luggage when I'm traveling, or my wallet if I'm running in with minimal items! And it holds 20 lbs!! The color choices are vibrant so that it's easy to find the keyper in the recesses of my bag! It can't give you that extra hand you need, but the keyper has solved a big problem for me in terms of organization and functionality when I'm on the go!
Erin Condren Wall Organization System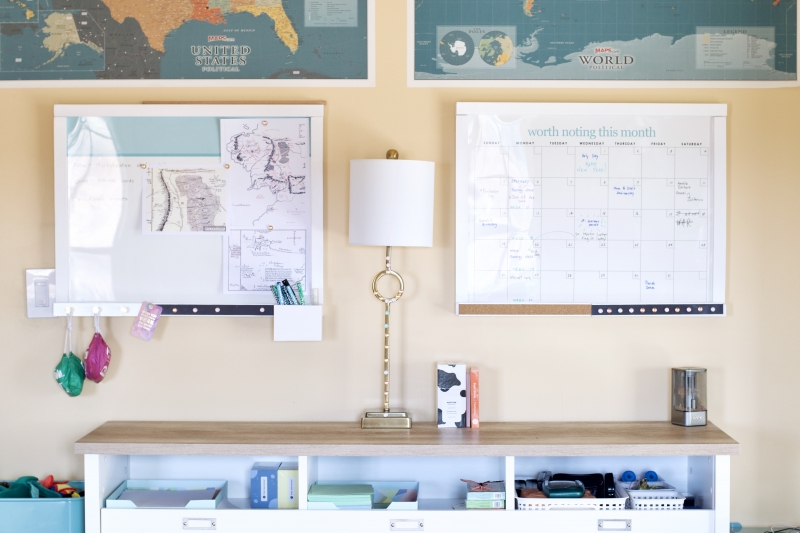 The new Erin Condren wall organization system launched last year and I have fully embraced it as an organizational feature in my home! (Y'all already know how much value I place in having my walls work for me!)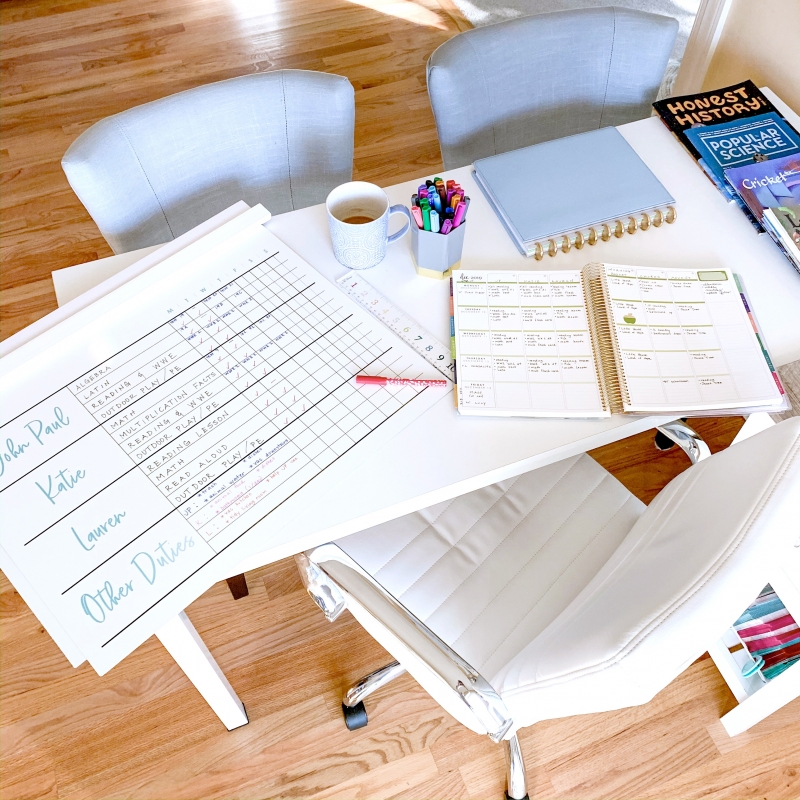 The unique feature about this system is that the frame attaches to the wall but the board itself lifts out, making it oh-so-easy to add things to the board (rather than trying to write while the board hangs on the wall, which is fine and can be done, but when adding lots of text, it's much easier when it's laying flat on a table!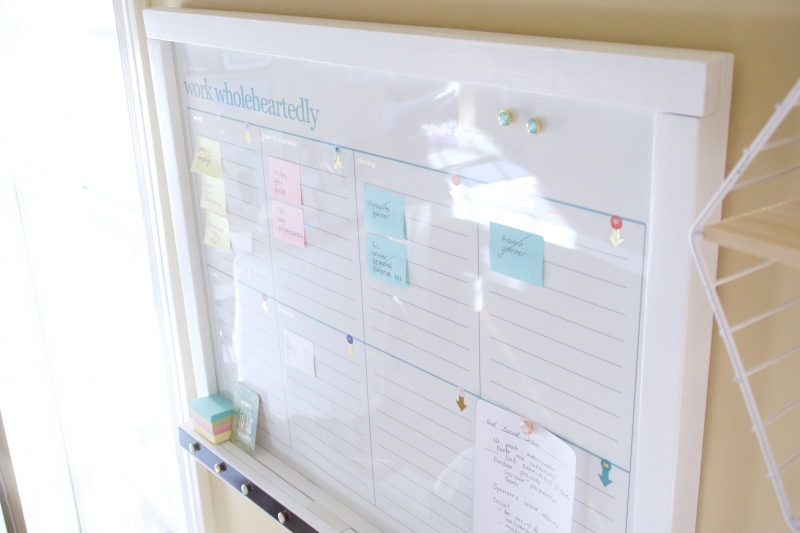 I love the versatility of the wall organization center, and I'm so glad that they're magnetic – so not only can I add my own notes using wet erase markers, but I can also use magnets to hang papers that add to a board. These boards are customizable, too, so you can add the text of your choice in the upper corner! (In a future post I'll show how I'm using these boards in another part of my home to act as a family command center!)
Erin Condren products helping my walls work for me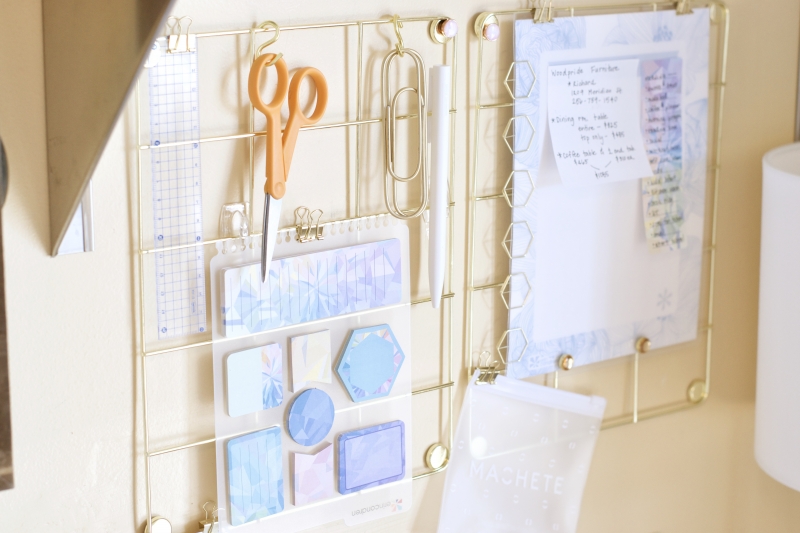 I had a small empty space above my desk and a few months ago I decided to reclaim it as a working, functional space! One of the things I love about organizing is finding a product and using it in a way different from its original intention – and that's what happened here! The gold memo board is actually magnetic and meant to hang on a fridge. I loved the simplicity and size of the memo boards so I used two of them and attached them to the wall using 3M command strips and hooks (if you zoom in you can even see one of the hooks just to the left of my scissors). I used the small gold clips that came with the memo board to attach the tools I regularly reach for, and then I trimmed the (coil attaching) edge of an Erin Condren cover to use as a dashboard for the (MANY) post it notes that litter my desk every day. I'm loving how it gives one place for post it notes to land, and one place for me to look for them!
See Jane Work Desk Organizer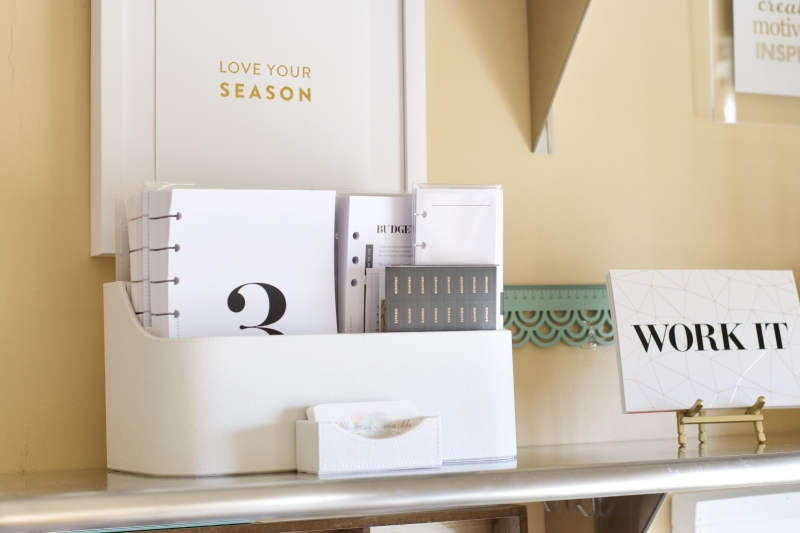 I've been a fan of See Jane Work's products for many years! (Available at Office Depot/Office Max) I love the beauty and functionality of See Jane Work and the organization that the products have brought to my home office and desk!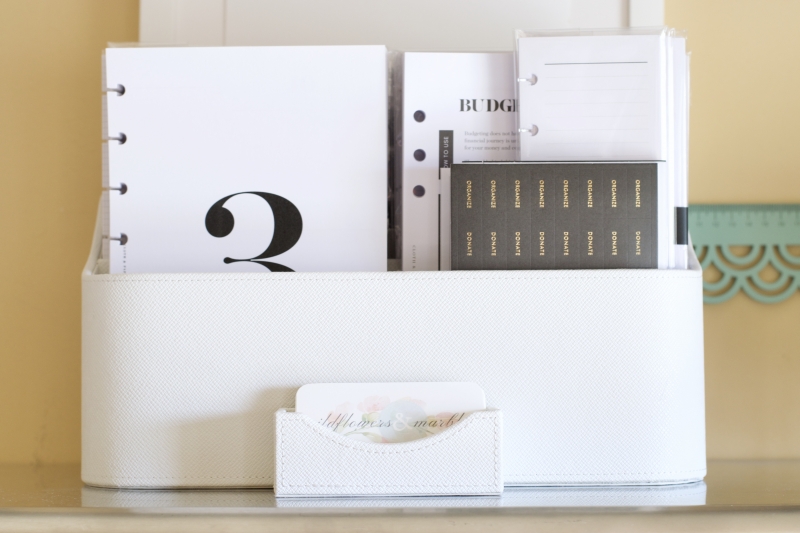 One of my favorite collections has been the white faux leather collection! I have every piece of the collection and love the sophisticated look but also the high quality and functionality! The desktop valet is one of my hands-down favorite organizational tools!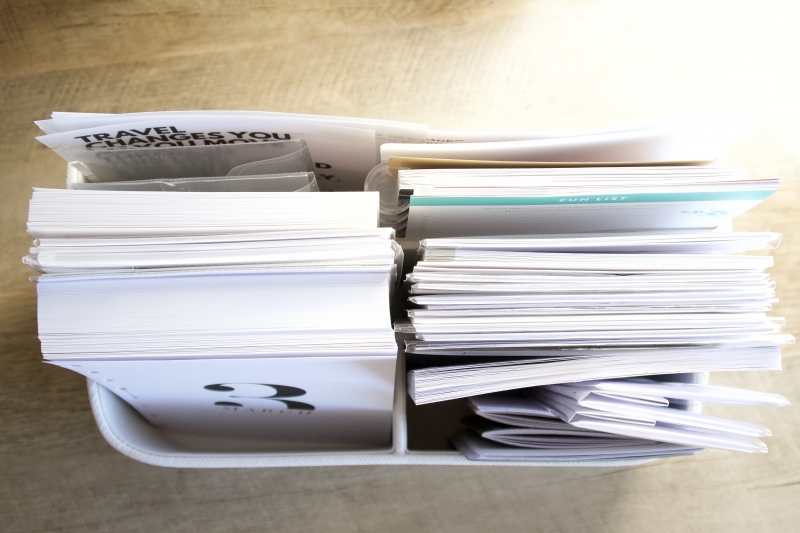 I've used my desk valet to organize a variety of tools and papers over the last few months and I never tire of organizing in it – it's the first piece I reach for if I need to organize a group of papers! (Right now, it organizes all of my Cloth & Paper inserts – I love being able to see everything and grab the insert I need!) It is quite sturdy and the classy look of the white faux leather makes it a part of the decor and the function of my space.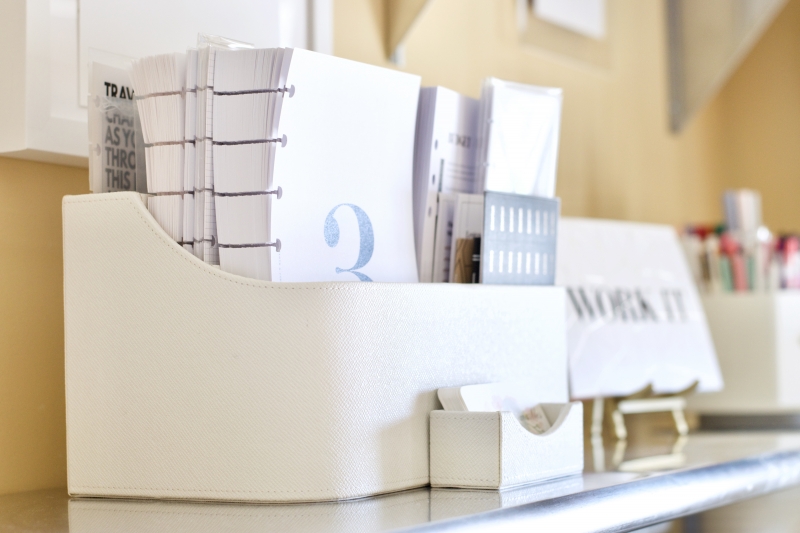 See Jane Work File Boxes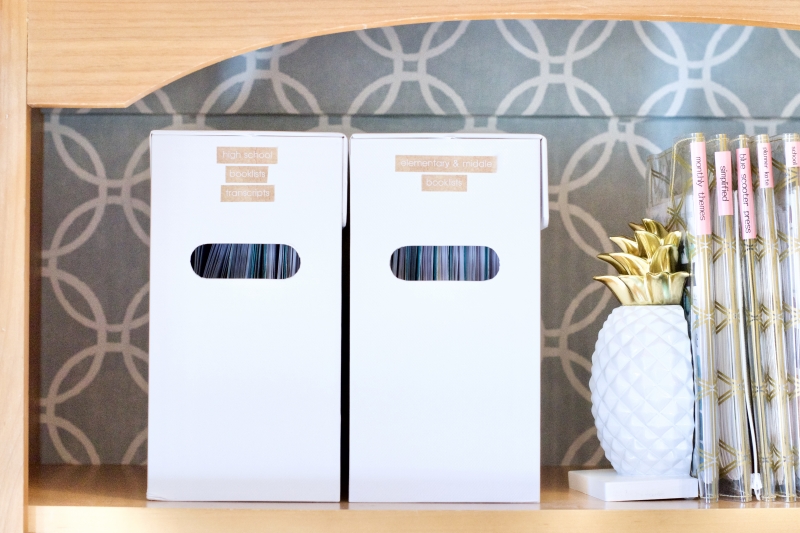 Keeping with the See Jane Work theme, another of my favorite organizers are the desktop file holders!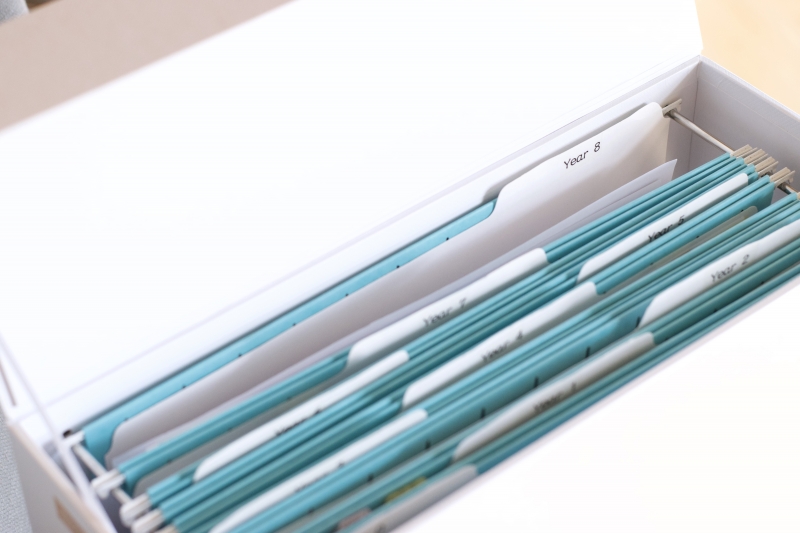 I have several and I love how they keep all of the paper parts of home education and office stuff organized and together! Drop in your favorite hanging files and folders and you're set! I love how these look sitting on a shelf and also how easy it is to pick one up and travel to my desk or table to work with the files.
See Jane Work Organizing Bins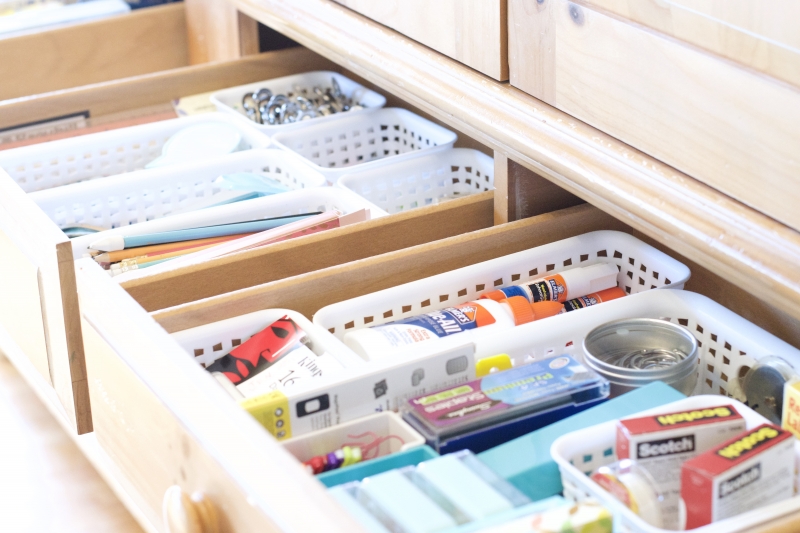 The See Jane Work bins come in a set of 5 and I used three sets (not all are pictured) to overhaul our school supply drawers this year! No more hunting for extra pencils, erasers, or glue sticks – everything is organized and neat!
See Jane Work Bin Valet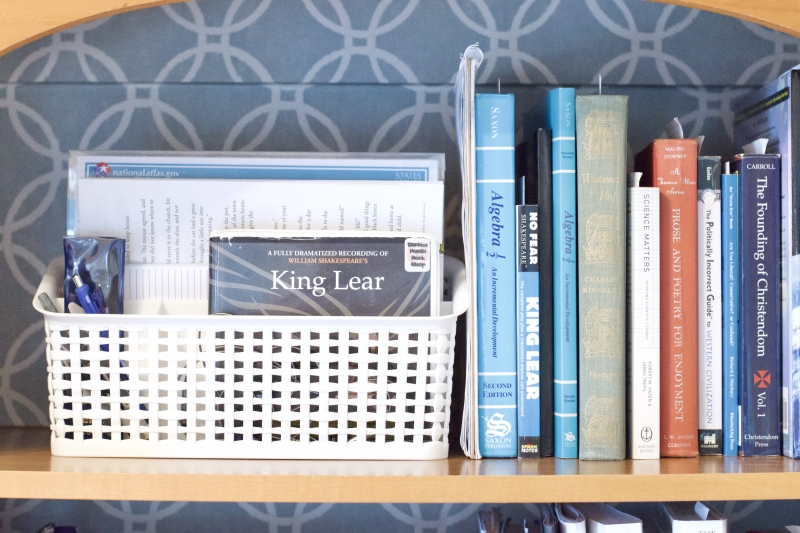 I ordered three of the See Jane Work weave bin valets (one for each of the kids' school shelves) this year and it has been a workhorse and has kept the kids school shelves tidy and their supplies organized! It gives each child a place to keep pens, pencils, math tools, resource papers, and everything that doesn't necessarily fit with the other books on the school shelf!
Levenger & Cloth and Paper Disc System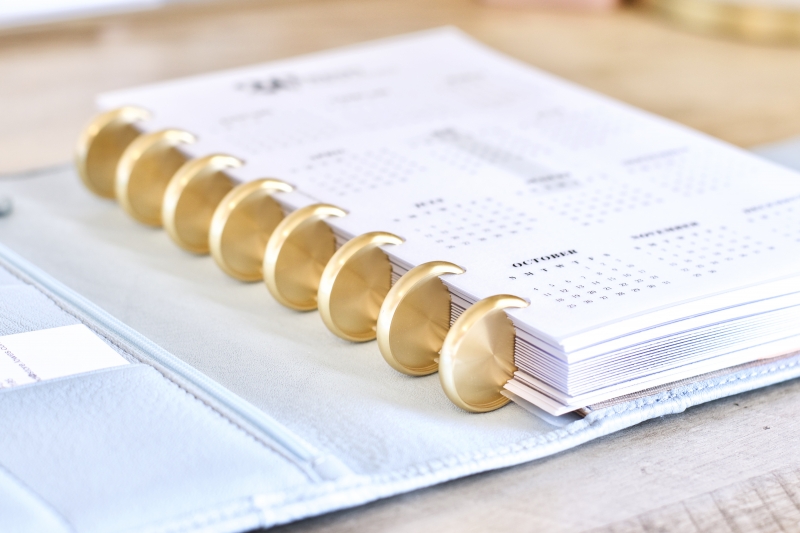 There are so many amazing planning systems out there, and it's important to use the system that fits your season and your needs! It can be hard when seasons shift and you realize you need to shift your planning system to meet the new season. I still use many of the same planners I've always used, but more and more lately I am out of the house (managing tasks for my volunteer position or managing my family) and I needed a planner that could be portable and flexible.
I knew I wanted to build on an existing disc bound system that I already had but I couldn't have imagined how much I'd love the result! This new system has helped me increase my productivity so much…and is just so pretty…that I had to share it with you!
A quick word about discbound systems – their strength lies in their flexibility. They function like a spiral notebook but you can easily remove, add, and rearrange pages, dividers, notes. Grab a punch and add your own pages to your planner wherever you need them. But a caution: the functionality and turn-ability of a discbound system requires:
Heavier weight/sturdy paper – although, I do punch and use my own copy paper to insert in my planner and it works just fine, but I prefer my everyday inserts to be a heavier stock paper. (My preference: Cloth & Paper inserts)
Good quality discs (I prefer aluminum over plastic discs because in my experience, pages turn better on aluminum. My favorite aluminum discs are Levenger and Staples/Arc brand.)
A good punch!! If your pages are punched too small then they won't turn with ease around the disc! (I use the Arc System punch)
I'm using a Levenger softfolio – specifically, the ice blue softfolio in junior size. The junior size holds half letter size inserts. I use the Arc brand 1″ aluminum discs in gold.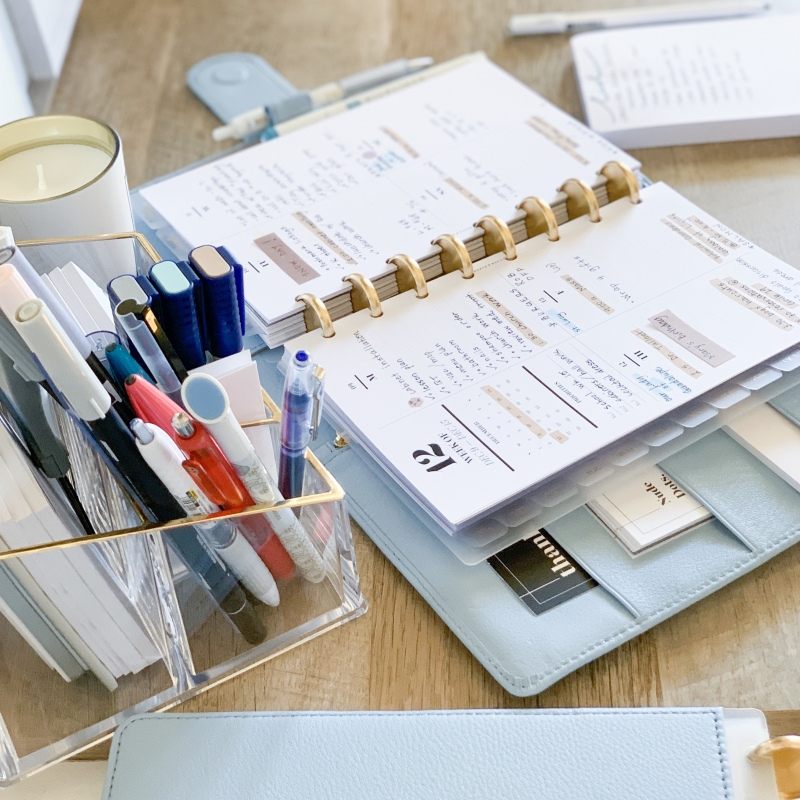 My favorite inserts and accessories are all from Cloth & Paper. I find the paper quality of the inserts to be excellent and I love the minimal design! There are many accessories at Cloth and Paper that really add to the discbound planning system!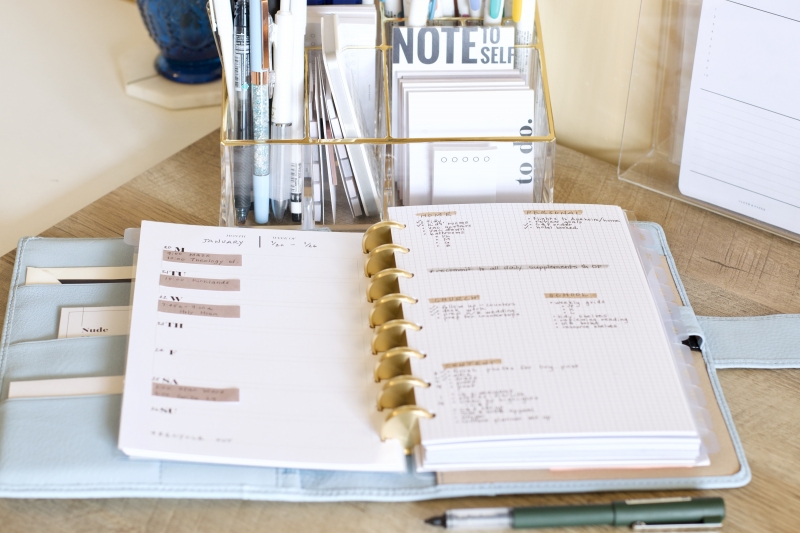 I love the portability of this system and my ability to move and add papers at any time! Since this system has really added to my ability to stay organized and to organize my time and tasks, I wanted to mention it in my organization post!
Acrylic Wall Pockets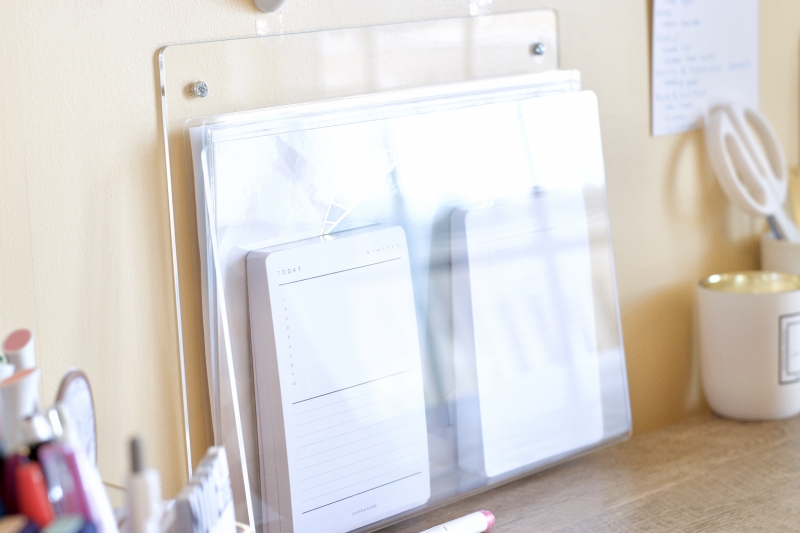 You're probably going to notice a theme – I like my walls to work as organizational tools! I've got a lot going on and if something is filed away out of sight…well, I bet you can imagine!
For that reason, I love using acrylic wall pockets to organize papers, tools, and even my laptop when it's not in use!
I use a slightly larger wall pocket set to contain files of the kids' work (math tests, writing, transcript work).
Floating wall shelves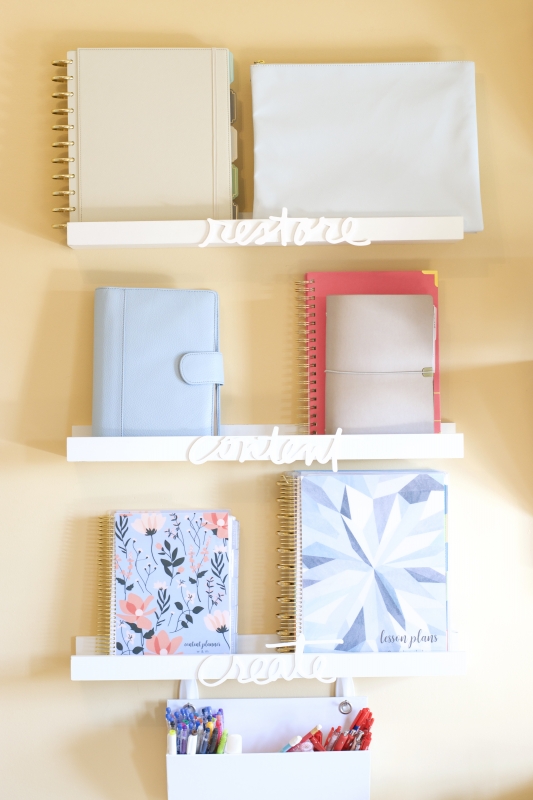 I like to keep tools and papers and planners that I use regularly out and available and display them on these floating wall shelves.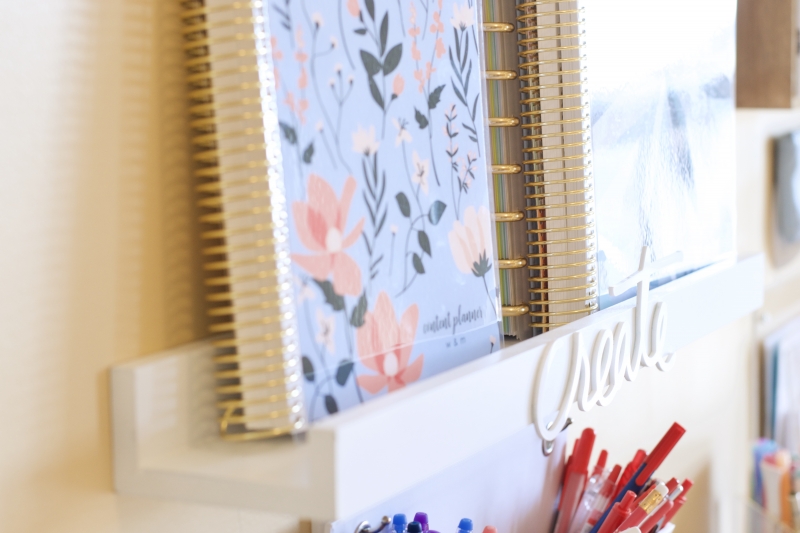 The organizing potential and possibilities are endless for these inexpensive shelves! I love having my notebooks and planners out and available!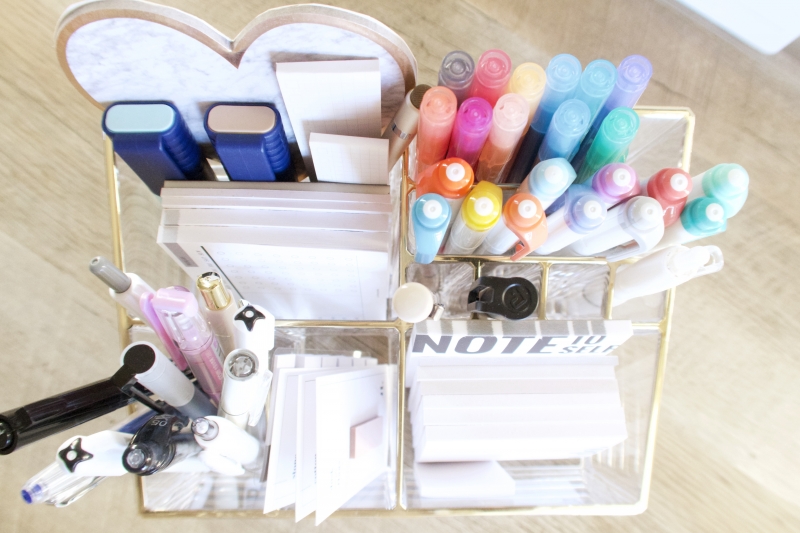 I hope you enjoyed a few of my favorite organizing ideas and tools for the home office! Stay tuned for my favorite organizing tools around the rest of my home!