Planning Your Creative Content With The Content Planner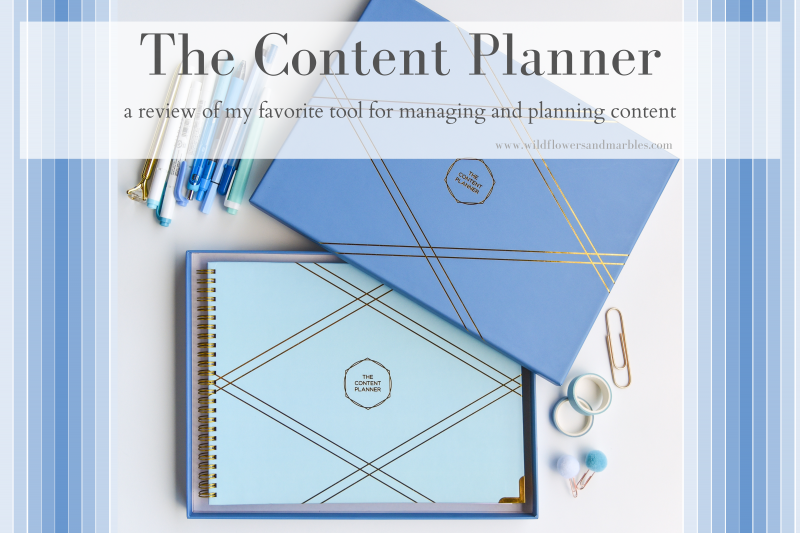 Before I start this post, let me just say that I didn't intend to be away from my blog for such a long time! It was a tremendously busy summer with a lot of travel and an exciting doctor's appointment (in El Paso, TX) that I hope to share with you someday, and then all of a sudden it was time to focus and plan for the next school year. And here we are. With the 19th school year rolling! I sure hope to have a little more time to spend with all of you here on my blog! You can always catch up with me and all of my homeschool, organization, and planning posts on Instagram! Join me there! I consider it my micro-blog!
Before I start, let me be clear and say that many of the links in this post are affiliate links – they cost you nothing, but I may earn a small commission if you click through and make a purchase, and for that I am truly, truly grateful! I only partner with companies whose products I use and believe in and I promote them because I find them so valuable! And I love sharing them with all of you!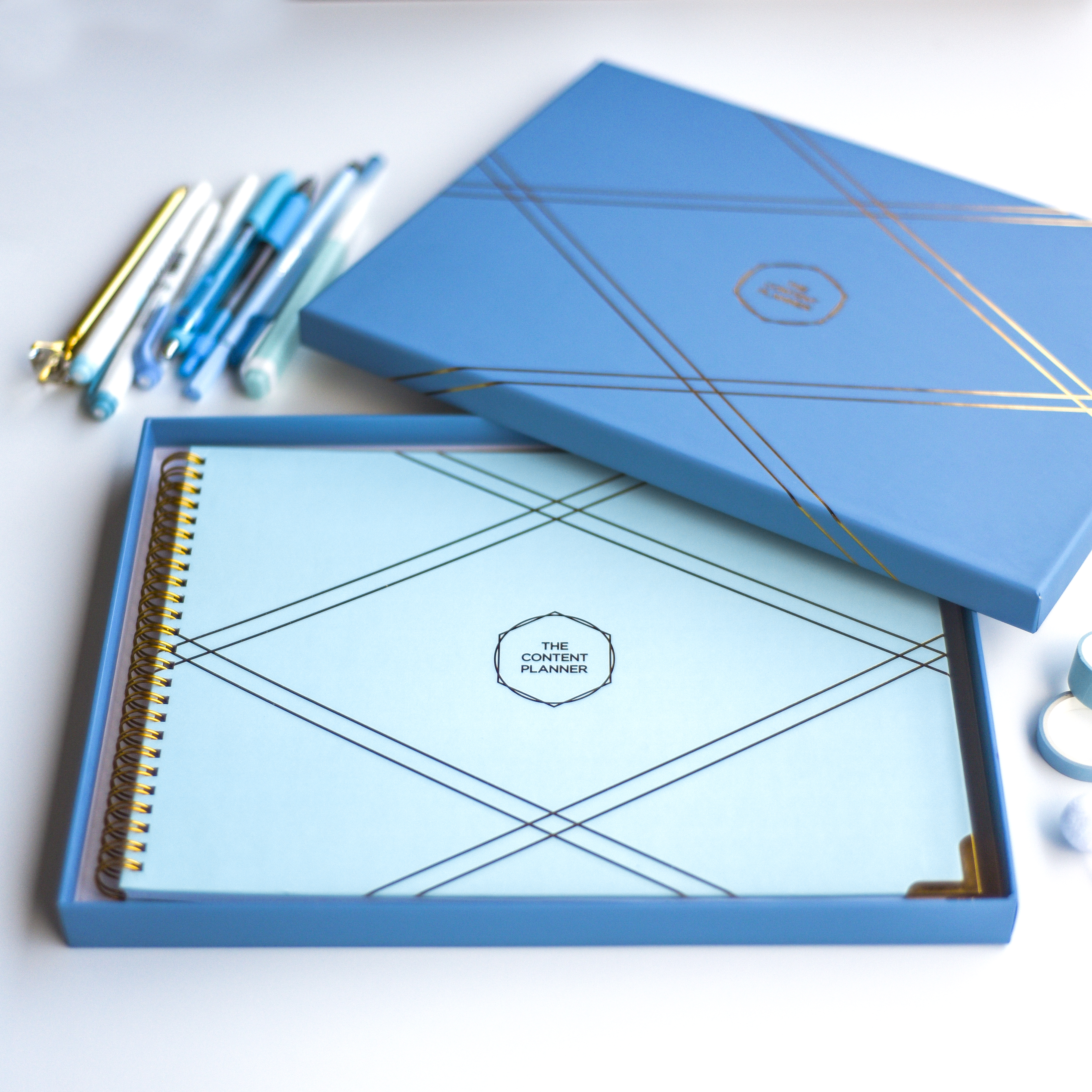 I know many of my readers have content that they manage – images, videos, writing, posts, links, sharing, encouraging, informing, inspiring. Blogging, Youtube, Instagram, Facebook, Pinterest. Perhaps you're not on every platform, but many of us are on 1 – 2 regularly, and managing content (all of the creative ideas you share) can become overwhelming fast. I've been blogging for years. 12 years to be exact. And over those years I've shared much. I've always longed for something that could help me be a little more cohesive in my plans, that will help me focus on you, my audience, and will help me knit together all of my social media content – across several platforms. There hasn't been anything like that for us creatives…until a couple of years ago when The Content Planner came into existence. And it is still the only physical planner on the market that acts as a tool and a leverage point for creating, planning, and executing content!
I've used The Content Planner for the past year and have fallen in love with it! It is useful, practical, intuitive, and has really helped me wrangle my own content!
I am so excited to share my own thoughts with you regarding the layout of this planner, it's usefulness, and why I think this planner should be in your hands and on your desk if you are a creative sharing your voice and any kind of content on social media or your blog!
This year, for the first time ever, The Content Planner is available in 3 different color choices:
Emerald Sea (outside box) + Sunshine Yellow (planner)
Pacific Blue (outside box) + Powder Blue (planner) *my choice!*
Limited Edition Midnight Black (outside box and planner)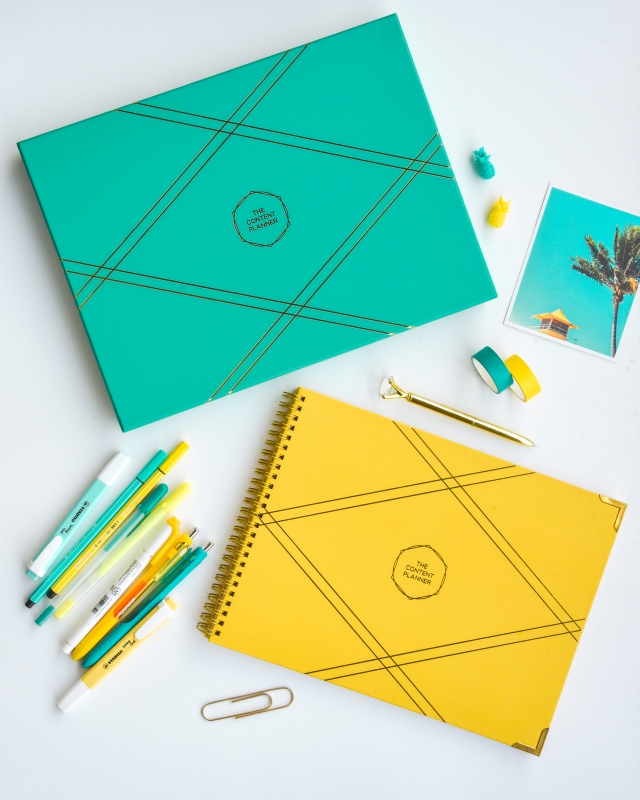 Each planner comes with a gorgeous box and is a 15 month fillable planner. In other words – you date your planner when it arrives. There are included stickers that will allow you to set up monthly tabs and dates for your planner. If you want it to start in October – go for it! And that's what I love about this planner – you can start right where you are, wherever that happens to be! No need to let this planner sit on a shelf taunting you for 3 months before it starts! Setting up your planner takes about 30-45 minutes and I find a nice glass of red wine and a Hallmark movie make the time pass rather quickly! 🙂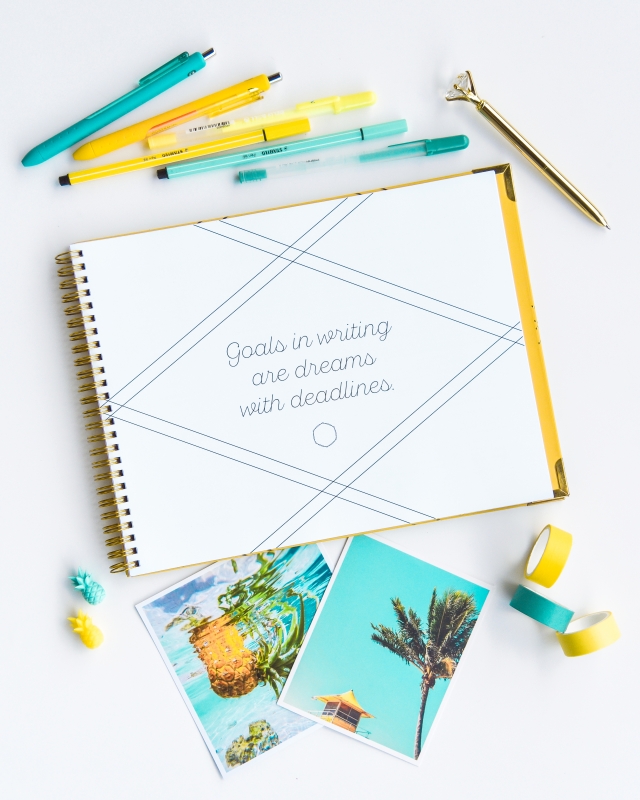 The front of the planner has some very helpful holiday reference guides and retail dates that help you in staying current with various events.
The year-at-a-glance pages, which I confess I usually don't find very useful in other planners (just being honest), are actually a huge help and big picture overview when planning content! At the beginning of setting up my Content Planner I added any known launches and content-specific dates that I knew about, but as the year has progressed, I add to my year-at-a-glance spread with additional product launches and content-specific events. Looking back at all of it now, it's a great visual of my year and will be immensely helpful in setting up next year's content. It will be especially helpful as I consider and plan overall…I'll know to keep May lite in terms of my overall plans because content-wise, it's my busiest month!!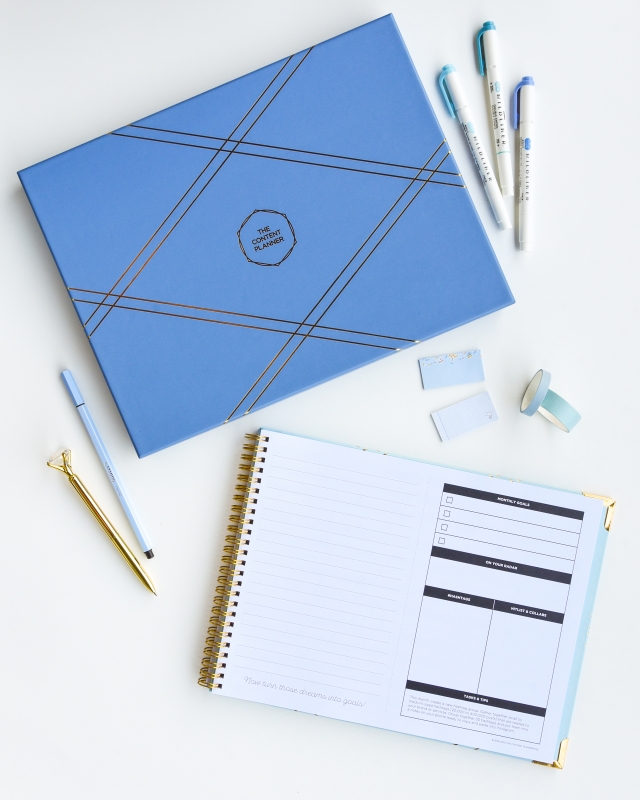 After the year-at-a-glance pages, we move right into the monthly spreads. Each month gets a total of 4 pages:
1 page: A Place For My Dreams – a blank page for brainstorming, listing, brain dumps, inspiration planning, tracking of all kinds. In looking over my planner, I can see that I've used this page a gazillion different ways depending on my needs for a month. It is usually a big brain dump of events, photos I want to take that month, review lists, support posts, dates, themes – with doodles, lines, squiggles, and highlighting.
1 page: Monthly Goal page (pictured above) – I love to use this page for content idea lists, my top goals, upcoming events, and I also usually keep lists of things I need to research for my blog in the left lined column (usually tech things that help me keep my blog up to date and on-brand). The hashtags and hitlist columns are two more reasons this planner sets itself apart as the only planner on the market that is keyed to support your content! It's essential to know the hashtags within your niche, as well as knowing others that post within your niche! What I love about these two sections is that it actually encourages working together and supporting each other as content creators! These two pages really help me set my monthly content ideas in place!
The next two pages within the 4-page monthly spread include the 2-page monthly content calendar layout. This is where the rubber meets the road in your planning! And the intuitive and content-specific design is what sold me on this planner to begin with!
In particular, I have really appreciated the business growth section! If you're new to this, please don't feel like you need to be active on Facebook, Instagram, pinterest, Youtube, and your blog – all at the same time. You'll kill yourself. I came across a great piece of advice about a year ago: do your best and work your best within 2 social media outlets. For me, that is definitely my blog and Instagram (although I do maintain a presence on Pinterest and Facebook, and l-o-n-g to do more videos on Youtube). My main time investment is in 2 social media outlets and I'm giving those 2 outlets my all! The business growth tracker has allowed me to record and see some pretty amazing growth over the past year! Growth I'm grateful for, and that I'd like to build on!
Also, I initially didn't care for the alternating shaded lines within the monthly spread of The Content Planner, but now it's one of my favorite things! First, I have lines. We could just stop there…because #ineedlinestowrite. But alternating a shaded with a non-shaded line allows me to designate some tasks on one specific shaded line for each day/week and my eye knows right where to go!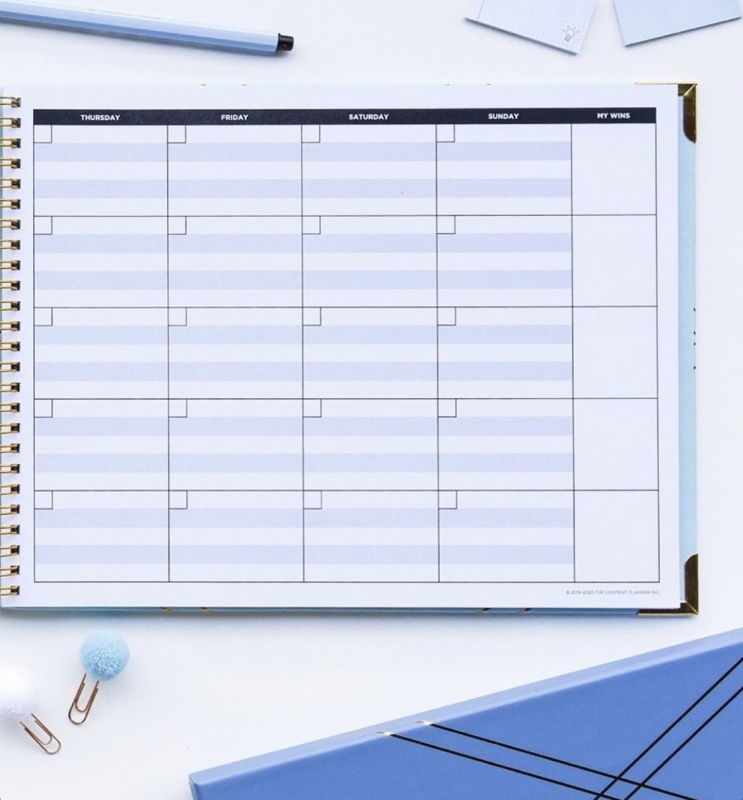 The other half of the calendar spread is pretty predictable. LOL! It's just the other side of the calendar spread! But…see that column over there on the far right? *My Wins* That's another of my favorite parts of this planner! It's another way to celebrate those (sometimes small) content accomplishments! Looking back at *my wins* allows me to see progress in areas I wasn't really watching before!
The back of the planner contains 4 grid pages for any other lists! I like using these pages for post/content ideas that my readers give me! And the front of the planner contains a pocket (LOVE!!!) and comes with custom designed planner stickers that tuck in the front pocket. The cover of the planner is sturdy covered cardstock on a gold wire-o binding. There are gold corner bumpers to protect the corners of your planner while traveling. And each planner comes with a beautiful box that coordinates with the planner. I tend to alternate between pencil and pen in my planner, and I also use mildliner highlighters quite a bit – the paper doesn't bleed (impressive with highlighter use), but there is slight ghosting for some pens (full disclosure: I press hard when I write).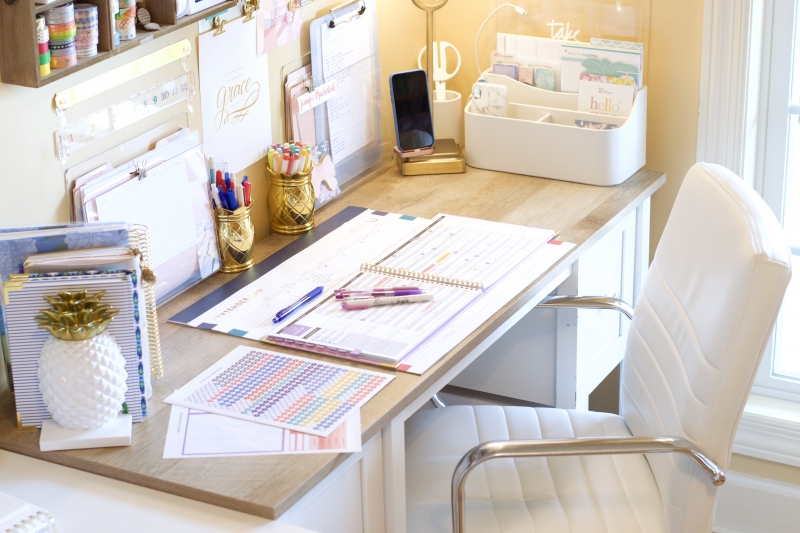 A few things I'd love to see considered for future versions of The Content Planner:
Lined page (or grid) instead of a big blank page for *A Place For My Dreams.* Also, eliminate text entirely and let this page function as a note page with any purpose the content creator needs.
Smaller size and different orientation!! This is my biggest hope! Right now, this planner is in the landscape format (it's an east-west planner) and is 11.5″w x 8.75″h (with 11 x 8.5 paper inside). While I love this planner, it takes up a lot of desk real estate when it's open. I'd prefer a more portable 7″ x 9″size, but would be quite content with a portrait orientation in an 8.5″ x 11″ size.
A sheet of individual social media icon stickers – for example, maybe a sheet of nothing but Instagram icon stickers, or a full sheet of the camera/photograph stickers. I love using the little icon stickers, but currently the social media sticker sheet is a variety of different stickers and I blow through: *blog, *post, *photo/camera, *$, and *Instagram is going fast. I'd also love a dedicated sheet of the *launch, and *deadline stickers! I'm already out of most of the stickers I use most frequently and September is only just here! Meanwhile, the rest of my sheet remains untouched, which I hate because it seems wasteful. And, while I'm wishing, I'd love some new stickers – like *collab stickers for those times when I'm planning collab posts or collabing with various companies, as well as some *contract review* or *tech work* stickers.
Add a coiled-in cardstock pocket rather than a glued-to-the-front-of-the-planner-cover pocket so that I can fit my full 8.5×11 contracts and social media papers in the pocket and keep everything content-related in my Content Planner. Right now, 8.5″ x 11″ papers only fit in the pocket if they're folded in half.
Consider a plastic adhesive backed coil clip that matches the pitch of the Content Planner coils so that I can add and "clip in" printables of content collab and contract specific details right in a specific month.
Add #nationalplannerday (August 1) to the holiday and event section. 🙂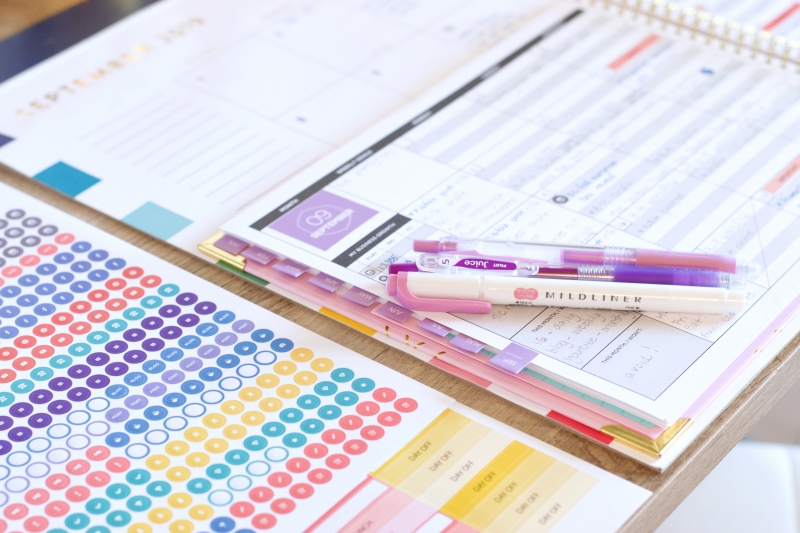 I've seen some impressive growth this year, and I've worked hard for it! I just want to be an authentic and encouraging voice in the areas of home education, planning, organization, and living my faith!
Growth brings some challenges! It also brings opportunities! And I'm ready (excited) to tackle them! I knew at the beginning of the year that I needed something to help me with clarity and organization of my content – something that helped me maintain focus on my vision while allowing me room to stretch and grow. The Content Planner has been that tool for me, and I'm excited to share it with you!
As I wrap up, I'll share a quick run down of how I've been using The Content Planner – my own routine!
Yearly:

Highlight all of the holiday and marketing dates for which I want to be sure to create posts.
Set up my year-at-a-glance pages with known events and launches.

Monthly:

Set up my monthly goals page with my priority goals for the month, upcoming events I need to prepare for, and any tech issues related to my blog that I need to stomp down! #teamofone
Research a few new hashtags I might want to jump into, and set up (add to) hashtag groups on my iphone (in the Notes app) to make posting hashtags easier (copy/paste).
Record beginning numbers in my business growth section and set up this month's theme, positive goals, and the thing I'm going to avoid doing for the month. At the end of the month, I record ending numbers, and I also like to take a look at specific engagement numbers and daily page view numbers for my blog.
Review any upcoming launch dates already noted on my planner layout. (I use the *launch sticker and add it to any monthly launch dates as soon as company social media coordinators contact me and ask me to publicize a product or event so most of these are already in place at the beginning of a month.
Review holiday and marketing dates and add any pertinent dates to the month along with the corresponding hashtag.
Plan out action steps for contracted posts (for launches or PR).
Plan out action steps for other content. Add icon stickers! 🙂

Weekly:

Review action steps and transfer to my daily planner.
Add other items that need attention to my daily planner (blog specific back-end tech stuff).
Block out time on my daily planner for my content work. I'm juggling life, kids, homeschooling, volunteer work, and making home with my content (which I love doing!!!). If I don't block out little pockets of time for each of my priority areas, I tend to steam roll. And it's not pretty. Time blocking for the win!
Let's talk specifics so that you know what to expect if you're looking to add this planner to your arsenal!
Regular price of this planner is $$59.99

shipping to US & Canada: $10
shipping worldwide: $18.50

Private Pre-Sale date is September 12, 5:00 pm EST! Sign up here to be on the list to shop the private pre-sale!! (List closes on September 10.) There are some impressive benefits to purchasing your Content Planner at the Pre-Sale!

15% off the regular price of your planner.
Free bonus gifts!!
Receive your planner package first!

Official launch for The Content Planner is early October, 2019.
All planners ship out in early October.
Three color choices this fall:

Emerald Sea (outside box) + Sunshine Yellow (planner)
Pacific Blue (outside box) + Powder Blue (planner) *my choice!*
Limited Edition Midnight Black (outside box and planner)

Only 100 of these midnight black planners are available as part of a bundle kit.

A new stationery line is launching this fall!!!

washi tape
highlighters
new stickers
ruler
Extras:
Check out the free resources page! There are so many worksheets and free printables there – enough for you to test drive this planner system!
Follow The Content Planner on Instagram! Kat's content-specific advice is daily, spot-on, amazing, actionable, and brings results!
Consider the free 7-Day #PlanHer Challenge! It's content planning for beginners, but I found plenty of value and I've been blogging since 2007!
I've loved sharing The Content Planner with you and hope that you found it useful, especially if you're managing creative content and are looking for a physical planner to help you keep all of your ideas and tasks in line with your vision for your own content!