Consider Your Week: Weekly Prep and Weekly Meetings {free printable}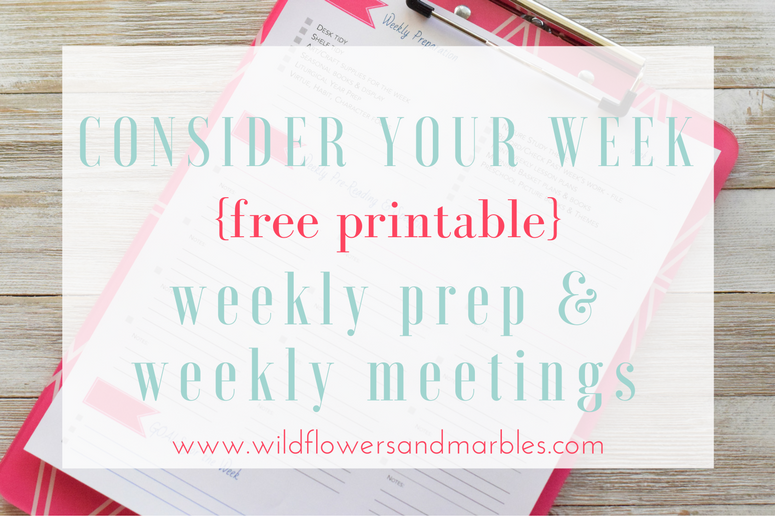 Here we go – rolling right out of holiday time and into what is, for most homeschoolers, the month of uncertainty, hesitation, self-questioning (in which we are tempted to define our homeschooling efforts thus far as a failure). That means…it's almost February. There is just something about this time of year! With half a school year behind us we examine and evaluate the fruit of our efforts and (to us) it looks dismal. But guess what…
And what if I told you that considering your week with a couple of simple tools can build relationships, your confidence level, and help you make more informed decisions in living out your homeschool days? The key is to consider your week – prepare it and then evaluate it at the end of the week!
I'm giving you a tool – a printable to help you hit the reset button! This printable bookends your week – one printable to help you prepare and one to help you evaluate. It has really been helping me: stay accountable, consider days, consider the people in my care, and keep my focus on relationships – relationships between people and ideas. And it's totally free! You don't have to sign up for anything – no newsletter, no web labyrinth to unlock it, nothing – it's yours! Because I want to encourage you and make this as simple as possible! Just click, download, print, and CONSIDER your days!
Let's chat first about these tools!
WEEKLY PREPARATION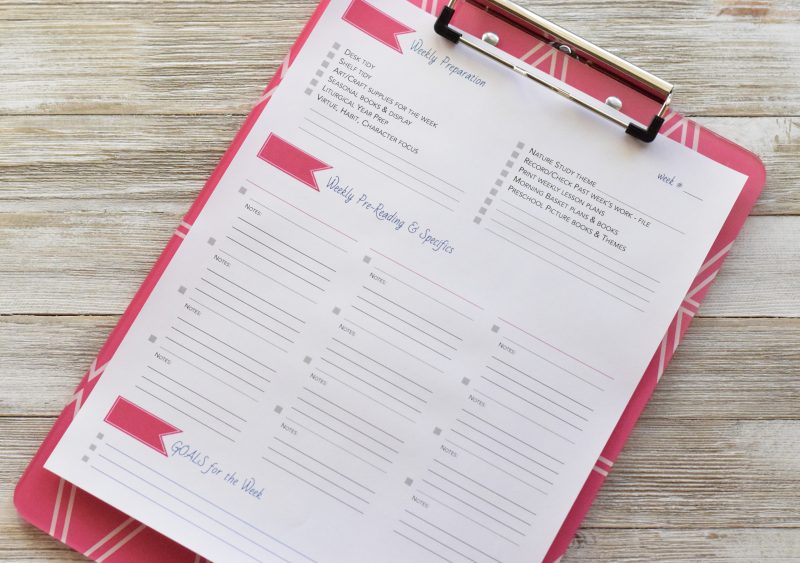 I saw a few pictures (on Instagram) that my friend Celeste shared of something she called her "weekly prep sheets." I was instantly intrigued by the idea. I already had a weekly prep routine, but nothing was written down, and I wanted to be more accountable to some weekly pre-reading as well as having a place for thoughts to land so that I could begin to recognize patterns in a few challenges. So, I built a weekly prep sheet for myself (you can see my custom sheets below) – simple reminders of themes, tidying and ideas that I wanted to focus on. I also made a place for the key books I pre-read every week. Now I can jot down where Richard Halliburton is flying to next, and where Marco Polo is traveling, and where my high schooler is in Church History. I can record our virtue/character focus for the week. In short, I can hold myself accountable as I consider the week upcoming with relationships in mind.
As I sit down to prepare lesson plans and think of the week ahead, I take out my clipboard with this sheet on it. I note the week and begin to walk through the checklist which helps set my week up for success. As I note details and page numbers on individual kids' lesson plans, I also skim and/or pre-read books for each of the kids, leaving myself brief notes on my weekly prep sheet that I can refer to during narrations later in the week. This whole prep process (including setting up lesson plans) can take me anywhere from 1 to 1.5 hours. (I'm lesson planning and prepping for 4 kids: preschool, 3rd, 6th, 10th,) It's an investment of my time that yields great fruit. Could I fly by the seat of my pants? Sure. But the fruit wouldn't be the same.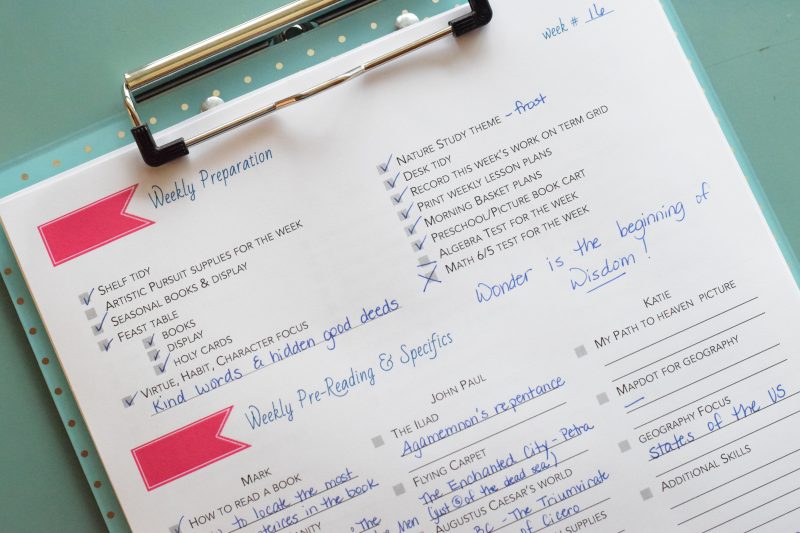 It's a tremendous tool! I love how these sheets guide me through my weekly preparations! I'm reminding myself to CONSIDER FIRST!
And then?
We spend the week living the lesson plans and reading and narrating, and I can rely on my notes and considerations made during my prep time. Relationships with ideas and people are enriched because I've already considered pertinent truths and my contribution to conversations will be more informed. Narrations are richer because I know what Agamemnon is doing and who is doing what on the Oregon Trail. (And really…aren't all conversations the richer for that?)
But that's not the only considering I want to do. Considering doesn't stop there if we're looking for days that move forward! For years, I have made a habit of weekly meetings with my kids. 15 – 20 minutes with each child each week. It's fruitful! Over the years it has given me the tools to prayerfully consider challenges I've faced! Homeschooling is never static, never fixed – it requires flexibility! You can panic, or you can brainstorm. (Ok…keepin' it real…you can actually do both! LOL! But in the end, hopefully you put on your big girl panties and start brainstorming!)
Are you interested in hearing about our weekly meetings, and how they help me continue to CONSIDER OUR DAYS?
WEEKLY MEETINGS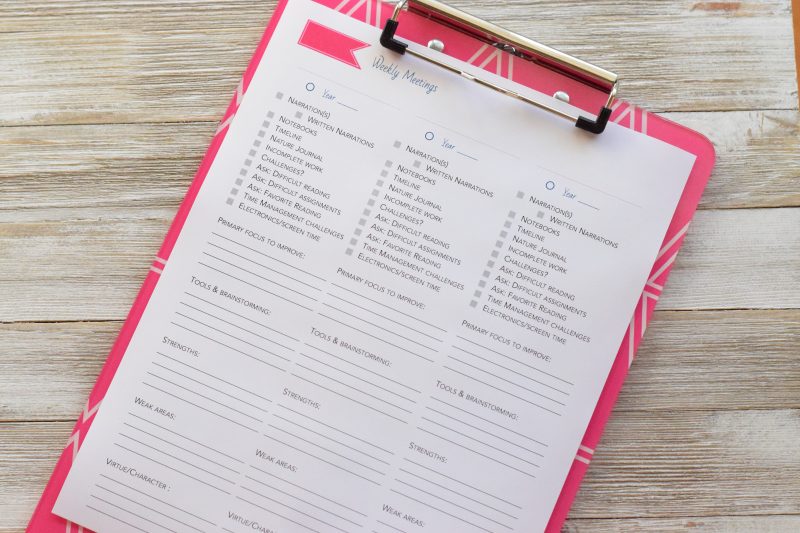 The Weekly Meeting is simple, and there aren't any rules so don't overthink this! The idea is for YOU to meet face-to-face with each child individually and ask some questions and probe…getting down the nitty gritty of some of the things you're observing and that they're experiencing.
Does your 8 year old throw a fit anytime you ask him to pick up a pencil?
Is your high schooler balking at a particular book?
Are narrations a challenge for your child all of a sudden?
Is a child having trouble transitioning from oral to written narrations?
Math challenges?
Are you having trouble with constant interruptions from a particular child?
Why?
I'll give you a hint: it's probably NOT your curriculum! Let me say that again: don't default into thinking that all problems you encounter are rooted in your curriculum choice because most problems are just NOT. (I'm not a fan of loads of curriculum anyway…just build a considered booklist with good books. Good to great.)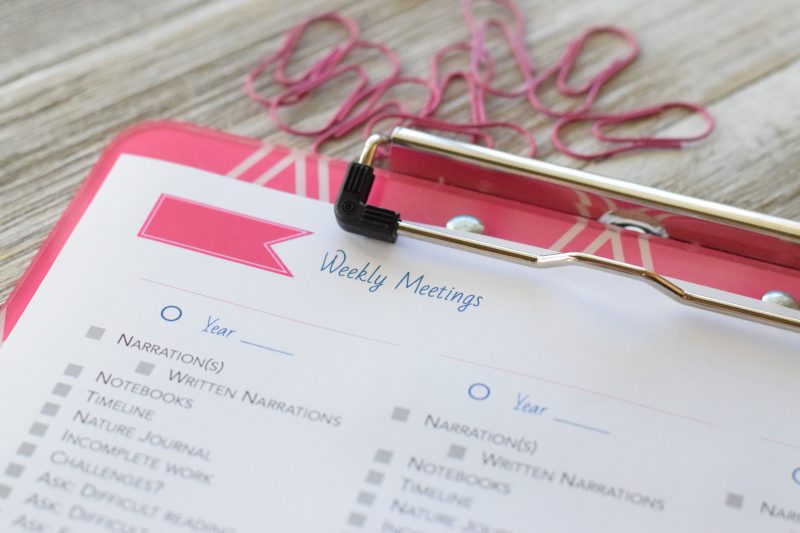 You just need to brainstorm it! C O N S I D E R. Ask some questions, get to the bottom of things, prayerfully seek solutions. Observe and write down. Some problems take time to prayerfully consider and fit all the puzzle pieces together, and that's where the weekly meeting comes in. Following up a week with a tool like this helps me see that:
Even though things look bleak, if I look back over my notes (…over the past weeks) I can see slow and steady progress.
Though it feels like my 6th grader will never spell, looking back and reflecting from our weekly meetings, I see definite improvement and though it's small, I have enough confidence to stay the course.
I can see patterns of distraction that I can brainstorm and target for a particular child.
I notice that all my kids are commenting on being frequently distracted by the (cute) preschooler – I can make a note to set out some fresh toys and books for her for next week.
Tools like the weekly meeting work because this homeschooling thing is a slow and steady race. The fruit is in the long haul. And sometimes, something as simple as a weekly meeting can help us see fruit as it slowly matures. It's an assessment tool that is built to respect relationships and grow them through understanding.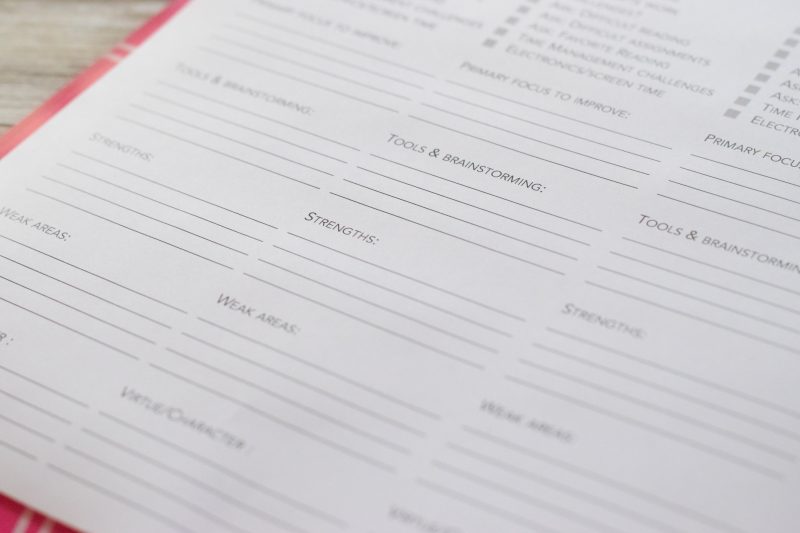 A quick word about the bigger problems – the ones that clearly won't be solved this week:
Don't be discouraged: problems don't piece themselves together every week – no way! Don't expect non-reality. This is a tool (not a key that immediately unlocks a lock), and any tool in your hands and with a prayerful heart works in His timing! It's not magic. Be ready to work wholeheartedly (St. John Bosco). Be ready to get messy, to try and fail and assess again. Don't give up if you have challenges that last for months and have you wearing out your knees in prayerful brainstorming (I have faced several challenges like that!). Keep praying. Keep considering!
Homeschooling is hard stuff. Beautiful, rich, hard, challenging, messy work. Please, homeschool moms – don't assume that as you pull those shiny, new lesson plans out at the beginning of a year that that's it – that those lesson plans are the beginning-and-end, and that smooth weeks will just flow out of them. Because they won't. It takes considering. It's about relationships. Virtue. Pruning. Prayerful brainstorming. Can I promise you SMOOTH if you print these two sheets out and stick them on a clipboard? Nope. But I can promise you CONSIDERED DAYS if you use them. I can promise you GROWTH if you stick with it. I can promise you that you will have an assessment tool that prompts you to look at the person(s), to consider the why, to dig deeper than the frustrating surface.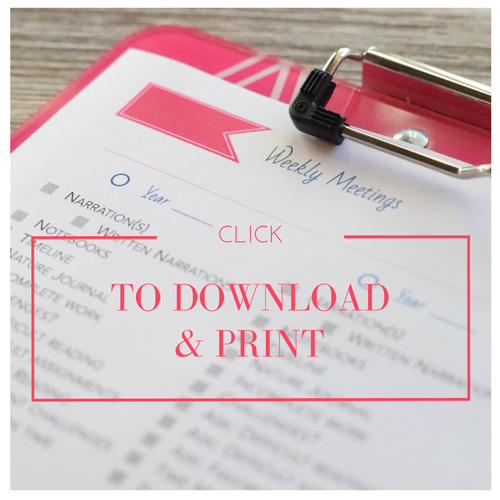 I built a more general version of my Weekly Prep sheet for you so you can write in your child's name and the books you're prepping for a given week. I left some of my general prep goals but left some blanks for you to add your own goals. You can click on the image above to download and print. The first page is the weekly prep page, and the second page is my weekly meeting page. (Note: on the weekly meeting page, this –>  O Year ____ — is a place for you to write the year/form/grade level of the student you're meeting with. Or you can just ignore it and write your child's name. The reason I record the year/term is that in looking back over recorded weekly meeting sheets, it's helpful to see exactly what grade level I was evaluating. I could just record names, but in looking back, I can't tell if I was recording notes from 4th or 5th grade. And over the years, I've found that helpful to me.
If you're feeling lost in a tangled web of question marks in homeschooling, why not give all of those thoughts a figurative swipe off the table. Let them go. Prepare your week and consider it. Live it joyfully – let it be just as messy as it is. And then, consider your week after living it – consider it in relationship to your child. Meet with them. Ask questions. Consider again. And prepare again in light of those considerations. Do you see how it's all connected, how everything weaves into the next thing so that it's a whole – preparing, living, evaluating?
C O N S I D E R E D
I pray these sheets are a blessing and that your days are considered and joyful!