Erin Condren Kids Planner
Many of us know Erin Condren for her LifePlanners and amazing planning accessories. And y'all know I have been using the Erin Condren planner system for years! But there's something new on the block from Erin Condren, and I haven't been this excited about a new planner product in a long time. And the reason is that this isn't for me at all – THIS is for my kids!
Meet the brand new Kids Planner from Erin Condren! The Kids Planner is a 7″ x 9″ platinum coiled planner. The planner is a yearly planner and is $28. Erin Condren suggests this planner for ages 4 – 9, but if I were setting the age suggestions for this planner, I'd say it's perfect for ages 5 – 13 (younger kids are going to need a little help). While you could just hand this planner to your kids, I do think this planner works best alongside mom's planning time and system – model first, and the kids will learn time management at your side!
Thank you, Erin Condren, for sending preview copies of the EC Kids Planner to my girls to review! They are so excited to start working in their very own planners! (All links in this post are affiliate links – they cost you nothing, but I may earn a small commission if you click through using my links, and for that I am very grateful! Thank you!)
Here are some of the features of the new Kids Planner:
All About Me section – this is a favorite section for my girls! Watch the video below for their thoughts! Some of the pages included in the All About Me section:

Reading Log
Habit Tracker
Allowance Tracker
Savings Tracker
Listing of "favorites"

12 inspirational quotes
12 undated monthly spreads
24 different activity pages (2 each month)
12 monthly sticker sheets with platinum foiling
Snap-in ruler
Pouch which contains the planner, sticker sheets, and monthly reference card
I think the pouch is an adorable addition and my girls love that they have their own pouch for their own planner!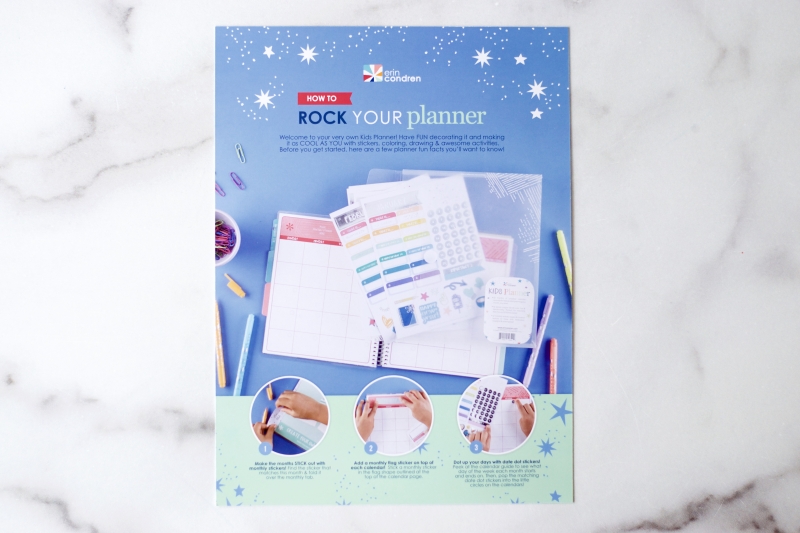 This card is included in every planner kit. It has some simple instructions for how to set up the planner.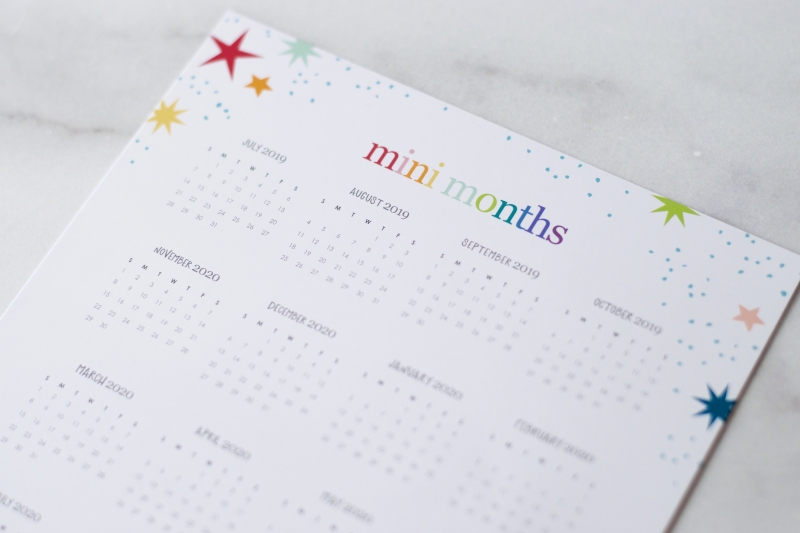 The backside of the card contains a mini month reference which starts with July 2019 and goes through December 2020.
Included in the planner kit are 12 sticker sheets for your child to use. Each sticker sheet is coordinated to a particular month and contains a monthly flag label, the date stickers for dating the monthly spread, a few pre-printed holiday stickers, and at the bottom of the sticker sheet, a few seasonal stickers. The top right corner of each sticker sheet contains a sticker for each of the tabs of the planner so that you can designate the months on the tabs.
Like all Erin Condren coiled planners, this planner has an interchangeable cover.
It comes with the cover pictured – with adorable platinum accents, but how fun would it be for your kids to choose a personalized cover of their very own!
The interior of every Erin Condren cover comes with a wet erase dashboard (perfect for these wet erase markers, and it wipes clean with well kept wipes). (Friends, I tried to photograph this planner in pristine, untouched condition for you, but you see, my daughter got to it before my camera and I got there. Which honestly, is probably enough of an advertisement in itself. She just couldn't wait to start setting up her own planner!)
From beginning to end this planner is fun and whimsical and colorful – a perfect fit for introducing kids to planning!
The tabs of this planner are all laminated, and the paper of the Kids Planner is the same Mohawk paper we are accustomed to from the other Erin Condren planners.
The very first section titled, "All About ME" in the Kids Planner is a generous section – 15 pages! I wish so much that I had been recording as my girls unboxed and first flipped through all of these pages because their squeals and excitement was precious and so genuine!
I know that your kids will be as excited as mine to record all of their favorite things and their hobbies and talents, but what I love is that this will be a little time capsule of *this moment* for each of my girls!
If you know me at all, you know I was secretly doing a happy dance when I saw these next two pages. We are a literary family and reading is so important to us! So, to see Erin Condren encourage reading through a reading log on the first pages of this planner – well, it thrilled me!
The goal tracker pages are next, and while I'm excited to see what goals my girls choose, I'm also excited to encourage them to list some good habits to work on here! What a great way to encourage the slow and steady building of good habits! I think it's great that there are built in monthly check-in points!
Ok, the allowance tracker pages made my Katie squeal with delight! We don't actually give an allowance in our home. Instead, there are certain chores that are just expected of the kids as part of living with the family and helping to take care of home and spaces. We don't pay for those chores. But sometimes there are extra jobs – maybe washing a car, or organizing kitchen drawers, or cleaning baseboards – and since those are extra jobs, we allow the kids to earn money by volunteering to complete those jobs for us. So, having explained our chore/allowance philosophy, and acknowledging that this can look very different from family to family, my kids are super excited to have a place to record jobs and the money earned! And I LOVE-LOVE-LOVE that Erin Condren even used the term "earned" here! It's important and builds a good work ethic!
To further good habits with regard to earning and managing money, the savings page gives kids a place to record spending, saving, and giving goals!
And then, there is a final page to record book titles that a child may want to read – kind of like a reading wishlist! That wraps up the All About Me section!
Turning the page begins the first monthly section. Each section has a positive theme with a place to record three ways a child can live out that theme. The first month's theme is kindness, but other themes include friendliness and gratitude.
Each month begins with a two page spread similar to the one above. The right facing page – this MONTH – is exactly the same from month to month and gives the child a place to record their morning routine, evening routine, and special birthdays for the month. The left facing page contains a unique activity page – a different activity each month. The first month's activity includes a create your own cover page!
The undated two-page monthly spread comes next.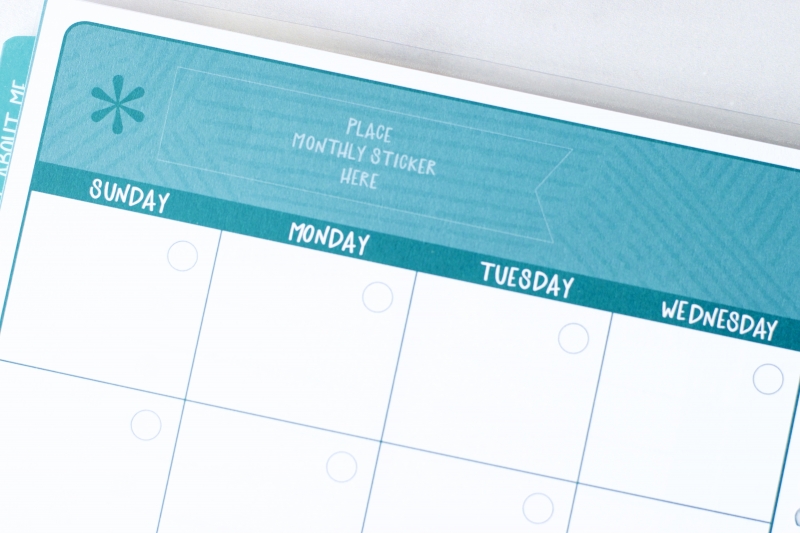 Every part of this planner was designed to hold your child's hand and help them in setting up the planner – right down to showing them where to place the monthly sticker (included with the 12 month sticker set).
Then, every month wraps up with a two page spread similar to the one above. The left facing page is always present in every month and contains a place to record things seen, things enjoyed, and something fun. Then, the right facing page contains the second activity page for the month, and again, these change every month.
The planner wraps up after 12 months!
There is a Kids Accessories package available (for $19) to use with the planner that includes:
6 pack of classic dual tip markers
Planner vibes 3D puffy sticker sheet
Doodles and desk sets sticker packet
I knew when I saw this planner that I wanted to do a full blog review to share with you, but we loved this planner so much that the girls wanted to make a short video to share with you as well!
I introduce the planner a little at first, and then Katie (above), my 11 year old takes over. You'll get a peek at how Katie has started setting her planner up!
And Lauren, my 6 year old even adds a couple of thoughts! I'm apologizing in advance for the poor sound quality! We're learning!
My girls and I are so excited! The Kids Planner is a combination of whimsical fun with an introduction to time and habit management, and as a mom, I love that! The girls love all the ways this planner invites creativity and imaginative expression each month! Each month the girls can sit down with me and plan and consider their days! There is no better way to teach than to model in action, and this planner allows me to show the girls how to begin to manage their own time and take ownership of building good habits!