New Fall 2019 Erin Condren Products
I received some new Erin Condren products and since I love sharing through photos – my little spot here on the interwebs is where I decided to share with you! I was so excited to see some of these new products – so first, a big thank you to the team at Erin Condren for sending these items my way so that I could photograph them and share them with you! Drop any questions or thoughts in the comment box! I'd love to catch up with you there!
This post contains affiliate links – they cost you nothing, but I may earn a small commission – thank you!
Most of these items launch in mid-September (I'll note specific launch dates with each product) and since these are preview items, they won't be linked until later in the month, after they make their way to the Erin Condren website and I come back and add links to this post.
Let's start!
Accordion Zipper Pouch | Launch date: Available now | $14
The Accordion Zipper Pouch is a one-piece set of 6 pouches that are sewn together and attached to create one large accordion-like pouch.
The hardware is all gold and there are 2 hand-holds – one on each side of the accordion pouch. It's made of a durable nylon and the inside is a coated smooth surface making wiping down easy!
It folds very flat and compact for storage, but I couldn't stop playing with it and accordion-ing it open! The colors are vibrant and so happy!
Obviously, you can fill this pouch with ALL of your planner supplies if you're headed to a planner meet up! How fun would that be? But I confess, I can't stop thinking of organizing girl's hair bobbles, diaper bag organization, travel games/toys/card organizer for the kids in the car, My Little Pony accessories, and makeup organization – all in this accordion pouch! I see lots of uses for it and this one unexpected product has snuck in as one of my favorite picks!
Velvet Pencil Pouch | Launching September 19 | $12
The small velvet pouch was introduced in the recent Erin Condren Fall Seasonal Surprise Box (now sold out) as a "sneak peek." Now we get to see the version that will be available on the website – in sapphire (pictured above) and gray. I am a big fan of the compact size of this pouch – it has an elastic strap attached to the backside of the pouch so that it can be attached to any 7 x 9 LifePlanner or even your on-the-go folio. The zipper is easy to open and close with an attached matching velvet pull and zips fully down the pouch so that inserting and removing tools is easy. It is just perfect for 2-3 of your favorite pens and a ruler – the basics! If you're a functional planner girl or a minimal planner girl, this pouch is for you!
On the Go Folio (new colors)| Launching September 19 | $20
The On the Go Folio has fast become a favorite within the Erin Condren planning community. Currently available in lagoon, charcoal, black, and champagne, the folio (13.375 x 8.25" when it is unfolded & open) is a vegan leather-like cover with 4 elastics on the inside that allow you to choose and fill with any 4 petite planners. The flexibility and versatility of this system allows you to build a planner that fits your needs! It doesn't get more individual and custom than this system!
September 19 brings new colors to the folio system:
pink (pictured)
mustard
wine
pink sketched blooms
sapphire
sapphire with gold stars
There are a few small updates to the anatomy of the folio with this launch. The interior elastic system inside the folio was formerly joined with a big knot. The knot was bulky and often frayed. This September, expect planners to arrive with crimped elastics (see above picture) which holds the elastics together neatly – no more fraying knots. My only concern is that the crimp holds firm and doesn't loosen its grip over time, releasing the elastic.
A further update is an additional small metal reinforcement on the spine of the planner that reinforces the folio where the elastic band exits the planner. It's a nice touch that adds to the durability of this year's folio.
The folio system is a a perfect solution for the planner girl that is mobile and needs to customize and target the areas they plan!
2020 Daily Petite Planners | Launching September 19 | $14/each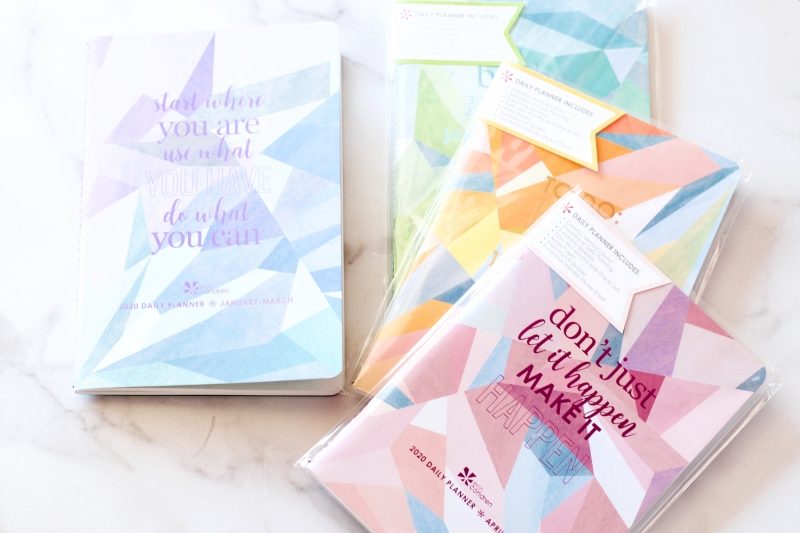 As part of the petite planner system 4 quarterly daily planners are released each year:
Volume One: January 2020 – March 2020
Volume Two: April 2020 – June 2020
Volume Three: July 2020 – September 2020
Volume Four: October 2020 – December 2020
Issuing the daily planners in 4 different quarterly booklets allows you to insert the current quarterly planner into your folio and still have room for 3 different petite planners – your choice. Each 2020 daily petite planner has a kaleidoscope themed cover (in sturdy, smooth cardstock), and the back has a pocket with an included sticker sheet.
The daily planner contains the 3 months within that quarter with the monthly spread (above) and a full page for each day of the month with the exception of weekends (which share one page). The theme for this year's daily petite planner follows the very popular current kaleidoscope theme and monthly pages reflect similar designs to the current colorful monthly page in the Erin Condren LifePlanner.
Above you can see a comparison of the current 2019 monthly view of the daily petite planner (with the green accents in the bottom of the photo), with the 2020 monthly (pictured on top) which has the color-shaded notes column and the kaleidoscope trim.
The daily pages also received an update to layout (I'll share some comparison pictures below). Each daily page (except the weekends) has a full column which can be designated hourly, or you can label the sections, "work, school, home," or, "morning, afternoon, evening." The column is flexible – designate it in the way that works for you! Next to the main vertical column is a checklist box for tasks. And below the checklist section is a blank section for notes.
The top of each daily page now has a hexagon in the space that used to contain a mini monthly calendar (see below). While the hexagons are beautiful, I'm very functional when I use this planner, and I don't find the hexagon addition very functional. I can think of a few uses for the hexagon – perhaps you could designate a holiday here, or a special event, countdown tracker, or a habit you're working on.
Above you can see the current 2019 daily petite planner (in green/June 5,6) with the mini monthly calendar at the top of each page. Behind it, and toward the top of the photo is the 2020 daily petite planner (in teal blue/January 1,2) with hexagons in place of the mini monthly calendar.
And that begs the question, what happened to the mini monthly calendar?
It is now in the notes section of the left-facing page, justified left within the notes box.
See above for a comparison of the 2019 daily petite planner layout (top, in green) with the 2020 daily petite planner layout (below, in teal blue). The mini monthly takes up a lot of space that I really enjoyed using in the notes section. And, I can't help but miss the symmetry of the two pages – every left facing page in the daily petite planner contains a mini month printed and justified left in the notes section. I think I can probably find an occasional use for the hexagons, but I'll be tripping over the mini month printed in the notes section and would have preferred to just have the space to write my notes.
Petite Planners | Launching September 12, September 19 | $14 each
A couple of the current petite planners got a new cover, and there are two brand new additions to the petite planner lineup to share with you!
The Budget Book (braided beauty cover) and the Wellness Log (watercolor blooms cover) contain the same interior planning pages as in past petite planners. Only the covers changed/updated. These new cover options will be available on September 19.
Breast Cancer Journal (pink sketched blooms cover) | Launching September 12
This petite planner has been thoughtfully designed to support women going through breast cancer diagnosis and treatment.
There are six weeks of trackers for drain levels, chemo, medication, symptoms, moods, and an exclusive metallic sticker sheet included in the back pocket.
The (undated) daily pages leave space to journal feelings, daily focus, gratitude (so important!), a daily medication tracker, habit ribbon (water, meals, weight), and a generous space for notes and reflections. At the end of seven daily pages there is a thoughtful weekly wrap up that invites reflection and gratitude as well as providing space for honest, raw, and perhaps gritty thoughts.
This planner is so well designed and thoughtful – what a gift of support and encouragement to someone who might be dizzy and overwhelmed with a breast cancer diagnosis!
Medical Treatment Log (midnight/metallic gold cover) | Launching September 12
The new medical treatment log is one that I am particularly excited about! I've mentioned before that I have an autoimmune disease – a chronic disease that I am working hard to put into remission. I currently use my on the go folio and petite planner system to help me manage my own medical efforts (meds, activity, doctors appointments, labs, dietary protocols) toward restoring my health and putting my autoimmune disease into remission so this new petite planner is definitely going to be incorporated in my lineup!
The medical treatment log includes several pages to make notes regarding your particular diagnosis, treatment options, treatment plan pages, and a place for surgery checklist and post-surgery notes (if surgery is necessary for you).
There are pages to list your medical team and 4 pages with places to record questions for your doctor. (These will be so helpful!!!)
There is a medication log, place for medical results, and a really helpful expense/insurance log page.
There are 40 appointment log pages with spaces to record notes, questions, and next steps. There is an included metallic sticker sheet in the back.
Metal Ruler & Desk Accessories Set | Launching September 19 | ruler ($8), desk accessories ($12)
These two items were part of the 2019 Fall Erin Condren Seasonal Surprise Box (sold out) and will now be making their way to the website as accessories for purchase. The gold ruler is one of my favorite items – it's a very sturdy, small ruler! It fits perfectly in the new velvet planny pouch! And the desk accessories set in Gemtones has rubber bands, push pins, and every clip you could want to organize your papers!
I hope this preview was helpful! I'll be back soon to share some details of our current Morning Basket book choices and a tour of our learning room and my home office! Happy planning!