Here we are again, knocking at the door of the beginning of a new Church season – Advent – which begins in less than a month on November 29! Every year, for the last 10 years, I have been building an Advent and Christmas Planner and sharing it.
In truth, this planner has been in existence longer than 10 years, but in those early years it existed as a few lists and scraps of paper that I cobbled together here and there in order to set an atmosphere of quiet anticipation in our home. As children grew, and the internet made sharing so easy, I began to assemble my lists and resources into a document, that over the years, has grown into a book. As always, I update the document each year with a few new resources as well as updating the dates and liturgical year designations, and then I share it with you. I pray it is a blessing and a starting point for your home!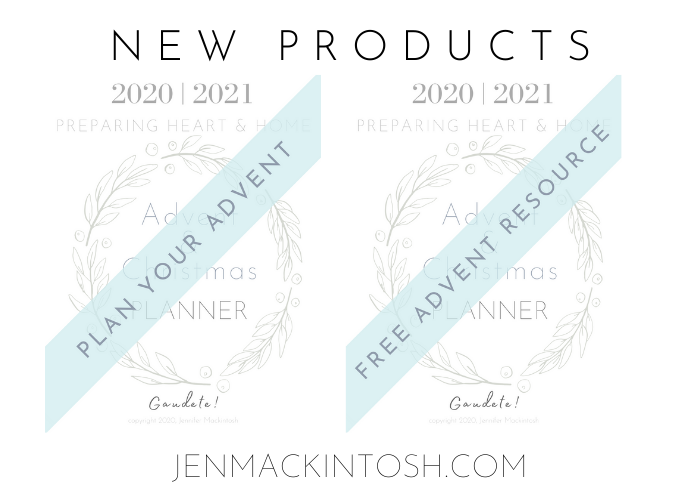 What can you expect from this planner?
This planner is first and foremost the work of one mom who just wants to live out the beauty and richness of the liturgical year in her home with her children, and as this mom's children have grown to start families of their own, it is also (I hope) a starting point for them. I make no claim to a professional sort of work and you may find a few errors. I did try to offer you something as polished and proofed as I could create because a tool should be sharp.
This book is compiled by a lay Catholic who is faithful to the Magisterium and teaching body of the Catholic Church. This booklet is not affiliated with an approved ecclesiastical source.
This planner is Catholic – from beginning to end. I want to be clear about that, and I hope if you are not Catholic, you will feel welcome, invited, and encouraged to use this planner and consider the riches here. After all, we may all claim the rich inheritance and liturgical traditions offered to us through the great Mystery of the Incarnation.
It is a week by week planner which contains a daily listing of the liturgical feasts and customs appropriate to that day.
Both the Extraordinary Form Calendar of 1962 (the Latin Mass) and the Ordinary Form Calendar of 1969 (the Novus Ordo Mass in the vernacular) are represented in the planner. I use the Angelus Press liturgical calendar for the 1962 liturgical year, and I consulted the USCCB liturgical calendar for the Novus Ordo.
This year, I have two options for you – both available in my shop:

A free 9 page resource – add it to your cart; you will not have to enter any credit card information.
A 29 page book containing a comprehensive listing of crafts, books, and liturgical traditions compiled in a dated planner covering November 29 – January 13, covering both Extraordinary and Ordinary Form calendars, available for $5.99 in my shop.
The details for each option is listed below, along with links to the two files.
For the Free Advent Resource:

9 pages
Cover page
Advent Hymns
Dated, weekly liturgical year listing for the Extraordinary and Ordinary Forms
Lined notes for listing books and ideas for living the liturgical season
Christmas Hymns
Epiphany Hymns
The Juggler of Notre Dame resource and history with booklist.
Advent and Christmas booklist
For the Full Advent Planner: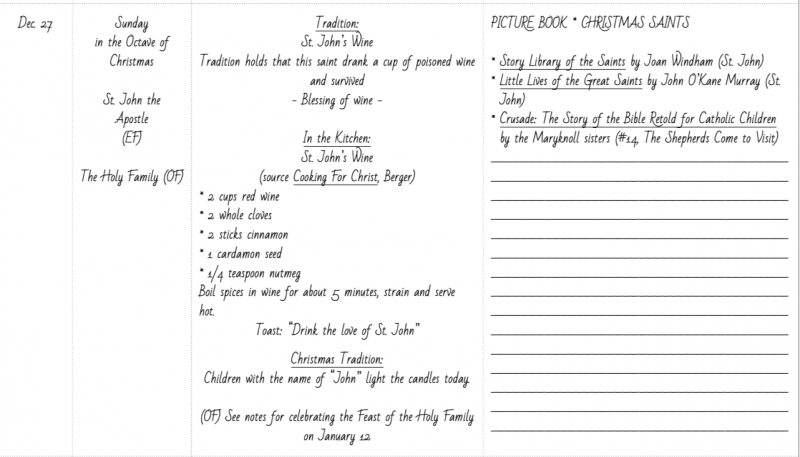 29 pages
Cover page
The book contains a two page, rich liturgical history of the season of Advent.
Advent Hymns with linked playlist
Explanation of symbols used in the planner
Dated, weekly liturgical year listing for the Extraordinary and Ordinary Forms
Week 1 – 4 of Advent:

Each day contains book ideas coordinating with the daily feast, crafts, and Advent customs.

Lined notes for listing additional plans and books for each week
The O Antiphons are listed with a link to a prayer companion for praying the O Antiphons. (copyright, Jennifer Gregory Miller)
Christmas Hymns
Christmas season daily plans with liturgical designation, crafts, traditions, books, and ideas.
The full planner contains daily plans and liturgical ideas from November 30 through January 13 (the Feast of the Baptism of Our Lord) – covering Advent and the Christmas season.
The Juggler of Notre Dame resource and history with booklist.
Advent and Christmas booklist
The Athanasian Creed (suggested for December 16)
Advent Steps instructions and 3 coordinating printable sheets
Gaudete graphic – suitable for a back cover page
Advent plan sheet – this printable can be printed for the four weeks of Advent.

Priorities listing
Home keeping, prayers and devotions, kitchen, picture books, crafts, and market list planner space

Christmas plan sheet – this printable can be used for the weeks of Christmastide

Priorities listing
Home keeping, prayers and devotions, kitchen, picture books, crafts, and market list planner space
This book is a digital file in pdf format.
This book is copyrighted, Jennifer Mackintosh, 2020. Copyright permission is granted to print and use this within a family or small church or class group. If you would like to print and distribute large copies of this document, contact me first.
This is a 29-page book. The book contains several printables for your use. I find it saves paper if you print pages 1 – 22 (two-sided), and pages 24 – 29 (one-sided) since the final pages are the printables. I recommend printing and laminating the "steps" circles to reuse them again.
The Advent & Christmas Booklist & List of Resources
What follows is a collection of books our family has enjoyed over the years. Many of them are included on the plans. This is not an exhaustive list! We don't read all of these each Advent season – we choose a few to enjoy. Collect books for your Advent basket a little at a time, keeping choices lovely and reserving enough quiet to prepare for the season. (Please note that I am an Amazon affiliate and most of these links are through Amazon – if you click through these links I do earn a very small amount. Thank you!)
The Juggler of Notre Dame books – see note and explanation of the books and ideas that sprung from this beautiful 13th century poem/song in the Advent planner, p. 20)
Board Books
Books which may be a blessing in your own home liturgical celebrations:
Steps to Advent Resources:
New to this year's Advent planner is an iteration of the Jesse Tree which I came up with, almost by accident, a couple of years ago. The variation brought together many of the practices (like the Jesse Tree and the O Antiphons) we love, but always had trouble keeping up with. For some reason, this practice was intuitive and workable from beginning to end. The Advent printable contains more along with all of the printables if you'd care to do something like this in your own home.
Jesse Tree symbols – make your own or there are many available to purchase on etsy.com (printable Jesse Tree ornaments)
O Antiphon symbols which I tuck under the dated stepping stones in addition to the Jesse Tree Symbols. You can create your own based on the O Antiphon prayer guide (linked above) or consider the beautiful O Antiphon ornaments at etsy.
Printable number cards to designate the dated steps along the path – these are used to "hide" the Jesse Tree and O Antiphon symbol which is tucked underneath the number card. This year, I plan to print on cardstock and laminate. The printable number cards are attached to the end of the Advent & Christmas planner – for you to print and cut – one for each day of Advent.
A small manger to place on day 25 – the Nativity.

Take the Infant Jesus and tuck him somewhere special – and hidden – so that the manger waits empty for His arrival on Christmas morning, but be sure to make a note in your planner reminding you where you hid the Baby Jesus! December 24 is full enough without adding a frantic search for the Baby Jesus!)

Small pieces of decorative straw (this can be found at Michael's or Hobby Lobby) or straw colored yarn pieces. The little children add a piece of straw for each good deed completed in order to make the Baby Jesus' manger soft for His arrival Christmas morning.
Small tree or stand for hanging your Jesse Tree ornaments (for a no cost option – use a sturdy vase and clip a few branches from a nearby tree/shrub and place it in your vase)
Resources which have been a help to me in planning and living Advent:
Family in Feast and Feria Advent posts – this blog written by my friend, Jennifer Miller, is a treasure trove of liturgical year resources.
O Night Divine – a website built and maintained by another dear friend, Mary Ellen Barrett. This website is another delightful collection of Advent and Christmas resources.
For years – and I mean YEARS (as in…since my Mom was homeschooling my brother and sister) – Dumb Ox Publications has been providing simple and beautiful tools to assist with living the liturgical year. They offer many Advent items that are very affordable!
I pray that in your home, the upcoming season of Advent is blessed with the quiet anticipation that allows room in your heart for the great joy and light of the Feast of the Nativity!
Gaudete!
TEMPUS ADEST GRATIÆ