The Simple Woman's Daybook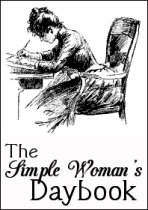 Visit Peggy at The Simple Woman for her daybook entry and others…
FOR TODAY… Monday, June 23, 2008…
Outside My Window…I'm looking at the hay bales across the street. I'm really lamenting the cut – the field was so pretty all dotted with wildflowers and Queen Anne's lace, and I'm just certain there were probably some nests for our Killdeers in the tall grasses. Sad. But, Peanut really enjoyed watching the mechanics of how a field gets bailed. He was riveted to the windows. So, I guess I can be Pollyanna about that.
I am thinking…I can't wait to get to more of my planning for the upcoming year. I've revamped my filing and lesson plans, and it is all coming together so nicely. I had a couple of good chunks of time over the weekend. It's amazing how much one can get done when un-interrupted for 30 minutes. 😉
I am thankful for…a week of no errands…or at least no errands planned yet. Sigh.
From the kitchen…I'm soooo glad to have leftovers waiting for me tonight! No cooking!!! It is such a comfort to have menus to work with again. I'm absolutely terrible at planning on-the-fly in the kitchen. If left to that, the solution is Sonic take-out more often than not. I'm sick of Sonic!!!
I am wearing…a swingy, cotton, navy blue dress with tiny blue forget-me-nots all over it and bare feet. Makes me happy.
I am creating…a more focused plan for us for the remainder of the summer. It is quite needed as I am such a happy little sanguine flitting from one project to the next without some much needed direction. Time well spent this weekend putting pen to paper and creating focus days for myself and the children. I'm focusing on planning out my year (Charlotte Mason style), and working on adding new recipes to my sad and boring ones for another year's worth of menus, and a booklist and revision of a particular favorite book of mine 🙂
I am going…nowhere! 🙂 🙂 🙂 🙂
I am reading…hmmm…which book to pick? Did I mention I'm sanguine and tend to hop around many delightful little flowers all at once? Planning Your Charlotte Mason Education, Laying Down the Rails, Hearth and Home: Recipes for Life…just to name a few. 🙂
I am hoping…to finish my term planning and move a good bit through my weekly lesson planning this week. A girl can dream, right?
I am hearing…the kids play delightfully well together upstairs. Wonder how much longer that will last?
Around the house…I re-arranged my little prayer and reading corner in my bedroom this weekend. It's situated nearer my windows now. I'm sure you really don't care about this level of detail dear reader, but I'll tell you anyway because I love re-arranging things and it makes me happy. My dresser is now on the opposite wall. I placed a crisp, white linen tablecloth with blue embroidery on the round table next to my rocking chair. A tremendous improvement I can assure you. Anyhoo…the whole arrangement is very pleasing to me now…for a little while anyway 🙂
One of my favorite things…awaiting my new/used copies of a couple of Barefoot Contessa cookbooks. I hope they arrive in my mailbox soon. Sweet Pea and I can't wait to dig in. Confession…I can't wait for Sweet Pea to dig in. It is a delight when your daughter is old enough to cook independently – a sheer delight!
A Few Plans For The Rest Of The Week: Did I mention I'm planning 🙂 'nuf said!
Here is picture thought I am sharing…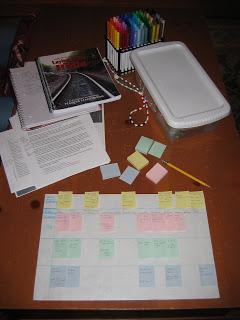 Have to HT Colleen for inspiring me with the post it note planning for working out some of my "big picture" details.