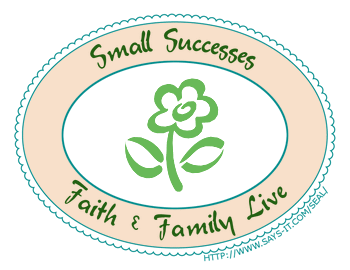 I think that considering small successes for the week is such an uplifting and simple thing to do! Join the rest of us and Danielle Bean at Faith and Family, won't you!
Now, let's see what kind of smallish successes I can think of from the week….
1. I'm faithfully T-Tapping away – exercise feels good! Ok, that's really not so small…but, it's a big success for me!
2. I sorted and organized all the bookmarks on my computer last night. I can't tell you what a relief this is! I have needed to do this for some time! I made new folders under headings and sorted and organized away! Whew! And…who knew that mac OSX (or maybe it's just Firefox???) now has a "backup your bookmarks" option???!!! My stars! I clicked that button faster than you can possibly imagine! So, now they're all organized and my *million* bookmarks are far easier to find and safe from loss! HUGE sigh of relief!
3. I've kept up with the laundry so far this week… I hesitate to post that as a success because laundry is really never over enough to claim that you're caught up, but I had to reform my laundry routine in a big way after last week's fiasco of bare feet and bare….well, you know….due to a monumental glitch in my laundry management. In heaven, I will have a gigantic laundry room with color coded baskets and miles of cabinets to fold upon and a lovely lavender scented ironing center with a big window and lots of sunshine. Here, in the vale of tears, I have what would generously be considered a closet. sigh.