Katie Elizabeth's Baptism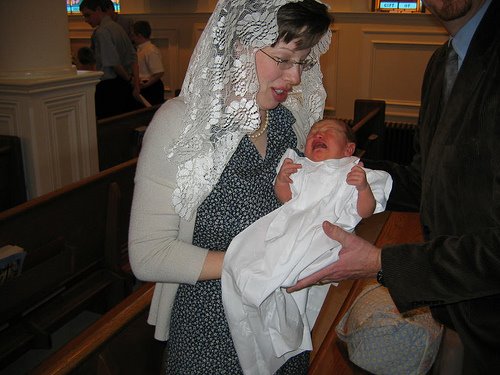 On Sunday, March 9, 2008 Katharine Elizabeth was baptized. We had her baptized after our Latin Mass, and the baptism was done in the 1962 rite as well. It was absolutely beautiful! Father Mackey conferred the Sacrament. He has baptized 3 of our children so far.
Katie's godparents are my sister, Kim and my brother, Chris. Mom, Dad, Kim and Chris were all there for the baptism. We were all worried about the weather. It snowed here on the Friday and Saturday before her baptism. We had about an inch of snow, but Mom and Dad had about 3-4 inches.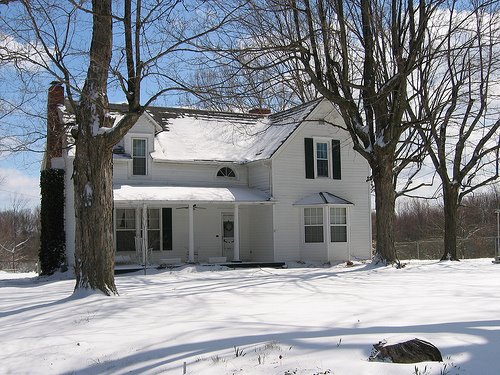 Beautiful…but the timing had me worried. Thanks be to God, it warmed nicely on Sunday and the roads were clear enough for travel.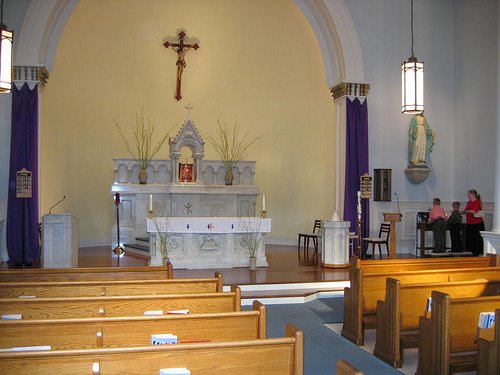 After the baptism, Rob and I knelt before the statue of the Blessed Virgin Mary and consecrated Katie to the Immaculate Heart of Mary.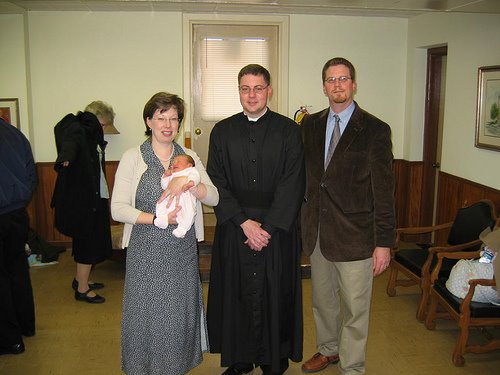 Rob, Father Mackey, Katie and I at the reception after the baptism. Father has been a friend of ours since his ordination about 8 or 9 years ago. Rob would love to think of a loophole so that Father Mackey could perform some sort of conditional baptism for Sweet Pea, our only child NOT baptized by him! We are so blessed to have this holy priest in our life! May the mantle of our Blessed Mother be always wrapped around him, may she shelter and protect him!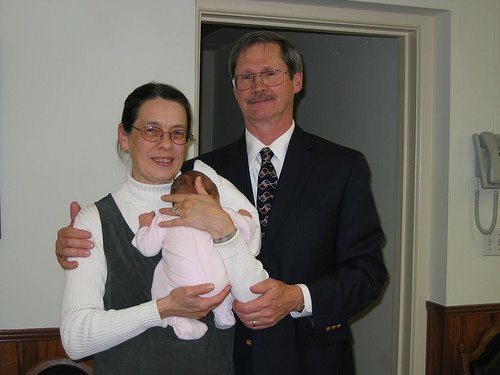 Proud grandparents!!!! I know my mother is cringing at seeing her picture on the world wide web!! But truly Mom, you're always so happy and completely yourself when surrounded by your family. And I love seeing you holding your grandchild and completely loved by Daddy! This is a precious image, and I love it! A secret…don't tell anyone…but when sorting through the pictures of Katie's baptism and deciding which to include here, there is one person holding Katie more than anyone else…can you guess who? Mom!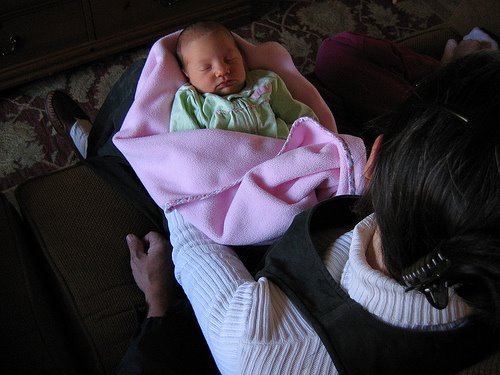 Is there anything sweeter? Katie smelled so sweet after her baptism! I love the smell of the holy chrism used in the anointing. I just kept kissing her forehead and inhaling that sweet smell of grace freely given. God is so good!