By the sign of the Holy Cross, deliver us from our enemies, O our God.
Our Lenten preparations are finally complete, and I wanted to share them. With each passing year, the children are more involved in setting out our holy reminders. I am always so moved by their intuitions and choices in how they like to place things. This year our Feast Table is set up like this…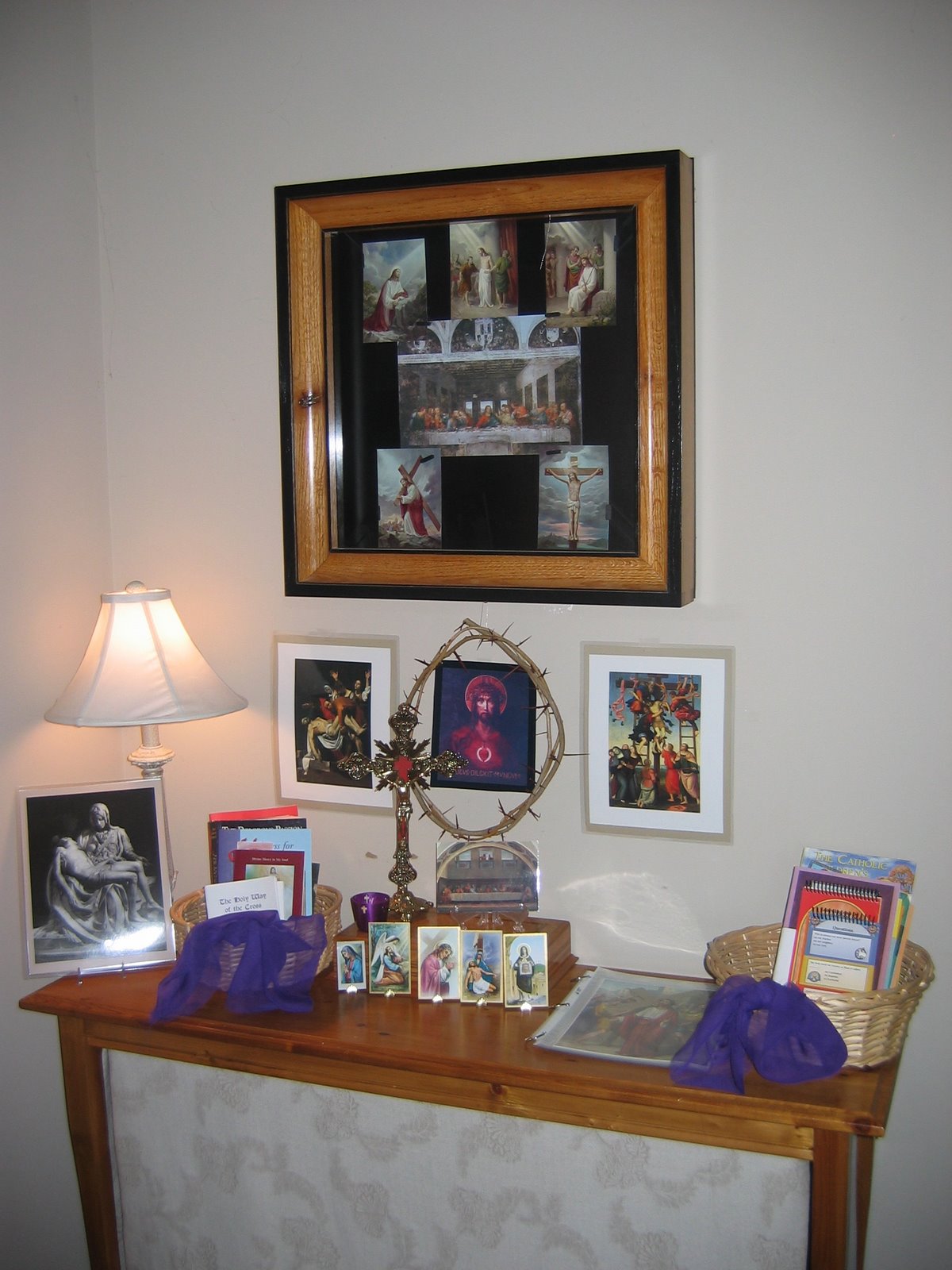 The Crown of Thorns is always prominent. This year, the children chose several pieces of sacred art to display – Michaelangelo's "Pieta," Perugino's "The Deposition from the Cross," Caravagio's "Deposition," Da Vinci's "The Last Supper," and a few others.
The Stations of the Cross prints are set out on the Feast Table. I'd love to hang them on my wall, but with my open floor plan…alas…not enough connective walls to have all 14 hanging in an area. I'm still brainstorming this one. One day, I may come up with a plan.
Lastly, we have set out our Lenten reading baskets. The books in these baskets live on the shelves in our home, but I find that if I merely set them out in a basket at a certain time of the year, they become attractive again, and people gravitate toward them. Kind of like how an apple will sit and sit on the counter, until mom cuts it up – suddenly, you want the apple! Here's what I have set out:
Kid's Lenten reading basket:
As well as the complete sets of these for brushing up on catechism facts:
Adult Lenten reading basket (because my husband will only eat an apple if it's cut up and put before him too.)
I'm sure we won't make it through all of these, but I'm really enjoying "Growing in the Virtues of Jesus" right now. And since all of my Lenten resolutions are to *grow in virtue* I thought this might be a good place to start. One of my all time favorite books to read for Lent is "The Dolorous Passion of Our Lord Jesus Christ." You feel like you are right there with HIM!
Lastly, I ordered several Lenten calendars and tools from Dumb Ox publishing. I wish I could link to them, but they are a wonderful family owned business and they have no website. They publish materials to help live the Liturgical Year, especially for the seasons of Advent, Christmas, Lent and Easter. Write to them and request to be added to their mailing list:
Dumb Ox Publications

10201 W. Grove School Road
Beloit, WI
53511-8352
Praying your preparations for Lent will be fruitful, that this Holy Season will bring renewed faith, hope and charity for all families!

Eternal Father, I offer You the Most Precious Blood of Jesus Christ in atonement for my sins, and in supplication for the holy souls in purgatory and for the needs of the Holy Church.