TOYS!!! Choosing, Organizing and Managing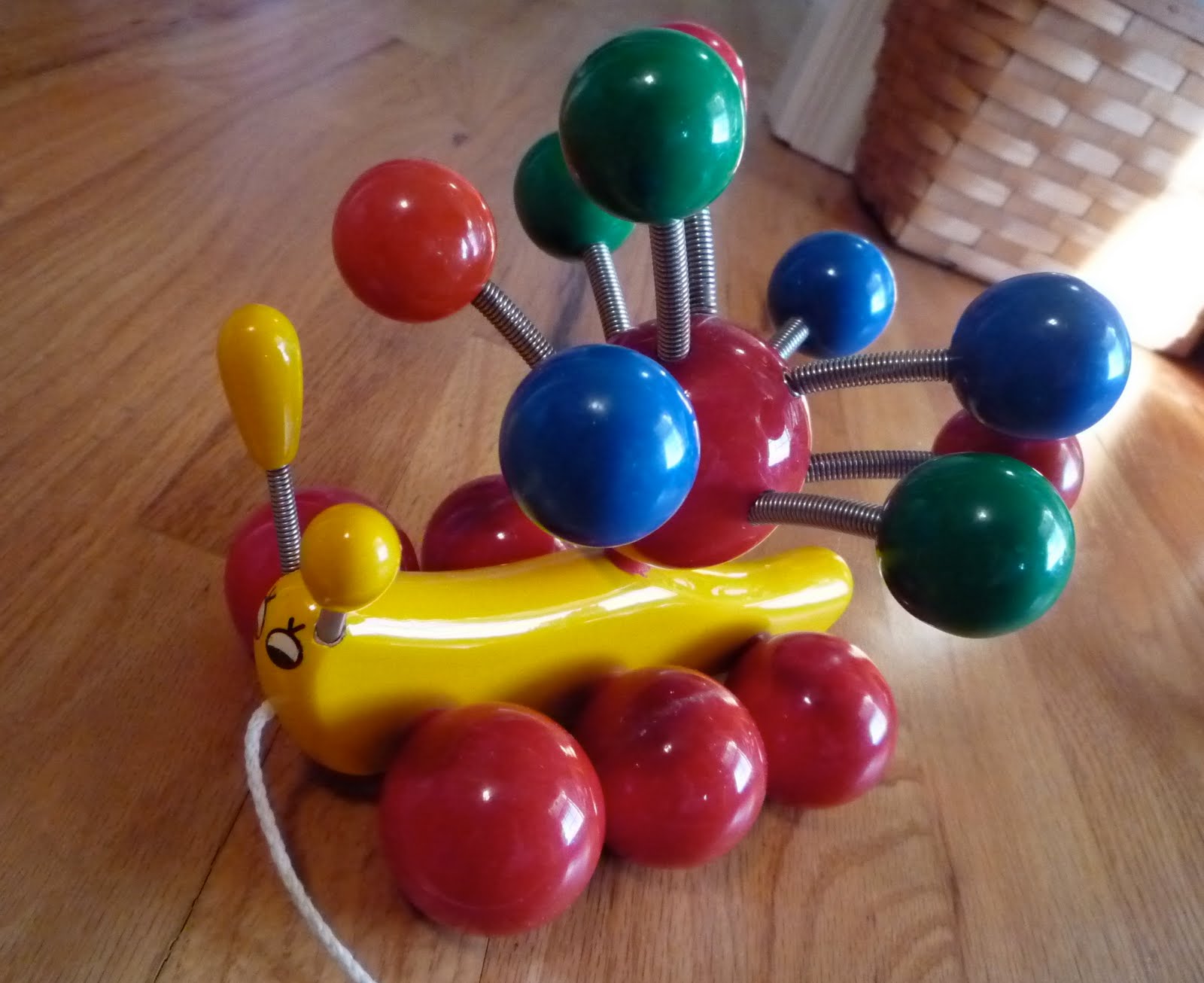 Casey writes:
I was wondering if maybe you could give a young mother of two babies under 2yrs of age in a very small apartment some advice. I am in great need of a purging of childrens' toys after Christmas, but I am unsure how to decide what to keep and what to give away as I do anticipate there will be more children to come in the future. How do you go about such a task?
Ask any mother what her never-ending, constant, on-going, always-uphill battle is and she will most likely reply, "managing toys".
Casey, you ask a great question, and I'll give you my thoughts on it.  Let's talk about toys in general first.  I'll share with you a few of the things I try to keep in mind when it comes to toys and playthings as well as the organization and maintenance of them.  I think it's helpful to identify a reasonable "toy philosophy" (LOL!  Is there such a thing?) then we can spend some time talking about managing it…because Christmas and birthdays happen, and well meaning friends and family members may not have read your soon to be agreed upon "Toy Manifesto."
We live in a pretty materialistic society and toy marketing is ruthless!  How is a mother to keep order in her home when a new plastic whiz-bang enters the home every other day?  This post is not meant to inspire guilt, nor as a judgment on anyone's home making or toy management, nor is it meant as a blanket toy snob statement.  I just want to share how our family has come to terms with this challenge.
Detachment is supposed to be painful.  Keep that in mind when you and your children are going through things.  Some thoughts in approaching detachment:
---
"Detachment from things gives us the freedom we need to follow Christ.  Goods are only the means."  Francis Fernandez, In Conversation with God, Volume 2, Lent and Easter, 16.1
---
 "Material goods are good since they come from God.  They have been put by God at man's disposal since creation began, for his growth and development in society.  We are administrators of these goods for a time, for only a short term.  Everything should lead us to love God – Creator and Father –  and the things He has made and given us.  Francis Fernandez, In Conversation with God, Volume 2, Lent and Easter, 16.1
---
 "The best examples of poverty are those mothers and fathers of large and poor families who spend their lives for their children and who through their effort and their constancy – often without complaining of their needs – bring up their family, creating a cheerful home in which everyone learns to love, to serve and to work."  St. Josemaria Escriva, Conversations with Monsignor Escriva, p. 111
---
Establishing a Toy Philosophy
---
First, look to your spaces.  Casey, you mention that you are living in a very small apartment.  There are 4 people living in that space.  If you have so much going on visually in that space…bookshelves, toy boxes, toys lining every bit of floor space, toys in bathrooms, bathtubs, bedrooms, a toy basket in the kitchen…it's time to purge right off the bat.  There's nothing wrong with having toys available and accessible in your home, but if you are space challenged make room and reclaim some quiet spaces.
If children are overwhelmed with choices in toys and visual clutter in a space, they tend to shut down and play with…a cardboard tube in the middle of the room.  That is my experience anyway.  Less is more.  Quality over quantity.
Tip #1 – If I can't quick tidy my spaces in 15 minutes or less I know I have too much of something (usually toys).
I'm not a fan of cheap, plastic, mass-produced toys.  There.  I said it.  Ripped off the band-aid.  I know that eliminates at least 80% of the toy clutter in your home.  If it's ugly, if it's trendy (think Spongebob, Spiderman), if it requires batteries, if it makes noise and lights up, if it has only one purpose, and…if it's cheap/plastic/mass produced…I think very carefully about letting it into this home. There are a number of reasons for this beyond my own need to keep a lid on toy take-over in this home, and the first that comes to mind are the recent and unsettling recalls of toy products produced overseas.  Another reason is that these toys take up valuable storage space/real estate and don't see a lot of action.  That's not a good return on investment, and space is valuable here.
I welcome the item or collection that inspires the imagination to stretch, grow, and exercise.  This principle has served us well.  A good toy tends to transcend age limits and guidelines, is open-ended so that the imagination takes care of the rules and specifics of play, and offers years and years worth of play.  These are the toys I keep.
Very simply, Casey, the above is the litmus test for me in determining what goes and what might stay.  Is this a toy that you can see your grandchildren playing with?  If yes, keep it.  If not, consider allowing it to move on and possibly bless another family.
Tip #2 – A few good-quality toys can successfully replace boxes and boxes of cheap plastic whiz-bangs.
---
A Few of Our Favorite Things
---
I'm thinking of some of our favorite toy choices here.  I don't keep all that I'm about to list out at one time; we rotate toys seasonally.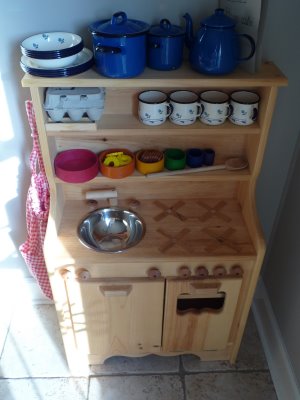 Wooden play kitchen with a few pretend foods and accessories.  Keep it simple and nice.  You don't need to outfit your child's play kitchen with with an 84 piece cookware set, the pretend mixer/blender with 22 attachments, enough plastic groceries to feed the neighborhood, and a 12 place setting.  Invest in just a few pieces.  Homemade pieces would be so wonderful for this – I just love felt food (great inspiration here!).  My little one loves cutting apart these wooden vegetables!
Magna Tiles.  All my kids love to build with these and the possibilities are endless.
Blocks of all kinds.  We're very fortunate in that my brother made the kids a beautiful set of blocks in all shapes and sizes from some scrap oak.  What a wonderful project this would be for an older sibling or dad in the shop!  Sand down the corners nicely and rub in a nice coat of mineral oil.  If DIY isn't your speed, you might consider some Keva blocks.
Dolls for girls.  Our doll of choice are Corolle dolls.  Our older daughter still greatly enjoys the historically based dolls made by American Girl.  Everyone has their own comfort level with American girl dolls.
Wooden play structures like barns, farms, and doll houses.  Our daughter loves her horse stable.
All things Playmobil.  Fair warning: Playmobil comes with lots and lots of little bitty parts.  My solution:  Leave a couple of accessories out and put the rest in a ziploc bag to be tucked away.  Everything is just of great quality and lasts and lasts through the kind of play a young child dishes out over the years.
Zometools.  I know…the name doesn't tell you much, but these are a huge hit around here.  My mom gave the kids a smallish kit one year, and they loved it and used it so much that the next year we expanded the collection for them!  Think hands-on geometry.  You can find many kits that could really enhance your collection, and I just noticed a very intriguing book – Zome Geometry: Hands-on Learning with Zome Models.
A nice set of dominoes.
I wanted so much to link you to one of our all-time-favorite toys – T. J. Whitney's Wooden Marbles and Blocks, but I don't think they're available any more.  That's too bad.  If you ever see a set somewhere, grab it!  My kids really enjoy these!  A set of glass marbles can also be a wonderful thing!!
Building kits like K'Nex, Legos, Zoob, Erector Sets.
Bucket of vehicles.  I can't tell you what an unimaginable hit this has been in our home.  The little vehicles are well built, and in addition to cars there are also planes, trucks, boats, helicopters, and tractors in this set.
Lincoln Logs and other similar wooden building toys.  I really like the Roy Toy versions which are made in the USA!
Inflatable hopping horse.  This is so great for gross motor skill development, and really doesn't require much room in the house!  We keep ours indoors!
Wooden puzzles.  I find most of mine at thrift stores or consignment shops.
Play silks of all sizes, colors and shapes for dress-up and pretending.  You can dye your own silks which is a great deal less expensive.
Don't forget great art supplies!  One of my absolutely FAVORITE things are inexpensive Dover coloring books for kids.  The images are a wonderful quality.  I also highly recommend Prang brand art supplies!  They're inexpensive and absolutely GREAT quality!  They will please all ages!
For the 18 month – 3 year old:
Wow!!  Have you made wishlists for the next 10 years worth of gifts?  I hope I'm not promoting too much purchasing, thereby defeating the purpose of this post by offering all these links!
I do want to say that with this long list of amazing store-bought toys absolutely nothing stands the test of time better than the classics – the cardboard tube, the clean plastic bowl, pots and a wooden spoon, a stick, a big sheet and some clothespins.  Don't discount your child's imagination if your budget or space is limited.  No matter how great the toy, it isn't for you if it takes you outside of your means!  Children should stretch their imaginations.  It is a value to have to dig deep and make the best of something!  There are treasured memories there.
---
Organizing and Maintaining Toys
---
So, now that you know what toy shelves look like around here, let's talk about organizing and maintaining a reasonable number of toys in the home.
Tip # 3: Toys multiply mysteriously.  Maintenance is going to be required.
The Cornerstones of my toy management:
Open shelves for storing and displaying toys

Daily quick tidy

Weekly clean-up

Twice yearly purge (Advent and Lent)

A toy rotation space
---
 Open shelves ~
I used to have laundry baskets for toy storage and it was an epic disaster.  Nothing was sorted, and only the few things on top of the basket were ever touched.  Small pieces were always tossed everywhere.  You can figure the same will happen if you do the toss and tidy with any big toy bin.  The one exception to this is sorting collections in a bin, which I do use.  Downstairs, I keep smallish collections in open bins.  They're easy to see, and easy to clean up because any child can see that blocks go in this bin and dolls go in this bin.
In general, I've found I prefer to use open shelves for toy storage.  Each toy collection is contained in something – a bin, a basket, box – and that container sits on the shelf.  Some toys just sit out on the shelf, like a Playmobil firetruck.  Everything can be seen, which means that the toys that are out see playtime and they are easy to pick up.  The kids know right where belongings go when it's time to clean up.
Large families face specific challenges when it comes to having multiple children in one bedroom.  Ideas for finding a small space for each child:
Wall shelves – one per child.  Home Improvement stores offer some really nice options that can be mounted to the wall.  Each child can have one or two shelves on the wall near their bed for storing a few books and treasures.  I like this idea because you can extend the use-ability of the shelf by screwing cup hooks to the bottom of the shelf to hang a Rosary, scapular, small handbag/purse…all out of reach of littles in the room.
A basket for each child.  This might be a nice option for a younger child.  If it doesn't fit in the basket, it can't be out in the room.  I know this breaks my original rule about NOT storing toys and collections in a big bin, but I'm not envisioning anything gigantic, and large families have to brainstorm outside the box.
An inexpensive dresser.  You might search Craigslist or thrift stores for a simple dresser you could paint and add to a room.  Each person could claim one drawer to store treasures.
Tip # 4: A place for everything and everything in its place.  It's important that children know and can be responsible for where things belong.
Daily Quick Tidy ~
I've talked about how we quick tidy before.  As a review, we only quick tidy the downstairs living spaces, not everyone's room.  Room clean-ups occur at a different time – once a week.  A quick tidy has a time limit – everything has to be done in 10 – 15 minutes.  If spaces can't be tidied in 15 minutes I know we have WAY too much stuff out!  When children are in the dump/destroy ages (children between the ages of 18 months and 3 years old) I keep FEWER toys out.
Tip # 5: If I can't tidy my living spaces in 15 minutes – I've got too much to clean up!  Time to put some things away.
The best habit I have ever acquired is that of quick tidying our living spaces at least once daily!
Weekly Clean Up ~
Even with a few toys out, weekly maintenance is necessary.  I keep my expectations clear, and I follow through every week in checking rooms.  Using a checklist format, I break down the details of a room clean up on paper for the kids.  The most successful and helpful feature of this room clean up is to first place all baskets, bins, and boxes that contain the individual collections in a row along a wall in the room.  The next step is to gather all the toys and pieces together – from under beds, in the hall, bathroom, on the floor – into a big laundry basket.  With the containers all in a row on the floor along the wall and easy to get to, the kids go through the laundry basket one toy at a time, finding a piece, locating its collection, and replacing the item in it.  The last step is to put the collections back on the shelf.  Keeping strict limitations on the number of toys out assists greatly in the success of any clean-up.  The kids are responsible for their own rooms – I do not clean them (except for the twice yearly purges)!  Less out = less to clean.
Purging Time ~
Somehow toys multiply!  Managing the toys in our home, I've found it best to spend two times each year taking a serious look at the things we've got around here!  The two most fitting times are during Lent and Advent – both times that Holy Mother Church calls us to great detachment from material belongings.  Both the children and I are involved in this process together.
Advent is the perfect time because it allows us to thoroughly clean and purge excess before the Christmas gifts start rolling in, and Lent is well suited as the season itself calls us to deeper detachment.  Lent purging can include all those well meaning gifts received over Christmas that don't really need to continue to live in your home.
Tip # 6: Family members who deeply enjoy giving gifts have received joy in the giving of the gift.  Once the gift is in your home, it is up to you how you use it and how long you keep it.  Keep very special items, but once a gift is yours, in your home, you can choose to re-gift materials if they need to move on and bless another family.
We start these purges exactly as we begin a weekly room cleaning, lining the wall in a room with collections, gathering all extraneous pieces and parts in a big laundry basket and sorting as much as possible.  In addition to this I open every drawer, the lid on every bin, every notebook, every box, the closet, the dresser – I open EVERYTHING.
If I find trash (paper bits, pieces that are broken, toys that are broken or mangled) – I call it trash – and we throw it out.  Right then.  We don't store trash.
The kids are allowed to keep a limited group of toys out at one time.  I pick a set number – usually around 4 or 5 – and they put that number of collections on the shelf.  If there is plenty of room on the shelves, I might tell them they can each put one more toy collection on the shelf.  Just so you know, I consider one group of toys, like legos, to be one collection.  (And just so you know…in our home we have two very large rooms upstairs – the boys share one room, and eventually the girls will share the other…Doodlebug still shares a room with Rob and I.)
A Toy rotation space ~
All the remaining toys that are not going back to the shelf must be put away somewhere.  We reclaimed a closet, put a lock on the door and use that as our toy rotation closet.  You could reclaim a linen closet, the top of the kids closets, or purchase bins for storing under YOUR bed.  Whatever space you use as your toy rotation space, keep it locked down as much as possible.
We have a set policy in place for our toy rotation closet:
* items can only be traded out, so one toy in for one toy out
* the children's room must be clean and have been checked before an exchange can take place
* the toy exchange official (mom or dad) must be present – no independent exchanges here!
This toy exchange closet has been nice for us.  When the children have decided they're tired of the toys they have out, they can ask to exchange it for one of their other toys.  That toy is new again, full of possibility.
Tip # 7: Find a closet that locks in your house and use it to your advantage for toy storage!  Treat it like a lending library – one toy in for one toy out.
Children who become very attached to their things ~
I have one child who becomes very, very attached to things.  He kept the corner of a page of a missal that his 4 month old baby sister ripped and gave him.  Sentimental is his middle name.  For this child especially, I feel a particular obligation to help him detach comfortably and gently from material things.  I do a couple of things for this child:
Give this child one small bin with a closing lid.  This is the sentimental stuff bin.   All sentimental papers, cards, letters that the child wishes to save go in this bin.  If it doesn't fit, something has to be purged.  The rule is that the lid has to close.
Assist this child in organizing collections.  Set up a notebook with sheet protectors for saving favorite sports articles, provide a shoe box for sports cards.
Don't purge immediately.  Do purge WITH your child's input.  Once you've allowed the kids to choose the toys staying out on their shelves, gather the excess and sort into two piles – definitely keeping and the *I want to get rid of this but my child doesn't* pile. Work with your child, maybe set another limit – we can keep 3 of the 5 things in this pile, you choose them.  Allow them some ownership of the choices made.  For the child that attaches significantly to things, detaching is much more painful, and should be more of a process whereby that child takes ownership of decisions to let go.
Give this child especially the concrete tools needed to detach from material things. 
Tip # 8: For children who attach to material things, provide spaces with clear boundaries – one shelf, a bin with a lid.  Equip them with a vocabulary that includes thoughts like, "God was so generous to bless us with this thing.  We are done with this toy blessing.  It's time to share it with someone else who might be able to use it now."  And give them ownership of detachment decisions!
---
Well, Casey, I hope this gives you some ideas of how we have learned over the years to tackle toy management, and might help you make those decisions on what to keep and not to keep.  For those that have asked how I handle toys, I hope this post answers some of your questions…or at least gave you a few links to fun toys.  Take whatever ideas might work for you in your home.  If you take one thing from this post about toys, remember this:
Less is more!  Quality over quantity!
What may have been a material blessing a few months or even years ago, may now be just another thing cluttering up your living spaces and becoming an obstacle to detachment and order in your home.  Allow those things to move on and bless another family!