A Little Vintage Pretty in the Kitchen – Dinner Glasses
I've been busy with some challenging and delightful home projects, and I can't wait to share a few with you!  Today:  dinner glasses.  Vintage.  Charming.  Pretty.  Functional.
Who doesn't enjoy a little pretty in the kitchen?  I do!  But, it's got to be practical, organized, functional, stocked….and not break the family budget!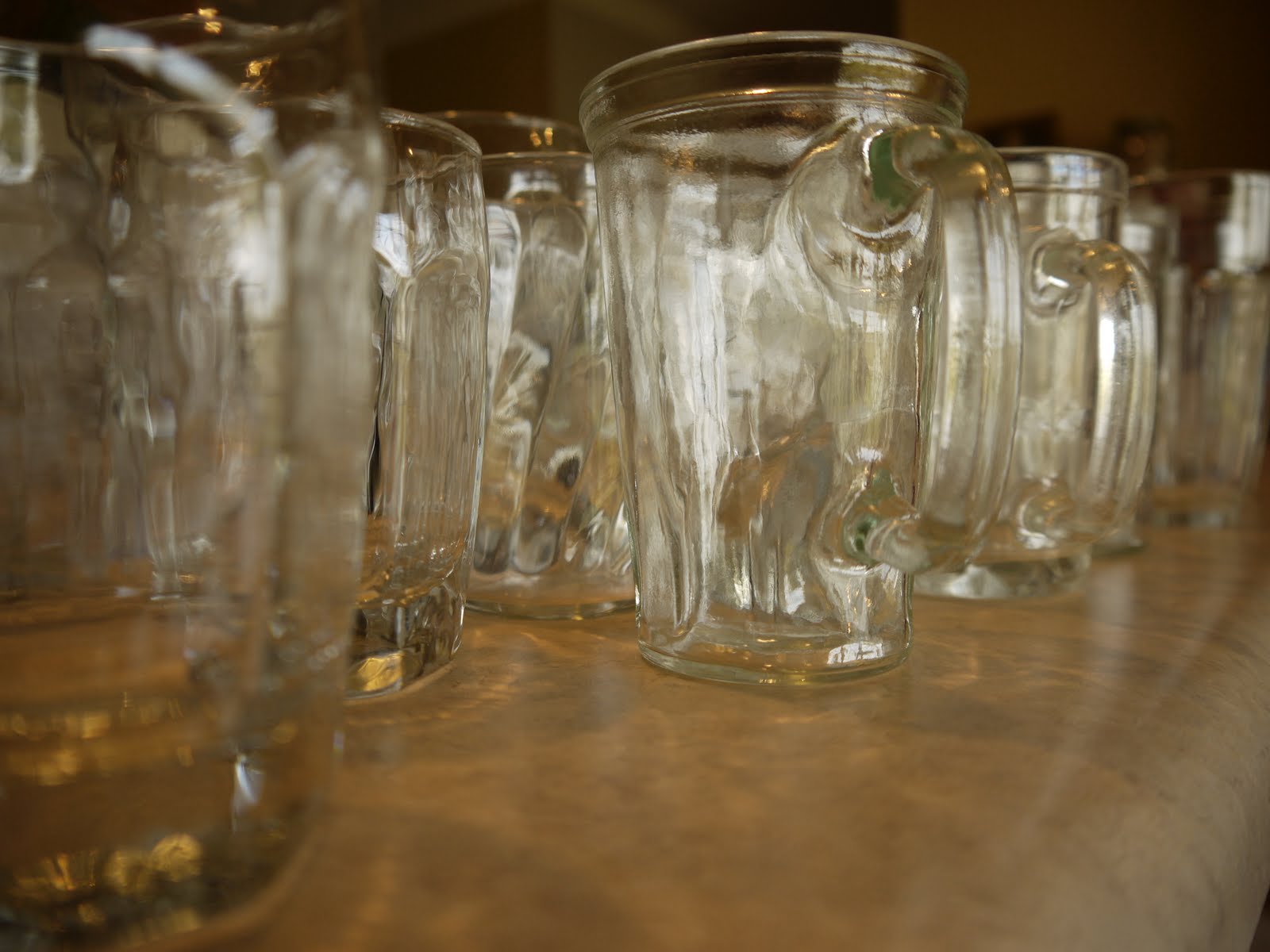 We enjoy using glass at the table, especially a nice table.  I have stone tile floors.  What does that say to you?  Breakage?  Yep.  It happens.  AND….I have little people….so I have definite thoughts on the shape and size of glasses for their little hands.  (Yes, I do give toddlers glasses, too.)  My thoughts on drinking glasses:
Little people need little glasses – juice size.

They must be heavier at the base than at the top.

They should not be completely smooth on the sides, but have some kind of texture which helps with grip.

They should not be disproportionately wider at the top than at the bottom, because this makes them easier to tip.

A handle on a glass (I've learned) is a terribly good thing!
My dinner glass supply was dwindling, and I had not been happy with my last *stuff-mart* purchase of glasses, so I set out to research a good glass – one that met my requirements.  I decided on glasses I had owned before – 
jelly glasses from Vermont Country Store
.  Tres chic?  Not really.  But, practical and holdable, and they meet all my requirements quite nicely.  They were going to be costly since I was down to something like 4 glasses in the cupboard, but I liked that I could replace one or two at a time when a few were broken.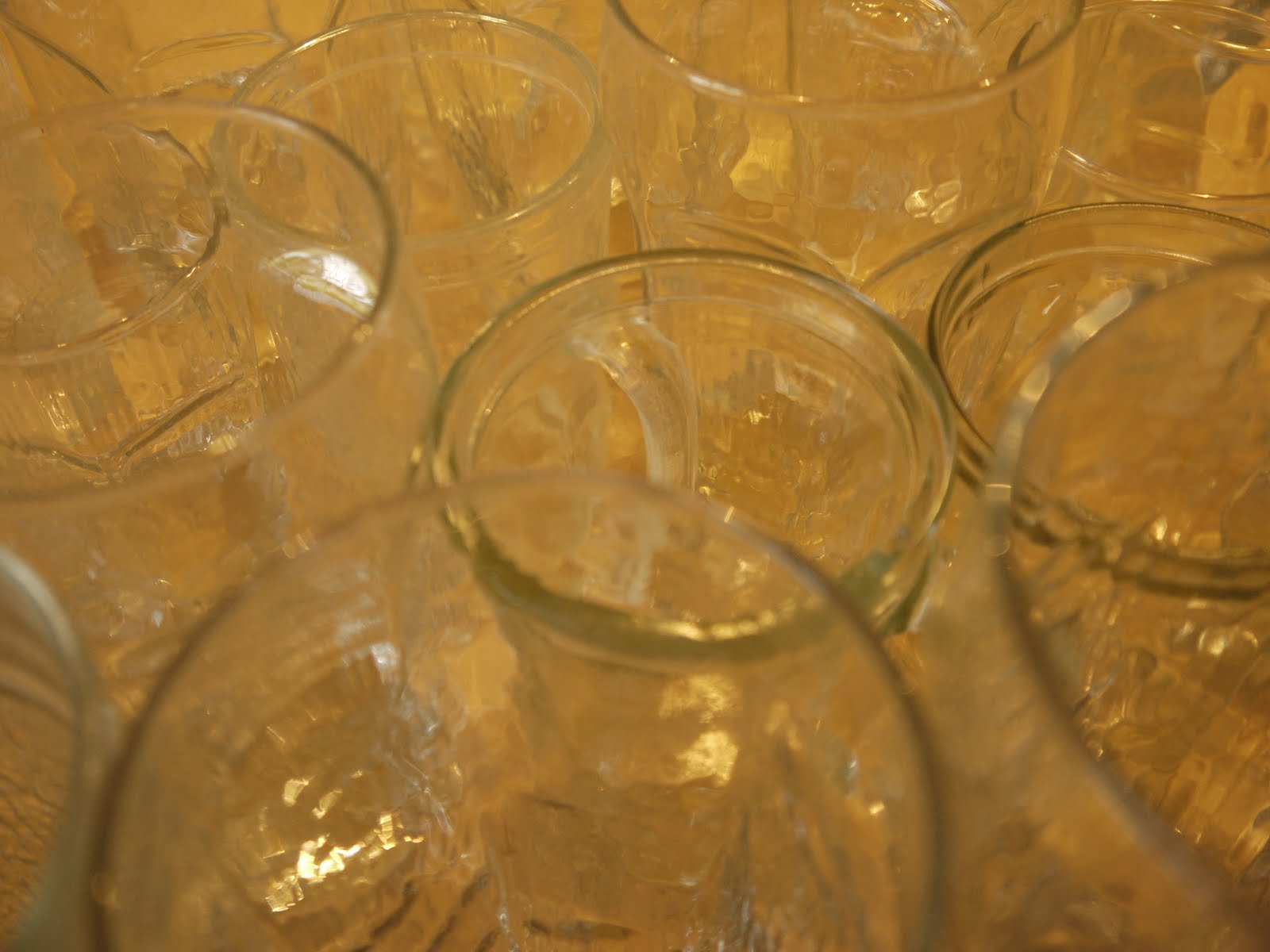 I had my finger poised over the
buy-it
button, and something (life) kept interrupting the times I was planning to sit down and make my purchase (isn't that frustrating!!  But in this case, it was the perfect intervention!).  Somewhere in there, I went to our thrift store, not for glasses, but I decided to take a stroll down the glassware aisle anyway since 
I had been obsessing about dinner glasses
 it had been on my mind.  I found SO MANY glasses that met my requirements and then some….and for next to nothing.  So, I started thinking….expensive glasses break just as easily as glasses that cost a nickel!  And glassware from the thrift store can easily be replaced without the encumbrance of shipping!
In a wink, I gave myself permission to find my glasses outside of a completely matching set, but I did long for some kind of coordination.  As I was looking at the shelves….and SHELVES of glasses, I began to notice some similarities and some differences.  I began to pull out a few glasses I liked and grouped them together.  What I discovered was that they looked pleasing as a collection, and the eye looks past the pattern differences and settles on the single common theme – clear glass!  Seeking clear glass would give me a vintage, old-fashioned look while providing some cohesiveness – all the glasses would be clear.
I was overjoyed and set about to choose dinner glasses in larger sizes for adults and big kids and smaller sizes for the little people.  What I ended up with is utterly charming right alongside terribly practical and insanely cheap!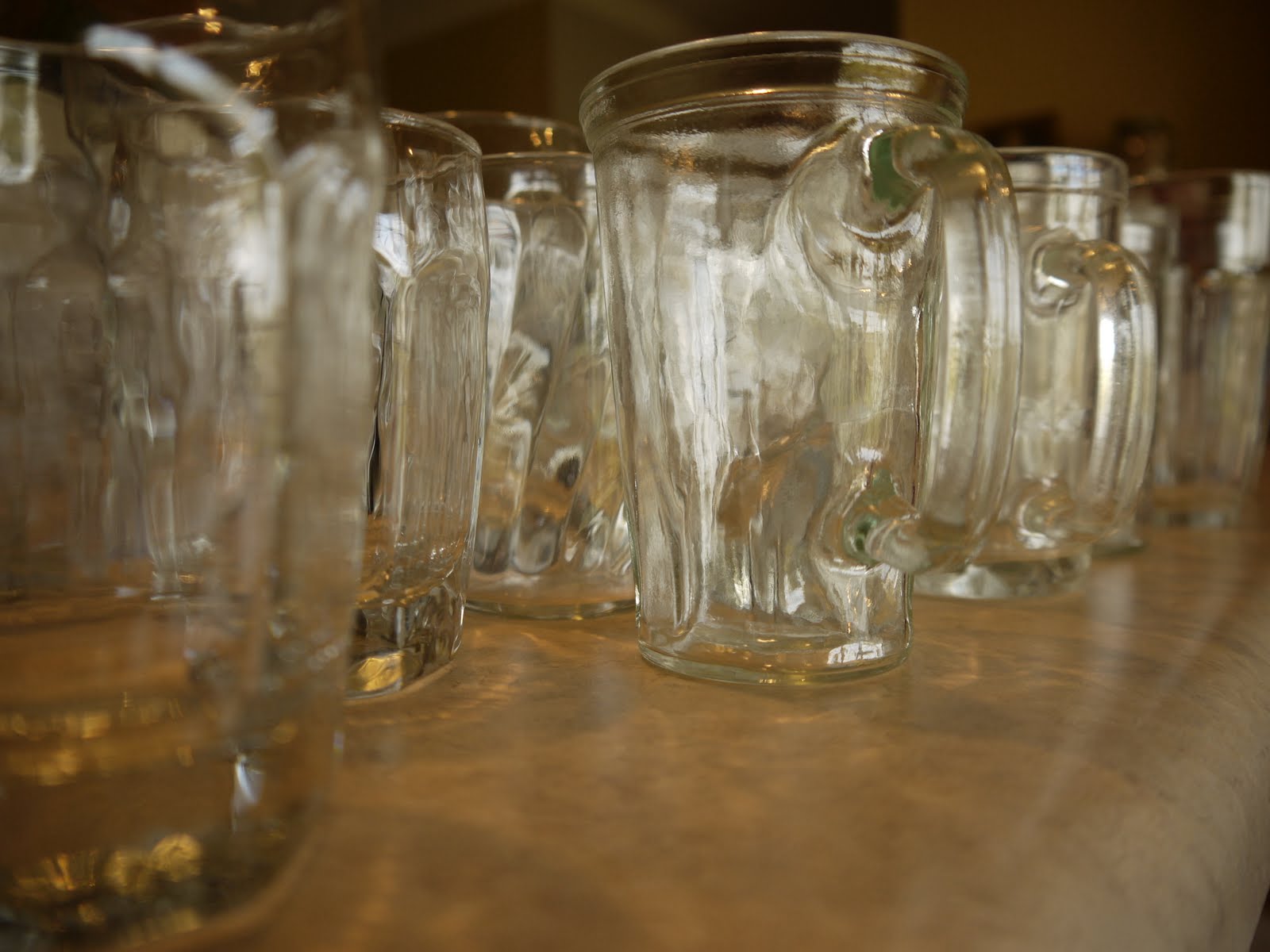 I got my glasses from two thrift stores and spent a total of $5 on all of them.  I was thrilled to have found the most delightful and functional of glassware, meeting all of my ridiculous requirements (and some of them exceeded my requirements….like those little glasses with handles!  My toddler just loves those!)
I even found several of those jelly glasses I was originally looking for – so that was a bonus!
Many of the glasses are older….ahem….excuse me….vintage!  They have a charm all their own, and practically speaking, the actual glass on these is often much thicker and therefore seems much more durable.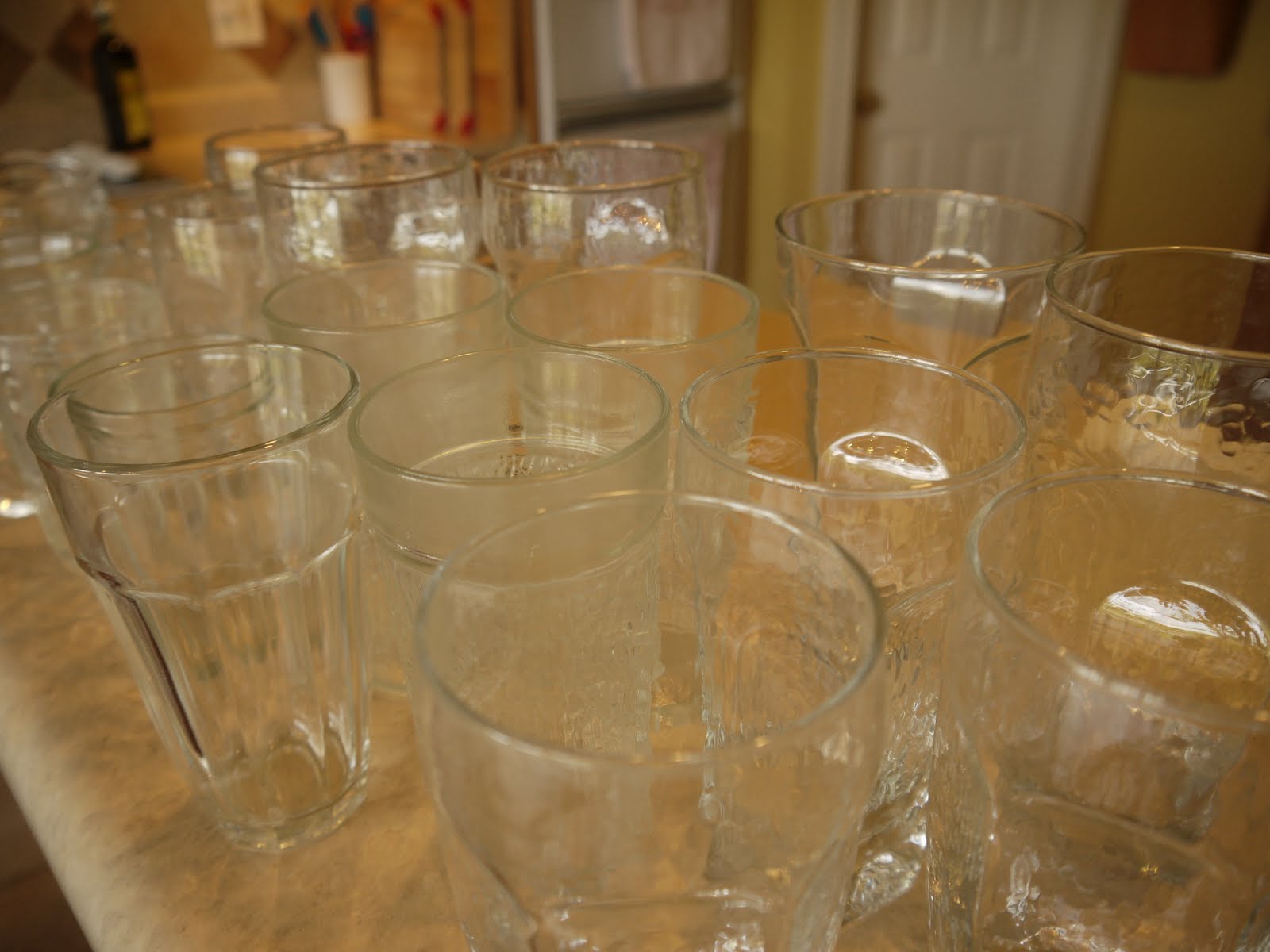 Isn't that a charming delight?  
Inexpensive pretty!!  
I'll share a secret with you!  If you're looking to add some collections of items to your kitchen and need a budget friendly way to add pretty and function – go with solid colors as a theme, rather than a pattern.  See how well it works with clear glasses!  And look how great it works when you stick with a white theme in dinnerware!  You're not restricted to single patterns and exclusive stores and designs, but are free to shop here and there from sales, flea markets, and thrift stores!  As long as you keep your color theme in mind!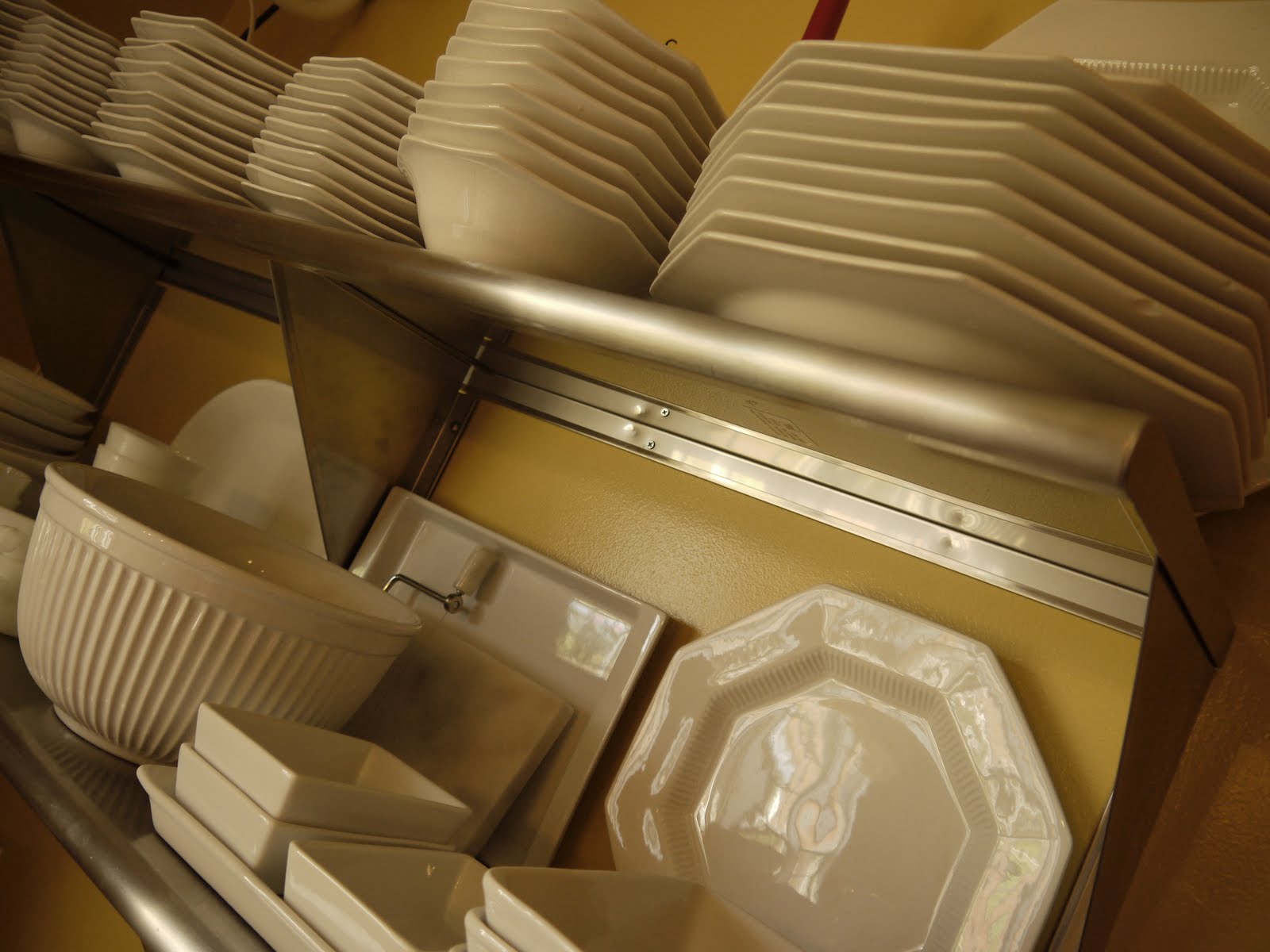 This dinnerware collection is mostly representative of other thrifted finds!  On the top shelf is a full set of Ironstone I found at a thrift store – the whole bin for $40!  The rest is from here and there – some modern, some traditional, others vintage – but it all works!  Because it's all a creamy white!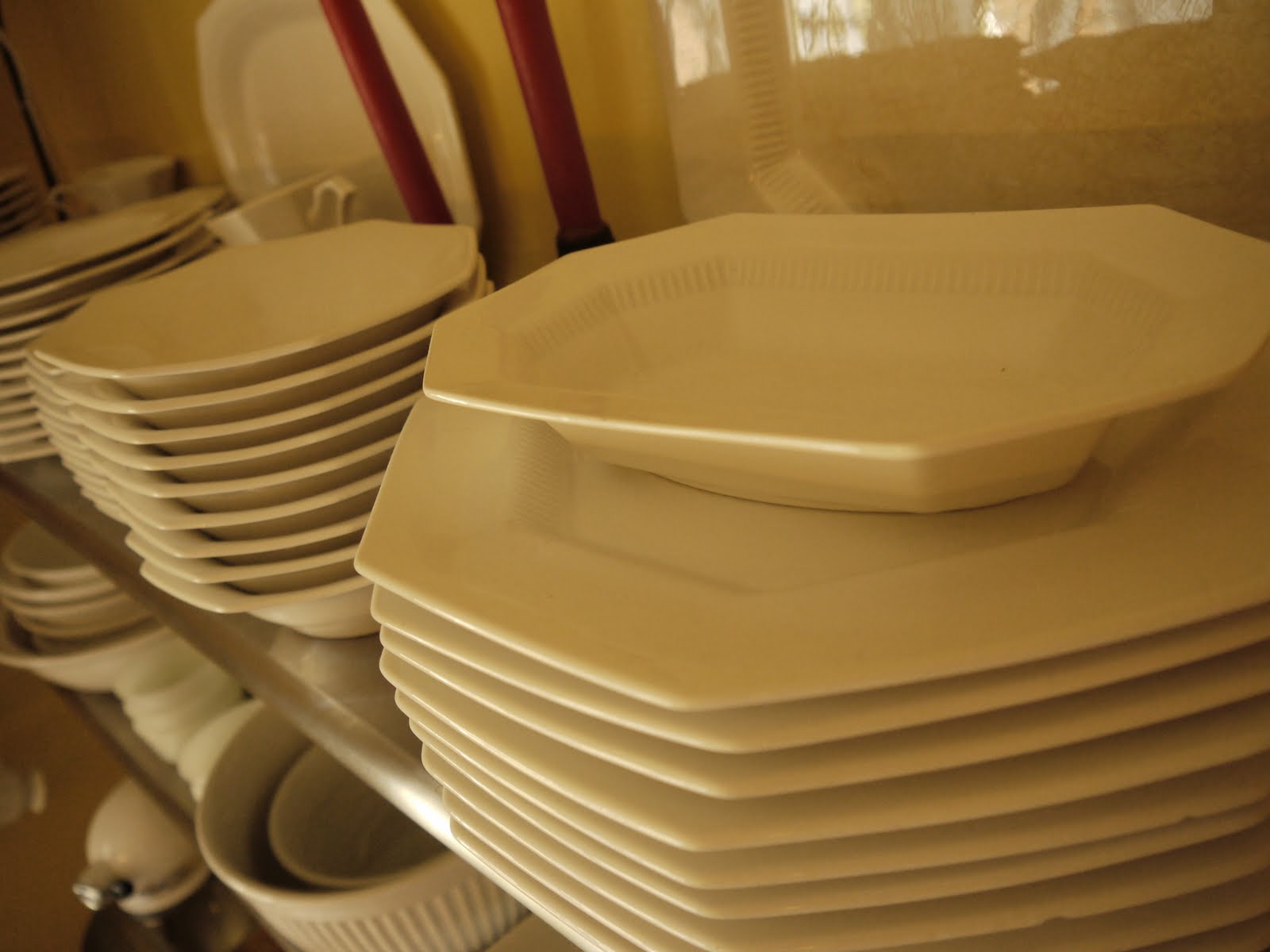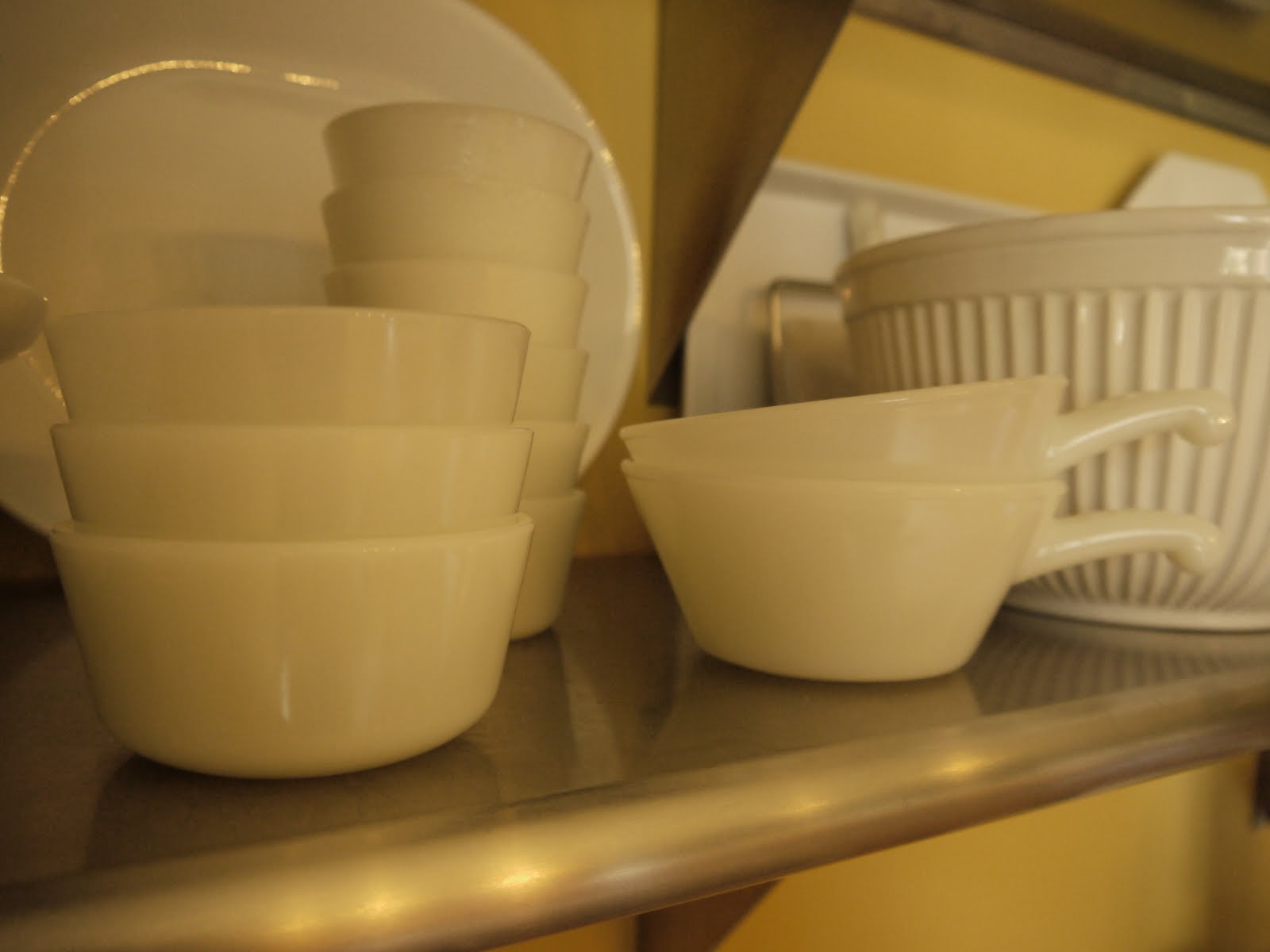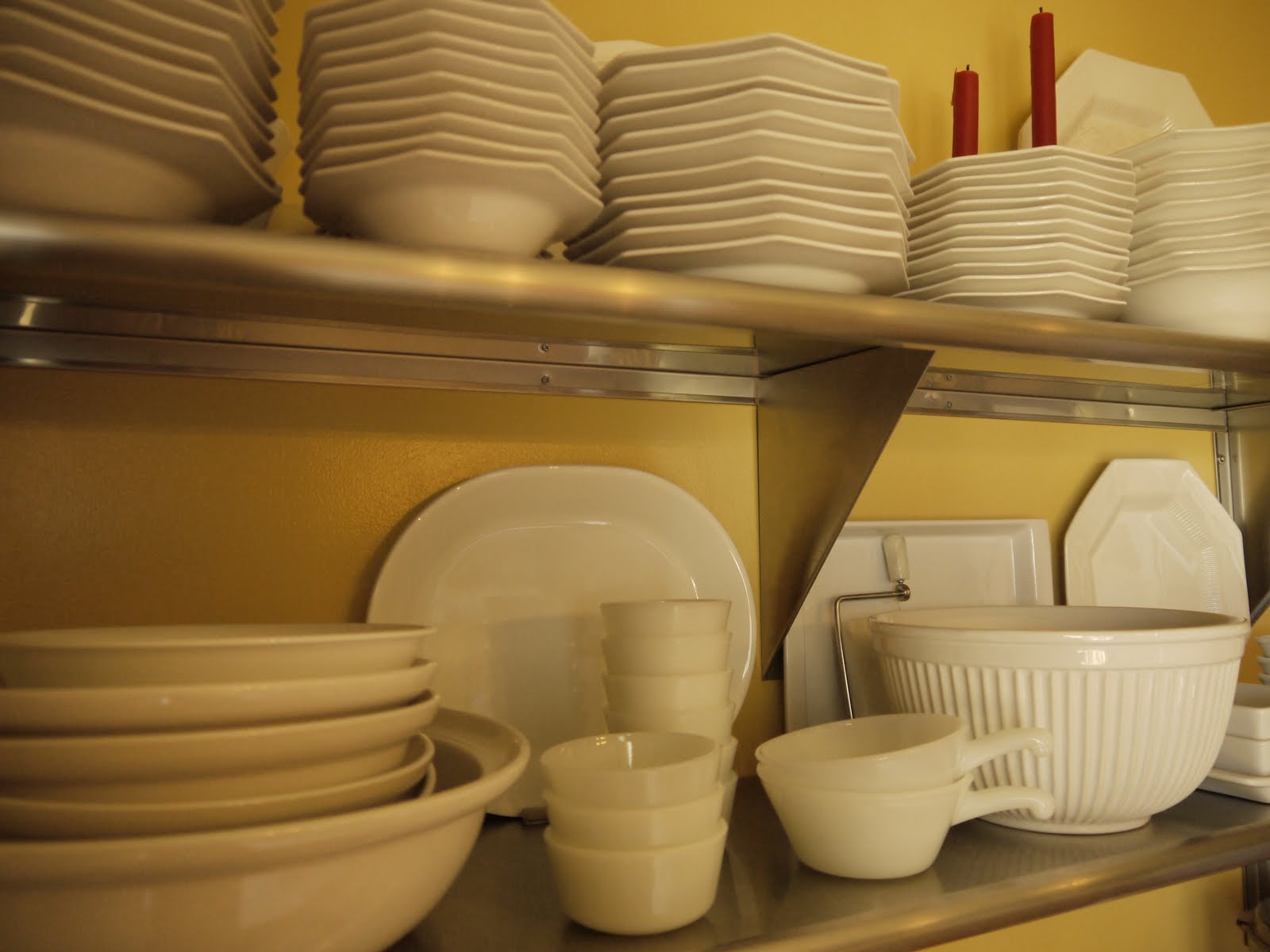 Don't you just love how pretty a little vintage can be in the kitchen?  And I'm just smitten with the simplicity of setting a color theme rather than a pattern or brand theme.  It's unifying and charming all at once.

* .::. *
With all the projects I've been working on around here, I can hardly wait to share more!  We repainted the kitchen, repurposed and repainted some old cheap bookshelves for extra storage in the kitchen, and in my bedroom I set up a little sewing & crafting area for myself which I truly can't wait to show you pictures of!  (There's more vintage there – I came up with an inexpensive way to decorate with vintage sewing patterns!)  The learning room has gotten a few new project additions, too, and those projects came out so neat (think ugly furniture challenge meets oilcloth!!)!  So much to share!  Stick around!
Thrifting is such a fantastic and frugal way to meet our functional and utilitarian needs….and brings with it a touch of charm as well!  Wouldn't our grandmothers be proud of us?  They knew how to live frugally!
Share with me!  Have you discovered great ways to answer the needs of your home in thrifty ways?  Ways that add vintage charm and practical usefulness?  If so, I'd be delighted if you'd share and leave me a comment!