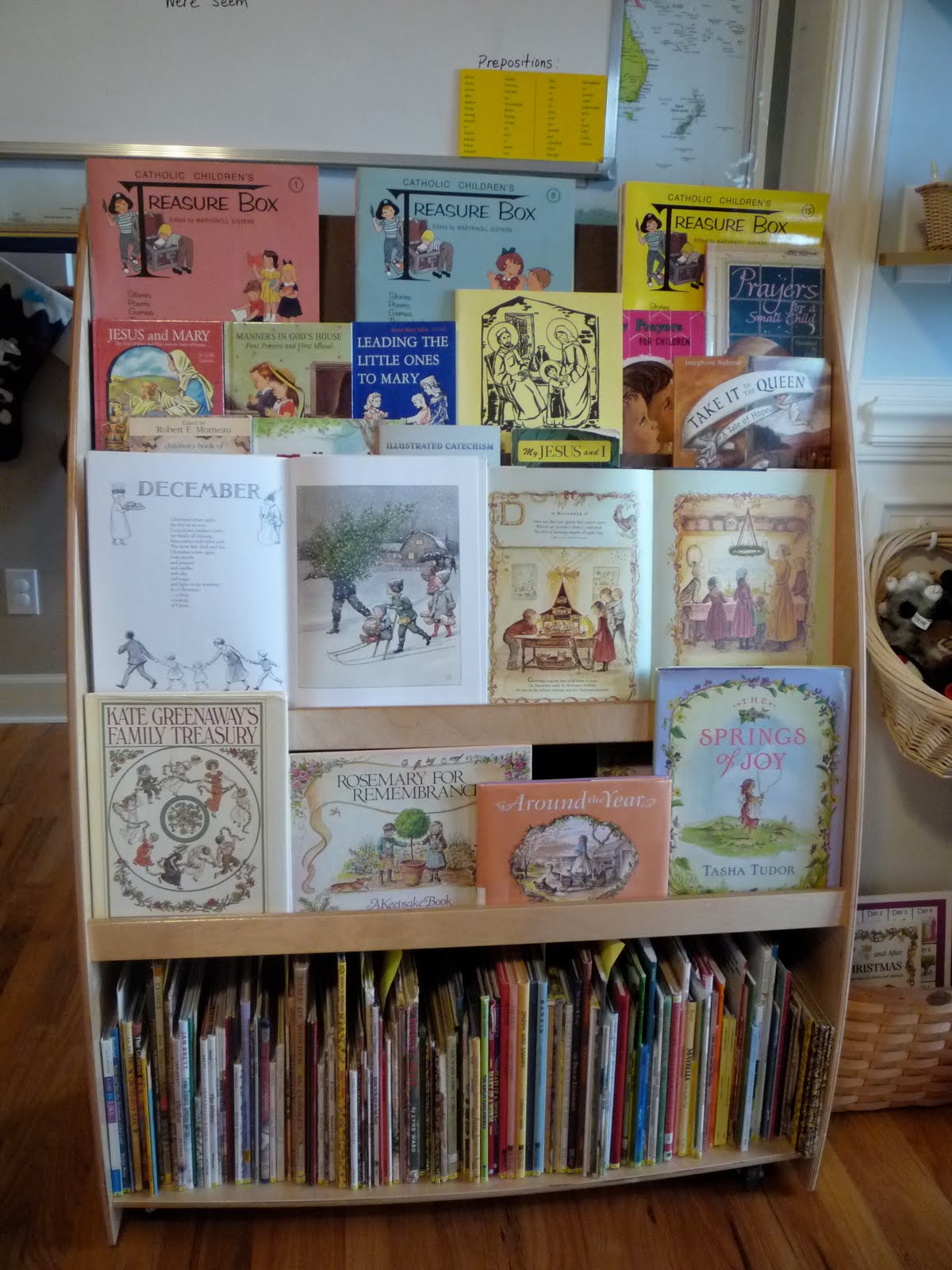 I have a follow-up post for my dear friend, Gae, at
Cherished Hearts at Home
(if you haven't dropped by her inspiring blog – you should!). She asks:
"I would love to know if you made your rolling picture book display. I love the shelves underneath. I am looking at having someone , ie a son make one for me. Are you able to give me a rough dimension etc.
Thank you for sharing this."
I'm happy to share more about the picture book cart!
We didn't make the picture book display cart. I looked and looked in thrift stores, and though I had always seen them when I wasn't looking…I couldn't find anything after hunting for over a year. So…one year we saved and bought one (you can see it here as well) with our homeschool budget. It was an investment, but I've greatly enjoyed the use of it! I like that it's solid birch, made in the USA. And an important feature for me was that I wanted it to be mobile. Most of the book carts I found are one-sided and I wanted to make use of every square inch of usable space on both sides of the cart. And, I wanted it to take a lot of lovin' and rollin' and stackin' and children. I'm not disappointed! This one book cart addresses all my needs very nicely!
It certainly COULD be built by a handy son!!! And, you may not have all the requirements I had, so you could modify as needed. For example, a sling book display cart would be so much simpler to make with dowels, canvas material and scrap wood sanded smooth. Anyway, I took some extra pictures of ours and some measurements for you in case you were inclined to make a request!
Material:
Birch plywood
Casters:
2″ nylon twin-wheel casters
Width:
36″
Depth of lower bookshelf:
14″
Height:
48″
Side view above…detail of the side below…
The center of the cart was built first and then fastened to the two substantial birch sides with washers and screws.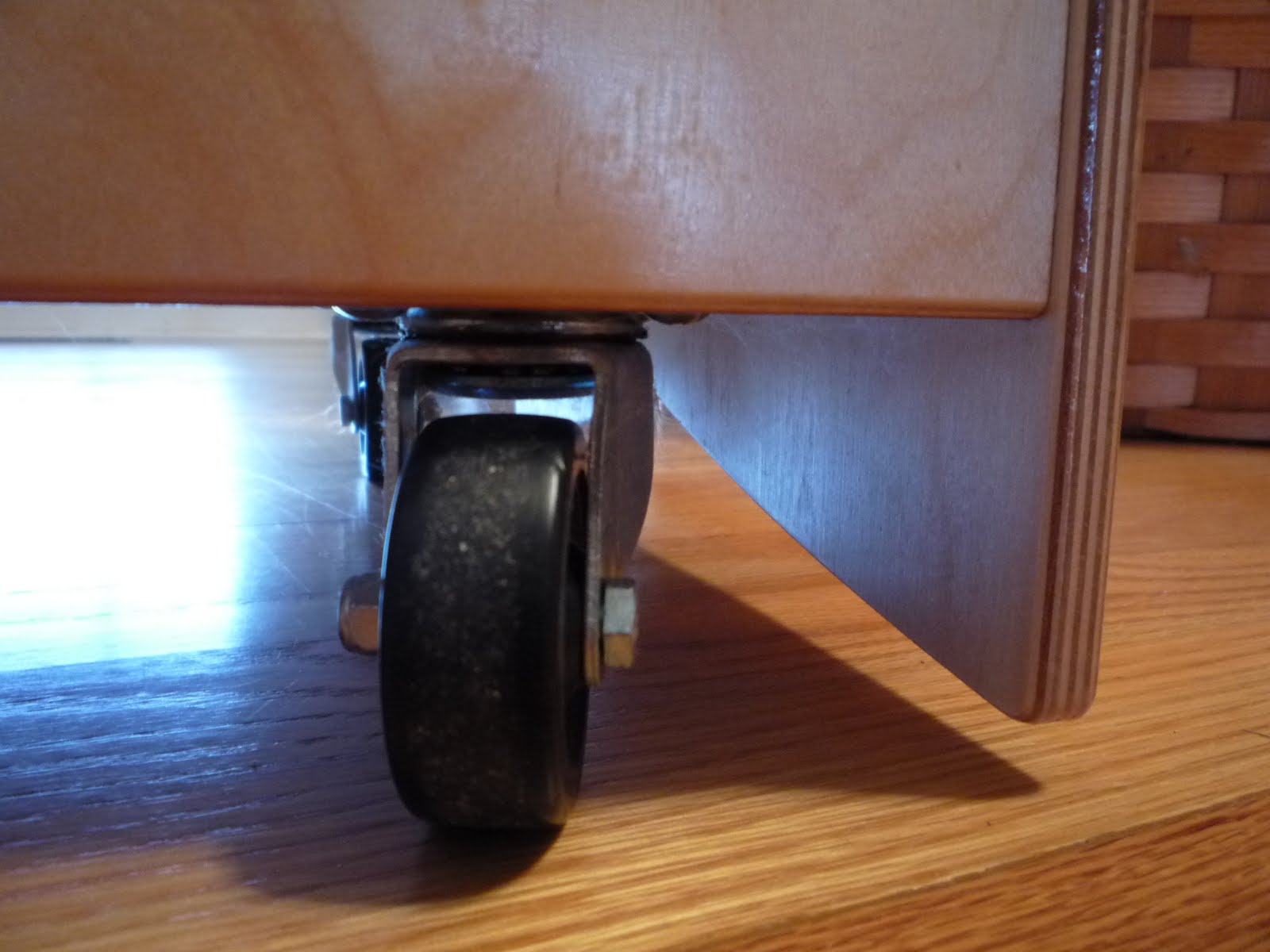 Very heavy duty wheels! If you're building your own and making a mobile cart – don't skimp on these. This particular cart is quite heavy (60 pounds I believe), but very well balanced and these casters support the weight nicely.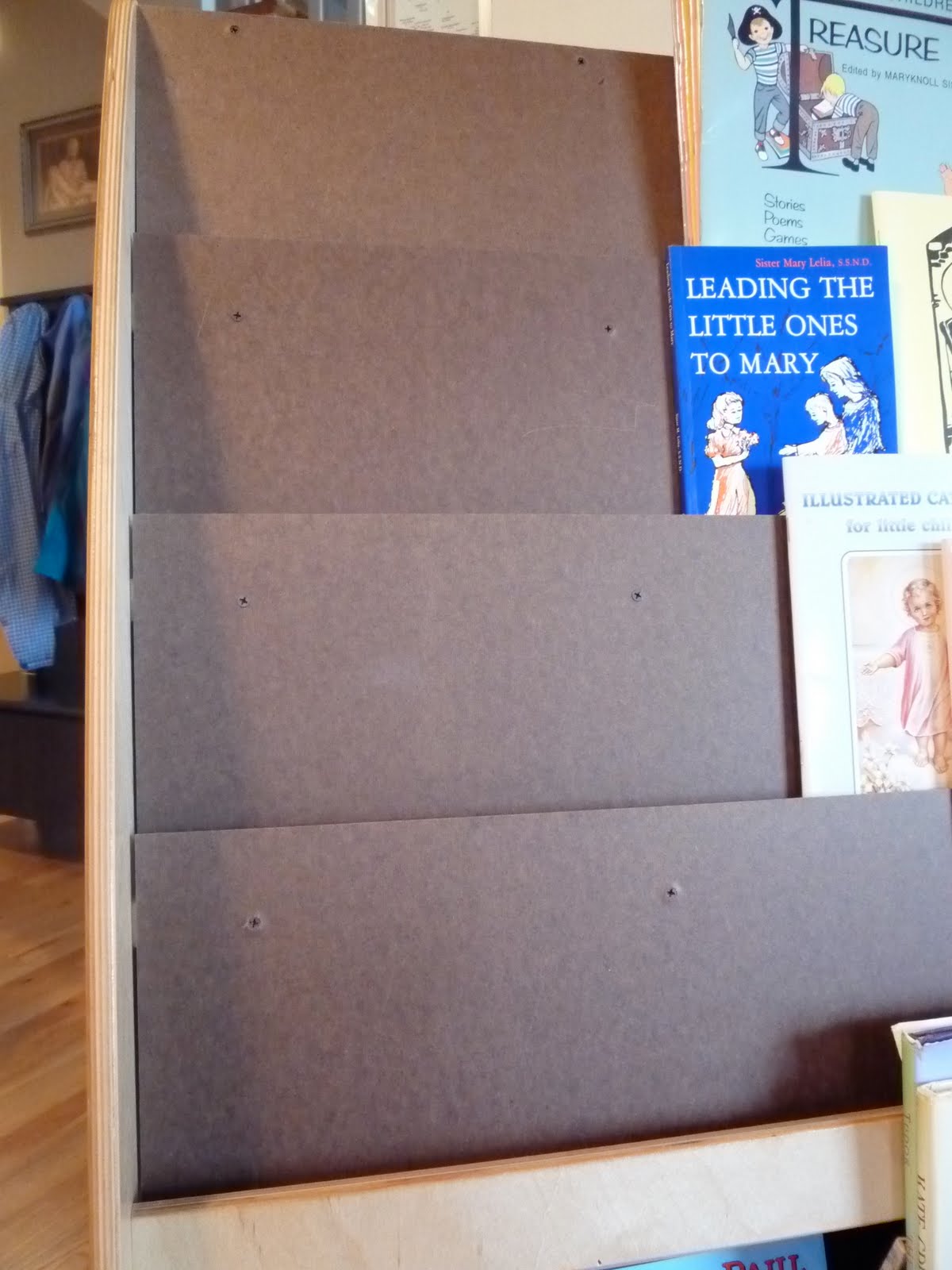 Just wanted you to see the book display part of the shelves. There is 3/4″ of room between the back part of each book display and the lip that holds the book in place. It's a nice amount of room. If you scroll up to the top picture you can see the Treasure Box books – I have 3 stacks of 7 books that fit within this little 3/4″ trough.
I love this section above. It's 6 1/2″ deep and provides a home for many of our St. Joseph board books. All my Tasha Tudor books are stored in this section as well. I use the display part of this section for favorite poetry books for my younger children. It makes a delightful display.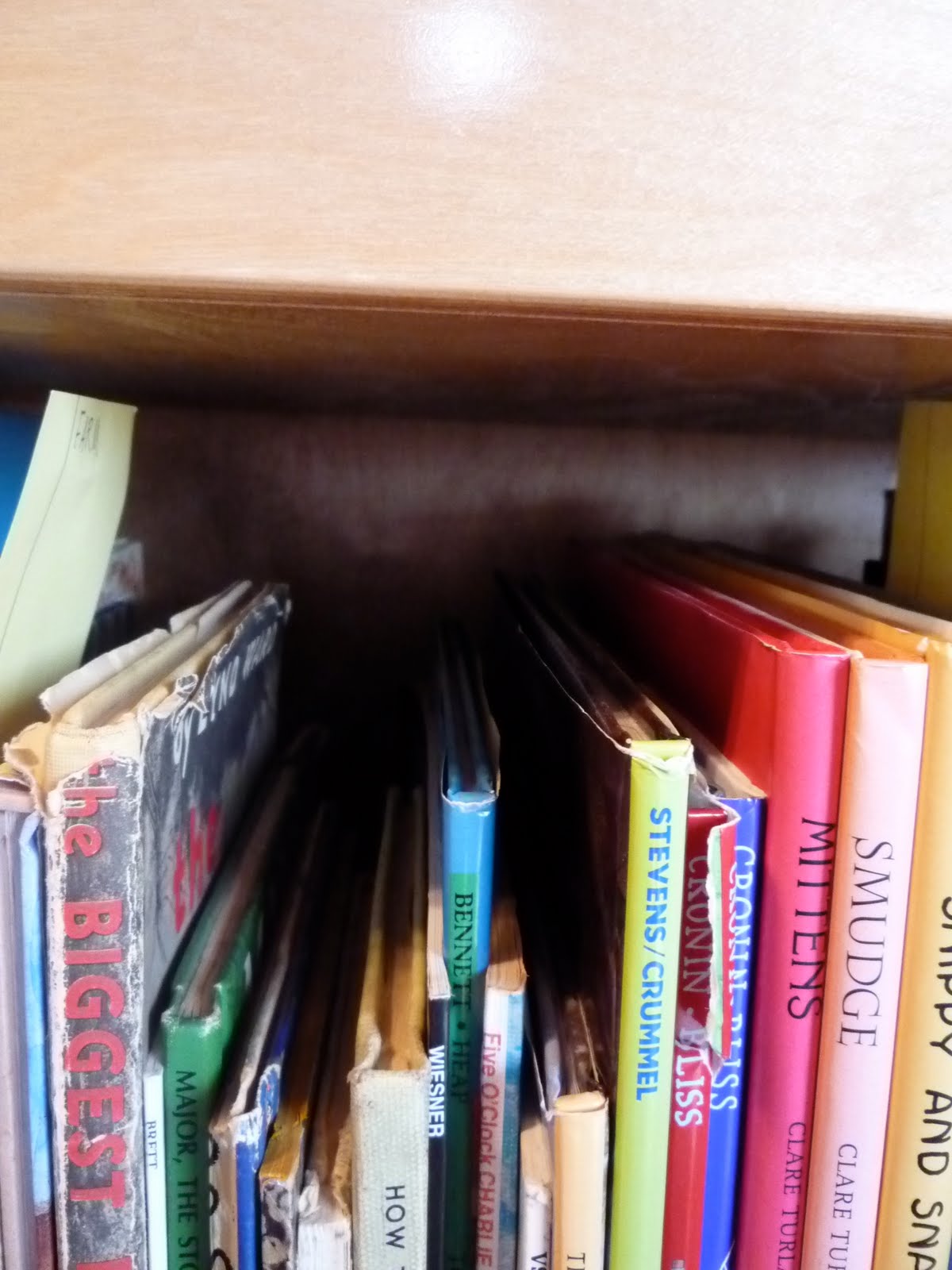 An idea of the depth of the book shelf on the lowest part of the main side of the cart. It is 14″ deep and approximately 13 1/4″ high.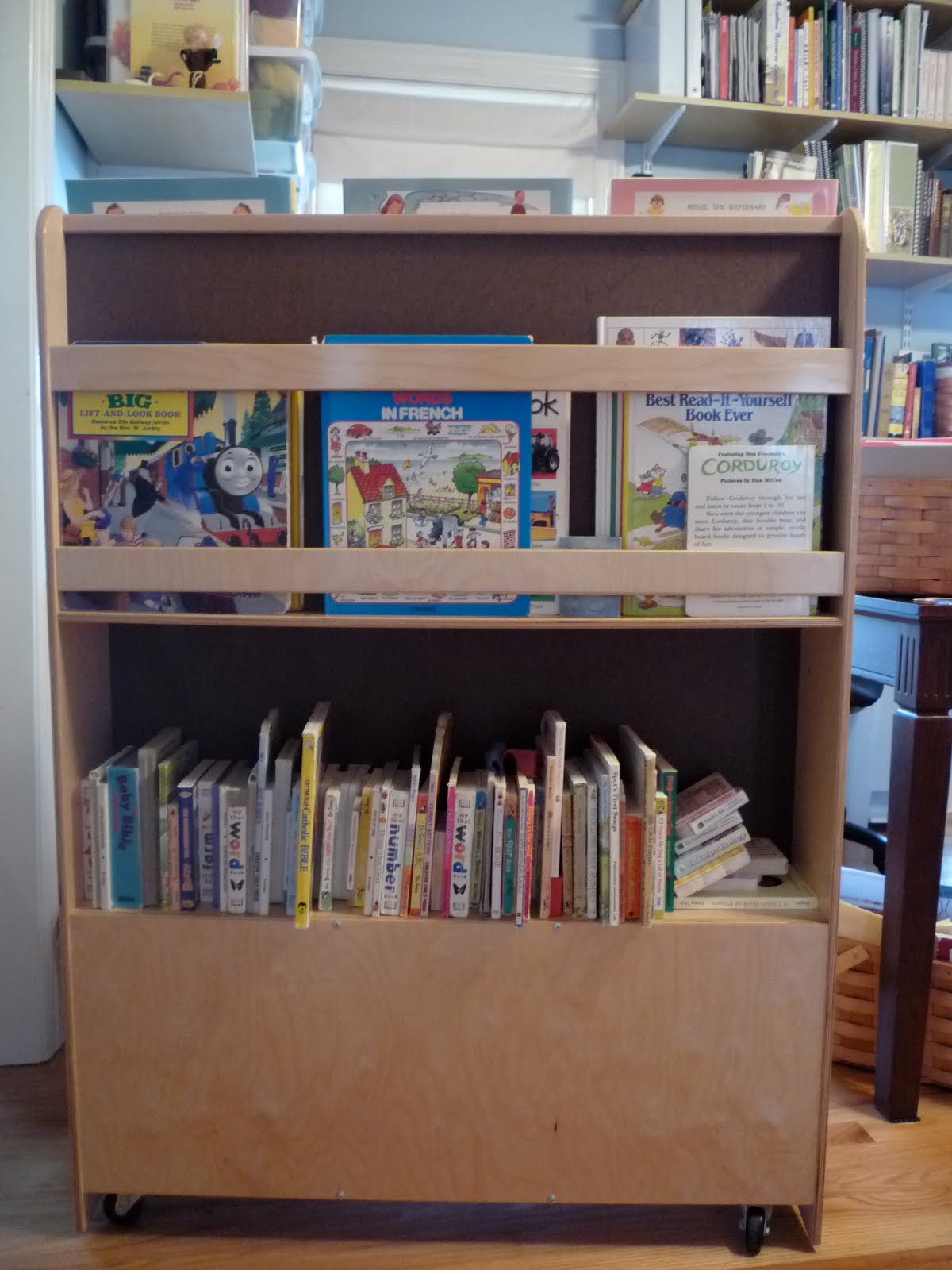 One of the reasons I settled on this cart was that the maker didn't ignore the back side. We keep all of the Doodlebug's board books back here along with an assortment of tallish books up top. There's not a lot of room back here – the depth of this little shelf is really only 6 3/4″, but it's quite useful!
Sure hope this helps, Gae! What a fun woodworking project for a son or husband!