Morning Basket – Term 2 Plans & Printables
How is your Morning Basket going? A friend asked me: "How can I plan a Morning Basket? I'm not sure what to include – my kids are young and I'm overwhelmed looking around at all the plans and ideas." Let's see if I can offer a few ideas for Morning Basket that might simplify the process if you're trying to plan.
The younger your kids, the simpler your plans should be.
If you've got toddlers, keep your plans simple.
Keep your season of life in mind as you plan!
Choose 1 – 2 books to read aloud in your Morning Basket each term (our term is 12 weeks, but if you use quarters or semesters then plan in that chunk).
Choose a couple of things you'll do every day. Here is what we do everyday:

a read aloud
reading from the liturgical year (saint picture book, saint or feast of the day)
memory work (we work on a prayer and a poem each term)
1 – 2 of our variable offerings (see below)

Choose the things you'll rotate throughout the week – these are your variable offerings. Here is how our week breaks down:

Monday – Picture Study & Faith book
Tuesday – Plutarch (or) Civics Reading & Geography
Wednesday – Poetry reading (or) Shakespeare & Folk Songs
Thursday – Church History & Story of the Bible
Friday – Nature Walk & Virtue/Habit/Character reading
I made a printable for you to use if you'd like to have something to use for starting your plans. Sometimes (a lot of times!) it helps to start shopping your shelves, stacking books on a table in front of you, and getting some ideas on paper. From there, plans have a way of funneling themselves into something more and more useful!
I thought I'd share a little printable I made for you – use this as your brainstorming sheet as you plan with your stack of potential books. Print one…print several (they're free!). Jot down your read alouds for the term, the memory work for the term, and use the weekly grid to list the lesson/what you'll read each week.
Click to download –> Morning Basket Blank – for planning a term
This is an editable Microsoft Word version –> Morning Basket Blank – for planning a term
Or you might prefer to use this planning grid –> Morning Basket blank grid
We're well into our Term 2 plans and I thought I'd share what we're doing. This term, we're focusing a little more on civics since we have an election coming up in November, so I'm reading aloud on that topic more often now.
Click to download –> Morning Basket 2015/16-Term 2
Here are the books we're using in this Term's Morning Basket:
Read Alouds this Term:
Rush Revere and the Star Spangled Banner by Rush Limbaugh – We've enjoyed all the books in his series.  They bring light-hearted, often humorous, story lines to particular points of American History and my kids enjoy the perspective of his books for learning about aspects of American History.  (Note – these books contain no political inferences whatsoever.)
On the Banks of Plum Creek by Laura Ingalls Wilder – the Little House Books are just so good. No matter how many times I read them I find in them such unassuming treasures and delights that they sweep me away!
Monday – Picture Study & Faith Reading
Tuesday – American Government & Geography
The Everything American Government Book by Nick Ragone – I'm reading sections of this book aloud to further understanding of the electoral process. It's over my 2nd grader's head, but it works well for upper elementary+. For this term (in anticipation of the upcoming election), we're focusing on the chapter: Presidential Primaries and Elections.
Geographical Reader for Elementary Schools by Charlotte Mason – These lessons are short and simple and I just read one lesson/week. These are geared more for my younger set.
Wednesday – Poetry & Folk Songs
Favorite Poems Old and New edited by Helen Ferris – this book is such an old and dear friend. For many years we've enjoyed it as part of our Morning Baskets. I hit a little bit of a wall in planning my poetry this term, so rather than spinning my wheels endlessly, I grabbed my old friend and decided to enjoy it anew.
Happy Land: Musical Tributes to Laura Ingalls Wilder by Dale Cockrell – I'll share a little more about this resource in a future post! For now, just know that this is an absolutely delightful collection of folk songs that are featured in the Little House book series and we're enjoying it so much! I really can't wait to come back and share the printables and history I found while researching this rabbit trail!
Thursday – Church History & Story of the Bible
Friday – Virtues & Nature Study
Before I go, I have one other new addition I want to share with you – Scrunch Maps! Foldable, squishable, packable, un-rippable, stuff-in-your-Morning-Basket-and-go, scrunchy maps!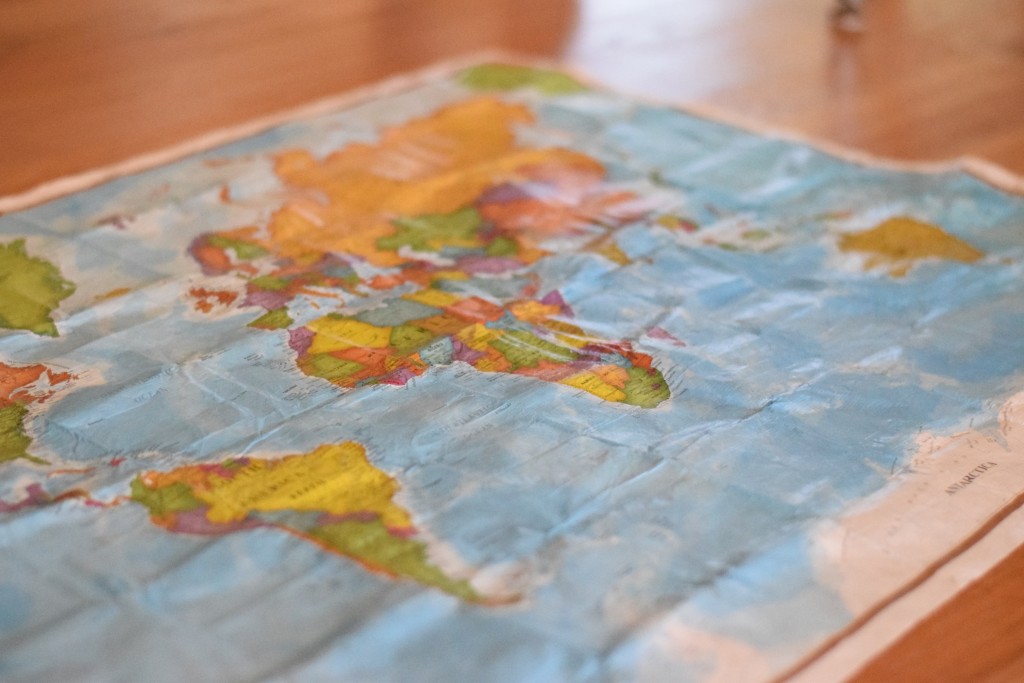 I have the World scrunch map and the United States scrunch map. I got them because we use our wall maps with our map dots when the kids are narrating and showing me where something is, but when we read from our Morning Basket, we're usually all piled up together on a couch and we're not looking at our wall maps. The scrunch maps, when folded, fit in the palm of your hand.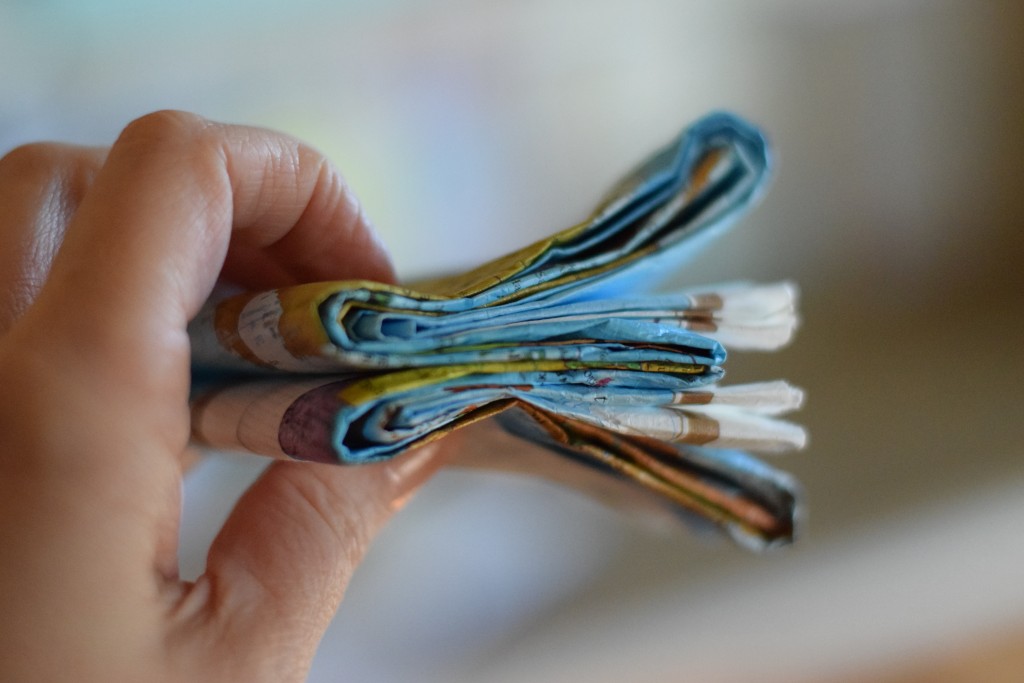 If we read about something in Little House, we just pull out the US map, give it a quick shake, and take a look. It's very soft, almost fabric-like. It feels almost like a soft tyvek material and behaves like tyvek – it will fold and fold and fold again and will even take some pulling, but it doesn't rip. (I haven't tested just how much pulling the scrunch maps will take, but my toddler has taken off with it running through the house and it survived…so…).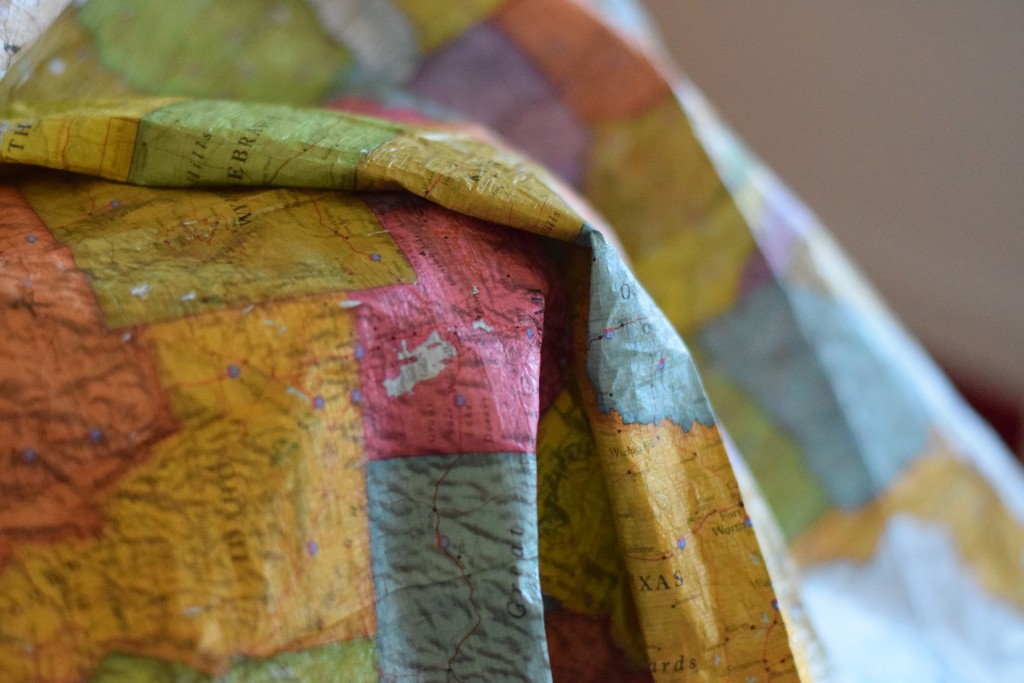 The maps are soft enough that they will lay flat easily or drape across your laps! You don't ever have to be without a map again because at $10 each, these are so inexpensive you could replace them each year if needed! Think of the possibilities:
Limited wall space for wall maps? Purchase a set of scrunch maps!
Give your child a scrunch map for the year and let them use a marker to draw and circle all the geographical points of interest from their yearly reading. Replace it with a new map the next year.
Are you looking for an inexpensive map that won't be off-limits for your preschooler? Scrunch map.
Need a simple gift for a homeschooling friend? Scrunch map!
I just throw ours into our Morning Basket so that they're with us whenever we need them!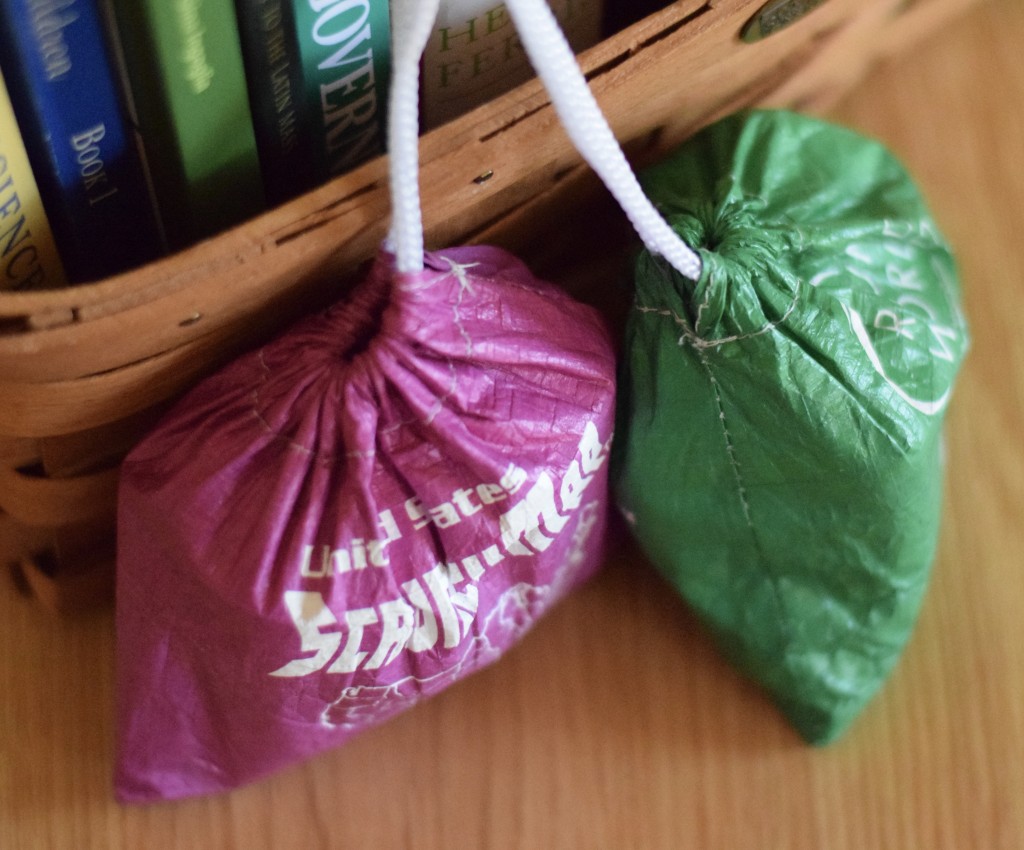 How are your Morning Basket plans working for you? Have you discovered a new tool to share? Let me know!