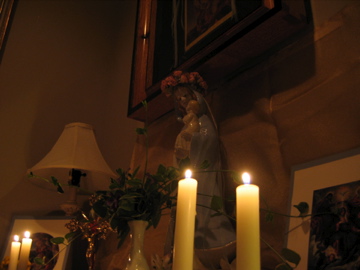 This has been a tough couple of weeks with sick children – and they're still sick! We had to put off our May crowning a few days because kids were either feeling too icky to do anything, or they were too clingy for me to prepare anything. Today, we seem to be between sickness – Peanut is recovering and Sweet Pea is coming down with it (but not yet in the throes of misery.) Sweet Pea helped me do most of the arranging of the Blessed Virgin's altar. We gathered the loveliest pictures we could find for the altar. The children set out our favorite candle holders with the delicate flowers on them. Sweet Pea wanted to have rose petals at the Blessed Virgin's feet, so we cut up a silk rose. For the program tonight the children planned some songs in honor of Our Lady. Sweet Pea played Immaculate Mary as we all sang, then Sparkly crowned Mother Mary.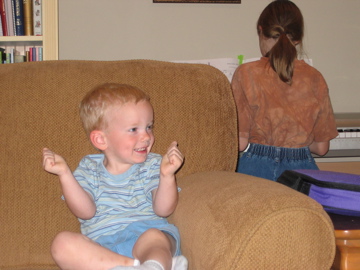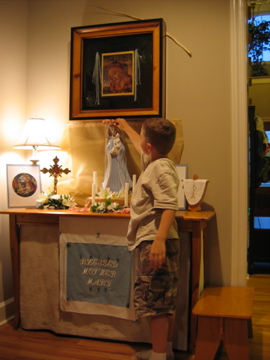 After that Sweet Pea brought a vase of periwinkle (vinca.) The harsh Easter freeze wiped out all of our lovely flowers, and plants around here are just now starting to recover. As a result, we had no flowers to offer Our Lady, only the little bit of periwinkle I had in our pots on the front porch and back deck. I snipped off all that was blooming.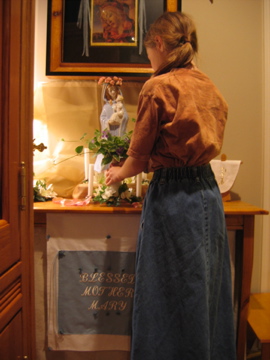 The only other thing flowering around here are the marigolds in the kid's gardens. Now, any gardener knows that marigolds STINK – which is why they are so great at running off bugs in the garden!! But it was all we had, and Sparkly was so proud of his prolific flowers. So we snipped a few odiferous marigolds and Peanut very delicately carried them up to Our Lady's altar and gently placed them in front of a beautiful picture of the Blessed Mother. I was scrambling to get the stupid camera to snap before the moment was gone.

Here she is…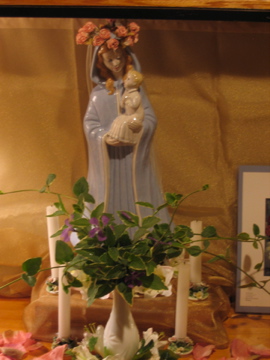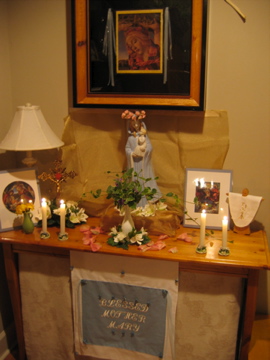 We lit the candles (trying very hard to avoid setting the periwinkle on fire) and then Sweet Pea played "Sing of Mary" for us. Earlier today, she spent a good deal of time hand-copying the lyrics onto paper so everyone would have the words to sing along while she played piano.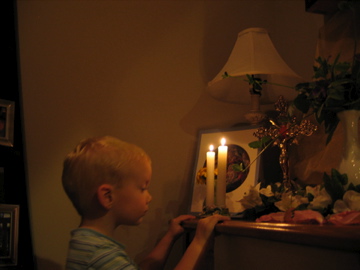 Pray for us, O holy Mother of God, that we may be made worthy of the promises of Christ. Amen.