Working With Oilcloth :: Projects
It's a sturdy piece of furniture, from the Broyhill Fontana line.  Solid pine and not a piece of pressboard on it….except on the ugly backside of the cabinet….
I really wanted to use this cabinet in our learning room for our art supplies, but our limited wallspace is already spoken for. It would have to float in the room.  But, what to do about the ugly backside???  OILCLOTH!
I found a few good quality oilcloth pieces to try.  I have a few UK companies that supply oilcloth that I like:
What you find in the US is usually Mexican oilcloth and is a vinyl coated over a cotton mesh base (the mesh base allows the vinyl to penetrate so that the end result is a top and bottom that both have a plastic coated feel).  It isn't as thick as PVC or vinyl coated cotton, or at least, it doesn't *feel* as thick to me.  Overall, the laminated, or coated cotton has a more fabric feel and drape, and as a result seems more substantial.
For this project, I used one of my FAVORITE TOOLS: the staplegun.  Load it with staples and you're ready to roll!  (**NOTE** When using a staplegun, ALWAYS put a lot of weight on the gun when you staple or your staples won't penetrate the wood entirely.  I staple with one hand and lean on the gun with the other hand.  If you make a mistake, grab your needlenose pliers, pull out the wonky staple, and try again!)
Cut your oilcloth and leave about 1 – 2 inches of extra material on each side.
Since I knew the top would be most visible, I folded and creased the wrong-side-of-the-fabric just under the top lip of wood and stapled the underside of the oilcloth right next to the lip of wood so that when it was folded back over itself the top staples would be hidden.  Start stapling IN THE MIDDLE and work your way out from the middle, alternating sides as you staple, re-creasing, following the crease and pulling firmly so that the oilcloth will lay nice and flat when you are done stapling.
See how nice that looks when the oilcloth is folded back on itself?  And you can't see those top staples!
For the sides, just find the edge of your furniture.  It helps to have an extra pair of hands for this part!  With your fingers, tuck as neatly as you can down the side.  Pull tightly and staple as you go.  (This is an art, not a science….so don't be paralyzed and not do this because you think you'll make a mistake!!  I used pliers and pulled out several staples when I messed up on this project!  It's super forgiving!)  Work your way down the side, and keep pulling the oilcloth firmly as you go.  If you have extra helpers have someone sit on the opposite side…the one you're NOT stapling right now…and keep that side pulled taut.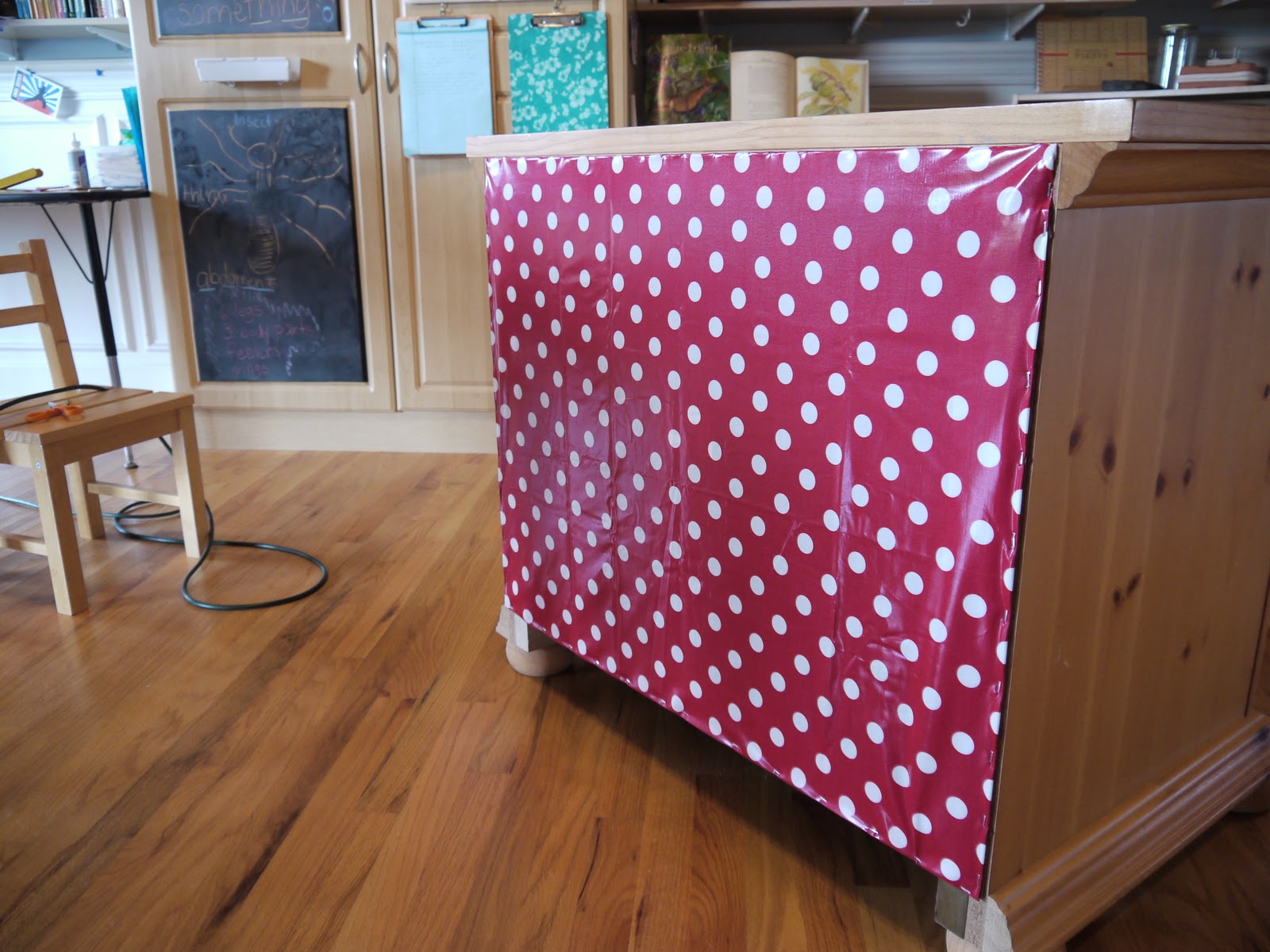 Note the wrinkles on the bottom right side of my work – WHO CARES!  I say fold, tuck, and KEEP STAPLING!  🙂
Work the sides and the bottom the same way – tuck extra under, pull down firmly so there are no wrinkles, and staple.
Viola!!!  Ugly backside of tv cabinet/soon-to-be-art-center covered in cheery red polka dot oilcloth!
But, I wasn't done!
Little tables are SUPER EASY to cover!  Just flip them over and follow the edge of the table to cut your oilcloth, again leaving an inch or two overhang.
Follow the same procedure for stapling the oilcloth to the underside of the table:
Find the middle of a side and start stapling in the middle.

Go to the opposite side, give a firm pull to stretch wrinkles out, and staple in the middle of that side.

Do this until all four sides have a staple in the middle, always giving a firm pull to stretch wrinkles.

From the middle staple, work your way out from each side, alternating left and right, and don't forget to pull firmly to remove wrinkles.

When you get to the corners, channel your inner gift-wrapper and tuck, fold, staple.

If you make a mistake, use your needle nose pliers and pull out the offending staple and try again!
And now the table-covering is secure and won't come off.  And it's very wipeable!  We finished this project over the summer and since then we've wiped markers, paint and oil pastels off the little table.  Model paints have been banished to another part of the house!  😉
Since the old tv cabinet became our new art center, I backed the little person table right up to it in the room and they both float out in the center of the room.  This works out great for my littlest, who loves art projects and really enjoys having the art supplies right next to her!  My littlest fella (almost 7) can often be found sitting opposite her and working.
It's a great space!
I was on a stapling roll the day I did all of this, and even covered the little table we use with our play kitchen.  It had seen some wear and a cheery blue floral oilcloth was exactly the pick-me-up this little table needed!
How great is that?!  I loved working with oilcloth!  It's forgivable when you're working with the staple gun!  And it's durable and wipeable as you're living with it, which makes it an ideal candidate for covering just about ANYTHING in a home-educating-lived-in-house!  And…it comes in so many pretty choices which satisfies my inner need for pretty!