A Detailed Look Through the Learning Spaces
*NOTE* This post reflects our learning spaces in 2009. Since then we have remodeled. You may be interested to check out the new learning room here.
---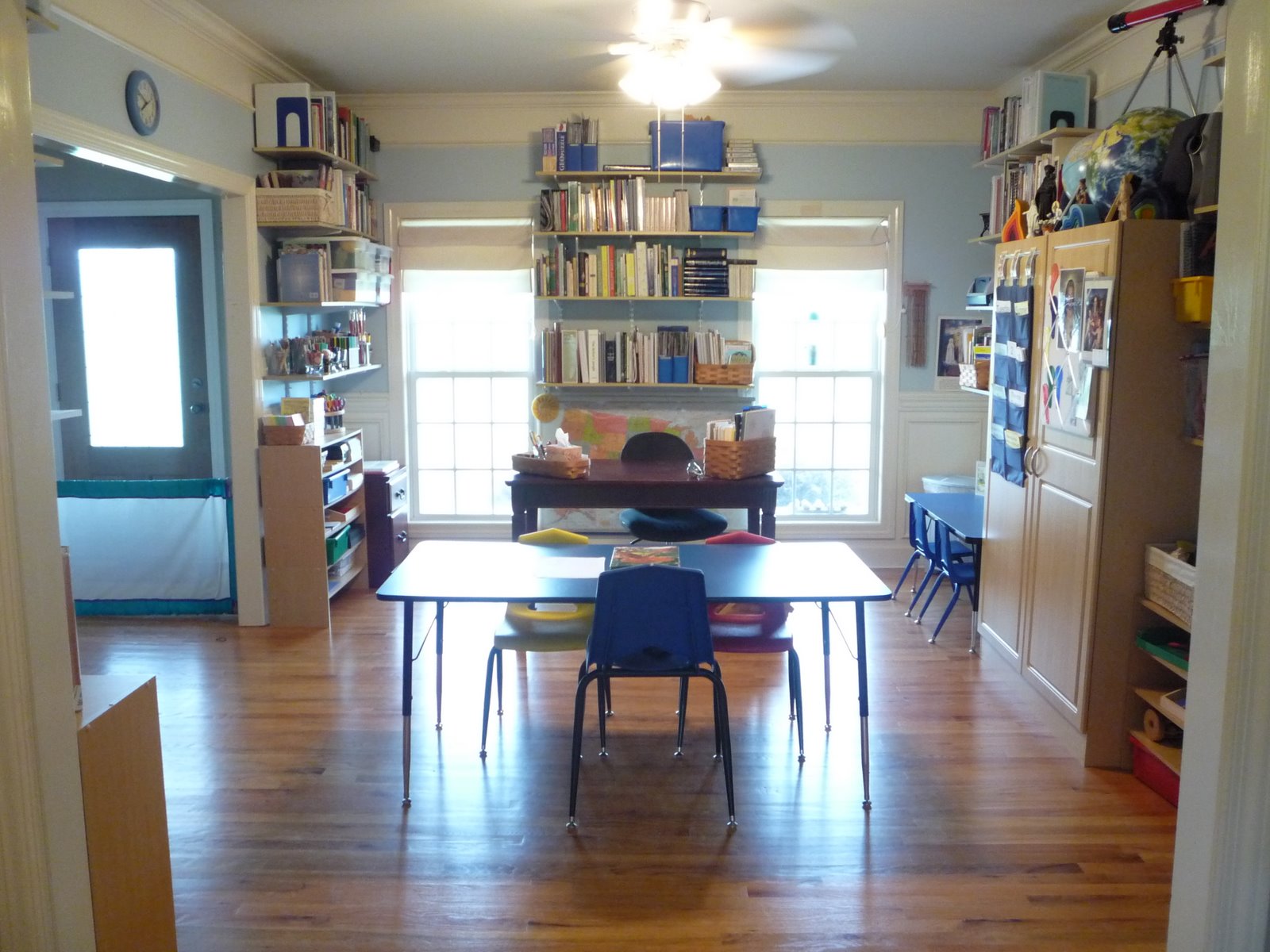 I'm offering you the VIP tour today. I took lots of pictures 'cause you all asked…and I do so love getting ideas from each of you as we peek through these digital windows into each others spaces for ideas and inspiration. If there is something unique or helpful here, take it. I took lots and lots of pictures. I tried to imagine what might be unique in my spaces…a small area or vignette set aside on a shelf, or a simple but creative solution I finally figured out. I tried to show you those. My goal was to look on my spaces with fresh eyes and really see those things that I am accustomed to looking past because of familiarity. Hope you enjoy the tour!
The first pictures are just some whole-room pictures…stepping waaaay back and looking in so you can get an idea of the overall. I think I've said this before, but this is our dining room…re-purposed for our learning spaces.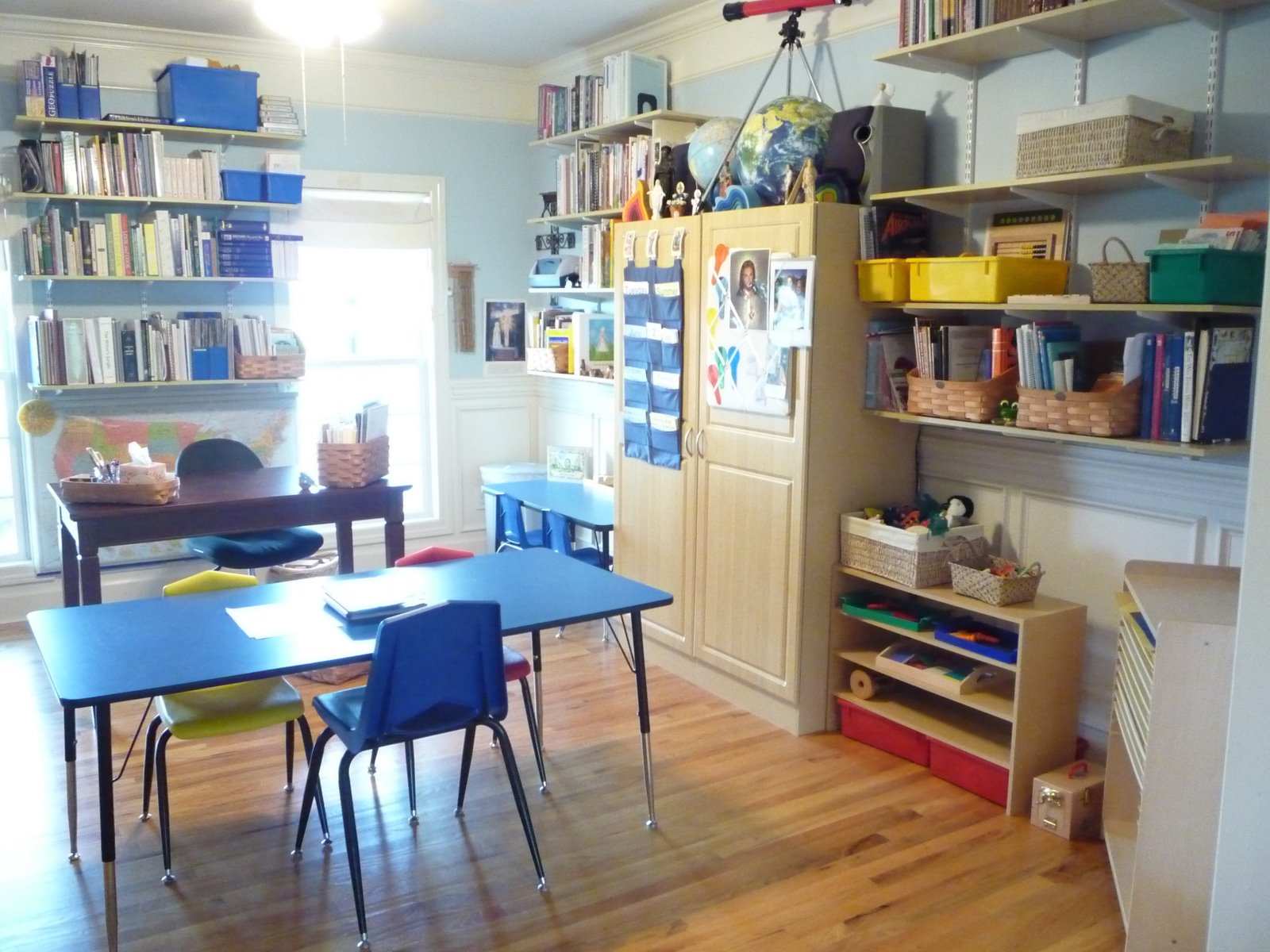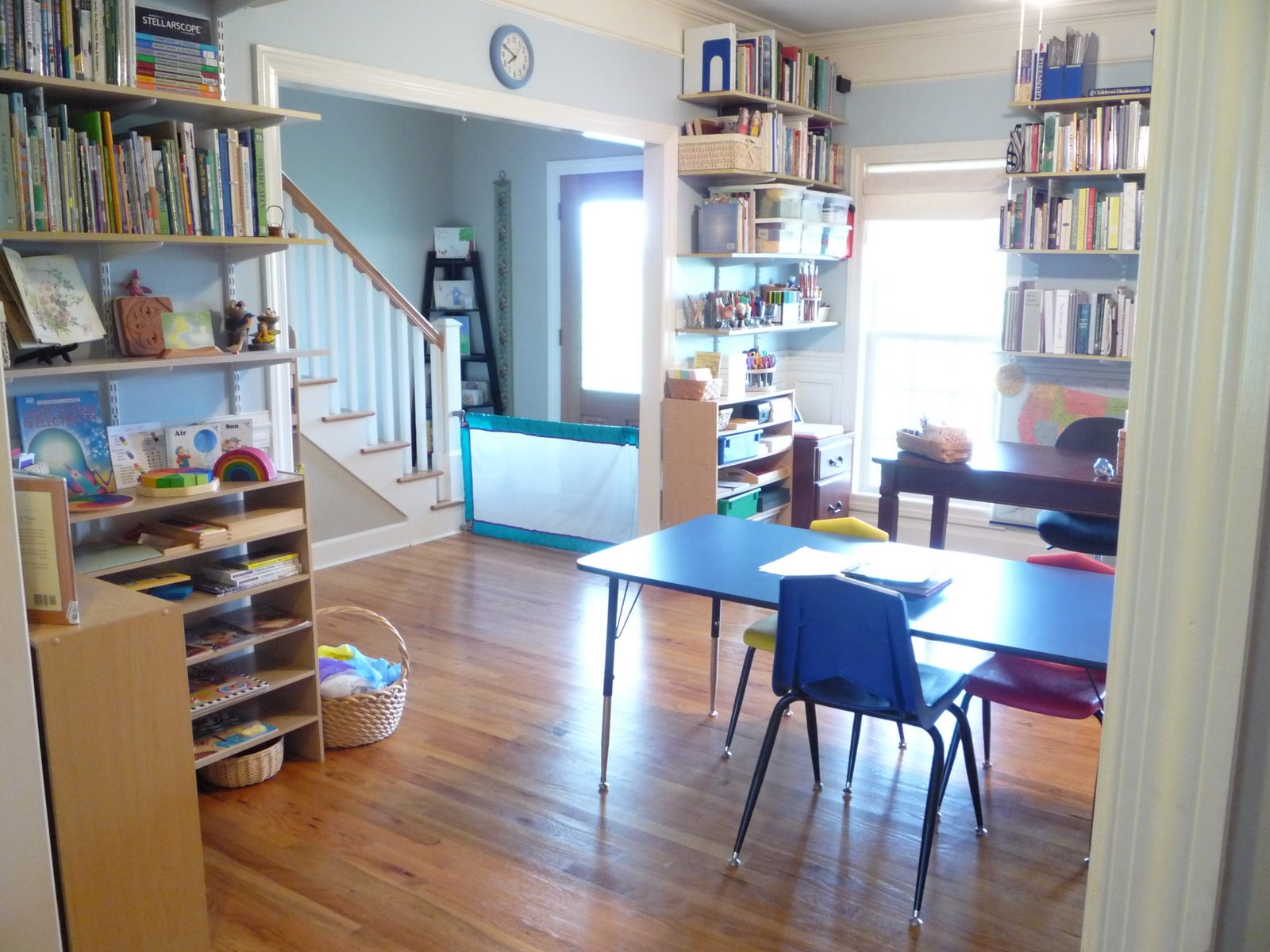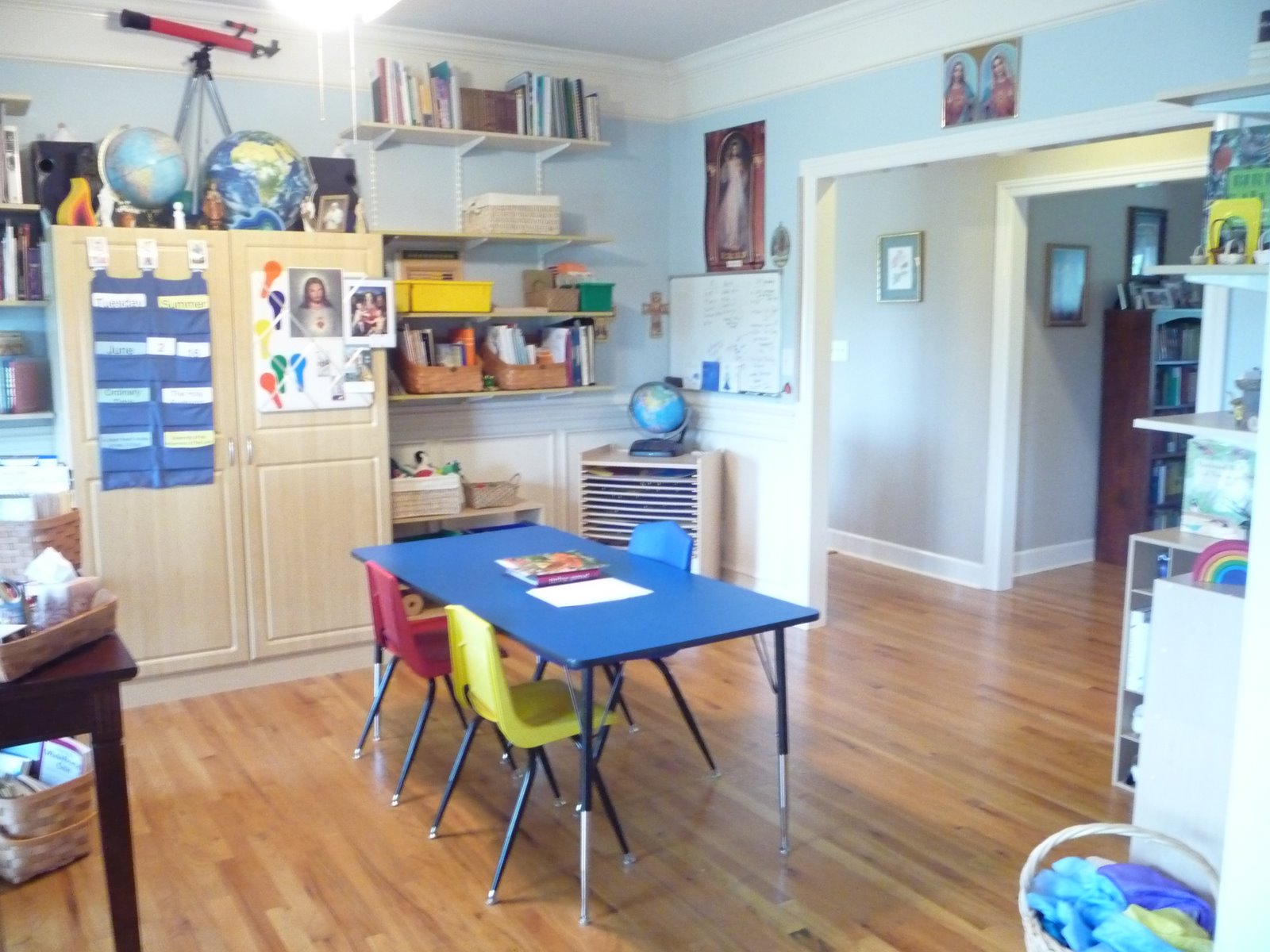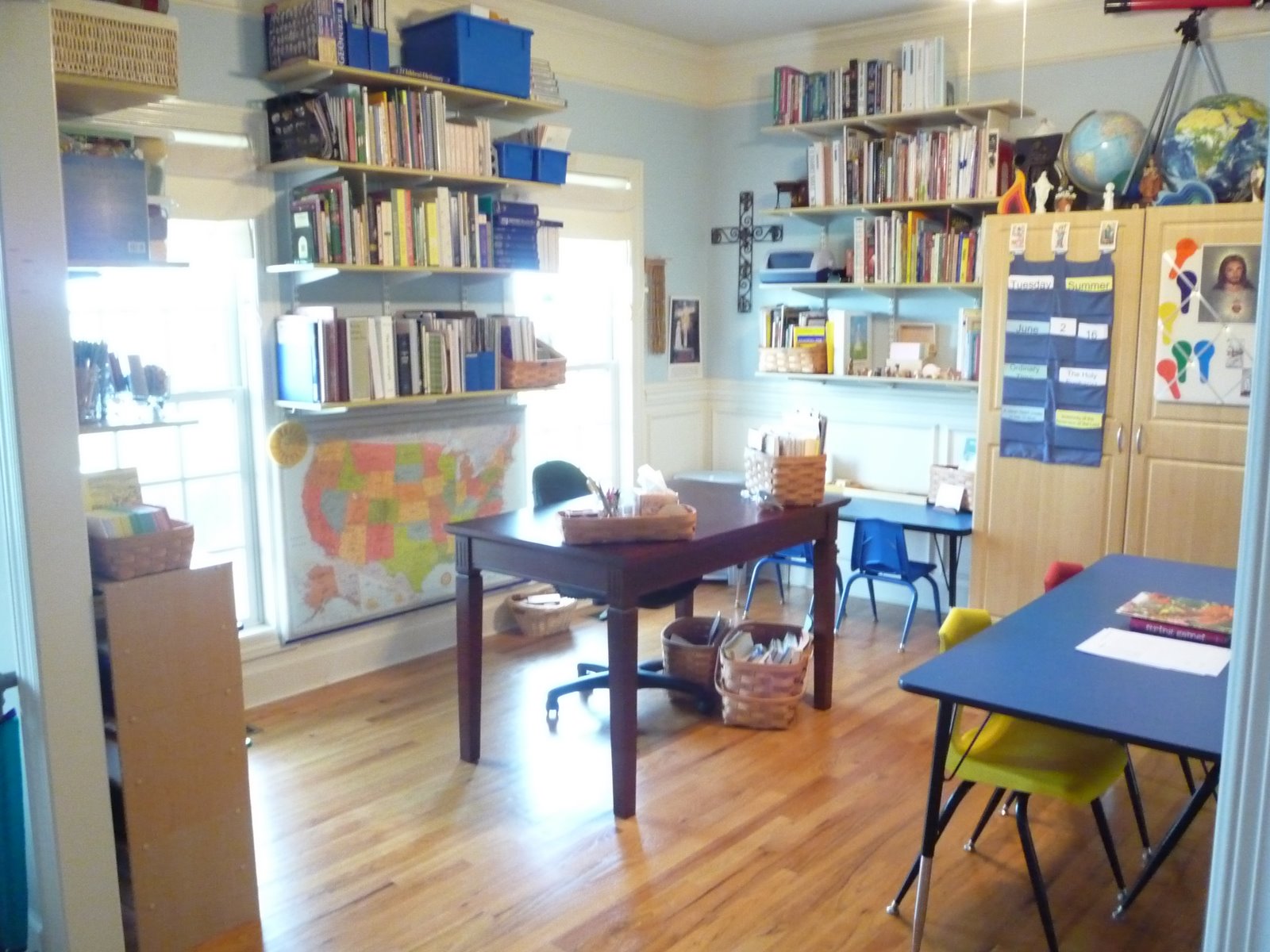 You can get an idea of how deliciously sunny our space is in here. It is quite warm and inviting which I love. I moved my desk back to the sunny side of the room. I moved to the other side of the room for a few months, but decided that I really, really missed the way the sun danced across my desk in the afternoons…I'm much happier on the sunny side of the room!
Tucked in the corner next to the window is a small workstation for me. It is nestled between the art center and window. I keep my laptop on top of my file center. In the top drawer I have things like CDs with my favorite Notebooking Pages, Blackline Maps, and some of my other educational CD collections I've collected over the years. I keep a medium sized journal with a pink quilted cover and a collection of favorite stationery in there as well. Lastly, a small collection of post card sized art prints for seasonal displays round out my top drawer.
In the bottom drawer is my collection of files for the year. I keep them organized by month. Each month gets two folders – one for seasonal plans and one for liturgical year plans. I keep themed material in my files – artwork for the month, craft ideas, prayers, field trip ideas, picture book themes that coordinate with a season, holy cards for saints feast days, etc. in the appropriate files. Then, when that month arrives, I pull out my files and I have plans in hand for the upcoming season as well as art for the Feast Table display. I do have extra individual files for each of the liturgical seasons of the year because some things just make better sense to organize and keep that way. In the back of the drawer there are some files containing masters of various materials I want to keep. I keep my favorite Peterboro file basket (side note I bought my basket on sale and don't see it on their site anymore, but if you're interested it measures approx 14″ L x 8″ W x 7″ D) on my desk to hold the monthly or weekly files, record keeping files, ideas and brainstorming files…delicious files. It works well to have a file system for organization as well as a more immediate and at-hand place for living out the ideas contained there – the basket on my desk is my solution.
Now, on to the…
Art Center: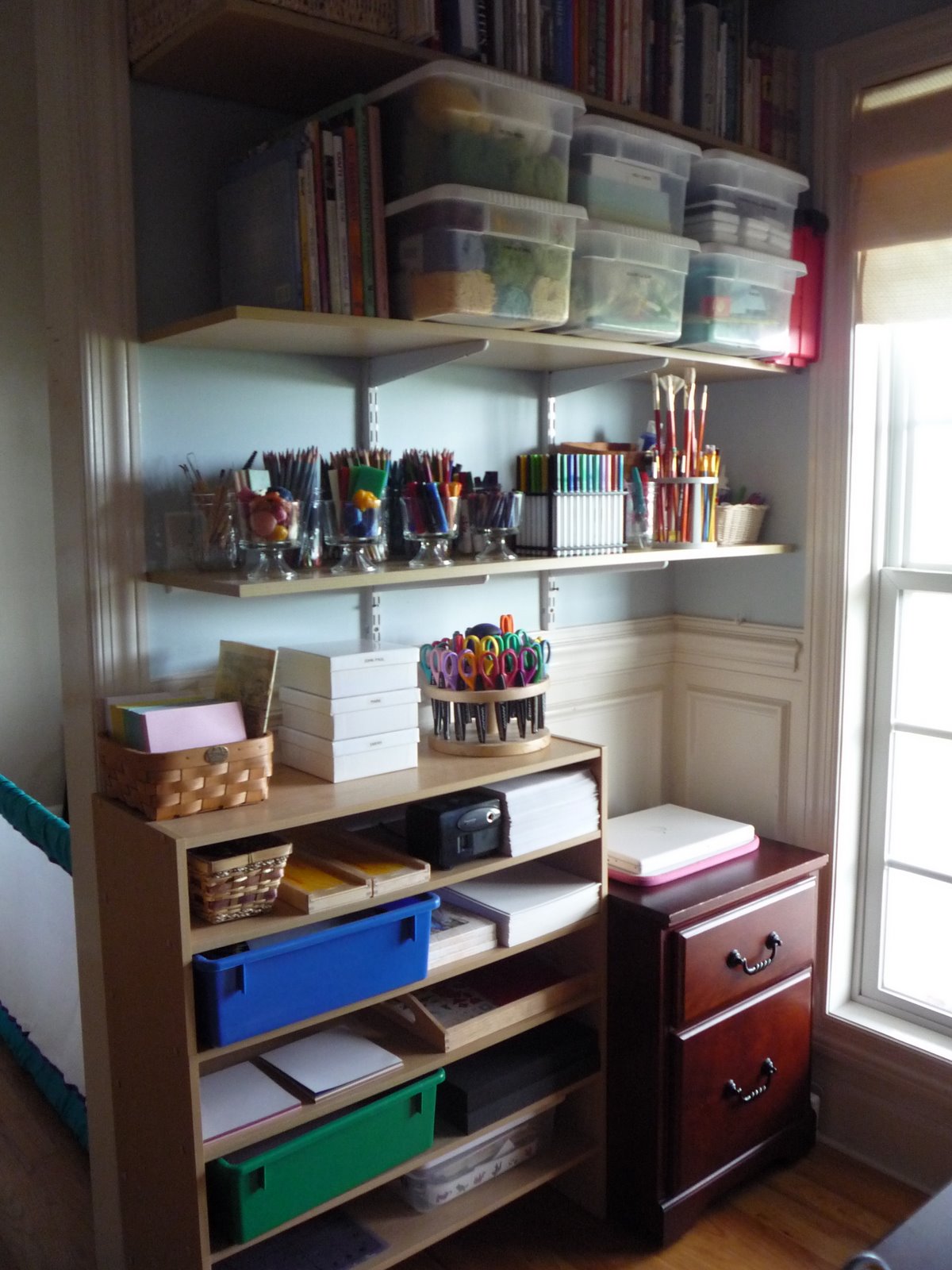 I did a lot to overhaul these spaces. They were working for us to a degree I suppose, but when I asked the children about the art spaces, their one comment was that it was hard for them to find what they needed, and if they didn't see it, they tended not to use it. I've seen several of you use glass jars for storage, so I got out my collection of Mason jars. The children and I are so thrilled with the result. It is a visual feast, and everything is right there to see and choose from.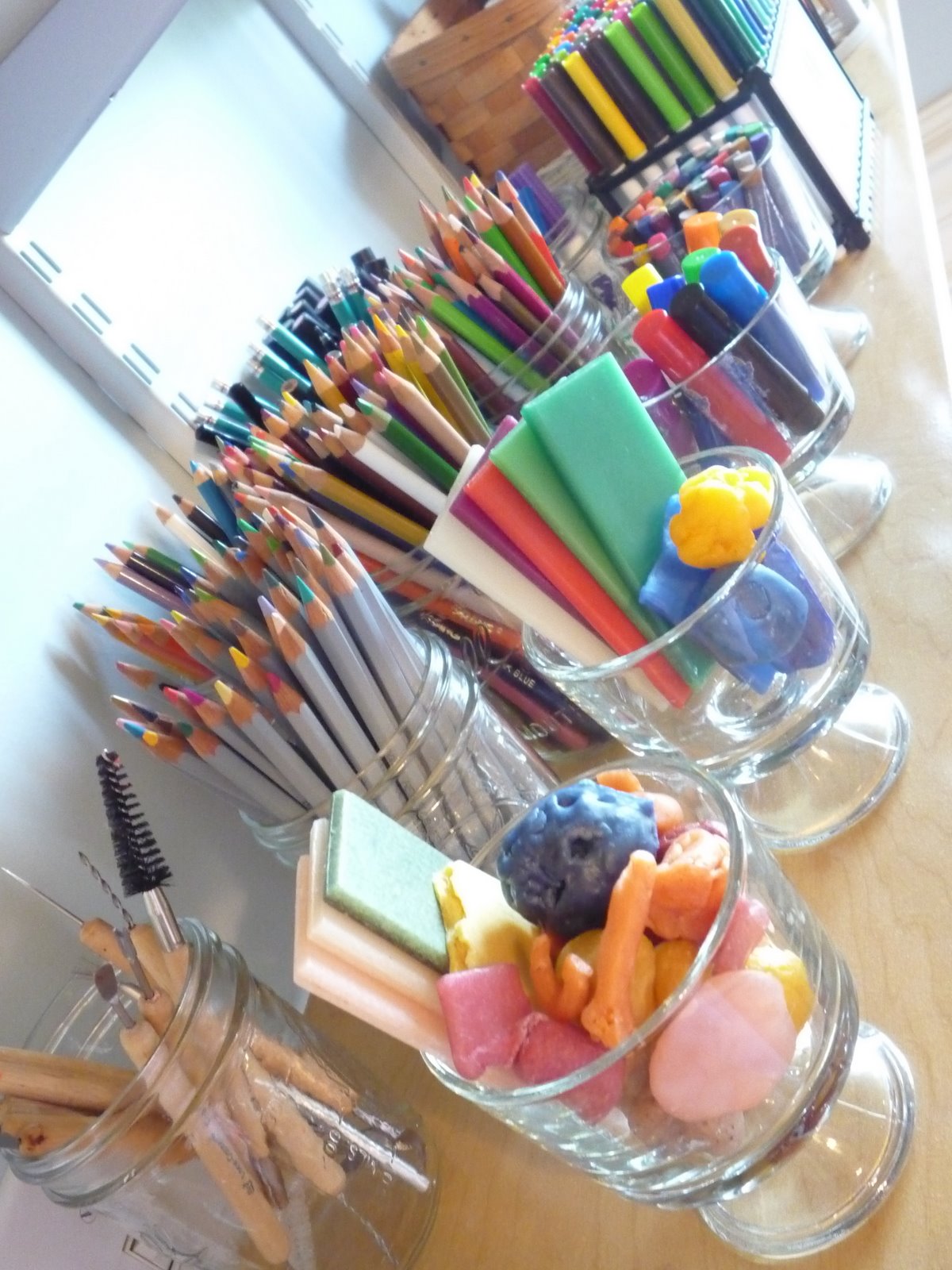 I made use of another lovely glass storage item found very inexpensively…the desert glass. They are perfect for holding smallish art supplies like oil pastels and tiny markers…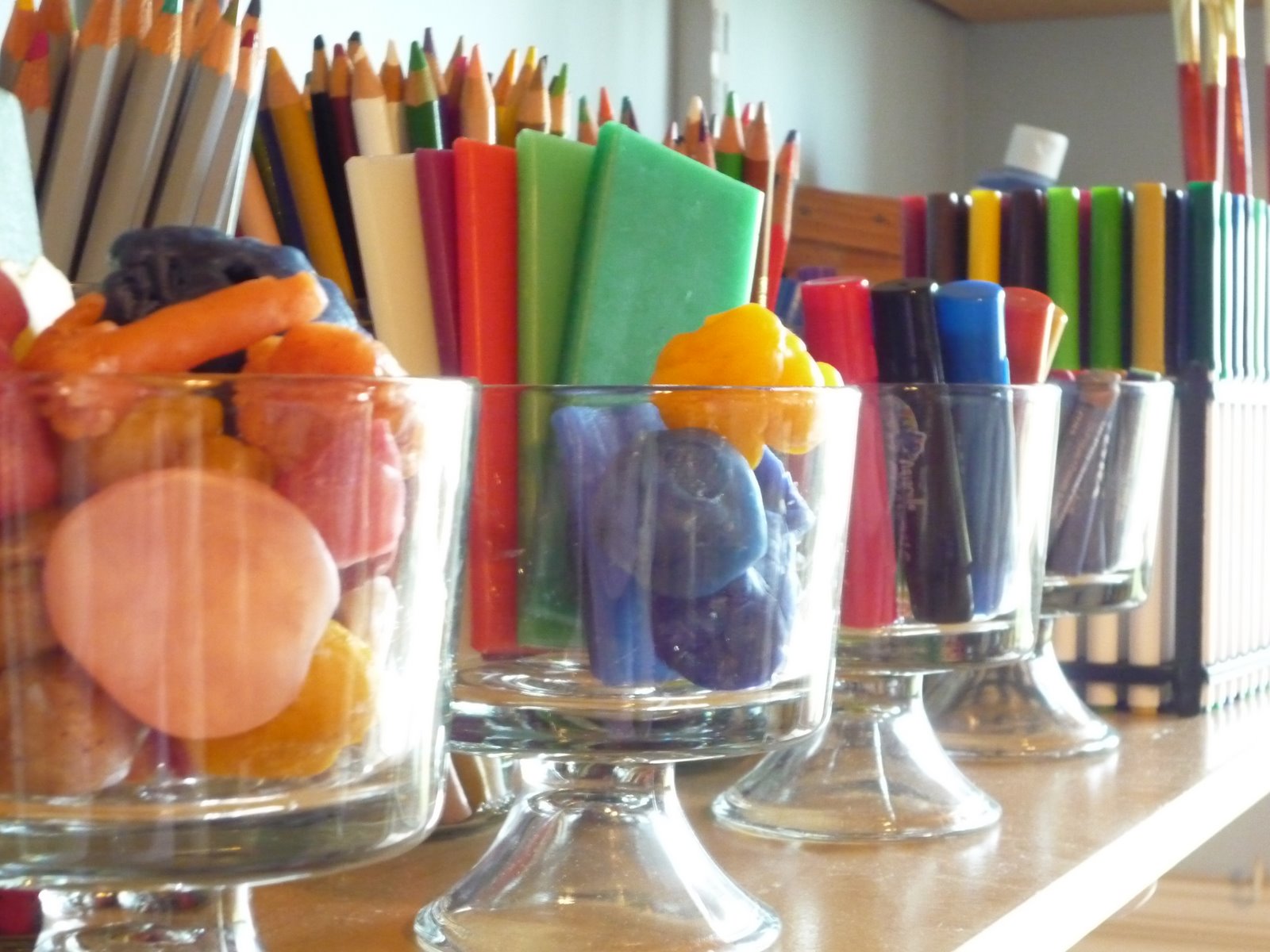 The bottom of these small desert glasses allow for easy grabbing, lifting, and transporting to the table. Perfect!

I'll start describing some of the items I have on my art shelves: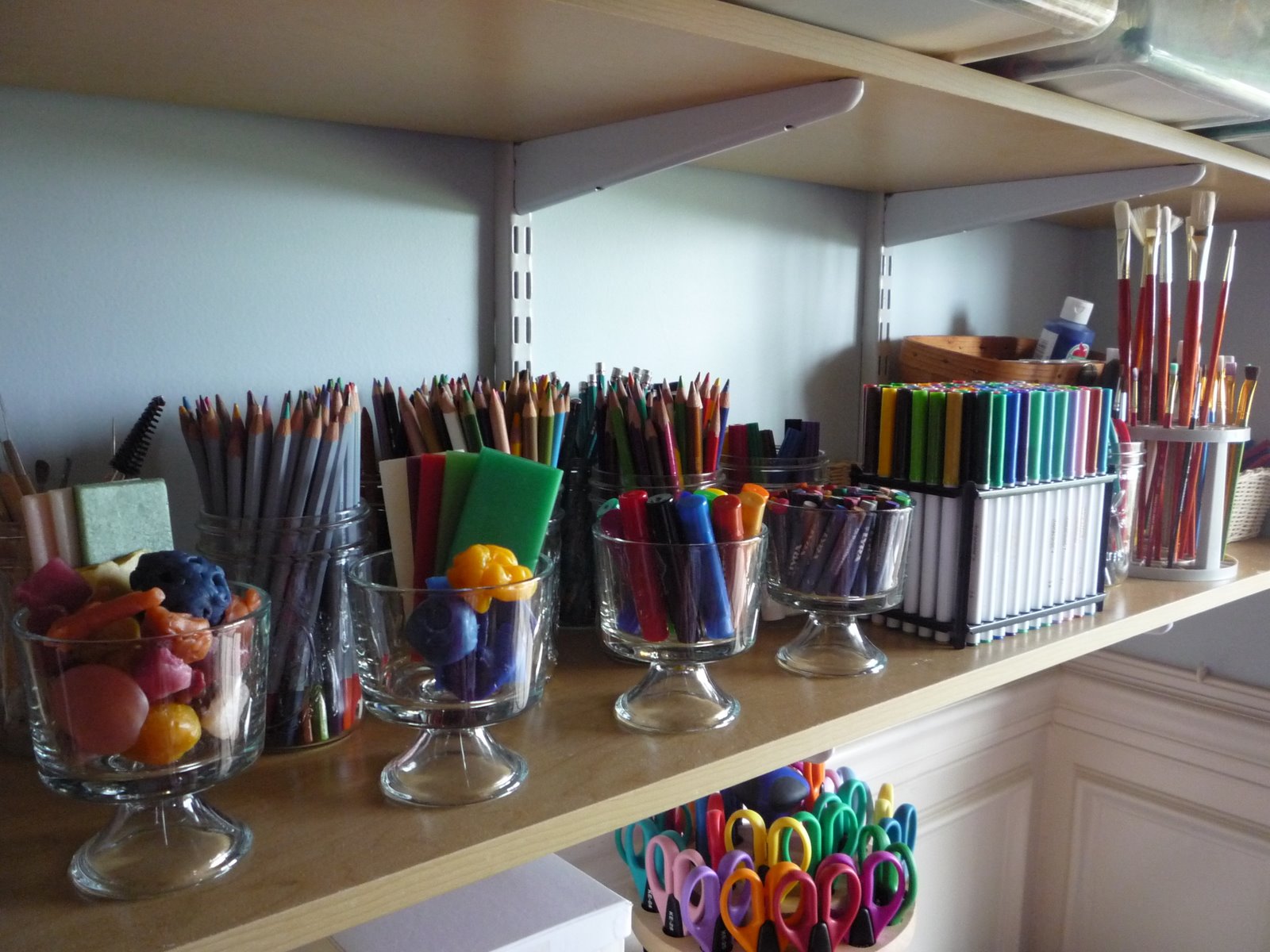 **Beeswax for sculpting projects (edited to note how much the children are enjoying Prang non-drying modeling clay
)
**Lyra Aquarelle Gel Crayons
**Oil pastels

**Fibracolor fine tip markers with stand

**Rexel Derwent Watercolor pencils

**Prang color pencils
(in fact Prang's entire selection is inexpensive and good quality – I much prefer them to Crayola for my littles)
**Lyra color pencils

**Prismacolor watercolor pencils

**Prismacolor sketch pencils

**Prismacolor dual tip markers

**Set of clay shaping and working tools

**Collection of paints – Lyra watercolor set
, acrylic paints and Grumbacher watercolors (which we love!!!)
**Paintbrush collection
**Basket of glue (Modge Podge
is our favorite!)
My set of inspirational crafting and activity books: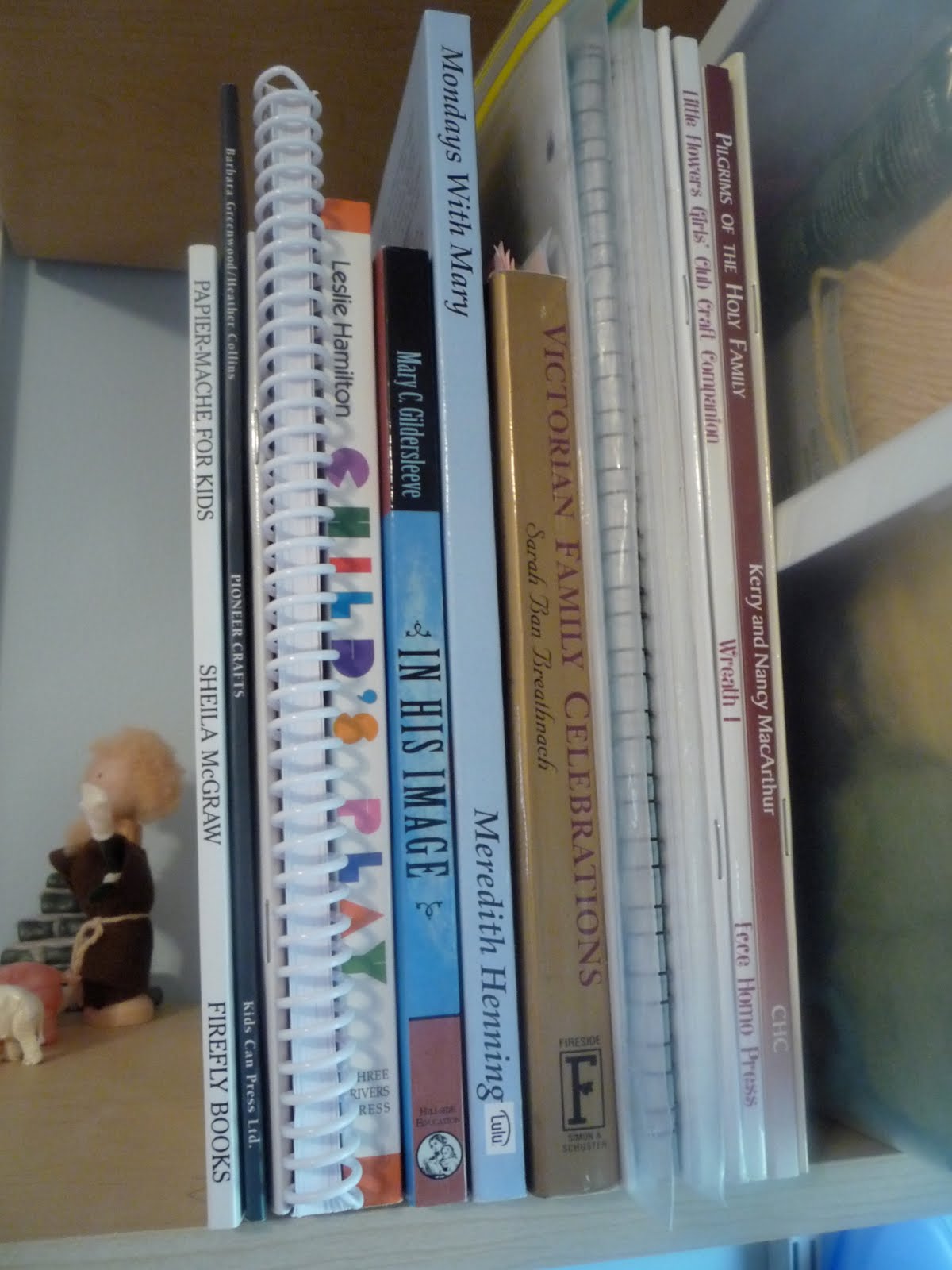 **Papier Mache for kids
by Sheila McGraw
**Pioneer Crafts
by Barbara Greenwood and Heather Collins
**Mothers and Daughters at Home
by Charlotte Lyons
**Traditional Country Needlecrafts
by Sue Millard (out of print, but available used)
**Victorian Family Celebrations
by Sarah Ban Breathnach (which is now sold under the title of Mrs. Sharp's Traditions
– our copy is a FAVORITE BOOK!!)
**Tea and Luncheon Manual
by Amy Hansen (Little Flowers Girls' Club)
**Tea and Cake with the Saints
by Alice Cantrell
**Child's Play
by Leslie Hamilton
**In His Image
by Mary Gildersleeve
**Mondays With Mary
by Meredith Henning (another FAVORITE BOOK!!)
**Little Flowers Girls' Club – Ecce Homo Press (not specifically a craft book, but has many craft ideas so I keep it here)
**Little Flowers Girls' Craft Club Companion
by Karina Fabian
**Pilgrims of the Holy Family
by Kerry and Nancy MacArthur
**Fun Physical Fitness for the Home
by Sono Sato Harris
Not pictured:
**Learn Lacecraft
by Audrey Vincent Dean
**See and Sew
by Tina Davis
**Sewing With St. Anne
by Anne Cantrell
**The Anne of Green Gables Christmas Treasury
by Carolyn Strom Collins, Christina Wyss Erikkson
**Tasha Tudor's Heirloom Crafts
by Tovah Martin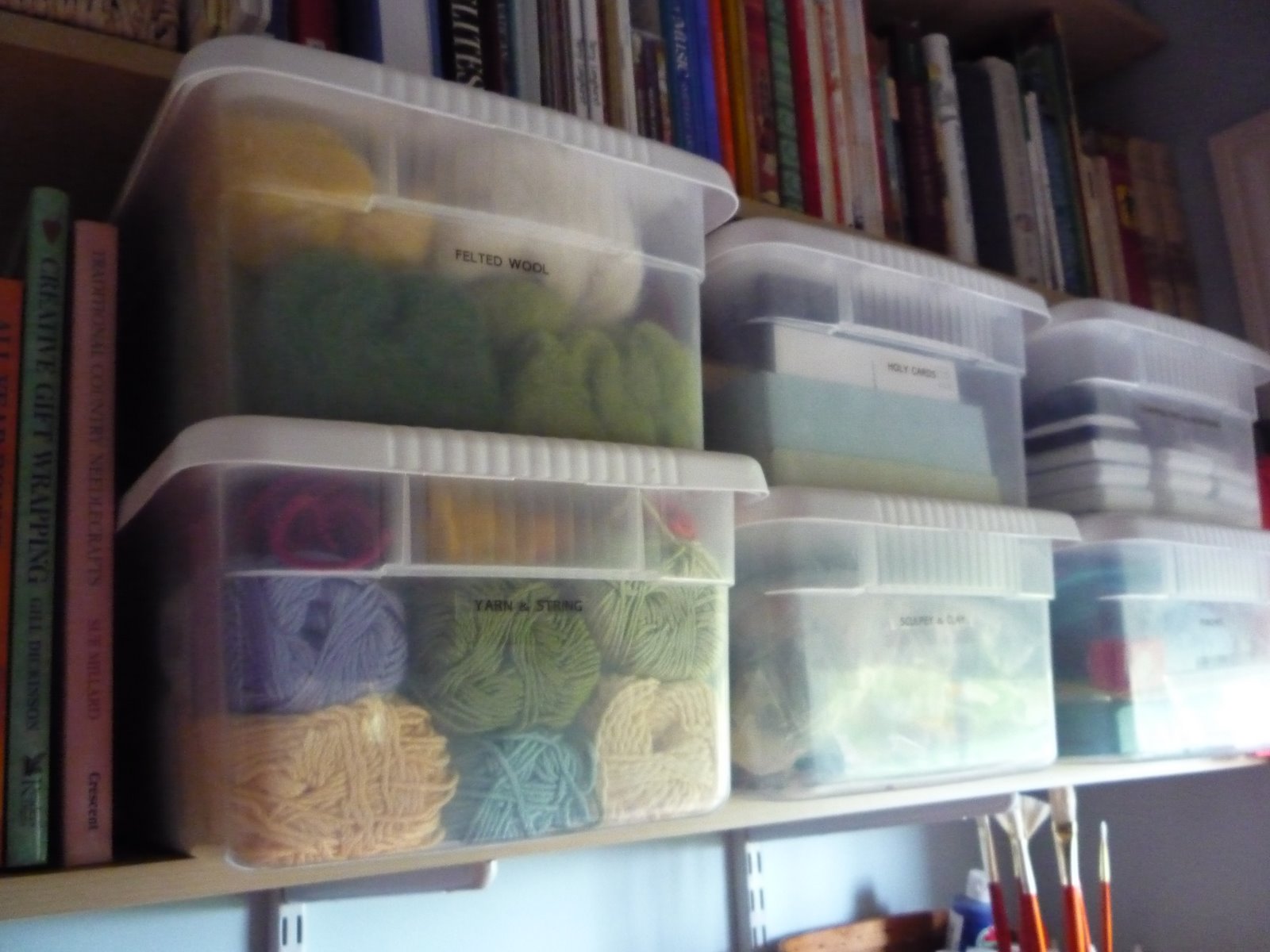 Next to my craft books I keep a collection of some of our more frequently used craft supplies in clear plastic bins. These are by no means the entirety of my craft supply collection. I have here:
**yarn and string
**felted wool
**sculpey clay

**holy cards and religious image cards collected and used for liturgical year projects
**ink stamp pads…of which I have an embarrassing amount…but little hands love stamping! 🙂
**paper punches
**a toolbox full of different wooden backed stamps for ink stamping (this is just out of picture) – I have learned that children love stamping images and coloring them as part of decorating a card or an art project…so pull out all those nice stamps that you never have time to use anymore and set them on your kid's art shelf. They enjoy them so much!
Now on to the shelf below with more art supplies…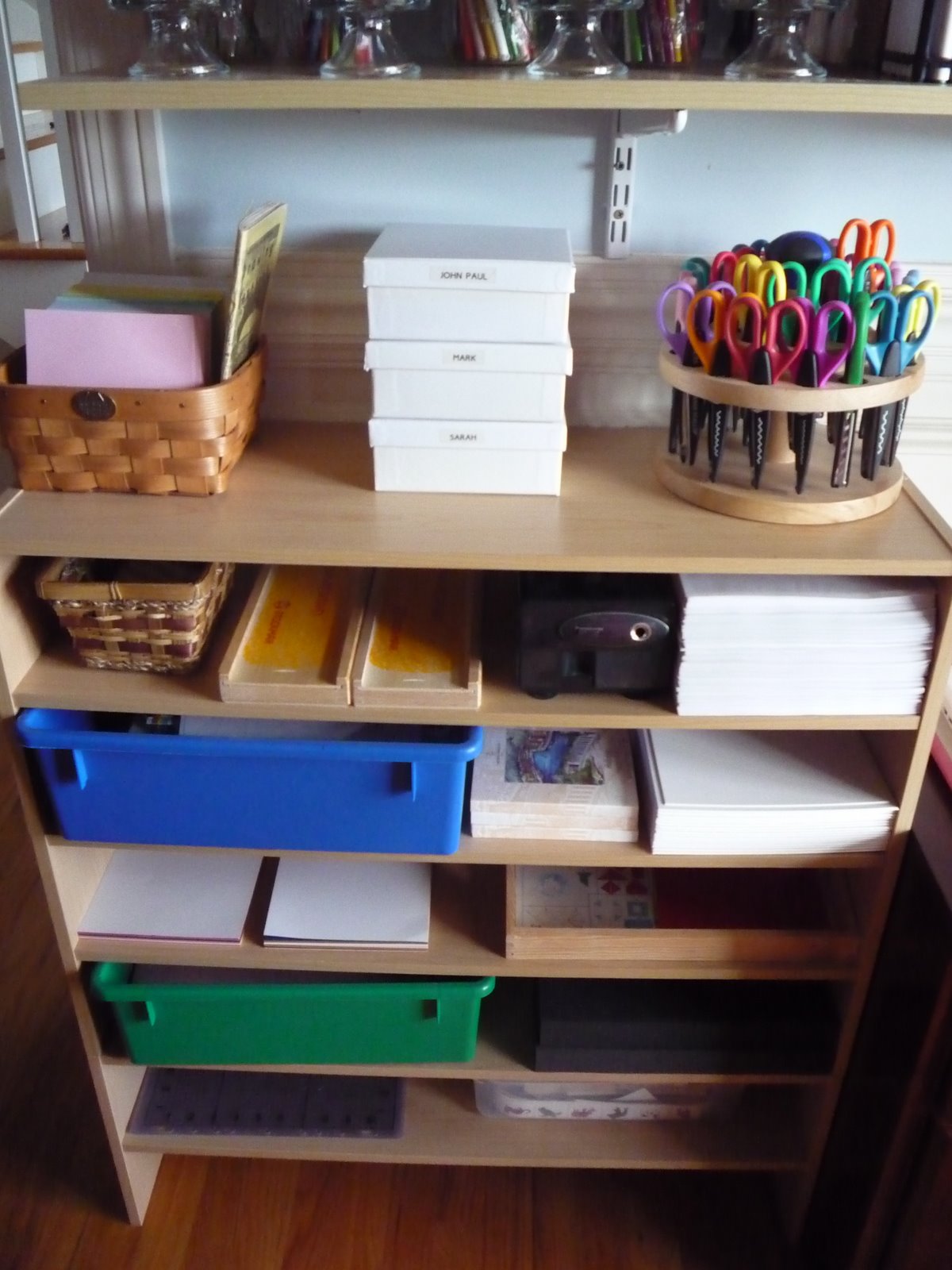 I'll describe what I have set out moving from top to bottom, left to right:
**small basket containing inset paper and our favorite "how-to" book of drawing and sketching (more on that below!)
**3 boxes – one for each of the drawing age children. They are labeled with their names and contain the square inset paper sketches very nicely.
**carousel of fun scissors
**basket containing erasers and sharpeners
**beeswax crayons
**our favorite electric pencil sharpener (a Panasonic Auto-Stop, Model #KP-310…I can't find them anymore
**a HUGE stack of scratch paper from Grandma's volunteering at the pharmacy. This paper is slightly larger than the inset paper though still square. It's a good size for little hands.
**blue bin containing a few favorite coloring books and sketch books
**watercolor papers of different sizes
**transparent papers for paper folding projects and a tray of origami papers with instructions
**bin of wool felt sheets
**cutting board for projects
**bin of stickers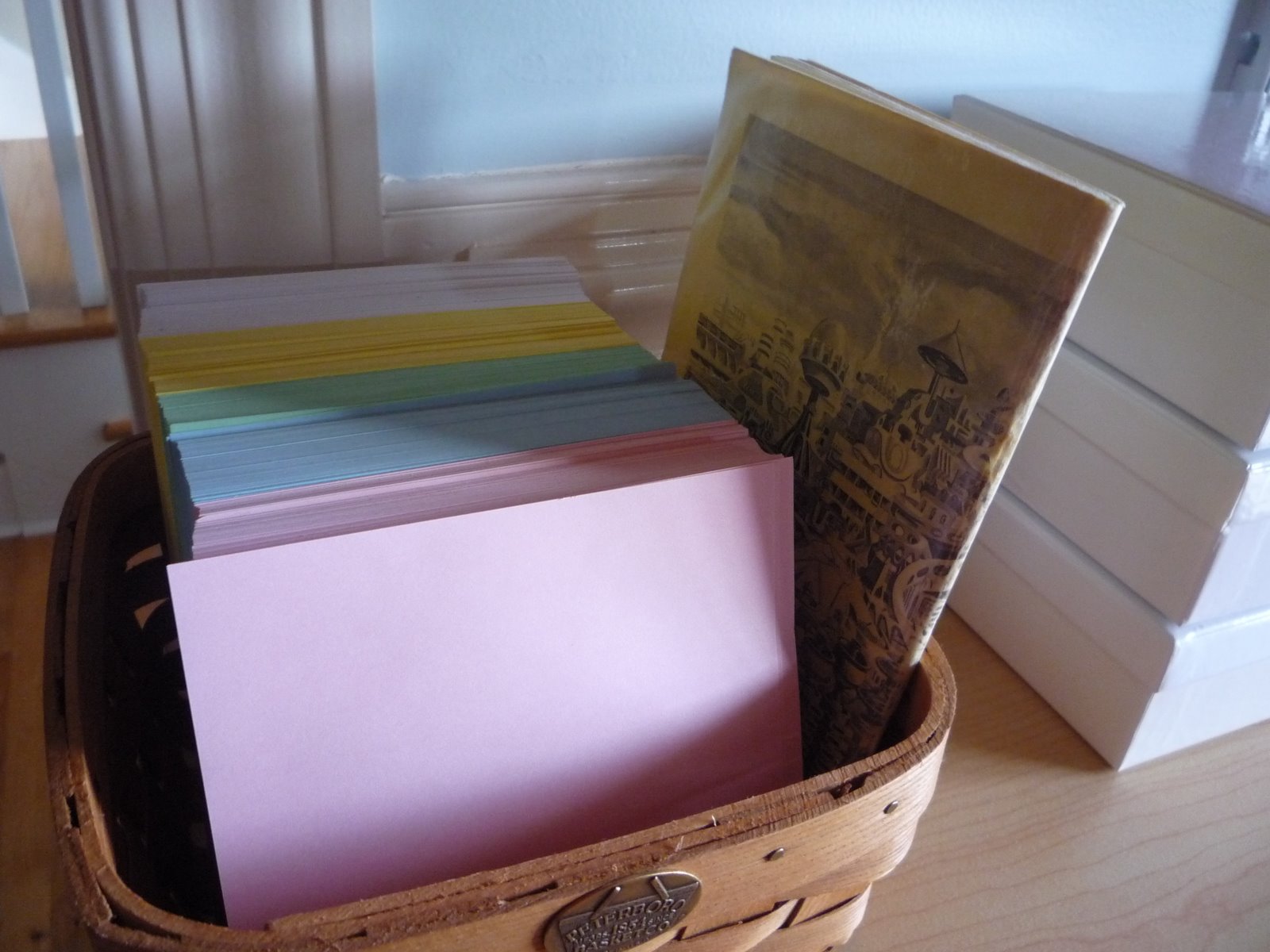 I'm certain I've mentioned these favorite papers before, but just in case…the Metal Inset Paper from Montessori Services is one of the best all-round GREAT supplies for us. We make mini books out of them, use them for our sketch lessons with Bruce McIntyre's Drawing Textbook
(which I cannot recommend highly enough!!!  Looking for something simple to teach your children to draw?  Something that would work for any age from around 3rd grade on up?  Something that doesn't break the budget?  THIS IS IT!!!)  Those little square papers are great for so many things!!! Including their original purpose.  🙂
So, that's the art center! It's quite cheery to look at, and the children have already involved themselves in many art projects since it has been rearranged. That tells me I must have done something right!
On to the…
Nature Center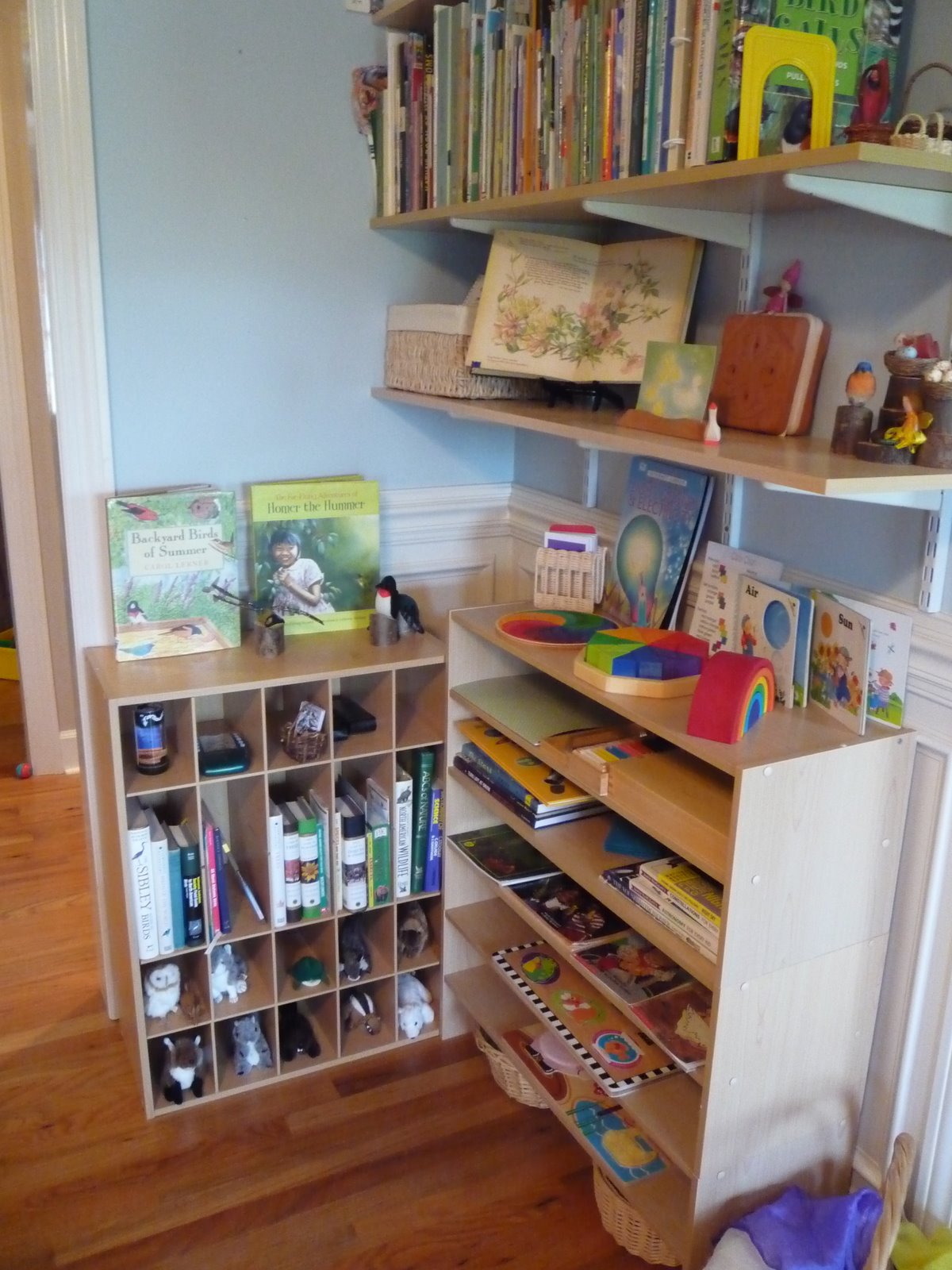 This area has been so usefully set up this year, that I left it pretty much alone. We love using a shelf as a seasonal display. I set up a small seasonal vignette on one shelf – a few beautiful autumn leaves, a collection of painted wooden eggs with our bird collection, anything seasonal. I always keep The Country Diary of an Edwardian Lady
open to an appropriate page for the month. The children don't always check it, but I do and it makes me happy to see it. Her lovely sketches of nature and animals are simply refreshing. If you don't have this on your nature shelf, consider it! I receive about as much pleasure setting up the seasonal display as my children have in rearranging it! lol! 🙂 The display invites investigation!
All of our nature journals and science and nature books are above the seasonal display. I keep them organized by topic so they are easier to set out in display by theme as we study.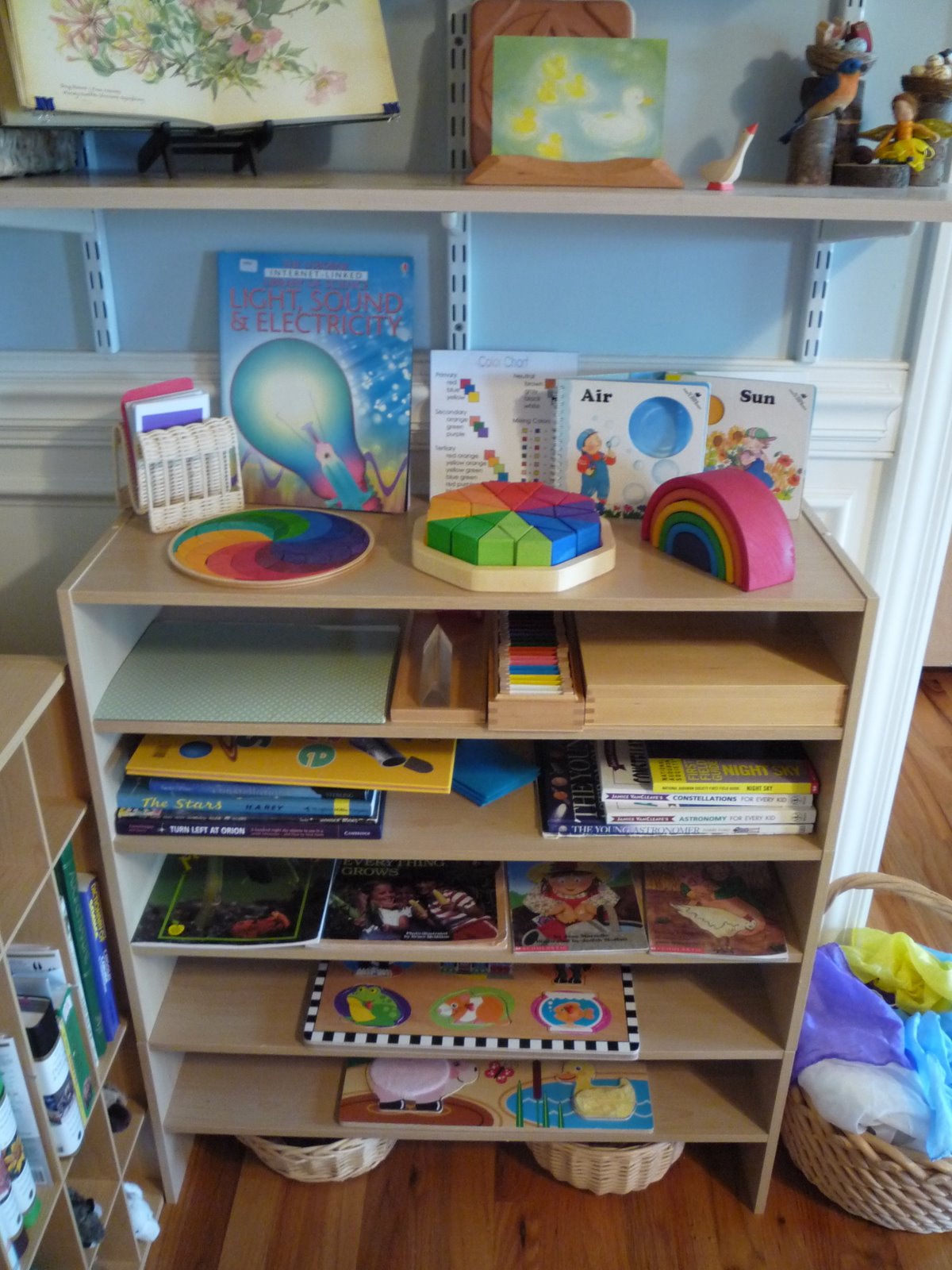 Below the seasonal shelf is the shelf I set up to coordinate a science theme or topic of study. We're jumping around a little this summer. The main theme is COLOR – we're talking about the breakdown of colors – primary, secondary, and tertiary. Along with COLOR, we're discussing prisms, and everything rainbow.
Below our primary study of COLOR, I've left out some books on Astronomy as we're still finishing up that study…or at least I'd like to think we might finish it up. Or, maybe I'll just set it aside until next year. 🙂
And, for the Peanut, it seemed the appropriate time of year to set out seeds and plant picture books.
Of course, Doodlebug's puzzles, block baskets, and basket of silks are down lowest.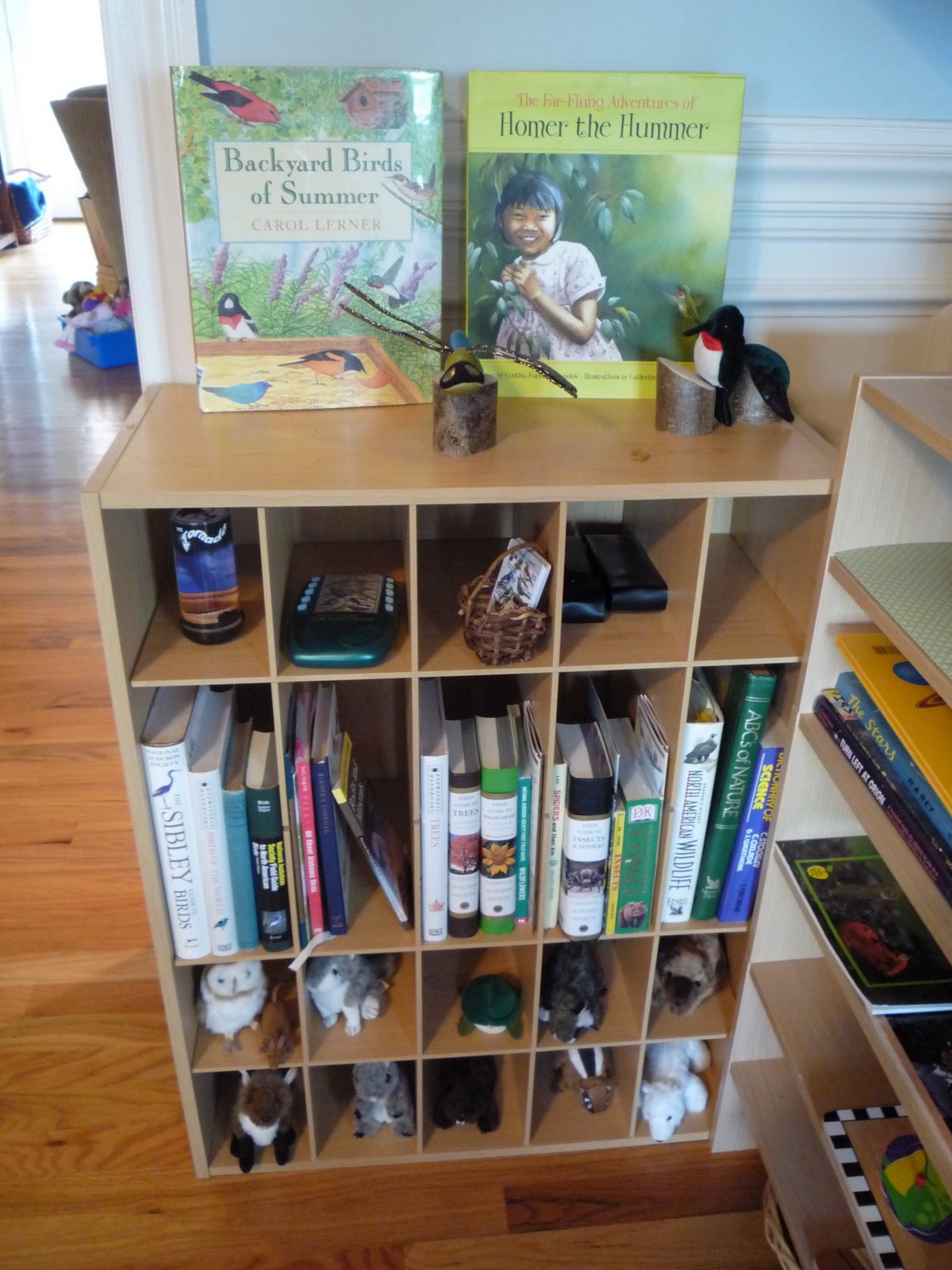 New this year is this display shelf that you see above. This is…ahem…a shoe organizer unit. I removed one of the dividers so I could stand up taller books. There were some science and nature study resources we were accustomed to using regularly, like our field guides, the Bird Identiflyer, and binoculars. Those tiny little niche's below seemed custom made for some of our favorite Folkmanis puppets, so I've added them so they can peek out. They are a favorite of the Doodlebugs! And, who could resist yet another display surface???? 🙂 Can you tell we love our birds?!

Geography Center and Doodlebug's Spaces:

This area is still under construction somewhat. Those are Doodlebug's shelves and activities there on the left down low. My geography center with our continent boxes, maps, and globe is here. The baskets on the shelf above contain the older two children's reading and work for the summer. I've started setting some of Sparkly's work for next year here so I can do some planning in the next couple of weeks.
Math manipulatives are on the shelf above their books and my idea was to put some more shelves in that big empty space you see there (3rd shelf up that has only the one wicker basket on it…horizontal surfaces don't remain free very long!!!) to create some storage for our golden bead Montessori material that the Doodlebug definitely doesn't need access to.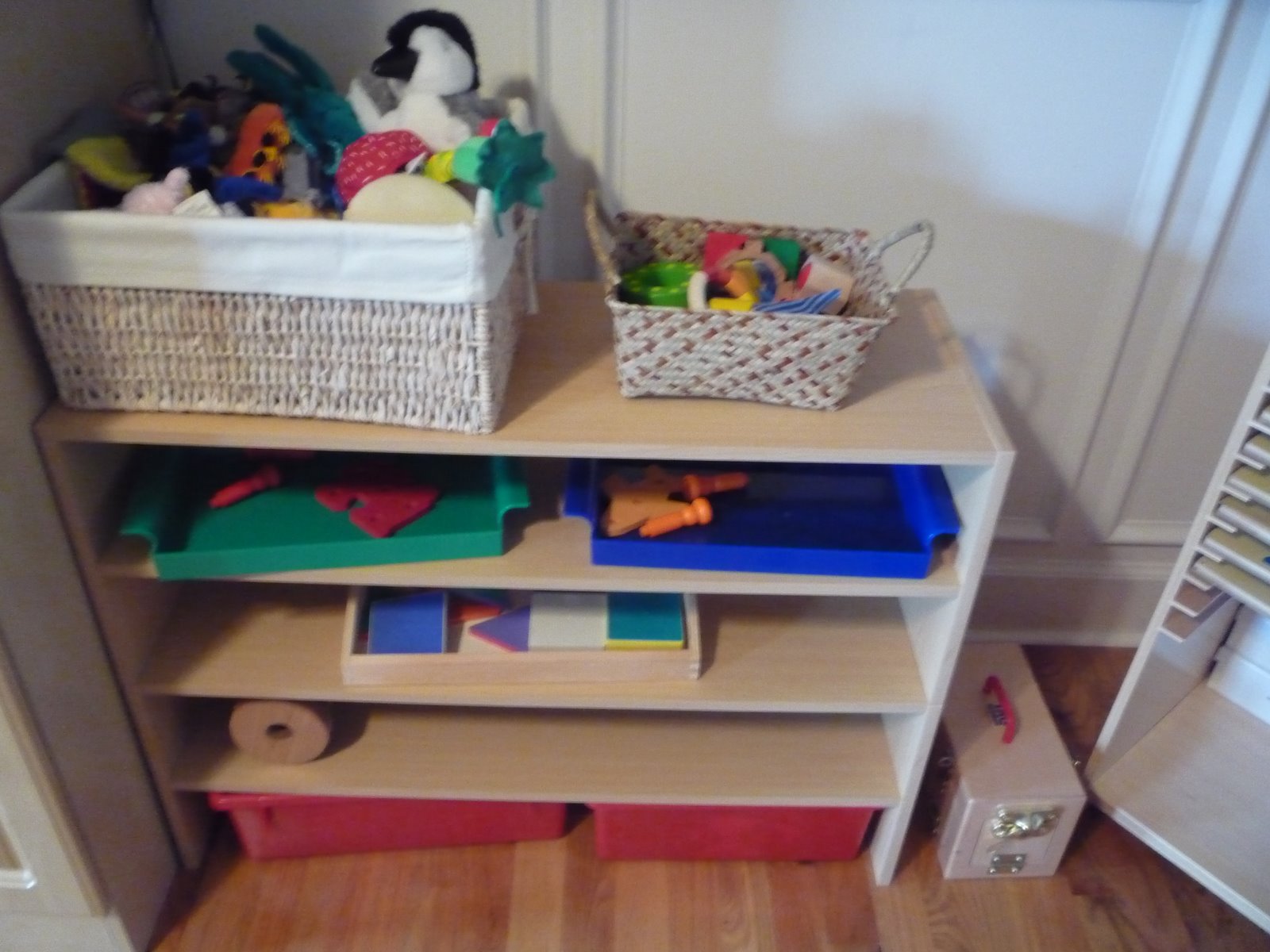 I'm sorry this picture isn't so great, but these are Doodle's shelves. She has a few Montessori activities set out that she loves – some pegs and Lauri pieces, a basket of wooden HABA toys, a wooden box with different closures on it (she loves this!), magna tiles, and soft, squishy blocks in the bins down low. I've been changing the things out on her shelf in here regularly. It makes a big difference in how "investigative" she is in the other parts of the room! 😉
Peanut's Space: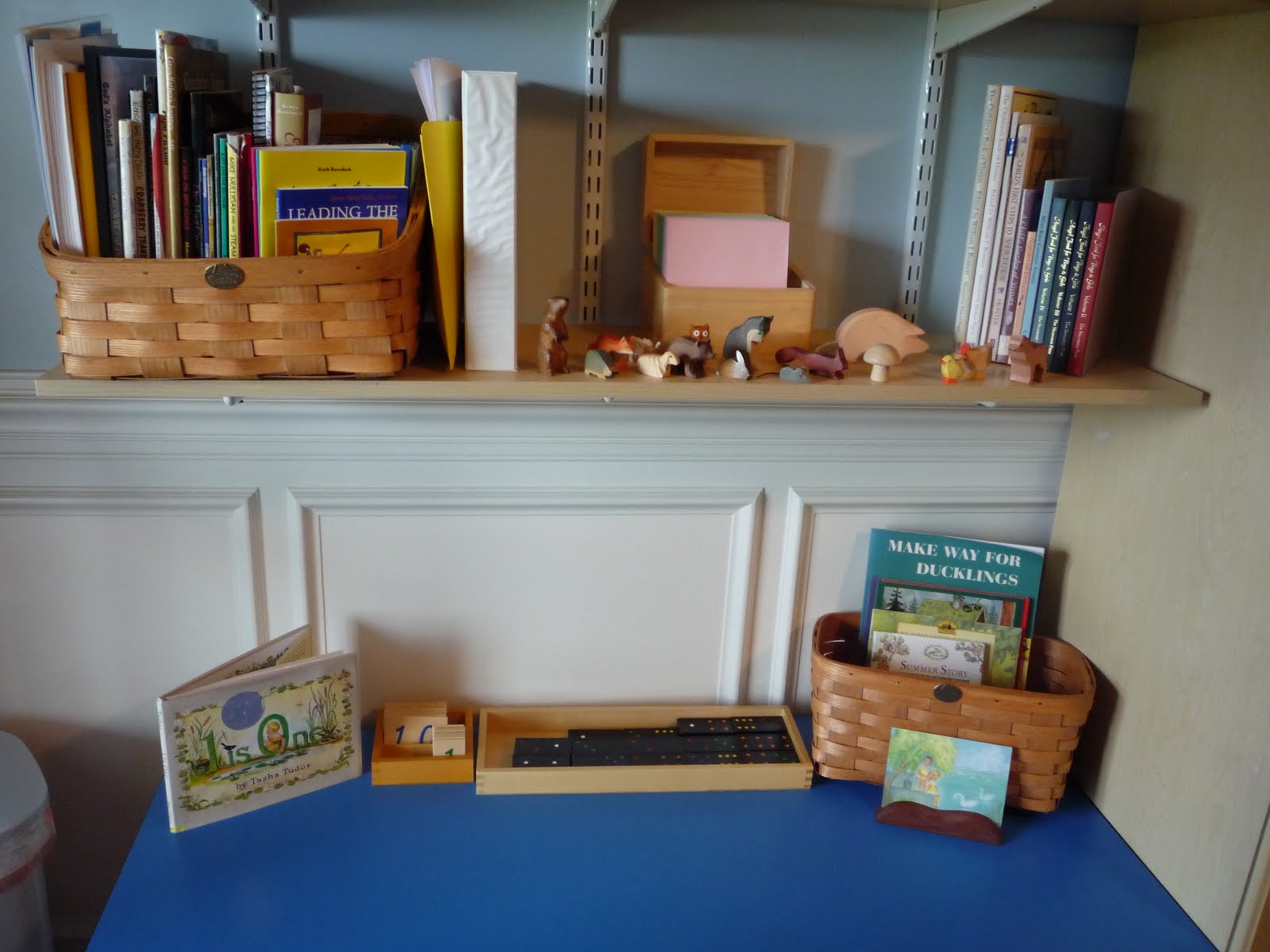 Isn't it lovely? I love creating little spaces for my little fella! And, he loves to investigate them!
I'll start with the shelf on the wall and then move to his little table.
The big basket there on the left contains a myriad of picture books. This basket is just a collection of books that I've pulled together to do a little planning – I don't **plan much for Peanut at all – we'd rather just read what strikes our fancy most of the time, but he's starting to ask for a little more, so I'm just considering gently all these fancies…
**He loves his collection of little wooden animals – and I keep them set out for his use. We love to set out the little squirrel from this set when we read Sara Squirrel and the Lost Acorns.  This is one of our favorite picture books, "…a tasty mushroom, a crunchy leaf, a juicy berry, and acorns for me."  And the collection of wooden animals we enjoy adding to from time to time.
**I keep a small stack of the colorful inset paper on his shelf for him.
**I keep his devotional/read-aloud books there in the corner on the right. These are a part of our morning inspiration basket time. I've just been gathering the morning reading books for next year here for now as I consider my planning. Always featured are the Angel Food for Boys and Girls series by Father Brennan.
**On his table for the summer we're focusing on counting and numbers so I have set out 1 is One
by Tasha Tudor, a set of dominoes for counting as well as some wooden tiles with numbers written on them. In his basket of books I have set out our favorite summer reading –
::Summertime in the Big Woods
by Laura Ingalls Wilder
::Summer Story
by Jill Barklem
::Flicka, Ricka, Dicka and the New Dotted Dresses
by Maj Lineman
::Flicka, Ricka, Dicka and the Strawberries
by Maj Lindman
::Flicka, Ricka, Dicka and the Big Red Hen
by Maj Lindman
::Flicka, Ricka, Dicka and the Three Kittens
by Maj Lindman
::Blueberries for Sal
by Robert McCloskey
::Make Way for Ducklings
by Robert McCloskey
::Small Acts of Kindness
by James Vollbracht
::Diary of a Spider
by Doreen Cronin
::Diary of a Worm
by Doreen Cronin
So that's it for my little guy. Doodlebug is joining him more and more in the little chairs there…so it will soon be time to consider her as I place things about on the little table.
Storage for the Learning Spaces:
I really wanted to show you my storage cabinet. It is a very valuable item in here. Because I'm in a dining room, there is no closet for storage and there are some things you just don't want taking up space on your shelves! For all those items, I've found a home in here: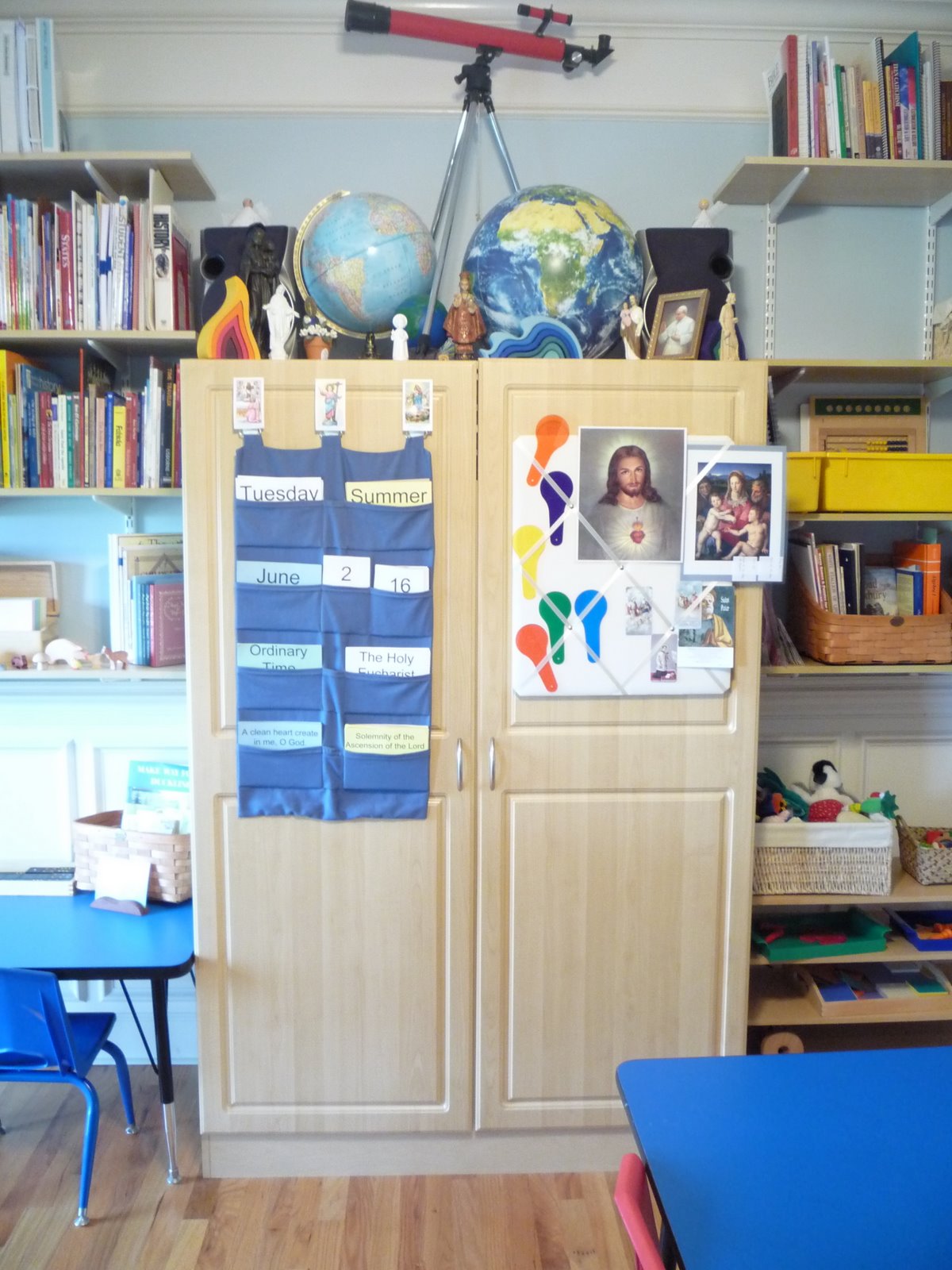 We bought the cabinet at Lowe's a few years ago. Rob built it and though it is quite sturdy, he anchored it to the wall with L brackets – it's goin' nowhere! I'm opening the doors for you for the first time….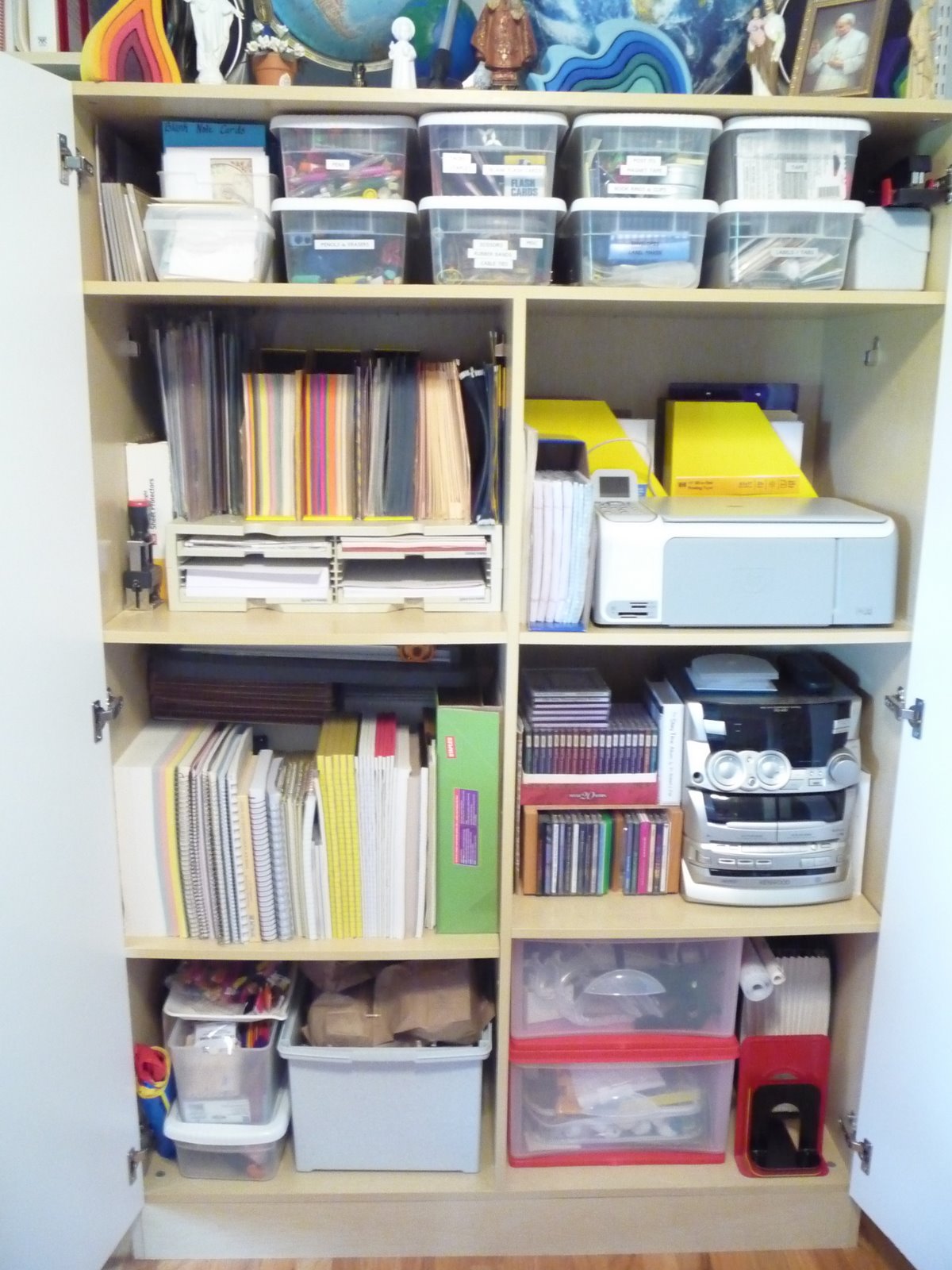 Sheesh…what's NOT in here??? 🙂 I like keeping my copier in here, as well as the CD player. There are lots of school supplies in here – pens, pencils, paper, folders, more paper. The bottom left contains all my other crafting supplies. There are often tiny collections of this and that. I purchase very inexpensively small brown paper bags – like you'd pack a lunch in – and put the little groups together in the brown bags. I write the contents on the outside of the bag. You could certainly use ziplocs, but brown bags was what I had on hand, and I sort of like the look of paper. Ziplocs are useful, but they seem to look so cluttered once you dump them all together.
Hanging a map with little wallspace:
This challenged me FOR YEARS!!! If I have shelves on my walls, I don't have room to hang a wall map, which I practically cannot breathe without. I am certain this is not the solution my husband would have gone with, but he's pretty easygoing about it! So here's how I did it…

First, I used 2 laminated maps – one of the US and one of the world. Rob cut two small strips of lathing (is that how you spell that?? it's a little strip of wood about 1 1/2″ x 1/2″) the length of my maps. I covered the edges of the top and bottom of the maps with white duct tape to give them some extra strength and rigidity and then used the staple gun to staple the two maps to the wood strip. I covered the staples with another covering of white duct tape so that the staples don't show. Next I used self-tapping cup hooks to screw into the top of the wood strip – one at each end. Measuring carefully, I screwed in 2 more cup hooks in the wood trim of the opening to our room. Voila! Hanging maps that can be easily turned for display and removed when necessary! Detailed picture below…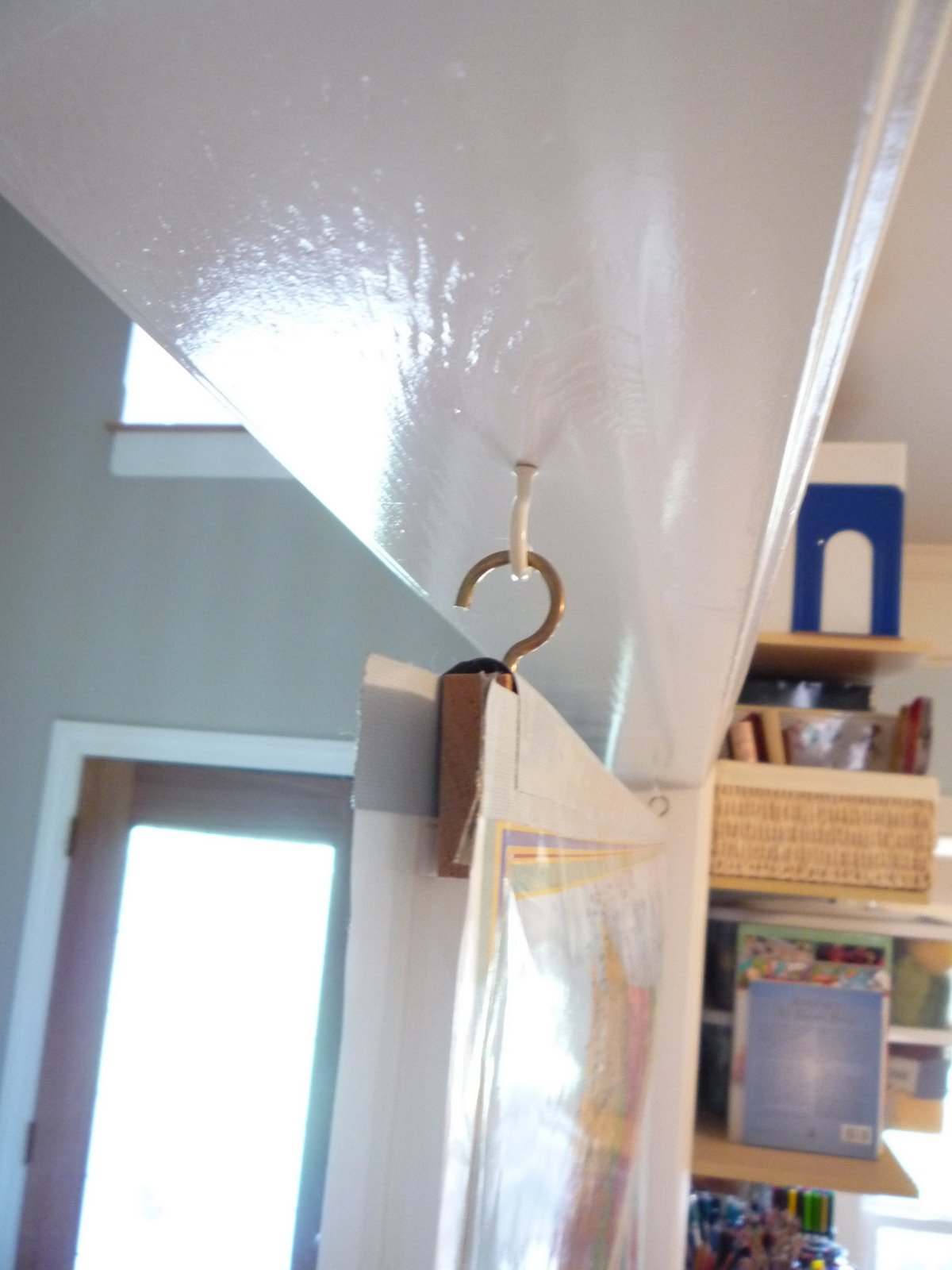 Now, I don't always leave my maps hanging in the door. So, it's handy to have a place for them to go when they're not in use…like in the summer months. I solved that by screwing drawer pulls to the bottom of one of my shelves. The nice thing about the drawer pulls is that you can use those metal booklet rings
to hang all sorts of things from these drawer pulls – maps, calendars, laminated posters, pretty beeswax smiley sun faces. 🙂 See below…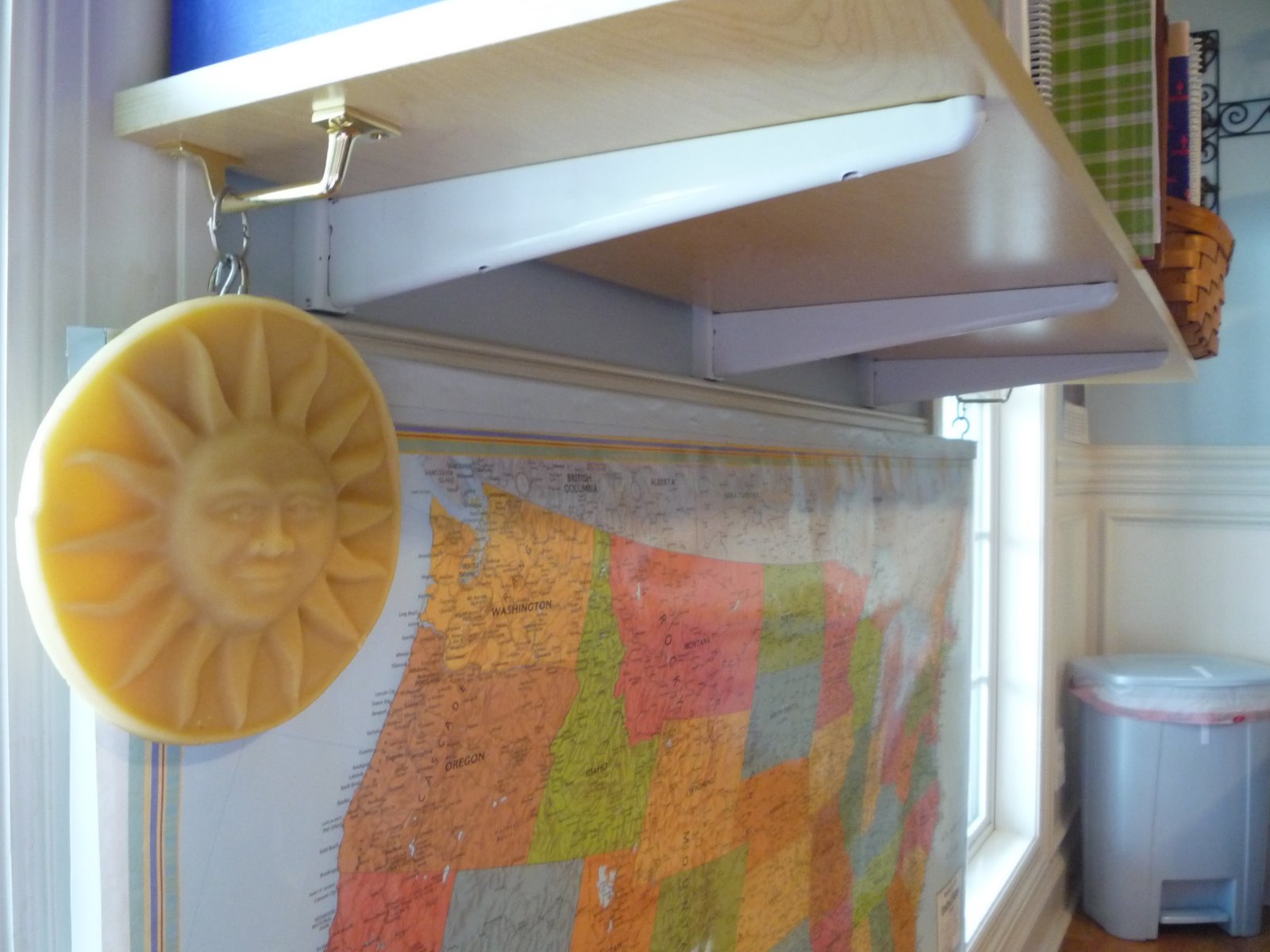 Whew! Is it possible that anyone is still reading this ridiculously long post at this point???? Helllllooooo??? Anybody out there????? I promise not to post anything this long or picture intensive ever again if you'll come back. 🙂 If you're still there, I hope you enjoyed this very long peek into our spaces. It really was fun snapping pics in the sunshine for all of you to see. As I sit here, the early afternoon sun has just started making its way in through the window and I'm enjoying seeing it move across the room. Hope you're all enjoying the sunshine in your spaces!
Came Before this Post: The Learning Room Set up for 2008/09
Follow-up Post: A Reality Check and a Few Answers
Follow-up Post: Organization of the Day – A Mother's Rule of LOVE seeking HARMONY
Follow-up Post: Refreshing the Learning Spaces (June 2010)
Follow-up Post: A Little February Check-Up and Freshening in the Learning Spaces (February 2011)
Follow-up Post: When our home was remodeled (fall 2014), we actually converted our learning room (the room pictured in this post) back to a dining room space.  Curious to see what our learning room looks like now?  Our New Learning Room: Reveal (March 2015)