By now, if you've been reading here at all, you know that we're in the process of really re-thinking our spaces, re-modeling them significantly in order to address our family needs, and so…things are a little upside down here for a few months.  It meant letting go of a space that was set aside as our learning room, saying goodbye to my desk, and paring down to the very needed and most simple.  A difficult challenge for me, but a very worthwhile one!  Detaching is always good…and painful!  I'm loving it though – the simplicity is refreshing in a way I hadn't anticipated!  There will be a space for a small desk for me again eventually, but until that time, I did need something to collect the stack of stuff I was carrying around the house to different places as we work during the day!  I was missing the way my desk was a bit of an anchor for all of us, and provided a home for those tools I needed at arms reach.
So many of you have written with such encouraging words – you're home educating in small spaces, with few material resources, or your circumstances are such that your spaces are spoken for and you are challenged with how to organize when there isn't that room so that stuff has a tidy place to land and be found again.  In light of your encouragement and because it's a joy to live some of this out alongside all of you – I thought I'd share how I handled the loss and the finding again…of my desk.
---
I put it in a bag…
---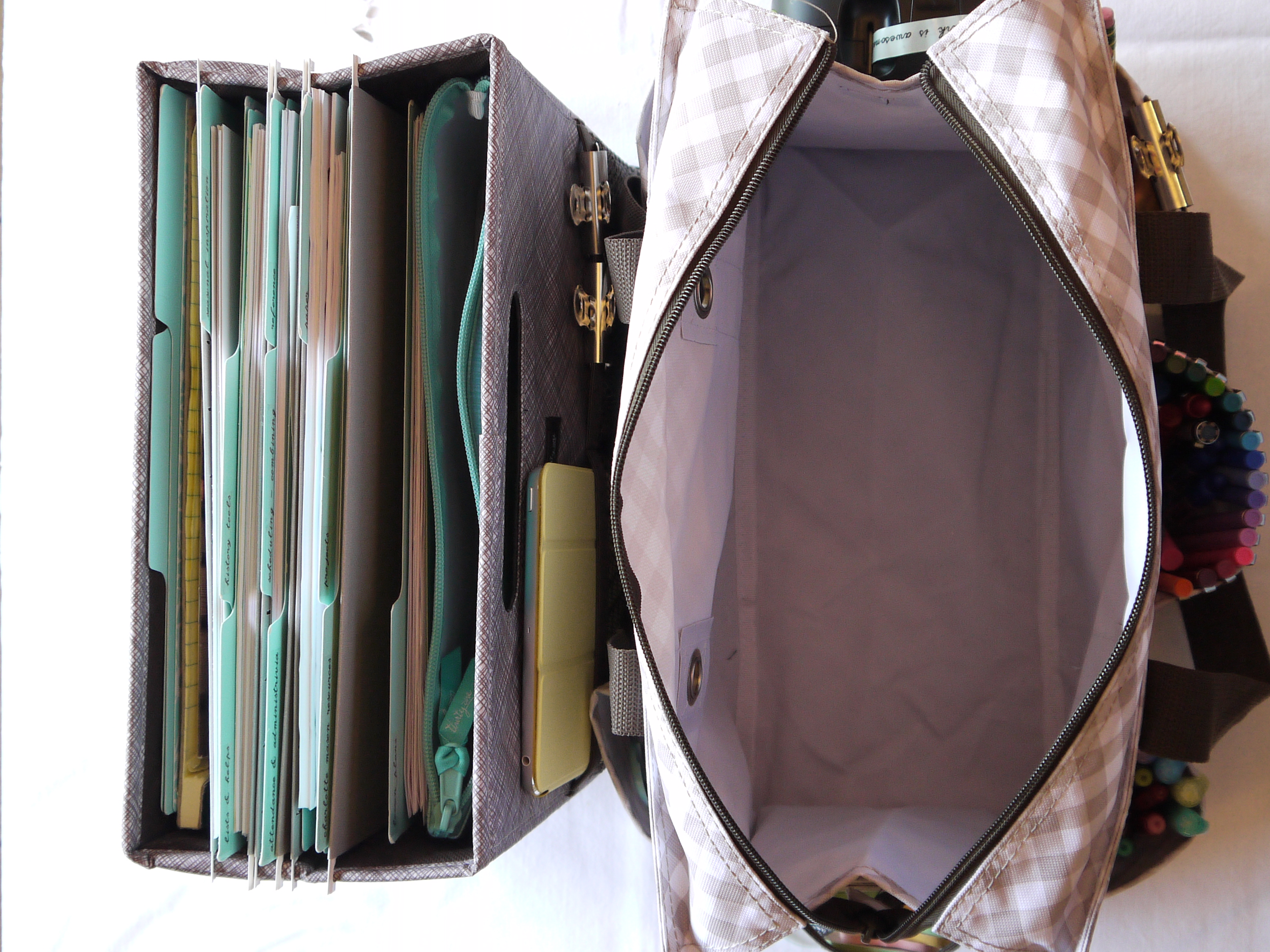 I was inspired by this post at iheart organizing on the use of a tote from Thirty-One Gifts.
I love the construction of this bag and the fact that it's totally wipeable.  Ahem….you know why, don't you? I like the zipper top, but you can consider a utility tote that is open and doesn't zipper.  I probably would have chosen one if I didn't have grabby little hands that like to reach and seek and grab and pull everything!  Zippers are my friend right now!
I'm using the zip top organizing utility tote in taupe gingham ($35) with the collapsible fold-n-file tucked inside ($25).  And, I have tucked in the front of my fold-n-file a large zipper pouch, but I have a color that is no longer available from the website – turquoise (because of course it matches my file folders!!  Please tell me you get that??).
---
In the fold-n-file
---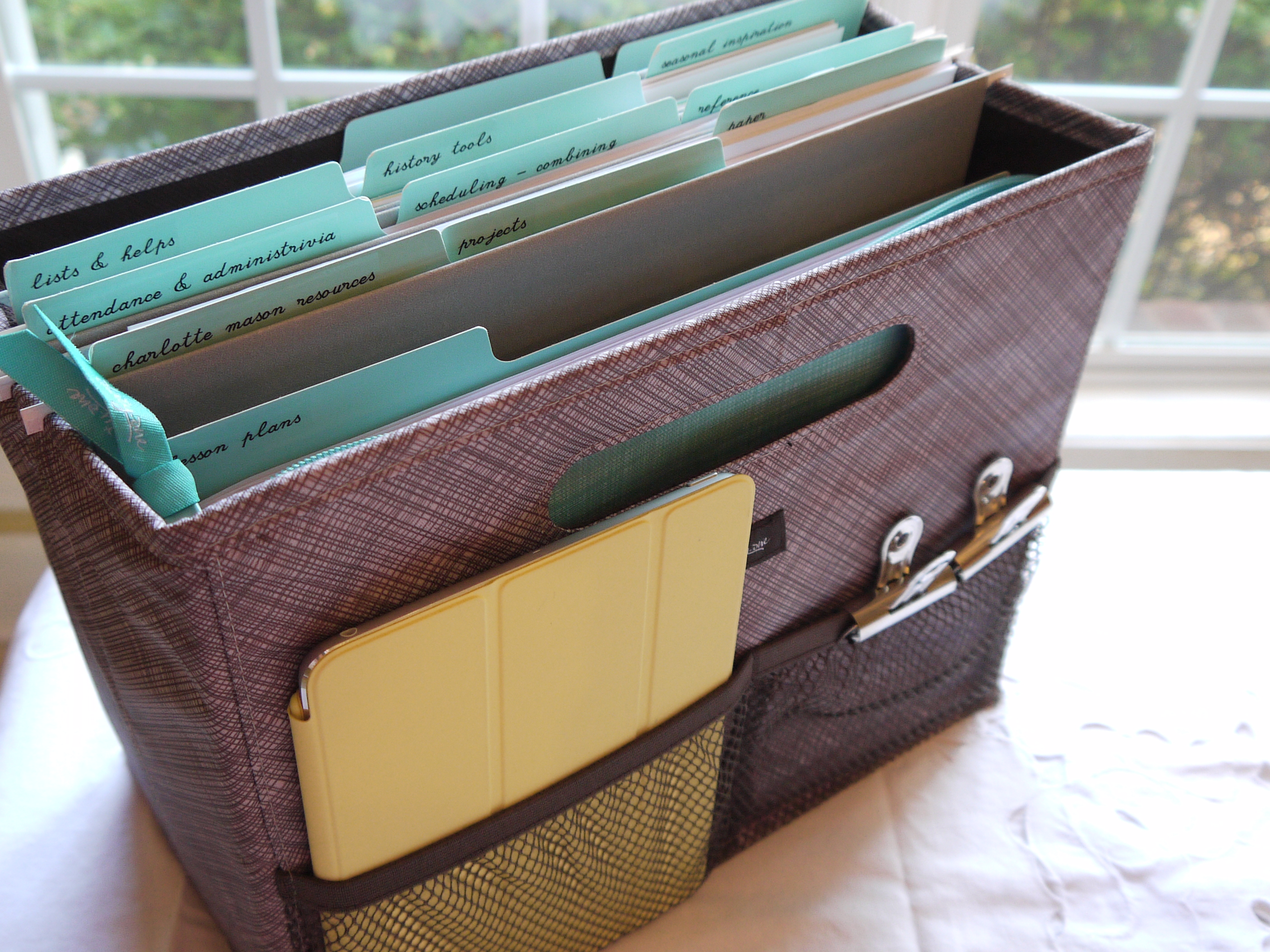 The fold-n-file holds a standard hanging file folder.  There are two mesh pockets on the outside.  I find it the perfect size for my iPad mini.  Inside, I keep the large zipper pouch (do you see the zipper pull sticking up there in the left side of the fold-n-file?  That's the best place for scissors these days!  Definitely have to keep those tucked away with the little hands around here!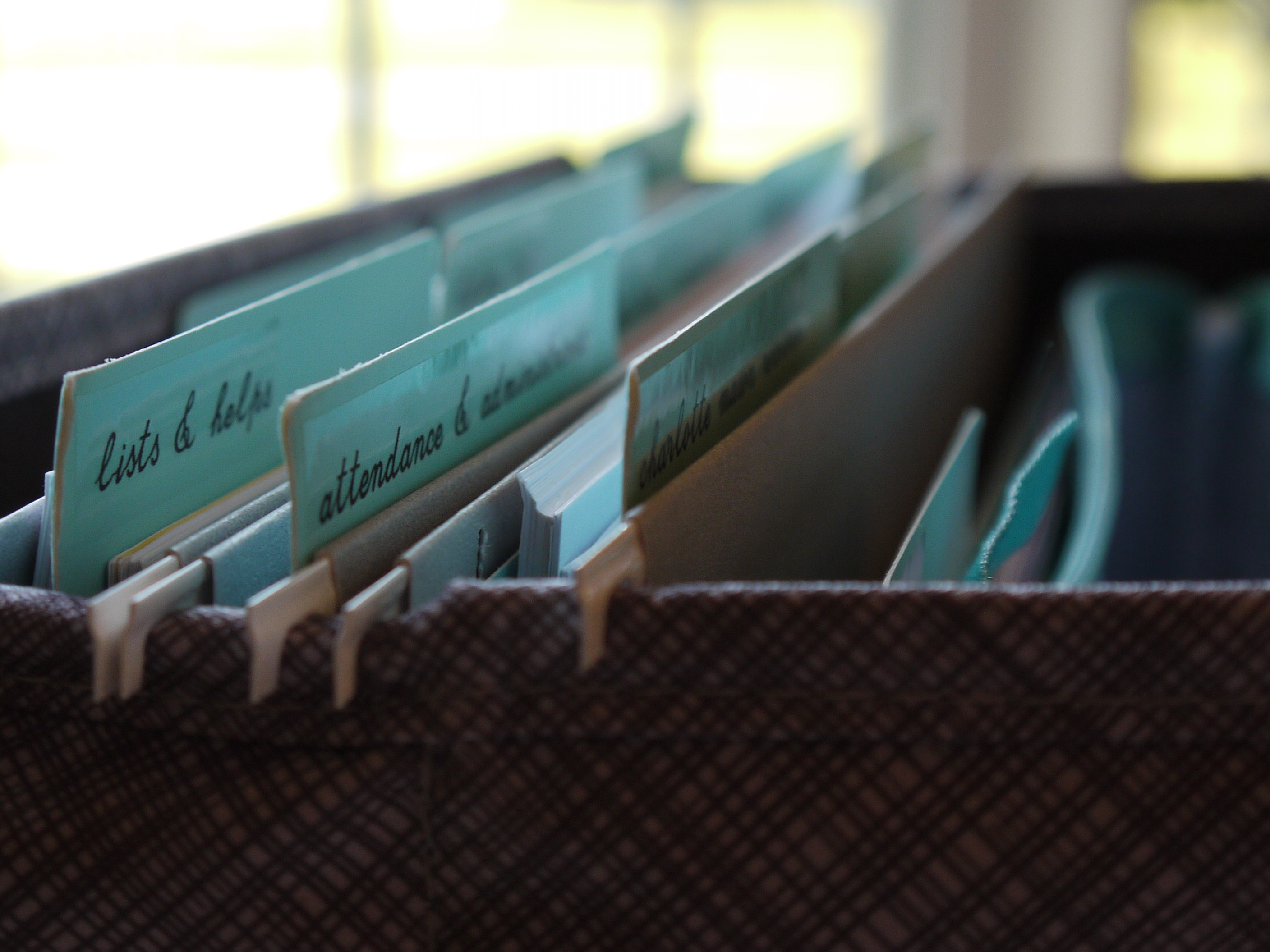 I read a tip that I really want to use – cut the plastic spine from a report cover spine in half – it's the perfect length for the two sides of the fold-n-file.  Slide the spine over each side of the fold-n-file and now the hanging file folders will slide easily.  I REALLY want to do this, but I DON'T want to purchase 12 report covers to do it.  So, I'll just be patient and figure that one day I'll come across one!  But, I did want to share the tip with you!  The hanging files will move, but not with ease.  I'm certain that smooth little plastic spine would make a big difference!
I keep my most frequently used files in here.  I know you're going to ask 🙂  – they're all labeled with my Epson Labelmaker LW-400, using the Script font on clear tape.  It is sorta pretty, isn't it?  Gotta grab the pretty in those little places these days!
I keep lesson plans right up front – this is where I store our completed lesson plans at the end of the week.  We're 5 weeks into the year so far and things are going well!
---
In the Pockets…
---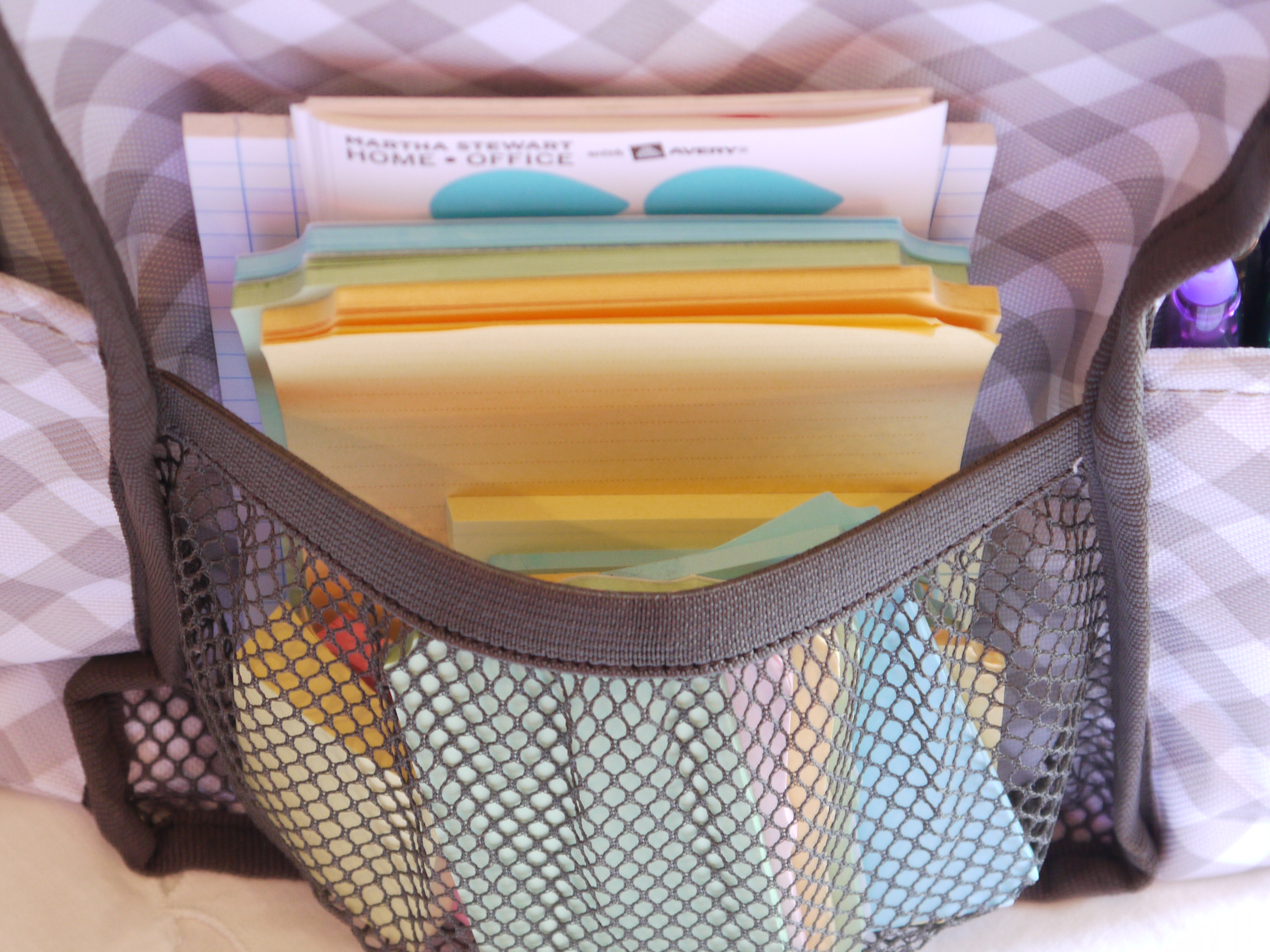 This bag has lots of pockets and what is great about them is that they're all on the OUTSIDE!  And they're not flat, useless pockets that hold 6 pieces of paper – they're large and meant to hold a voluminous amount!  The two side pockets are these mesh pockets with an elastic top and I LOVE them!  One side holds all my stickers and post-it notes, and the other mesh pocket holds my label maker.
There are three large pockets on the front, and two large pockets on the back side.  I'll list all the things I keep in these 5 outside pockets:
My favorite, favorite Pilot FriXion erasable pens, erasable markers, and erasable highlighters.  These are the pens you see pictured in the closest pocket to you in the above picture.  The colors are vibrant and smooth – whether in the writing pen or the markers/highlighters – and the color is true, they don't fade.  They don't smudge.  And it erases by friction – rubbing the little rubber button on top of the pen across the dry ink.  The eraser doesn't disintegrate or crumble as you erase (like a pencil eraser does) because the process is accomplished in the friction generated.  So…no mess, no eraser crumbles, and NO sign of the ink once erased!  It really does erase completely!  Oh my stars!!!  We use them for almost everything!
A set of Le Pens which I use in my planner (which is usually stored in the front of my fold-n-file but was sitting on the table where I had been menu planning when these photos were taken…so it sadly didn't make it into any of the photos)
Favorite red Z Grip pens for grading
Ticonderoga pencils – the only brand of pencil we use.
Bulldog clips – size #2
Calculator
Stapler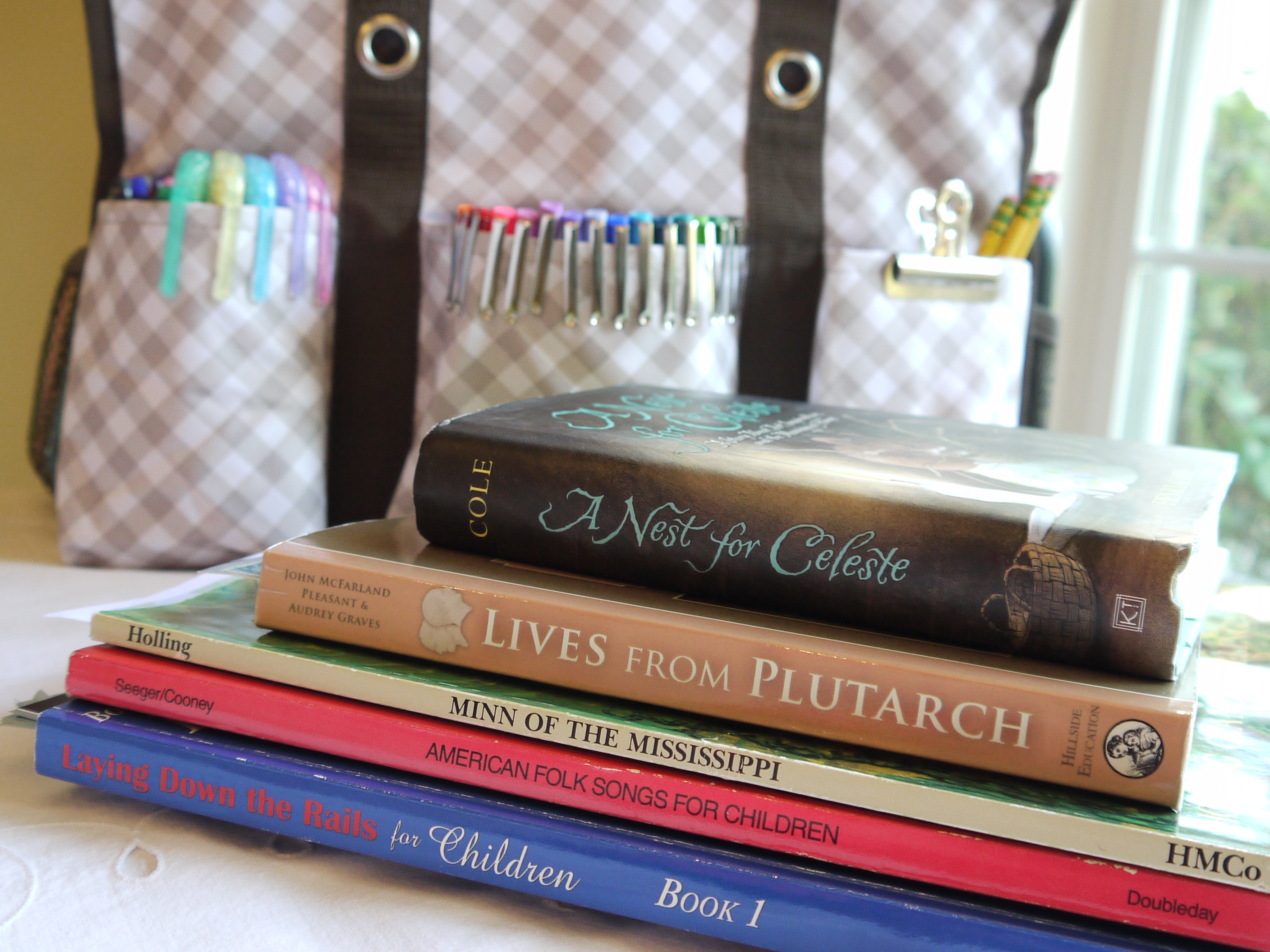 So now, wherever we happen to be reading or working through the day, I can grab the handles of my desk-in-a-bag, and go!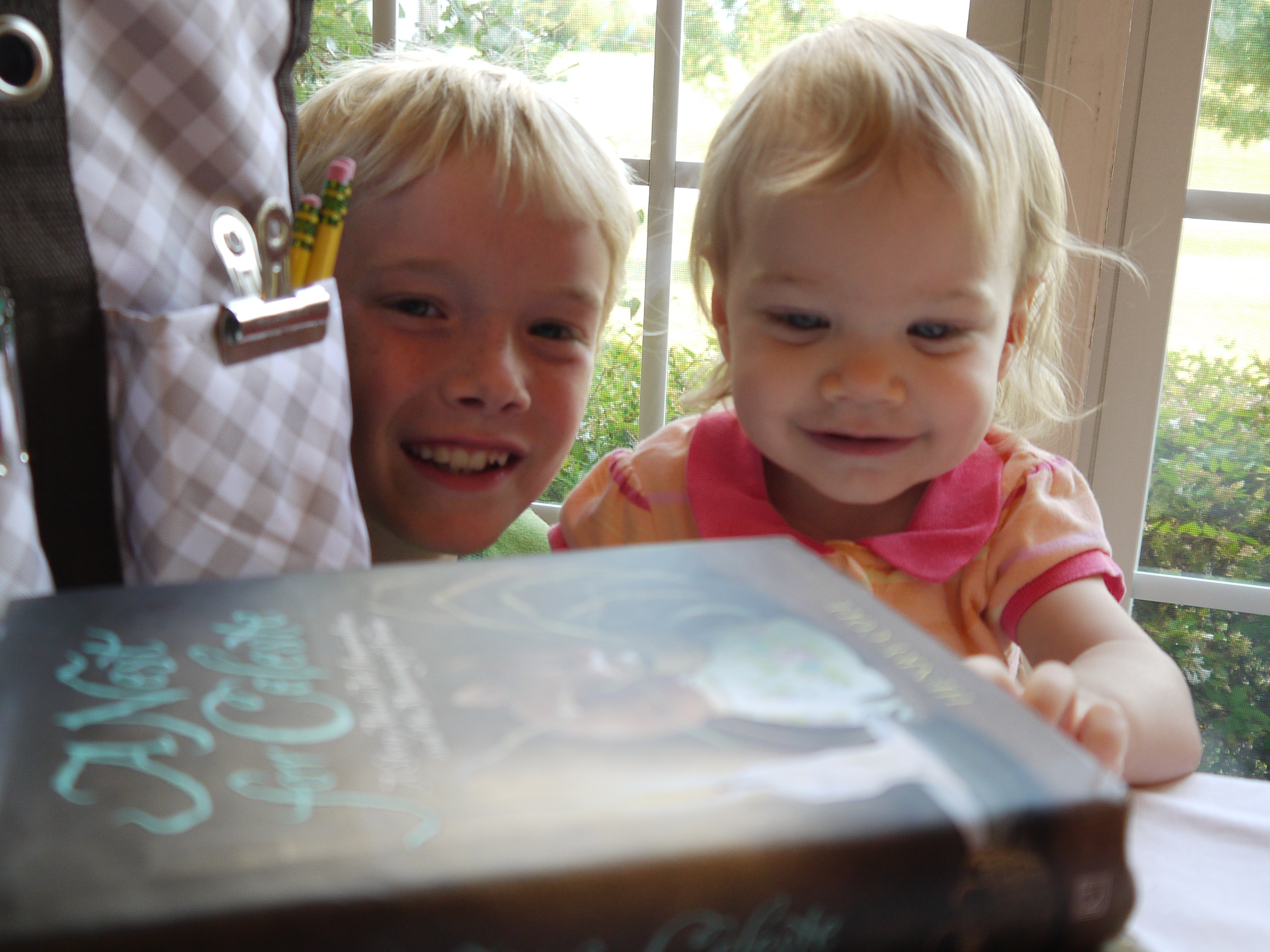 Whatever your space constraints or limits – or maybe even if you have a desk space but find you really need to be portable with a few key items during your day – you might consider a bag from Thirty-One Gifts!  My consultant is Jenny Wiest and she would be more than happy to help you out if you have any questions or would like to order!