A Review of a Great History Resource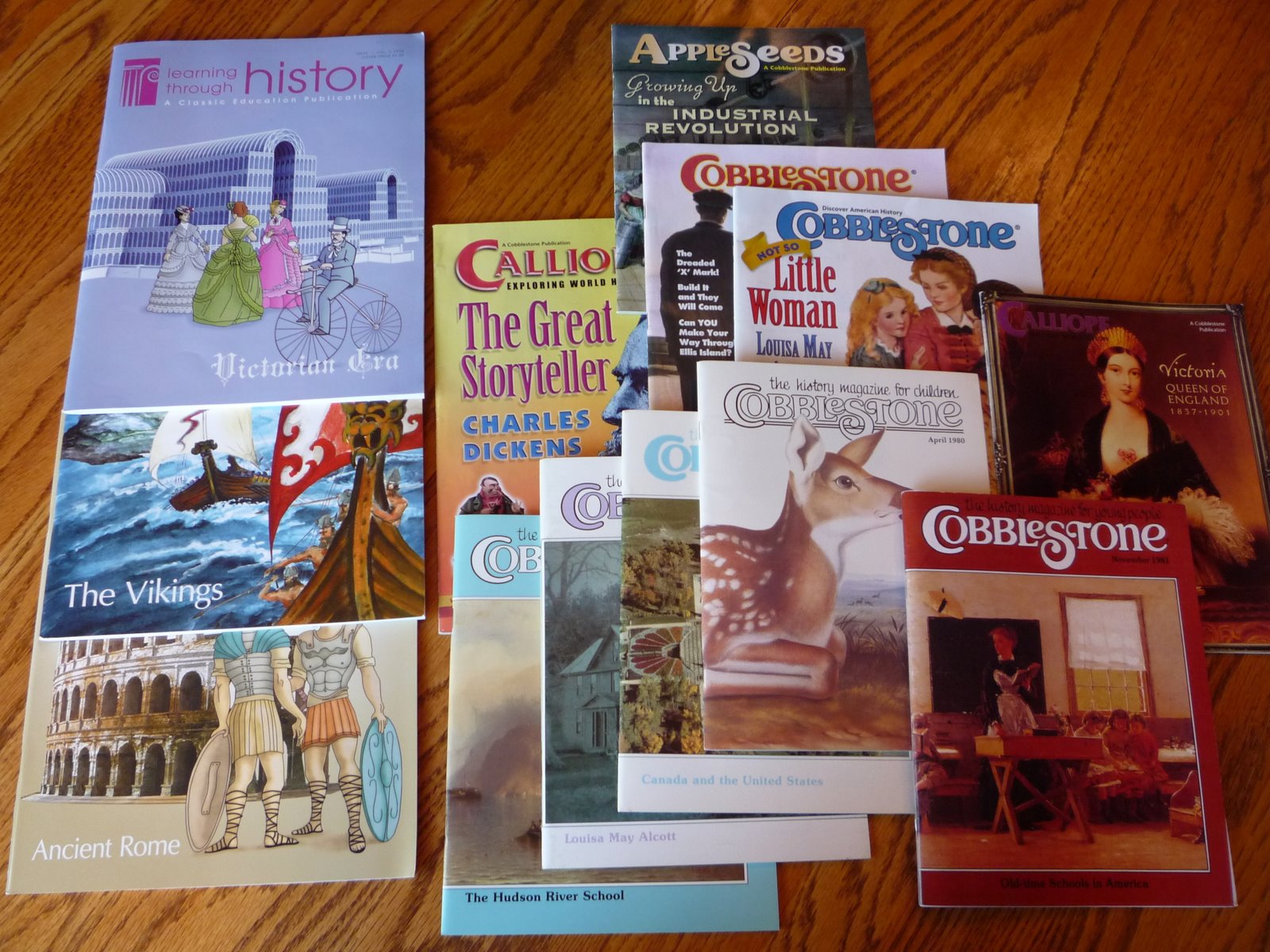 In studying history we follow a living book approach – no textbooks – just lovely books written in a thought provoking way that makes history come alive through literature. I use a variety of sources for building booklists, and always with great success. Just in case you're wondering I'll list my favorite resources here:
:: Reading Your Way Through History
:: Reading Your Way Through History blog
:: RC History
:: Emmanuel Books Catalog
:: Winterpromise Catalog
:: A well worn but treasured (and now sadly out of print) copy of Let the Author's Speak by none other than my mom 😉 (one day we'll add to this treasure so we can reprint, mom!)
I gather my booklist resources and catalogs, think about the period we are going to be studying, age ranges and reading abilities, and make lists. Beautiful lists!
This year, however, had me stumped! Both my oldest children are studying some greek history, roman history, early church, and early middle ages. That was easy to make booklists for. BUT…Sweet Pea is studying and focusing on the Victorian period for the majority of her year. Her entire year (actually the next two years) are spent following Anne of Green Gables through literature and history. It was a joy to put this curriculum together for her. In looking into adding some age appropriate context for the Victorian period I came up short though. What I discovered in my hunt led me to discover a treasure I knew about, but had forgotten – so I wanted to share it with you here because I think these are treasures for history studies!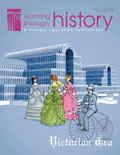 My first stop was at Learning Through History Magazine headquarters and there I found an entire magazine devoted to a study of the Victorian period! Jackpot!!!!!!!!!! Readily available as a back issue I decided to order it and check it out. It was wonderful! Full of insightful articles on a variety of subjects all relating directly to life in the Victorian period. As well, many if not all the articles list books of interest to further reading on particular articles. There were lists of movies/documentaries that coordinated, recipes, games. It could not have been more perfect!
I decided to order a few more back issues choosing from their great selection of back issues. I chose some magazines that would coordinate with our other history studies and was equally pleased with the magazines! Learning Through History magazine is well written and seems ideally suited to the middle school ages, but each magazine has in the back a nicely done unit study written more for young ages making this magazine very appropriate for teaching across a span of ages as most of us homeschooler do. There are literature study guides in the back of each magazine that are very nice as well. Consider checking out their offerings! (**Exercise caution from a Catholic perspective on some subject matter**)
Still searching, I stumbled upon another forgotten resource – Cobblestone and Cricket magazine publishing. They now produce a myriad of educational magazines for children ranging from baby up to the middle school age. Of particular interest to me were their history magazines, and Cobblestone in particular. This publication has been around since before **I** graduated high school!!! And they're still going strong. Similar to the Learning Through History Magazine, each issue is built around a theme. They have back issues available all the way back through 1980!!!! This is a treasure filled goldmine people!!!!! I ordered a few back issues in subjects that were pertinent to our studies this year. I discovered that we actually prefer the older issues – the new ones are still nice, but the older issues seem to have a lot more meat to the articles albeit a lack of gloss and polish present in the newer publications. A trade I'm more than willing to make!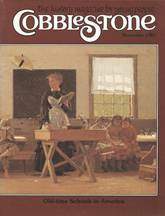 One of the Cobblestone magazines I ordered came from 1981 – Old Time Schools in America. I ordered this issue to coordinate with Anne (of Avonlea) as Anne is teaching in the schools in Avonlea. I thought it might offer some great context of Anne's experience teaching in a one room schoolhouse. I was not disappointed. There are several articles with great historical background, and one on old time textbooks that is very interesting. There is a lovely article on private schools with the majority of its focus on St. Elizabeth Seton with great respect and depth given to the historical Catholic contribution of this American saint and her order. In addition, most of the Cobblestone back issues have teacher's guides available. The questions are fairly textbook-y and predictable reading comprehension questions, but the writing assignment ideas were helpful I thought.
All total I think I have 12 history magazines (I tucked away a couple others for the future). Some of them are definitely well below Sweet Pea's reading level – Appleseeds is definitely more suited for a younger student – it is a perfect fit for my 4th grader this year. Calliope is nicely written and though I haven't previewed it in detail, the issue on Charles Dickens, the Great Storyteller is full of articles and related features. This magazine comes with a teacher's guide as well.
If you're having difficulty rounding out a period of history, consider a back issue of one of these great history magazines! I think you'll find them treasures!!!