Signs of Spring – Daybook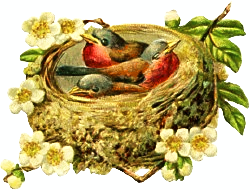 For today…February 21, 2008
Outside my window… It is a very windy day today…very windy. The children have been enjoying the day outside. It's been so sunny, but the clouds are moving in now and rain threatens. In the bird news, our bluebird family is back. We've spotted them in the front yard and in the back by the bird bath. Wonder where they're nesting this season? Tommy Thrasher still faithfully visits every morning and we wonder if he too will be nesting…and if, in fact he is *Tina* and not *Tommy*.
The children found a nest in the treeline. We think it was dislodged by a recent wind storm we had. The children thought it might be neat to set it in the crook of three branches on the pussy willow tree to see if a bird nests in it this spring. We'll be watching carefully!
I am thankful for…this time of preparation before Lent – Septuagesima. Rob and I have addressed where we will focus as a family. Ash Wednesday is next week, and I am grateful for the time spent preparing to enter this somber time with the Church. Reading baskets are set out, and our prayer plan is in place. Now…to live it!
From the kitchen…Not much tonight. Rob was sick this weekend. And, we've all had whatever this is to some degree…and I'm tired. We're all recovering now, but I'm not ready to jump into the kitchen right now. I feel like I've bounced from meal to clean-up, and clean-up to meal for the last few days and I'm in need of a break…so maybe breakfast for dinner? Shrove Tuesday pancakes early?
I am wearing…a dark blue skirt, red cardigan over a white shirt.
In our learning spaces…I need to tidy a bit. When Rob is home feeling unwell and little people are feeling icky you can imagine my attention is not focused in there. I need to print next week's lesson plans and I need to address some phonics and spelling issues with Sparkly in a creative and gentle way. Sweet Pea's work in Algebra is coming along nicely. We're enjoying a slow and relaxed pace. And, Peanut is really loving Home for a Bunny.
I am reading…the March/April issue of Faith & Family. It's been sitting in my reading basket and I'm anxious to get to it!
I am hearing…Doodlebug just woke up from her afternoon nap…she's playing nicely, but I better finish up quickly…well, she couldn't wait 🙂 So, I am hearing her play with Sparkly now.

Looking to the rhythm of the liturgical year…We'll finish up our preparations and I hope to set up our Lenten Feast Table to reflect something simple and sparse this year. Then, we'll dive into Shrove Tuesday next week.
Around the house…I'm still keeping up with my laundry routine in spite of this week's challenges! So, that's good. I really need to go check upstairs though. The children have been "redecorating" their rooms….
I will claim a moment for myself…I have a date with one of my favorite magazines and some other books in my book basket tonight…maybe a movie. I'm in the mood for Sense and Sensibility.
A few plans for the rest of the week…print lesson plans, gather picture books for next week, Mass Monday and Wednesday, and a day of errands that has been put off far too long!
Here is a picture thought I am sharing…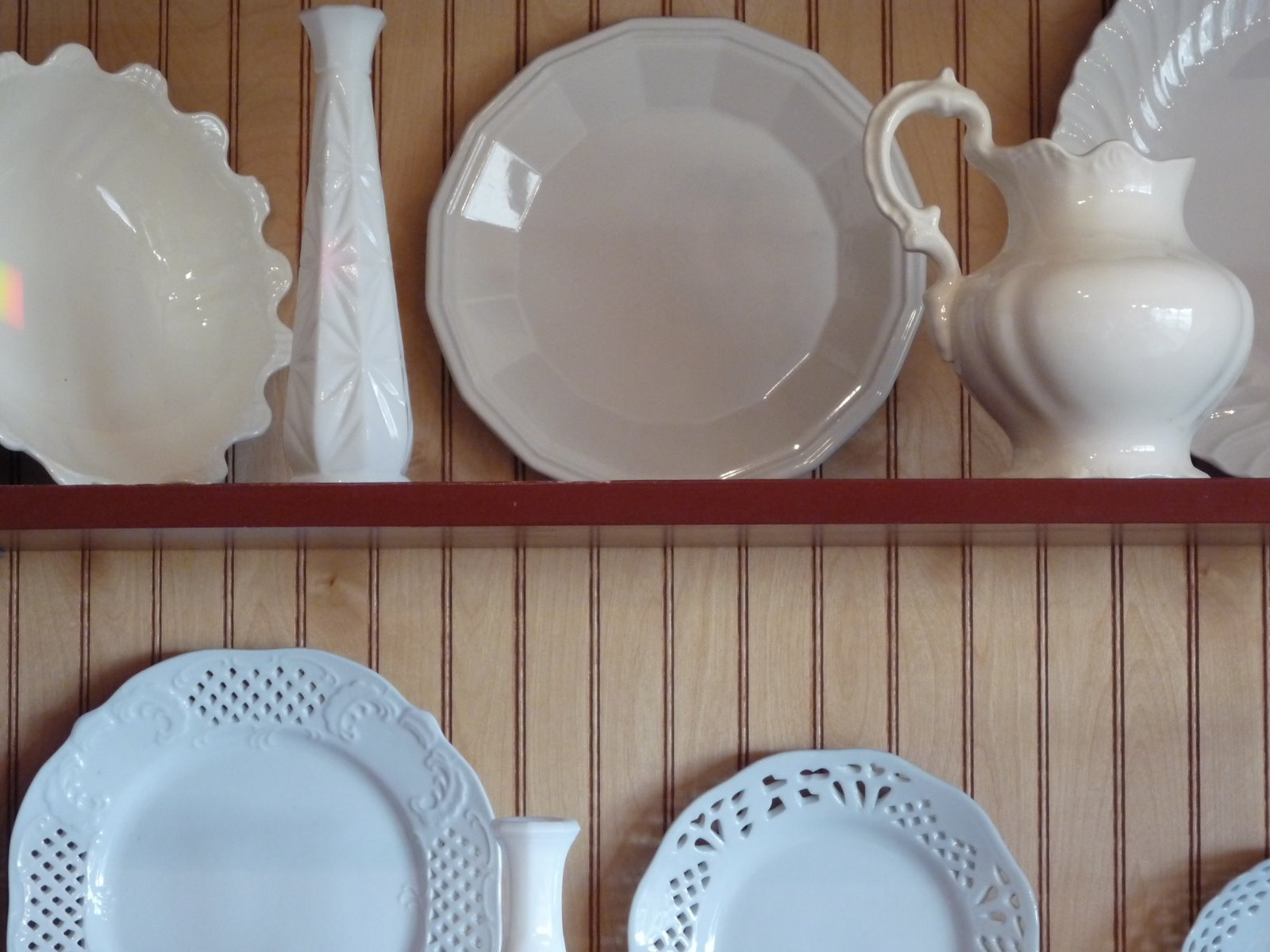 Don't you just love collections of white? I'm working on adding to mine slowly, but I love the way it looks in a cranberry red cabinet, don't you?
Hope you are all having a relaxing and wonderful weekend! 🙂
Visit Peggy at The Simple Woman for more Daybook entries. 🙂