Wow – we had a great week at Mom's. What a fantastic way to rejuvenate after a long winter indoors! Here are some of my favorite shots of the week.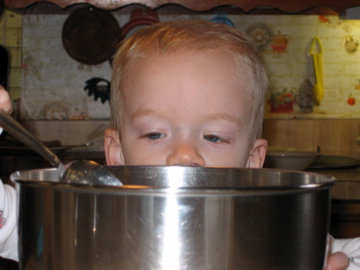 The Peanut helps Nanny mix up Fritters. But his step stool was just high enough that he could prop his nose on the side of the bowl to see his mixing.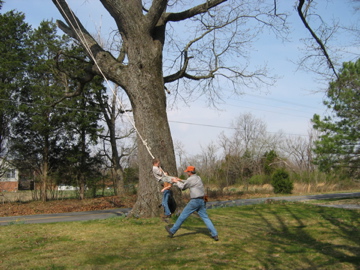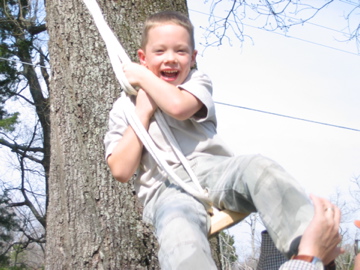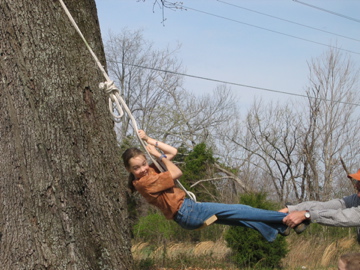 This rope swing is a special treat for everyone. Unc. Bob managed to get this long rope over one of the high branches of the old oak tree in the front yard. The kids had loads of fun! Sweet Pea and Sparkly really got some height swinging – and Papa, Unc. Chris, and Unc. Bob got a serious upper body workout pushing them.
This was too cute not to include! Peanut enjoyed walking amongst the high clover Papa planted on the resting side of the garden.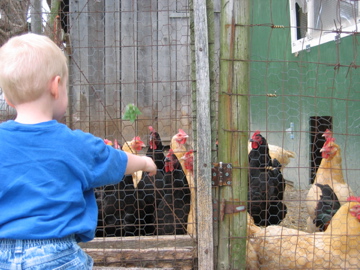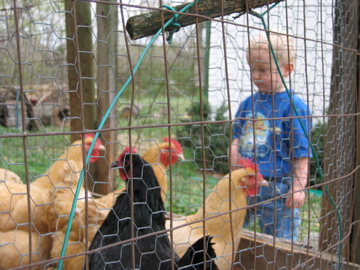 Always a big draw – the chickens!! All the kids love throwing a handful of clover over to the girls. Peanut especially enjoys visiting them.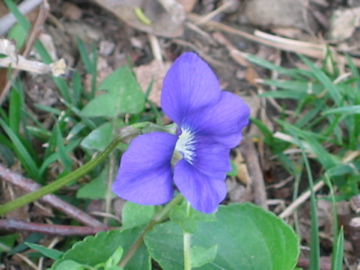 One of my favorite things about home are the wild violets – they grow absolutely everywhere (much to Dad's chagrin.) They can be found in abundance in every yard and flower garden. Dad doesn't appreciate them much in his rose garden, but they are lovely to me.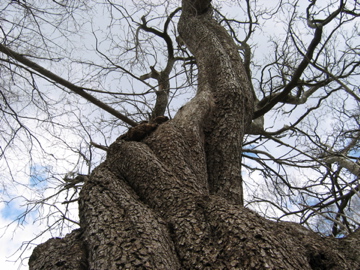 A shot up the trunk of Grandpa tree (a catalpa tree)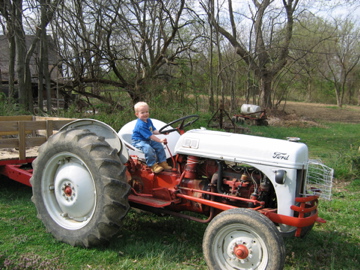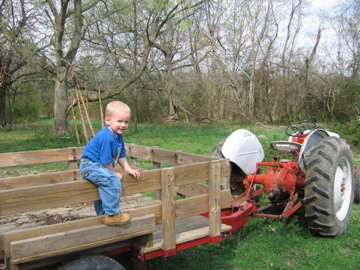 Peanut is enamored with Papa's old tractor. As Papa would gather old branches to be burned in the burnpile, Peanut would climb up in the seat of the tractor and enjoy himself. Papa gave us a tractor ride around the "back 40" in the trailer. What fun! and what treasured memories!!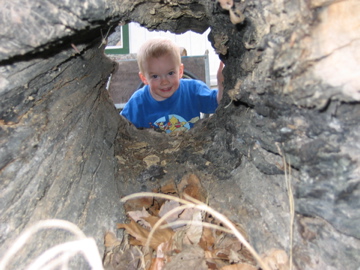 Thursday night we had a bonfire. We roasted hot dogs and marshmallows and ate everything outside. Near the burnpile is this log, which is from the maple tree that fell in the front yard last year I think. Peanut enjoyed peaking through. Here are more pics from the neat cookout that Thursday night.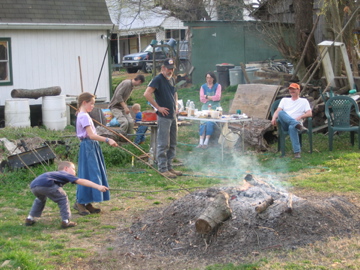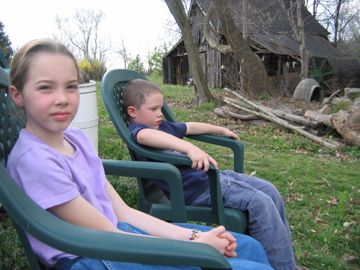 Do they looked tired to you??

Yes, that's right, Papa is washing off a hot dog with the garden hose after Sparkly dropped it in the hot ashes of the fire. It was soon consumed.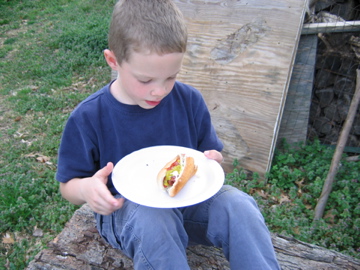 Have you ever noticed how incredible hot dogs taste if you're eating outside? Why is that?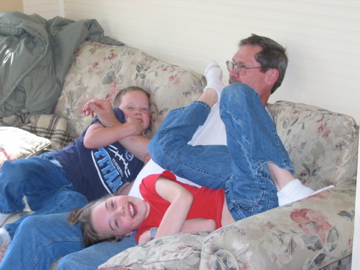 A major tickle fight! Who has whom? This was our last morning – and the kids tried to squeeze in every extra minute they could playing and "loving" on everyone. It was hard to leave, but the week was so great, and we came home with so many wonderful memories. Mom said it was very quiet when we left – too quiet. She should have been in the van on the ride home as Peanut sang "oway, oway, oway, IA" over and over again. Translated for those of you who do not speak fluent Peanut means "Ave, Ave, Ave, Maria." Beautiful song – yes – but with Peanut passionately singing that for literally miles and miles on top of a much beloved Veggie Tales movie playing in the background – my brain was scrambled by the time we pulled into the driveway.
Rob had complained of the quiet of the week and missing us. I felt as if I unsealed a vault as I popped open the minivan doors in the driveway. The caucophony of the ride home spilled out. It wasn't quiet here anymore! But I know Mom still misses it!