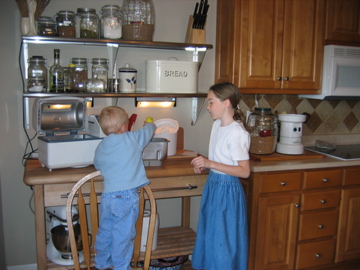 Sweet Pea is in charge of making bread, and her little shadow is never far away.
Here is our bread recipe. It took about 20 bricks to finally get to this loaf that rises nicely and stays nice and moist. It works best in our Zojirushi bread machine. Sweet Pea affectionately calls it "brick #13" because it was fashioned after our most successful brick – #13. It makes a 2 lb loaf.
1 1/4 cups hot water
3 tablespoons extra virgin olive oil
3 tablespoons honey
1 egg
1 1/2 teaspoons lemon juice (really helps with our very hard water!)
1 1/2 teaspoons salt
4 cups freshly ground whole wheat
1 tablespoon yeast
After baking, wrap it in a clean dishtowel for a couple of hours. Laurel's bread book recommends this. Then store it in a bread tin (not in plastic, that encourages mold and homemade bread without preservatives will mold quickly.) You can see my bread tin on the right side of the shelf above the bake center. It's cream and says bread on it (not sure if that comes out in the picture though.)
We use it for sandwiches, morning toast with hot chocolate, dinner bread – pretty much everything. Our favorite way to eat it – still a little warm from baking with lots of butter and honey!