Today seems much better. I always feel refreshed after a good nights sleep. I started early this morning, went through all of Peanut's clothes – weeding the "too small" and adding some new, old stuff from Sparkle's stores of outgrown clothes. All the kids had a bath – everything always seems better when the kids smell sweet! Rooms were tidied. I went about gathering more dirty clothes from the floor – had enough for 3 more loads – good grief! Started and finished the school day with the little people – Sweet Pea is almost done. Listened to piano practices! Dishes done!
However….there are still the mountains of laundry, now clean, waiting to be folded, so I don't want to spend too much time on this. I'm still missing my dainty pink scrolly looking page theme options. I know it has to be out there somewhere. I just need time to find it.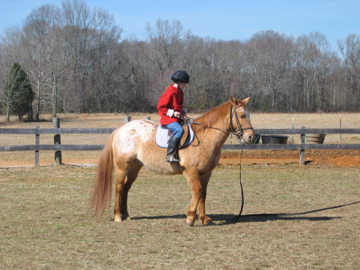 I'm not sure why I'm doing this yet. Thought it might be neat to record some of the cute stuff the kids say and do, along with a few pictures and movies if I can figure out how to add those. I am going to try to put a little movie of the sweet pea on her horse from last Thursday. She really enjoyed Nanny being there. And I hadn't yet seen her ride, so this was a first for me to!