The Simplified Teacher Planner | A Review
In the world of lesson planning, I must admit – I am particular. Having been a home educator for 18 years has taught me to appreciate a few key elements of lesson planners and lesson planning in general. After all, with 5 kids, I've taught Kindergarten 5 times, 12th grade twice now, and all the grades in between for a grand total of 41 years worth of Kindergarten through 12th grade. (woah!) And that friends, has given me a lot of practice when it comes to lesson planning!
There are so many lesson planning tools out there – both in paper and digital form. In 18 years, I've come to appreciate a small group of them because I've found they meet the changing and varied needs of teaching a spectrum of grades, from high school to preschool, throughout a given day. I look for organization, versatility, function, and durability. I plan a lot, but sometimes I do like to journal (read: backplan) and I want that ability, too. I want quality paper and a beautiful layout that is intuitive.
This year, there's a new kid on the block – the Simplified Teacher Planner by Emily Ley – and I've got it in my hands and I thought I'd walk through it with you. This review is courtesy of Emily Ley and the Simplified team who graciously sent the planner my way, but the thoughts and opinions shared are all my own! Also, full disclosure: the links in this post are affiliate links. They cost you nothing but I may earn a small commission if you use my links. And for that I am truly grateful! Thank you!
And finally, if you're like me – you want details! Click each image if you can't quite make something out and it will load for you in full size and you should be able to see all of the detail!
Details
The Simplified Teacher Planner launches on May 1, 2019, and is an academic year planner (August 2019 – July 2020).
The Simplified Teacher Planner is $60.
There are a few new Teacher Planner accessories – so check them out on the 1st!
10.25 x 11.25 inches (1.5 inches thick)
Thick, 80lb., pure white Mohawk Via paper
Full month views
Monday – Friday weekly lesson planning spreads
2019 – 2020 yearly calendar overview
2019 – 2020 holidays
5 sticker pages in the front (796 stickers total)
24 notes pages (12 lined, 12 grid)
Simple color throughout
Hard cover with gold foil details
Protective gold corners
Gold, sturdy wire-o binding inside
Navy interior
Colorful, sturdy mylar tabs
Sections for:

About Me — professional goals, resource logins
  Prep — weekly & daily routines
  Class — procedures, student / sub / emergency info
  Student Checklists
  Calendar
  Notes
  August – July monthly tabs
If you are a first time Simplified customer and have never set up an account before, use this link to set up your account and you will save $10 on your first order!
This planner is built around the idea of intentionally simple, just like all of Emily's planners. It is minimal, on purpose.
As always, I like to share a review of a clean, unused planner, so if you're looking for a detailed "how I use this planner in home education," that post will be coming soon! I do plan to walk you through the planner in this post and share a few ideas and thoughts in this review so that you can make an informed decision as you consider this as a potential Teacher Lesson Planner. I am planning a future post or video that will share a mock up week and some prep pages to show you how I would use this planner in home education.
Let's walk through together…
One of my favorite features of this planner are the durable hard covers. This planner is uniquely bound – it's a wire-o binding within a hardbound cover. I love this feature because I truly love the durability of the hardbound covers (for travel, sliding in and out of a bag, moving across my desk, a shelf…and everywhere else for an entire year) and the ease of flipping pages that a wire-o gives.
There is one key and noteworthy piece of information worth mentioning: this type of wire-o binding within a hardbound cover does NOT allow you to bend the planner backward (in half on itself), as you might do with a coil bound planner. If you are primarily a desk planner and prefer seeing your entire week open at a glance when you're planning and executing, you'll enjoy the binding of this planner. If you need to bend your planner back on itself just as you need air to breathe, consider carefully, because you can't do that without completely breaking the binding.
Opening the cover, the Emily Ley Simplified Teacher Planner starts with 5 full sheets of coiled in stickers. The selections are beautiful and functional and I love all of them!
I mean – look at these icon stickers!!!
The art icons are so adorable!!
And this page of stickers hand drawn by Jessa Bray? So beautiful! If this sticker page ever goes on sale as a stand alone in the shop, I'll be the first in line!
I mean – seriously! Who doesn't want about 60 more "laminate" stickers? I do! #laminateallthethings
The next page of flag stickers are purely functional.
Next is a page of blank flags. I pulled three blank (teal) flags from this page to start to set this planner up to work for our home education. And you'll see how I used them in a picture below. Keep reading!
After the coiled in stickers we begin the actual planner. In using the planner, I will probably consider removing the stickers, trimming the edge of the sticker paper to a straight edge, and tucking the stickers in the back pocket of my planner.
In the front of every Emily Ley Simplified Planner there is a letter from Emily, and this planner is no different. This planner also happens to have a note from Taylor, Emily's sister in law, and the co-designer of the planner. Taylor was a teacher for many years and her experience helped build the planner.
The planner is divided into two distinct sections – the prep work and support pages which are in the first section, and then the monthly and weekly pages where the rubber meets the road.
The first two pages in our prep/support section are two "About Me" pages. Typically, for a home educator, there is no purpose in having these pages. But I love having a place to list my home education goals on the left facing page, and the resource/username/password columns will actually be very helpful. So, other than omitting or repurposing a little information, these pages will be very useful for a home educator.
I think these could be the two most valuable pages in the entire planner. What worked well? What didn't? New routines and goals to work toward! This is big picture planning at its best! These pages hold your hand in reflecting and then walk you forward through goal setting in your education environment! In home education, there is not a single year that has been static and unchanging. Kids grow and challenges present themselves. Year after year. It's so important to reflect and then walk it forward!
Following right behind those reflections and big picture goals are the perfect follow up! THIS is how I think when I plan! To find it laid out as part of the prep work is not only intuitive to me, but I think very valuable and helpful. We're walking our reflecting and big picture planning inward – narrowing the funnel of brainstorming. The following two pages have a place to set weekly routines and daily routines!
Now that we have a working plan for the big picture, the weekly and the daily, it's time to step into some teaching specific pages. The student info pages follow under the "class" tab. There are two total pages in this design. The Happy Stripe is so beautiful, but I will likely use these pages in a different way, using them as a yearly booklist. It only takes a simple sticker to cover the headings of the columns and repurpose the page.
The next page is set up to record values and procedures. I'll probably repurpose this and record the virtues and habits we are working on for the year, and list resources for those habits and virtues in the "procedures" section.
Education inspiration follows – this might be a good place to record pinterest inspiration or wishlists for learning room organization!
Alright. Every single teacher planner has a substitute info page! And that makes absolute and perfect sense for a teacher in a standard schoolroom setting! I chose to use stickers (these came with the planner…remember those three missing stickers from an earlier picture?) to show you how easy it is to repurpose a page completely! Just use an ultra fine sharpie and repurpose and name those sections whatever you'd like! I will probably use this as a resource listing for my own "substitute teacher" which consists of educational videos. This will give me a great place to jot down program ideas so I don't forget! Make the planner work for you!
On the opposite facing page is an emergency info page. I plan to use this to review and teach various emergency responses to different scenarios. Just because we're not in a classroom setting doesn't mean we don't need to review our fire procedures. And living in tornado alley, we definitely need to review those seasonally!
The student checklist pages follow. There are 3 (2-page) spreads. In case you need more checklist pages, you can find them available freely here, in the free printables of Simplified, under the school tab. Print what you need and keep them with your planner.
I use the checklist to note milestones and attainments.
We're getting close to the end of the prep and support pages!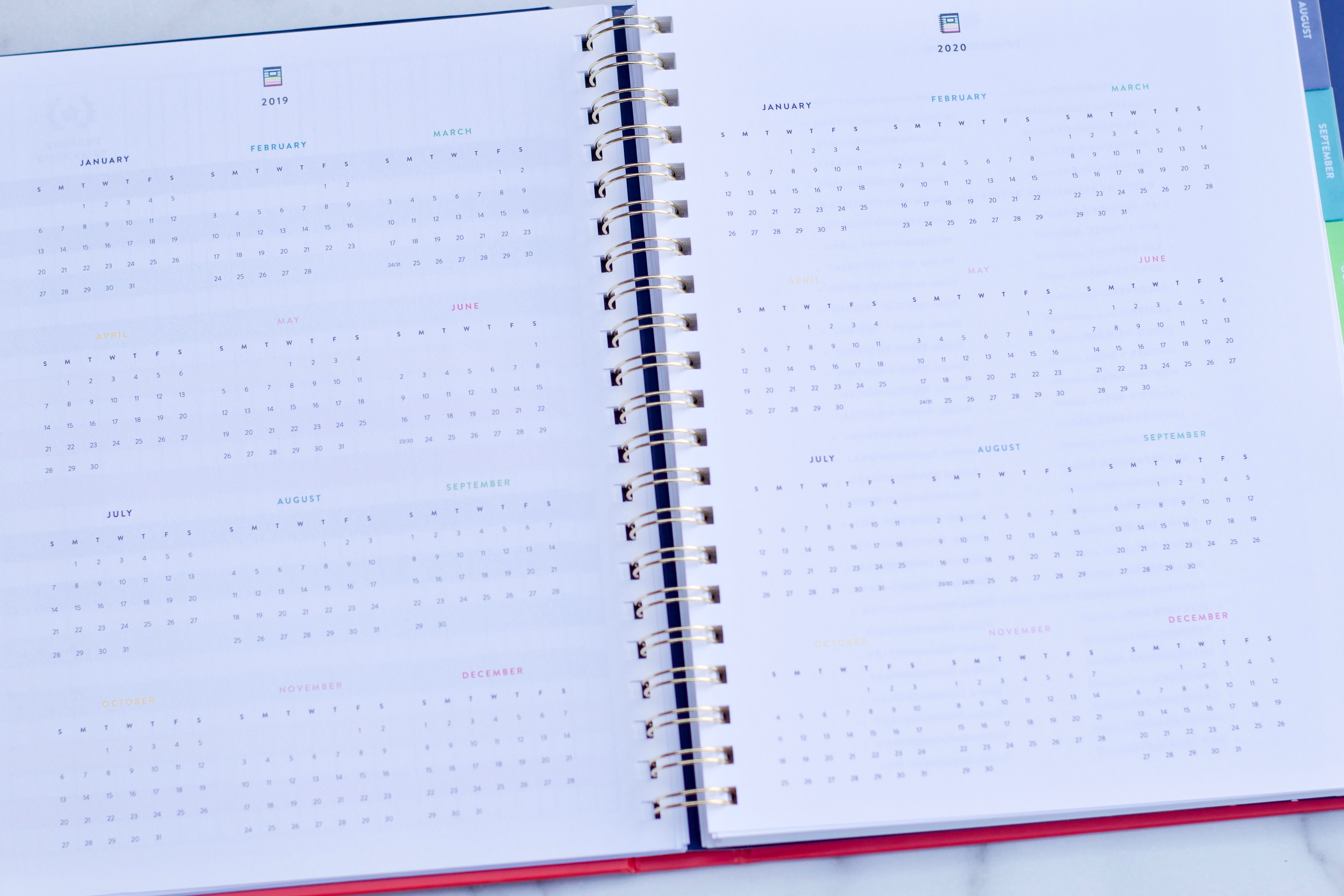 The next set of pages include a 2019 and 2020 calendar on a page. I enjoy mapping out our big picture yearly plans here. I use transparent date dots from Krissyanne Designs because if you choose the "colorful" colorway they match the SP colors perfectly!
2019/2020 holidays – to use as a reference.
We wrap up the calendar section with a school year overview. I appreciate so much that this page runs with the academic year!!! One of my favorite things to do at the beginning of a school year is to set up the basic framework of a year on an overview page! I refer to it often through the year, and especially as I plan out my terms/semesters.
Opposite the year overview is a place to record the daily overview. I can see so much potential in this page! This is a great place to list activities, classes, co-ops, sports activities, volunteering days.
Notes pages!!! There are 12 fully lined pages for notes! Be still my heart!
And there are 12 grid pages – for more notes! A total of 24 notes pages! I love having them all grouped together like this!
And now, we're to the heart of the planner where we live our days!
This is a dated planner and it begins with August 2019. Each month begins with a full monthly spread. I love the simplicity tips at the top of each monthly spread. This monthly spread gives ample room for recording field trips, special themes, weeks or days off, and your general schedule. I love that each month has a generous notes column on the far left.
Immediately behind the monthly spread are the weekly pages for that month.
For me, and likely for you as well, this is where you'll spend the majority of your time, both in planning and executing your days. The pages are generous and there are 6 vertical columns and a support column on the far right of each weekly spread for recording themes, booklists, notes, field trips, challenges, etc. You can label your columns however you like – list skills, subjects, or designate one column for each child. The latter is how I plan and it works so well for us!
I do want to note one piece of information. The weekly spread is unlined. This can be a pro or a con depending on your needs. Without lines, you are free to note as many assignments as you'd like under a column for a given day. The smaller you write, the more you can fit. You won't be limited to seven lines within a block! On the other hand, if you need or appreciate lines to write when you plan (>>raises hand<<), you may feel a little lost. And I confess, this is how I'm feeling.
Finally, behind the last month of the planner is the coiled in pocket. There is a folio pocket on both sides.
A full size piece of paper does fit in the back pocket. I tested and I can fit 10 pages of letter size paper in the front and 10 pages of letter size paper in the back side of the pocket at the same time, but it is a really tight fit.
Each planner comes with a gold embossed card that states, "the work you do matters." What an encouragement! It does matter. There are very few, if any, glorious moments, not much fanfare, hardly any glitter (unless it spilled all over the floor on craft day) and no paycheck. It is hard, hard work. Yet at the end of this journey, there is a person, formed in virtue and a self-educator, ready to encounter great ideas and conversation. And that friends is what makes the work you do matter. And it matters so much!
The Simplified Teacher Planner and accessories will be available on May 1 at 7:00 pm Eastern. If you have never purchased a Simplified Planner before, you can click this link, set up an account, and receive a coupon for $10 off!
Let me know if you have any questions and I'll do my best to answer them in the comments!
Happy launch day, Simplified!