Finally having fun with Montessori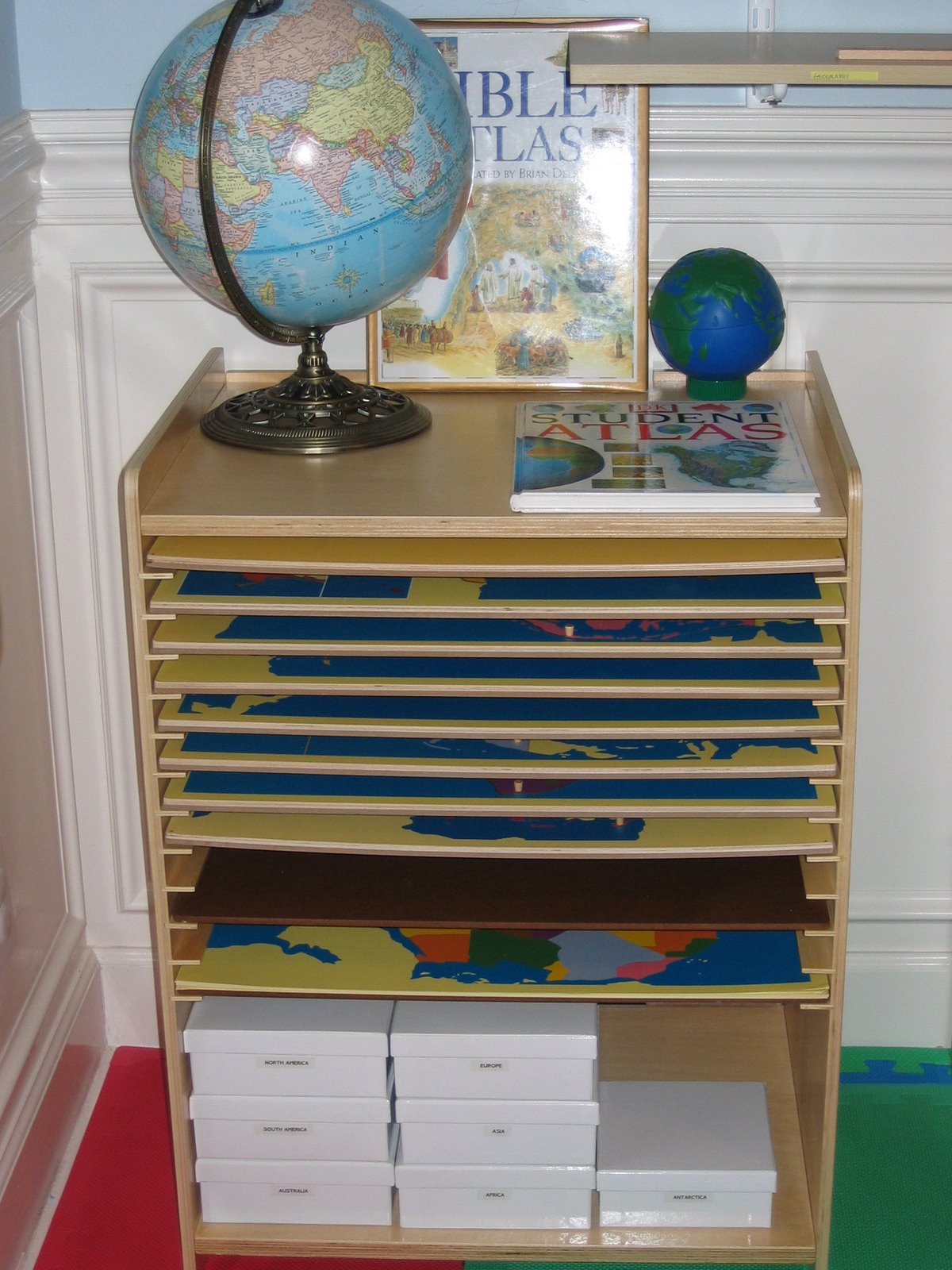 We've been really enjoying all of our Montessori materials as I introduce and present them slowly. My children love the Geography Cabinet, and we see so much potential in the beautiful maps. We've already covered the 7 continents, and Sweet Pea is moving on to North America. Sparkly is still working on his 7 continents map. We have some continent boxes we'll fill, but I'm excited to download this North and Central America Continent Kit from my favorite source, Montessori for Everyone! Geography is definitely one of our favorite times this year.
In order to simplify our learning this year, I finally realized that science needed to be handled like history for my little folks. I realized I was NEVER going to find a text that I liked, was accurate, or that the kids enjoyed learning from. I use a timeline in history to give the children a framework to hang their facts on, this facilitates some awesome connections! I am taking a similar approach to science, using the 5 kingdoms to classify our discoveries this year. The kids have really enjoyed the 3 part card approach to learning. I was a little worried they wouldn't like it, but Sparkly in particular thrives on the matching and sorting and self-checking. Right now, we're having so much fun studying the plant kingdom. I have set up several resources in our plant kingdom learning center. I'll post pictures later.
Yesterday, I presented the metal insets to Sparkly. He had a great time with them. His lines were squiggly, but he tried his best. I know over time he will be pleased with his improvement. He seemed to really enjoy the sense of order in the presentation and in the activity. It made me glad I bought the inset tracing frame. I'm going to present these to Sweet Pea today in the hopes of remediating some atrocious handwriting. She's excited.

Not sure what I'll present today. I really need to get a bit more organized in terms of what's next as I've really been flying by the seat of my pants. I am inspired by this post of Lori's at Montessori for Everyone's blog in our math implementation. It was a very timely read for me, as I mentioned that I am really trying to get a "big picture" handle on our Montessori works. I have all the tools I need, but I haven't taken the time to sit down and just spend a couple of hours looking at the big picture again since before I got pregnant. Won't be this weekend either – Sparkly's 7 th birthday is tomorrow! Happy birthday little man!
My goals are to set up a basket of cutting patterns for Sparkly as well as getting started using some of our golden beads (he's chomping at the bit for these,) present the color tiles to Peanut, and go more into depth with the binomial cube with Sweet Pea. I've already introduced the cube as a puzzle to both Sparkly and Sweet Pea – I was amazed at the connections they both made independently. I really want to do some grammar work with both Sparkly and Sweet Pea using the grammar symbols, but I plan on waiting just a bit more until I can get a little more organized.
Helps me just thinking "digitally????" like this – getting my thoughts out on ?paper – no – computer. Whatever, it helps in sorting out my thoughts. We're moving forward, and I'm content with the pace. It's very slow and relaxed. That's best for me and for the children! It fits in with our simplified approach to life (see my last post) and I've found such joy in the quieter days here! That quiet really fosters my children's unflustered approach to these materials. I want them to be able to take their time with the Pink Tower, or the Binomial Cube, or a Nature sketch. No rushing! Beethoven is playing in the background, Sweet Pea has the beeswax crayons out and is illustrating the Michaelmas daisies we recently found at Grandma's, Sparkly is busy making all kinds of connections with the Pink Tower and the Brown Stair, then quietly moving on to sorting out all of the knobbed cylinders. And Peanut is…well I admit it…he's attempting to destroy Sparkly's creations 🙂 A work in progress to be sure! Maybe I need that book – "Children who are not yet peaceful" Ha ha! Anybody got a 2 1/2 year old at peace?
Can't wait to post again on our next presentations…