In the Learning Room: Year 3 and Year 6 Organization
I am going to make an attempt here. To be pithy. Succinct. Abbreviated. One picture. One idea.  LOL! I'm not sure I'm capable of limiting my vocabulary in this way.   >>>Just.Not.Sure.I.Can.Limit<<<  But, I'm seriously going to try.
I finished my Year 3 and Year 6 booklists, term plans, and weekly plans! Happy dance!!! After getting all of the paper stuff finished, it's time to clean up and set up the shelves with all the books and things needed for the year! It's a HUGE component to a smoothly running year for us!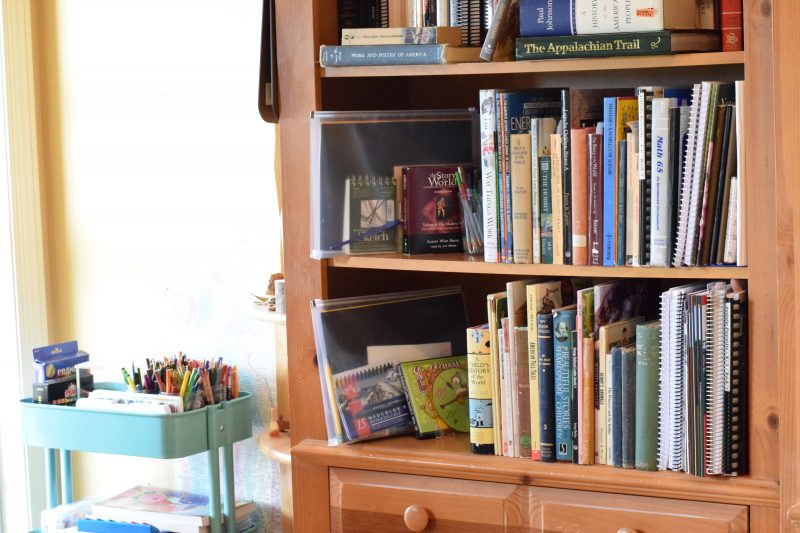 PICTURED: The bottom shelf is Year 3; the middle shelf is Year 6. Some people use baskets, bins or bags – I dedicate one full shelf of our learning room book-case for each child. Every CD, notebook and book needed for that child's term is present on the shelf. All in one place. I refresh shelves in between terms (we divide our year into 3 manageable chunks – 3 terms) so each term break the shelves are wiped down, I remove all the migrant stuff that wandered into the mix, check pens and supplies, refresh term books and off we go again!
One thing I love to use for organizing art supplies for the term are plastic letter size zip folios (pictured on the left side of each shelf). We use Artistic Pursuits as our art program (but this works with whatever you happen to use for art!). Find the materials list and start assembling materials: grab construction paper, sketch pads, oil pastels, sketch pencils, glue – whatever – and throw it in the zip folio and it lives on the shelf!! Having it all assembled means that art is MUCH more likely to be completed during the week…because I don't have to hunt down an elusive red pastel or an HB sketch pencil!
I know you're going to ask!  🙂 The little aqua cart in the corner of the picture is our art cart. Ikea RASKOG in turquoise. Love this thing! We don't have an IKEA near us, so I ordered ours.
That's it! I'm stopping. Zipping it. Putting a lid on it. I am seriously refraining and holding myself back from adding a gazillion more pictures to this post. >>>WILL.NOT.ADD.MORE.PHOTOS.<<<  Because I'm off to work on that top shelf up there in the picture…the one with books piled high! THAT would be Year 10!
Maybe…just maybe…if I can manage to keep my silly vocabulary in check, I can post little snippets like this more often as I progress through the learning room, preparing for the next year! Hope your planning and organizing is going well! Drop me a note if you have a question about something! 🙂